When you love having people over on the weekends, you'll need easy pudding desserts to help save you from the hassle and extra steps you must take. These pudding recipes are as easy and time-efficient as possible.
Some items on this list may bring you a sense of nostalgia because they are considered timeless classic pudding desserts. Additionally, you can make these treats in individual portions for easier service.
So what makes something a pudding dessert? Let me help you out. Pudding is a dessert with only a few ingredients and a loose, almost firm-custard texture. These are some of the easiest pudding desserts you can find!
The etymology of the word "pudding" has its regional difference. In the states, pudding is a custard dessert with eggs as a binding agent. The British use "pudding" to mean any dessert. Hence, the phrase "what's for pudding?"
Now, let me walk you through some of the easiest and most delicious pudding desserts.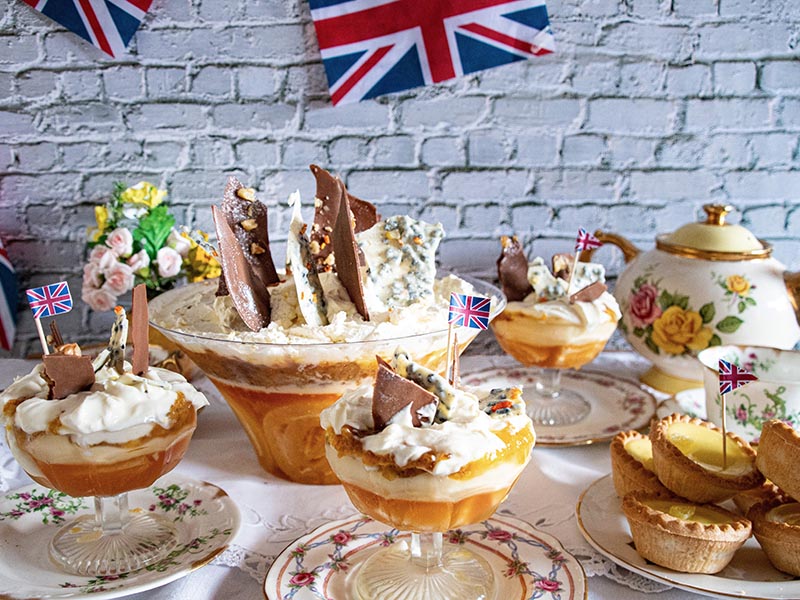 You Can Count On Pudding Desserts To Hit All The Spots
People often overlook pudding as a delectable option for desserts. But I can assure you that your guests will be overjoyed when you bring out a tray of soft and creamy chilled pudding. It is a dessert of simplicity and elegance, the best of both worlds.
Total time: 15 minutes.
This classic English dessert has been the star and the point of comedy for many years on many different television appearances. The term "Trifle" alludes to the fact that this dessert has 3 layers stacked on top of one another.
One is cheesecake pudding, one is strawberry cake, and one is fresh strawberries. The taste of the Trifle is mildly sweet and creamy. Perhaps because of this classic combination of flavors and textures, the English love it so much.
The Trifle is an exciting new experiment for those who do not have a lot of baking experience because each component goes through a separate preparation process. Not to mention a lot of these ingredients you can buy ready-made.
Strawberry cheesecake Trifle is the quintessential American pudding dessert.
Total time: 45 minutes.
There isn't much to say about chocolate cherry Trifles except that they taste like light and creamy black forest cakes in a cup. Cherries and chocolate have been a baker's favorite combo for a while because they give off the illusion of fine dining food without breaking the bank.
The chocolate cake is the first layer you need to work on for this dessert. You can bake this cake ahead of time, so all you need to do on the day of the party is assemble the Trifle. Or, if you really don't want to go the extra mile, you can buy a chocolate cake mix from the store.
For the chocolate pudding, you can use instant chocolate pudding mix for the best result. All you have to do now is stack the layer of cake, pudding, whipped cream, and cherries on top of each other and refrigerate until the Trifle is set.
Total time: 10 minutes.
This might be your first ever exposure to this odd pudding dessert that looks like it belongs on a St. Patrick's day parade. It is a fluffy, pastel green pudding cup with bits of pineapple, chopped nuts, and marshmallows.
If you are looking for a dessert that comes together in a blink of an eye, this is the treat for you. The pudding part of the "Watergate salad" is from the instant pistachio pudding mix, which is the reason behind the green color.
You would mix the instant pudding mix with the canned crushed pineapples first so that the juice from the canned pineapple can dissolve the pudding powder. Then, you fold in a can of Cool Whip for the fluff and top the dessert off with some chopped pecans and marshmallows.
Total time: 15 minutes (8 hours of refrigeration).
A bakery in Chicago, IL, lets off an enchanting fragrance of a truly magnificent boulangerie (a French pastry store), the Magnolia bakery. The signature dessert at this bakery is the sweet and creamy banana pudding.
This banana pudding doesn't need any baking. Most of the sweetness comes from the banana and the sweetened condensed milk. The list of ingredients is also fairly simple, with creamy vanilla pudding, sliced banana bits, crispy wafers, and a few others.
Don't worry that you will have nothing but cream to bite into. This banana pudding is customizable with Nilla wafers which adds texture. Brushing bananas with lemon juice or club soda is a tip to prevent them from turning brown.
Get the insider's scoop on how to make the famous banana pudding.
Total time: 5 minutes (and 1 hour to chill).
Alerts for die-hard fans of the seasonal Pumpkin Spice Lattes, this is a recipe that you have got to try. This is perfect for when you want to have all the spices that signify autumn in the form of a sweet and creamy pudding.
You will need an instant vanilla pudding mix, some pumpkin puree, spices, and some elbow grease to get everything mixing. Just put every ingredient in a big bowl and stir until they combine. That is all you have to do.
If I hadn't known any better, I would think you are a kitchen wizard whipping this tasty pudding in just minutes. I am sure your friends and family will be in awe of how simple yet elegant this dessert really is.
Total time: 10 minutes.
Mango is perhaps the one fruit that I always associate with tropical climates and one of the signs of summer. You'll be happy to know that you are only 10 minutes and a few simple steps away from digging into the best mango pudding you'll ever have.
For this recipe, you will want to find coconut milk of the best quality. The creamier, the better. Coconut milk is an excellent alternative to dairy, one of the staple ingredients in a pudding.
If your mangoes are in season, they will be sweeter. If you are unhappy with the natural sweetness of the mango, you can amend it with some honey or maple syrup. Personally, I adore the added earthy taste that comes with maple syrup.
Total time: 30 minutes.
I know how most of you will feel about the name "lasagna". It doesn't belong in the same sentence as "peanut butter" and "chocolate". You will notice there is no meat or tomato sauce in this recipe because this dessert only uses the "lasagna" technique.
This dessert with a showstopping name is a layered pudding of peanut butter, Cool Whip, and chocolate pudding, perfect for somebody with a sweet tooth. The best part of this delicious treat is it doesn't involve any baking in the oven.
Most of the ingredients in this "chocolate peanut butter lasagna" are store-bought and just waiting to be assembled. You may need to refrigerate the entire thing for up to 24 hours to set the layers, so they don't fall apart when you serve.
Peanut butter chocolate lasagna is an odd creation that is incredibly tasty.
Total time: 20 minutes (with 4 hours of refrigerating).
At first glance, you will know why this dessert has the name "dirt cake". You take the Oreo cookies apart and crush them until they resemble clumps of dirt. This layer of "dirt" buries a layer of light and fluffy cheesecake.
The recipe adds vanilla pudding mix and Cool Whip to the cream cheese to stabilize and thicken the cheesecake layer. Since this is a no-bake recipe, you will need to give the "dirt cake" some rest time to fully set before cutting into it.
It is unsure who invented this Oreo dirt cake, but I do believe that if you add a couple of gummy worms on top, you will have just the perfect treat for Halloween. It is sweet and lovely, and with the cocoa cookies on top, it truly deserves all the love in the world.
Total time: 60 minutes.
The origin of rice pudding is one of the international debates. So many variations of this classic sweet and sticky dessert exist worldwide. India, China, Germany, and many more countries have claimed this dish for their own.
While the list of possible combinations is endless, most consist of white rice, milk, spices, and some sweeteners. You will cook this pudding on the stove instead of the oven to thicken this mixture until it resembles the soft and gooey pudding.
You will no doubt be able to put your own spin on this classic dessert with various spices and dairies. This old-fashioned recipe uses cinnamon, milk, and vanilla extract to tie the entire dish together and give it its custardy flavors.
Total time: 25 minutes.
I can't think of anything more delicious than butterscotch pudding to snack on. Butterscotch or "butter scorched" is just boiling sugar and butter together until it turns a dark shade of caramel. That also goes for anything with butterscotch flavor.
Where caramel uses white sugar, butterscotch uses dark brown sugar to add extra flavor. Slightly cooking the brown sugar on the stove will help caramelize the sugar. Combine the melted sugar with some butter for the most amazing butterscotch.
You will also benefit from using eggs and cornstarch to set the pudding and create a silkier, smoother taste and texture. Everything comes together quickly in a pot, and you can enjoy the finished product slightly warm or cold from the fridge.
Nothing brings more nostalgia than this classic butterscotch pudding recipe.
Total time: 50 minutes.
This fudge pudding cake recipe brings me immense delight. I am confident you will enjoy biting into a soft, fluffy cake with a rich, creamy chocolate pudding sauce. You will also find that this recipe takes little to no time to be perfect.
Using a cast-iron skillet has its advantages. If anything, the signature crusty ring on the outside directly results from the cast iron skillet. Since the iron conducts and distributes heat more evenly, you will have a better chance of a crispy crust.
Total time: 2 hours and 20 minutes.
You must have had a delicious chocolate pudding at one point or the other in your life. It's time you learn how to make it from scratch so you will never have to buy overly sweet packaged pudding again. Plus, it is so simple that you can do it in your sleep.
To achieve the rich flavors of a classic chocolate pudding, I recommend you go with some half and half. Though you can possibly use whole milk or even skim milk to make this recipe, you would be effectively sacrificing the flavors.
Many novice cooks will make one mistake: Letting the milk boil. Scalding the milk will result in curdling. The clumps of milk solids will ruin the silky and smooth texture that is the main goal when making chocolate pudding.
Total time: 1 hour and 5 minutes.
Sticky toffee pudding is a British invention from the 1970s. In essence, sticky toffee pudding is just a yellow sponge cake soaked with a sweet and sticky caramel sauce. With enough soaking time, the pudding will be soft, fragrant, and sweet.
If you are in a hurry, you can substitute the cake recipe with a box of cake mix. The important thing is making sure the caramel toffee sauce is of the right consistency so that it doesn't just sit on top of the cake but seeps into the inside. The result will taste just as good.
Ideally, you will want to cut back on the sugar on both the cake and the sauce so that the sweetness doesn't become too much when you combine the two. But as you keep making this recipe, you will find that having tea with this very sweet dessert is a simple joy in life.
Total time: 1 hour and 25 minutes.
My first introduction to "bread pudding" was in culinary school when the assignment was to develop recipes to use up old and stale bread. A stale loaf of French bread will work best because it has more gluten development and can hold its shape better while baking.
The mechanics behind this dessert is easy to understand. You soak the dried-up, stale bread in a mixture of eggs, milk, and sugar and bake the mixture until it is set. To understand it better, you can think of it as a glorified French toast.
Nothing beats a bread pudding when you want sweets but don't want to work for it. But you can definitely take things up a notch by serving this dessert with a vanilla sauce and a scoop of vanilla ice cream. This pudding is seriously addictive by itself.
Bread pudding is the best way to eat stale bread as a dessert.
Total time: 50-60 minutes.
You don't have to be fluent in Spanish to know that the name "Tres Leches" means three types of milk. While "Tres Leches cakes" use three types of milk to soften a sponge cake, and bread pudding is bread soaking in milk and egg, it makes sense to merge the two to make it better.
This Tres Leches bread pudding uses brioche bread and soaks it in a sweet mixture of three different types of milk: condensed, evaporated, and whole milk. The milk softens the brioche bread and makes it incredibly moist.
Of the three types of milk, the condensed milk will be sweetened, so if you don't want your pudding to be too sweet, I will reduce the sugar amount. I would add a bit of vanilla extract to make the pudding even more delicious.
Total time: 38 minutes.
Grasshopper parfait is the ideal recipe for people who cannot get enough of "mint chocolate chip ice cream". I bet you'll enjoy this pudding quite thoroughly! It is chocolate pudding on top of mint cream with even more mint chocolate to garnish.
The etymology behind the name is perhaps depicting the image of a grasshopper on brown soil by layering green cream on chocolate pudding. You can use instant pudding mix to cut down the cooking time or try making it from scratch.
Total time: 60 minutes.
You will also know this dessert by its alternate name, "Flan". "Creme Caramel" is the French name for this timeless and widely-beloved egg custard dessert. You will see it as the star of many birthday parties and celebratory occasions.
A perfect Creme Caramel will have a light yellow color and is smooth without any bumps or holes on the side. The trick is to run the egg and milk mixture through a sift many times to remove any bubbles and lumps.
Make a simple caramel sauce by cooking down white sugar until they take on a reddish-brown color. Add the caramel syrup to the bottom of the baking pan and pour the egg mixture on top. Cook the "Creme Caramel" in a water bath.
The water creates a steamy environment that cooks the custard gently to discourage bubbles. The heat is also gentle enough to set the custard without burning the result. You really need to try your hands at making, then eating this amazing pudding dessert.
Making the perfect Creme Caramel takes some great skill.
Pudding Desserts Is The Unsung Hero Of The Party
I do believe that pudding is often overlooked in the dessert category. Pudding is one of the easiest desserts to put together in a pinch, and it doesn't require much cooking. As a matter of fact, you can make most of these pudding desserts ahead of time.
It is due time pudding desserts get the recognition they deserve. Make these easy recipes at your next party with inexpensive tools and ingredients to make yourself look like a pastry chef. Like, comment, and share with your friends who love to party but hate the fuss.
See you next time.