These best potluck side dishes will be your salvation in the upcoming gatherings. You don't want to be the only one showing up at this year's potluck with the same old dishes cooked in the same old way. The worst nightmare is that your food can be left ignored and uneaten.
To prevent the bad scenario from happening, you can try Mexican street corn salad, Boston baked beans, or cheese casserole, as they can be some big hits at the party.
If you want to know more, please scroll down to find your favorites. Trust me; you will get a lot of requests for recipes after your guests try these side orders.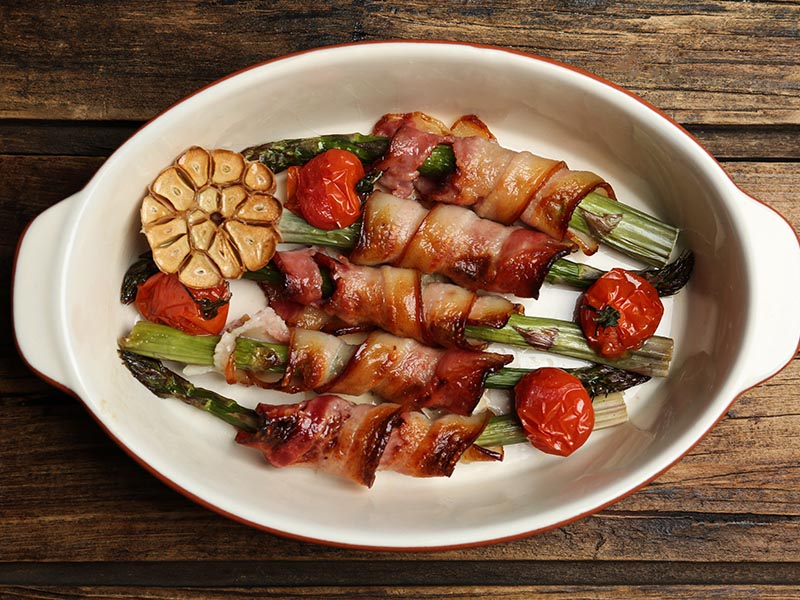 Please Your Friends With These Potluck Side Dishes
Whether you're the host or on the invite list of a potluck, pocket some go-to side dishes so you can always show up on the table prepared. It's not the most straightforward task to please the taste buds of a big crowd, but nothing is possible with this list.
Total time: 4 hours and 20 minutes (including 4 hours of refrigerating time)
Once you feed the crowd with this creative Asian-style accompaniment, they will ask you to bring it again at the next potluck. The tangy sauce dressing from a soy sauce base will hit every part of your palate.
Making the salad dressing from scratch is as simple as whisking sugar, oil, soy sauce, and seasoning packets together. Cover and refrigerate for 2 to 4 hours. I'd recommend you make the marinade/dressing a day in advance.
For the best result, please leave them in the fridge overnight. Probably, the flavor will be at its peak when you let the mixture chill for about 30 minutes before serving time. Chilling will help the ingredients blend well together, and the dry noodles will absorb enough sauce and moisture.
Total time: 20 minutes
Bring this Mexican street corn salad to a potluck party and behold how its alluring flavor will charm your friends. All the crowd-pleasing ingredients, like corn, Cotija cheese, onion, and jalapeno, are featured in this Mexican-style side dish.
Fresh corn is a must in this Mexican-originated side dish for the most authentic taste. Canned or frozen corn is also grudgingly acceptable if you are in a pinch. Cotija cheese makes your salad more enjoyable with an addictive salty flavor. Meanwhile, limes will add some zing to the dish.
While most Mexican corn salads use grilled corn on the hob, today's recipe will cook your corn in a skillet. If desired, the corn can still have a slightly scorched outer layer by keeping the heat low at the end. Extra cheese and green onions can give your Mexican salad a boost of flavor.
Learn how to make Mexican street corn salad and create a version of your own.
Total time: 15 minutes
If your friends plan to have a Taco night, why don't you tag the fresh mango salsa along? This homemade salsa is a perfect side dish for shrimp tacos, chips, guacamole, black bean tacos, and more.
With some essential ingredients, such as mangos, red bell peppers, and jalapeno, you will have an eye-catching and mouth-watering mango salsa bowl in about 15 minutes. The sweet and sour taste, with a tinge of spice, will satisfy your taste buds.
For a fun twist on the flavors, add more pineapples, peaches, or diced strawberries and see how far your salad goes. It would be a surprise to see leftover mango salsa, but if it does, cover and store them in the fridge. The salsa can last for several days.
Total time: 10 minutes (plus 2 to 3 hours of chilling time)
Nobody wants to miss your marinated tomatoes at your summer potluck. This no-cook tomato recipe comes in handy when you're short on time. You don't want to miss the juicy tomatoes, fragrant grated garlic, and fresh herbs marinated in a tangy lemon dressing and olive oil.
Simply put, just tossing all the ingredients together is enough, and you will have a 5-star veggie dish. However, be patient because you must let the tomatoes rest in the fridge for 2-3 hours. This way, the tomatoes will soak in all the goodness of seasonings.
At your next potluck, team up with your friend and make some perfect pairs with marinated tomatoes, such as serving them with grilled chicken or shrimp or enjoying raw corn cut straight off the cob. The sweet and tangy flavor of marinated tomatoes can go well with anything.
Total time: 1 hour and 20 minutes
Spoiler alert! Cheesy bacon potato casserole is meant to feed the big crowd, at least twelve. Full bacon with tons of cheddar cheese in a potato side dish is what the hungry guests look for on holidays.
Use hash brown potatoes as a shortcut to save more time. Besides, there is no need for salt to taste because the condensed cream of chicken soup gives the dish a thick creamy texture and some saltiness. Also, don't forget the onion and garlic powder for seasonings.
With a rich, creamy, and melt-in-your-mouth flavor of cheese and baked potatoes, bacon adds a nice savory boost, and sour cream brings a tart and tangy flavor to every bite. Pair it with turkey, ham, pork, or anything you want. Either way, they will please the crowd on the first try.
Total time: 15 minutes
Easy pea salad leaves a unique impression on your guests without complicated cooking skills. The recipe calls for simple pantry ingredients like frozen peas, mayo, ranch dressing, and diced ham.
For extra flavors, add a packet of ranch mix to the dressing, which you can adjust to your preference. Likewise, although this recipe utilizes frozen peas, feel free to substitute the fresh beans. You can also cheat with pre-packaged ham in the deli section at grocery stores.
Once the dressing is ready and the peas defrosted, mix them with diced ham and red onions. Note that if you choose fresh peas, wait for them to cool completely before adding them to the salad. Refrigerate and serve cold or enjoy it after finishing if you want.
Total time: 15 minutes
The worst scenario at a potluck is that your vegetable side dish can go uneaten because everybody is bored with the same old dishes. Make some changes with this broccoli salad with bacon and dried cranberries. The crowd reactions will completely change, guaranteed!
For the best result, use fresh broccoli only to boost crunchiness. However, if you prefer softer broccoli, don't mind blanching it. To make the salad lighter, opt for Greek yogurt instead of mayo. Additionally, add more protein in nut forms with walnuts, pecans, or almonds.
Acknowledgedly, it's best to let this dish sit in the fridge for hours and even overnight so that flavors blend well together. When served cold, the sweet and sour taste of the veggie dish will explode in your mouth, not to mention the crunchy texture of cranberries and broccoli.
Total time: about 1 hour 5 minutes
Traditionally, baked beans will take hours to make. However, the addicting instant pot side course has a rich and caramel-sweet profile with navy beans, smoky molasses, and salt pork. The dish can also be table-ready in a fraction of the time.
An integral ingredient of Boston baked beans is salt pork. A quick word on the salt pork, in case you haven't known. It is a slice of salt-cured meat from the pig belly or fatback, used as a flavoring for dishes like baked beans and chowders.
On the other hand, you should use navy beans to ensure the result doesn't become mushy. If you are short on time, there is no need to soak the beans overnight. Just dip them under hot water for about one hour before putting the beans into the instant pot.
Making the classic baked beans with instant pot will give you a new experience!
Total time: 1 hour and 20 minutes
Leave the crowd speechless with the wild rice salad recipe, a highly harmonious combination of rice, oranges, apricots, and more. This delicacy is vegan-friendly and a perfect side dish for any potluck or picnic.
Wild rice is not compulsory, so a rice blend of many kinds of rice is a reasonable option if you opt for a more affordable alternative. Most noteworthy, replace honey with agave if you want to keep the whole thing vegan-friendly.
Its sweet and savory flavor goes great with many meals, from pork and fish to roasted meat. The salad tastes best when served cold, so it's also a good choice for make-ahead meals. Prepare the sauce two days in advance and continue the remaining steps before serving.
Total time: 37 minutes
For a unique take on side dishes, these lovely treats using green tomatoes are what you need for the next potluck meal. Luckily, fried green tomatoes meet both standards to create a hit. The fries are a perfect balance of crisp exterior and tender interior, without any hint of mushiness.
One tip for the perfect tomato coating is to dip the slices in the flour-seasoning, the egg/milk mixture, and the cornmeal-breadcrumb mix, respectively.
Unlike ripened tomatoes, green (or young) tomatoes are much firmer and have a sharp, tart flavor. Due to the low water content, they are ideal for sauteing and frying. Of course, red tomatoes are worth considering, but you must ensure they are not overripe or too juicy.
Total time: 5 minutes
You may have seen this classic Italian salad a million times. Why not bring it over to the next potluck and be the talk of the party? The Caprese salad contains layers of fresh tomato and cheese mozzarella with balsamic reduction.
Because the recipes use most pantry ingredients, you should focus more on the freshness and high quality of the product. It's best to make this dish when tomatoes are in the season and go for only high-quality mozzarella, basil, and extra virgin olive oil.
Wondering what to serve with Caprese salad? No worries, you can accompany the tomato and mozzarella salad with crusty bread or pasta. Moreover, turn the salad into more of a full meal with additional protein from grilled shrimp or tofu.
Don't miss a chance to serve this Caprese salad at your potluck.
Total time: 20 minutes
Light up your summer potlucks with this Israeli couscous salad. This recipe combines pearl conscious, cucumber, and tomato, mixed with lemon juices and lots of fresh herbs. Make a double batch if you want to feed more people.
Isaralie couscous, or pearl couscous, is the belle of this salad. Compared to the traditional couscous, it is in a larger form, with a taste and texture like pasta. Preparing the pearl couscous requires more effort than the regular as you need to simmer the grains on the stove.
Noticeably, the flavor of the Israeli couscous goes so well with Mediterranean and Middle Eastern culinary delights. The contrast in tastes and textures of this combination creates an irresistible charm. Opposites attract, I'm sure you will agree with that.
Total time: 30 minutes
What could be more convenient than adding your roasted zucchini and peppers to your BBQ potlucks? These veggies are not too delicate and will hold up to the grill heat. Besides, this dish is a great excuse to use up all your summer products.
Compared to other cooking methods, roasting unlocks a new flavor for zucchini and bell peppers, especially with the boost of seasonings. In addition, add more veggies such as onions or tomatoes if you like.
As always, salt and pepper must make an appearance for a delicious dish. However, feel free to upgrade the game with more herb and spice combinations, such as Italian seasonings, lemon juice, parsley, and basil, or heat things up with some red pepper flakes and paprika.
Total time: 20 minutes
These healthy zucchini fritters will help you bring something different to the potlucks and use up all the summer veggies you have on hand. Best of all, it only needs 5 ingredients and 20 minutes to make the magic happen.
The setup is simple enough: shredded zucchini, chopped scallions, and eggs. The quinoa flour will add extra protein; as always, salt and pepper are here to taste. If you want to make shredded zucchini from scratch, I'd recommend a food processor or a box grater.
Interestingly, the secret to keeping the fritters crispy is to get the oil searing hot. And it will help if you focus on the frying temperature as different types of stoves and pans produce different results. Enjoy while the fritters are still warm, and the guest will go crazy for the new crunchiness.
Total time: 30 minutes
Bacon is a safe bet regarding potlucks. No one can resist these salty, juicy, and crispy asparagus bundles, especially when served as tasty accompaniments to pasta salad, potluck, or any savory dish!
Remember to use a thinner piece of bacon so that it will cook faster and crisp up quickly without having to overcook the asparagus. Also, before wrapping, leave the bacon at room temperature while letting the asparagus hang in the refrigerator.
As a finishing touch, Parmesan cheese will do a great job of enhancing the flavor with a nutty and sharp taste. Add your personal touch with balsamic glaze, honey, or more.
If you are a bacon fan, you must check this bacon-wrapped asparagus recipe!
Total time: 20 minutes
The 7-layer salad bowl has been the Southern potluck staple from the 1950s until now. This retro keeper is always the center of attention with rainbow layers of grape tomatoes, cheddar cheese, bacon, and many more.
The number of layers is interchangeable, and so are the ingredients. Therefore, leave out any element that you don't like. For example, swap onions for red or jack cheese for cheddar. Play mix and match, and make your version of the salad with eight layers, nine layers, or more.
Mix up mayonnaise, sour cream, vinegar, and salt to make the creamy, sweet-and-sour dressing. If you like a sweeter sauce, add one tablespoon of granulated sugar. Most importantly, the best way to present this show-stopping salad is by assembling it in a glass serving bowl.
Total time: 1 hour
Enjoy all the deliciousness in this savory sweet potato recipe with smoked gouda, fresh rosemary, and a hint of spice from the chipotle chili sauce. Use this recipe as a gorgeous addition for making your fellow diners' jaws drop at this year's potlucks or picnics.
Switch gouda cheese with sharp cheddar as you please. Add cooked chopped bacon or top with bacon bits for extra flavors. What's more, if you prefer a more kick of heat, additional chipotle chili sauce will do the honor.
Scalloped sweet potatoes can be a great make-ahead meal and save you more time. Wrap the sauce and potatoes in foil and keep them in the fridge until needed. Otherwise, bake the entire dish in advance and reheat later at 350°F or lower within 30 minutes.
Be The Rockstar At The Next Potluck Gathering
These tasty potluck side dishes will make the guest go crazy at any gathering. Whenever you show up with one of these ideas above, you will instantly become the talk of the party. So please share my article on your social media if you are pleased with the results.
If you have turned these ideas into reality, please take the time to leave a comment below. It helps me and other readers know how much you enjoy these recipes. Thank you so much for your attention and participation.