Looking for potluck appetizers without asking for many expert cooking techniques or time yet still impressive? Well then, congratulations! You have come to the right place. This post will give you the exact answer.
You will find in this article more than twenty-six easy starter recipes which are easy as a piece of cake. Not only the name of the dish, but you will also receive detailed instructions on ingredients and how to make it. Plus, you will learn a few more tips and tricks for mastering them.
So, are you satisfied with this stop? If you feel moved, keep reading! I am sure you will be even more pleased after ending up the whole post.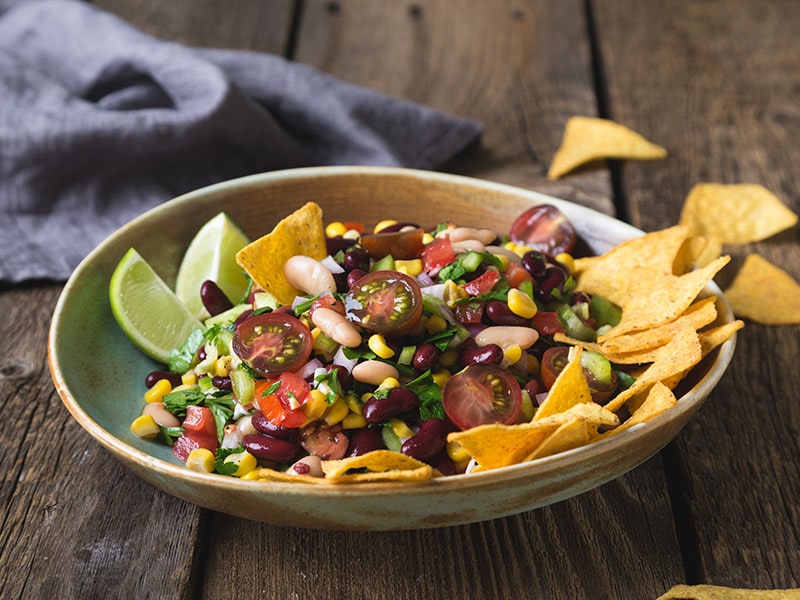 Easy Potluck Appetizers To Bring In Your Next Gathering Party
It's your turn to amaze others with your appetizers for the party. The dishes introduced below are guaranteed to be trouble-free and fancy enough to make the crowd admire. So, read on and learn more!
Total Time: 20 minutes
The regular buffalo chicken dip recipe usually takes you almost an hour to finish but not this one. This tasty instant pot appetizer requires only twenty minutes with just a little effort. Simply prepare ingredients and put them in the instant pot for a quick cook, then stir the mixture well and serve.
It is so convenient, isn't it? Besides, there are a few tips to make your dip always appetizing. First, you should add enough hot sauce and ranch dressing to coat the top of the chicken since that will infuse your chicken with more flavor.
If you are having trouble melting the cheese, you can switch the instant pot to sauté mode to reheat the whole dish, which will help your cheese melt quicker. And if you want the buffalo chicken dip, a cup of cheddar cheese will solve it.
Check out this quick and easy buffalo chicken dip recipe!
Total Time: 15 minutes
Cowboy caviar, also known as Texas caviar, is a hearty dip recipe created in Texas by Helen Corbitt in 1940. This woman had developed this recipe intending to spice up black-eyed peas in the New Year's dish since they are lucky charms, representing prosperity in the new year.
To me, cowboy caviar is a no-fuss dip. All you have to do is mix beans, vegetables, and herb coating well with dressing. Then chill your dip bowl in the refrigerator for at least one hour before serving to perform the best flavor.
You can enjoy cowboy caviar with some dippers such as tortilla chips or regular crackers. These will insanely spice up your sweet, tangy, and earthy dish. Besides, you can double cowboy caviar to make salsa or salad. Then it will be a perfect side dish for tacos.
Total Time: 20 minutes
Spinach artichoke won-ton cups are the finger-food version of regular creamy spinach dip. Serving this way, your crowd won't have to jostle for the creamy spinach dip, but everyone will have theirs on hand. Sounds easier to breathe, huh?
You will love this dish even more because of how easy it is to make. Just combine and put other ingredients in the Won-ton wrappers and bake. Then you will have several delicious cups to feed the crowd.
By taking a bite, you will find this appetizer creamy and cheesy yet flavorful with many seasonings. If you love some more crunchy texture, gently spray a little extra oil on Won-ton cups and let the temperature work.
Have no creamed spinach? You can use thawed spinach, then chop and blend it with cream cheese instead. Now your creamed spinach copycat is ready to go.
Total Time: 15 minutes
Here comes another hand-held idea! Cheesy pepperoni pizza rolls are an upgraded version of regular pizza. Besides convenience, it is also trouble-free to proceed, another reason for you to do it.
Simply put all ingredients in a bowl and scoop pizza filling in the center of the spread pizza roll mixture in muffin tins, then bake until golden brown. After that, you can serve your warm at the table of the potluck.
If you desire dip, the marinara sauce will be the best choice. Its sourness of tomatoes and aroma of spices will stimulate the taste buds of the crowd. Hence, I am pretty sure that your treat will disappear soon!
Total Time: 40 minutes
Everyone is looking forward to your cheese-filled starter for the weekend potluck, and you do not want them to be disappointed? No worries! You will even surprise everyone with a cheesy dish of pull-apart bread with just some simple ingredients and steps.
First, you will cut the bread carefully according to the instructions and pour the ranch seasoning evenly over it, then arrange the cheese and bacon evenly according to the cut notches. After that, bake it in the oven twice and wait for the results.
Although it is easy to make, you should focus on a few details when choosing ingredients to ensure deliciousness. You should buy a bread that has an oval shape and is somewhat firm. That's because the super soft bread will be hard to cut and proceed in the making.
Besides, you should choose the unsalted butter since the ranch seasoning has a salty taste that is enough for this recipe. If you add salted butter, you are most likely making the food too salty. Thus, be careful in buying ingredients!
If you love cheddar cheese, this easy recipe of cheddar bacon ranch pulls is for you.
Total Time: 45 minutes
For all the cheese lovers, this dip recipe is for you. Lasagna dip is an incredible appetizer hailing from the lasagna dish of Italy but without pasta. This dip is effortless and everybody's favorite. Indeed, I never see anyone reject its charming flavor. How about you?
If you have never tried lasagna dip before, this dip will give you plenty of flavors, from fatty and creamy cheese to sour marinara sauce and aromatic beef. In brief, this dip features the soul of Italian cuisine – tasty and mesmerizing.
In case of leftovers, you can store Lasagna dip covered in the refrigerator for up to three to four days. When serving, you can reheat the whole pan in an oven until hot or in the microwave if you only deliver a piece of it.
Total Time: 18 minutes
Mexican street corn dip is an ideal starter to start a summer party, especially for its excellent summer flavor. The crunchy corn, creamy sauce, salty cotija cheese, and the spicy heat of chili powder all combined to create a unique street flavor of Mexican corn dip. So yum!
To cook this dish, you just need to add the ingredients in order until the cheese melts and all flavors blend. The small tip here is to use the cast iron skillet since it can cook your corn better and is easier for you to serve.
In addition, if you do not have enough ingredients, there are a few things you can substitute. For instance, you can use sour cream to alternate Greek yogurt or feta cheese as a cotija cheese substitute. You can assure that they will work just the same.
Total Time: 80 minutes (refrigerating time: 30 minutes)
If you and your friends need something colorful yet delicious, antipasto skewers will be a good option. It may take a longer waiting time but is so easy to handle. So, why not give it a try?
To prepare this dish, you just need to mix all the ingredients, season them with spices and olive oil, then skew them in the order of your preference. During that time, you and your friend make other dishes while waiting for your food's flavor to mingle in the fridge.
A special thing about this recipe is that you can flexibly change it into other versions, such as vegetarian and gluten-free, by leaving off or substituting some ingredients.
Total Time: 18 minutes
If you love ball bites, this food will have you licking your fingers to the end because of its goodness. With perfect size and delicate flavor, these bacon cheese ball bites are a must-have dish to begin your potluck.
When popping one in the mouth, all the flavor will explode immediately. The creamy cheese mixture, fatty bacon, and crunchy pecans will elevate your eating experience. It is tasteful to eat, but rest assured that it is not hard to prepare.
Simply blend cream cheese, cheddar, and ranch package and make the round-shaped bites from that mixture. Then roll these bites into a mix of chopped bacon, chive, and pecans, and serve your guests immediately. If not, wrap them loosely and place them in the refrigerator for storage.
Total Time: 20 minutes
There will be no more sweating in the kitchen if you have these mini cheese balls on the potluck menu. This appetizer is customizable and convenient. Indeed, it is just a creative time-making since you can coat your balls with anything.
To make these cuties, you just need to blend cheese with cream cheese and seasonings, then make a ball-like shape in your preferred size. Finally, coat them with your favorite ingredients. Like this recipe, paprika, scallion, walnuts, and sesame seeds are the choices.
For better enjoyment, crackers and wine are a must during the potluck. Simply scoop a small spoon of cheese balls and spread them on a cracker. Pairing a sip of wine, you will fulfill all the flavors at once, creamy cheese, salty crackers, and spicy wine.
Flavorful and funny are two compliment words people give for this snack. It sounds like a potluck, right? So, you better note these balls as your backup dish when lacking ideas.
Cook Time: 8 minutes
Potato jalapeno balls are a great combination of mashed potatoes, cheese, and jalapenos, chili pepper with moderate heat. This appetizer will give you a crispy outside with a cheesy and foamy interior.
When dipped into sour cream and served warm, potato jalapeno balls will surprise you with their boast of flavor. By a bite, you will feel full of creamy mashed potatoes and the tartness of sour cream in your mouth with a spicy note of jalapenos.
In the recipe, potatoes are the key ingredient contributing to the success of potato balls. In particular, to keep the perfect ball shape, mashed potatoes should not be runny.
If they are liquidy, add extra flour to the recipe for thickening purposes. Or, you can freeze mashed potatoes overnight for a firmer texture.
Learn how to make potato jalapeno balls right here!
Total Time: 25 minutes
Inspired by a non-traditional Vietnamese "banh mi quiet tom," baked shrimp toast is an appetizer of bread with a topped spread of shrimp, mayonnaise, and spices. The toast texture is crispy and creamy, with a sweet aroma of fresh basil.
In the recipe, making shrimp mixture is the most technique required yet still super easier than other recipes. You need to chop shrimp into small pieces but not make it a paste. Then mix it with mayonnaise, melted butter, scallions, garlic, and loads of pepper.
The last half of the process will be more effortless. Just slice bread in halves horizontally and spread the shrimp mixture evenly on the cut side. Then bake it for fifteen to eighteen minutes until golden and crispy. It is best to serve immediately with a sprinkle of fresh basil.
Depending on your preference, you can add to the recipe some of your favorite seasonings like onion powder or ground cayenne pepper. Or, if you love the cheesy taste, altering butter to cheese is just fine.
Total Time: 20 minutes
Caprese skewers are the light and fresh food for a potluck. Inherit from salad, Caprese skewers contain cherry tomatoes, basil leaves, mozzarella cheese, and balsamic glaze. But, it is fun to eat with a stick and easy to serve as finger food at a crowded party.
Before assembling ingredients into bamboo sticks, you have to handle the star of skewers, and mozzarella cheese, by tossing it with olive oil, Italian seasoning, and oregano. This technique will add more flavor to your skewers and make them stand out at the potluck.
In addition, you can also treat Caprese skewers as side dishes for other main courses. Some popular main dish pairings are tomato basil pasta, salmon florentine, and spinach stuffed chicken.
Total Time: 18 minutes
If you find an appetizer to retain quality at room temperature, pesto tortellini skewers should be your consideration. As its name suggests, this dish consists of tossed-in-pesto tortellini and dried tomatoes skewed with a bamboo stick.
With the addition of pesto, your skewers taste flavorful from herby to rich and salty. Besides, dried tomatoes will add to the whole taste a note of sour, which will complete your entire dish flavor.
With such a dish that is easy to store and carry, you can use it as a treat for almost all occasions. In particular, they will be perfect for birthdays, baby showers, and weddings.
Super tasty and simple pesto tortellini skewers instruction!
Total Time: 10 minutes
Potluck participants have a wide variety of diets, namely vegetarians, keto diets, and many more. How can you satisfy the crowd? The answer lies in an incredible dish of cucumber slices with garlic cheese. Not only does it require no effort, but this appetizer is also super healthy.
To make this healthy starter, you first slice cucumber into 3mm thick pieces, then peel garlic cloves and blend them to cheese with an addition of the dried basil. After mixing well, fill the piping bag with cheese mixture and pop it on cucumber slices.
Finally, do forget to sprinkle chopped parsley on the top before serving. Then you will find your dish creamy, tangy, and a sweet note. In addition, if you cannot bear garlic tanginess, do not be afraid to change other toppings, such as tuna, Greek yogurt, or hummus.
Total Time: 45 minutes
Caramelized onion puff pastry tartlets are an elegant appetizer with mini tart and a combination of cheese, wine, and seasonings. The snack will be served in small-sized bites yet packed full of flavors of tangy wine, sweet onion, fatty butter, and crunchy base layer.
To make this excellent dish, you only need to go through three main steps. The first is roasted garlic in the oven with olive oil. Next, you will caramelize onions with wine and butter in a skillet. And the final step is to put them together on the pre-cut dough and bake. Then your starter is ready.
If you do not know any brand of wine, Woodbridge Chardonnay will be ideal for your dish. The bright fruit flavor of apple and peach combined with warm oak flavor will add a fresh yet tangy flavor to the caramelized onion on top of your hearty treat.
Total Time: 15 minutes
The fresh and fruity strawberry mango salsa will be light and suitable start for potlucks or outdoor barbecues. The salsa tastes sweet and savory, deriving strawberry and mango with a spicy flavor of jalapeno chili pepper. Combining all the flavors will surely satisfy your diners.
Cooking this dish is very simple; I just need to describe it in two words: dice and stir. Dice mango, strawberries, red onion, jalapeno, and cilantro, then stir them in a bowl with seasonings, including lemon juice, chili powder, and salt. Until the salsa fits your taste, the entree is ready.
If there are leftovers, you can store them in an airtight container and leave them in the refrigerator. They will taste good the next day. But their initial consistent texture can be affected a little since strawberries release most of their juice on the first day.
There are some ideas for your next-day uses. You can treat them as a topping for your tacos and burgers. Or, use them as sides for grilled fish dishes like salmon and halibut.
Total Time: 30 minutes
Are there any appetizers that still taste good when you have to arrive early to arrange the potluck? You may find crab dip your savior. Whether served hot or cold, this starter is everyone's favorite.
All you have to do is mix all ingredients and bake the mixture for twenty minutes until bubbly and good. If you love cheese, just top a layer of it before baking. Then you have a heavenly delicacy for the crowd, which is creamy and cheesy with packs of full flavors.
If you do not have time to prepare, you can cook in advance for the potluck. Crab dip will be safe in the fridge for up to four days if stocked properly with an airtight container or resealable plastic bag.
Let's make your best crab dip with a professional chef!
Total Time: 30 minutes
Garlic fingers will be the best starter when you are on a tight budget but still want a nice food to begin your potluck. That's because all the ingredients you need are pizza dough, cheese, butter, loads of garlic, and a little bit of bacon. These are both easy to find and very economical.
This entree is delicious alone, but it will be even better if you serve them with donair sauce. Imagine the fatty and oily taste of garlic fingers blended with the sweetness of donair sauce. All taste so good, and I am sure your dish will run out soon, even before the party starts.
Besides, if your crowd does not prefer donair sauce, simply change the sauce to other popular ones, such as sriracha or honey dip. They can all be found at convenience stores or are readily available at home.
Total Time: 6 minutes
If you need a sweet-and-savory treat for your potluck, grape jelly smokies can help. You will make these smokies in no time with little to no effort by using an instant pot. Just dump everything in your crock pot and let it work. Then your dish will be ready in six minutes.
To make your dishes richer, you can make some changes to the recipe. In the case of jelly, you are free to choose the flavor you like, not necessarily grape. Instead of grapes, other berries or citrus marmalade will also taste good.
Similarly, the same goes for BBQ sauce. You can choose from a variety from sweet to spicy to the crowd preference. Besides, if you do not have BBQ sauce on hand, Heinz chili sauce will be a tasteful substitute.
Total Time: 30 minutes
Tasked with making appetizers for a meaty barbecue party, but you do not want everyone to get bored with it before the party starts? Veggie pizza is ideal. The dish is a crowd-pleaser with topped vegetables and creamy dill dip crust, bringing a fresh and savory eating experience.
Plus, the veggie pizza is also offhand to make. You simply bake the crescent roll base, spread the ranch dill dip, and place chopped vegetables on top. Then everything is all done for serving.
There is one tip on hand to master the crispy veggie pizza. Specifically, you should wrap moist vegetables like cucumber and bell peppers on towels for about fifteen minutes before assembling. This trick can remove moisture to prevent the dough from being mushy.
Besides, if you are on a diet, simply alter your cream cheese and sour cream into low-fat. Your dill dip will be the same with these changes.
Total Time: 15 minutes
If you are sick of cooked dishes and want to try some fresh ones, juicy pineapple salsa should be the first choice on your list. The starter is fresh and uncooked. All you need to handle the dish is a knife, a spoon, and a bowl.
Simply chop everything into a bowl and squeeze lime juice with salt seasoning. Then you have a handy salsa bowl on set. For crowd-feeding, you can serve spicy pineapple salsa with tortilla chips or treat it as toppings for grilled meats or tacos.
When scooping salsa by chip and tossing it into your mouth, you will find a crispy and juicy texture of the combination. After that, a savory and spicy flavor of fruits and chili will explode right at your first chew. Pretty sure that you will love it!
Total Time: 15 minutes
Greek feta dip phyllo cups are an appetizer friend of people who are new to cooking. Indeed, these handy cups require zero experience because all you do will be easy and simple.
Simply dice tomatoes, feta cheese, and onions, then coat them with olive oil, lemon juice, and seasonings. After that, scoop the mixture into pre-baked phyllo cups (bought in your local grocery), and your entree is all in. Such an easy dish, isn't it?
However, you cannot make this dish in advance since the juicy dressed tomatoes can make your cups soggy. If desired, you should prepare and store ingredients separately, then assemble them later when eating.
Total Time: 30 minutes
If you are a fan of bacon and eggs, you better try to make bacon-deviled eggs at the next potluck. They are untroublesome and quick to cook and serve, in addition to divine flavors of salty bacon and creamy eggs.
Besides, bacon deviled eggs also have a spicy and pungent taste of pepper and mustard, providing a high-seasoned and spicy food. Those special things have earned it the scary-sounding name "devil".
However, this dish is not scary, instead, everyone loves bacon deviled eggs because they are super easy to make. In particular, you just need to boil eggs, make a yolk mixture, then pipe the mixture back into the halved eggs and decorate with smoked chives, paprika, and bacon bits.
To boil eggs successfully, you should use a spoon to gently put each egg in a pot of boiling water. This technique will keep your eggs from hitting the pot bottom and cracking open.
Also, one small tip to make it easier to peel an egg is to keep it cool in the refrigerator. So, if possible, you should make time to boil eggs in advance.
It will be child's play to serve your crowd with this bacon-deviled egg recipe!
Total Time: 30 minutes
Avocado corn salsa demands no time if you are familiar with cutting and chopping. To make the delicacy, you just need to cut ingredients into cubes, toss them all in a large bowl and serve. So, it is time to show off your knife skills, my friends!
Even though it's all vegetables, you can rest assured it's delicious. When you taste a spoonful of salsa, you will feel the sweetness of the corn and the fat of avocado with a companion of tangy bell pepper. All will blend well in sour lemon juice, making you cannot stop yourself from eating it.
Noticeably, you can make the salsa without avocado and stuff it with halved avocado later, which is also a great idea to serve. Besides, you can squeeze a slice of lemon into an avocado to keep it nice green without turning brown.
Total Time: 18 minutes
Pigs in a blanket exist to break your record time. If your crowd is in a hurry, the dish will be a good fit with only two simple ingredients, crescent roll dough, and little smokies. By wrapping the dough around the sausage, you will have a fast and furious appetizer for feeding the crowd.
About its taste, you will have the same feeling as when eating a hot dog, crispy on the outside, soft inside with chewy pork sausage. In addition, you can dip your pigs in a blanket into hot, spicy mustard, tomato ketchup, or barbeque sauce for a common experience.
Or, you can try some new sauces like honey mustard sauce and ranch dressing. They will pair well with your delicacy. Moreover, you can cook pigs in a blanket from frozen with additional minutes for a complete cook, which will be perfect for your game day.
Total Time: 20 minutes
Goat cheese and honey bites are an impressive appetizer with only four classic ingredients, including puff pastry, goat cheese, honey, and fresh thyme. Just by hearing the ingredients, I am sure you can already feel the fatty and sweet taste, which always pleases people.
Not only that, but it is also child's play to handle. You will start by cutting and topping the dough with goat cheese. Then bake them in the oven until they have a floating shape. Once taken bites out, drizzle with honey and decorate with a sprig of thyme. Your dish is ready!
In particular, you need to pay attention that during the baking process, remember to push the center of each bite of dough down. This trick will prevent your dough from puffing the cheese out and losing shape.
Total Time: 40 minutes
Baked brie is a fancy yet easy-to-make starter for your potluck. With just a few steps of making a cake, you will make the crowd admire its grandeur and delicious taste.
Indeed, to make a baked brie, you just need to put everything in the center of the puff pastry, then fold it and bake. Once the oven timer hits, you will have an exquisite entree. The starter that tastes fruity and cheesy is associated with the buttery golden crisp outside. Yum!
For this recipe, you can change the jam flavor or replace jam with preserve according to your preference, which will produce the same finished product. Besides, a small tip to keep the filling from leaking is to spread egg wash on each fold. It will act as the binder for your dough.
The best three-way to make your baked brie? Check it out!
Which Option Do You Choose To Feed Your Crowd?
With numerous potluck appetizers, have you found the one you need on the list? I am sure you have already made a long list for your next party. So when you successfully cook a dish, please comment to let everyone know. Your experience can be the motivation for others!
Also, if you appreciate my efforts, give me a like to show your support and share to spread the post in the community. Thank you, and catch you later!