These incredible potato side dishes are the familiar choices to serve with many excellent main dishes. The delicate and light flavor of potatoes is suitable to turn into various accompaniments. Also, the preparations for these recipes are simple. Let's try them!
It is a pity if you miss any fantastic trick for making these amazing side dishes, so you should concentrate on reading this post. I recommend preparing a pen to note down all essential things in your cookbook for better results.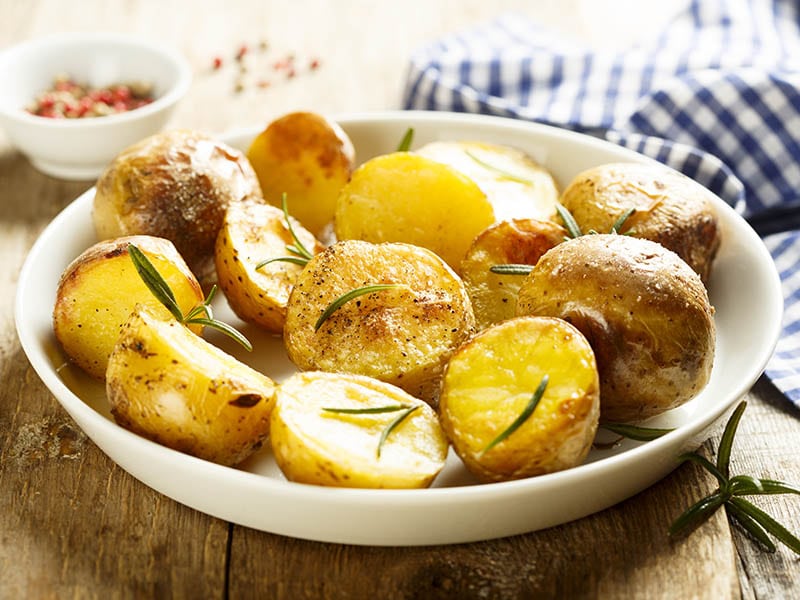 List Of Wonderful Potato-Based Accompaniments
After reading this list, you will have more ideas to diversify the party menu with delicious and simple potato side dishes. Fasten your seat belt and step into the world of excellent accompaniments.
Total time: About 1 hour 20 minutes
Baked potato wedge makes a unique accompaniment for tuna steak, sandwiches, or mac and cheese. Furthermore, people also love to eat this attractive food as a snack at mid-day meals.
When you bite into baked potato wedges, you'll feel the crunchy texture of the outer layer. However, this feeling will disappear with the inner softness. Do not forget to add pepper, onion powder, and garlic powder after drizzling olive oil on potato wedges.
To protect your health, it is best to use olive oil instead of canola oil for this dish. Typically, I soak the potatoes in hot water for about 10 minutes before baking for a crunchy exterior and moist interior.
Be careful while cutting the potatoes to get even wedges. This is pretty essential since it helps the potato to be cooked evenly. If you want potato wedges with a deep gold hue, you should not take them out of the oven too soon.
Learn how to make crispy baked potato wedges immediately.
Total time: About 15 minutes
In case you need an urgent addition to your meal, you might consider Tzatziki potato salad since it only takes about 15 minutes to make. After mixing golden potatoes with Greek yogurt and Tzatziki sauce, you'll get a yummy dish.
The soft potatoes and creamy sauce will attract you in no time. Plus, while consuming this masterpiece, you can find many accompaniments that complement potato salad well on any occasion. Your picnics or cookouts will be more memorable with this dish.
Besides golden potatoes, you can use red or Yellow Finn potatoes since they can keep the hard texture during salad preparation. Note, it is best not to cut the potatoes before boiling them for salad recipes.
Total time: Around 40 to 45 minutes
Dauphinoise potatoes are one of my favorite classic French foods. I cannot resist the cheesy and rich flavor of this delicacy. Alternatively, I believe you will fall in love with its tender and creamy consistency as much as I did.
Potato slices, Gruyere cheese, and heavy cream are the indispensable ingredients of this fantastic recipe. In addition, you also need the support of whole milk, nutmeg, black pepper, and butter to get the perfect accompaniment.
Potatoes will be perfectly tender if you simmer them in cream before placing them in the oven. You must wait about 15 minutes for the dish to cool before serving.
Check the instructions if you do not know how to make incredible Dauphinoise potatoes.
Total time: About 1 hour 20 minutes
The menu of this zero-gluten side course will make you want to put the potato creation on repeat. I was impressed with the bright yellow hue of this dish. I guarantee you'll experience the same feeling as me when you see this yummy dish.
That's not all! Its other attraction is its creamy and silky texture. Of course, the light and earthy taste of potato and the rich flavor of milk and cream will captivate you in no time. Besides, you do not need any flour when making this dish.
I love the mix of potatoes and Gruyere cheese, but you can substitute it with Fontina or cheddar cheese. If you're making this for a casual meal, try customizing it by adding cooked bacon, diced ham steak, or shredded pork to the recipe.
Yukon Golds are the potatoes I use in this recipe, and I do not recommend substituting them. This choice will bring out the perfect shape, color, and softness to this amazing accompaniment.
Total time: About 30 minutes
If you are tasked with making a fantastic side dish for a Thanksgiving gathering, you should immediately save these mashed sweet potatoes to your cookbook. This dish requires only 6 simple-to-find components and a straightforward process.
You'll find the mildly sweet and buttery flavor of sweet potatoes in this dish. Not only that, the presence of cinnamon will highlight the taste of the food. In terms of texture, you'll be surprised at the smoothness and creaminess of this recipe.
If you don't want to lose this silky texture, do not forget to peel the potatoes. You can choose the boiling method instead of steaming potatoes, suppose you cannot find a steamer basket in your house. When mashing potatoes, let's use a hand mixer to get the perfect texture.
You can turn it into a savory mash by adding garlic salt and Greek yogurt. Usually, I'll come across this beautiful dish with dry brined turkey, crockpot ham with spiced honey, or cranberry almond rice Pilaf at parties.
Check out the right directions to create smooth mashed sweet potatoes.
Total time: About 1 hour 15 minutes
There are tons of great choices you can try with potatoes, and making cheesy mashed potatoes is a fantastic way to create a side dish with chicken parmesan for your next meal. This creamy and fluffy side dish is perfect for your holidays.
If you have a big love for foods made from cheese, you must try this dish because it includes 3 different kinds of cheese: cream cheese, Parmesan cheese, and white cheddar cheese.
Combining cheese and mashed potatoes will create a beautiful dish with a gentle and delicate taste. You can create other variations by replacing the mentioned cheese with Fontina, Gruyere cheese, and goat cheese.
One good thing about this dish is that you can make it ahead of time and keep it in the fridge until you are ready to use it. Before serving it, garnish this food with chives, parsley, or black peppers. It works well with Thanksgiving turkey or baked chicken breasts.
Total time: Around 1 hour
One savory potato-based side dish you must try once in your life is crispy smashed potatoes. This rustic food will steal the heart of your guests, thanks to its crispy exterior and tender interior.
The texture of potatoes depends on the smashing process. If you smash stronger, your potatoes will be thinner and crunchier. Meanwhile, gentle smashing will help the interior of potatoes fluffier.
It has an alluring appearance with an eye-catching golden brown color. For serving, chimichurri sauce is the ideal choice to mix with this recipe. Alternatively, you can enjoy this delicacy with ketchup or ranch dip.
Total time: About 50 minutes
A quick way to turn potatoes into a scrumptious side dish is to roast them. Roasted red potatoes are a flavorful dish with crispiness and rustic color. Moreover, it will help improve the quality of your meal when you serve it with main courses.
Its taste is pretty balanced with the slight sweetness of potatoes, savory salt, and spicy pepper and paprika. In addition, the distinctive smokey taste of roasting dishes will leave a profound impression on your mind.
To ensure hygiene, you must wash potatoes thoroughly before using them. Let them dry completely to achieve the desired crispness. If the potatoes are not crispy, you can roast them for a few minutes. And remember not to use too much cooking oil when roasting.
It is simple to prepare roasted red potatoes with these instructions.
Total time: About 1 hour 20 minutes
Let these twice baked potatoes bring a breath of fresh air to your meal. This easy-to-make recipe is a well-combined fusion of potatoes, milk, butter, sour cream, and cheese. Also, adding bacon, chives, and scallions will enhance this dish's flavor.
A smooth and cheesy filling will be stuffed inside the potato skin. After baking for about 15 minutes, you'll have a culinary masterpiece with a stunning golden color and a spongy and tender consistency.
Suppose you are wondering about the type of potato for making this dish, russet potatoes are the perfect name. To get a potato with a crunchy outer shell, you must wait for the potato to dry after rinsing and sprinkle some salt and oil on the potato.
It is best to use grated cheese to shorten the melting time and increase the aesthetics of this mouthwatering side dish. This accompaniment is compatible with chicken, fish, pork, or steak.
Total time: About 30 minutes
Salad is always a familiar side dish at many parties. The fresh flavor of loaded baked potato salad makes it become one of the common side dishes for chicken tenders with its numerous flavor layers. In addition, it will beautify the dining table thanks to its colorful look.
My diners are always fascinated with this particular dish's creamy and rich flavor. Besides potatoes, what else can you find in this food? It is the meaty bacon and cheesy touch of mayo and sour cream.
Making salad is a straightforward task because your job is to gather the ingredients and mix them together. Do not ignore decorating the delectable dish with bacon crumble, cheese, and green onions.
Total time: Around 30 minutes
Enjoying a refreshing salad made with potatoes at dinner is a lovely experience. This creamy salad is the fusion of mustard, mayonnaise, sweet onions, and hard-boiled eggs. Its greatness is also reflected in the bright and attractive colors of the dish.
Russet potatoes are my best-loved choice in this recipe. Usually, I will cut them in half to cook faster. When you eat it, you'll find the mild spicy touch of mustard and the distinctive apple flavor of apple cider vinegar in this dish.
Not only that, a mild spiciness from paprika on top will stimulate the tip of your tongue. Also, the red color of paprika beautifies this recipe. Before enjoying it with a burger or BBQ chicken, you should chill it for a few hours in the fridge to make it taste better.
Follow the preparation to get yummy Southern potato salad.
Total time: About 1 hour 10 minutes
Do you know how to take advantage of gold potatoes on hand effectively? One suggestion you can refer to is to make a mini Hasselback potatoes recipe to serve with delicious dishes at parties.
It makes a strong impression thanks to the distinctive yellow color and unique appearance. In order to get this signature form, you use a knife to create crosswise cuts on the potatoes. After baking, you'll have tender-crunchy and garlicky potatoes.
Total time: About 40 minutes
You will be addicted to wonderful tater tots with a crispy outside and soft inside. They can become a unique addition to sloppy joe with the appearance of cheese, bacon, jalapenos, or onions. Also, you can make various variations with this recipe.
You can bring new experiences to diners with just a few minor additions. For example, you can add cilantro, habanero, dressing mix, or taco seasoning to this recipe.
I recommend using peanut oil to fry this dish if no one in your family is allergic to this ingredient. Always use fresh oil since reused oil will negatively affect the food quality. Also, you have to parboil the potatoes.
Note that you should supervise your kids when frying tater tots since hot oil can be dangerous for them. A safer and more convenient method to cook potatoes is to use an air fryer.
You can get crunchy tater tots after following these directions.
Total time: About 15 minutes
You can have a wonderful Christmas or Thanksgiving gathering with family members with mashed potato pancakes. This delicious dish satisfies the requirements of a side dish in terms of deliciousness, simplicity, and speed.
In addition, it is also a gluten-free and healthy food. Its rich and savory flavor will not let you down. Restaurants usually serve it with meat, chicken, fish, or vegetarian dishes. You should mix it with poached egg and sour cream.
If you want to turn it into paleo food, you can use cassava flour instead of regular flour. Make sure the pancakes are evenly distributed on the pan and avoid overlapping. To preserve this food, you only need an airtight container and fridge.
Total time: About 13 minutes
Until now, I am still attracted to the crispy and tender air fryer baby potatoes. You can consume this delicious food after a short time of preparation and wait. You'll use some spices to flavor this recipe effectively.
The air fryer makes cooking easier. I usually bake potatoes at 390 degrees F and shake them to help them cook more evenly. For serving, I love to consume it with lemon, garlic, fish, sausage, or baked eggs.
You can add several toppings to make the dish more delicious, like cheese, sour cream, or meat. In particular, do not forget to mix potatoes with oil before seasoning them with spices and garlic.
Accompaniments are an essential part of a gathering. They help increase the flavor of the main course and bring interesting combinations. You must take advantage of potatoes to create memorable side dishes for your meal.
I am looking forward to receiving other ideas from you. Hence, do not hesitate to share your suggestions via comments. Also, many other readers want to see the helpful information, so let's share this article now. Thanks for sharing!