The best potato casserole recipes are a winner since they already incorporate the best ingredient: potatoes. The starchy veggie provides something for everyone, whether you are a fancy-pants diner or a casual food enjoyer.
The most succulent potato casserole dishes find their way to your plates regardless of the settings. You may notice them on a menu at a luxury restaurant or a family gathering meal. The rich and creamy flavor is welcoming, especially at the end of a long day.
Some of the best potato casseroles are easy to make and prepare, all the while retaining their distinct deliciousness. Scroll down to learn about my top-rated recipes that are worth a place on your dinner table.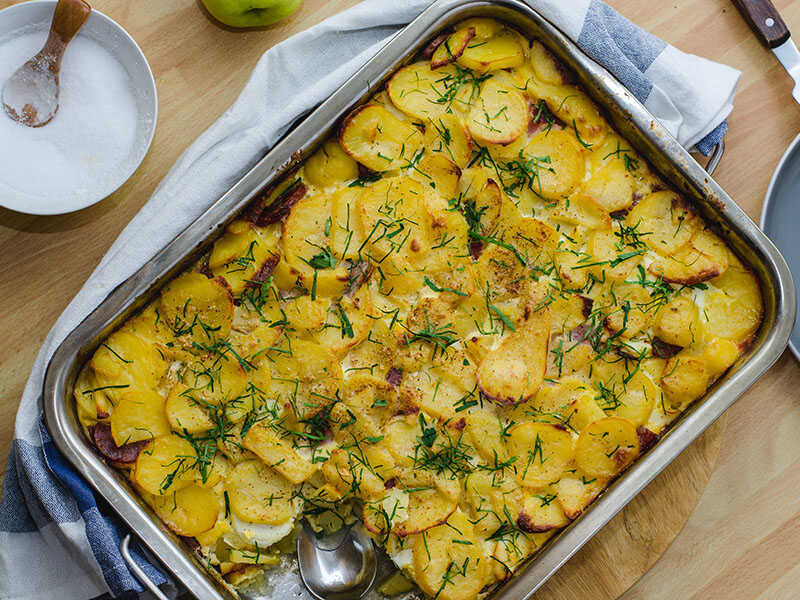 Best Potato Casserole Recipes That Will Blow Your Mind
You can whip up potato casserole meals to eat on their own, as a side dish, or main dish for lunches, dinner, and more. They are tasty, filling, and won't break your bank. Don't count on having leftovers with these recipes because everyone will ask for seconds.
Total time: 1 hour 35 minutes
Baked potatoes are many people's weakness. Something gooey and cheesy can easily capture the hearts of many with how flavorsome it is. Twice-baked potato casserole is one such dish. You can also try making this excellent recipe using leftover baked potatoes.
You bake them once to get them all soft and tender and do it a second time after stuffing them with all the cheesy goodness to get the flavors out of this combination. With this simple twice-baking method, the results are unbelievably good.
You can whip up the amazing twice-baked potato casserole in a simple yet refined fashion.
Total time: 50 minutes
You can never go wrong with a smashed potato bake, especially when you load it with a chock-full of cheese. And you don't just pack one kind of cheese, but several. Cheddar, mozzarella, and parmesan are no strangers to cheese lovers, but they hit differently when they come together.
Use russets potatoes or Yukon Gold ones for this recipe. Or you can still make this mouthwatering dish with leftover mashed potatoes. Either way, you will still get a tasty dish. The same goes for cheese, feel free to go with any combination that floats your boat.
The cooking steps are simple: prepare the potatoes and mash them with sour cream, milk, and melted butter. Then transfer the spuds into the prepared baking dish and sprinkle them with cheese and bread crumbs.
Finally, pop them into the oven. Once the dish emerges, top it off with more cheese and bread crumbs, and you are good to go. Everything won't take longer than an hour of your time from beginning to end.
Total time: 1 hour 10 minutes
This crowd-pleasing potato casserole sure has a particular name. The reason is that it used to be a traditional potato accompaniment for post-funeral luncheons, mostly in the state of Utah and the Church of Latter-Day Saints. This dish also has another name: cheesy hashbrowns.
This is such a comforting food that people prepare it as a way to show care, love, and compassion to family members whose loved ones pass away. They are also great to eat on other occasions like holidays with corn, green beans, or mac and cheese.
You can turn the recipe gluten-free by swapping out some ingredients. For instance, make sure the flour and cheese you use contain no gluten. The same could be applied to hash browns and corn flakes.
Total time: 2 hours 5 minutes
Salty cubed ham provides a sharp contrast to the cheesy potatoes and creamy sauce in a good way. The two of them blend nicely in this dish. You can taste the mouth-watering comfort offering with the depth of flavors from the meat and spuds combo.
Plus, it's a great way to use leftover holiday ham. Having said that, any ham steak works fine, too. But you can also use shredded or cubed chicken or turkey as a substitute. For an extra meaty property, consider putting in cooked bacon and sausage.
On another note, if you prefer a vegetarian dish, feel free to remove the ham completely and use other veggies like bell peppers, spinach, and cauliflower. For extra spiciness, you can put in thinly sliced jalapeño peppers.
Total time: 1 hour 15 minutes
This is a potato Dauphinois gratin but with a twist. Slices of potatoes work in harmony with sauteed leeks in this recipe. Putting them into a combination of decadent gruyere cheese and cream and then baking them is just bringing heaven to earth.
The potato leek casserole calls for gruyere cheese, but if you can't get your hands on them, cheddar or other well-melting cheese makes for a good substitution. It's possible to replace yellow potatoes with russets if you prefer something more starchy.
Total time: 1 hour 20 minutes
Scalloped potatoes are a classic casserole dish. They consist of potato layers with rich, creamy cheese sauce. The difference between scalloped potatoes and Au Gratin is that the former sometimes includes cheese, whereas, for the latter, it is always the case.
The dish is cheesy and creamy, just like any casserole meal, but more garlicky with cloves of garlic and onions. The cream sauce is not your average heavy cream-based one. Instead, it's a mixture of whole milk, chicken stock, and roux with butter and flour.
What's great about scalloped potatoes is you can customize the dish to your liking. You can add bacon, ham, or greens like presto, fresh kale, or baby spinach. Many different kinds of cheese like mozzarella, gouda, or fontina also work great in place of the cheddar.
Learn how to make satisfying scalloped potatoes for your multi-course.
Total time: 40 minutes
There's nothing like starting your day with a load of potatoes, chili-spiced turkey, fluffy eggs, and garlicky spinach. Sometimes it's the simple things in life that make you want to get up in the morning. Creamy spinach and potato breakfast casserole might be one of those.
Being a breakfast dish, this recipe is hassle-free and easy to make. All you have to do is prepare the turkey chicken and spinach, whisk the egg-milk mixture, toss and combine everything to the said mixture, then bake everything to perfection. You can get it done in less than an hour.
Potato casserole with spinach is ideal for many occasions, special or not. For references, you can make it on a day before Thanksgiving, on the morning of Black Friday or Christmas Eve, or even tomorrow morning or night!
Total time: 1 hour 5 minutes
Everyone loves to have some cheesy baked "pasta", including the pickiest eaters. The sweet potato "pasta" bake is an amazing dish to incorporate more veggies into your daily diet. The flavors resemble lasagna or baked ziti but won't weigh you down after eating.
The "pasta" in this dish is actually spiralized sweet potatoes, which taste very close to the real thing. Since there's no actual pasta, you can rest assured that the whole thing is pretty much gluten-free.
Italian turkey sausages add some meaty flavor to the veggie-based combination of cheese, sweet potatoes, and baby spinach. You can opt for either hot or mild sausages, depending on how much heat you can handle.
Total time: 1 hour 20 minutes
If you want a casserole with potato and meat, check out the cheesy bbq chicken and loaded potato casserole. The recipe features a meaty feast of bacon, chicken, and barbecue sauce. This is how you can satisfy all your meat and potatoes craving in one dish.
One important thing is to finely chop the potatoes and chicken into the right sizes, neither too big nor too small. This is to ensure they can be cooked properly in the baking dish. You also have to take the dish out and stir it every 20 minutes while baking for the same reason.
There are several options for the toppings. The cooking guide instructs you to top the dish with sour cream, scallions, or ranch dressing. Or you could put all of them! It's also a great idea to serve the casserole alongside broccoli for more greens.
Total time: 1 hour 30 minutes
What is a Kugel? It's a traditional Jewish baked dish with starch, egg, and fat. This savory vegan-friendly casserole dish has been around for hundreds of years. Kugels are perfect for Sabbath or any special occasion.
The recipe can easily feed a larger crowd if you double it, especially during holiday events. Unfortunately, you can't make vegan potato Kugel ahead of time as the potatoes' texture won't be the same after you freeze and thaw them, thus impacting the whole meal.
Vegan potato Kugel can become suitable for the Passover holiday by replacing the oats with an equal amount of quinoa flakes. Dairy-free and flour-free potato Kugels along with brisket or roast chicken are the highlights during the Passover holiday.
Now, you can prepare for the next holiday gathering with this cooking guide on how to make the best potato Kugel.
Total time: 1 hour 5 minutes
Here's another creamy and toothsome French-inspired casserole for your pleasure. The dish can also be a companion in surf and turf courses to deliver a creamy touch. Dauphinoise is simply how the French refer to potatoes casserole baked directly in cream.
Compared to scalloped potatoes, it consists of thinner potato slices with enough blue cheese to add flavor without overbearing.
Blue cheese potatoes Dauphinoise require minimal ingredients to shine: cream, potatoes, blue cheese, and mandolin. Just gather them, and with about 45 minutes of baking at 350℉, a hot and delicious serving of this dish is ready on your plates.
Total time: 1 hour 30 minutes
What's everyone's favorite thing about hamburgers? The answer: the beef, cheese, and sauce. And you will find all of that in a cheesy hamburger potato casserole. This dish will be a hit with kids and adults alike.
Whipping this recipe is as easy as possible. Besides seasoning and baking the whole thing, you only need to brown the ground beef and onions in a skillet over medium-high heat. There's also a hot sauce which consists of cheddar soup, evaporated milk, etc.
Total time: 1 hour 15 minutes
The hearty and comforting sweet potato casseroles will be your kid's irresistible side at the dinner table. Thus, incorporating rice is a good idea since you will feel full for longer. You can tell how healthy, vegan, and gluten-free this dish is going to be after glancing at the ingredients.
What's more, this recipe is infused with loads of cozy spice blends for a fragrant experience. The flavorsome brown rice and Garbanzo beans duo become more wholesome when soaking in a savory veggie broth.
Another selling point is the tahini or sesame miso dressing, which further amps up the nourishing quality of the dish. Some pumpkin seeds or chopped pecans toppings add a little crunch if that's your jam.
Total time: 1 hour 20 minutes
Similar to the recipes I've covered, this dish comprises only a few simple ingredients. But the results you get are far beyond a gathering and mashing of bacon, Bratwurst, and potatoes together. Sausage and potatoes just go so well as a duo.
As the mild Bratwurst is made of pork (sometimes beef) and veal, you can substitute it with pork sausages if you cannot find it. To prepare the German-style sausage, simply cook it in a frying pan until both sides turn brown.
Eating this dish, you get loads of proteins and carbohydrates from Bratwurst and potatoes. Plus, the sausage is also a good source of vitamin B, selenium, and sodium. To buy Bratwurst in the US, you may have to contact some specialist butchers to ship them for you.
Total time: 1 hour 20 minutes
I give you another simple mashed potatoes, cheese, egg, and ham casserole, but this time it's in pie form. They are not the lowest carb dishes, but these pies' creaminess, lightness, and tastiness are worth every extra effort you have to put in at the gym later.
Plus, the light and crispy croquette-like texture will surely make you want to keep eating one after another. If you want your vegetarian friends to be able to enjoy this casserole, omit the ham. Mashed potato pies are still as delicious as ever.
Total time: About 2 hours 15 minutes
Let's look at Southern-inspired sweet potato souffle, also known as sweet potato casserole to some. Souffle is similar to a casserole, the only noticeable difference is how you mix the baked sweet potatoes into a puree, ideally using a stand or hand mixer.
This lovely sweet potato dessert has 2 main components: the souffle, a bottom layer of baked sweet potatoes, and the pecan/walnut topping. It mostly involves tossing and combining the required items in one bowl, assembling everything into the dish, and baking the mixture.
To make the sweet potato souffle ahead, prepare and store the sweet potato casserole layer and pecan topping in separate containers. When serving, simply assemble and bake them as usual. If you have any leftovers, store them in an airtight container in a refrigerator for up to 3 days.
Explore how you can make an inviting sweet potato souffle effortlessly.
Total time: 1 hour 40 minutes
Belarusian Babka is the modified version of Kugel. The savory dish has a crispy exterior but a creamy and tender interior. It is made with grated raw potatoes, eggs, bacon, and onions. People often serve the dish alongside sour cream and finely chopped fresh herbs.
The recipe calls for bacon or salted pork. The former is more popular in the US, while the latter is more commonly used in Belarus. Depending on how you want Babka to be heartier or smokier, you can use either.
There are many adjustments you can make to the dish. For example, feel free to replace bacon or salted pork with chopped pork shoulder or chicken, browned ground meat, or sausages. If you want to go vegan, omit the meat and use sautéed mushrooms or veggies instead.
Total time: 2 hours 30 minutes
Rakott Krumpli, or layered potato casserole, is a hearty dish consisting of a few simple items. It was first mentioned in István Czifray's Hungarian National Cookbook of 1840. People often serve the dish as a main course or a part of a multi-course meal.
The translation of the name means "pleated potatoes". The "pleating" part refers to the layering of potatoes, eggs, sausage (or bacon), and sour cream. You can throw in custard and sweet peppers between layers for an extra burst of flavors.
This Rakott Krumpli is richer than usual, thanks to a mix of sour cream and heavy cream. The traditional recipe requires you to use only sour cream. But it's always good fun to spice things up.
Total time: 30 minutes
Bacon and eggs are a classic breakfast you can go wrong with. Turning them into a potato casserole makes them taste more amazing and more fun to start your day with. Moreover, it is quicker to prepare than your average casserole.
The making is straightforward: stir the crumbled bacon and diced potatoes with other ingredients into a 9-inch pie pan, which has already been sprayed with cooking spray or coconut oil. Then pop the dish into the oven and bake for about 20-25 minutes.
Total time: 1 hour 30 minutes
Here's another German take on the all-too-familiar potato casseroles. This is a multi-layers dish of various items: potatoes, spinach, meatballs, and cheese. Veggies, spuds, and meat, all of your favorite foods, are in one pot.
Within one hour and a half and 1.1 pounds of lean ground beef, you can make about 20-25 meatballs. Remember that you can use a combination of beef and pork instead. The recipe works with both fresh and frozen spinach.
Meatball potato casserole is a side dish and a meat dish in one. The ideal foods to serve with this dish are cucumber salad with vinaigrette dressing, pickled veggies, or a salad with yogurt.
Total time: 2 hours 10 minutes
Hash brown casserole gets a spicy kick with the addition of jalapeno poppers. There's nothing like the stark contrast between cheesiness and mild spiciness. Yes, this recipe is not overly spicy, which is safe to eat for those with low-heat tolerance.
To summarize, the hash brown casserole is a bed of yellow fresh shredded hash brown potatoes and cream of chicken soup with some brown and green from the bacon and chives. Digging inside, you will find the fluffy mixture of baked sour cream, jalapeno, etc.
Total time: 55 minutes
Ah, lasagna, the love and life of many Italian pasta fans. The dish is a layer of mouth-watering awesomeness. Whenever you feel down or gloomy, a bite of lasagna always brightens you up, no matter how simple it is.
What's special about this lasagna is how healthy it is. Sweet potato lasagna is a rich source of proteins, fiber, and other nutrients. What's not to love about this hearty and fulfilling classic casserole?
Impress your close ones by recreating the decadent sweet potato lasagna now.
Appetizing Potato Casserole Dishes That Will Rock Your World
Have you found any recipes that catch your fancy? If so, you should go to the kitchen to make and serve them to your friends and family. Remember to share their feedback in the comment section, and tell me about yours, too.
These healthy potato casserole dishes can save you when you are too busy or simply have too many potatoes. Just pop them in the ovens and carry on with anything you have to do. After an hour or so, you get a great supper, breakfast, dinners, etc. for your pleasure.
Should you want more people to get the chance to try these scrumptious takes on potatoes baked in a casserole dish, hit that share button. By the way, this post can also be a good way to start a conversation with someone you've wanted to connect to.