Many people are not too familiar with Portuguese foods. So allow me to take you on an exciting trip down the lane of Portuguese cuisine. With both sweet and savory dishes, the country will greet you with one pleasant surprise, from its foods to the sweet juicy Portuguese fruits.
Portuguese food is a perfect reflection of the country's culture and history. The people here are always putting their national identity into whatever dish they are making, and they always make sure the food comes out of the best quality.
Follow me through this article to find out about a few highlight dishes from the country of Portugal, and I promise your next food tour is going to be heaven-sent.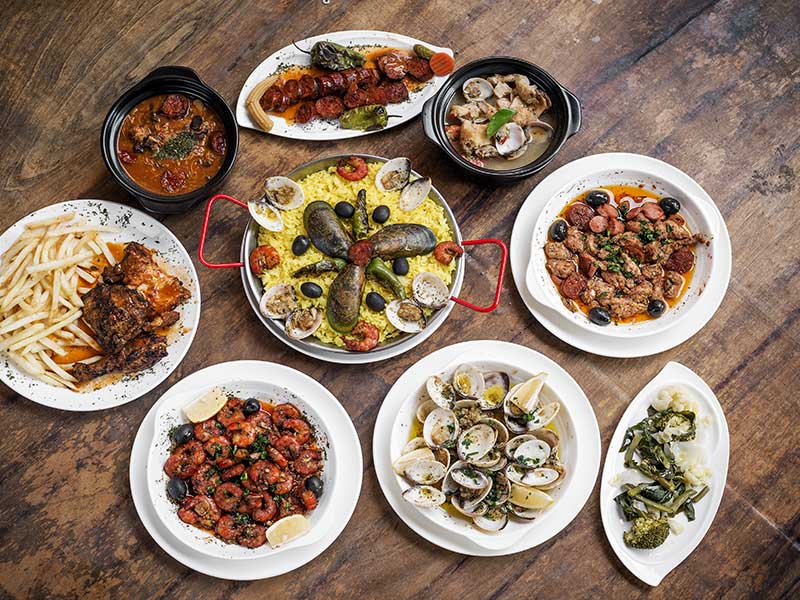 4 Yummy Portuguese Sandwiches You Can Enjoy
The Portuguese people love their sandwiches. These are such quick and convenient foods that they can grab whenever and wherever. But that doesn't mean these sandwiches are anything short of deliciousness. Read on to find out more.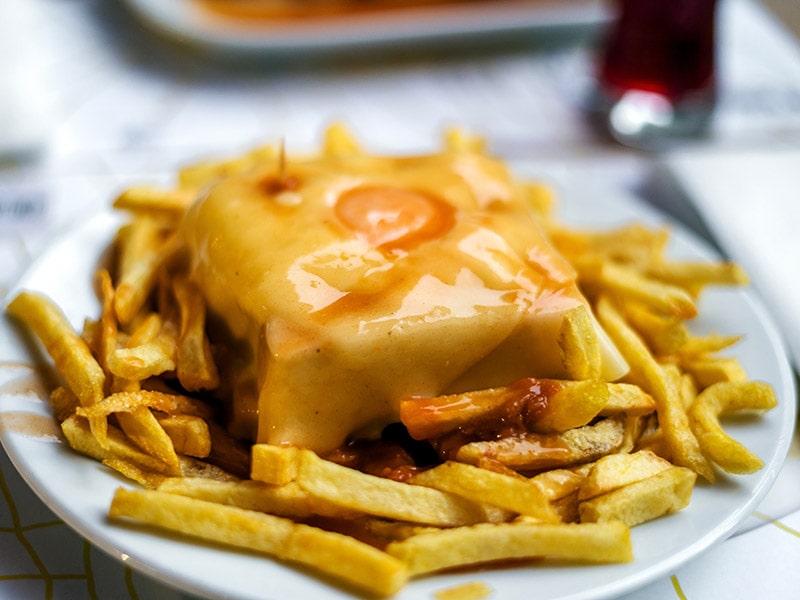 Francesinha is a Portuguese sandwich originating in Porto. It consists of bread, steak, or roast meat. Also, it can include other meat products like cured ham, linguiça (cured pork sausage), or fresh sausage. On top of the sandwich are cheese and a layer of thick tomato and beer gravy.
Francesinha was a creation of a Portuguese man called Daniel David de Silva in Porto when he was trying to make some changes to the Croque-Monsieur (a ham and cheese sandwich from France). This happened when he tried to make it more welcoming for the Portuguese taste.
I could hardly finish this sandwich on my own when I first ordered it at a restaurant in Portuguese. The large sandwiches were filled with steak, ham, and sausage. The melty cheese and the tangy sauce make it even more filling and bounty.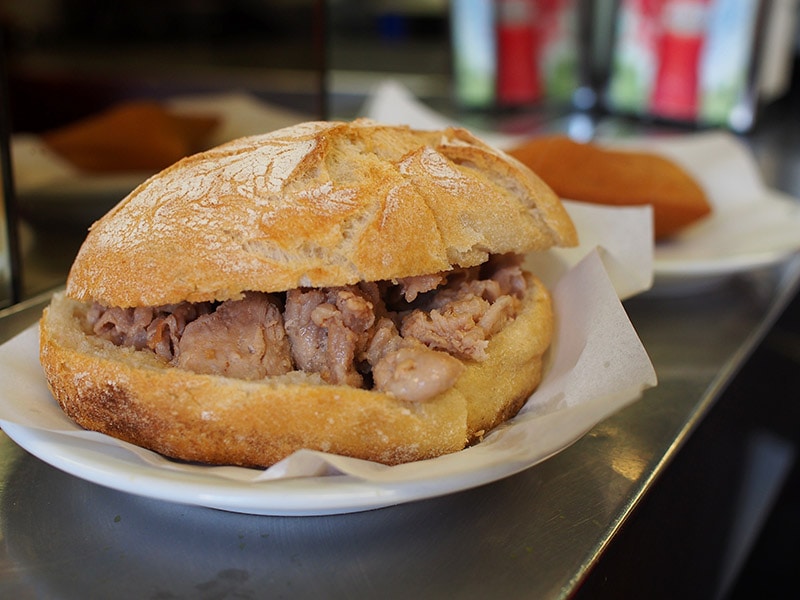 Although simple in appearance, Bifana is just the sandwich you need. This dish is a sandwich with sauteed pork in the middle. The sandwich offers so many powerful flavors in just the first bite you take.
To make Bifana, people first marinate the pork with white wine, paprika, olive oil, and garlic. They then stir fry the whole piece of pork and put them in the middle of a tasty bread roll. There are also condiments that you can pair with your Bifana sandwich, depending on the region.
For example, people from Lisbon and Algarve will offer a bottle of mustard when serving your sandwich for an extra kick of flavor. However, Portuguese diners and restaurants from the north will pour the sauteeing sauce on top of the bread to soak in all the goodness before serving.
If you have the opportunity, I suggest trying both variations and seeing which fits you the best. Because for me, I cannot choose just one of them. And these variations go extremely well with the refreshing drinks in Portugal, especially the beer.
Making Bifana is so easy with this tutorial.
3. Pernil Com Queijo (Pernil Sandwich)
Pernil Com Queijo is a type of sandwich perfect for BBQ parties. And in the summer, Portuguese people enjoy this dish as it's quick and delicious; it also does an excellent job capturing the flavor of summer all in the two buns and Pernil, a type of shredded BBQ ham.
Pernil Com Queijo translates to ham with cheese. However, there is so much more than just this simple description. The sandwich consists of tender and juicy slow-cooked pork legs along with some Serra da Estrela cheese.
This sandwich might be more than fulfilling for you as a quick lunch menu, so make sure to grab a bite when your day in Portugal happens to be jam-packed with tourist attractions to visit.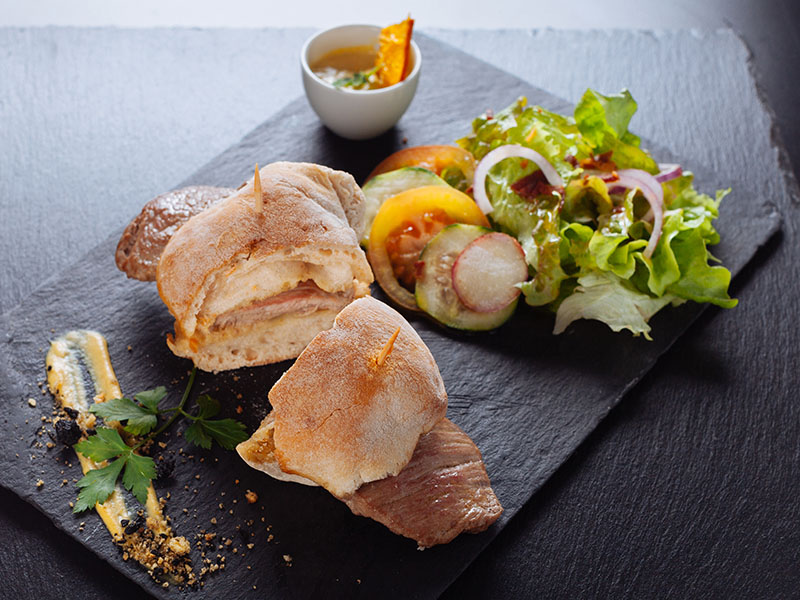 Prego derived its name from a man called Manual Dias Prego. He lived in Sintra, Portugal, where he sold meat sandwiches and wine. His sandwiches became very popular, and people started using Prego as the name for the sandwich by the 20th century.
Prego is a simple sandwich that packs flavors coming from the steak. Just like the pork in Bifana, people don't go heavy on the marinade for the beef in Prego. They only cook it with care and skills, adding extra garlic, so the natural flavors exude themselves throughout the sandwich.
There are two options of Prego you can get when in Portugal. For meat lovers, make sure to order Prego no Pão, which is straight-up beef in between bread. There is also an option of Prego com ovo or Prego with a fried egg for those who are looking for something extra.
7 Portuguese Snacks And Pastries That Are To Die For
Portuguese cuisine is full of decadent treats you can munch on without filling your stomach, leaving space for the main dishes. Some are sweet, while others are savory. The most common theme among these is that all will leave you wanting more.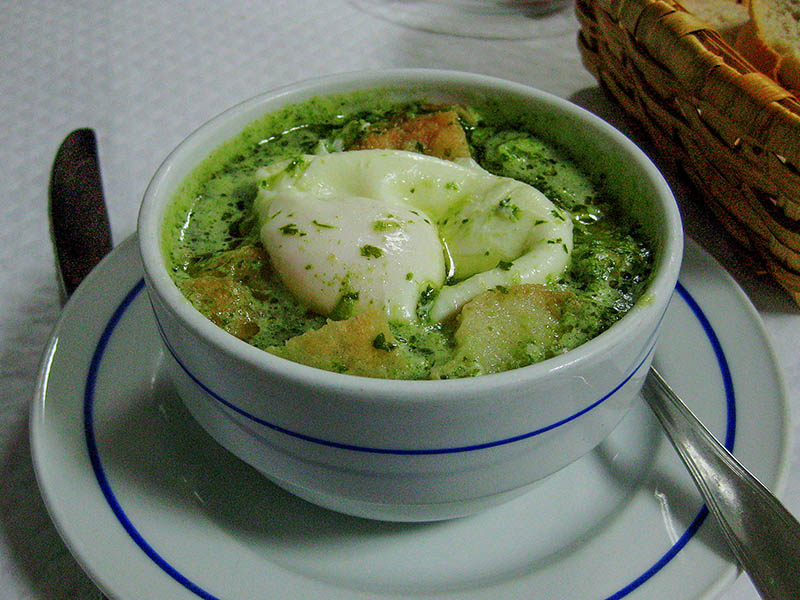 Açorda, whose name has Arabic roots, has many variations depending on the regions in Portugal. But this dish is usually considered a bread paste in most Portuguese areas.
Essentially, it consists of bread and spices like salt, pepper, salt, and pepper. This soup usually goes with an egg, making it a filling soup dish. When making this dish, people will cook an egg in salted water and pour the water with eggs over the bread and let it soak.
The dish, like many other soup or pasta dishes, is comforting to eat, especially when you enjoy it fresh and hot. The bread, although mushy, has soaked up all the good flavors from the garlic and olive oil, giving you an interesting dining experience.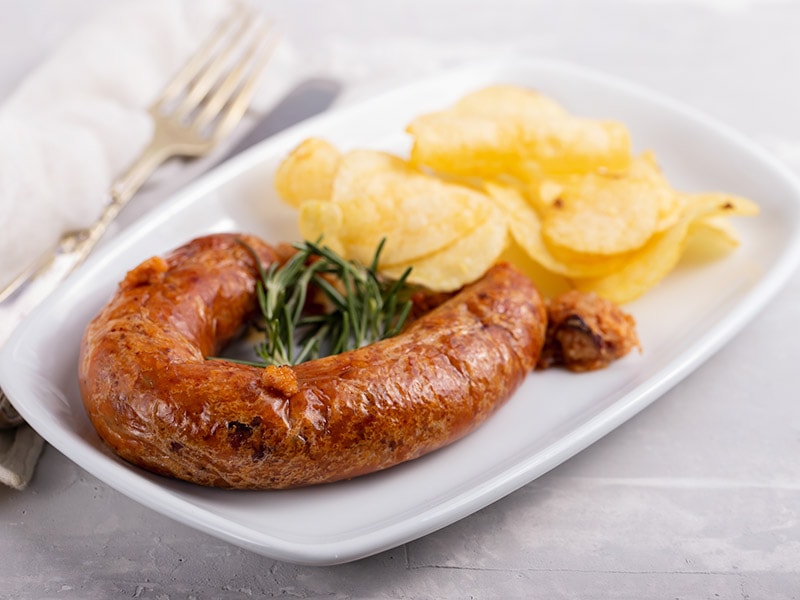 Alheira is a sausage that Portuguese people make by combining meat and bread together. To make Alheira, you can use different types of meat like pork, veal, rabbit, etc.
Alheira was a food that the Jews in Portugal came up with around the early 16th century. Back then, they were forced to switch to Christianity, but they still wanted to eliminate pork from their diet as required by the Jewish faith.
Alheira made from poultry or other types of meat was their way of distracting the Portuguese inquisitors from finding out about their pork-free diet.
The sausage, since it includes bread, is slightly different from those that don't. The texture is less chewy and full of smoky flavors. You can grill or fry it up for a delightful bite of Portuguese snack.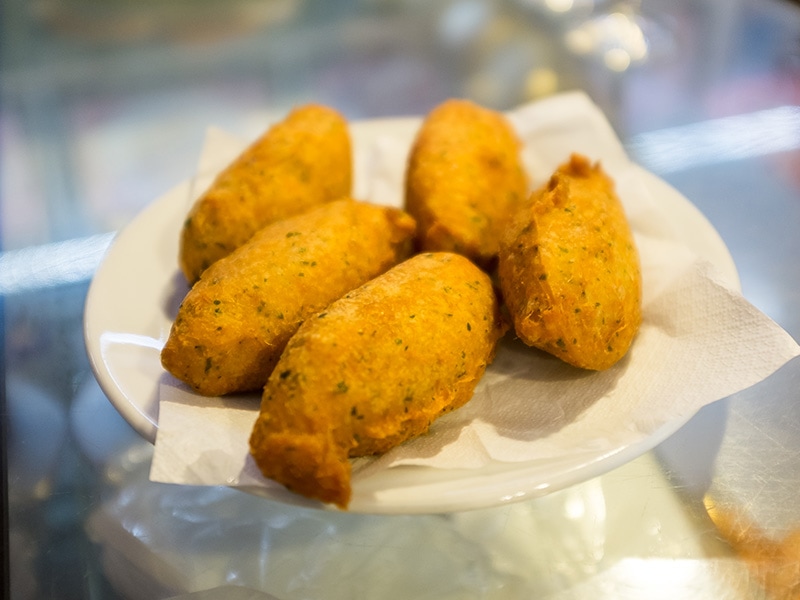 Pastéis de Bacalhau is a big Portuguese dish in terms of fame. Despite its origin being in the north, this cod cake dish has become so popular that people have adopted it as a true "national specialty".
People in Portuguese make this dish by mixing cod, potato, onions, and parsley and shaping them into big fingers. They will then deep fry these fingers into crispy fritters that every Portuguese love to eat.
Unlike the usual flour-based fritters, Pastéis de Bacalhau only uses cod and potatoes, making them softer. Underneath the crispy outer layer is a soft and silky bite of the slightly salty flavor of the fish together with the smooth and starchy texture of the potato.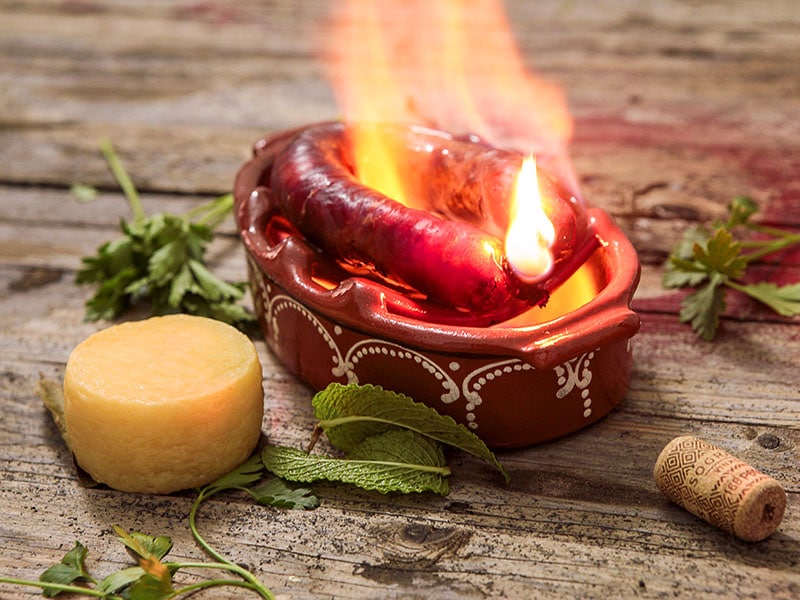 Chouriço is one of Portugal's finest foods. You will find that it tastes somewhat similar to the famous Spanish sausage Chorizo, only smokier and a little fattier.
With garlic and black pepper in its filling, Chouriço is very fragrant. There are also fat pieces evenly distributed throughout the sausages, making them taste a bit more rustic compared to regular sausages.
Chouriço Assado is a technique of cooking sausage. When serving this sausage, the waiter will bring out a clay bowl that has a small flame grilling the sausage. The flame comes from Aguardente, a local liquor. The sausage is ready to eat once it turns crispy and charred.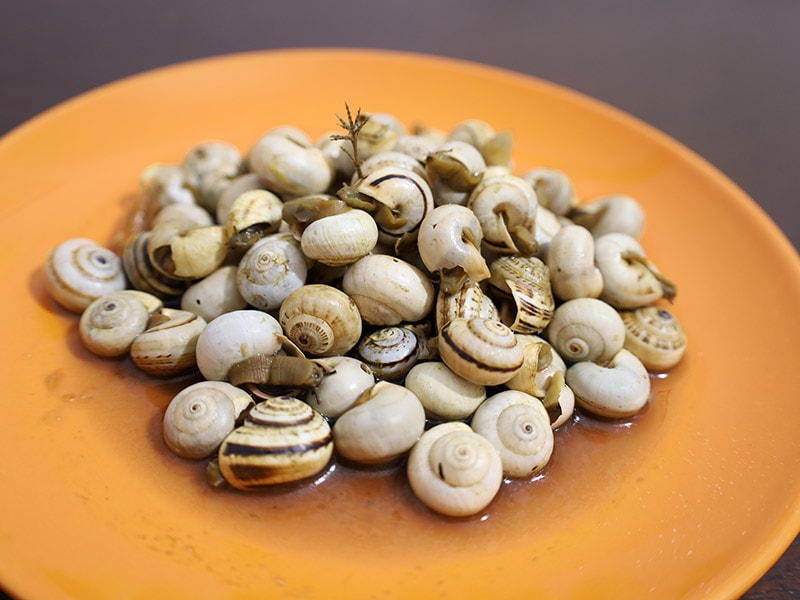 In Portuguese bars and taverns, you will see dishes of Caracóis on the tables during summertime. They usually go with a serving of beer or wine and bread.
There isn't much to this dish. The special part about it is the fun and excitement while digging for the meat in each snail. Along with that is the taste of fresh bread when you use it to clean all the sauce on the dish. And finally is a fresh sip of beer.
People here in Portuguese adore going to tascas (taverns) with friends in the summer to chat over these dishes of Caracóis. They taste so simple, yet it's the summer atmosphere and fresh air that makes them so enjoyable and tasty.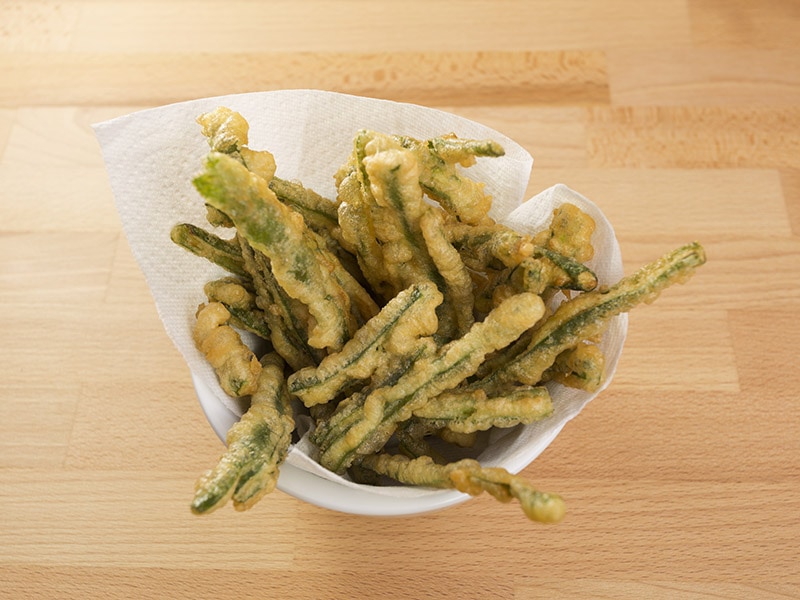 Peixinhos da Horta is a vegetable dish consisting of green beans that people dip in wheat flour batter and deep fry. There are variations where people use other vegetables like peppers and squash.
This dish is one of the traditional Portuguese menu items. The name Peixinhos da Horta translates directly into "little fish from the garden". You can see how this name describes the pieces of vegetables that look like small and brightly colored pieces of fish.
One fun fact about this dish, Peixinhos da Horta, was the inspiration for the widely known Japanese dish Tempura. Portuguese sailors and missionaries introduced this food to Japan in the 16th century.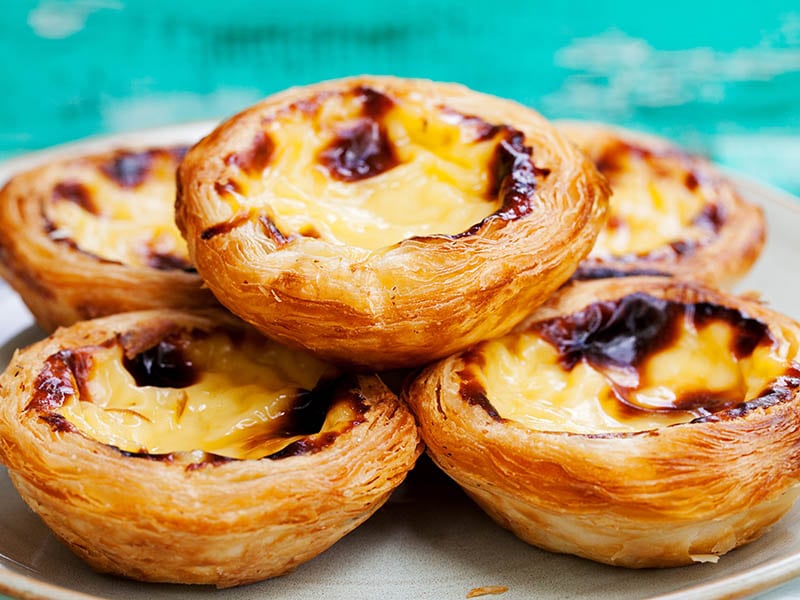 Ever since 1837, Pastéis De Nata has been a significant part of Portugal's pastry cuisine. It all started when a pastry shop called Fábrica de Pastéis opened on the outskirts of Lisbon. It used a secret recipe that a group of monks living nearby created in the 18th century.
After using the egg whites for religious rituals and purposes, the monks found out that they had so many leftover egg yolks. They then thought of a way to utilize these yolks by combining them with sugar and cream. What they managed to create was this delicious egg tart recipe.
You will see that the tart is a beautiful combination of creamy and smooth egg custard above a flaky and buttery layer of tart. The Portuguese know just what they're doing when they scorch these tarts to the right temperature so that they have the beautiful brown color on top.
Now you can easily make Portuguese egg tarts at home with this recipe.
9 Portuguese Seafood Specialties You Must Try
Seafood lovers, get ready to enter heaven. Portugal is a country blessed with fresh and quality seafood, from fish to shrimps, clams, and octopus. You can find below a wide range of dishes with the simplest cooking methods, yet these methods bring out the best flavors of the seafood.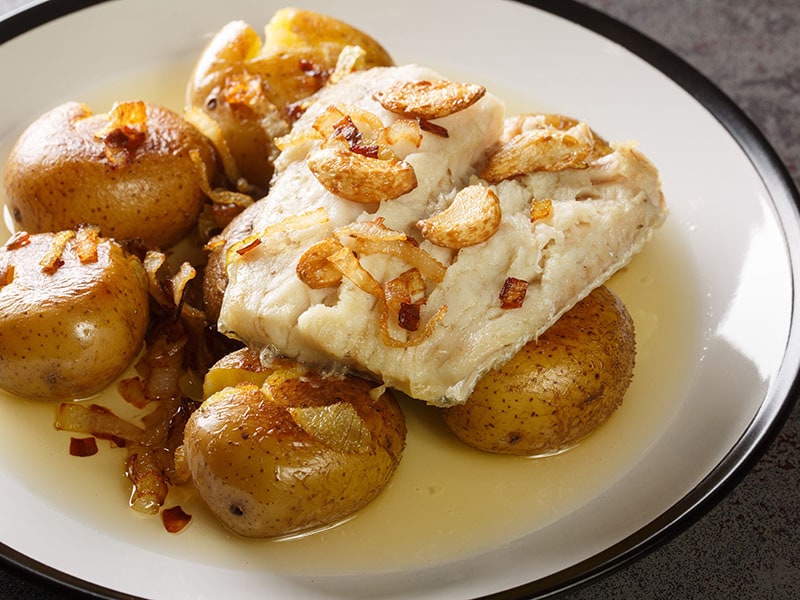 Bacalhau à Brás was an invention coming from Lisbon. In the past, it was a popular dish on Fridays and during Lent. Bacalhau is a mixture of chopped cod, fried potatoes, eggs, onions, and olives.
Bacalhau has been an essential part of Portuguese cuisine and diet for a long time. Not only does salting the cod add flavor to the dish but it also eliminates the need for refrigeration. This delicacy still maintains its popularity despite the widespread use of fridges.
This comforting dish is available at most Portuguese tascas and casual restaurants. It won't be too challenging to find this since it's a staple of most Portuguese households.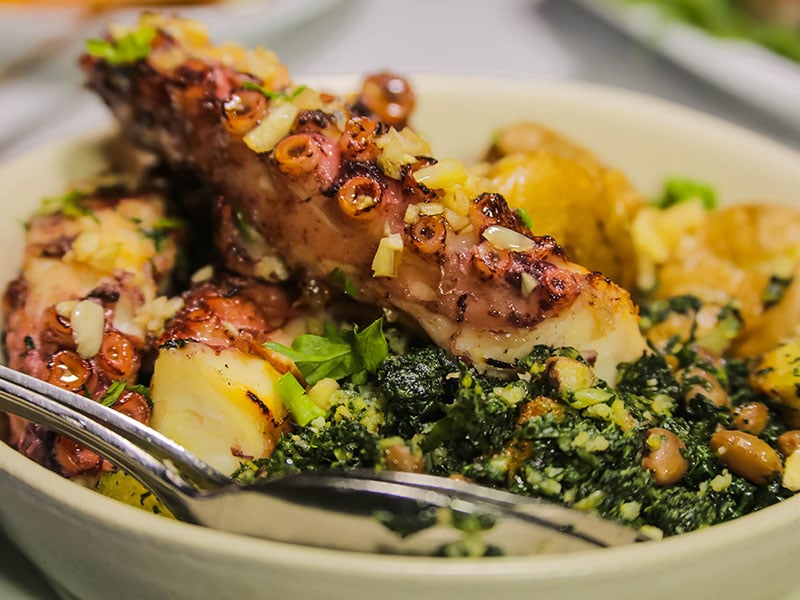 Lagareiro is a Portuguese cooking technique that uses lots of olive oil. And Polvo À Lagareiro is a dish that proves how wonderful this technique can be.
It's a simple dish that people make by grilling octopus and potatoes. But don't feel hesitant about the taste of the octopus. Portuguese cooks skillfully include spices such as onion, garlic, bay leaves, and salt into the dish to enhance the flavor of the octopus.
With olive oil, the octopus tastes extra flavorful. The roasted potatoes are also a great accompaniment to this dish with their rustic taste and texture. This makes Polvo À Lagareiro a perfect seafood dish for the summertime.
Bring a breeze of the sea home with this recipe of Polvo À Lagareiro.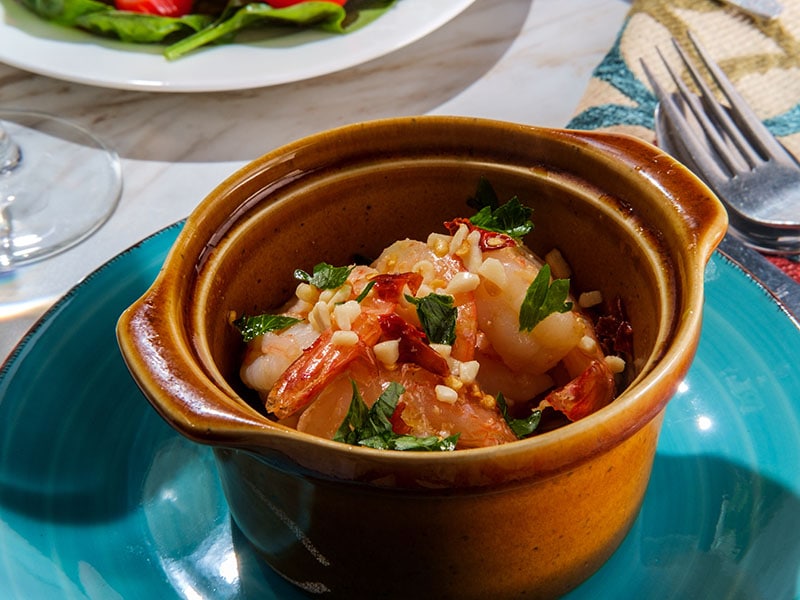 Gambas al Ajillo is a famous tapas dish originating in Spain. This dish has gotten so famous that even the Portuguese enjoy eating it on a regular basis. When visiting restaurants in Portugal, you will see that the people always pair their Gambas al Ajillo with a glass of wine.
Although the ingredients are as simple as they're gonna get, the Portuguese have made a masterpiece by using just those ingredients. The shrimps are tender and glossy, thanks to the olive oil. The garlic is soft and fragrant as they melt in your mouth.
Remember to dip the bread in the garlic olive oil to finish your Gambas al Ajillo. And don't forget to take a sip of wine as well!
15. Choco Frito (Fried Cuttlefish)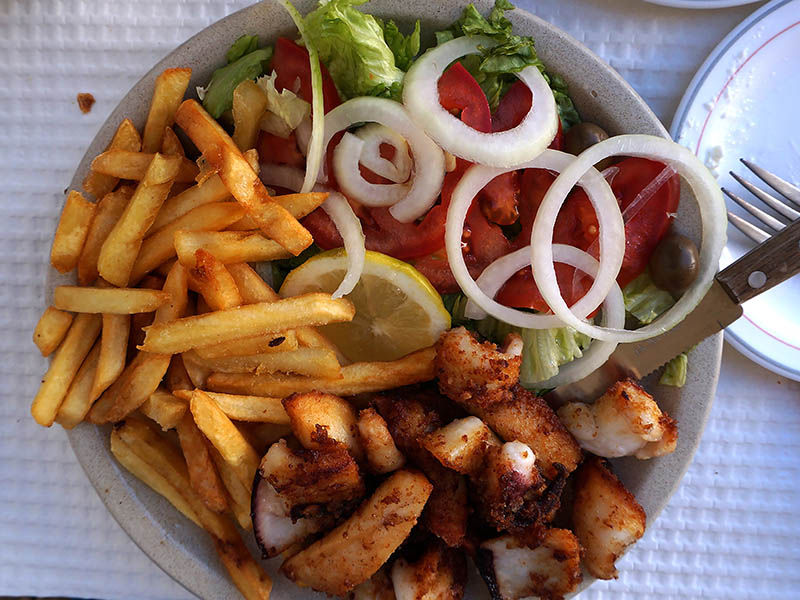 Although the name seems to imply fried chocolate, Choco Frito is a far cry from that. The name directly translates into "fried cuttlefish", which is what this dish is all about. It is a delicacy from Setúbal, a lively port city southeast of Lisbon.
To make Choco Frito, people start by breeding the big cutlets of cuttlefish and frying them in oil. They usually serve these cuttlefish fingers with a side of french fries. This is a great dish to pair with some white wine.
You may be wondering what's so special about these pieces of cuttlefish. It's the freshness and the natural taste when people fry and serve them fresh on the plate for you, together with a squeeze of lemon. That is what I think is so mesmerizing about the dish.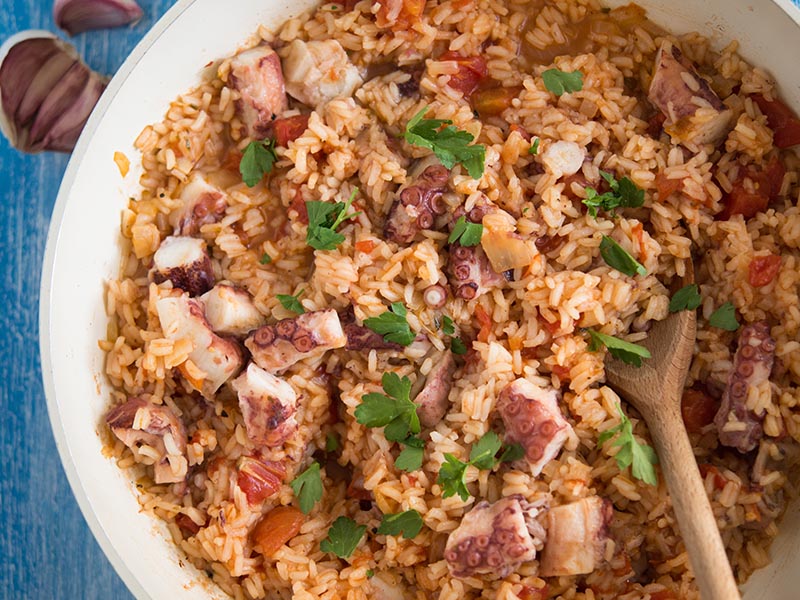 Arroz de Polvo is a filling seafood dish from Portugal that people enjoy eating on a regular basis. With a handful of nutritious ingredients like rice, octopus, tomatoes, and peppers, you get a filling and warm dish that's perfect for lunch.
Portugal is famous for the quality octopus that's big in size and firm in the flesh. And its people bring this ingredient to the next level by combining the octopus with rice and wine to make a dish that tastes delicate and exciting.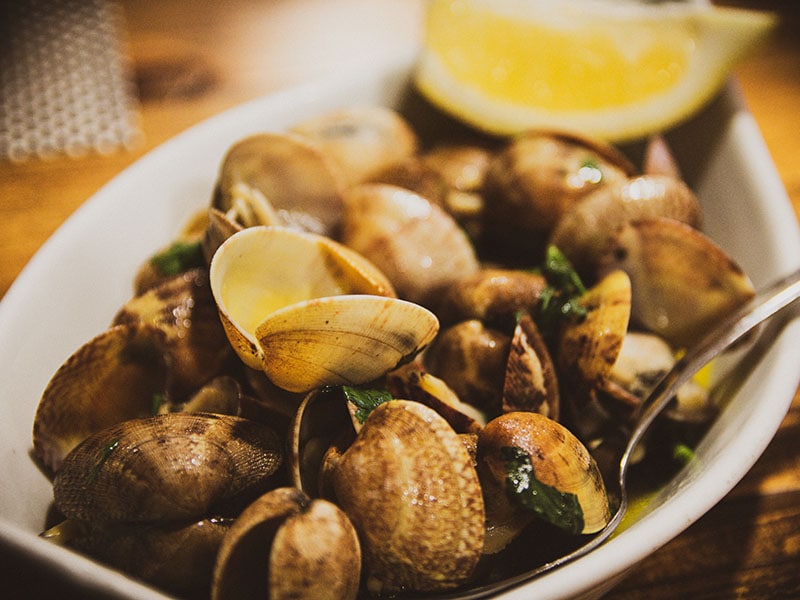 This dish is one of the most popular menu items in many Portuguese tascas and restaurants. Amêijoas à Bulhão Pato was an invention in the 19th century in honor of a Portuguese poet called Raimundo António de Bulhão Pato.
Originating from Lisbon, Amêijoas à Bulhão Pato is a combination of clams and some local yet quality Portuguese ingredients like coriander, olive oil, garlic, and white wine. It's perfect for the summer as it has a rustic flavor yet is so delightful and elegant-tasting.
Usually, people will serve you Amêijoas à Bulhão Pato along with some bread, like most dishes with sauce in Portugal. After finishing the clams, use the fresh and crispy bread to soak up the luscious white wine sauce.
Try this tutorial for making Amêijoas à Bulhão Pato the Portuguese way.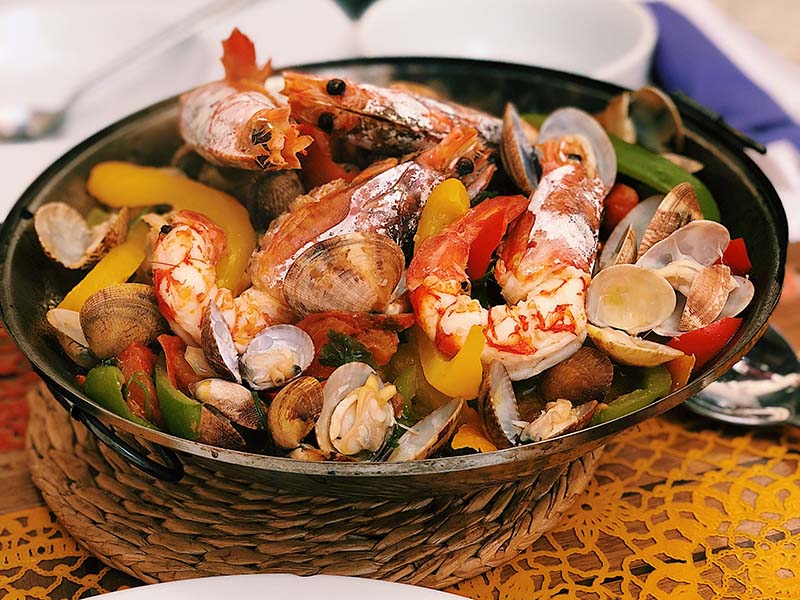 The word Cataplana is something people use to describe a copper frying pan that is shaped like a clam. It is also a word that people use to describe dishes that they prepare in a metal pot. And yes, Cataplana De Marisco is a seafood dish that the Portuguese prepare in a metal vessel.
Originating in Algarve, Cataplana de Máico is the most popular type of Cataplana dish in Portugal. This dish is a creation in which people use the best of local ingredients like onions, tomatoes, olive oil, and white wine to cook seafood, namely mussels and oysters.
Cataplana is a perfect dish for an intimate gathering with friends or family members. It's a delightful menu item for an occasion where you can talk and slowly work your way through the decadent seafood.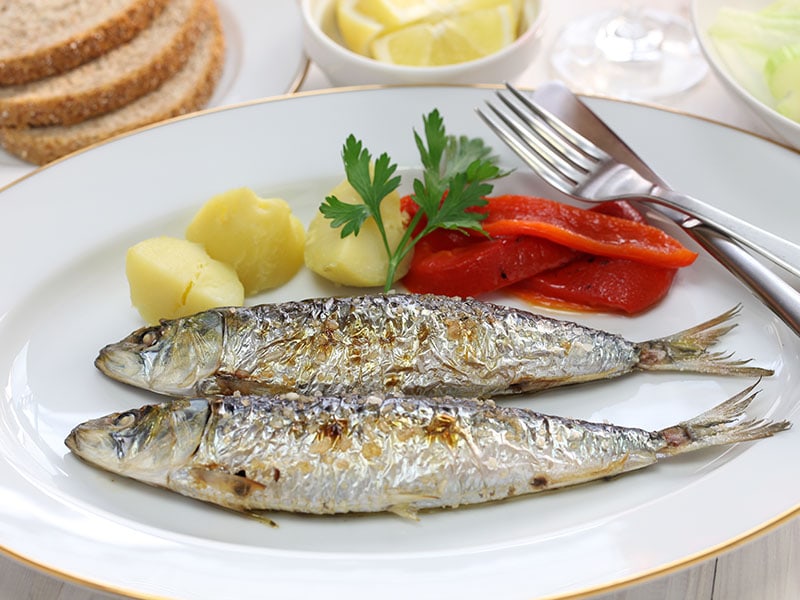 Unlike flashy seafood dishes, Sardinhas Assadas are grilled sardines that people season with salt and olive oil, the two main seasoning agents in Portuguese cuisine. This is a typical summer menu that people of all ages and walks of life in Portugal enjoy.
In Portugal, the authentic way to enjoy the sardines is to eat the whole thing, including the head. With the grilled sardines, you will get some fried potatoes and rice as well. Families in Portugal love to pull out the grills and make their versions of Sardinhas once summer arrives.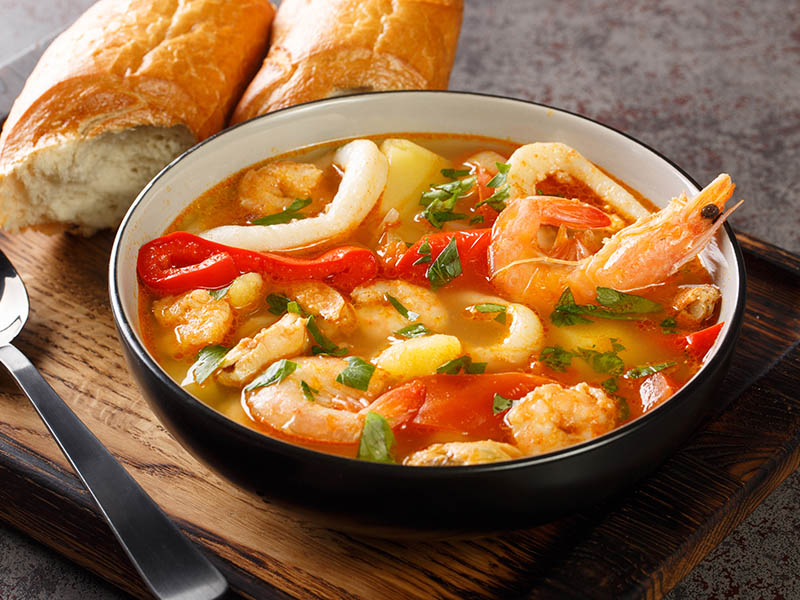 Going by the name of Caldeirada or Caldeirada de Peixe, this seafood stew is a famous dish that you can find in most Portuguese restaurants. The stew uses mainly fish, but other seafood such as shrimps, clams, or mussels can also be included.
Each region of Portugal has its version of this soup, especially the coastal areas and the islands. People can use different spices or different types of fish to make Caldeirada, depending on the region's local ingredients.
The one thing in common about these variations is that they always use fresh fish that they slowly cook together with fresh vegetables until everything turns tender and flavorful.
This is the authentic way to make Caldeirada, a Portuguese special.
9 Traditional Portuguese Meat Dishes For Your Main Meals
Traditional Portuguese foods come in many sizes and flavors, meaning they come in both big and small portions. The dishes here can range anywhere from rich to light-tasting, from seafood to meat and vegetables. Whatever you're looking for, the Portuguese can provide.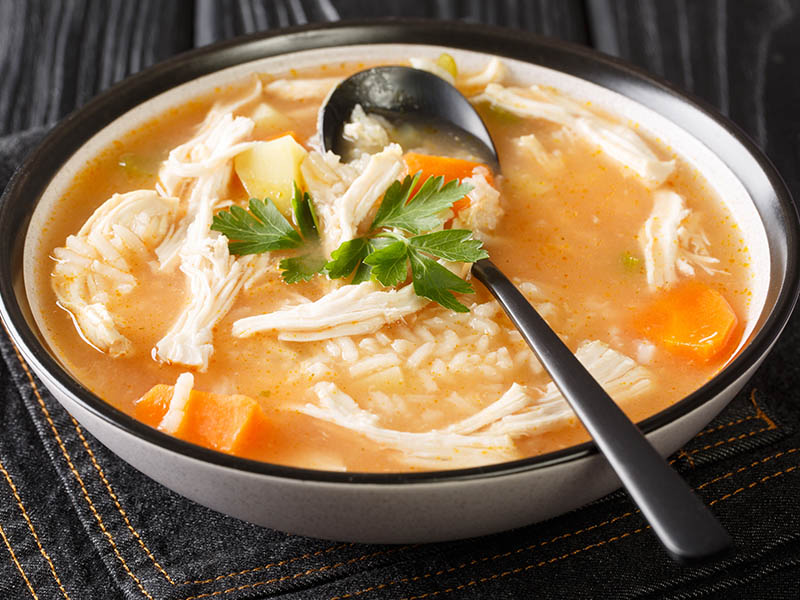 Canja de Galinha is a traditional Portuguese chicken soup that's simple yet tasty. It can help tackle any cold or flu and ease any upset stomach. Canja de Galinha is popular in Portugal and Brazil.
With just 5 ingredients, salt, water, chicken, rice, and onion, the Portuguese have come up with an awarding bowl of chicken soup. By using rice, the soup stays lightweight and simple, yet the flavor from the tender chicken and the fragrant onion help elevate the taste of the whole dish.
This soup isn't just a regular soup that people in Portugal eat when they're cold. It's also a menu item that they serve on special occasions like ceremonies and weddings. This tradition has proven that simplicity in a dish can go a long way.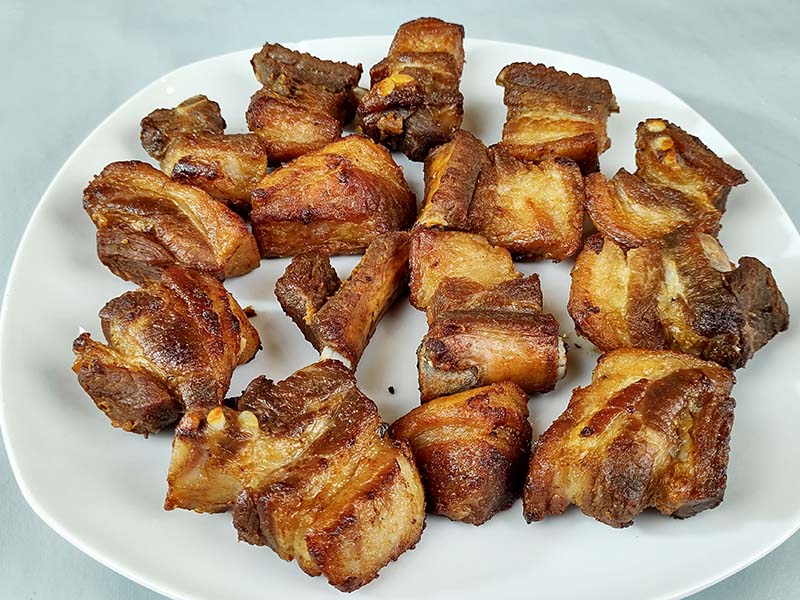 Originating from the north of Portugal, specifically Minho province, this dish is fried pieces of meat from a pork leg. Specifically, Rojões is a tenderloin from pork with little fat. People simply make this dish by frying the meat in a pan with some fat or lard.
Even though it's a simple dish, Rojões is something that many people across Portugal prefer eating. They also have many dishes that include this type of fried meat. One of such dishes is the pork and clam stew which I will talk about later on in this post.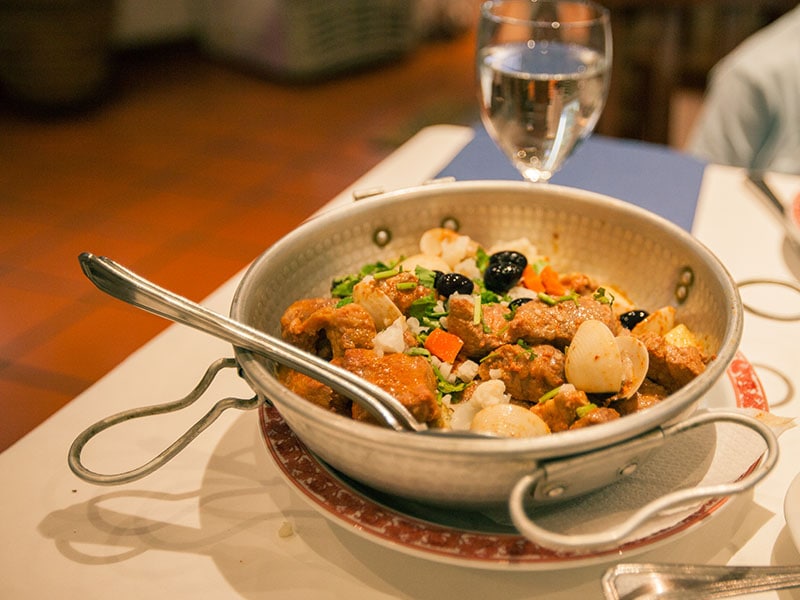 Carne Porco à Alentejana is a combination of pork and clams together with potatoes and coriander. Its origin is unknown and is still up for debate. Some people consider that the name derives from Alentejo in Portugal, while others think it's from Algarve.
This dish consists of pork that chefs have marinated in white wine with pepper paste, garlic, bay leaf, and salt. They will then cook this pork together with the clams until everything attains a nice golden brown color.
There are variations in the northern region of Portugal where they also add cumin to the stew. This stew has a beautiful vibrant color due to ingredients like pepper, red pepper paste, and cumin. Thanks to these ingredients, the stew will also give you a bit of a heat factor when eaten.
Do it the Portuguese way and make some pork and clam stew with this recipe.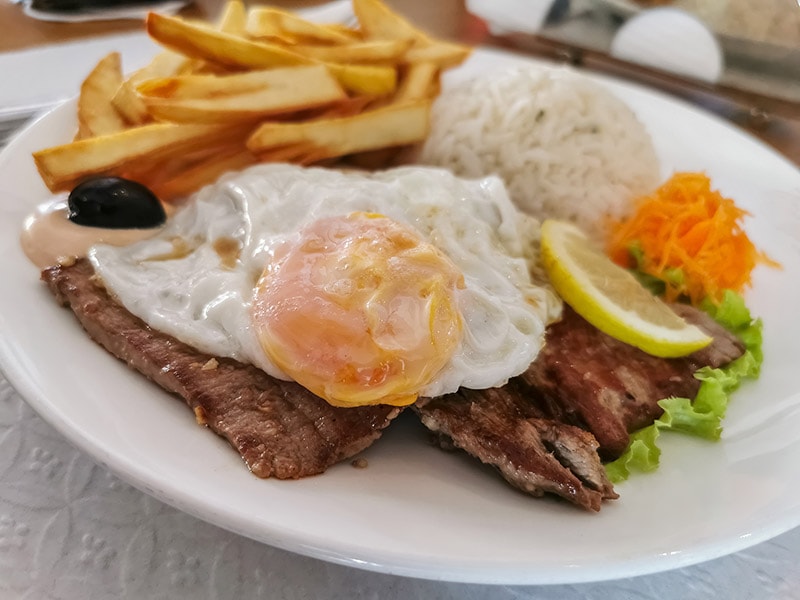 Bitoque is a traditional Portuguese dish of steak of beef or pork soaked in butter and topped with fried eggs. Bitoque usually comes with a serving of rice as well. No doubt that this is a filling dish that people in Portugal enjoy eating whenever they are in a rush.
Although either pork or beef is suitable for Bitoque, the latter is the popular choice most of the time in Portugal. And the steak doesn't require a long time to cook, usually turning out rare or medium-rare.
Bitoque is the perfect choice for when you are overwhelmed with too many food options in Portugal. A serving of seared steak with a fried egg, rice and some salad will surely keep you energized for the whole day of exploring the beautiful cities of the Iberian country.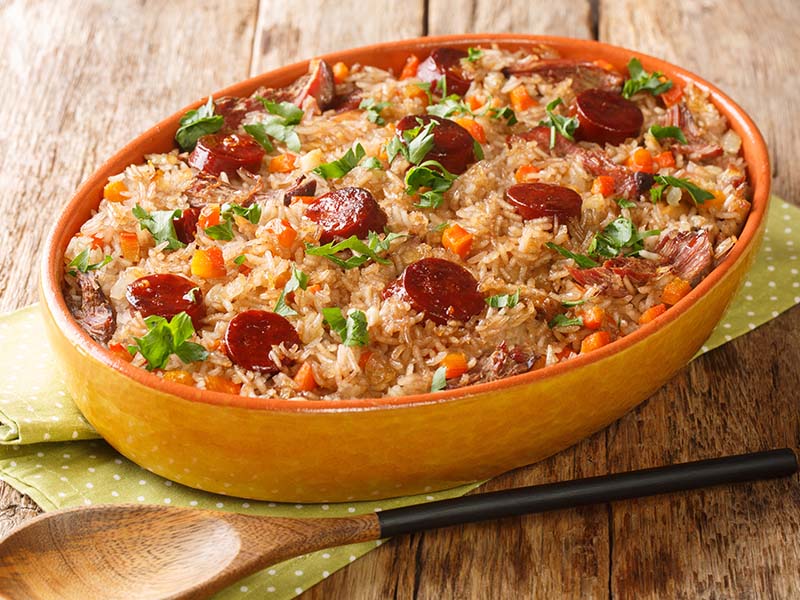 Each country has its version of duck rice with its twist. And Portugal is no exception as they have a dish called Arroz De Pato, which is their version of duck rice originating from Alentejo, a southern region of Portugal.
Arroz De Pato always features duck and white rice. To make Arroz De Pato, people cook the meat twice. The first time is to bring out its tender texture. The second time, they will place slices of Chouriço sausage on top of the duck before roasting it for the final fetching flavor.
The rice that goes with the duck is simply steamed rice. But because the duck is rich and full of flavors, plain white rice is the perfect accompaniment as it doesn't overpower the duck and complements it just right.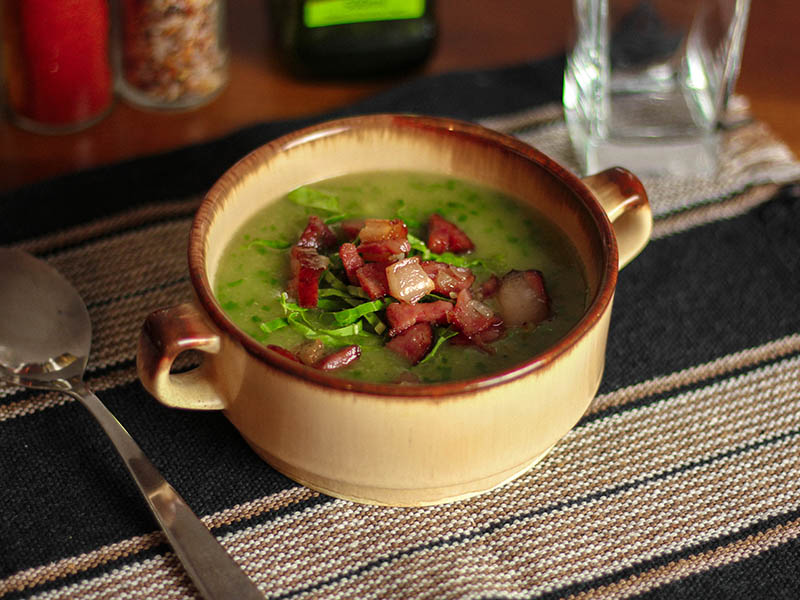 Caldo Verde is a traditional Portuguese soup that people make from cabbage or kale, hence the green color and its name. This soup is the perfect dish for any time of the day and year, but it tastes especially pleasant during the winter months.
Though native to the northern region, this soup has gained fame throughout Portugal. Caldo Verde is a comforting soup that was once considered poor man's soup. A typical bowl of this soup usually includes some slices of Chouriço sausages for a fatty and smoky taste too.
Do you want to make Caldo Verde yourself? Try this instruction now!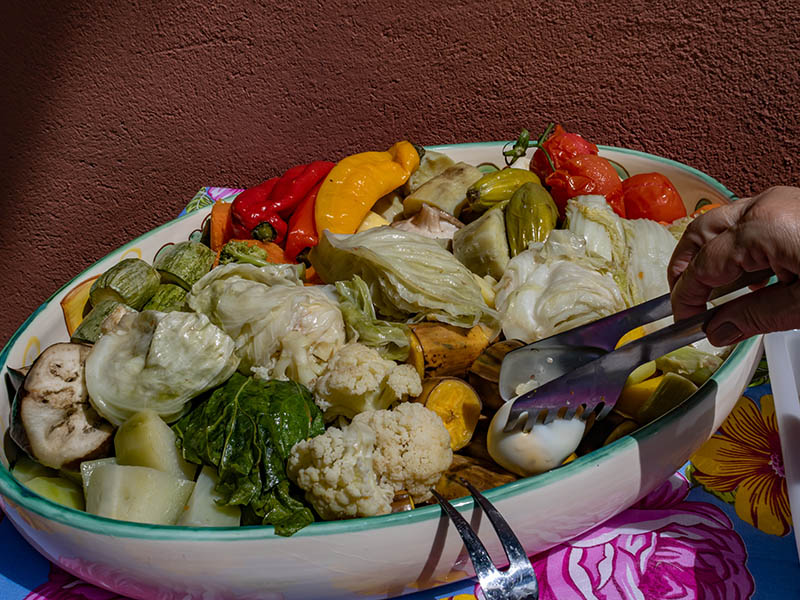 Back in the day, Cozido à Portuguesa was a dish that people enjoyed eating after a long and hard-working day in the fields. That's now no longer the case. However, people still love to dive into a dish of delicious meats and vegetables here in Portugal.
A standard serving of Cozido à Portuguesa contains a variety of slow-cooked meat like ears, ribs, Chouriço, and pork belly. The meat also goes with some vegetables like cabbage and potatoes. And to top it off, people also eat it with some rice.
Throughout Portugal, there are many variations of this dish, each with some additional ingredients. For instance, Southern Portuguese use chicken and add mint leaves to their Cozido à Portuguesa. Meănhile, people in the Northeast region add blood sausage to their version.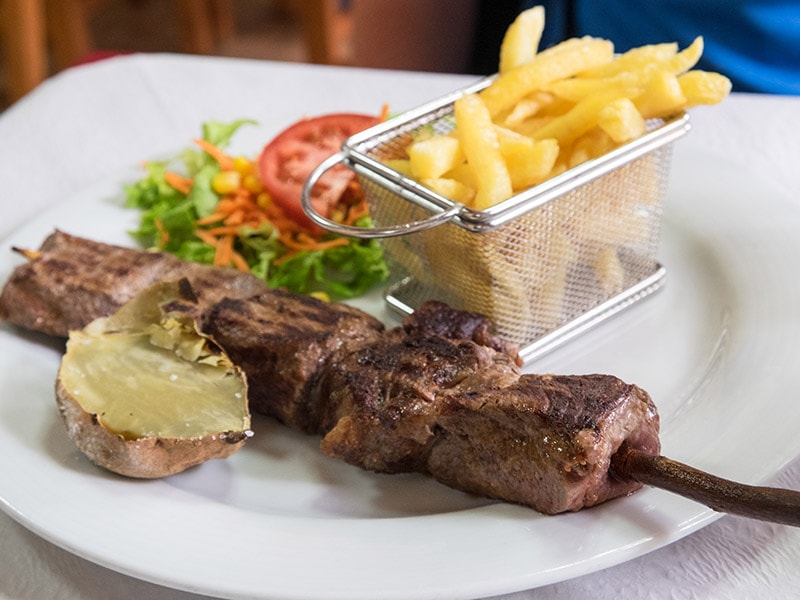 Espetada is actually a name for a cooking technique in Portugal. This technique includes cooking the meat on skewers over an open fire. Because this dish usually involves beef or pork, people in Portugal often refer to Espetada as BBQ beef skewers with vegetables.
In Madeira, an autonomous Portuguese region, people usually prepare Espetada beef with skewers made from bay laurel trees. They only season the beef with simple condiments like salt, pepper, bay leaves, and garlic. This somehow brings out the best flavors of the beef.
In Portugal and Brazil, people usually serve Espetada on skewers that are hung vertically. By doing this, they can ensure that the juice from the slices of meat above can seep into those below, preventing the meat from getting dry and chewy.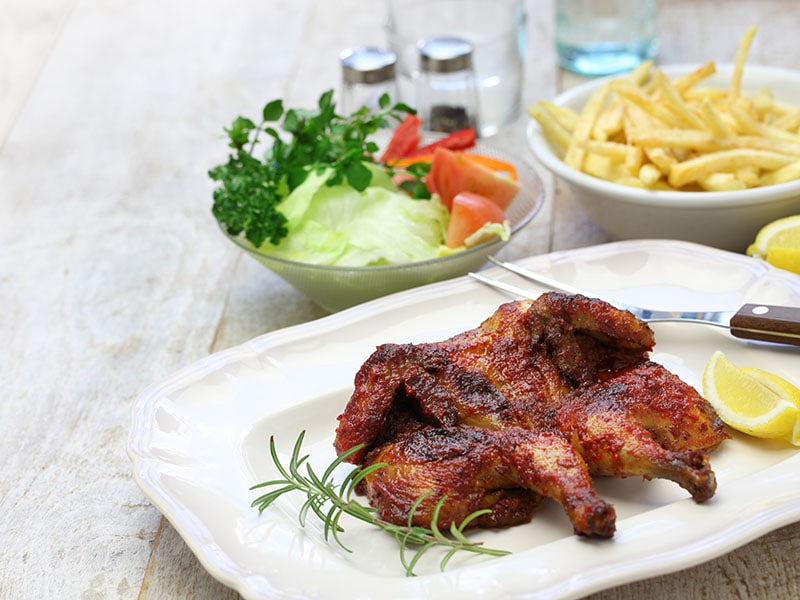 Frango Sado is a Portuguese BBQ chicken dish with a seasoning of Piri Piri, a special spicy small pepper famous in Portugal. Piri Piri is also famous in other regions, like parts of Africa.
Although the Piri Piri pepper is not native to Portugal, it is a magical component from which Frango Assado emerges. Portuguese explorers brought the peppers back from South Africa many centuries ago and have been using them in many of their dishes from then on.
The best Frango Assado is one where people butterfly and marinate the chicken beforehand. Then they grill the chicken over high heat and open fire. In BBQ places in Portugal, you can also ask for an extra marinade consisting of olive oil, lemon juice, and Piri Piri oil.
This is how Piri Piri, the chicken dish that Portugal is famous for, tastes like in Lisbon.
8 Portuguese Desserts You Shouldn't Pass
Portugal is a country famous for its desserts, especially the dishes with egg custards and sugary pastries. The desserts here can be a bit sweeter than usual. But that is not going to be a problem as the desserts below are going to steal your heart.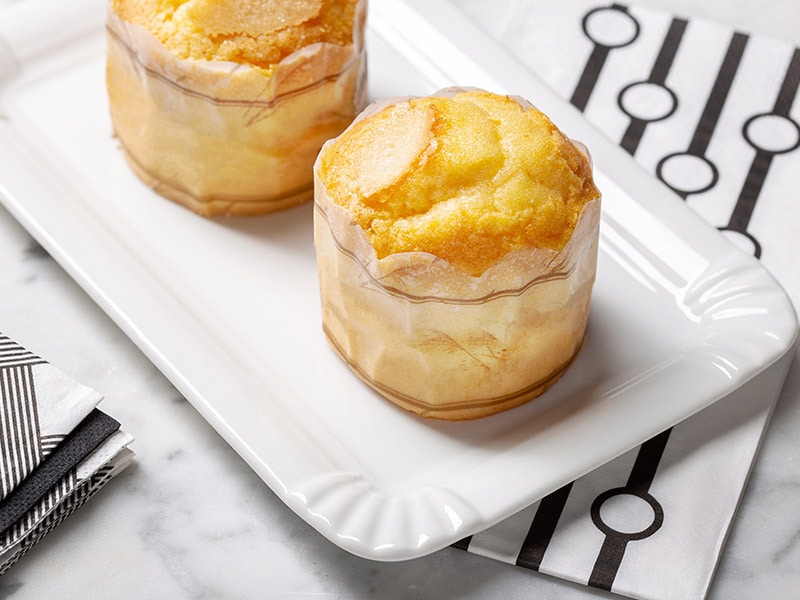 Bolo De Arroz is a hugely famous type of muffin in Portugal. The treat is a dish with the main ingredient of rice flour. It's a lightweight and easy-to-eat treat you can find at any bakery in Portugal and other countries with a large Portuguese community like Canada, Luxembourg, etc.
The texture of this fragrant muffin is quite fluffy. You can buy these and enjoy them with a cup of coffee while in Portugal. Unlike Pasteis de Nata, which can be too sweet for some, Bolo de Arroz is surely a treat that fits everyone's appetite.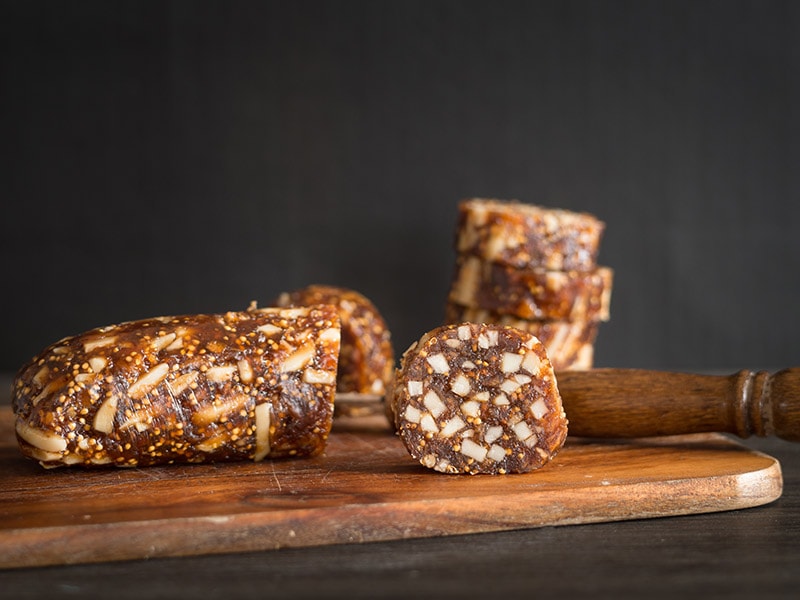 When in Portugal, you will usually find that locals often make and eat a treat called Queijo de Fijo on the first of May and around Christmas. It's a pie originating in the Algarve that they prepare from pressed figs, almonds, and Medronho (a type of Portuguese liquor).
To make this dessert treat, people will slice figs and place them with almonds in a mold. Then they will pour some of the Medronho on top. They will then press this mixture into a cake or a wheel that is sweet and pleasant to eat.
In Portugal, people usually call this dessert "fig cheese" because its shape resembles a wheel of cheese. People usually make this and give many of them to their loved ones as a Christmas gift in Portugal.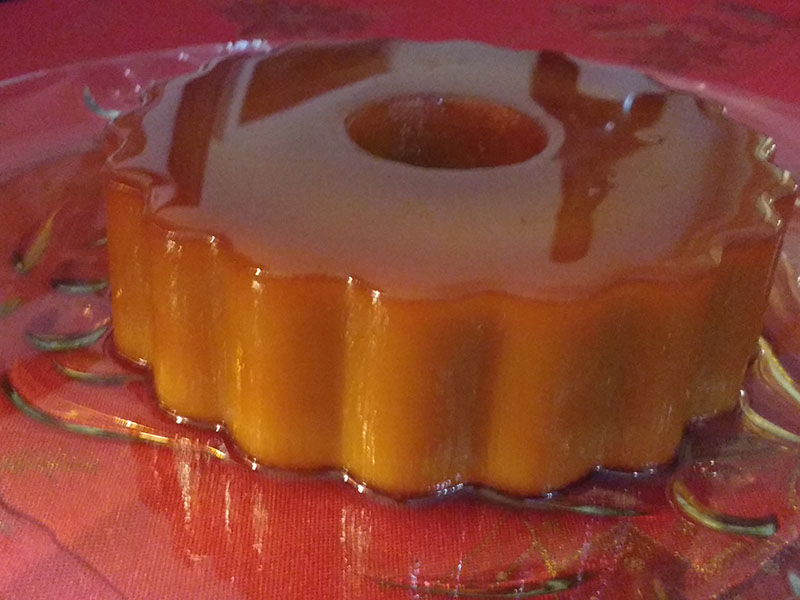 Pudim Abade de Prisco é is a Portuguese dessert with an origin in Braga region in northern Portugal. The dish got its name from the creator Father Manuel Joachim Machado Rebelo, the abbot of Prisco's. He invented this dessert in the 19th century.
One unique feature about this pudding that not many other dessert puddings possess is the recipe includes bacon and a whopping number of 15 egg yolks. This many egg yolk explains the silkiness and the creaminess when you first take a bite of the pudding.
The pudding uses some other unusual ingredients in the sense that they don't usually appear in a sweet custard pudding. Such ingredients are lemon zest, some cinnamon quills, and some bacon.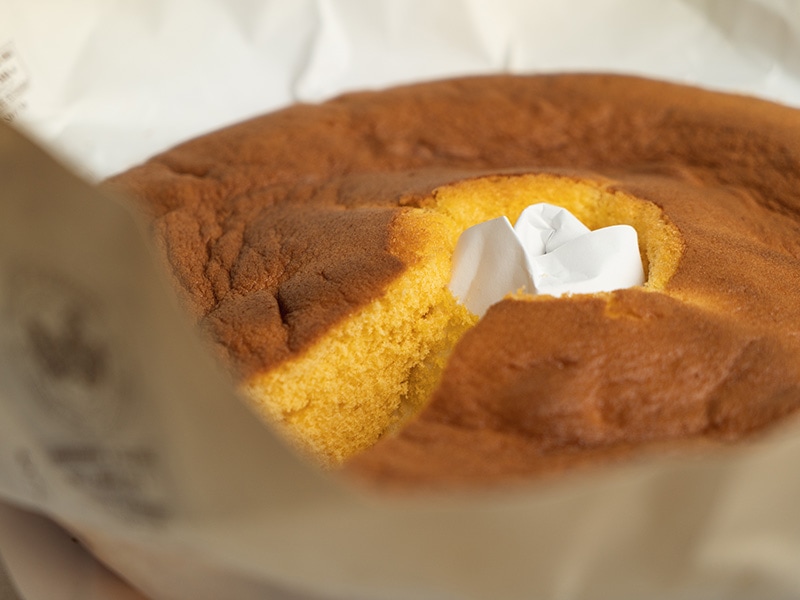 Pão de Ló is a sponge cake that the Portuguese have made some adaptations to. Portuguese people make their Pão de Ló by infusing the cake with lemon and orange peel. Usually, local people eat the cake plain and sometimes use the leftovers to make pudding as well.
Legend has it that Pão de Ló was a creation from a secret recipe that the nuns in the Alfeizerão passed down to the villagers. I think it is necessary to thank them for such a pleasant dessert treat that is so moist and light in texture and so delectably sweet-tasting.
Try this tutorial so you can make some tasty Pão de Ló.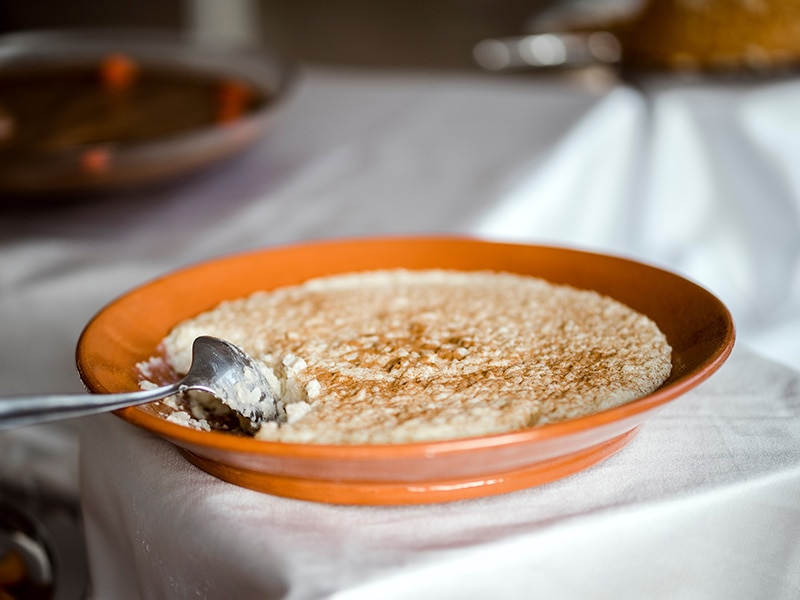 As the name, Arroz Doce describes itself as a sweet dessert rice pudding that is popular in Portuguese and other countries like Spain, India, etc. Usually, people use ingredients like short-grain rice, milk, lemon zest, egg yolk, and sugar to make a batch of Arroz Doce.
Among other dessert treats, Arroz Doce still comes in the top few favorite sweet treats for the Portuguese. This is quite easy to understand as the pudding is subtle and sweet while not being too overpowering. The texture is smooth and will leave a nice mouthfeel on your palate.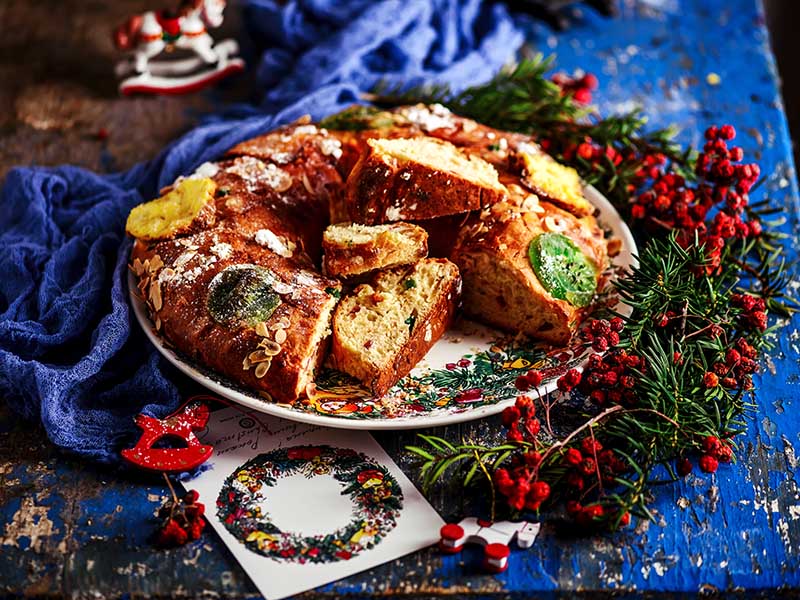 Bolo Rei, or King's cake in English, is a classic dessert in Portugal that is a traditional Christmas dessert. People in Portugal usually gather and make this dessert and enjoy them together on Christmas day all the way to January.
Originating in France, Bolo Rei took its inspiration from the French version Galette de rois and made its debut in Portugal in the 1800s. This was sold by Confeitaria Nacional, Portuguese monarchy's official bakery, which opened in 1829.
Bolo Rei is a round cake consisting of raisins, assorted nuts, and candied fruits. There are variations where people also include faba beans or broad beans. And it's traditional that whoever finds the beans while eating has to pay for the following year's cakes.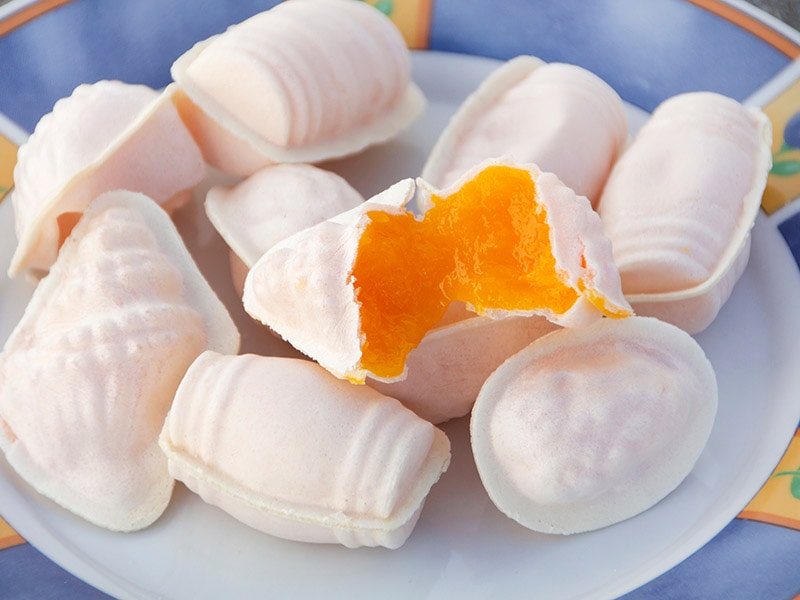 Ovos Mole is a popular Portuguese delicacy that people have enjoyed ever since the early 1900s. Translated directly as "soft eggs", these treats are a product of egg yolks, sugar, and even chocolate.
The nuns of Aveiro, who invented this dish, took it a step further by wrapping these egg treats with communion wafers, giving them a white outer facade. These Ovos Moles are very popular, to the point where they have received protected status from the European Union.
Remember to look for some of these when you're in Portugal. Travel to the district of Aveiro in the central coastal region for an authentic taste. You will enjoy the custard and its buttery texture, along with the sweet taste in your mouth.
Take a closer look at these melt-in-your-mouth Ovos Moles treats right in Aveiro.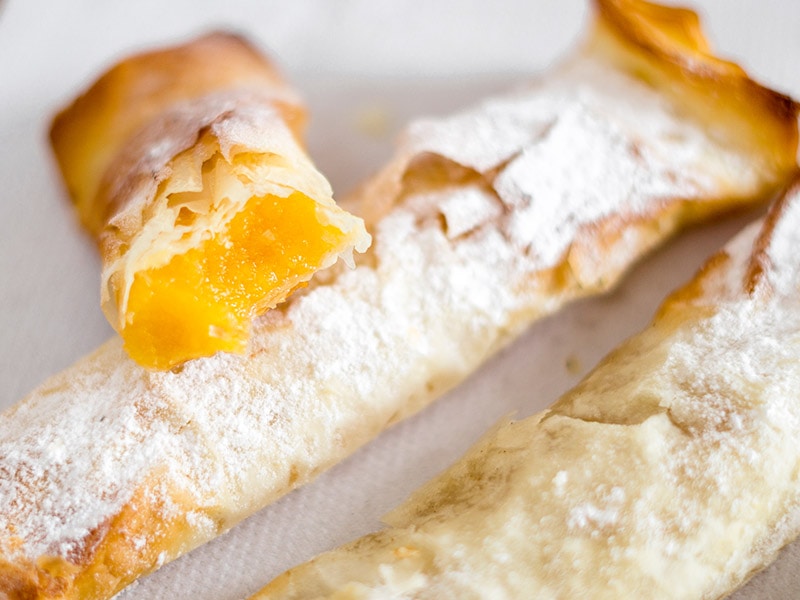 The city of Sintra in Portugal has many special features that you should visit at least once. One of the most significant aspects that contribute to the city's identity has got to be Travesseiros pastries or Sintra Pillows.
Travesseiros, which means pillows, is a typical Sintra dessert. You can still find these treats in Piriquita, the same bakery that invented and produced the pastry ever since 1940. This sweet treat is a dough of puff pastry and thick cream of almonds and egg yolks.
Travesseiros taste best when they just come out of the oven with a light sprinkle of powdered sugar.
Feeling Inspired To Travel To Portugal Yet?
Are you thinking about visiting Portugal after reading this post? I hope I have somehow inspired you as a fellow foodie to embark on a new food journey to this beautiful country. You will see how food is the perfect tool that Portuguese people use to enrich their national identity.
If this post has provided you with an abundance of insight on what Portuguese foods have to offer, please comment below and tell me what you will try on your upcoming trip to Portugal. It would be very nice if you could also share this post with others who might need it.
Thank you!