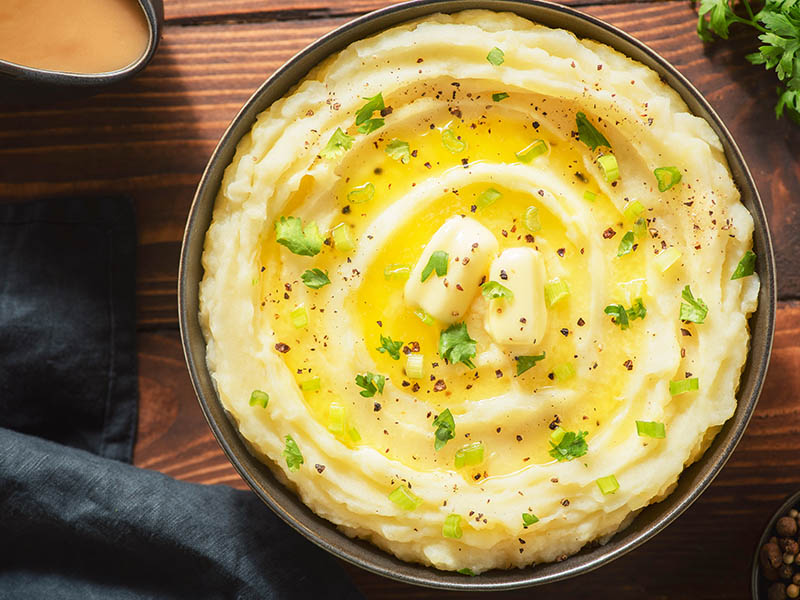 Pork tenderloin side dishes are necessary to make your dinner heartier than ever. These recipes added various elements to accompany the soft tenderloin. Therefore, you only have to read this article to know more about what to serve alongside tenderloin.
While you can always go for reliable choices like mashed potato or Brussel sprouts, there are more choices to diversify the overall flavor of your meal. All you have to do is experiment with these recipes to come up with your favorites.
Intriguing Homemade Recipes To Serve Along With Tenderloin
Pork tenderloin is a savory main course by itself. All you need is some simple elements to complement the tenderloin. You can experiment with these specialties to figure out your favorite combination for each meal.
Total time: 25 minutes.
Roasted mushroom with garlic butter adds a beautiful fragrance to accompany the soft pork tenderloin. Furthermore, the side dish is also ideal for pairing with any main dish you have in mind. This roasted specialty also works with various types of mushrooms.
For this recipe, button mushroom is a brilliant choice as the roasting process helps develop the flavor. In addition, you should marinate the mushrooms with olive oil, garlic cloves, and butter. Toss the mixture thoroughly to combine the elements.
Let the oven work for around 25 minutes, and you have a wonderful mushroom delicacy. Furthermore, garlic butter roasted mushroom works wonderfully when incorporated with a dash of lemon juice and thyme during the cooking process.
Total time: 1 hour 10 minutes.
Pork tenderloin is perfect to accompany with a cheesy casserole to add a creamy experience. The grit casserole is the ultimate choice of many southerners to elevate the dinner to another notch. Better yet, you can also make this dish ahead to bust out whenever you want.
If you're new to using grit, it is essentially a type of porridge made of cornmeal. Grit tends to have a thick and smooth texture with a mild flavor. It makes for a flavorful concoction when combined with cheese, eggs, and Worcestershire sauce.
Remember to cook the grit according to the package instructions before adding the ingredients. After the cheese has melted, you want to bake the casserole for around an hour for the mixture to set. Rest the grit casserole for at least 10 minutes before serving.
Total time: 35 minutes.
Plum is one of the rare choices as a side dish. However, with a few spices, plums can become much more flavorful to accompany an assortment of foods. The delicacy also takes little effort to whip up, so it's suitable for when you're in a rush.
First, you want to marinate the plums in orange juice with ground cardamom, cinnamon, and brown sugar. Don't forget to cut the plum in half so the seasoning can penetrate the meat thoroughly.
Toss the mixture into the oven and let the temperature work until the sauce is bubbly. You may sprinkle almonds on the roasted plum for an extra nutty flavor.
Total time: 40 minutes.
Roasted cauliflower is a flavorsome plant-based side dish to elevate pork tenderloin. People lightly char the cauliflower to infuse a beautiful smoky taste into the recipe. Furthermore, cauliflower is an excellent source of various vitamins to make your meal healthy.
For this side dish, you can either use frozen or regular cauliflower. Simply remember to season the vegetable with paprika, cumin, and garlic powder. Drizzle the cauliflower pieces with oil before roasting to prevent drying the vegetable.
During the cooking process, I suggest stirring the cauliflower pieces a couple of times, so they're cooked evenly. The edges should have a nice golden brown color and a crispy texture.
Total time: 55 minutes.
One of the solid choices of tenderloin side dishes is creamed corn. The recipe adds a decadent creamy texture with exhilarating pops of corn kernels in every bite. This homemade version of creamed corn is better than any canned version at the store.
Aside from using a generous amount of corn, you should whip up flour with sugar and water to combine with butter afterward. Keep the flame at medium-low heat to incorporate the corn with the creamy blend. Don't forget to stir occasionally to avoid unwanted burns.
Total time: 15 minutes.
If you're tired of accompanying pork with raw cabbage, allow me to spark you with a fascinating cabbage treat that is worth featuring at any dinner table. Instead of breaking the cabbage head into small pieces, I want you to cut it into thick slices for roasting.
The name may be confusing with the word steak when there's no involvement of beef. It's because people cook the cabbage in big pieces similar to steaks. In addition to the cabbage, I enjoy simple seasoning of salt and pepper with a dash of avocado oil.
On average, you need around 5 – 6 minutes to thoroughly cook each side of the cabbage. Ideally, you want a soft texture in the middle of the cabbage. Top the cabbage with your favorite seasoning and serve for a final touch.
Total time: 30 minutes.
Cooking an entire head of cabbage may be too much for you to handle. How about using Brussel sprouts to create a sweet and nutty side dish instead. These little cabbages also become crunchier after roasting.
I recommend using Balsamic vinegar, Tamari (Japanese soy sauce), and garlic to infuse Brussel sprouts with an explosion of flavor. Also, drizzle the dish with a splash of olive oil to keep the sprouts moist and tasty.
After roasting the Brussel sprouts, you may add an extra dash of Balsamic vinegar to bring out more flavor.
Total time: 35 minutes.
Polenta is among the renowned Italian sides with corn kernels as the main ingredient. Before the introduction of corn, people used to make Polenta with chickpeas, chestnut flour, or farro. Although Polenta may look like mashed potato, the main difference lies in the flavor profile.
The key to success at Polenta lies in the cooking steps. Preferably, you want to boil water with salt before pouring in the Polenta flour consistently. Keep whisking the mixture constantly, even when it's thickened, to prevent the dough from sticking to the bottom.
Throw in some butter and cheese if you like a milky Polenta. Serve this Italian side dish hot to accompany whatever recipes you have in mind.
Total time: 35 minutes.
Instead of classic mashed potatoes, I want to provide you with a recipe even people with lactose intolerance can have. This dairy-free garlic mashed potatoes side dish will surely put a smile on anyone.
Remember, you can always switch it back to conventional mashed potatoes by using traditional milk. As for this recipe, I suggest combining oat cream (or coconut cream) and vegan butter. Of course, you must boil and peel the potatoes to incorporate with the cream mixture.
Keep mashing around the potatoes until you get a smooth texture. However, some people also enjoy lumpy mashed potatoes, so it depends on your liking at the end of the day. Garnish your creation with freshly chopped parsley and serve.
Total time: 45 minutes.
Nothing spells love better than serving pork tenderloin alongside a sweet and decadent homemade applesauce. The dish is perfect for busting out during fall as apples have the best quality. Aside from being a side dish, I sometimes see this recipe as an ideal snack or dessert.
The best thing is that you only need a handful of ingredients to materialize the apple-dependent sweet treat in a short amount of time. First, you want to soften the apples by cooking them with apple vinegar for approximately 4 minutes.
Proceed to simmer the concoction with apple pie spice for 10 – 20 minutes until the apples begin to fall apart. Like mashed potatoes, I want you to mash the apples to the desired consistency. For a smooth applesauce texture, it's best to use a food processor to simplify the process.
Total time: 20 minutes.
Asparagus is a great option to mix up your vegetable consumption. Better yet, you can pair the vegetable with a delicious sprinkle of parmesan cheese to make everyone's taste buds tingle with joy. Whatever type of asparagus you have, it will work with this combination.
Simply trim the asparagus ends and place them on the baking tray with your choice of veggies (zucchini, cherry tomatoes, or bell pepper). Give the vegetables a good dash of olive oil to bring out more fragrance in the baking process.
Of course, you can't forget to include parmesan cheese with some simple seasoning of salt and peppers. Let the oven work its magic for around 17 minutes before serving the side dish hot.
Total time: 1 hour 10 minutes.
Regarding versatility, few dishes can stand toe-to-toe with traditional dinner rolls. These gorgeous little buns are perfect to accompany the soft texture of tenderloin. Although you may need to put a little effort into making the rolls, they are worth investing your time in.
For the dough mixture, my go-to choice is a blend of yeast, butter, and flour. Play with the dough until you get an elastic and smooth consistency. Next, cover the batter with a towel and let it rise in a warm location.
After cutting the dough into even pieces, transfer them into the sheet pan. Brush the rolls with butter to get a golden brown surface when baked. Once removed from the oven, I prefer brushing another layer of butter and sprinkling some salt over the rolls to enjoy.
Total time: 15 minutes.
Sometimes people are keen on choosing a healthy side dish to improve their overall diet. Therefore, I have the correct answer in the form of broccoli salad. If your child is having difficulty eating vegetables, this salad will also fix that problem.
Commonly, people tend to blanch broccoli before doing anything with the vegetable. But this recipe works even with raw broccoli. You need to incorporate some red onion with cheddar cheese, sunflower seeds, and bacon.
Like other salad dishes, the essential point lies in the dressing, a creamy combination of Greek yogurt with honey and mustard for an extra kick of flavors. Toss the vegetables around until the sauce fully coats the ingredients.
Total time: 25 minutes.
Rice is also a solid choice for pairing with pork tenderloin, as the mild flavor is perfect to accompany the main dish. However, you may want to take it to another level by infusing the rice with a touch of sourness from lemon juice and a refreshing herb taste.
Simply simmer the rice for around 20 minutes in a pot for the best outcome. While adding water to cook the rice, you want to infuse it with lime juice and zest. As for the cilantro, chop the herbs and include them when you fluff up the rice.
Total time: 15 minutes.
Slaw is another form of salad that you must include in any meal. Surprisingly, the crunchy Kohlrabi (German turnip) texture of this tasty German side order is ideal for pairing with juicy julienned apples. Furthermore, apple cider vinegar's arrival improves the overall experience.
Commonly, I want you to incorporate the salad dressing separately by combining olive oil, apple cider vinegar, and honey. In addition to the Kohlrabi and apples, I suggest adding hazelnuts to give the slaw a nutty taste.
Mix the ingredients thoroughly, and you have a fresh Kohlrabi slaw to enjoy.
Total time: 45 minutes.
Honey-glazed carrots often remind me of fantastic memories during the holiday season at the dinner table. These carrots are also a great companion for pork chops. Most often, the carrots have a shiny glaze coming from the honey.
After rinsing the carrots, you should cut them into long pieces like French fries. Bring together a combination of honey with butter, rosemary, and garlic powder. Pour the glaze over the carrots and toss them around to cover them evenly.
Allow the oven to roast the carrots until the texture is tender. For garnish, throw in some thymes for decoration and a hint of minty profile.
Total time: 35 minutes.
The beautiful vibrant yellow of cornbread is appealing no matter how you serve it. With a light sweetness and moist texture, it's a favorable option for everyone at the dinner table. The bread only calls for simple ingredients that you can find at any bakery shop.
The cornbread's base starts with cornmeal, flour, and baking powder. Mix these dry elements with eggs, honey, and buttermilk until you get a smooth batter. While you're busy with the batter, crank up the fire to brown some butter in a skillet to get that toasty flavor.
Transfer the batter to the skillet and bake for approximately 20 – 25 minutes. Thanks to the appearance of cornmeal, the bread explodes with a corn taste. Let the cornbread rest for at least 10 minutes to stabilize the structure.
Total time: 30 minutes.
I know green beans are not the first option for many people. However, you may change your mind after discovering the addition of parmesan cheese. Even your kid will love these tender green beans alongside whatever main delicacies you have.
Simply coat the green beans with oil so the grated parmesan cheese can stick to them. Keep the seasoning simple with a pinch of salt and pepper. At the final 10 minutes mark, remember to flip the beans so they are evenly cooked to a tender.
These roasted green beans are to enjoy while still warm for the best result. Frozen green beans are still great for this recipe, but I recommend sticking with fresh beans.
Total time: 25 minutes.
Couscous, Kusksi, or Kseksu is a Moroccan durum wheat specialty, making it a fitting dish for accompanying seafood items. Typical Couscous has eggs but the recipe also works without them. Many love Couscous because of its adaptability with whatever ingredients.
For this Couscous, you should bring vegetable broth to a boil first before pouring in the crushed durum wheat. Let the Couscous absorb the broth for around 10 minutes. In addition, you may sautee the spices first prior to adding the broth.
Fluff up the durum wheat to mix in some raisins and almond slices. Ideally, the Couscous should have a sweet and nutty profile with the taste of the vegetable broth. Aside from being a side dish, some countries even consider Couscous as the main course.
Total time: 35 minutes.
Another salad option to bring to the table is a creamy combo of red potato with fresh herbs. These small red potato pieces are bite-sized, making every spoon a mesmerizing experience.
Of course, you must boil the potatoes, so they are easier to peel. Ideally, the potatoes should be soft and tender. A secret to cooking potatoes is to soak them in ice water after boiling to stop the temperature from over-tenderizing the potatoes immediately.
In a bowl, mix the potato chunks with sour cream, mustard, and mayonnaise. In addition, I enjoy the companion of pickles and celery to give an extra crunchy texture to the salad. Furthermore, I recommend refrigerating the salad for around 30 minutes before serving.
Total time: 1 hour 10 minutes.
Fluffy and soft sweet potatoes are incredible on their own, but I always come prepared with a solution to take the recipe to another notch. Better yet, you only need a handful of ingredients to make it at home.
The secret lies in the addition of garlic butter to bring out more fragrance from the roasted sweet potatoes. Cut the sweet potatoes into manageable slices and bake until they become softened. While at it, whip up a blend of butter with garlic and parsley.
Now comes the fun part: grab your forks and flatten the potato slices. Don't worry about breaking the circular shapes because you can always reform them later. Finally, scoop the garlic butter over sweet potatoes to finish the cooking process.
Total time: 45 minutes.
Jollof is a specialty of Nigerian cuisine in West Africa. People often use long-grain rice with tomatoes, onion, and spicy peppers. However, you shouldn't mistake Jollof with Nigerian fried rice as the latter doesn't have tomatoes.
For long-grain rice, you want to stir it with a smoothly blended mixture of tomatoes, bell peppers, and bonnet. Season to your liking and simmer the mixture for 15 – 20 minutes. You commonly need to pour a cup of water every 7 minutes to prevent burning.
Throw in some bay leaves and cook until the rice is thoroughly cooked. Jollof rice tends to display a sweet and spicy flavor with a touch of sweetness from the tomatoes. Thanks to various spices, Jollof has a deep layer of taste to uncover.
Total time: 30 minutes.
Mac and cheese is not just a traditional specialty; people use the recipe as an ideal snack or comfort food for any occasion. The creamy base profile of mac and cheese makes it an excellent choice to pair with various savory delicacies.
Simply boil the macaroni with some salt. While at it, you may want to combine butter with flour until it becomes slightly toasted. Throw in the cheddar cheese and sour cream, but reduce the flame to prevent accidental burns.
If the sauce is wet, don't worry because the macaroni will absorb the rest of the moisture. Give the mac and cheese one good stir and serve your creamy, cheesy creation.
Total time: 1 hour 10 minutes.
The creaminess and buttery flavor with a crispy texture of Duchess potatoes will keep everyone coming back for more. In addition, each Duchess has a beautiful spiral shape, making it appealing to everyone at first sight.
If you're unfamiliar with Duchess, it is a French preparation method combining potatoes with eggs, seasonings, and butter. I recommend sprinkling individual Duchess with a pinch of parmesan to enhance the creamy taste.
You often need to bake the Duchess until the center becomes golden and warms. Don't forget to brush the Duchess with butter to improve the overall look. These Duchess potatoes should have a soft inner while the outside is crispy.
Total time: 30 minutes.
Rice Pilaf is a rice staple of many Latin American regions, Central Asia, and various countries worldwide. Sometimes, people even turn to wheat to make Pilaf. Commonly, locals often pair Pilaf with all kinds of vegetables or meat delicacies.
The cornerstone of a Pilaf relies on the rice; therefore, I suggest using a long-grain variety for the best result. Remember to saute the spices with butter first to bring more flavors to the Pilaf. Next, you want to introduce vermicelli (a type of thin pasta) to the mix.
Pour in the rice and cook until the grains become white. Finally, transfer the warm stock to the mixture and simmer for around 15 minutes. Garnish the Pilaf with parsley for serving.
Total time: 20 minutes.
If you worry about the high amount of carbs from potatoes ruining your diet, I got you covered with an alternative vegetable. Instead of making mashed potatoes, you want to go for a mashed cauliflower side dish.
It's much faster to whip up because cauliflower takes less cooking time than potatoes. After boiling the cauliflower head, ensure you extract any excess moisture using a towel. This step helps your mashed cauliflower not become watery afterward.
You should combine the cauliflower with garlic, milk, and thyme in a blender or food processor. Fire up the machine until the mixture becomes smooth. I like to enjoy the creaminess of mashed cauliflower with a splash of olive oil for extra fragrance.
Which Is Your Trust-Worthy Option To Pair With Pork Tenderloin
How many side dishes have you noted down? Remember, you always serve these delicacies with other main courses to make your meal more flavorful. Your upcoming dinner will be a blast with beautiful specialties on the menu.
If you have the chance to experience one of these dishes, comment your thoughts, so everyone knows. If you know people getting stuck or not knowing what to serve with pork tenderloin, introduce this article to them.