These easy popsicle recipes are the best picks for hot summer days. Nothing quenches sweet cravings more than these cool treats.
You can make your own version at home that's mouthwatering, healthy, and cost-effective. They satisfy all your taste buds because you can customize these frozen treats according to your will.
You will not find any popsicle that tastes as good as the ones below. Scroll down to try all the easy and luscious recipes. Surely among them will be snacks you want to indulge in this summer.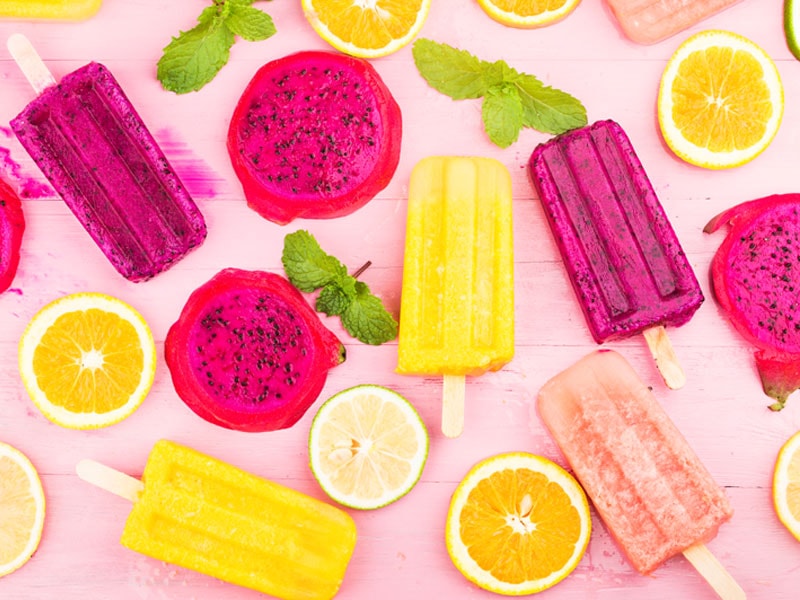 Cool Down Your Hot Day With The Most Refreshing Popsicle
With just a few easy-to-find ingredients and simple tools, you can make your own popsicles quickly. Fruits, vegetables, and some kinds of pastry can all become part of these dishes.
Total Time: 12 hours 10 minutes (including 12 hours of freezing time)
You are sure to fall in love with this first popsicle recipe. It stands out with multiple vibrant colors. You will see two pretty layers of color representing the two main ingredients of this dish, orange, and strawberry.
This vegan-friendly and healthy dessert makes both kids and adults go wild. The juicy strawberries add the perfect sweetness to balance out the orange acidity. If you want to enhance the sweetness, maple syrup with warm and floral notes is the right choice.
This recipe consists entirely of fresh fruit, so its consistency is not thick. You need to wait a bit before inserting the popsicle stick. You need to make sure they stay in the freezer for about an hour so you can adjust the stick's position.
Total Time: 4 hours 5 minutes (including 4 hours of freezing time)
With easy-to-find fruits and about 5 minutes of preparation, you can have a batch of fruit-flavored popsicles ready in the freezer. Homemade popsicle recipes are always simple but provide many health benefits.
Aside from fruits, like kiwis and strawberries, you can introduce spinach to the popsicle mix. Therefore, the bold green color of this recipe mainly comes from the combination of spinach and kiwi.
Don't worry about this vegetable overpowering the fruity flavors because it's easy to enjoy with a mild and sweet taste. The natural sweetness of this toothsome snack comes mainly from bananas, strawberries, honey, and coconut water.
The concoction provides more sour and tropical hints of kiwi and pineapple. This recipe is a rich source of vitamins C and B. If you want your kids to consume more fiber, no popsicle is more suitable than this recommended recipe.
Total Time: 12 hours 10 minutes (including 12 hours of freezing time)
Why don't you bring a tropical vibe to your kitchen with this mango popsicle recipe? This sweet only needs three ingredients, and you do not have to put too much effort into it.
The result is a strong sweet taste with an inviting, vibrant yellow packed with fiber. Depending on your mango's ripeness, you may not need any granulated sugar.
This is a win-win dessert recipe for your eyes and skin. Moreover, it helps you quickly consume ripe mangoes. Fresh mango is best, but frozen can still play a role in this delicacy. You can substitute two ripe, fresh mangoes with 2 cups of the frozen variety.
An adult version you can consider is adding vodka, rum, or other booze. However, take note that you should reduce the amount of water for a thick and smooth texture.
These flavorful mango popsicles are loved by all-aged and are super easy to make after referring to this video.
Total Time: 2 hours 5 minutes (including 2 hours of freezing time)
Using a fresh trio of raspberries, strawberries, and blueberries is the best way to enhance the tastiness of popsicles. These fresh berries and natural ingredients make a healthy and energizing snack in just five minutes.
All three of these sweet berries come with a signature fruity tartness. Therefore, you may use sweet honey with a floral note to balance them. This recipe is even suitable for vegetarians when using coconut milk for richness.
The coconut milk adds a blend of nutty, sweet, and salty flavors to this recipe. These eye-catching purple-red popsicles are ideal for keeping young children away from artificial foods.
Total Time: 6 hours 10 minutes (including 6 hours of freezing time)
These strawberry watermelon ice pops are a simple mixture of watermelon, strawberries, and a little lime juice. Soon, you will have a super cold treat by just blending the elements and freezing them for 6 hours.
This recipe is so easy-peasy that even a child can make it. Strawberry, watermelon, and lemon are heavenly and refreshing compounds. When mentioning summer's iconic fruit, many people immediately think of watermelons.
The sweet and juicy profile of watermelon is ideal for refreshing after hot working days. Add a little water if your strawberries and watermelon have a strong sweetness. However, your result will be a little icier than smooth popsicles.
With just three simple ingredients and a blender, you can make a strawberry watermelon popsicle to cool off in the hot summer.
Total Time: 4 hours 10 minutes (including 4 hours of freezing time)
It's hard to imagine pairing sweet popsicles with Tajin's salty and spicy punch. Yet, do not rush to refuse, as the overall taste may make you return for a second one.
Tajin seasoning mainly consists of salt, chili peppers, and lime. Understandably, it tastes like a mix of sour, mildly spicy, and salty. This Mexican condiment is often used for micheladas or sprinkling on fresh fruits.
Fill the mold with a lemonade and fruit punch, then add the prepared fruits. You will have refreshing popsicles with beautiful fruit slices. Feel free to sprinkle more Tajin and enjoy right away to feel the most delectable contrast ever.
Total Time: 5 hours 5 minutes (including 5 hours of freezing time)
This ice pop has the perfect balance of flavors with only three main ingredients. You may probably agree that there is nothing more refreshing on a hot day than a cold limeade glass, but this tasty limeade popsicle is another upgrade to your favorite beverage!
Limeade has a fresh and slightly tangy flavor. In addition, the sweetness and creaminess of condensed milk are perfect for keeping you cool all summer long. This frosty treat offers a citrusy flavor that's perfect for desserts or snacks.
The vanilla Greek yogurt instead of the heavy cream for an extra protein boost is also an incredibly healthy choice. You can optionally add lemon zest for an extra punch of tart notes.
Total Time: 5 minutes (excluding freezing time)
If you're craving a tropical and mildly sweet treat, these easy pineapple mint popsicles will satisfy you. Furthermore, the bright yellow color of these popsicles catches everyone's eye. It has a natural sweetness from only one fruit type and is also affordable.
The key flavors of this snack are sweet and a little citrusy from the pineapple. Better yet, the mint leaves provide a strong and minty taste with a lasting cool effect on your tongue. This ingredient adds a thirst-quenching boost to the popsicle recipe.
You should use frozen pineapples because they have a sweet taste at the peak of ripeness and do not require difficult preparation. Plus, it is important to completely defrost them in the refrigerator before starting to make this recipe.
Total Time: 8 hours 15 minutes (including 8 hours of freezing time)
Succulent grapes with a dark red rind are the best way to dye this popsicle recipe. Imagine how busy a summer party or weekend lunch can be with this vibrant treat full of grape flavor.
The grapes are usually sweet, juicy, and soft. It is perfect for extracting their juice. If you want to add sliced fresh grapes, pour only about 3/4 of the mixture of water, sugar, and grape extract into the molds.
One trick when putting ice cream sticks in molds is carefully covering them with aluminum foil. Then prick them with a knife and insert the sticks in the center. After 8 hours of freezing, you can take it out and run the outer surface under tap water to easily pull out the pop ices.
A small trick to reduce the acidity of grapes when making popsicles is to add a little salt.
Total Time: 10 minutes (excluding freezing time)
It's not surprising to see coconut and vanilla on this list, as they are an ideal pairing. Vanilla has a distinctive scent that is unmistakable among other ingredients.
For coconut milk, I recommend the full-fat variety. It has a nutty, sweet, vibrant flavor with a faint floral aroma. Furthermore, coconut fat makes this healthy dessert completely dairy-free.
The coconut flakes in the recipe create a satisfying and delicious feeling when you chew on them. The strong coconut and vanilla flavors in each ice pop release a surprisingly fulfilling sensation in your mouth.
Total Time: 3 hours 10 minutes (including 3 hours of freezing time)
Usually, people come to popsicles for their fruity flavors. However, you can also make a creamy and chocolatey version at home. Chocolate avocado ice pops are a decadent and palatable recipe.
Of course, the rich flavor comes from avocado. It also gives this dessert a bright green color and a smooth texture.
It is similar to regular avocado ice cream, but you can add a twist by dipping it in melted bittersweet chocolate. The 72% dark variety is excellent because its bitterness equalizes the fat and sweetness well.
However, depending on your taste, you can customize the milk option with white or semi-sweet type. If stored well in the freezer, you will have up to a month to immerse yourself in these cool popsicles.
Total Time: 6 hours 5 minutes (including 6 hours of freezing time)
You can do anything with a popsicle recipe. The combination of pudding, banana, and wafer seems strange but brings a familiar taste.
The buttery, crunchy wafers combined with the natural sweetness of bananas make this dessert a hit. Furthermore, you will make the most of ripe bananas before they become mushy and inedible.
The vanilla flavor in the pudding makes this ice pop even more delicious. Also, the heavy cream brings these banana pudding popsicles a thick consistency. You can store leftover popsicles for about 4 weeks, but the cookies may become soggy.
Total Time: 5 minutes (excluding 2 to 3 hours of freezing time)
This fruit and yogurt popsicle recipe is super easy to make when all the ingredients are on-hand. These yogurt ice pops are healthy and tasty treats for summer parties.
Most fruits go well with yogurt, so you can be creative with this recipe. For yogurt, use whatever type you like; I suggest Greek yogurt for extra protein.
However, if you like retaining the yogurt flavor, it's best not to use additional sweeteners. These popsicles need at least 3 hours to solidify. To ease the ice pops out of the mold, running them through hot water is the best approach.
Blueberry is a suggestion worth considering to combine with yogurt to make popsicles.
Total Time: 4 hours 20 minutes (including 4 hours of freezing time)
A cup of coffee will awaken all your senses, and this is also the morning routine of Vietnamese people. Their coffee is usually strong, with added sweet condensed milk and ice cubes. However, this popsicle does not last long because the ice will melt quickly.
This unique recipe mix is like making a popsicle infused with Vietnamese coffee flavor. Typically, I use ground coffee instead of other ready-made powders to get the most authentic taste.
You can include the creaminess of this recipe with a combination of condensed milk and whole milk. If needed, you can also substitute whole milk type with coconut milk. A coconut milk coffee version is also quite a popular drink in Vietnam.
Total Time: 5 hours 30 minutes (including 4 hours of freezing time)
Boba milk tea is a drink that originated in Taiwan and is fairly famous in Asia. It usually includes black tea, milk, and sweetener. People add boba or chewy black pearls to create a more chewing experience.
Of course, milk tea is also luscious in popsicle form. In addition, the classic black tea has a stronger taste than the others, with malty and rich flavors. Adding the heavy cream and the sweetness of the brown sugar creates a perfect balance.
Unlike any sweetener, brown sugar tastes like toffee, crystallized molasses, and caramel. It gives the pearls and syrup a beautiful amber-brown color.
Usually, you have to use the pearls as soon as possible because they dry very quickly. One trick that helps them stay soft while freezing is to use glutinous rice flour instead of tapioca.
Total Time: 4 hours 15 minutes (including 4 hours of freezing time)
Nutella is well-known among Americans for its impeccable balance of chocolate and hazelnut flavors. The toasty taste comes in waves, yet you should introduce double cream to elevate the richness to the next level.
However, the cream option can be optional if you want a lighter mouthfeel. In case you find a fancier version, the chocolate coating is ideal.
The bitterness equalizes the sweetness, creating an impeccable balance. You can freeze the popsicles for up to three months. Believe it or not, I also save some leftover liquid to enjoy as a chocolate drink.
For presentation, it is better to keep the popsicles in the freezer for around 1 hour and a couple of minutes before putting wooden sticks in. By doing that, your lollies won't be unsteady but will stay in place according to your order preference.
Total Time: 6 hours 10 minutes (including 6 hours of freezing time)
These passion fruit rosé popsicles will give you a luxurious feeling while enjoying the summer. The combination of floral flavors with tropical fruits will bring relaxation with every bite.
Besides tangy passion fruit, tart pineapple and strawberry chunks create authentic tropical flavors. Yet, the latter element also contributes to the beautiful red. Simple syrup is the secret key to balancing out the tartness.
For those who need a luxurious passion fruit dessert right away, I suggest dipping the popsicles into a chilled rosé before serving. Not only does its presentation surprise your guests, but the slowly melting liquid will also keep the flavor of your drink bold until the end.
Total Time: 5 hours 5 minutes (including 5 hours of freezing time)
Popsicles are always the tasty treat that soothes the sweet tooth when summer is around. This recipe is easy to make, even for a beginner.
The colorful and enjoyable ice pop makes you want to enjoy it immediately. This is a delectable snack with only two ingredients: a fruit cocktail and maraschino cherries. You may even agree that maraschino cherries are like nature's candy.
They are insanely sweet, thanks to the large amounts of fructose and glucose. This recipe is a ready-to-eat treat; you can easily buy the ingredients in any store.
Although their taste is strong, the maraschino cherries won't severely affect the overall taste of this ice pop recipe. You still feel the fruity flavor of the fruit. This recipe should be your go-to pick if you love a cocktail popsicle with chunks.
Total Time: 30 minutes (excluding freezing time)
The benefit of making homemade popsicles is that you can use any flavor you love. If you want to enjoy mint chocolate chip, ice cream, and Oreos simultaneously, you're in the right place.
Oreo's outer shells are attractively black and have a mildly bitter taste. They pair well with the white, sweet, and slightly creamy filling. Imagine how wonderful it is to bite the whole cookie in the popsicle with the cool mint ice cream and chocolate chips.
These two ingredients are widely available and have great flavors to complement each other without overwhelming each other. It's sweet and scrumptious enough to please every member of the family.
Total Time: 10 hours 10 minutes (including 10 hours of freezing time)
Kids love nothing more than ice pops and gummy bears. This creation brings together these two elements that captivate children and adults. These gummy bear popsicles are made with frozen lemon juice and colorful gum candies.
This recipe is fit for any customization. In addition to lemon juice, coconut water or soft drinks with tangy flavors are also suitable suggestions. Plus, if you don't have any available gummy bears, don't worry; replace them with store-bought or homemade jellies.
Moreover, when you put the gummy bears in the mold, they settle at the bottom. You should choose a small mold and only put the gummy bears in about 3/4 of the way.
With little pops of chewy and colorful gummy bears, the popsicles will be more attractive to your kids.
Total Time: 10 minutes (excluding freezing time)
Most popsicle recipes are simple, so creating a new variety that satisfies everyone isn't complicated. A tasty treat infused with matcha in the form of popsicles may be your next favorite snack. These ice pops are fresh and pleasant pastel green with lively, colorful mochis.
Matcha is green tea leaves that are ground into an extremely fine powder. It tastes exactly like green tea, which has a bright, grassy, slightly bitter taste with umami and a sweet aftertaste.
Therefore, this recipe needs heavy cream, nonfat Greek yogurt, and sugar to make it tastier. This popsicle is also worth trying because it's mixed with chewy mochi bits.
If you are afraid that all the mochi will be clumped up in one place, you can use a fork to distribute them. Simply push the mochi pieces to the sides to evenly spread the mold.
Total Time: 35 minutes (excluding freezing time)
You can bring a childhood vibe and Japanese breeze to your kitchen with a red bean ice cream popsicle. This is a dessert recipe in Japan and is also known as Azuki Bar. Moreover, the red bean ice cream is sweet and slightly creamy.
The red beans are rich in nutrients and have an earthy, naturally sweet taste. You can buy sweetened paste to save time and even achieve heavenly smoothness.
In this recipe, it's best to use caster sugar. It's similar to granulated white sugar but has a finer texture. When mixed with egg yolks, the mixture doesn't get clumpy and quickly becomes fluffy.
After that, add red bean paste and whisk on low heat for 5 minutes. You can use the ice cream machine to churn this chilled concoction for another 20 minutes to achieve the desired thick and smooth consistency.
With easy-to-find and pure ingredients, you can make delicious and nutritious popsicles. This is a kid- and adult-friendly snack with which you will always want to fill your fridge. Almost every popsicle recipe is time-saving and easy to make.
You can make these popsicles in the summer and whenever you need a sweet treat. Their beautiful colors can cheer you up if you're having a blue day.
Please share these bright and unique summer recipes with more people so they can quench their thirst. Moreover, comment on the other delicious ingredients you used to create your favorite popsicles.