Pomegranate recipes are strange for many because people usually feature the fruit as a smoothie or fresh juice. However, pomegranate has a wide range of options to make it a part of any dish.
Because of pomegranate seeds' sweet and tangy nature, the fruit adds an intriguing touch of freshness to many delicacies. From desserts to drinks and savory dishes, you can materialize whatever dishes with the help of this article.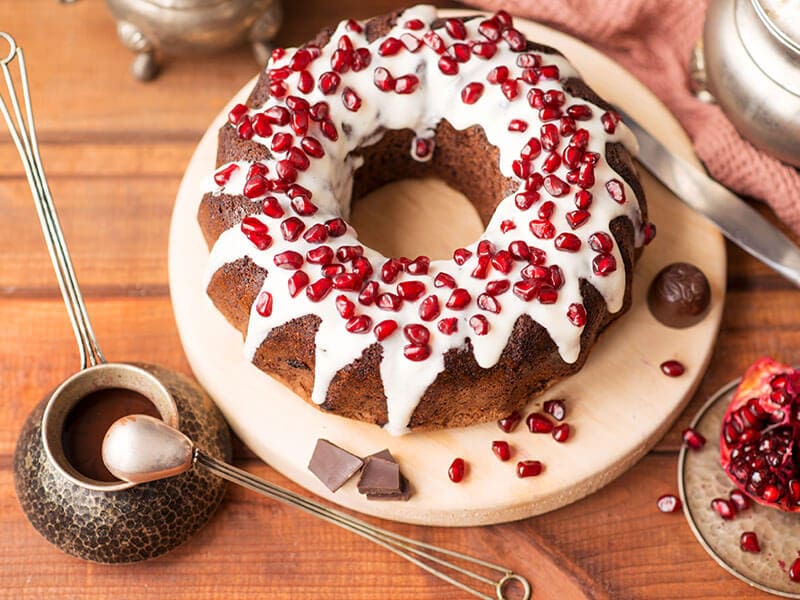 Test Your Skills With These Fantastic Pomegranate Creations
You can find pomegranates at almost any supermarket or fruit store to create these recipes at home. Therefore, you should skim through this post to see which of these following specialties trigger your taste buds the most to try to recreate them.
Total time: 10 minutes.
Let's get this compilation in motion with a light salad that combines crunchy cucumber with juicy pomegranate seeds. The delicacy is a quick entree to treat everyone with a refreshing taste of vegetables and a touch of tanginess.
Since the cucumbers are the star of this mixed specialty, you want to go for decent-sized ones to get more meat. Chop the cucumber into small pieces to combine with pomegranate seeds, onion, and feta cheese.
Bring a mixture of lime juice, olive oil, and black pepper to work as the dressing for the salad. Toss the chopped ingredients with the dressing for a tangy and sour profile. Garnish the salad with extra feta cheese for a touch of nuttiness, and serve the dish cold.
Total time: 5 minutes.
During the hot and steamy summer days, it's great to have a chilled glass of smoothie to fight against the rising temperature. You may want to utilize pomegranate to create a unique tangy and sweet smoothie with a mesmerizing slushy texture.
While pomegranate offers a pleasant sweet and tangy taste, I suggest elevating the smoothie by infusing it with a few frozen pineapple pieces, banana, and Greek yogurt for the creaminess. Remember to puree the pomegranate seeds before including other ingredients.
Blend the mixture with ice and a splash of maple syrup for sweetness. Once you get a slushy and frothy consistency, pour it into a serving glass and enjoy.
Beat the summer heat with this unique homemade pomegranate smoothie.
Total time: 15 minutes.
Muffins are a great dish to start your morning or a sweet treat after a hearty meal. With pomegranate and orange, these little cups of deliciousness will impress anyone on the first bite. Plus, the ingredients are simple to find anywhere around you.
I prefer orange juice, pomegranate seeds, and brown sugar with butter for the wet element mixture. As for the dry components, mix some baking powder and soda with flour for the best result.
Don't worry if the batter is lumpy because that's how the mixture should be. Usually, it takes around 5 minutes to bake the batter to a golden brown on the surface. Let the muffin rest before enjoying the tangy and fresh taste of the treat.
Total time: 45 minutes.
Here's a different take on tart that you can create to impress everyone with its rich chocolate taste and a touch of tangy pomegranate flavor. The amazing chocolate dessert recipe is perfect for satisfying anyone's sweet tooth during a party.
I often pulverize Oreos with butter until it's smooth for the tart crust before shaping the mixture into a round mold. As for the filling, you want to fold chocolate chips with heavy cream, eggs, and vanilla. When the filling is ready, pour it over the Oreos crust.
Bake the chocolate tart while you prepare a pomegranate sugar concoction to serve with the treat. Remember to bring the syrup to a boil before killing the heat. Serve the piet while the center is still jiggly with a generous drizzle of your sweet pomegranate syrup.
Total time: 10 minutes.
Muhammara is a staple dip originating from Aleppo, a city in Syria. Commonly, people utilize a diverse range of ingredients to produce a smoky and savory red dipping sauce. Furthermore, fans of spicy foods will love Muhammara because it features dried and fresh peppers.
Traditionally, people place a combination of chopped walnuts, breadcrumbs, and chili flakes with olive oil into a blender. If you're wondering about the pomegranate, it comes in the form of molasses to provide a sweet touch to the dip.
Season the mixture with smoked paprika and ground cumin before firing up the blender. Once the Muhammara reaches a desirable texture, serve it in a bowl with extra drizzles of olive oil for a touch of fragrance.
Total time: 8 hours 20 minutes (including 8 hours of freezing).
Not even the blazing summer sun will stop you from having a great day with this incredible chilling pomegranate sorbet to treat everyone. It's a surprise to know that you only need a few elements to produce such a mesmerizing frozen treat.
In your cooking pot, combine sugar, water, and pomegranate juice. Don't forget to infuse pectin into the mixture to thicken the blend. Boil the liquid content for roughly a minute and transfer it to a container for freezing overnight or at least 4 hours.
Enjoying the chill sorbet infused with pomegranate flavor is the best thing after a meal.
Total time: 1 hour 15 minutes.
Let's head to another refreshing summer starter dish, but this time I'd like to bombard your taste buds with the sweetness and smokiness of beets. The salad is a great way to freshen up the atmosphere at the dinner table.
For the beets, I suggest wrapping them with foil individually before letting the oven handle the rest of the roasting stage. While you wait, make some candied walnuts by heating butter to coat the nuts in sugar. The candied walnuts add a crunchy and sweet profile to the salad.
To assemble the dish, cut the roasted beets into bite-sized pieces to combine with pomegranate seeds, arugula, and goat cheese for a creamy note. Don't forget to include the candied walnuts. Toss all the elements with citrus vinaigrette for the final touch.
Total time: 5 minutes.
Whenever the festive season is coming close, I like to whip up an effortless yet tasty pomegranate prosecco punch to let in the holiday spirit. The beverage's sweet, refreshing, and tart profile is often enough to mesmerize many.
Take your pitcher to infuse Cointreau (orange liqueur) with pomegranate and orange juice. Chill the concoction or throw in some ice cubes to lower the temperature. Continue to top the glass with prosecco champagne for a fruity note.
Place an orange wedge over the pitcher side for decoration. In addition, you may sprinkle some pomegranate seeds into the punch to make it more appealing.
Total time: 10 minutes.
It's normal to feature pomegranate in a salad recipe, but have you ever tried a relish version of pomegranate? If you're curious, try this unique specialty to uncover the exciting flavors. The side dish is also a solid choice for the Thanksgiving occasion.
The key to this recipe lies in the dressing, a combination of lime juice, maple syrup, and oil. Next, combine ingredients like pomegranate arils, minced cilantro, and parsley into the dressing mixture. I enjoy the relish with some diced Jalapeno (Mexican chili) for a mild spiciness.
Typically, people chill the relish before serving it for a refreshing sensation. In addition, you may store this pomegranate relish for up to three days in the refrigerator.
Total time: 1 hour 20 minutes.
Molasses is a viscous liquid resulting from the process of refining sugarcane or other products into sugar. Interestingly, you can produce molasses from pomegranate juice, and it's much easier than you think.
To create molasses, you want to cook the pomegranate juice with a generous amount of sugar with a fresh squeeze of lemon. Keep simmering the blend until the liquid possesses a thick syrupy consistency. Remember to adjust the temperature to avoid any sudden change.
After the molasses reaches your desired thickness, kill off the heat and let it rest for half an hour. Typically, the molasses should last around six months in the refrigerator, giving you a lot of time to think about what you want to do with the sweet condiment.
Try experimenting with pomegranate molasses for a new helpful sweetener in your kitchen.
Total time: 10 minutes.
With all the suggested savory and sweet delicacies, let's take a quick breath along the way and energize yourself with this simple and tasty juicing recipe. When it comes to pomegranates, it's a matter of time before people ask about drinking the fruit's tangy juice.
Instead of squeezing the pomegranate seeds for their juice, I suggest dumping them into a blender and pulsing it into a liquid. Once pulsed, let the concoction flow through a strainer to remove any unwanted sediment.
Infuse the beverage with seltzer water (sparkling water) for a refreshing sensation. Sprinkle a pinch of salt and adjust the flavor using sugar. The result should be a pinkish or reddish glass of pomegranate juice with beautiful sparkling bubbles.
Total time: 2 hours 30 minutes.
Pavlova is a classic sweet treat of Australia and New Zealand cuisine in the form of crusty white cake. Interestingly, the name of this showstopper dessert comes from a Russian ballerina (a ballet dancer), Anna Pavlova.
The contrast between the white cake and red pomegranate makes Pavlova a must-try. Commonly, people create the Pavlova using eggs as the base to mix with corn starch, vinegar, and sugar. Whisk until the egg mixture becomes thick and stiff.
As for the pomegranate curd, I suggest mixing eggs with pomegranate juice, tapioca starch, and sugar until the concoction thickens. Assemble the Pavlova for baking in the oven. While at it, you should prepare the whipped cream topping with pomegranate arils and sugar.
Total time: 35 minutes.
If you frequently find yourself only having lime or lemon curd, it's time to switch it up with pomegranate. At first glance, many people think the red curd is some sort of jam until they taste its addicting creamy flavor.
To extract the pomegranate juice, you may use the blender like when you make the juice recipe or simply use your bare hand to squeeze the water. In a pot, bring a blend of pomegranate molasses, juice, and eggs to a simmer.
Keep whisking the mixture until it thickens and sticks to the back of your spoon. Remove from heat and store the curd in the refrigerator. Pomegranate curd makes for an incredible dessert, thanks to its tangy and creamy nature.
Total time: 10 minutes.
Everyone loves consuming the chewy gummy texture at some point as a child. Therefore, you may want to relieve the sensation and treat your kids to a simple homemade recipe of pomegranate gelatin gummies.
To make it as easy and less hectic as possible, you may want to grab some pomegranate syrup from the store and dissolve it with water to be your base mixture. Bring the liquid to a boil and drop in your gelatin leaves to whisk until smooth.
Don't forget to use honey and corn syrup to enhance the flavor of the gummy. Get yourself some beautiful molds to shape the gummy. The liquid won't take long to set and possess the signature gummy texture.
These pomegranate gummies with agar-agar are easy to make yet delicious simultaneously.
Total time: 5 minutes.
Bruschetta has been a staple first course of Italian cuisine since the 15th century. People usually use toasted bread slices to make Bruschetta as an entree delicacy. However, you can also use different elements besides bread to be the base of the Bruschetta.
I prefer crackers as a quick and convenient way of enjoying Bruschetta in this recipe. Simply spread the cracker with cream cheese and top it with your favorite mix of pomegranate salsa. I promise every bite into the Bruschetta is a decadent explosion of creaminess and tanginess.
Total time: 10 minutes.
Pomegranate cookie bites are a quick appetizer to whip when you're in a rush to come up with a delicacy to treat everyone. Each bite has a splash of tangy taste from the pomegranate seeds and possesses a mesmerizing creamy profile from the cheese.
Typically, people use round cookies as the base of the entree; I prefer to use some ginger for these sweet treats for a refreshing taste. Top each cookie with mascarpone cheese and pomegranate seeds. Drizzle the topping with honey for extra sweetness.
Total time: 5 minutes.
If smoothie or juice is not enough to quench your thirst, I highly suggest giving this pomegranate iced tea a shot. More to the story, you can get a bit tipsy while enjoying this beverage because of its light note of alcohol content.
Get a decent jar or container to hold a combination of vodka, pomegranate liqueur, and ice cubes. Thanks to the pomegranate liqueur, the iced tea gets a complex profile of sweetness and tartness. Don't forget to include your favorite ice tea mix to infuse with the liquor concoction.
Garnish the iced tea with fresh mint sprigs and enjoy it cold for the best experience. A little side note: you want to go easy with the vodka as the spirit has high-proof in terms of alcohol.
Total time: 45 minutes.
Any fan of cocktail beverages will instantly know about grenadine, a popular sweetener with vibrant red color. Usually, people only use a small splash of grenadine because of its potent sweetness.
To materialize grenadine at home, you should have pomegranate juice ready to incorporate with sugar. Simmer the liquid until it turns reddish-brown while the consistency is thickened, similar to syrup.
Proceed to add the rest of the juice, sugar, and salt with orange flower water to the concoction. If you want to preserve the grenadine, I recommend adding a splash of high-proof alcohol like Everclear or vodka to do the job.
Prepare grenadine at home to sweeten your favorite cocktail.
Total time: 35 minutes.
If waffles are your thing and you want to take it to the next level, I suggest experimenting with this pomegranate whiskey waffle recipe. Adding alcohol to a waffle batter may sound strange, but the results are mind-boggling simultaneously.
To make it simple, I recommend using a store-bought waffle mix to combine it with pomegranate arils, water, and cinnamon. Cook the waffle until both sides become golden brown. You must be wondering about the alcohol's appearance; it comes in the form of sauce.
Bring the whiskey to a boil in your pan; don't panic if the concoction suddenly bursts into flame. When the liquid is reduced by half, continue to infuse it with maple syrup and cinnamon. Whip the heavy cream to serve along with the whiskey syrup on the fluffy golden brown waffles.
Total time: 25 minutes.
After a hearty dinner or whenever you feel bored, these small bites of pomegranate chocolate are ideal for entertaining and satisfying your sweet tooth. Better yet, the simplicity of this treat makes it more convenient to make whenever you want.
You only need to melt the chocolate and place individual dollops onto the baking sheet. While the chocolate is still soft, sprinkle some pomegranate arils. Refrigerate the chocolate bites for 15 minutes, and you have terrific tangy sweet treats to enjoy.
Total time: 15 minutes.
Salad is never an outdated dish, especially when you take persimmon and pomegranate as the cornerstones of the specialty. If you have never tried persimmon, now is the perfect time to taste the fruit in a salad recipe.
Freshly ripe persimmon provides a sweet, mild, and rich profile. However, you want to use the Fuyu persimmon, which is shaped like a pumpkin and has a firm texture. People combine persimmon with pomegranate seeds, apples, and fresh mint leaves.
Toss the elements with lemon juice and honey thoroughly before chilling in the refrigerator. For the best experience, I suggest enjoying the salad immediately after mixing.
Total time: 25 minutes.
It's no doubt that parfait is a healthy option to start your day light and refreshing, but it will be better with the nice tanginess of pomegranate. You can introduce granola to the recipe to give you more energy in the morning.
If you don't have granola at home, you may create it from scratch by toasting the oats in oil. When you see a brown color on the oats, infuse them with honey, cinnamon, and vanilla. Spread the granola over the baking sheet for chilling until it becomes crunchy.
Layer the bottom of your jar with fat-free Greek yogurt, granola, and pomegranate arils to assemble the parfait. Repeat the layers until you fill your serving jar. If you're looking to store the parfait in the refrigerator, you may have to risk losing the crunchiness of the granola.
Start your day with a healthy pomegranate granola parfait.
Total time: 1 hour 10 minutes (including 1 hour of chilling).
Chocolate and pomegranate always make for a great combo to complement each other's flavors. These festive homemade candies are perfect for serving as a gift to everyone in the family. With only four ingredients, you are guaranteed to succeed in this treat at home.
For this treat, I often go for melted white chocolate because of its signature buttery taste to combine with toasted coconut flakes and pomegranate seeds. Before you chill the white chocolate, I recommend drizzling extra dark chocolate over the surface for decoration.
You want to break the chilled candy pieces into small bites for serving. The candies should last a long time as long as you keep them in an air-tight container.
Total time: 50 minutes.
These grilled slices of acorn squash are perfect for pairing with any meal for a savory and spicy taste with a touch of fragrant smokiness. In addition, the pomegranate seed sprinkle gives the dish a light note of tangy flavor in every bite.
Typically, you want to carve out the inside of the acorn squash before cutting it into slices. Marinate the squash wedges with olive oil, cayenne pepper, and maple syrup and stick them into the oven for baking.
You should flip to another side of the squash wedges after 20 minutes of cooking, so they share the same tender and golden brown profile at the end. Top the squash wedges with toppings like walnut, pomegranate arils, or goat cheese to diversify your experience.
Total time: 45 minutes.
Moroccan meatballs are the ultimate creation to keep everyone at the edge of their seats during dinner time. You may whip up this terrific meatball specialty for a decadent appetizer during the holiday season.
While the meatball works wonderfully with any type of ground meat, people often go for lamb on this one to deliver a gamy flavor with a touch of smokiness. Furthermore, breadcrumbs and herbs are essential in infusing the dish with a refreshing and savory taste.
However, the selling point of these Moroccan meatballs lies in the glaze, a combination of pomegranate juice with balsamic vinegar, maple syrup, and allspice seasoning. Remember to simmer the mixture to reduce by half before incorporating the meatballs into the glaze.
Total time: 30 minutes.
Morning is not perfect without a slice of crunchy toast spread with sweet and tangy pomegranate jam. The condiment displays a beautiful dark red color and thick consistency that mesmerizes anyone at first sight.
After extracting the seeds from the pomegranate, squeeze them into the juice to combine with mashed raspberry, chili powder, and butter. Mix in sugar and bring the liquid concoction to a boil but make sure you constantly stir to avoid burning the bottom ingredients.
Ideally, the seeds of the raspberry should float to the top of your container. Flip the jar every 20 minutes if you want the seeds to distribute evenly when the jam begins to set. Thanks to the addition of butter, the jam doesn't form any foam during the boiling process.
Spread this sweet and tangy pomegranate jam over sandwiches for a tasty breakfast.
Total time: 1 hour 5 minutes.
Pumpkin bread is a typical dessert for many, but I enjoy it with a little pomegranate twist to the recipe. Although adding pomegranate arils to a baking recipe may sound weird, the result is surprising, with an intriguing layer of taste added to the bread.
Normally, people bring all the dry elements like all-purpose flour with oats, pumpkin spice, and pomegranate seeds in one bowl. As for the wet components, it's usually a concoction of pumpkin puree, milk, and egg.
Combine the dry and wet elements until you achieve a batter consistency. It should take the bread around 50 – 60 minutes to cook through in the oven. For serving, you can spread cream cheese over the bread slices for an additional creamy flavor.
Total time: 5 minutes.
For the final recipe, I'll let you in on a little secret on nailing every salad recipe with this tasty pomegranate dressing. The components are easy to find, and you don't have to make much effort to create the vinaigrette.
You should whisk together the pomegranate juice, avocado oil, honey, and balsamic vinegar. Remember to infuse the mixture with mustard for a sweet taste with a note of spiciness. Ideally, the dressing should possess a smooth consistency.
Transfer the dressing to a container, which will last up to a week in the refrigerator. Whenever you want to make a salad, simply add a drizzle of the dressing to toss with the vegetables.
Pomegranate Makes For A Fine Component To Many Cooking Ideas
I hope you find these recipes tasty and fascinating at the same time. There are no limits to what you can whip up in the kitchen using your imagination. Furthermore, the pomegranate delicacies are perfect at pulling off an incredible surprise to everyone at the dinner table.
With all the fabulous recipes from this compilation, I hope you discover your favorite and drop a comment to tell everyone about your experience. A share will be excellent, so other people may know more about how to whip up a fabulous meal with pomegranates.