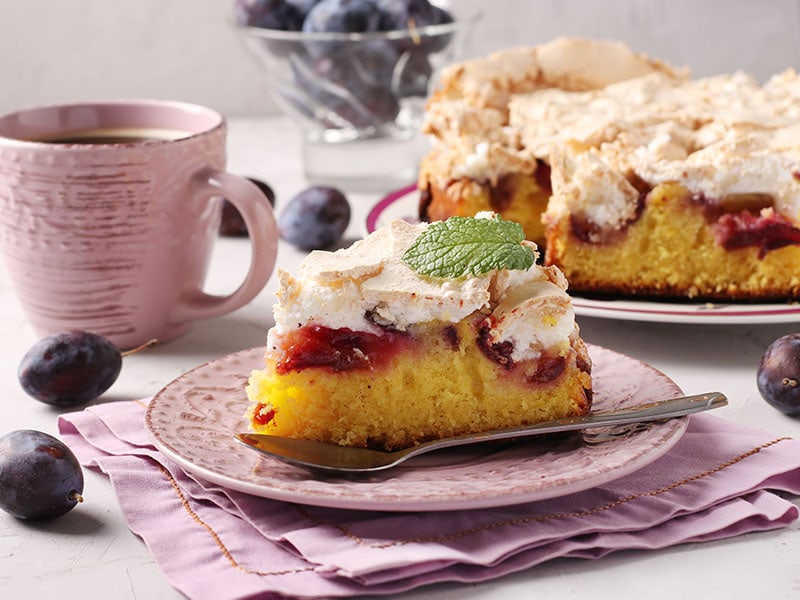 Let's make the best plum desserts with my simple and easy recipes. I promise these desserts are the most delicious sweets you can make with plums. Plum season is usually in late summer and early fall when you find juicy plums in the garden or at the market.
Everyone loves this sweet and sour fruit, and so do I. Plums have sweet and juicy flesh with slightly acidic skin. The excellent taste of plum opens you up to a summer of awesome plum desserts. They are great for making yummy desserts for a late summer day.
Plums are high in Vitamin C and antioxidants, and their skin is fiber-rich. Add these great nutrients to your diet to stay active during the hot summer. Let's explore the best plum desserts in this article.
22 Best Plum Desserts For Your Picnic Days
Hello my friends, if you are looking for plum dessert recipes, I think I can help you. I have a long list of plum desserts for your reference. In this list are all the dishes that I enjoy and often do at my parties.
Total time: 40 minutes.
This brown sugar plum clafoutis recipe is an easy and elegant classic French dessert made with fresh seasonal fruit and plenty of eggs. It's one of the easiest things you can make for your desserts!
The new thing about this dish is that you can use duck eggs to make the cake. In addition, you can also use your favorite fruits for this cake, such as apples, pears, or berries. Adding a variety of fruits in dessert will help you replenish vitamins for your body.
You will quickly have a delicious plum clafoutis today.
Total time: 30 minutes.
I always love making ice cream in the summer. And plums are always one of my favorite ice ingredients to make that cool treat become even more seductive. There is something in the lilac shade and fruity sweetness of the ice cream that I simply can't stop craving for more.
There is nothing easier than making black plum ice cream, which doesn't require an oven or a bowl. All you need is a blender, all the ingredients, and chocolate chips over the sweet plum ice cream. Enjoy!
Total time: 1 hour 30 minutes.
I am pleased to introduce to you my favorite Viennese plum cake recipe. The plum cake has some main ingredients such as eggs, plum topping, cinnamon, butter, or walnut (optional).
With easy-to-find ingredients that take only 30 minutes to prepare, you can finish the dessert in one session. There are hardly other ideal options for your weekend camping or barbecue party other than this cake. The sweet taste of the Vienna plum cake will give you positive energy.
This cake has a moist and tender filling adorned with a brown, crispy topping layer that can quickly attract anyone at first sight. It's hard to resist this wonderfully delicious taste!
Total time: 1 hour 18 minutes.
The French almond plum cake is an easy, simple cake I believe you can make successfully right the first time. This sweet is a French-style cake topped with crunchy almonds and sweet plum.
I usually advise people to eat the cake right after making it because the taste and quality of the cake will degrade over time. However, if you want to store it later, this cake can be stored in an airtight container for up to 2 days.
This cake is best enjoyed when the plums inside the cake are moist and the almond crumbs on the surface are still crispy. You can serve this cake with French whipped cream.
Total time: 30 minutes.
I am happy to introduce you to this crispy cake recipe. I love the crunchy sound when I bite into a cake, and I think everyone loves this too.
The heart and soul of this recipe are pieces of flavorful spiced plum. But you need a doughy mixture of butter, oats, and brown sugar to wrap the chopped plums. After baking, you'll have delicious crumble bars with a crispy brown crust and a sweet, moist plum filling.
Bake it all up, and you have the perfect dessert in no time. Add this recipe to your list of desserts for your weekend gatherings. The crisp sound from the cake makes the party atmosphere more bustling and lively.
Learn how to make crunchy plum pie bars for your dessert.
Total time: 1 hour 20 minutes.
Spend a little time in the kitchen, and you've got a sweet plum-flavored cake with the nutty aroma of almonds. Those desserts can be cut into small squares suitable for candy buffets or outdoor camping sessions.
There will be no complaints about the sweetness and softness of the sponge combined with the crispy topping, which is possibly the most important part. Cinnamon, almonds, plums, butter, and many other wonderful topping ingredients give the dessert so much flavor.
If you're tired of desserts at your local bakery, why not try this Italian-style plum cake recipe? Let's learn how to make and enjoy this dish now!
Total time: 1 hour 5 minutes.
This muffin is one of the best muffin recipes to try this summer. This fluffy and fruity muffin will provide you with a perfect afternoon tea or dessert.
The lovely small shape and sweet taste make anyone fall in love with it from the first bite. If you want to enjoy the flavor of the muffins to the fullest extent, you should eat them within the day.
Removing oil and butter in this recipe also makes this cake healthier. You will not need to worry too much about the fat content you absorb while enjoying this delicious cake.
Total time:1 hour 35 minutes.
Ricotta plum cake is an Italian coffee-inspired dessert. It is one of the cakes with plums that are delicious and bring beautiful colors to the cake. In this recipe, I use black plums, which are not completely black but have a little reddish-purple tint.
Ricotta is a type of cheese but does not have the same pungent taste as regular cheese. Instead, it is thick and smooth with a subtly creamy flavor, which you can easily experience when having a bite of this lovely cake.
People prefer ricotta on a diet due to its low-fat content. Additionally, since the ricotta cheese is dense with plum moisture, you will need more baking time than usual.
Total time: 50 minutes.
Having a healthy and delicious cake is what you are looking for? Then let's try this healthy plum cake recipe if too much artificial sugar and animal-derived proteins in a cake bothers you. With vegan butter and Natvia, your plum cake is more wholesome than ever.
This recipe doesn't require complicated tools or a lot of preparation time. With 50 minutes of preparation and a bowl, you can start making this cake immediately, and not having to wash so many things after exhausting cooking is comforting.
Total time: 1 hour 20 minutes.
You can use cornmeal to make a crispy crust, layer sliced plums on top of the cornmeal, and bake them to create a complete pastry. The result is a beautiful golden crust flavored with corn and plum slices that are sweet and sour.
Crispy hot cakes with the aroma of cornmeal crust and the sweetness of plums are the perfect pairing for a late summer dessert. Eye-catching plum slices are neatly arranged on the tart, making even the most demanding people satisfied with this arrangement.
Total time: 1 hour 30 minutes.
Your afternoon tea cake recipes will be enhanced with this plum upside-down cake. It's wonderful with slices of sweet plum, butter, and almonds blending to create a great summer cake.
I believe the aroma of baked plums, almonds, and a warm golden-brown upside-down plum cake will make your afternoon tea more interesting.
The plum cake is baked upside down in a square baking pan instead of the traditional round one. With such a method, it's easy to divide evenly into smaller squares and share with everyone.
Enjoy your weekend dessert with upside-down plum cake.
Total time: 1 hour 10 minutes.
If you dislike eating cakes with a soft layer, try changing your taste to a crispy outer layer. I have the most crunchy plum cake recipe to share with you. This cake is one of the best crispy plum cakes you can try this summer.
Oatmeal plays a vital role in this recipe as it determines the crunchiness of the plum cake. I also prioritize choosing organic ingredients in this recipe, like sugar, flour, and oats.
Total time: 55 minutes.
This delicious plum cake is ready to be enjoyed right now. If your kids are fighting over plums, why not try creating a delicious cake out of those fresh plums? I believe your kids will love this cake and end their quarrel.
This cake is a combination of plums, rhubarb, and cream cheese. A large flat cake lying in the oven helps the cake to cook evenly and has a fairly uniform brown color on the surface. I believe everyone cannot ignore it.
Total time: 1 hour 40 minutes (including 30 minutes of resting time).
If you have no idea about today's dessert, try this recipe immediately. Although this plum pie is just a simple dessert, it never stops being all the rage during the plum season. You can easily make it at home without going to any local bakery.
The base of this pie is made according to the recipe of the shortcake base, so overall, this cake is quite soft. You can feel them melt as soon as you put it in your mouth.
You can decorate the cake by cutting the remaining pastry into strips or tiny hearts and arranging them on the pie's surface.
Total time: 1 hour 5 minutes.
I would like to present another cake that would be great for a weekend dessert. Plums, lemon glaze, and pistachios are the main ingredients in this cake.
This cake has a round shape with sliced plums and chopped pistachios neatly spread evenly over the surface of the cake. You can find several flavors in this cute cake: sour, mildly sweet, salty, and juicy.
If you love pistachios and want to apply them to your fruit cakes, this recipe can guide you in detail on how to create great flavor in every slice. Don't forget to enjoy this cake with a scoop of Greek yogurt. Let's try it!
Total time: 2 hours 40 minutes (including 1 hour 30 minutes of chilling time).
This is the prettiest and tastiest tart I've ever seen. The cake's outside is thin and spongy, while the inside is filled with fragrant almond frangipane. And on top of the nutty frangipane filling are sweet slices of baked plums. A cake that makes me not regret praising!
This beautiful cake will be completed like a work of art in no time with just some simple preparation. This cake combines the beauty and elegance of French and Italian recipes that make you think you are eating dessert in a magnificent medieval castle in Italy.
Total time: 1 hour.
German plum cake, also known as Zwetschgenkuchen, is a classic German cake recipe. Germany is home to many different types of pastries, but this cake is my favorite because it is simple, easy to make, and flavorful.
This cake is a great combination of the sweet and sour taste of plums, the yeasty taste of the dough, and the rich crunchiness of streusel. People in love with flavorsome cakes must try them at least once in their life.
Here are the most detailed instructions for the german plum cake with streusel you will need.
Total time: 1 hour 30 minutes.
The galette cake is quite unique because you will not use a pie pan to make the cake but put it directly on the baking tray. So the cake needs a thicker bottom crust than other cakes to prevent the filling from burning.
My favorite part of preparing a plum galette is arranging the plums in the center of the cake and folding the edges of the dough in a circle. This is an important step and requires your ingenuity to ensure that the cake has gorgeous and even edges.
All the best flavors will converge inside your mouth: crispy galette crust, sweet frangipane, fragrant plum filling, and the rich aroma of almond. I believe you will have to make more than one for your family.
Total time: 1 hour 15 minutes.
To describe this cake, I'd say it's a plum-flavored cake (sure) with a hint of warm sauternes wine. All those flavors are locked inside a crispy crust and waiting to be discovered. A pie is suitable for all ages!
The pie can be prepared and kept in the refrigerator until it needs to be baked. You can store the pantry in the fridge for up to 1 month and the filling for up to 48 hours. This pie is suitable for sweet parties and desserts after having a meal.
Total time: 1 hour.
In 1983, a New York Times reporter posted a recipe for the plum torte, which quickly became the most beloved cake recipe in the newspaper's history. So many people requested this recipe that it is now posted annually.
The New York Times plum torte is such a famous cake that there are many recipes for this cake. This recipe is the simplest of them all. Follow this recipe properly, and you will have the cake everyone desires at your home.
This cake goes well with tea or coffee because it isn't too sweet. Alternatively, you can adjust the sweetness of the cake by adding or subtracting plums. You can also adjust the amount of sugar in the cake if you like the natural sweetness.
What do you think when the famous New York Times plum cake easily appears in your home?
Total time: 1 hours (plus 2 – 3 hours of rising and cooling time).
This cake is inspired by the famous desserts of the Dakota and Minnesota regions called "Kuchen" (meaning "cake" in German). Kuchen is usually made from yeast dough, custard, and sometimes fruit. Here's a recipe worth trying with juicy plums this summer.
This cake is a small round egg tart with a crispy crust that you can easily buy at bakeries. The difference is that your homemade cakes will have plum slices topping the custard. This is the perfect sweet treat to serve with coffee for breakfast or dessert.
Total time: 1 hour 15 minutes.
Plum crumble is a simple dessert that you can make from plums. I choose Italian plums in this recipe because they have a very eye-catching purple color that will make my sweets look more appealing.
Before baking, you need to spend 15 minutes preparing the filling and the crumble. Or you can also prepare these ingredients in advance and keep them in the refrigerator until you want to bake them. The shelf life of these in the refrigerator is no more than two days.
This dish is delicious when served with a scoop of cold vanilla ice cream, or you can eat it warm if you like. Since oat flour is the main starch of this recipe, the crumble is definitely gluten-free.
Enjoy A Plum Dessert With Summer And Autumn Flavors
Late summer and early autumn are always the time when the plums are the brightest and sweetest. You can easily buy plums to eat raw, make jam, or make sweet desserts. There are many recipes for dessert with plums that I have introduced to you in this article.
Which dish do you like the most? Which recipe have you applied? I'm curious about your experience with the recipes above, so please share what you find interesting about these recipes.
If you find these recipes helpful, then share this post with your friends and your beloved ones so they can make tasty plum desserts too. Thanks for your concern!