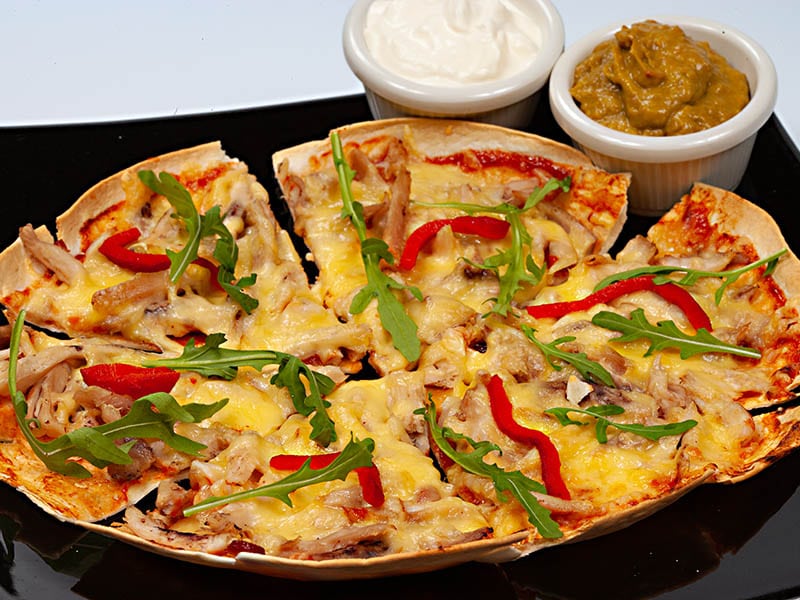 Are you stuck looking for easy pizza appetizers to feed the crowd at this weekend party? Or have you searched but cannot find a recipe that matches your skill or requirements? Look no further! This article will surely solve all the issues you are facing.
I 100% guarantee that you can gain multiple benefits after reading the post. Indeed, you will acquire the list of 25 easy pizza starter recipes with the step-by-step cooking guide and some tricks to conquer the appetizer game.
So, are you ready to become a master chef with these pizza appetizers? If the answer is yes, let's dive into the topic!
Countdown Top 25 Pizza Appetizers To Start Your Party
Are you always full of thoughts on the main dishes of pizza but stuck with ideas for the party starters? I used to feel the same way. So I have tried and composed this list to archive super easy yet impressive recipes with pizza as a starter.
If you are in the same situation, these recipes are for you. Now let's countdown!
Total Time: 17 minutes
Pepperoni cheese-stuffed pizza bites are delicious and suitable to serve individually. These bites feature a crispy pizza crust accompanied by cheese and pepperoni in the center and topped with herbs, garlic, and parmesan. All create a flavorful finger food to start your party.
Under the crunchy shell is a perfect balance of the saltiness and cheesiness of the filling. After finishing a bite, there is also an afternote of tangy and spicy flavor lingering on your tongue, making you want to have one more bite.
Besides, you can enjoy your version of pizza bites with relish by tweaking the ingredients. You can change mozzarella and pepperoni into any of your favorite cheese or meat. Or, feel free to add some veggies like onions and mushrooms for a more wholesome flavor.
Check out how to make your pepperoni cheese-stuffed pizza bites from scratch!
Total Time: 30 minutes
A pizza crescent ring is one of the best appetizers to serve for game days or family dinner. From the title, you can probably guess the shape of the delicacy. Yes! It has a big circle shape that you can cut into smaller pieces for easier consumption.
When serving, you just place the crescent ring pizza on a large wooden plate with a bowl of dip sauce in the middle. With up to 16 pizza slices, everyone can easily divide it up and share the dipping sauce. That will create a fun moment and warm up the atmosphere before the party starts.
In addition, you can make this delight ahead and store it freshly baked in the refrigerator for about one week. If there is a leftover, just properly keep it as the fresh-baked one. It will be in good condition for three to four days.
Total Time: 27 minutes
Vegetable pizza is a good start for your party with its light and green ingredients. Indeed, you can use any vegetables available on hand. They can pair well with crispy crescent roll dough and ranch dressing.
On the other hand, the sauce is truly the game-changer with its savory flavor addition to the pizza. Specifically, it consists of cream cheese, mayonnaise, and ranch mix. That's why eating this delicacy will be like having a combo of salad bowl and pizza crust.
As soon as you take a bite into your mouth, you will feel the fresh and tangy veggies led by a crispy crust base and cheesy yet sour garnish. Everything creates a unique flavor for vegetable pizza.
Total Time: 20 minutes
As the title implies, taco pizza is a delightsome appetizer with a pizza crust and taco toppings. Indeed, there are plenty of ways to make the toppings, but in this simple recipe, there are only a few, including ground beef, olives, taco seasonings, and a lot of cheese.
If you are a veggie-lover, please feel free to add more greens to your dish. Some popular options for your taco toppings are beans, chilies, and tomatoes. Besides, you can also top your pizza with peppers or fresh salsa. They can go with your dish perfectly.
Plus, unlike other types of pizza, this taco pizza recipe requires a pre-bake technique. That means you bake the dough in advance for a few minutes before assembling the cooked toppings. By this trick, you will have a fully cooked crust without any burnt or scorched toppings.
Total Time: 23 minutes
If you have no oven in your house, you can still make pizza for your crowd with the air fryer pizza version, pizza egg rolls. Specifically, the rolls contain pizza sauce, pepperoni, and cheese, which taste just like regular pizza you eat but in different forms.
Indeed, making pizza egg rolls is super flexible. Even if you do not have an air fryer, you can still make it with a pan fry. Just fry these rolls on a pan with some oil, flip them until golden on both sides, and then your rolls are ready.
Notably, pizza egg rolls are also customizable. You can utilize any remaining vegetables, meat, or sauce in your kitchen to create your unique rolls. But you should prepare these additional ingredients earlier to ensure the fully-cooked dish.
Step-by-step instructions on pizza egg rolls with pepperoni and the secret to keeping them from cracking off!
Total Time: 20 minutes
Pizza wonton cups are the perfect combination of East and West cuisines. They highlight the crispy wonton wrapper exterior and pizza toppings interior with cheese and marinara sauce.
The most interesting of these pizza cups is that you can put almost anything on top. These can be vegetables like bell pepper and broccoli or meat like chicken and beef. But remember to cook your protein before putting it on cups for the best result.
A big plus for pizza wonton cups is you can make them ahead and freeze them for later uses. You can bake them, then let your food cool down before freezing. After that, transfer these cups into a freezer bag and store them like your commercial frozen pizza.
When you want to enjoy your food, just reheat them in the oven at 350 degrees F until warm.
Total Time: 42 minutes
Pepperoni pizza pinwheels are a funnier and finger version of regular pepperoni pizza to make. Just sprinkle everything onto the prepared dough, roll, and cut it into numerous pinwheels before baking. Once finished, they will have a beautiful shape picked with just two fingers.
For that reason, they are ideal for serving individually. Not only that, but the pinwheels are also customizable with endless options for pizza filling. Some best suggestions are chicken and veggies or Hawaiian BBQ. Or, you can make it with any kind of your favorite pizza ingredients.
There is a significant note for you when making these pinwheels. If you hate greasy pizza, you should prepare the pepperoni in advance before sprinkling it onto the dough.
The way to reduce grease is super simple. Just microwave pepperoni at a high temperature for 20 seconds, it can eliminate all the excess grease. In that way, your pepperoni will be less fatty and crunchier.
Total Time: 40 minutes
Here comes another easy pizza appetizer for your game days! Cheesy pizza breadsticks require only five classic ingredients and some simple steps to activate them. Particularly, with crescent dough, pizza sauce, and loads of cheese, you can make this delight in no time.
To start the making process, unroll the crescent dough, spread all ingredients, and fold it. After carefully sealing the edges, sprinkle more cheese on top and bake it for 20 minutes. Until the "ding" rings, take your pizza out of the oven and slice it into breadsticks to serve.
Notably, cheesy pizza breadsticks taste better when paired with a bowl of pizza sauce. Just imagine taking a bite of a slice topped with dipping sauce; you will have a bread-like crunchy crust, savory dip, and hot melt-in-mouth cheese, making your breadstick tastier than ever.
Total Time: 10 minutes
Margherita flatbread pizza is a type of pizza in various shapes with a quick done in less than no time since there is no need to make dough. All you have to do is use any favorite bakery flatbread to proceed with this luscious pizza.
Some mini naan or pita bread will be an excellent choice for appetizers. You can serve these cuties singly and tailored to every individual's preference. If you wish for more protein in the dish, you can feel free to add some sausage or pepperoni to the pizza.
Let's make your kitchen work easier with a 15-minute Margherita flatbread pizza!
Total Time: 15 minutes
If you do not enjoy the thick dough of regular pizza, the tortilla pizza will be the greatest to alter. Remarkably, you only need three main things to make up this super delicious snack. These are tortillas, cheese, and sauce in addition to your preferred toppings.
Besides, you can also have your kids help with the handling process since it is trouble-free and kid's stuff. Just grab some tortillas and place them on the parchment paper. Then spread the cheese and pizza sauce over the tortillas, plus some additional toppings, and bake. That's it!
Your pizza will be on the go in just minutes. Take one and taste it. Your tortilla should be crispy, cheesy, and savory. Besides, there may be a few other flavors depending on what topping you choose, but I highly recommend the pepperoni for a classic taste.
Total Time: 25 minutes
Hawaiian pizza bites are a toothsome delicacy to fulfill a one-bite appetizer for your party-goers. Besides, they are also effortless to deal with, thanks to the commercial biscuit dough. You only need to put things into a dough and bake it to complete your starting food.
After fifteen minutes of baking, the result will be lovely little bites with a tropical flavor, specifically from pineapple chunks. Also, you will still feel the typical pizza flavor with cheese and the sourness of the sauce. All make the deliciousness of each bite.
Total Time: 50 minutes
Pizza skillet dip is a hearty appetizer tray with pizza snacks and dipping sauce all in one skillet. So you do not need to worry about the dip recipe or the cleaning up after serving. All will be a breeze, especially for those who love to cook and hate cleaning like me.
To make this decadent dish, you need a skillet to place all the pizza snacks into two circular layers, but leave a room in the center for the dipping. Then place the cream cheese mix, pizza sauce, and mini pepperoni into the center and bake until golden before serving. Super easy, right?
You can creatively organize a pizza appetizer buffet for a big event by making different dipping sauces. Like that, you do not worry about people getting bored. Several delicate recommendations are French onion dip, cheesy meatball dip, and cheeseburger dip.
Total Time: 30 minutes
Spinach and artichoke dip pizza will breathe new life into your pizza appetizer and surprise everyone with its creamy and cheesy texture. More specifically, you will use the famous spinach and artichoke dip recipe on the pizza top instead of the ketchup one.
That change will turn your savory pizza into cheesy and spicy pizza. Specifically, you will feel the pizza's moist texture with golden crispy outer edges when grabbing one slice. The delicacy tastes tangy and robust because of the spinach and artichoke presence.
If you are concerned about the amount of fat in this dish, do not worry. That's because the recipe is a healthier modified version. Instead of full-fat cream cheese, you can use a low-fat and substitute sour cream and mayonnaise with plain Greek yogurt. All are for your health!
Total Time: 2 hours 35 minutes (including 1-hour rising time)
Greek flatbread pizza is a unique and fun dish to treat your guests at any kind of party. This delight boasts a crispy flatbread topped with aromatic chicken souvlaki and savory tzatziki (sauce of yogurt mixed with seasonings or herbs), two well-known foods of Greek cuisine.
Although the cooking time is lengthy, this recipe will help you cook your Greek flatbread pizza from scratch. In particular, you learn one but will get three dishes: chicken souvlaki, homemade tzatziki, and Greek flatbread pizza, which are the three main steps to making this pizza.
For the best dish, some small notes can help you. First, do your dough at home to control the desired quality of the pizza base. Also, homemade pizza dough is better for your tight budget. Besides, use the best olive oil to achieve the highest level of the tastiness of the pizza.
Total Time: 20 minutes
With the suggestion of its name, you can guess this delicacy is inspired by what kind of foods. Yes! Pizza quesadilla is a hybrid dish of pizza, and quesadilla, a Mexican dish made of tortilla and cheese. And the best part of this delicacy is it only requires four ingredients.
It all starts with making a cheesy tortilla with the marinara sauce and cheese in the frying pan. Once in shape, transfer it to the pizza pan, spread marinara sauce with a spoon, and sprinkle the remaining cheese with pepperoni. The final step is to bake and enjoy.
This dish might be a big hit on your dining table, so if you are about to feed a crowd, ensure your ingredients are enough to prepare a big batch.
Let's see how to make a pizzadilla – a perfect combination of quesadilla and pizza!
Total Time: 55 minutes
Flammkuchen is a German-style pizza. Instead of a circle shape, this type of pizza has a rectangle shape with a thin layer. The interior of German pizza contains cream sauce, bacon bits, and onion slices, which create a tangy and creamy flavor to your appetizer.
Although the recipe asks you to pre-cook the bacon and onion, the total time should not be too long. That's because later your pizza will only stay in the oven for fifteen to twenty-five minutes before serving.
Also, you can rest assured that the next part is super compact. Just spread things, bake, cut, and serve with your favorite wine.
To spice up your pizza, you can serve Flammkuchen with a vegetable dip or salad side dish. These fresh vegetables will reduce the grease off your pizza appetizer and make it easier to digest with a fiber supplement.
Total Time: 40 minutes
Garlic bread pizza dip is a pull-apart version of pizza with a ring of garlic bread and cheesy pepperoni dip in the center. This decadent treat is perfect for game days or parties since everyone can pop out single bread and dip sauce in just one place. How convenient is that!
Besides, you can freely manage its flavor. If you want this starter a bit spicier, you can add some red pepper flakes to your dip. Or you can add common pizza ingredients like mushrooms and bacon to enhance the taste experience. Additionally, add more pepperoni if needed.
Total Time: 30 minutes
Pepperoni and cheese pizza fries will remove the top spot of French fries from your appetizer list. It is the ultimate appetizer made by harmonizing pizza with regular fries. Just grab a bag of frozen French fries and three classic ingredients of pizza toppings, then you are ready to go!
The first thing to do is place your frozen fries in the preheated oven and bake. Then spread the marinara sauce, grated mozzarella cheese, and pepperoni over the fries. Put the pan on the lowest shelf of the oven for baking. Once the cheese starts to brown, your pizza fries are on set.
But there is one thing you need to notice. In the first cooking step, you should bake the fries until reaching the proper crispiness. This note will prevent your dish from getting soggy when drizzling the marinara sauce on fries.
How about making pepperoni and cheese pizza fries at your home!
Total Time: 13 minutes
Tapas pizzas are bite-sized appetizers hailing from the idea of tapas, the festive and tasty appetizers in Spain. Thus, people often present these tiny pizzas in large quantities on the plate, which is very suitable as a starter snack for any party.
In this recipe, you can make three types of tapas pizzas to bring out the whole dish, including tomato, mushroom, and onion pizzas. Each will have different tastes yet still be cheesy and delicious to enjoy.
If you prefer a bit of sour taste, the tomato version is ideal. But if you are a big fan of the earthiness of mushrooms or the tangy flavor of onions, choose the other two variants.
Total Time: 25 minutes
Pizza muffins have already told you how to do them in their title. Yes! They are a combination of muffins and pizza. So all you need to do is make a muffin mix and blend it well with cheese and pepperoni before baking to finish the dish.
Indeed, it is an incredible appetizer or school lunch not only because of its simplicity but also its freezer-friendly attribute. Just store them in the freeze and pop some in the microwave for quick and delicious snacks. Also, you can serve them with sauce if desired.
In addition, please feel free to add different toppings to your muffins. But since the veggies have high water content, it may make your muffins soggy. Therefore, the best way to handle these veggies is to pat dry them after chopping.
Total Time: 60 minutes
Mac and cheese pizza bites are a big hit in the pizza revolution. Can you imagine how these two beloved dishes combine? It will be a super creamy, cheesy, and delectable starter for your party with double cheese and double fun.
To prepare the appetizer, place pepperoni cups in the muffin tins and make mac and cheese with cooked macaroni, melted butter, cheese, and milk. Then scoop macaroni into prepared pepperoni cups, add more cheese and pepperoni on top, and bake.
Once these cups are golden and firm, remove them off the tins and garnish with some basil and Parmesan before serving. Then your dish is ready to go.
Total Time: 35 minutes
The name of pizza pigs in blankets sounds funny, but it does make sense. Specifically, "pigs" here imply the hotdogs made from pork, while "blankets" refer to the layer of dough wrapped around the sausage. All combined create a look like the shape of a pig covered with a blanket.
Sounds interesting, right? But despite its origin name, you will feel more interested when knowing how easy it is to make this delicacy. Begin with cutting the pizza dough into numerous rectangles, placing all the ingredients onto them, and rolling them up.
Then brush the egg over the dough, sprinkle Parmesan and Italian seasoning mix, and bake them until golden brown. After done, serve your appetizer with pizza sauce. For a beautiful presentation, you can place the sauce in the center and arrange the pigs in blankets around it.
Total Time: 25 minutes
Quinoa pizza bites are an adjustable starter for utilizing your leftover cooked quinoa. Specifically, in this recipe, the quinoa will replace the flour, and there is no need to use yeast, making this cake much easier to make.
You simply dump everything into a combined mixture, separate it into mini bites, and bake them in the oven. Once done, these cuties are best to eat with marinara sauce.
If you are vegetarian, you can customize some ingredients into vegan-friendly products to cook this plate. For instance, you can replace dairy cheese with plant-based cheese or substitute eggs with commercial egg replacers. That will be a great vegan version of this one.
Let's join two professional pizza makers to make quinoa pizza bites!
Total Time: 40 minutes
The puff pastry pizza wheel is a savory appetizer food for sharing at parties as party-goers can easily pop out one piece to enjoy the pizza. Plus, the pizza is super flavorful with sour tomato, tangy garlic, fatty chorizo, and creamy mozzarella with a hint of Italian herbs.
Indeed, those ingredients make this dish special. To bake the perfect pizza wheel, you should ensure the stickiness between the puff pastry sandwich layer and the way to cut the fresh pizza into many slices.
Dip your finger in water and spread around the edge to seal these two puff pastries together. Then apply gentle pressure on the wet edges for the best seal. Meanwhile, to prevent cutting off the twist, you should put a ramekin in the center while dividing the dough.
Total Time: 1 hour 38 minutes (resting time: 1 hour)
Smoked salmon goat cheese pizza is a rising star in the pizza world. When having one on a plate, you will feel the crunchy texture of pizza followed by a cheesy, savory, and tangy flavor with a smoky afternote, creating a strange yet delicate eating experience.
With pizza dough and smoked salmon available, you can make this appetizer in no time. In the recipe, the most laborious part is mixing the dough with cornmeal. But don't worry, the remaining steps are super simple by spreading all the ingredients on the pizza and baking.
Your Party Cannot Start Without Pizza Appetizers
These are easy pizza appetizers to start your game days, aren't they? So, what is your plan for the upcoming party? Tell me in the comment box! I would love to hear how your experience with these ideas was.
Also, if you find the information helpful, do not hesitate to give me your thumbs-up and hit the share button to spread this post to others if they are trying to search for the same things. Thank you for your support, and enjoy your game days or any party!