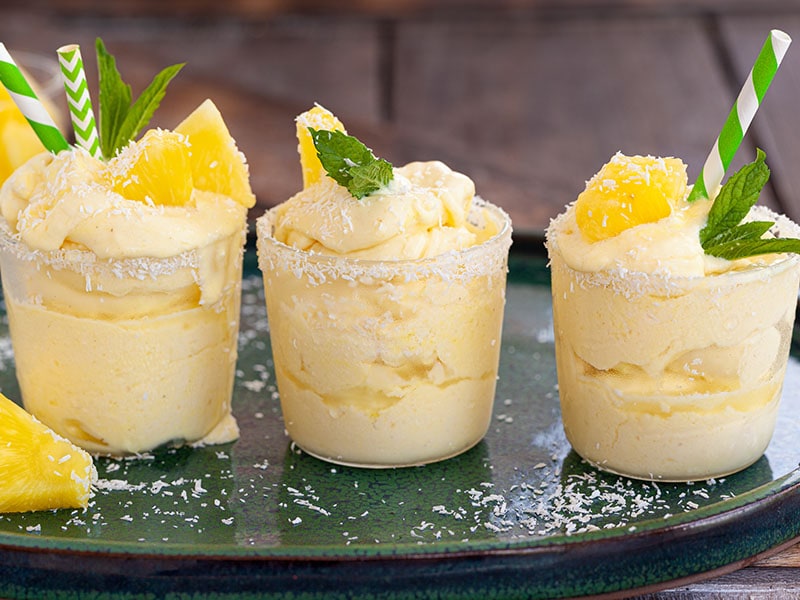 Pineapple is always a great inspiration for main dishes, side dishes, or desserts. In this article, I've provided the most delicious pineapple dessert recipes. They are all popular, simple, easy-to-make recipes that anyone can try for their sweet dish.
This post fully summarizes and covers all the necessary materials to save you time searching. Besides, I promise you can get your favorite sweets instantly without too much effort.
I won't make you wait any longer; let's explore the fresh and sweet world of pineapple sweet treats that you should try once in your life!
Discover Your Best Pineapple Dessert Recipes Right Now!
Pineapple is not only a tropical fruit that grows mainly in the summer but also a nutritious fruit for human health. Besides eating raw, people also use pineapple to make juice, salad, or dessert. Here are the most delicious sweets you can make from pineapple.
Total time: 48 minutes.
Fruit cake upside-down always receives a warm welcome from everyone. With pineapple, this upside-down cake will taste sweet and moist and has a fabulous aroma that attracts anyone who smells it.
The upside-down pineapple cake has a round shape with crispy pineapple rings on the cake's surface. Place the small cherries inside each inner ring of the round pineapple slice, helping the cake to have beautiful red dots.
To make sure you can safely remove the cake from the pan, place a circular piece of parchment at the bottom of the pan. You can serve this cake slice with whipped cream or ice cream and a small cherry.
The delicious upside-down pineapple cake is irresistible, and you should try it once in your life.
Total time: 10 minutes.
This cake is an ideal last course with a collection of flavors, including pineapple, instant pudding, Cool Whip, marshmallow, coconut, and pecan. Undoubtedly, every kid loves these ingredients.
This recipe is even simpler and takes less time as you don't need to use the oven. If you want the cake to taste like Pina Colada (a cocktail made with rum, pineapple juice, and coconut cream), add a teaspoon of rum extract to the cake and feel the difference.
You can also replace shredded coconut with coconut cream pudding. This cake is suitable for a side dish or last course. It only takes 10 minutes, and you'll have a delicious sweet treat for your family.
Total time: 1 hour 20 minutes.
The two main ingredients to make this irresistible delicious bread are bananas and pineapples. If you have tried making banana bread before, I believe you will find it hard to resist its perfect taste.
Pineapple is a new ingredient used in this recipe, which increases the moisture in the bread's texture. You should use ripe bananas in this bread recipe because the riper the banana, the sweeter it is. You will have naturally moist and sweet bread!
You can store it in an air container at room temperature to enjoy daily. The shelf life of the cake will be three days. If the weather where you live is quite warm, you should put the cake in the refrigerator to keep it longer.
Total time: 55 minutes.
Another sweet option for sweets parties and holidays is pineapple cake. Although simple, this is really an addictive cake you can't know if you haven't tried it.
The frosting layer consists of sweet coconut flakes, moist cream cheese, and crispy pecans, making you unable to stop with only one piece of cake. This is a must-try cake with pineapple.
You can store these cakes in the refrigerator for up to 5 days or freeze them in a freezer bag for up to 2 months. Remember to let the cake cool completely before putting it in the freezer! Good luck with this cake!
Total time: 1 hour 5 minutes.
A beautiful and simple dish that anyone will love right at first sight. Welcome to this summer's easiest and fastest pineapple dessert!
It only needs three easy-to-find ingredients: crushed pineapple in juice, vanilla flavor instant pudding, and whipped topping. You've got a delicate and eye-catching dish for any sweet party.
You can serve this sweet treat in a mini parfait cup and garnish it with whipped cream and a cherry. Remember to keep it in the refrigerator for 1 hour before serving for the best flavor!
Total time: 40 minutes.
I present this Whoopie pie with a mixture of crushed pineapple, cream cheese, vanilla, sugar, and butter. Cake mix is a great ingredient because it saves you a lot of time and makes it easy to change the mix to your liking.
It's great that you can create gluten-free Whoopies by choosing gluten-free ingredients. You also don't need a whoopie mold in this recipe, and it's still easy to make round whoopie using batter and cookie sheets.
Make mini cookies and use a knife or spoon to spread the filling between the two cookies. You will be able to enjoy a wonderful and simple Whoopie at home.
Total time: 1 hour.
No need to be too fussy or complicated, a fluffy and creamy cake is enough to satisfy you. Pineapple sunshine cake is such a nice cake! You should have this southern-flavored pastry on your sweet list.
Some ingredients you need for this delicious cake are cake mix, milk, crushed pineapple, and instant vanilla pudding. You can easily make this cake on holidays and weekends. I believe all your guests will love and ask about the recipe for this wonderful cake.
The easiest pineapple sunshine cake recipe that anyone can make at home.
Total time: 1 hour 10 minutes.
With simple ingredients like eggs, butter, milk, pineapple, bread cubes, and sugar, you will have a pineapple bread pudding to eat whenever you want. Whether it's breakfast or brunch, Christmas or Easter party, this sweet treat suits them all.
You can store leftovers in an airtight container or zip bag and keep them in the refrigerator or freezer. Shelf life will be three days with a refrigerator and three months with a freezer.
The bread used in this recipe should be stale bread. This way, it can absorb pineapple juice and milk better and more evenly.
Total time: 1 hour 20 minutes.
You're probably thinking to yourself that this is a salad! What does that have to do with last course recipes? Or you may also be imagining a pineapple cake served with salad. It's not true! There's nothing salad-related in this recipe.
It's a salad because people serve it as a side dish on Midwestern holidays, but you also can serve it as a dessert if you like. The savory and sweet mashed pretzel with the sweetness of pineapple and cream cheese will be the perfect combination for your sweet treat.
The ingredients to make a crispy crust are crushed pretzels, butter, and sugar. The topping includes cream cheese, crushed pineapple, instant vanilla pudding, sugar, and frozen whipped topping.
Total time: 1 hour 30 minutes.
In Mexico, you can find a lot of pineapple trees, maybe that's why pineapple cakes are also popular in this country. People often enjoy eating pineapple cake with a cup of coffee.
According to this recipe, you need to make the crust and the filling one by one, combine these two parts, and bake. When baking, use aluminum foil to cover the pie to prevent the crust from turning brown too soon.
Remember to let the sweet treat cool before cutting, so the pie slice will come out beautiful. Now is the time to enjoy this traditional Mexican pie!
Total time: 50 minutes.
Pineapple empanadas is a famous pie from Costa Rica. The necessary ingredients for this pie are pineapple jam, eggs, heavy cream, margarine, and white flour. It is a must-try dish with a whole new flavor.
Costa Rica's pineapple is one of the best pineapples in the world, so the country is also famous for its pineapple-related recipes. If you don't have margarine, you can use butter or fat instead, but the pie's color is lighter.
It's great to serve this pie with coffee or chamomile tea. Some will sprinkle cinnamon sugar or granulated sugar on the pie to add flavor or make it more beautiful.
Step by step on how to make pineapple empanadas for everyone.
Total time: 35 minutes.
You should not miss this cake if you are a fan of coconut and pineapple. The Pina Colada cocktail inspires these cupcakes, so eating them reminds me of the beach.
You can make the cupcake from eggs, butter, pineapple, flour, powder, and sour cream. Add pineapple juice to enhance the pineapple flavor of the cake, or substitute it with rum or milk if you like.
There is coconut and a cherry on top of the pineapple cake. You won't be able to take your eyes off these cupcakes. You can even attach straws to them and feel like drinking a real cocktail at the summer beach.
Total time: 15 minutes.
Mousse is always fluffy, soft, and delicious. If you like mousse, try this recipe, and you'll love it! It is quite simple, easy to make, and tastes as great as fruit ice cream.
You can easily carry these pineapple mousse jars camping or serving in parties. The beautiful mousse jars will attract all your guests.
You can still make such delicious and fast pineapple mousse without using eggs. It only takes fifteen minutes, and you will have this wonderful mousse immediately. I'm sure the kids in your family will love this adorable sweet.
Total time: 10 minutes.
If you have kids at home, they will probably be quite excited about the sweets that come in cute jars. With the lovely appearance of these pastry jars, you can serve them at any party and holiday.
Graham crackers, cheesecake instant pudding, crushed pineapple, and whipped topping will be the indispensable ingredients to make this delicious cake.
In 10 minutes, you'll get a cake as delicious and beautiful as any cake in luxury restaurants. To preserve these jars, you should cover them tightly and keep them in the refrigerator. Their shelf life can be up to five days.
Total time: 35 minutes.
Pineapple crisp is a simple dish that doesn't require much effort or time to prepare, but what you get in return is more than you expect. After finishing, you can serve this crunchy cake with vanilla ice cream to enhance its flavor.
Cinnamon, oats, and crushed pineapple are the main ingredients of the cake. After baking, these ingredients contribute to the cake's gorgeous golden brown color. It's delicious, either warm or cold.
You can cover the cake with a layer of caramel sauce to make the cake have a beautiful and fancy color. You can keep this dish for up to 2 days at room temperature and up to 4 days in the refrigerator.
Total time: 55 minutes.
Summer is a great season to make pineapple sweets. The scent of pineapple permeates through the nooks and crannies of your home and brings a pleasant fresh feeling. Try the pineapple poke cake recipe now to experience the best of summer.
This cake uses common ingredients (eggs, pineapple, butter, cream, or milk) that you can find at any grocery store or supermarket. Get these ingredients ready, and you can make a cake whenever you want.
The cake has the same flavor as the upside-down pineapple cake but has a different making method. Besides, pineapple cake poke has a special feature that it will taste better the next day. So if you can resist the flavor of this cake, the next day will be the best time to enjoy it.
Total time: 45 minutes.
This dump cake is a great idea for those who are too lazy to make a complicated sweet course. A pineapple dump cake includes yellow cake mix, crushed pineapple, condensed milk, and coconut.
These ingredients create an irresistibly delicious taste that everyone loves. Condensed milk is a miracle ingredient in this recipe because it makes baked cakes more fragrant and delicious.
Total time: 33 minutes.
These pineapple bars I introduce here are one of the simplest recipes. Pineapple bar is a fluffy, soft cake garnished with sweet powdered sugar, or you can serve it with whipped cream on top as well.
This cake is perfect from appearance to taste. But it will not take too much time and still have a suitable quality for your last course. I believe you will be satisfied with this simple cake. Try this recipe now and experience the wonderful taste of the cake.
If you have no idea for dessert today, try pineapple bars right away.
Total time: 30 minutes.
This sweet treat is an improved recipe I believe you have never tried. The cake consists of 3 layers: graham crust, pineapple frosting in the middle, and vanilla whipped cream on top.
These pretty sweet bars are suitable for any sweet course or sweet party you hold. I guarantee you'll satisfy your craving with these pretty square cakes.
Total time: 15 minutes.
You can try this pineapple curd if you need a sweet filling for your tarts, cupcakes, or cakes. I guarantee it will fit well with any non-filling sweet treat you have.
You can either pour this curd in between the cake layers like a pie filling or cut out the center of the cupcake and pipe the filling into the core. Pineapple curd can enhance the flavor of your sweets many times.
You can keep pineapple curd in the refrigerator for up to 10 days. Therefore, you should make a lot of pineapple curd to eat for a week and combine it with a variety of cakes. You will go from surprise to surprise!
Total time: 21 minutes.
If you love pineapple desserts, don't miss this grilled pineapple, as it will take your sweets to the next level. You can eat this grilled pineapple as a sweet treat or serve it with bread or burgers.
If you've never tried grilling pineapple slices, try this recipe immediately. In this recipe, you'll marinate the pineapple with brown sugar and maple, grill it, and finally sprinkle it with a little sea salt to give it a nice color.
You can enjoy this grilled pineapple with coconut cream. Now, let's start making grilled pineapple with brown sugar and sea salt. This dish is so simple and won't take much of your time. I promise you will love it.
Total time: 5 minutes (Excluding 4 hours of freezing).
Are you looking for a simple recipe? This sorbet pineapple recipe is so simple and healthy that you should not skip it. Let's find out what's so special about this sorbet!
The first is about the ingredients! You can make a fantastic and delicious sorbet with only water, sugar, and pineapple. The second is this sorbet is completely free of calories, carbs, and fat, making it a great choice for those on a diet.
You can use fresh pineapples or canned pineapples to make sorbet. However, if you care about nutrients, remember that canned pineapple has more sugar, calories, and less vitamin C than fresh pineapple.
Do you know how to make this yummy pineapple sorbet?
Total time: 50 minutes.
Pineapple, coconut, and pecans are the perfect trio for today's pineapple cake recipe. With a square baking pan, your cake will have the perfect thickness and still be easily cut into bite-sized squares.
Whoever has tried it will always love the smooth and moist crushed pineapple topped with crunchy pecans and coconut.
This is a sweet suitable for big gatherings. You can also double or triple the ingredients in the recipe to make enough cake for everyone at the party.
Total time: 2 hours 15 minutes.
The ingredients of this scrumptious cake include condensed milk, candied pineapple, yellow cake mix, and white chocolate chips. You can easily find these ingredients in convenience stores and supermarkets.
After cooking, you can serve the cake with juicy red maraschino cherries. Place these cherries randomly on the cake to decorate, then place the cake in the freezer for a minimum of 2 hours.
After taking the cake out from the freezer, you will easily cut the cake into tiny square cakes. Try to cut it so that every square cake has a cherry! Now enjoy the cake!
Total time: 15 minutes.
Summer is the season of ice cream! The cool ice cream will help you overcome the hot summer heat and recharge your energy. Grilled pineapple will combine perfectly with coconut vanilla ice cream to form the healthiest and tastiest sweet in the world.
What awaits you in vegan grilled pineapple with coconut ice cream? A layer of salted caramel perfectly balances all the sweet flavors of the pineapple under the coconut cream. It all adds up to an incredible taste in your mouth.
A slice of grilled pineapple is quite low in calories and carbs, plus the coconut cream in this recipe is non-dairy ice cream, so it's a great experience without considering the calorie content.
Easy to enjoy coconut ice cream with grilled pineapple now at your home.
Total time: 2 hours 55 minutes.
This cake recipe is quite interesting because you combine 3 different cakes into one: the taste of pina colada, the layer of coconut panna cotta, and the topping of the shortbread crust.
If you want to eat a healthier tart, you can replace the all-purpose flour with a gluten-free one. Although it combines many types of cakes, each recipe has the most detailed and clear instructions, so you can do it right away without taking too much time.
This delicious and eye-catching cake is not only suitable for every day's last course but can also become the highlight of sweet parties and special occasions.
Try Your New Pineapple Desserts Today
Pineapple is a tropical fruit with a sweet and sour taste. Not only that, but you can also easily find pineapple in the ingredient lists of both savory and sweet recipes.
In this article, I offer you these sweet tropical fruit sweet recipes, all these recipes are all tasty and easy to apply to anyone. I look forward to reading your comments and what you have discovered in making these recipes in the comments.
Don't forget to share these amazing recipes with your family and friends. I am so happy that everyone can successfully make the beautiful sweets that I have shared above. I hope you have a good day!