If you're looking for the best persimmon recipes to step up your fall menus this year, you're in the right place!
Summer is coming to an end, and fall is just around the corner! Do you know what I love about this fall season? Watching the leaves turn yellow, putting on my favorite deep plum lipstick, and baking some persimmon muffins!
If this fruit doesn't sound familiar to you, persimmon is similar to apricot in shape. Its flesh is soft when ripe and has a sweet, honey-like flavor. Persimmon is very delicious when being eaten both directly and cooked into dishes.
From appetizers to main dishes, persimmon is so versatile that it fits into almost everything. Now, let's stop the talk and walk to these wonderful persimmon recipes!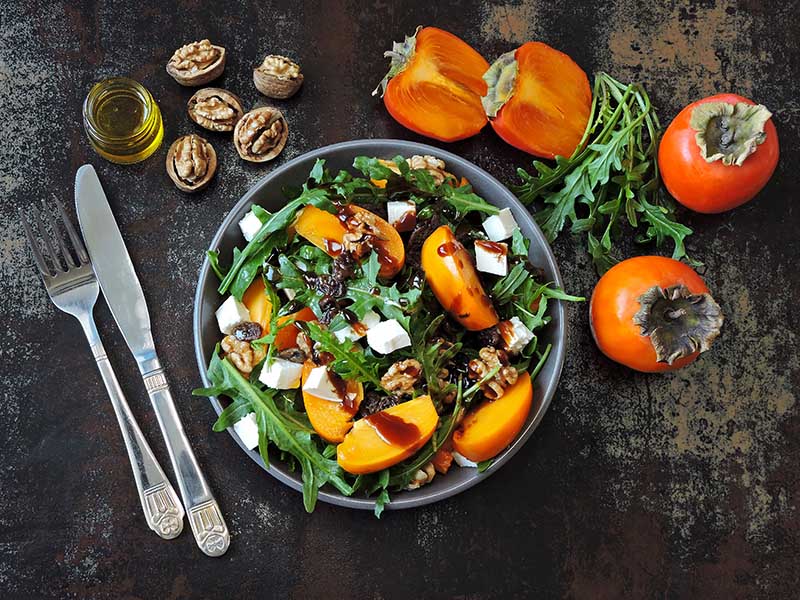 17 Best Persimmon Recipes To Warm Up Your Kitchen This Year
Despite being a toothsome ingredient, cooking with persimmons is not familiar to many people. This is such a waste since including persimmons in your dishes can elevate them so much.
It's time you stop walking by persimmons in your local market and ignoring them. I'm going to show you the best 17 recipes you can make with persimmons. Pastry, desserts, salads – you name it, I got it!
Total time: 1 hour 35 minutes.
Persimmon bread is a perfect recipe for someone who is new to the persimmon fruit. It's super easy to make, with a couple of everyday ingredients: flour, milk, sugar, and the pulp from ripe persimmons, of course!
In this recipe, the persimmon pulp is made from Hachiya persimmons, which are sweeter and softer than the Fuyu persimmons. Since this type of persimmons already contains a high level of sweetness, there will not be much sugar needed – which I know, who wouldn't love that?
This persimmon bread is super soft, sweet, and fragrant. This is such a heart-warming gift for anyone you care about, especially in the holiday season.
Making super moist and delicious persimmon bread has never been easier.
Total time: 20 minutes.
As a fan of salsa (a popular Mexican topping dish), I promise once you've tried this recipe, you'll never want to look back!
If I can describe this salsa's flavor with one sentence, that would be "a punch to the taste buds". It's extremely bold and has a lot of layers and depths: invigorating cranberries, honeyed persimmons, earthy and spicy chiles pepper.
This seasonal salsa makes the best add-on to your favorite protein dish: steaks, roasted chicken, fried fish, tacos, or anything you'd like.
Total time: 32 minutes.
If there's anything that screams fall to me, it's apples and cinnamon. They're such a cozy, warm duo that can lift anyone's mood.
One bite of these apple and persimmon muffins, and it's like a party in your mouth: apple's crunch and delightful tartness mingled with the sweet and woody flavor of cinnamon. Both complement the rich sweetness of persimmons marvelously.
These honeyed, buttery, super moist muffins can be enjoyed as a quick and yummy breakfast with some milk, or you can bring them to work as a convenient brunch, or anytime you'd like!
Here is a quick tip to successfully whip up this recipe: the riper your persimmons are, the better! Hachiya persimmons fit the best here. Now you know how to make the best out of those over-ripe persimmons without wasting them!
Total time: 32 minutes.
Cookies are everyone's favorite treat. Just make basic cookie dough with some simple ingredients and baking techniques. Then, add any toppings of your choice: fruits, nuts, seeds, and voila – you have a cookie jar that you can enjoy anytime.
Not so crazy about the mundane chocolate and butter cookies? Why not try this persimmon cookie recipe, whose first virtue is its ease of cooking. Secondly, you don't have to add tons of sugar due to the sweetness of persimmons. No guilty pleasure anymore!
These persimmon cookies are chewy, aromatic, and delicious! You can enjoy them all alone or with some milk for a quick and satisfying breakfast. Thanks to the cloves and nutmeg, they bring warmth to your heart, and the winter is not so cold any longer.
Total time: 35 minutes.
Usually, cheesy desserts and "being healthy" don't get along. But this dish will prove to you that nothing is possible! Various kinds of natural sweeteners like coconut sugar, maple syrup, dates, and of course, Hachiya persimmons ensure that this recipe is artificial sugar-free.
The texture of this persimmon cheesecake is just gorgeous: mellow, creamy, and rich. This persimmon cheesecake looks wonderful as desserts at your New Year or Christmas party, and it tastes amazing too!
This no-bake cheesecake recipe is specialized for serving in a glass or plastic cup, so it can be a little bit runny compared to the usual cheesecake.
Total time: 1 hour 10 minutes.
That just because salads are mostly greens and vegetables doesn't mean they have to be boring! You can spice them up with a hint of smoked paprika, some candied peanuts, and of course – persimmons.
Beets and persimmons are thinly sliced so that they remain crispy, soaked in the smoky-sweet dressing made from fresh orange juice and smoked paprika. The salad is topped with scallions and candied peanuts.
This colorful salad is the most ideal for spring, but who says you can't jam with salads in the winter, especially for a Christmas party? At the end of the day, having too many rich foods can make anyone feel fed up and get indigestion.
Don't hesitate to show your tummy some love with this nutritious and full-of-fiber dish. It tastes great, you feel great, and everyone's happy.
Total time: 15 minutes.
Though chia pudding is not exactly a holiday treat, you can completely elevate this quick and healthy mini breakfast into something more vibrant, flavorful, and filling.
With just 4 basic ingredients, this pudding texture is mellow and silky. The honey-like taste of persimmons is a fabulous substitute for sugar, allowing it to be vegan-friendly and gluten-free.
A quick tip for you is that you should make this persimmon chia pudding the night before and let it sit in the fridge overnight. On the next morning, when you wake up, you will have a nice, cool, thickened chia pudding that makes a delicious, healthy breakfast.
Total time: Up to 2 hours.
Being such a classic of French cuisine, duck a l'orange brings a breath of luxury to the menu that can satisfy the most demanding diners.
If you can nail this duck A l'orange perfectly, it's like hitting the jackpot: golden, crispy skin on the outside, super moist and juicy meat on the inside, which is submerged in a sweet and sour, delicious sauce.
Have a fancy dinner coming up and looking for a restaurant-quality recipe to show off your cooking skill? This elegant pomegranate recipe is the real deal.
The rich, fatty, and extremely tender duck meat combined with a mild tartness of orange, all balanced out perfectly with the persimmons' sweetness – the flavor is unmatched!
The best sides you can serve with this luscious dish are fresh salads with some kind of acidic dressing to cut down the grease, French fries, or just a simple mashed sweet potato.
Total time: 20 minutes.
You may be wondering why there are still no seafood ingredients up to now. Is persimmon only compatible with meats? That fruit and seafood make the best duo for ceviche – a South American appetizer including semi-cooked seafood with a lemon or lime marinade.
Take a look at this seafood and persimmon fusion. This cod and persimmon ceviche recipe is spectacularly harmonious in terms of flavor: fruity, sweet, sour, and creamy with moist, delicate cod. Just one try, and there's a whole spring dancing in your mouth!
This cold ceviche can be served as a daytime outdoor party appetizer to give your guests a boost of cooling sensation. Or, it might as well be a stimulating side dish with a decadent main course.
Total time: 10 minutes.
This salad can pair with just about any main course you're serving. It's light, colorful, lively, and a little bit tangy from the arugulas, which is balanced by persimmons' sweetness.
The recipe is really quick and easy to make as well. You only need some fresh arugulas, persimmons, pomegranate, and nuts. The best fit for this salad is the basic olive oil and lemon juice dressing.
I'm offering you the best tip now: Refrigerate it for several hours before eating so that the veggies can be nicely soaked in the dressing, and you get the most crunch, too!
Total time: 1 hour 45 minutes.
Hailing from India, chutney is a universal condiment that can be integrated with so many kinds of dishes. You can eat anything with chutney (from steaks and toast to a dip of your favorite goat cheese) to improve the taste of your food.
The combination of fruits is the star of this recipe. A hint of lemon and tangy orange zest, along with the sweetness of persimmons and apples, bring on an exotic chutney unlike anything you've ever bought in stores.
One thing I love about persimmon chutney is that it has an impressive shelf life (if kept in proper condition). Though it may last for more than 1 hour to make, once it's done, you have a delicious chutney dip with different kinds of proteins/snacks/chips for months.
Total time: 30 minutes.
The best thing about pork tenderloin is its great suitability with different types of vegetables and herbs. You can create so many diverse flavors and textures with this cut of pork.
In this recipe, I present to you roasted pork tenderloin with persimmon and rosemary. It is a flavorful and satisfying comfort food that doesn't take too much effort to make.
Roasting helps to sear the pork fat, which later on turns into a beautiful golden crust covering the super moist and juicy meat inside. On top of that, persimmons add a mellow honeyed flavor, and the whole dish is further improved with a rosemary scent.
Since you can cook and enjoy everything in one pot without much dishwashing, you can say that this dish is perfect for a lazy weekend Sunday!
Total time: 1 hour.
Persimmons are so versatile that they match with savory ingredients so harmoniously. For example, this savory stuffed persimmon dish can be a luscious appetizer, side dish, or a healthy, bite-size lunch.
Though stuffed with a healthy, vegan filling (lentils, walnuts, cranberries, etc.) and no meat, each serving still has a variety of layers and textures. Besides, ginger and onions' spiciness adds a nice heat to the dish that makes it even more appetizing.
This persimmon recipe is not only so tasty and delightful but also super nutritious. You're getting a handful of antioxidants, healthy fiber, and vitamins to your body.
Total time: 20 minutes.
If tempeh sounds a bit strange to you, it is a kind of cake that is made from fermented soybeans. Think about tempeh as an upgraded version of tofu. It's packed with good protein, fiber, probiotics, and vitamins.
This Thai basil tempeh with persimmon salsa recipe is good proof that eating vegan isn't necessarily boring. In fact, you're getting the whole package: complex texture, lots of fragrant ingredients, and the most important part is that you'll get plenty of nutrition.
Serve the dish with hot, steamed rice and some persimmon salsa on top.
Total time: 45 minutes.
These cutie persimmon goat cheese tartlets are such a great start for your fine-dining guests in case salads or ceviches don't sound impressive enough to you. They're rich, buttery, and certainly delicious.
Fluffy, crusty puff pastry is baked at a perfect temperature before being topped with the creamy and tangy flavor of goat cheese. Fuyu persimmons' delicate honey-like sweetness creates a beautiful balance to the whole dish.
These elegant little tarts also make a perfect dessert, snack, or light brunch. Feeling a little bit fancy? Enjoy it with cold cuts and a glass of wine to give yourself the culinary pampering you deserve. What can be a better way to end a scrumptious feast?
Total time: 30 minutes.
Fed up with greasy fast food this winter? Try this kale and persimmon salad recipe to freshen up your day. This salad is a great pair for any of your main course dishes. Plus, your stomach will be thankful for being given such a great amount of vitamins and healthy fibers.
While Hachiya persimmons are mushy-textured and intensively sweet when they're ripe, crunchy Fuyu persimmons have a milder sweetness. This makes them a perfect ingredient for a fall or winter salad.
With some kales topped with toasted almonds and vinaigrette dressing, this recipe is really simple and easy to make. Best thing? You can prepare it in advance a day before and let it sit in the fridge; your winter salad would be so "cooling" and vibrant.
Total time: 15 minutes.
The prosciutto and cheese combo is no rocket science; they've been used all around the world as an iconic couple when it comes to Eastern-style appetizers. But adding persimmon is a twist that can change the whole game.
Prosciutto is very salty, slightly sweet, and complex. Wrapping around sliced persimmons and smoked cheese, it's like a symphony of rich, smokey, and sophisticated flavors.
Impress your guests and loved ones with these intriguing persimmon prosciutto cheese bites, and they surely will be blown away. This gourmet dish is beautiful to look at yet so easy to make with just 4 ingredients.
It's Time To Spray Your Kitchen With Persimmons' Honeyed Note
Fall is knocking at your window. Time to rock your kitchen with this heavenly smelling-and-tasting fruit – persimmons. Check these recipes out as an introduction to this amazing fruit, and I promise you'll be astonished!
The key to cooking with persimmons is to make sure they're ripe. Don't forget to decide which type of persimmons fit the best into your dishes. Hachiya or Fuyu? Once you've figured all of this out, cooking with persimmons is going to be nothing but joy.
Thank you for reading. Please like and share if you find this post helpful. Have you already cooked a persimmon recipe? Leave comments below because I'm glad to know how you feel. Thank you for your time!