Put the best penne pasta recipes in your back pocket for a hearty, comforting dinner with less effort. Penne pasta is a tube-shaped pasta with its end cut at an angle. It is what people often turn to when whipping up an easy, casual dinner at home.
This pasta is widely available and easy to work with, and thanks to the cylindrical shape and slight ridges, it works wonders in various sauces.
Just throw in simple ingredients such as Parmesan cheese, sun-dried tomatoes, and ground beef, and you'll get a savory dish to satiate your pasta craving. You can also go fancy by trying Penne Alla Vodka or Penne all arrabbiata, which tastes as good as your favorite Italian restaurant.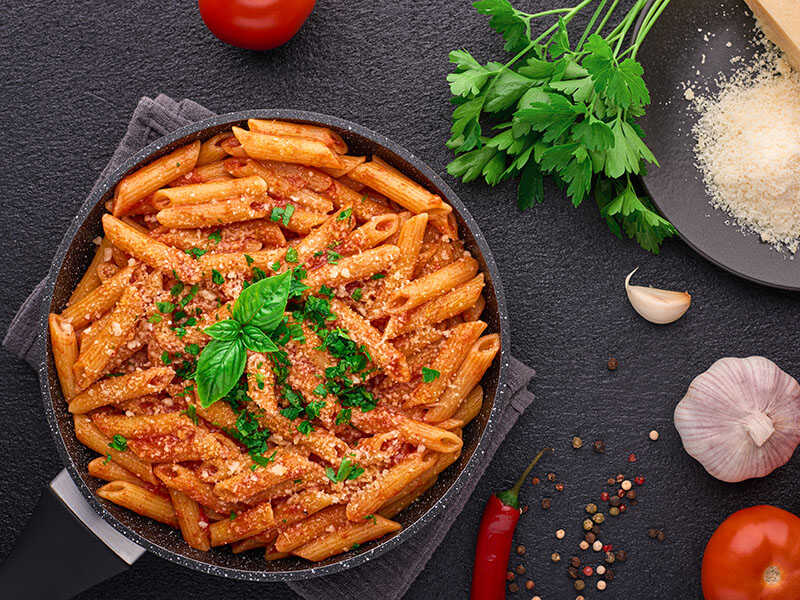 25 Best Penne Pasta Recipes That You'll Turn To Night After Night
You'll love the versatility of the easy-going penne pasta. It works like a charm in a simple recipe like white sauce pasta for a no-fuss dinner. Or it can pair amazingly with wine pasta sauce to bring out a restaurant-quality dish.
The pasta bakes well, too. Think about a tray of hot, cheesy, and bubbly penne pasta! Check out the best penne pasta recipes and add some (or all) to your dinnertime lineup!
Total time: 40 minutes
Serve this comforting chicken Alfredo bake on a chilly night to warm yourself up. It is made from penne pasta tossed with a creamy, rich sauce, diced chicken, and plenty of Parmesan cheese.
While there are tons of Alfredo sauce you can buy, the sauce is super easy to make from scratch. It consists of cream cheese, whipped cream, Parmesan, and Mozzarella cheese.
The addition of all-purpose flour is a twist to the classic Alfredo sauce. It helps the sauce to freeze and reheat without separating.
Whip up a large batch of this baked pasta and simply reheat it for a busy lunch or dinner. Plus, use grilled chicken when possible, as the flavors are much better.
Few things are more comforting than this tray of chicken Alfredo bake.
Total time: 30 minutes
This recipe is what you'll frequently turn to when you crave a bowl of creamy, tasty pasta. Rich sauce clinging to the penne pasta and topped with savory pan-seared chicken. The combination is simple yet packed with many flavors that everyone will love.
The variety of spices (including paprika, cayenne, black pepper, and chili powder) gives the sauce awesome and unique flavors.
Meanwhile, butter, cheese, and heavy cream contribute to its richness. It's so rich that a light side dish such as roasted broccoli or refreshing salad on the side is just enough for a complete meal.
Total time: 15 minutes
This white sauce pasta is packed with plenty of cheesy and creamy goodness. The penne pasta is tossed in a white sauce made of chicken broth, milk, Parmesan cheese, and parsley.
Here, you'll use 1 cup of Parmesan cheese for the sauce. However, feel free to toss in more cheese (½ – 1 cup, ideally) if you want to make the pasta ultra-cheesy.
This white sauce pasta is highly customizable. Add your favorite veggies and protein (such as ham or chicken) for a complete dinner meal! Want a little spicy kick? Sprinkle red chili flakes to your liking.
Total time: 1 hour
Few things are more comforting (and cheesy) than this baked mostaccioli. This dish is similar to Lasagna, but it is easier to make and uses penne pasta instead.
There's a little bit of everything in the pan. Up to 3 types of cheese (American, Mozzarella, Provolone) to satisfy even the biggest cheese fan.
These cheeses are baked right into the al dente pasta. Bubbly, melted cheese, ground beef sauce, and Italian flavors, what not to love? You can make this comforting meal ahead of time, yet make sure to count in extra 15 minutes of cooking time due to the refrigeration.
Total time: 30 minutes
This 30-minute pasta has a little bit of everything: shrimp, veggies, cheese, and spice. There are a lot of flavors and textures in one bowl!
You'll be hard-pressed to find a pasta dish that has just the right heat level as this one. The spice is from the jerk seasoning and a single Scotch bonnet. Plus, the stalk scallion and bell peppers give a sweet crunch to the dish.
This recipe uses 3 types of bell peppers for extra flavors. Yet, you can use 1 or 2 varieties if that's what you've got! For the protein, you can substitute shrimp with chicken or salmon if you want; it will take a bit longer to cook, so mind your cooking time.
This scrumptious rasta pasta deserves a spot in your dinner rotation!
Total time: 15 minutes
Caesar salad and pasta are a wonderful combination! This salad hits the right spot for when you want something refreshing, carby, and hearty all at the same time. Plus, you can complete this fantastic cold pasta recipe in just 15 minutes, thanks to ready-made dressing.
So all the Caesar salad elements are present in this bowl: Romaine, Parmesan cheese, and croutons, all bound together by the savory dressing. The penne pasta joins forces to make this salad heartier. Its small shape and hollow middles allow the dressing to cling on well.
Finally, rotisserie chicken and bacon make this salad a rightful main dish. Here's a little secret that you must know: Coat the pasta with a bit of bacon dripping to prevent it from sticking together and add a depth of flavor to the dish.
Total time: 25 minutes
This rustic chicken penne is an easy dinner to cook on busy Monday nights. The roasted red pepper sauce creates a wonderful base for the pasta, whereas the Parmesan cheese introduces just the right richness to the dish.
Chicken breast is added for a protein boost. It's well seasoned with smoked paprika, salt, pepper, and Italian seasoning before being pan-fried until brown.
The whole dish comes together within only 20 minutes, so save this recipe in your back pocket for those hectic nights.
Total time: 45 minutes
The harmony of flavors of this dish is the only thing you'll need to welcome spring. Plus, this pasta is friendly with vegetarian and vegan diets, making it a great option for your Meatless Monday or sharing with your vegan folks.
Asparagus and peas take the stage here, which gives so much freshness to the dish. The dressing helps bind the pasta and spring veggies together and adds a fragrant, lemony note.
This recipe uses penne pasta, but feel free to swap in other similarly small-shaped pasta. Yet, keep in mind to coat them immediately with the dressing after draining.
Total time: 30 minutes
Are you craving warm comfort on a plate? Then, this hearty pasta accompaniment is the recipe you'll need. The rich, creamy sauce is loaded with tomatoes, cream cheese, Parmesan cheese, and a little boozy kick from vodka. Crushed red pepper adds any extra heat to the pasta.
½ cup of the liquid would suffice for this recipe, which will help amp up the flavors of tomatoes as it cooks. If you want to save time, use crushed tomatoes as a shortcut. San Manzo tomatoes also work wonders here but will require an extra processing step.
Vodka is the secret ingredient to making this classic Penne alla Vodka.
Total time: 20 minutes
Penne Puttanesca is a quick, easy, flavorful pasta you shouldn't miss. Puttanesca is traditionally served with spaghetti. However, I believe that his recipe is a better choice.
It not only helps the flavorful sauce cling onto better, but the tubes can also pick up the olives and capers. The star of this dish is the fragrant, rich, and salty sauce that graciously coats the pasta with flavors.
The best part is that you'll only need pantry staples for this sauce, including anchovies, garlic, capers, Kalamata olives, and spices. These ingredients combine to give a big aromatic punch to the dish.
In this recipe, there are also fire-roasted crushed tomatoes that give the extra pasta depth of flavor. They make the whole dish taste as if it were simmered for hours.
Total time: 3 hours and 10 minutes
Try this hearty northern Italian classic if you run out of ideas for next Sunday's dinner! This Bolognese is a meat sauce made of ground beef and tomatoes. It's usually creamier than regular meat sauce and is simmered for hours, making the flavors perfectly combined.
Since this recipe is a completely one-pot pasta dish, you have less mess to deal with after dinner. A variety of meats used here, including ground beef, pork, and veal, adds tons of flavors to the sauce.
When simmered away with tomato, white wine, and milk, these proteins bring out a pasta sauce to die for. Fennel seeds are a lovely addition, setting this pasta apart from regular Bolognese.
Total time: 25 minutes
This creamy pasta sneaks in plenty of veggies for a healthier meal. Mushroom is a perfect pairing for the noodle as their rich and earthy flavors add a whole new depth to the noodle.
In this pasta, Cremini mushrooms provide meaty, dense texture and nutty flavors for this pasta. Yet, you can swap in your favorites.
In addition to veggies, the spicy, creamy sauce is also in the spotlight! It's both rich and creamy, thanks to the nutritional yeast, cashews, chili flakes, and plenty of spices. If you forget to soak the cashews overnight, simply soak them in boiled water for at least 1 hour.
Total time: 15 minutes
If you don't know about pesto, you're seriously missing out! This pesto combines roasted pine nuts, salty Parmesan cheese, sweet basil, and a little kick from raw garlic. All are blended in the blender until they form a smooth sauce.
Plus, this pasta is not something you have to labor over. Everything comes together in a flash (15 minutes, to be exact). The pesto sauce gets ready even faster than it takes to cook the pasta.
Here's a pesto pasta pro tip: Toss the noodles in the sauce off the heat to help retain the pesto's fresh flavor and color.
Try this pesto pasta with delicious from-scratch pesto sauce, which is much better than store-bought sauce!
Total time: 25 minutes
Don't let the fancy name scare you off; this penne alla vodka pasta is not tricky to make. Tender pasta tossed in a rich and creamy sauce and a sprinkling of Parmesan cheese make for a restaurant-quality dish.
Vodka works amazingly with paste in this recipe. After the liquor is cooked, it adds just a slight boozy kick to the sauce and enhances the tomato flavors. You can substitute this ingredient with a squeeze of lemon, but I bet that the flavors won't match with vodka-based sauce.
In addition, red pepper flakes help balance out the creaminess of the pasta with a little heat. ¼ tsp of red pepper flakes is the standard portion here, but feel free to adjust the spiciness to your liking or omit the ingredient if you can't stand the heat.
Total time: 30 minutes
This pasta is ideal when you're craving comforting food but don't want to deal with a huge mess. Just add all the ingredients right into one pot. Cook them under low-medium heat until the broth seeps nicely into the pasta.
Then, add drained tuna, Greek yogurt, and lots of chopped parsley, and season with some pepper. And voila, you've whipped up a scrumptious, well-rounded dinner right in one pot. There's no need to cook the pasta separately.
This Mediterranean-inspired pasta is packed with flavors. The vegetable broth adds more flavor to the dish, whereas paprika gives a bit of smoky flavor.
Total time: 30 minutes
Looking for ways to add more veggies to your meal? Try this penne pasta recipe, which is loaded with many spring veggies. Plus, it's also healthier and lighter (without cheese or heavy cream).
The key to nailing this pasta is knowing the right timing to add veggies. Carrots and broccoli, for example, need more time to cook, so sautee them first.
On the other hand, yellow squash, zucchini, asparagus, garlic, and tomatoes take only 5 minutes to cook. So, toss them in the pan only when the carrots and broccoli start to get just tender.
A fresh squeeze of lemon introduces a bright note and helps bind the veggies together. You can think of this dish as a hearty spring salad enriched with pasta and sausage.
Total time: 35 minutes
This pasta is easy enough for a busy weeknight but still flavorful and fancy enough for any special occasion. This version uses just a touch of white wine to add a fruity flavor to the tomato sauce.
This recipe calls for 2 cups of fresh spinach. Don't think it's too much as the veggie will considerably wilt down as it cooks. However, because the spinach cooks very quickly, add them within the last minutes of cooking.
Top your pasta with some cheese to make it a bit more creamy. I prefer freshly grated Parmesan cheese here. Yet, pre-grated cheese works just fine if that's what you have.
When you want something quick, easy, and satisfying, this easy tomato and spinach pasta answers the call!
Total time: 25 minutes
This recipe is a good example of using savory chicken sausage and sun-dried tomatoes to liven up any simple pasta dish. Just try this pasta, and it will soon become your new favorite dinner.
Plus, the whole wheat pasta and plenty of broccoli florets help this pasta be healthier to eat. For the toppings, the options are endless. Add olive oil and a generous amount of salty Parmesan to amp up the umami level of this pasta.
You can also sprinkle some red pepper flakes for a spicy kick. This recipe can accommodate up to 6 servings. As a result, it's perfect for a busy weeknight when guests come knocking on your doors unexpectedly.
Total time: 25 minutes
The word Arrabbiata translates to "angry" in Italian, indicating the spiciness (because of chili flake or fresh red chilies) in the pasta.
Penne Arrabbiata consists of simple components: pasta, Arrabbiata sauce, and Parmesan cheese. Yet, it has strong flavors and little heat, which is perfect for the spicy eater.
In this recipe, Arrabbiata is made of crushed tomatoes, garlic, red pepper flakes, and black pepper cooked in olive oil. The two last ingredients give this sauce a nice kick, balanced by the rich Parmesan cheese.
Everything gets ready in less than half an hour. So, if you're searching for something comforting and quick to indulge your carb craving, this will fit the bill.
Spicy food eaters will love the heat from this comforting Penne Arrabbiata.
Total time: 27 minutes
The word Primavera means "springtime" in Italian. While there are a lot of versions, pasta Primavera is basically pasta tossed in cream sauce and fresh produce.
In this light and refreshing take on pasta Primavera, seasonal veggies are sauteed with Italian spices until tender. Asparagus, bell peppers, broccolini, and cherry tomatoes magnificently diversify the texture and flavor of the pasta.
Cook penne pasta in vegetable broth to let it soak up all the veggie flavors. Next, toss the noodles with the cooked veggies, lots of cheese, and reserved vegetable broth. That is all it takes for a wholesome pasta dish perfect for summertime.
Don't have an instant pot? This recipe also includes detailed instructions for cooking this pasta on the stovetop. This method isn't very different, except for the longer cooking time.
Total time: 20 minutes
This meal comes together in under half an hour and can serve a crowd of 10 people. The flavor combination is just perfect here: rich, spicy, and flavorful.
The penne pasta is cooked with heavy cream, chicken broth, and Cajun seasoning. There are also chicken and smoked sausage – to give your guest more choices of protein they like.
Heavy cream is a must-have ingredient for the Alfredo sauce. Choose a thick heavy cream with higher fat content so the sauce can have a richer consistency.
Total time: About 40 minutes
Not a fan of turkey? Then, this colorful and tasty ground turkey recipe will make you think twice. This skillet is loaded with ground turkey, Swiss chard, and penne pasta smothered in a spiced tomato sauce.
Cumin, chili, and garlic are amazing flavor boosters here, which helps the meat and pasta taste much better together.
Some people don't like ground turkey and describe it as dry and bland. That can happen sometimes, but it's not the case here. The secret is to remove the meat from the pan once it's browned. Let it join the pasta later, along with the greens, tomatoes, and juice.
Total time: 30 minutes
Get all the Italian flavors with this Florentine pasta from the comfort of your home. As the name suggests, Florentine pasta originates from Italy and typically features cheese, spinach, and chicken or fish.
In this one-pot dish, spinach and pasta are coated with a creamy sauce. The right size of penne pasta helps it absorb all the delicious goodness of the sauce.
There are 2 types of cheese in use (Parmesan and Mozzarella), which gives the pasta a double dose of creaminess and richness. Pour in just the right amount of white wine to lend this pasta an extra depth of flavor.
This Italian-inspired dish gets ready in just half an hour. It's perfect for those busy weeknights or whenever you want a quick dish to tame your carb craving.
Chicken, spinach, and creamy sauce are an undeniably delicious combination in this chicken Florentine pasta.
Total time: 20 minutes
"Al Baffo" is the shortened form of an Italian expression that translates to "it is so good you'll lick your whiskers" in Italian. The names indicate the thick, creamy, and flavorful sauce that is so good and addicting.
Al Baffo sauce typically consists of tomato puree and cream as the main ingredients. This recipe also adds sweet shallots and salty Parmesan cheese for added flavors. If you don't have tomato puree on hand, simply swap in tomato sauce.
You can put this ham pasta on your dinner table within only 20 minutes. It's also one of the best ways to use your leftover ham!
Total time: 55 minutes
This simple, no-frills pasta will effortlessly become your family's new favorite. It takes only 20 minutes at maximum for the prepping. All the ingredients go directly into one pan. So you'll only need to mix, pop the pasta into the oven, and walk away.
The base of this pasta is made of lots of garlic and butter, which pairs exceedingly well with the fire-roasted tomatoes.
This garlicky-buttery base and Parmesan cheese, spinach, and whole wheat penne pasta create a wholesome and comforting dinner meal. You'll get a little of everything in one spoonful.
This recipe uses chicken meatballs, which can please almost everyone. Feel free to throw in your favorite protein (shredded chicken is highly recommended) as there's still enough sauce to coat extra meat. If you're not a fan of spinach, kale will make a nice substitute.
These Penne Pasta Recipes Will Leave The Whole Family Happy!
Try any of these recipes for your next supper, and I'm pretty sure they will disappear in no time from the table. A huge bonus is that penne pasta is easy to work with, which makes dinnertime feel easy and breezy.
Put your cooking skill to the test with these pasta recipes, and leave a comment about how they turned out. As always, like and share this article to let me know whether the information I include is useful to you. Happy cooking!
Nutrition Facts
8 servings per container
---
Amount Per ServingCalories575
% Daily Value *
Total Fat 35.7g

55

%
Cholesterol 193mg

65

%
Sodium 408mg

17

%
Potassium 367mg

11

%
Total Carbohydrate 35.5g

12

%

Dietary Fiber 0.1g

1

%
Sugars 0.1g

Protein 28.6g

58

%
---
Calcium

249

%
Iron

2

%
Vitamin D

33

%
* The % Daily Value tells you how much a nutrient in a serving of food contributes to a daily diet. 2,000 calories a day is used for general nutrition advice.