Easy pecan recipes can bring a new feeling to people eating among the usual boring dishes. Pecans help stimulate the flavors of key ingredients with their nutty taste and contribute a signature crunchy texture to the overall dish.
Therefore, you should try cooking 31 palatable pecan recipes to prepare for a perfect weekend dinner! Rest assured that they are all succulent and easier to process than ever.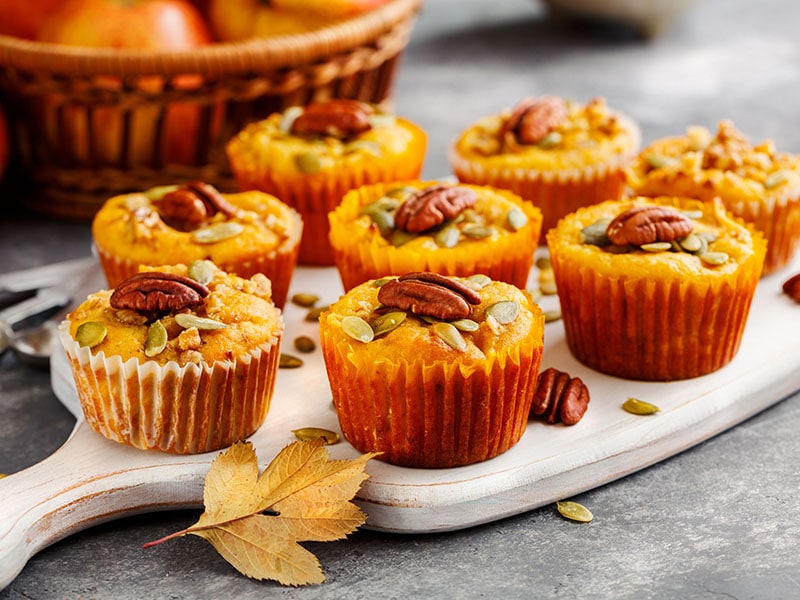 Save Now 31 Easy Pecan Recipes To Enhance Every Tasty Meal
Get a glimpse and take note of your favorite or just jump right into the one you are most impressed with! I have plenty of pecan categories for you to put to the test!
Pecan Appetizers
Apple Cranberry Pecan Salad
Pecan Stuffed Mushrooms
Bacon-Wrapped Figs
French Quarter Pecan Cream Cheese Spread
Pecan-Cheese Crisps
Pecan Main Dishes
Pecan Crusted Salmon with Lemon Glaze
Butter Pecan Chicken
Angel Hair Pasta with Lemon, Kale, and Pecans
Pecan Side Dishes
Maple Pecan Roasted Sweet Potatoes
Kale Pecan Pesto
Green Beans with Caramelized Pecans
Apple Pecan Stuffing
Apple Pecan Chicken Salad
Pecan Crusted Tilapia with Honey Glaze
Pecan Desserts
Pecan Cookies and Bars
Chocolate Turtle Cookies
Pecan Pie Bars
Pecan Sandies
Pecan Pies and Tarts
Chocolate Pecan Pie
Pecan Tassies
Pecan Bread and Scones
Butter Pecan Scones
Sweet Potato Bread With Pecan
Pecan Pie Muffins
Pecan Candies
Cinnamon Sugar Pecan
Southern Praline Pecans
Pecan Clusters
Other Pecan Desserts
Caramel Turtle Brownies
Cinnamon Pecan Waffles
Butter Pecan Ice Cream
Maple Pecan Granola
Pecan Praline Popcorn
Pecan Pie Overnight Oats
Fulfill Your Appetite For Food With 31 Delectable Easy Pecan Recipes
Refreshing your party, movie time, or ​​casual dinner look with these over 30 effortless pecan recipes! The essential thing is that they are all extremely succulent, and everyone will drool!
Toothsome Appetizers With Crunchy Pecan To Begin Your Party
Do you have any idea how to start your hearty party? The recipes with pecan will lead diners to the table perfectly!
This refreshing salad is a perfect combination of gentle natural ingredients. Some little spinach mixed in this apple cranberry pecan salad will balance out all the heavy dishes you ate at dinner.
The crispiness of the apple slices is doubled with pecan halves. Add to that the sweet cranberries, all perfectly bonded by the lemon vinegar oil. The equitable red-green color mixture is also great for your health!
Are you looking for a crowd-pleasing mushroom appetizer for your next party? These toothsome pecan stuffed mushrooms are a great choice. Plus, the preparation and cooking process cannot be simpler.
Soft and leathery mushrooms stuffed with sweet honey-soaked pecans and creamy goat cheese make for a signature aromatic, flavorful dish! Each piece is also bite-size, so it is convenient to enjoy.
If you like the blend of salty and sweet at the same time, this special bacon-based appetizer will definitely be a hit! Figs go so well with bacon, and pecans will add a remarkable taste for both.
The ultimate smoky flavor of bacon rolled up in half a honeyed fig and some crunchy pecan halves – so great to imagine that all are mingling in your mouth!
This easy-to-follow cream cheese appetizer recipe is perfect to serve at the beginning of any party. This spread is a unique combination of salty and sweet flavors thanks to the combination of cream cheese and pecan with the signature praline sauce.
The ingredients that sound like they do not match, but actually, they work excellently together! Mixed in the creamy texture is the crunch of pecan and some Worcestershire. It's fun to chew!
These look like a mess on the parchment paper, but no, it is a flavorsome dessert! This is a wonderful holiday treat with an irresistible sweetness and a cheesy taste! Of course, the crispy texture is the most expensive point.
Moreover, the whole crisps are perfect with a little toasted chopped pecans. Cut these crisps in circles or in whatever frame you have for a better look.
Yummy Pecan Main Dishes To Satisfy Your Hungry Mouth
With these pecans, you can create many irresistible main dishes for your family dinner. Find out these three stunning recipes right now to taste extraordinary!
With only 5 minutes of preparation, you have a toothsome dish with pecan! Especially with the help of a food processor, everything is easier than ever.
The crunchy pecan crust goes so well with the flavorful golden salmon fillet! You can drizzle sour lemon glaze on top when ready to serve.
Butter pecan chicken is a harmonious combination of sweet and savory, creating an appealing taste to eat. The fatty flavor of butter and sugared honey mingle with the aromas of dried herbs and chopped crunchy pecans.
You should cut all ingredients into equal-sized pieces to cook together evenly in the pan. Serve this with mashed potatoes to fully appreciate the flavor of the sauce.
Challenge yourself with this specific recipe for the tastiest butter pecan chicken!
Kale is used for many recipes, and its suitability with pasta is a discovery. The mild bitterness of kale, citrus flavors, and mild chili peppers combine for a unique and refreshing pasta dish.
This beautiful recipe will become even more tempting with the crunchy pecans. Try to make this for a perfect weekend dinner!
Delight Your Main Course With Luscious Pecan Side Dish
Do you have your main dishes, but side dishes are missing? Think pecan recipes right away! This is the best ingredient to make an incredibly appetizing side dish and go well with so many main courses!
This side dish is an excellent combination of the texture: creamy roasted sweet potatoes with crispy pecans. All covered with brown sugar and sweet maple glaze. You only need a few simple preparation steps and an oven!
The look of this dish is also perfect with its attractive glossy finish. The aroma of the perfectly roasted stuff mixed with herbs is really hard to refuse!
Kale and pecans are a perfect match because their flavors complement each other. The bitterness of kale is balanced by the mild sweetness and nutty flavor of pecans.
To make it easier, let a food processor help you puree everything within minutes. This pesto is best served with pasta and many other dishes while still warm.
This noona's recipe will be a great option to make your real kale pecan pesto!
Everyone likes green beans for their pleasant chewy feel. If sometimes you get bored with the traditional way to cook green beans, a refreshing way is to caramelize them with pecans and shallots in brown butter sugar.
At this point, the green beans will become more special than ever with the pecans' crispy texture and the caramel coating's irresistible aroma.
Not only Thanksgiving, but you can also enjoy apple pecan stuffing whenever you want with ease. It's hard to say no to the flavorful combination of butter toast blocks, apple ciders and carrot slices, and nutty, crispy pecans.
This buttery and scrumptious side dish goes well with roast chicken or pork for dinner. It makes your main dish more attractive, thanks to its explosive flavor.
Apple pecan chicken salad is an ideal side dish for the gluten intolerant. The main component is the nutty toasted pecans that pair perfectly with shredded roast chicken and sweet, crunchy apples.
The flavor is neutralized with the light mayo. Finally, squeeze some fresh lime juice and serve this with croissant or bread. This is a healthy side dish and suitable for anniversaries.
If tilapia is your favorite fish, try this recipe right away! Fillets are brought to the next level of flavor with premium ingredients: drenched in sweet honey glaze and nutty crusted pecan.
Moreover, simple spices such as salt and pepper make tilapia's taste rise. It's great to pair this with pasta, rice, or couscous.
There Are Plenty Of Palatable Pecan Desserts For Sweet Teeth!
Not only suitable for savory dishes, but pecan also elevates the taste of desserts to the next level! Check out all the sweet treats you can do with these delightful nuts!
Bring Out Tasty And Sheet-Melling Pecan Cookies And Bars!
The irresistible aroma of toothsome cookies and bars blends with the nutty pecan in these ultimate recipes!
Why not try making a yummy chocolate sweet course in cookie form? Fatty and semi-sweet, it is tempting to invite everyone to try this.
The unique combination of chocolate, pecans, and caramel creates a crunchy, smooth and fascinating cookie. As you chew, you will come across delightful pecans that enhance the flavor of this dessert.
16. Pecan Pie Bars
Enjoy your own pecan pie bars – an easy peasy mouth-watering recipe! These bars have a thick buttery shortbread crust for a crunchy, chewy feel. The filling made of pecan halves is also crispy and equally sweet.
Featuring the traditional flavor of pecan pie, these bars are even more satisfying in bite-size. Not only for Thanksgiving, but you can also enjoy this all year round!
The easy recipe to make these appetizing pecan pie bars will satisfy you!
17. Pecan Sandies
Do you need a little sandier to renew your dessert experience? You can make pecan sandies right away! Their texture is delightful with a crunch of pecans and sandie cookies.
The shortbread-like are not overly sweet, and they will definitely go great with tea. The rich buttery smell is prominent in this cookie, and you will love the gently mixed cinnamon flavor in it, too.
Must-Try Stunning Spongy And Ooey Gooey Pecan Pies And Tarts
When it comes to dessert, you cannot forget the pies, tarts and muffins! The distinctive flavors of these wonderful treats blend well with the crunchy, nutty pecan. Why not try?
Why not combine pecan pie and chocolate chips to reflect a classic taste? You might enjoy this marvelous variation of pecan pie during the Thanksgiving season.
Its taste is similar to the traditional pecan pie, but with a bittersweet characteristic of chocolate chips. They are more harmonious than you think and you will love this experience!
Discovering how to make this amazing chocolate pecan pie right now!
19. Pecan Tassies
As your special occasion approaches, you may want these stunning tarts on your table. With their cute appearance and eye-catching golden color, they will disappear from your plate in no time.
Chopped pecans' nutty flavor and crunchy texture stand out. Besides, you will love the creamy tart base laced with buttery and creamy richness. The medium sweetness of brown sugar lends a moderate taste to these tiny pecan tassies.
Create Mouth-Watering Bread And Scones With Crunchy Pecans!
Here is our wonderful duo: bread and pecan. Their combined flavors are yummy! Hard to find anything more nutty and buttery than that!
The two outstanding flavors you will find featured in this recipe are brown sugar and nutty toasted pecans. All blend with the overall buttery taste of the scones to create a perfect dessert.
Its sandie texture is also exciting to enjoy. The cream in the formula helps the scone not dry out, but also melt in your mouth most satisfyingly.
21. Sweet Potato Bread With Pecan
This is an extremely quick sandwich to make for whenever you have spare time. It is filled with sweet potatoes and nutty pecan for a refreshing bread experience.
The ultimate spongy and moist texture provides a pleasant and comfortable bite. The taste of vanilla blends in every piece along with the irresistible aroma.
These tiny pieces are a combination of spongy muffin texture on the outside and an ooey-gooey pielike center. That is the reason why people call it a pie muffin.
Take one bite, and the sweet filling will melt inside your mouth. And a pecan on top makes your experience even more exciting!
Intensify Your Eating Experience With The Sugared Pecan Candies
Satisfy all the sweet teeth with these honeyed pecan candies! The significant crunchiness of pecan combined in the chewy texture of candie will knock you down from the first try!
If you are allergic to gluten and dairy, try this freezer-friendly pecan recipe. It's so easy to make with just a few simple ingredients and tastes even better than buying at the store. This is also a great gift for the loved ones on a special occasion!
Cinnamon sugar pecan has an attractive appearance with a sweet taste and an undeniably crunchy texture. Although using only egg white and vanilla in a simple way, the fragrant cinnamon can not be faulted.
These sugar pecan candies are so amazingly flavorful, and imagine how easy it is to make them at home!
When you chew these praline pecans, you will feel a little bit candy-like and a little bit cookie-like, meaning it's both crunchy and chewy and also a little sticky. The fascinating texture melts and blends in your mouth right after the first bite..
With the scrummy flavors of brown sugar, fatty whipping cream, and buttery butter spread over crumbs of pecans; this is all it takes to whip up your taste buds!
25. Pecan Clusters
Another dessert that is super easy to make and looks super tasteful on your table: pecan clusters. The sticky chocolate and caramel melting reigns on crunchy pecans.
All ingredients combine to create a sweet and nutty feeling. Of course, the flavor is out of the question, and you can choose your favorite chocolate to create the best of your taste.
Plenty Of Other Palatable Desserts With Dynamic Pecan Flavor!
Yes, there are literally countless other desserts that can be made with pecan, and they are all crummy! Save each recipe for a free day and see what you can do!
Are you bored of regular brownies? Add pecans and it will be a refreshing recipe. Everything is so spongy and moist in each bite. Crispy pecans will create fantastic feelings like never before.
Cake mix helps the baking experience effortlessly. Besides, sugared caramel chocolate chips enhance the signature brownie flavor. Sweet, buttery. and nutty, everyone will want to keep eating!
Cinnamon pecan waffles are appealing both as a dessert and breakfast. It has a crunchy texture on the outside and a soft, smooth texture on the inside. This recipe is suitable for vegans with fresh ingredients.
Nutty chopped toasted pecans and ground cinnamon blend in the waffle for a wonderful scent. To double the flavor, you can top waffles with butter and sweet fresh fruit.
Butter and pecans are two ingredients you definitely have to try in combination because they are palatable! This creamy recipe is special because the butter is first browned for a richer flavor.
Next, the appetizing nutty roasted pecans are combined. Finally, caramel sauce will be perfect for covering these delicious ice cream.
Are you passionate about sweets but still want to eat healthily? Choose now maple pecan granola. This recipe is naturally sweetened to be sure to satisfy your appetite.
When finished, the granola creates a sheet melling buttery aroma mixed with a gentle cinnamon note. The pecans will create a captivating highlight among the oats. This treat can be kept for a whole month.
You need something to munch on while watching Netflix, huh? Try this super easy-to-make praline popcorn! You can add as much pecan as you like this time, so your favorite flavored popcorn becomes even more crispy!
The caramel mixture will make a light sugared cover all over your popcorn kernels and pecans. It is so tasteful even in looks, so this would make a great gift for anyone!
You can create a healthier eating style beginning with pecan pie vegan oats. This is an overnight oat recipe for weight loss, vegans, and gluten-intolerant people.
Enjoy creamy oatmeal with a taste of pecan pie! The flavor is reasonably sweet and extremely rich with coconut sugar throughout every scoop.
Spare Your Time And Make Some Delish Pecan Recipes!
You see, pecan recipes are not only easy to make, but also incredibly exquisite. With all of these fun recipes, you can create countless dishes with your own styled pecan!
Everyone will be very happy if you share these interesting pecan recipes! And don't forget to follow me for any new great ideas. Happy cooking!
Nutrition Facts
6 servings per container
---
Amount Per ServingCalories216
% Daily Value *
Total Fat 15.3g

24

%
Cholesterol 7mg

3

%
Sodium 115mg

5

%
Potassium 279mg

8

%
Total Carbohydrate 19.9g

7

%

Dietary Fiber 3.6g

15

%
Sugars 15g

Protein 2.9g

6

%
---
* The % Daily Value tells you how much a nutrient in a serving of food contributes to a daily diet. 2,000 calories a day is used for general nutrition advice.