Are you finding the best peach desserts to satisfy your sweet cravings? Or maybe you're a loyal peaches fan looking for new ways to turn juicy peaches into something more flavorsome. From now, you'll never worry about what to do with peaches with these recipes.
Does making desserts usually take too much time and effort? I don't think so. All the recipes below won't be too challenging. Even if you're not a skilled pastry maker, you can easily follow the instructions and succeed with the yummiest sweet treats.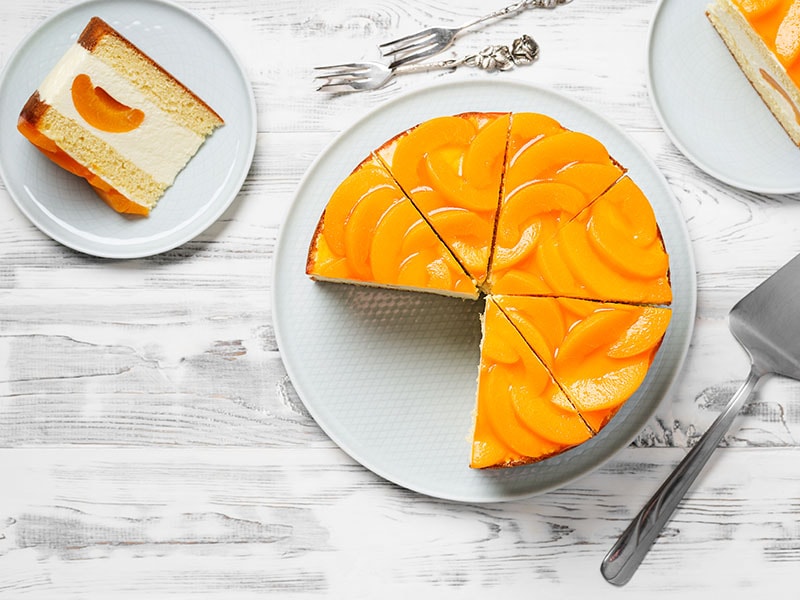 32 Toothsome Peach Desserts To Please Your Sweet Cravings
Most people can't resist the pleasantly floral sweetness of juicy ripe peaches. Besides serving them fresh, peaches can be an ideal component in endlessly delectable desserts. No more waiting, let's discover the ultimate list of the tastiest peach desserts ever!
Total time: 30 minutes.
Whipped Mascarpone peach tart can please your eyes and your stomach at the same time. Its taste is the perfect combo of the salty, buttery, crumbly crust and the refreshing sweetness of the peach topping.
The crust is really quick to prepare, but garnishing the peach slices on top can take some time. However, it's totally worthwhile. I'm sure when your guests see your lovely peach tart, they'll fall in love with it at first sight.
The whipped Mascarpone is also the highlight of the cake. To form the filling, simply whisk Mascarpone, vanilla extract, cream, and sugar in a food processor. Just whisk on the lowest speed until the mixture becomes fluffy.
Total time: 1 hour 20 minutes.
A fluffy and soft bundt cake filled with fresh peach chunks will be the best peach cake to serve whenever you want to satisfy your sugar cravings. The peach bundt cake even looks tastier with the cream cheese icing drizzled on top.
Using fresh peaches in this dessert is highly recommended to enhance the natural and refreshing peach flavor. Chop fresh peaches into chunks and fold in the batter before baking. To drizzle the homemade cheese icing, a piping bag or sandwich bag can help.
Peach bundt cake with glaze is moist, sweet, and full of peach flavor.
Total time: 35 minutes.
It is awesome when you can consume your beloved dessert without worrying that it's bad for your health. Healthy peach crisp is both pleasantly delicious and nutritious. This gluten-free dessert includes some nutritious ingredients like maple syrup, peaches, ginger, etc.
The base of the peach crisp is made with oats and chopped pecans, so the dessert is rich in nutrients and full of nutty flavor. The topping also creates the heaven deliciousness of the juicy fresh peach slices.
The recommended type of peach for this baked crisp is Freestone. But slightly bruised or overripe peaches are also good to use in this case. For storing, keep the peach crisp in your fridge for 3 to 4 days.
Total time: 1 hour.
Peach Kuchen can be the perfect end course for every party. The floral fragrance and the sweet taste of peaches cooperate greatly with the moist and creamy cake. Moreover, preparing peach Kuchen is never a challenge, even for new bakers.
If using fresh peaches, simply peel the skin, discard the seeds, and cut them into 1/2-inch thick slices. It's totally fine when you use canned peaches. An 850-gram can of peach halves is enough for a 12-serving cake. Make sure to let them drain well and slice as instructed.
Total time: 45 minutes.
Can you deny trying an extremely appetizing Galette filled with slightly tender peach slices? The golden brown of the baked crust and the extra-moist peach filling will melt your heart with its perfect flavor.
The recipe is simple for you to follow; all the ingredients are easy to find, and you can easily store the dessert after finishing. These are some reasons why peach Galette is a must-try dish for everyone who loves sweets.
To cut down the preparation time, you can buy store-bought pie crust or just do it ahead of time. Once frozen, both unbaked and baked peach Galettes can surprisingly last for a long time when stored appropriately. A frozen baked Galette can last for 3 months in an airtight container.
Total time: 1 hour 10 minutes.
Prefer something simple but extremely good? This fruity cake is the one for you. Peach buckle, loaded with buttermilk, almond flavor, and sweet ripe peaches, will satisfy your taste buds instantly.
The taste is excellent without requiring too many ingredients or complicated steps. You only have to whisk the baking ingredients to make the batter, transfer to a skillet, top with sliced peaches or sanding sugar, and bake until brown, around 50 minutes.
Total time: 55 minutes.
From now on, you won't have to go to any bakery to enjoy your favorite peach roll cake. Why? You can prepare it at home. You can create a fluffy and moist roll just by making the sponge, the filling, and the smooth, creamy frosting.
The only rule when making the roll cake is you have to follow the steps and use exactly the right amount of ingredients. Amazingly, you can make the dessert 1 or 2 days ahead and store it in the fridge.
For longer storage, you can follow this guide. First, place the cake in an airtight container and freeze it until it chills. Then take it out, cover it with plastic wrap, place it back in the container and keep it in the freezer. This way, you can effectively keep the cake for 3 months.
Total time: 1 hour 5 minutes.
Are you looking for something peachy that you can eat both for breakfast and dessert? If so, peach bread is the one for you. This delicious treat provides a tender, moist, and muffin-like texture topped with a melty peach glaze. How delightful it is!
There are many interesting steps in this recipe, for example, how to peel fresh peaches effortlessly. Start by cutting an "x" mark on the bottom of the peach. Then, soak the fruits in a pot of boiling water for 10-20 seconds. This tip can help you peel the skin quickly.
It's advisable to hand-mix the batter and not over-mix it. You can check the doneness of the bread by inserting a toothpick into the middle. If there's no batter sticking to the toothpick, your peach bread is ready to serve.
Peach bread is so yummy and easy to make.
Total time: 38 minutes.
A mild and flaky bread packed with sweet, chewy peach pieces and vanilla flavor will never disappoint your expectations. You can serve this as a dessert or a sweet breakfast. I'm sure your kids will soon beg for more toothsome peach scones.
To make the perfectly delicious finished peach scones, the batter mixture should be crumbly, and the flour will become moist. Before baking, you have to chill the dough in the freezer for around 20 minutes. This step will help the scones rise perfectly in the oven.
Total time: 35 minutes.
If there are some ripe peaches in your fridge, how about changing them into something so crunchy on the outside but doughy and filled with peach inside. These eye-catching peach fritters can go perfectly with a cup of aromatic coffee in the morning.
These fried peach fritters are extremely easy and quick to prepare. So, they are a wise choice whenever you're on a tight schedule. You can alter their flavor by substituting the peaches for strawberries, apples, or any of your beloved fruits.
Total time: 1 hour 5 minutes.
Peach crumble bars never get old with their incredible deliciousness. They are extremely crispy sweet treats combined with juicy peaches, brown butter, nutty almonds, and a pleasant scent of cinnamon. Try it, and you'll know I'm not lying to you.
This recipe may require many steps, but they aren't challenging at all. Just follow step by step, and all your effort will pay off. Let's invite your friends on weekends and have a fun time together with a plate of peach crumble bars.
Total time: 35 minutes.
You will be surprised at how yummy these peach cobbler egg rolls are when you try them for the first time. The spiced peach cobbler filling inside a crunchy deep-fried roll makes this sweet treat stand out from others. You can serve these sweets on every occasion.
If you struggle when rolling the wrappers, save these ultimate tips. To avoid the wrappers falling apart, slightly moisten all sides of the wrappers with clean water and press hard to the edges. Chill the peach filling before placing it in the wrappers.
Total time: 1 hour 15 minutes.
These cute peach pie crumble bars mix peach pie and peach crumble together. Everyone will love these bars with the crunchy oatmeal topping, the juicy, sweet peach filling, and the salty, buttery base.
To make the tastiest peach layer, coat the chopped peach in lemon juice, sugar, and cornstarch. Fresh Okanagan peaches are the best for this recipe. Add a teaspoon of cinnamon when making the crumble topping to enhance the flavor of the cake.
Total time: 40 minutes.
Turnovers folded with sweet filling are one of the best sweet treats of all time. These peach turnovers will become your family's favorite because of their deliciousness. Astonishingly, there's no need to wait until the peak season of peaches, a can of peach pie filling is all.
Everybody will fall in love with these toothsome turnovers. The flaky baked pastry works well with the sweet peach pie filling and the creamy vanilla glaze. It's better to serve it warm out of the oven or at room temperature.
You can serve these peach turnovers as a dessert or a breakfast meal.
Total time: 50 minutes.
Peach dumplings are a wonderful dessert that will soon become your family's favorite sweet treat. Not only because of their adorable dumpling shape, but the taste is also the flawless combination of vanilla, cinnamon, butter, lemon-lime soda, and juicy peaches.
Are these peach dumplings difficult to prepare? Not at all. To assemble the dumpling shape, you can use crescent rolls, place a large piece of peach on each roll, and roll up. This recipe includes lemon-lime soda to make the sauce. You can use Sprite or any type you like.
These delicious peach dumplings are a good way to end a meal or just serve them at tea time. For storage, place the leftovers in a container or just cover them. They can last for 2 days at room temperature and 4-5 days if you keep them refrigerated.
Total time: 1 hour 8 minutes.
Are you looking for a single-serving cake to satisfy your cravings for sweet food? Let's add Southern peach pound cake to your dessert list. The moist and tender cake is flavorful with juicy peach slices and a scoop of ice cream on top.
To create the moist and dense texture for this pound cake, you should slightly puree sliced peaches before mixing them into the batter mixture. Fresh peaches can turn brown once you bake them. Hence, let's use frozen peaches or thawed peaches for this recipe.
Total time: 1 hour.
Who doesn't love cookies with a crunchy exterior but chewy and full of peachy flavor inside? Peach snickerdoodles are exactly a family-friendly dessert. Even if they are children or adults, they will never get bored of this finger-licking dessert.
Crispy peach snickerdoodles are ready to eat within a few steps. There are some pro tips for you when making the cookies. It'll be easier to let your hands get slightly wet when rolling the dough. Add a generous amount of flour because peaches will leak a lot of liquid.
Total time: 43 minutes.
Peach cake and brown sugar may sound uninteresting, but their addictive taste will make you change your mind. Brown sugar peach cake has two separate layers, but they pair together and form a pleasant taste for the cake. Don't worry, this cake is not too sweet.
The brown sugar caramel frosting is tasty and simple to prepare. You only have to stir some ingredients together, let the mixture come to a boil, and pour it on top of the cake. As for the peach cake, use fresh peaches and peach nectar to bring out the natural peach flavor.
Total time: 6 hours (including 4 hours of refrigerating).
Cheesecake is an old but gold sweet treat; not only children but grown-ups also get addicted to it. Peach cobbler cheesecake is a mix of creamy cheesecake, buttery crumble, and fresh peaches.
The roasted peaches in the center of the cheesecake and the crunchy peach cobbler on top let the flavor go beyond what you expected. Moreover, the cake is loaded with a cinnamon fragrance and a strong caramel-like taste.
Peach cobbler cheesecake is suitable for all parties or family reunions.
Total time: 2 hours (not including the refrigerating time).
Bourbon and cheesecake? They may sound unrelated, yet they are incredibly wholesome. A few drops of bourbon will create an intense flavor for the dessert. Serve this tasteful sweet at your next weeknight party. I bet everyone will keep asking you for the recipe.
This bourbon peach streusel cheesecake is perfect, from the alluring appearance to the super good taste. But if you prefer a non-alcohol sweet treat, you can skip the bourbon and use sour cream as the replacement.
It's best to keep the cheesecake in your fridge until you want to serve it. The cake quality will be the same after 2-3 days, but you shouldn't store it for more than 4-5 days.
Total time: 2 hours (including 30 minutes of refrigerating).
Are you a fan of creamy desserts? Let's whip up a peach ricotta layer cake with browned butter buttercream. This premium sweet course includes a fluffy ricotta-based cake, a bourbon peach jam mixed with raspberry jam, and a nutty buttercream coating.
Believe me, when you serve this to your family and friends, no one can expect you to make it your own. Its look and flavor are completely like a fancy cake at the bakery. Before serving, remember to let it chill for 30 minutes. You can store it in the fridge for 2 or 3 days.
Total time: 33 minutes (not including the refrigerating time).
Haven't you got any ideas for your dessert yet? Fresh peach delight will melt your heart with its pleasant deliciousness. The highlight of the layered dessert is the buttery crust, followed by the fresh peach jello filling and a creamy cheesecake layer.
You know what? This fresh peach delight is extra simple. Start by baking the crust, making the filling with fresh peaches and peach jello, and preparing the top filling with cream cheese, vanilla, and sugar. You can find all of the ingredients in any local baking store.
Total time: 2 hours (not including the refrigerating time).
If you've never tried or heard of peach pretzel jello salad before, you may find this dessert totally weird. The name "pretzel salad" has been around since the 1960s, and why people call a dessert "pretzel salad" is still hidden.
Do not think this dessert is bland. After the first bite, I bet you will fall for its heavenly yummy taste. This dessert includes a base layer of a pretzel crust, a thick layer of cream cheese, and peach jello on top.
Let me tell you about its incredible flavor. The pretzel crust is buttery, crunchy, and moderately salty. Next, there's the sweetness of cream cheese and the addictive flavor of peach jello.
Total time: 5 minutes (not including the refrigerating time).
Let's imagine serving a bowl of peach dessert salad and watching your favorite TV show. It's wonderful. This no-bake sweet salad is a crowd-pleasing dessert to serve at family reunions and potlucks. The fluffy and marshmallowy texture of the salad is outstanding.
The key to achieving success when making the peach dessert salad is to keep the cream cheese at room temperature. There are some handy tips for this. You can wrap the cheese in foil and soak it in warm water for 10 minutes or microwave it for 15-20 seconds.
Total time: 4 hours 15 minutes (Including 4 hours of refrigerating).
It's best when serving a large bowl of peach jello fluff salad at weeknight parties, potlucks, or anytime you like. Besides being so fluffy and yummy, the peach flavor of the salad is doubled because it includes both fresh peaches and peach jello.
This fluff salad dessert requires making pudding from scratch because it helps to improve the texture better than instant pudding. Some add-ins for this salad include sliced bananas, well-drained canned pineapple, or any of your favorite fruits.
Total time: 6 hours 35 minutes (including 6 hours of refrigerating).
Peaches frequently come into season in the summer, and it's also the perfect time to assemble old-fashioned peach ice cream. The natural vivid color, the refreshing flavor, and the chilled feeling will all cool off the summer temperature.
You can use these following tips to prepare the best homemade ice cream. Freeze the custard mixture for at least 4 hours, then churn in an ice cream maker. After that, keep going to chill the churned ice cream for 2 more hours and serve.
Your kids won't ever get bored of yummy peach ice cream.
Total time: 4 hours 15 minutes (including 4 hours of freezing).
Turning fresh and ripe peaches into cool, creamy, and refreshing popsicles is a great idea. This healthy frozen snack is super simple and quick to whip up, only taking 15 minutes.
To prepare peach popsicles, you need no more than four ingredients: ripe peaches, vanilla yogurt, almond milk, and honey. Feel free to substitute or add more ingredients if you like. Some add-in recommendations are shredded coconut, walnuts, granola, etc.
Here are some tips for removing the popsicles from the mold. Let the warm water run over the bottom of the mold. Take out the popsicles, place them on a parchment-lined baking sheet, and chill for 30 minutes.
Total time: 1 hour 12 minutes (not including the refrigerating time).
A multilayered dessert loaded with peach and vanilla pudding will immediately blow your mind. This peach crisp trifle is a combination of peach crisp and peach cobbler, but still super easy to be done.
Here is a small note to prevent cut peaches from oxidizing. After dicing the medium-sized cubes, place them in a bowl, then add sugar and lemon juice. This way, you can effectively keep diced peaches from turning brown.
Total time: 30 minutes (not including the refrigerating time).
I'm not going to lie to you, roasted peach pudding jars are a big part of any type of party, holiday, crow-gatherings, or as a single-serving dessert. The mini pudding is a layered sweet treat packed with tons of fruity flavors.
Why is this a must-try? The combined flavors of roasted peaches, vanilla bean pudding, and granola will immediately melt in your mouth. The star of this pudding is the roasted peach topping. You can feel the sweet peaches and the cinnamon scent.
This is how to create the most delicious roasted peach for the pudding. Toss peaches in coconut oil, coconut sugar, and cinnamon. Then place them on a baking sheet and roast for 20–25 minutes in a 425°F preheated oven.
Total time: 30 minutes.
Rice and pudding? Yes, you're not mistaken. If you have never tried this rice pudding before, I highly recommend it because its flavor will blow your mind. This peach rice pudding is easy to whip up in the nick of time.
The pudding is creamy when you serve it right away after finishing. If you want to make it thicker, wait a little longer and let it cool. You can add some slices of peach and sprinkle cinnamon on top to bring out the flavor.
Note that you can store the pudding in an airtight container and keep it in the fridge for up to 4 days.
Total time: 1 hour 15 minutes.
The taste of Tennessee peach pudding is absolutely good and unforgettable. That's because of the juicy peach filling and a moist topping made from butter, sugar, and water. With some basic ingredients, this recipe allows you to create a wholesome peach pudding dessert.
As I said, this pudding includes two separate parts: the filling and the topping. But don't stress out about the steps, they're extremely easy to follow. You only need to mix, whisk, and bake. Let's try and check it out!
Total time: 3 hours 13 minutes (including 3 hours of refrigerating).
Simple is the best. Thus, peach mousse is the tastiest dessert for parties, get-togethers, or simply dinner. Fresh and juicy peach puree makes the mousse more flavorful, refreshing, and rich in nutrients. You can find light sweetness and soft texture in this treat.
Making peach mousse is simple with some easy-to-find ingredients. Serving in small glasses will turn your homemade peach mousse into a fancy sweet course at luxury restaurants. Remember to top it with some sliced peaches and fresh mint leaves, so it'll look prettier.
Peach mousse is the perfect dessert to serve in summer.
Let's Whip Up Peach Desserts For Your Sweethearts
It's best to treat your beloved ones with homemade peach desserts. From cakes and puddings to ice cream, peaches can go with all types of desserts. Don't worry if there's an off-season of peaches, canned peaches still work well for some recipes.
How many of these peach desserts have you tried? Rank them, and let me know your feelings in the comments. Just by clicking the share button, you've let more peach lovers approach this recipe. Remember, there's still a wide range of useful posts waiting for you!