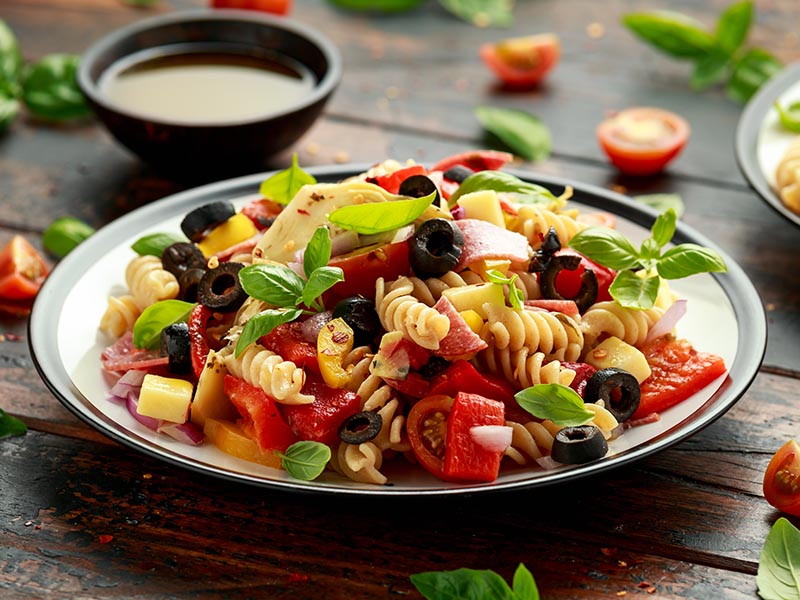 I truly believe that pasta side dishes are some of the best ways to add body and texture to your entire meal. Since pasta is filling on its own, you can focus more on the flavors of the main course.
Pasta is a common ingredient in most American households, the star of many meals. If there is a problem these pasta side dishes can't solve, then you're not eating enough of them. That is what I kept thinking as I was writing this article. Now I'll feature it as a side dish.
Follow these simple instructions to make the best pasta side course ever!
Having Pasta As A Side Dish Is A Brilliant Idea
I know you're much more accustomed to having pasta as a main course since the high amount of carbs makes them perfect recipes for enjoying coconut shrimp, fried chicken, and many savory dishes. These side dishes are easy to make and can be stored in the fridge.
Total time: 35 minutes.
Mac and cheese, or rather just "mac n cheese", remains the undying symbol of the American household. It is a dinner staple that has been around forever. Adding bacon to this classic combo will just make everything so much better.
Each household has its version of the dish, with different sides that complement mac and cheese however way you want. Typically, the saltiness and smokiness of the bacon elevate the creaminess of the mac and cheese in the best way.
This pasta side dish is fairly simple with only a few ingredients such as macaroni, cheeses, milk, and the star of the show, bacon. You would combine all the ingredients on the stove and finish in the oven for the creamiest side dish ever.
Bacon mac and cheese is the most addictive comfort food.
Total time: 30 minutes.
What is orzo? Orzo is a pasta type with a shape resembling a large grain of rice. Orzo belongs in the "pastina" category, meaning "little pasta". This is why many people unfamiliar with orzo often mistake it for rice.
Because of the orzo's size and shape, you can mostly find it in many soup dishes. But this parmesan spinach orzo is an outstanding exception. It is creamy, salty, and umami. You can pair it with some toasted baguette for texture.
If there is one thing you can't have enough of, it is parmesan cheese. Use baby spinach for this recipe because it has a milder flavor and is much softer than the mature variety. Bind everything together in the pan, and you have a guaranteed party favorite.
Total time: 18 minutes.
Southern pasta salad is a delicacy everyone must try as part of the famous southern hospitality. Defining characteristics of southern-style food are that they love adding corn and ranch. In comparison, the corn and the ranch contribute to a creamy flavor that is hard to beat.
This pasta salad is a seasonal delight for spring and summer when the staple southwestern vegetables are coming in season. Red onions, tomatoes, and bell peppers are all perfect cures for the summer heat, especially when paired with cold, chewy pasta.
An advantage of pasta salad is that it enjoys sitting in the fridge. Assemble all the components to this pasta salad and let it sit in the fridge overnight before serving. The resting period will allow all the flavors to mingle and the pasta to soak up.
Total time: 20 minutes.
Pasta chips are the new modern way you can enjoy pasta. When you think of chips, pasta would surely not be your first choice of ingredients. But contrary to that belief, pasta makes an excellent snacking treat with its starchiness and ability to soak up flavors.
The process behind this interesting creation is very straightforward. You would parboil the pasta shape of your choice (penne and farfalle shape is the most common contender) until the pasta is al dente (it means the pasta must still be firm when you bite into it).
Take the partially cooked pasta, and toss them in the seasoning of your choice. This recipe calls for the flavors of garlic and parmesan cheese. Then, you would line up all the pasta in one layer and bake them in an air fryer until golden brown and crispy when you bite into them.
Pasta chips are the newest trend among pasta side dishes.
Total time: 40 minutes.
Here comes another side dish with orzo. But this time, I'll use asparagus instead of spinach. These crunchy veggie stalks are my favorite ingredients in spring. Combined with sour lemon, this recipe brings a wonderfully refreshing to your meal.
As for the cheese, I use the same parmesan as the previous orzo recipe. One small note: Only pick the fresh cheese. Other products won't provide enough rich and garlicky flavor to your dish. Don't forget to add some lemon juice when whisking parmesan with cream cheese for the sauce.
Total time: 1 hour and 15 minutes.
This Pasta E Fagioli soup will be all you want to eat after you have tasted this recipe. Pasta E Fagioli directly translates to pasta and beans, the two most prominent ingredients in this soup. With the addition of cheese and vegetables, this soup is intensely delicious.
You can use any pastina (small pasta shapes) you want, but my favorite is conchiglie (small shells). The ideal way is to make this soothing recipe with Cannellini, though you can have freedom of choice regarding your favorite soup legume.
The trick to making the best Pasta E Fagioli is to use a lot of "soffrito" (a combination of carrots, celery, and onions). When making soup, you should always aim to use broths or stock to add more flavor depth. Add a parmesan rind while you're at it to make the taste more complex.
Total time: 45 minutes.
This item is another wonderful soupy addition to our list of pasta side dishes. I was first introduced to Minestrone pasta soup as a side dish and can vouch that it is a great addition to almost any meal. It is rich in tomato and vegetables and tastes like an Italian harvest.
Minestrone is a great way to diversify your menu of pasta soup for a healthy diet. This soup is inexpensive and quite simple to make. You will need some good vegetable stock to get everything going, as just using water will make your soup bland.
This soup packs a lot of essential nutrients for a meal. You have protein from the beans, fiber and healthy minerals from the vegetables, and carbohydrates from the pasta. You can toast some good baguette bread in olive oil and enjoy it with this beautiful soup.
This is the best Minestrone soup you will ever make.
Total time: 20 minutes (excluding 2 hours of chilling in the fridge).
This pasta salad is packed with seafood and is not for the faint of heart. Since it's a salad, this dish still contains lots of vegetables besides seafood, mayo, and carbohydrates.
When you have a lot of seafood such as crab meat or shrimp laying around and are unsure how to best use them, this is your answer. Boil your pasta and rinse the excess starch, so it doesn't thicken your dressing sauce too much.
This dish comes together in a blink of an eye. It doesn't require a lot of cooking except for boiling the pasta and the seafood (if you don't want to eat canned seafood). Store this salad in the fridge overnight to let the ingredients meld their flavors together better.
Total time: 30 minutes.
If you decide to have some fish for dinner, this bright and tangy lemon pasta will be the ideal side dish. The combination of olive oil's earthy flavor and the lemons' freshness will make a stunning dish you want to return for more.
The best thing about this pasta is that you can make the sauce in advance by whisking the oil, parmesan cheese, and lemon together until they emulsify. Keep the sauce stable in the fridge, and toss the freshly boiled pasta in the cold sauce right before you serve.
Total time: 20 minutes (excluding 30 minutes of in the fridge).
This Mexican street corn pasta salad is a familiar dish to make with lime and cilantro, two signature ingredients of many Mexican dishes. The sweetness from the corn combines harmoniously with the chewy texture of al dente pasta.
You'll want to use my favorite pasta shape for this recipe, the rotini pasta. This pasta shape looks like a wine opener and even bears the name corkscrew pasta from time to time. The deep ridges from the spirals create the perfect pocket to hold all the sauce and bits of corn.
Pasta, combined with cheese and mayo, creates such a rich and creamy taste. You will surely want the brightness that lime has to offer to contrast all the richness. The herbaceous flavors of cilantro also help balance out all the heavy flavor profiles.
Total time: 15 minutes.
Whenever I think of the abbreviation "BLT", I immediately associate it with the bacon, lettuce, and tomatoes sandwich, which is the American staple. So you can imagine my pure joy when I stumble upon this BLT pasta salad recipe.
Staying true to its name, this BLT pasta salad has bacon, chopped lettuce, and sliced cherry tomatoes. Furthermore, it has spiral pasta, a creamy dressing, and shredded cheese. It can almost be a deconstructed BLT sandwich if you add some croutons on top.
I love how this pasta salad is an unexpected twist on the classic sandwich. Not only do the flavors bring back a lot of nostalgia, but they are also not too overpowering of one another. This pasta salad is a great dish to whip up whenever you don't know what to eat.
BLT pasta salad is easy to make and is suitable for any summer occasion.
Total time: 25 minutes.
"Aglio" means garlic, and "olio" means oil, more specifically, olive oil in this recipe. This pasta side dish is an excellent display of simple but elegantly cooked ingredients.
I want to clarify the confusion between prosciutto and bacon. Bacon is from the pig's belly, and prosciutto is from the hind leg. For this pasta dish, you won't need the extra fat from bacon, so prosciutto is perfect.
For this specific recipe, you will want to use the cavatappi pasta (a long and spiral tube) or the fusilli lunghi (long and spiral pasta strands). The distinctive shape of these two types is for holding on to more of the sauce with every bite.
Total time: 1 hour and 30 minutes (excluding 8 hours to set in the fridge).
Traditionally, "Arancini" is a way to use up some leftover risotto (short-grained rice cooked with broth). But as fusion cuisine prospered and took over the world, it gave birth to the interesting mac and cheese Arancini.
To make mac and cheese Arancini, you will want to use some leftover mac and cheese. This is because as the mac and cheese cool down, the cheese thickens. The cheese will act as a binding agent to hold the macaroni ball together.
If you are new to making Arancinis, the one thing to keep in mind is the temperature of the balls. The more you handle the macaroni balls, the more time they will have to warm up to body temperature. You don't want that.
If the balls are warm as when you fry them in oil, the cheese will start to melt before the coating layer sets. This meltage will cause the balls to lose their shape or completely disintegrate. That is why you want to chill the macaroni balls before frying them.
Dredge the balls in eggs, flour, and crushed crackers and fry until they are golden brown.
Total time: 20 minutes.
This rich and caloric recipe is the most suitable side dish to keep you warm in winter. I guarantee that you will want to make a lot of this creamy pasta because they tend to disappear off the plates very quickly.
Theoretically, any pasta shape would be perfect for this recipe, but you would benefit from smaller, more bite-sized varieties. Something like penne or rotini does the job well for recipes like this.
You can also apply the techniques in mac and cheese to make this recipe. The trick is to make a cream sauce first, add the parmesan cheese, and eventually, fold in al dente pasta and herbs of your choice. It is that simple.
Total time: 30 minutes.
This particular pasta recipe has been the center of many debates, garlic or no garlic, cream or no cream, adding bacon? I am here to guide you and settle any confusion you may have about this delicious Carbonara pasta.
I will tackle the elephant in the room first. Authentic Italian Carbonara does not contain any garlic or cream. The creaminess of this pasta comes from the egg yolk component of the sauce mixed with hot pasta water and parmesan cheese.
As for the cured meat, Italians will surely disapprove of your use of bacon in this recipe. Natively, people would use Guanciale instead of bacon because it comes from the pig's cheek and has a higher fat content. Guanciale also has more distinctive peppery flavors.
Pasta Carbonara only takes a few minutes to make.
Total time: 20 minutes.
This pasta salad recipe is rich, mustardy, and packed with many textures and flavors. The term "deviled egg" refers to the mixture of boiled egg yolk mixed with mayonnaise, spices, and mustard, which is the general theme for the entire pasta dish.
Normally, the deviled egg salad is a delicious side dish in its own right. The starchiness of the dish is perfect for trying a scrumptious cold pasta with spicy mustard. Adding macaroni to the mix will only enhance the overall effect of this side dish by giving it more substance and body.
This pasta dish is perfect for potlucks and to pair with grilled meat. Make sure you top everything off with a light dusting of smoked paprika to spice things up. You can also serve this dish cold after chilling the salad in the fridge for a few hours.
Total time: 25 minutes.
This recipe is the easiest, most versatile pasta side dish with cream cheese as one of the main ingredients. If you are stuck on a pasta side dish for dinner and don't know what to make, try making this cream cheese noodle.
Cream cheese has a sensational flavor profile when you mix in some garlic, salt, and pepper. The trick to thinning out the solid block of cream cheese is not using the water, which will make your pasta bland.
Use the water leftover from cooking the pasta. It is considered "liquid gold" to any pasta maker. Keep in mind that most pasta waters tend to be heavily salted. That is why it is a rule of thumb to always taste your food before you serve them.
Total time: 20 minutes.
This staple is the best way to whip up a recipe featuring penne pasta with a fantastic taste. The "vodka" in the name signals a good time but not the kind you are thinking about. Unfortunately, you won't get much buzz from the alcohol in the sauce because it cooks off quickly on the stove.
If you are not a fan of tasting the alcohol in the sauce, don't worry. You won't even be able to tell the difference. The vodka only intensifies the tomato flavor and gives the entire dish an overall "bite". You will surely enjoy this peculiar dish.
The most famous rendition of this dish is "Penne alla vodka". Be that as it may, you are more than welcome to use any pasta on hand, and this dish will work. Also, include a healthy dollop of cream because the tomato sauce loves cream.
Make restaurant-quality vodka sauce pasta at home with this recipe.
Total time: 2 hours.
Baked ziti is a classic Italian American dish that has fed thousands of mouths and nourished many nostalgic souls. Baked ziti is not hard to get right, but there are a few caveats that you should remember when making this comfort side dish.
I liken baked ziti to "lasagna but with a different face". It is chewy pasta mixed with a tomato and meat sauce, with a healthy sprinkling of various cheeses such as ricotta, parmesan, and fontina.
The most common issue you will run into when making baked ziti is overcooking or burning the pasta in the baking process. The pasta should be al dente before entering the oven so it can finish cooking in the sauce.
Total time: 45 minutes.
I bet you haven't seen a combination of a dish made with goat cheese featuring tomatoes and pasta. This baked pasta dish comes together in the oven simultaneously, with no long process and no special cooking skills. You only need a heat-proof baking dish.
Goat cheese is much softer and more tart than regular cow milk cheese. You might want to keep this in mind when you cook it with cherry tomatoes since the latter can also be quite sour. Drizzle the goat cheese with some olive oil, then sprinkle oregano and chili flakes on top.
For the dish, you will want to use rotini pasta. The deep spirals and ridges hold on to the cheesy sauce better. The secret of this pasta dish is the spices that enhance the tomatoes' natural taste, such as garlic, oregano, and black pepper.
Total time: 30 minutes (excluding 30 minutes to chill in the fridge).
No list of pasta side dishes will be complete without at least one mention of pesto. Pesto is the best way to honor the taste of good olive oil and fresh basil. A pesto pasta salad is just what you need for a hot summer outdoor party.
The key to a good pesto is to make it by hand. If you've got a family recipe for pesto, that would be perfect. But if you are short on time, feel free to use the premade stuff at the store. Pay extra attention to selecting the best quality of pesto you can find.
For this recipe, you won't need the stove for anything except boiling the pasta. Toss all the ingredients in enough pesto to coat everything evenly. You can serve this salad right away or store it in the fridge until you are ready.
Follow these simple instructions for a delicious pesto pasta salad.
Total time: 20 minutes.
I think we can all agree that Cajun seasoning makes everything better, and that includes macaroni salads. You can serve this salad immediately after you assemble all the ingredients or chill the salad overnight and thin out the sauce before serving.
The pasta salad uses macaroni, but you can substitute it with any small pasta shape you have on hand. The dressing is mayo mixed with mustard, spices, olive oil, and a few more aromatics. You will also find boiled eggs, celery, and onions in this salad, which adds more character.
When the pasta finishes boiling, you should take the extra step of rinsing it under cold water to wash off the extra starch, which will thicken the dressing too much. The same will happen if you store the salad in the fridge before serving it. Thus, you need to thin the cold salad dressing out with water.
Total time: 21 minutes.
Bruschetta isn't a popular name for pasta salad but a tomato toast appetizer. Now I'll show you how to take those distinctive flavors from the Bruschetta toasts and transfer them to a pasta side dish that you can whip up in no time.
A few benchmarks of a good Bruschetta are the best quality tomatoes, basil, and olive oil you can find. You will find all those elements in this pasta salad, along with some white wine vinegar (more tart than red wine vinegar) and classic Italian seasoning.
Before you serve the pasta salad to your guests, drizzle the remaining dressing on top. If you decide to chill the pasta salad before serving, add only half the dressing ahead of time. This salad is delicious at room temperature and even more so when the salad is cold.
Total time: 30 minutes.
How do you make a pasta salad distinctively "Greek"? Load the salad with a good quantity of olives, feta cheese, and oregano. These ingredients are the base of many Greek salad recipes you can find out there.
This Greek pasta salad is perfect for any occasion because it is not overbearingly rich. It has a bright, mildly floral, and zesty flavor. You can't go wrong with pasta, feta cheese, and fresh veggies.
The dressing of this pasta salad has a looser consistency than other pasta salads. Don't mix it with the pasta ahead of time. Instead, prepare every component separately ahead of time and mix them right before serving.
Total time: 17 minutes.
"Cacio E Pepe" directly translates to "cheese and pepper". This name is because you will taste both of those elements predominantly when you first bite into them. Cacio E Pepe is the best simple pasta dish for cheese-lovers aside from "mac and cheese".
When you first read the recipe for this pasta side dish, you will think, "that is a lot of black pepper". I can assure you that you will need all the black pepper you can get to cut through the rich dairy and cheeses in the sauce.
You can cook the pasta until it is al dente and transfer the noodle straight into the mixture of butter, pasta water, and cheese. Add some pasta water to thin out the sauce and give it a better shine. Remember to serve the pasta with some more cracked pepper to impress your guests.
Learn to make this classic Italian Cacio E Pepe pasta in the comfort of your home.
Total time: 20 minutes.
This yummy and easy farfalle recipe is one of my top choices to serve to my guests in the summertime. All the ingredients compliment each other so well. I usually turn to this recipe whenever I get my hands on some good-quality basil and tomatoes.
If you want your pasta salad to look decoratively festive, you should opt for the farfalle pasta (bowtie pasta). I have a preference for rotini (corkscrew pasta) or elbow pasta, but the decision is in your hand.
You can and should certainly make this pasta salad in advance. The pasta will soak up all the flavors from the basil dressing and the marinated mozzarella balls. You might want your pasta to be al dente so that it's not mushy by the time you serve your salad.
Total time: 25 minutes (4 hours of chilling time).
Dill pickle is one of America's finest readily available canned food. When you mix it in with a pasta salad, it gets much better. Not to mention, this recipe is a big yes when you need a side dish for your spring or summer parties.
And if you wonder what causes a slight kick in this salad, it's the Sriracha. But you can opt for other hot sauces. Remember to let the pasta rest in the pickle juice for several minutes so that the flavor can soak thoroughly.
Pasta Side Dishes Never Cease To Impress
I guess all I have to say now is that pasta is one of the most versatile ingredients in the kitchen. Pasta makes a great appetizer, main entree, and side dish. As long as you know what you are doing, pasta side dishes will not disappoint.
If you like this compilation of various pasta side dishes, make sure you support more content like this by liking, commenting, and sharing this article with your friends. See you again soon! Let me know how your pasta side dishes turn out.