If you are looking for the best pasta sauce recipes to treat your loved ones, you have come to the right place. Of course, store-bought sauce is accessible, but making it from scratch is more interesting. The ideas below will solve your pasta night with many options.
The best thing about the homemade sauce is mixing, matching, and experimenting with new flavors. Take advantage of the ingredients available at home, and you'll be surprised to know how delicious your sauce can be.
Surprise your guests with the various sauces every time you're a host of pasta night. This list has everything you need, from marinara and alfredo to vegan sauce. Take a slow step and try from the basic recipe to the mind-blowing one.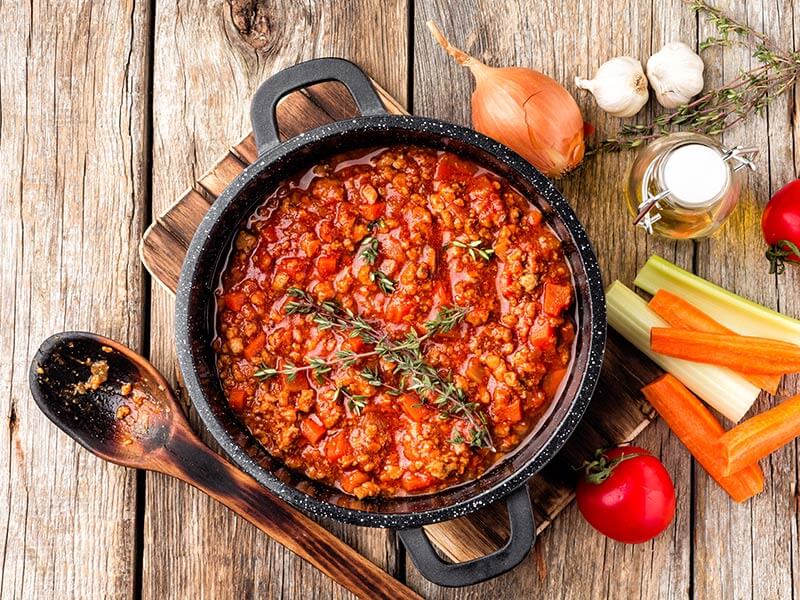 You Will Love These Pasta Sauce Recipes
After a long day at work, complicated cooking only makes you more exhausted. These sauce recipes come in handy for a quick and flavorful pasta dinner. Bookmark this collection and make them become your family dinner staples.
Total time: 1 hour and 5 minutes
Store-bought marinara is always available but making it from scratch is an absolute pleasure. Making this Italian marinara sauce is easy peasy.
Known as "Sunday Gravy" in America, it perfectly blends onion, basil, and garlic. An authentic marinara sauce should be thick, chunky, and full of tomato flavors.
For the best results, keep the flame as low as possible until the sauce reaches your desired consistency. Remember to stir it once in a while to prevent sticking to the bottom.
Nothing can beat the classic marinara sauce, so give it a try.
Total time: 3 hours and 10 minutes
Are you ready to kick your pasta nights up with this arrabbiata sauce? The Italian word "arrabbiata" is translated to "angry", referring to this sauce's spiciness. The heat of arrabbiata sauce comes from red pepper flakes.
Thanks to the long-simmering, the flavor gets more profound, and the heat will be on another level. To control the heat of your sauce, use less or go all the way with red pepper flakes.
Besides the heat, the arrabbiata sauce has a rich and sweet taste from canned San Marzano tomatoes. Meanwhile, the Italian herbs and spices bring out the solid earthy notes.
Use quality tomatoes and tomato pastes for a successful batch of arrabbiata sauce. Also, leave the fresh herbs to add until the end of cooking to prevent the bitter taste.
Total time: 55 minutes
This Pomodoro sauce only needs five ingredients to make any pasta enthusiast's dream come true. Starring juicy tomato, aromatic olive oil, garlic, and a few more, this sauce pleases your taste buds with the most authentic Italian flavor.
"Pomodoro" means "tomato" in Italian. A good Pomodoro sauce should include high-quality Italian olive oil, the juiciest tomatoes, and the freshest herbs.
Marinara and Pomodoro share similarities in their ingredients and origin, so people often mistake them for each other. But in fact, this sauce is thicker than the marinara.
To make it more filling, add sausage or ground meat. Use a more diverse combo of herbs if you want. For a bolder flavor, a ½ cup of wine will do. Note that this recipe is only for 3 – 4 servings, so double the ingredients if you plan to serve a bigger crowd.
Total time: 55 minutes
When it comes to unique yet flavorful pasta sauce, you have to give this vodka sauce a thumbs up. Tomatoes, vodka, and cream are the essential ingredients of this deliciousness. Don't worry; the sauce is kid-friendly.
As the sauce simmers, the alcohol in the liquid will evaporate while the vodka-rich taste remains the same. Its sharp flavor will balance the sweetness of the tomatoes and the cream without making anyone tipsy. However, if it bothers you, skip the vodka and try pasta water instead.
This vodka sauce is a nice partner for lasagna and ravioli. This recipe takes about 1 hour from start to finish, but you will spend most of the time simmering. There are no special skills involved, so give it a try.
Learn how to make the famous vodka sauce since its flavor won't disappoint you.
Total time: 10 minutes
Next is a lemony and garlicky sauce perfect for serving a seafood pasta dish. This keto-friendly sauce is made of white wine, lemon juice, butter, and others. As a bonus point, this sauce will please those who follow a low-carb or gluten-free diet.
Remember to pour your cream slowly into the hot sauce, or the heat will cause it to curdle. For a smoother texture, try dried herbs instead of fresh ones at a ratio of 1:1. Plus, it would be better to use light cream instead of heavy for a lighter consistency.
If you prefer something other than pasta, try pairing this lemon sauce with steak, salmon, seafood, or chicken.
Total time: 30 minutes
Eating healthy is never this easy when you get this spinach green pasta sauce. Instead of salad, this spinach pasta is a nicer way to consume more greens. The green color of spinach is guaranteed to draw a lot of attention.
Aside from spinach, this sauce has Pecorino for a more complex taste. However, this cheese is a bit salty, so you only need to add ½ teaspoon of salt. Fresh basil, lemon juice, and other seasonings are other flavor enhancers.
When the ingredients are ready, blend them in a blender for several minutes. Thus, you can prepare this sauce the night before and save it for the next lunch or dinner if you want. Seal the unused sauce in an airtight container and keep it in cold storage for 2 – 3 days.
Total time: 1 hour and 5 minutes
This butternut squash brings you the best of fall flavors with roasted garlic, thyme, and sage. Plus, it's meatless and full of vegetables, ideal for a quick and healthy weeknight dinner.
The sauce is sweet, creamy, and a little savory. Roasted garlic will add extra natural sweetness to this goodness. And for more depth of flavor, don't forget to salt your water when cooking the pasta. The refrigerated cheese ravioli works best here, but any pasta will also do.
Make a big batch and save it for your weeknight dinner. When in need of some pasta, reheat the sauce on the stove over medium heat. To thin out its consistency, use broth or cream. Also, add salt to taste after the sauce is heated enough.
Total time: 25 minutes
This tomato cream sauce is a welcome makeover from traditional tomato sauce. But don't worry; it's super easy to make. Some call it pink pasta sauce or rose pasta sauce due to its light pink color resulting from red Mariana and milk.
The tomato cream sauce with cream, milk, and spices accent your pasta dish perfectly. Alternatively, heavy cream will help your sauce cling to pasta noodles.
For serving, this sauce is perfect for all dishes using rigatoni, penne, spaghetti, or any other pasta. Shredded Parmesan and basil will make your pasta more complete and restaurant-worthy.
Total time: 10 minutes
Take your taste buds on an Italian vacation with this homemade basil pesto, turning this sauce into a savory side to have along with chicken tenders or an indispensable choice for pasta. A perfect basil pesto sauce should have a perfect green color resulting from the fresh basil leaves.
This famous relish has a nutty, cheesy, and herby flavor. The nutty flavor is thanks to the toasted pine nuts. Meanwhile, the cheesy taste comes from Parmesan cheese. With good quality olive oil, rest assured that your pesto also has a pleasant grassiness.
The homemade version is free from artificial preservatives. Thus, it can stay good for about one week in cold storage. Jarred pesto lasts a bit longer, but molds may grow eventually. Another option is freezing pesto in ice cube trays for more extended storage.
Do you know how to make basil pesto like a true Italian? Check it now!
Total time: 12 minutes
How about creating this easy and delicious brown butter sauce for the next pasta meal? In about 12 minutes, this six-ingredient sauce will be table-ready.
Butter can take some time to brown. So, I suggest cutting it into pieces to reduce time and ensure even cooking. Also, make sure to stir the butter regularly. This way, your butter won't burn during the process.
This sauce tastes best with stuffed pasta like ravioli, gnocchi, or tortellini. It's already rich in flavors, so you don't need to add anything else. However, extra Parmesan cheese will double your joy. Use sage leaves, basils, or any herbs you want.
Total time: 15 minutes
This creamy garlic Carbonara sauce is rich and smooth, ideal for any pasta, veggies, and more. Carbonara is an Italian sauce with pork, egg, and cheese. However, today's recipe is a nut-free vegan version, so there will be a change in ingredients.
Unlike the classic Carbonara, this version contains oat cream, garlic, and nutritional yeast. The black salt will recreate the egg flavor like in the original. Adding liquid smoke will give the sauce a smoky flavor, but it's not compulsory.
To make this sauce, heat the pan with oil or cacao butter and fry the garlic. After three minutes, toss all the ingredients and cook for about five more minutes. In the meantime, you can prepare the pasta so that they can finish simultaneously. Top the sauce over the pasta and enjoy.
Total time: 15 minutes
This pumpkin sauce brings a fall and Halloween vibe to your pasta rotation. It works wonders with fall spices and coconut cream. Not to mention, the vibrant orange color will trick the kids into eating more veggies.
This 163-calorie sauce is both healthy and delicious. Pumpkins are rich in beta-carotene, vitamins C, and fiber. As a result, consuming this sauce is good for your eye health. It'll boost your immune system as well.
For a dairy-free version, skip the cheese, or use vegan cheese instead of Parmesan. Make your sauce healthier with cooked and pureed carrots. If pumpkin is not your preference, switch to butternut squash puree since it's equally delectable.
Let's make your pasta night more memorable with this bright pumpkin sauce.
Total time: 25 minutes
This vegan alfredo sauce is a step up from the classic version. It's creamy, luscious, and full of veggies. All you need are some cauliflower florets and cashews to create this flavor bomb.
A successful sauce should be thick and creamy, but you're welcome to adapt its consistency. If it looks thin, thicken the sauce by cooking for extra minutes. Use cornstarch slurry to make it extra thick.
The ultimate way to use Alfredo sauce is by pairing it with pasta. Fettuccine noodles will be the best option. To save time, make the pasta and the sauce simultaneously. Top your dish with parsley, red pepper flakes, or vegan Parmesan cheese for a better experience.
Total time: 10 minutes
You will fall hard for this walnut version if you love irregular Italian pasta sauce. Salsa Di Noci is a creamy sauce made from walnuts, garlic, and a few more. Serve it over your pasta for an easy dinner.
Best of all, only a blender or food processor is enough for this recipe. The only knife work is cutting the crust off the bread. Then you just need to toss all the ingredients in the food processor and blend until the texture is smooth but thick.
Because this sauce is cream-free, white bread is the key to making it thick and creamy. The pasta water is also a thickening agent to adjust the sauce's consistency.
Total time: 25 minutes
This almond milk alfredo is a perfect healthy alternative to the classic version when you attempt to cut back some calories. This 381-calorie sauce is undoubtedly a good investment for your health.
Parmesan is an irreplaceable component since it'll elevate this sauce's texture and flavor to another height. And don't forget about almond milk. But if you don't like its flavor, feel free to replace it with fat-free half and half.
Toss in some cooked chicken and pasta to make a complete meal. Other excellent pairings are broccoli, roasted potatoes, or breadsticks.
Total time: 1 hour and 20 minutes
Italian cuisine only needs a few ingredients to create a flavor explosion. And this roasted cherry tomato sauce is no different. The sweetness of cherry tomatoes, the aromatic olive oil, and the minty thyme shine through with every bite.
Place the ingredients into the baking dish and cover them before putting them in the oven. After an hour, take the cover off and roast for an extra 15 – 30 minutes. Roasting caramelizes the natural sugar in the cherry tomatoes, making them sweeter and adding richness to your sauce.
Serve this amazing cherry tomato dish as-is, or blend it into a smooth liquid to spread over the pasta and other dishes. Pairing it with baked fish, chicken, or a sandwich is also worth considering. The roasted tomato sauce can be an ideal dip for veggies, tortilla chips, or pizza crust.
With this roasted cherry tomato sauce, you're welcome to use basil instead of sprigs thyme.
Total time: 3 hours and 40 minutes
No pasta sauce list is complete without Bolognese, a simple meat sauce from Bologna, Italy. Simply put, Bolognese is a tomato-based sauce simmering with ground beef. Best of all, the longer your sauce sits on the stove, the richer its flavor becomes.
A standard Bolognese should be meaty, thanks to the ground meat. It's also aromatic and creamy, with sweet notes of tomatoes. Thus, this rich sauce is perfect with recipes using pappardelle, fettuccine, or other long flat pasta noodles.
The Bolognese needs a long simmer, so turn the heat as low as possible. Keep the lid off so the water can evaporate, thickening the sauce. Also, be generous with the salt to make the flavor deeper.
Total time: 20 minutes
Next up on today's menu is the Creole cream sauce. With tomatoes, lime juice, and Creole seasoning, this unconventional pasta sauce comes together in a matter of time. Halve or double this recipe according to your liking.
Diced tomatoes are preferable here but opt for canned or fresh ones if desired. Note that fresh tomatoes need a longer simmering time. Also, feel free to choose half and half over whole milk for a richer sauce. Freshly squeezed lime juice or bottled one is all good.
This sauce's red color from paprika may be intimidating, but the spicy level is tolerable for most people. About storing, the refrigerated Creole sauce can keep its quality for 3 – 4 days. Warm it on the stove over medium-low heat to devour it.
Total time: 30 minutes
This classic French Beurre blanc is Another sauce brimming with sophistication. Simply put, it's a white butter sauce with wine, vinegar, and aromatics. Don't be fooled by its fancy name – the making process is easier than you think.
There is a blurred line between Beurre Blanc and hollandaise sauce (a famous recipe with egg yolk and butter). However, Beurre Blanc contains no egg yolk, and you shouldn't prepare it so far in advance. It's best to make it just one day ahead.
This sauce is buttery, sweet, and tangy. The tanginess from wine and vinegar is a proper cut to the greasiness of melted butter. Its texture is smooth and velvety, giving you a luxurious mouthfeel.
Total time: 10 minutes
This Parmesan cream sauce has the cheesy, luscious, and indulgent flavors your family will go crazy about. This sauce with pasta is a restaurant favorite, so give it a try.
The show's star is Parmesan cheese, so choose the best one. Block and shredded cheese are both excellent choices. Besides, this sauce is enough for 8 ounces of pasta. Double the ingredients to increase more servings.
Be sure to measure the ingredients first. Note that flour can get brown instantly, so whisk it occasionally to prevent burning. Also, when adding milk, remember to whisk the mixture gradually until it's smooth.
Nothing will make you happier than pouring this Parmesan cheese sauce over your favorite pasta.
Total time: 10 minutes
Talking about healthy recipes, this vegan white pasta sauce pops up first on my mind. Bursting with both nutrients and flavor, this creamy sauce fits all the bills. Did I mention that it is also nut-free?
First, cook the coconut oil over medium-high heat. Then add the flour and give it a good stir. Pour in the non-dairy milk and stir the mixture regularly for 10 minutes or until it thickens enough. Remove it from the heat and add spices to finish the sauce.
This sauce is a real keeper with only 117 calories and zero sugar. To keep your low-carb meal on track, you should choose a bean-based pasta noodle to go with it.
Total time: 50 minutes
Who says vegan pasta sauce has to be plain? This cashew cheese sauce will prove the opposite. Raw cashews team up with almond milk, spices, and Dijon mustard to bring out the most unexpected flavor for you.
While there is no cheese in the recipe, nutritional yeast will deliver the cheesy flavor. Meanwhile, the Djon mustard adds tanginess, and jalapenos will pump up the spice. You may notice that its taste is quite similar to nacho cheese.
To extend this vegan sauce's shelf life, keep it in the refrigerator for five days. When in need of use, reheat it in the microwave. Consider freezing because this recipe is freezer-friendly too. Thaw the sauce in the fridge when you want to use it.
Total time: 10 minutes
This kale pesto is your answer when your body calls for more green sauces. The ingredient list is pantry-friendly, and this recipe is an excellent opportunity to use up your leftover kale. Grab your food processor, and the pesto will be table-ready in 10 minutes.
This variation takes a different route with kale and pecans instead of traditional basil and pine nuts. The sweetness of pecans will tame the strong flavor of bitter kale. In addition, lemon juice or salt makes a big difference in removing its bitterness as well.
For a nut-free version, switch the pecans with hemp seeds or green pumpkin seeds. To make it vegan-friendly, skip the Parmesan and opt for nutritional yeast.
Kale pesto should be thick. Therefore, when combining it with pasta, you may need to add some dashes of pasta water to reach the desired consistency.
Total time: 30 minutes
This creamy Parmesan mushroom sauce is an absolute triumph of flavor, relying on classic ingredients. Aside from pasta, use it in other dishes, from steak and grilled chicken to your leftover rice. It's not the healthiest recipe here but worth every calorie.
Spoiler alert: white wine and fresh grate Parmesan make this recipe a game changer. Don't worry; the alcohol only adds acidity to the sauce and won't get anyone drunk while enjoying this. Parmesan makes the consistency as creamy as you desire.
A tip to make this recipe fancier is browning the mushrooms nicely to get the best flavor. Remember to cook them in batches. Overcrowding mushrooms can lead to sogginess. If you do it right, the overall taste will be earthy, cheesy, and delectable.
Serve this Parmesan mushroom sauce on your pasta night, and it will be a big hit.
Total time: 10 minutes
As its name implies, this 10-minute avocado pasta sauce will be your savior at a last-minute party or busy weekday. No matter what pasta you choose, it will fit the bill. Plus, avocado and basil create a scrumptious taste.
Even better, this recipe includes no particular cooking skill since a blender will take care of the whole thing. The only hard work is peeling and seeding the avocado. As a bonus, this delicacy is gluten-free, dairy-free, and vegan-friendly.
Whether served warm or cold with pasta, the sauce still tastes fantastic. However, because avocados can get brown over time, I do not recommend heating or reheating the sauce multiple times.
Total time: About 15 minutes
Cheese and pasta are a dynamic duo, but this four-cheese sauce will quadruple the deliciousness. This recipe uses Parmesan, mozzarella, provolone, and Romano cheese. This recipe is such a dream come true for cheese lovers.
The process is simple. Start with simmering whipping cream and butter over medium heat. Next comes the cheese, and whisk all the ingredients together. Remember to lower the heat and stir the mixture until the cheese is melted completely.
This sauce creates a rich cheese blanket for your pasta. It will work great with gnocchi and fettuccine. Garlic bread is also a perfect accompaniment to spread this four-cheese sauce.
Total time: 25 minutes
This eggplant and tomato sauce is irresistible. It is similar to marinara sauce, but the addition of eggplant elevates this recipe to a new level of deliciousness with a meaty-like taste.
Besides, this sauce is versatile as well. Using it on pasta, zucchini noodles, or making it a side dish is totally up to you.
Nutrient-wise, eggplants are a powder source of antioxidants, while tomatoes are high in potassium, vitamin B, and many other nutrients. Good quality olive oil not only ties the flavors together but also gives you healthy fats.
Total time: 2 hours and 45 minutes
This plant-based vegan Bolognese comes in handy when you try to follow a strict diet. Of course, its taste is not inferior to the classic Bolognese. Despite the long list of ingredients, most of them are pantry items, such as tomato sauce, carrots, or lemon.
For lusciously rich Bolognese sauce, long and wide surface pasta noodles like pappardelle are the best choices. That way, the sauce will linger on the noodles better. If pappardelle is not available, fettuccine or spaghetti is also great.
The best part is that the Bolognese improves its flavor over time. Therefore, preparing it in advance is even better when the flavor has time to settle. Ideally, you can make it in the morning and leave the sauce simmer on the stove all day until dinner time.
Total time: 15 minutes
There is no reason that peppercorn sauce only works with the steak. It tastes lovely with pasta too. The creamy garlic-based sauce with peppery peppercorns can be ready in about 15 minutes.
What's unique about this recipe is that you will flambé the Brandy. This step will burn off the alcohol in the liquor but still maintain its rich taste. Be cautious when working with a gas hob for safety. However, if the alcohol still bothers you, try grape juice or apple juice instead.
Remember to add cream when you have lowered the heat. Or else the mixture can get burned. Don't be surprised when the texture is thin in the beginning, as the cream will thicken it. Wait until the sauce is thick enough to cling to the back of a metal spoon, and serve.
With the addition of Dijon mustard, your peppercorn sauce will be as glorious as ever.
Total time: 25 minutes
Creamy sweet potato sauce with cashew butter and diced onion served on a bed of pasta – how awesome is that? Besides adding sweetness to your sauce, sweet potatoes are a great source of vitamins A and C. Flavorful and nutritional, this recipe is a win-win for me.
Pair this sauce with plant-based pasta noodles to keep the meal more nutritious. Rigatoni, penne, or fusilli are also excellent options. Alternatively, you can include extra water to create a brilliant pasta soup course with a creamy profile.
Moreover, this recipe offers two hacks to make it faster. The first one is microwaving the potatoes instead of baking them. And the second is swapping raw cashews for cashew butter as a shortcut. Apply these two tips properly, and your sauce will get ready in under 30 minutes.
Total time: 5 minutes
Although it's not nearly as popular as basil pesto or marinara, this 5-minute miso tahini sauce wins hearts with its unique taste. The miso paste, tahini, and nutritional yeast join forces to make this healthy and delicious pasta sauce.
What makes this miso tahini sauce stand out is its impressive nutrition profile. Tahini contains plenty of heart-healthy fats, protein, and calcium. Meanwhile, miso is full of micronutrients and gut-friendly bacteria. Plus, nutritional yeast is home to B vitamins.
All you have to do is toss all the ingredients in the food processor and blend until smooth. If you don't have a food processor, whisk the mixture in a bowl by hand. Of course, the texture won't be the same, but the sauce's flavor is still guaranteed.
Total time: 25 minutes
This easy blue cheese pasta sauce will spoil your taste buds. Gorgonzola cheese, heavy cream, and walnuts take center stage to make the magic work.
Some may immediately pass on this irregular cheese because of its odor and unusual color. However, these things do not affect its salty and sharp flavor. Due to its soft and creamy texture, blue cheese melts perfectly and combines harmoniously with other ingredients.
Feel free to mix and match for the best results. For example, add mushrooms and bell peppers to the sauce. For more protein, toss in ground beef or chicken. And sneak more herby flavors into the sauce with thyme or parsley.
Pasta Sauces – Always Taste Best From Scratch
The pasta sauce recipes above prove that homemade ones are always more affordable and delicious than the ready-made. Most do not require advanced cooking techniques or too much kitchen time.
I believe anyone will make them successfully on the first try. Best of all, you can cook pasta and sauce simultaneously. Then enjoy the pair together at once. Not believe in my words? Give them a go and come back later to tell me your results.
Hi readers, I love hearing your post feedback. Please be mindful that every comment and sharing of yours will make my day and help this website thrive. Now it's time to say goodbye. See you later.
Nutrition Facts
6 servings per container
---
Amount Per ServingCalories138
% Daily Value *
Total Fat 9.9g

16

%
Sodium 402mg

17

%
Potassium 662mg

19

%
Total Carbohydrate 12.7g

5

%

Dietary Fiber 3.6g

15

%
Sugars 7.4g

Protein 2.7g

6

%
---
* The % Daily Value tells you how much a nutrient in a serving of food contributes to a daily diet. 2,000 calories a day is used for general nutrition advice.