Undoubtedly, the best pasta casseroles are foolproof recipes to keep everyone well-fed and satisfied. These all-in-one-pot meals are the perfect solution to dinners in a rush, with the bonus of delicious leftovers and fewer pots to clean.
While some of these tasty casserole dishes call for an hour of cooking, others can be made in advance and refrigerated to put some stress off of dinner. You can also find excellent ideas for using up your leftover pasta. Be it a chilly winter night or a summer potluck, there's at least one recipe guaranteed to meet your needs.
I've gathered this list of the best pasta casseroles to save you those exhausting hours in the kitchen. Pop one in the oven and enjoy your stress-free meals!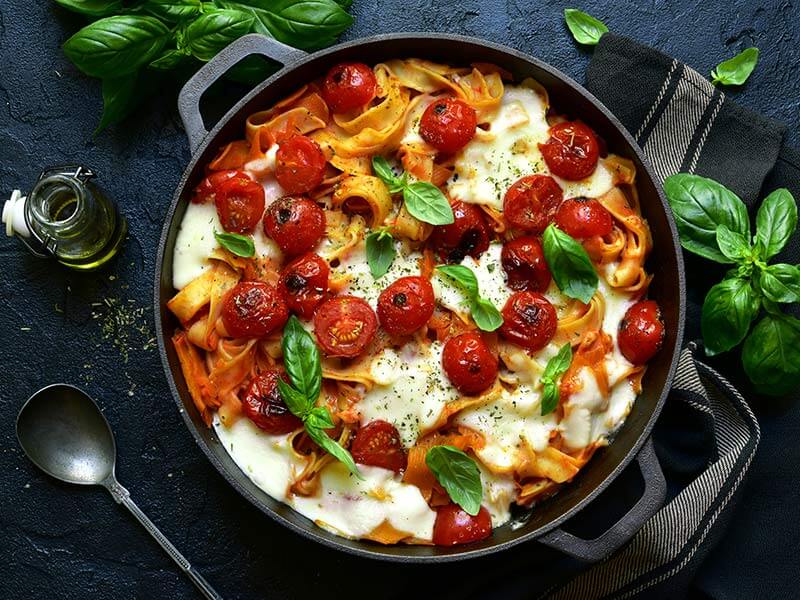 29 Best Pasta Casseroles To Make Your Day Extra Special
Easy-to-prepare, portable, and worth indulging, these pasta casserole recipes are destined to keep yourself and your loved ones happy. Dive into these creative ideas right now!
Total time: 50 minutes
Don't let its name fool you! The million-dollar spaghetti casserole is a budget-friendly meal to use up leftover spaghetti. The incredible richness and decadence worth a million bucks inspire the unique name.
Essentially one of the most satisfying casseroles, this recipe seems like a combination of spaghetti and lasagna. Layers upon layers of spaghetti, sweet Italian sausages, and marinara sauce are all baked to golden brown perfection.
But it's the center layer that makes this casserole genuinely magical. The cream cheese, ricotta, and Mozzarella bring out the delicious creaminess and a delicious flavor mixed with a whisper of sweetness.
Treat yourself to this delightful Million Dollar Spaghetti Casserole with these simple steps!
Total time: 30 minutes
Better than takeout and prepackaged mixes, this Taco Pasta Casserole is the comfort meal that'll satisfy your entire family. Ready in 30 minutes, it's a quick and easy weeknight meal for when you don't feel like spending a day in the kitchen.
Everything quickly goes into one pot. Cooked pasta shells are the perfect choice to capture the salsa and taco seasoning flavor. Based on your preferences, you can choose the type of salsa that's either thicker or thinner, more liquidy to alter the casserole's texture.
As the Mexican cheese blend melts in the oven, it acts as a great binding agent, keeping the ingredients in their textures and shapes. What I love about taco pasta is how easy it is to doctor things up with tons of topping, sauces, and garnishes.
Spoiler alert: this recipe can serve up to 8 people, so you can modify the portions to suit your family or bake a big batch for the week ahead. To prevent the bacteria from growing on your casserole, keep it in the fridge and reheat it before serving.
Total time: 75 minutes
Are you craving for lasagna recipes to play as an addicting pasta side order to your menu? Unlike the classic lasagna that calls for layering lasagna noodles or pasta sheets, Baked Ziti Casserole is essentially about throwing everything together, baking, and enjoying.
As for the cheese used in this delight, each type is just as important as the next. First, there's nothing like those thick slices of Mozzarella getting bubbly and brown in the oven. Ricotta provides incredible creaminess, and Parmesan is sprinkled on top for some saltiness.
Once a traditional delicacy in Southern Italy, the Italian-American is now one of the most cherished comfort foods in the world. This recipe is guaranteed a hit at a potluck party with your neighbors, weeknight dinners, or any other occasion.
Learn the true way to cook Baked Ziti Casserole in this detailed tutorial!
Total time: 50 minutes
When in doubt, cheese, pasta, and chicken is the combination that you can't go wrong with. This yummy chicken casserole can be on the table in less than an hour. And if you are totally not in the mood to turn on the oven, it can cook up on the stovetop to suit your needs.
Cheddar cheese lends itself to an incredible creaminess and cheesiness in this recipe. Meanwhile, the chicken breasts are juicy, tangy, and slightly sweet, owing to the dry ranch dressing. Some chopped bacon tops off the dish, adding a perfect crunch to the bite.
This Chicken Bacon Ranch Pasta Casserole can be on the dining table in less than an hour. With this delicious and fulfilling casserole, a simple vegetable salad with a slice of garlic bread or two is the best complimentary choice.
Total time: 48 minutes
If you're missing that iconic Philly Cheesesteak in Philadelphia, this casserole recipe is something similar that you can devour in your home. With this all-in-one-pot meal, you can always mix the ingredients and serve it with a fresh side of green salad for the family.
The simple medley of thinly sliced ribeye steak, provolone cheese, and onion is what earns this comfort food immense popularity on the East Coast. Combine this sandwich with shell pasta, and you will have an easy, delicious version of Philly Cheesesteak.
At its best, this American casserole packs all the flavors into one single dish that makes your taste buds explode. The pasta perfectly absorbs the ground beef and other umami, bitter, and slightly spicy tastes well, while a trio of melted cheese and some crazy creaminess.
This luscious Philly Cheesesteak Pasta Casserole won't leave you hungry!
Total time: 1 hour 45 minutes
Who doesn't like a cheesy macaroni casserole? This quintessential delight is a staple in many European, especially Italian, home cooking. The classic combination of macaroni and cheese plays a crucial role in this dish's overall texture and flavor, and it hits the spot every time!
This recipe features uncooked DeLallo whole wheat elbows, which don't get mushy upon baking. Thanks to marinara sauce and mozzarella cheese, it's so silky, gooey, and creamy. A fresh salad can balance this richness, making the two a perfect dinner pairing.
Besides the easy cheese topping, you can top the casserole with some breadcrumbs for a crunchy bite in contrast. While this recipe utilizes whole wheat elbows, any short pasta like shells, rotini, or penne will also get the job done.
Total time: 1 hour
There's nothing like this award-winning Spaghetti Pie Casserole to take you back to childhood. Based on a simple recipe, you can tweak it with different meat alternates and additional fillings as you desire!
Pulling together the essence of Italian cuisine, this simple yet cozy casserole recipe starts with a good amount of cooked spaghetti. It's then layered with mixtures of cream cheese and ground beef. A touch of shredded cheese is tossed in to round out the dish.
Creamy, cheesy, and bursting with complex flavors, this pasta casserole is all you can ask for in an oh-so-delicious dinner. When making this, it's best to have a salad and some crusty bread on the side.
This is the most delicious Spaghetti Pie Casserole you'll ever make!
Total time: 35 minutes
When it comes to all-in-one-pot pasta courses, a casserole with ground turkey is always the winner. This recipe is put together in 35 minutes and will have everyone at the table before that, thanks to the irresistible aroma that fills your kitchen as it gets out of the oven.
A staple in Mediterranean cuisines, ground turkey, is a quick-cooking, endlessly versatile, and delicious ingredient. Ground turkey is the perfect canvas for umami-rich elements like marinara sauce, garlic, and basils.
Visually, this delightful ground turkey recipe is a sight for sore eyes. The mix of fresh colors under the bubbly layer of melted cheese makes it a treat for any picky eater around the house. The dish also freezes for up to three months to have a homemade dinner on even busy days.
Total time: 50 minutes
An easy and healthy dinner fare, this Cheesy Beef And Pasta Casserole can conquer the pickiest kiddos in the house. The holy trinity of cheese, beef, and pasta is pretty hard to turn down. With this crowd-pleaser, work functions and potlucks won't be your nightmare again!
If penne pasta isn't available, any short variety you have on your hands will do. To turn this into a tasty vegetarian-friendly pasta delicacy, just omit the ground beef and throw in some extra sauteed veggies of your choice.
This recipe consists of cheesy whole wheat penne mixed with ground beef and smothered in marinara sauce. However, zucchini sets this casserole apart from the rest, adding a rich feel and a gentle, slightly sweet flavor to brighten the dish.
When it gets cold, you can always turn to this Cheesy Beef And Spinach Pasta Casserole for comfort!
Total time: 30 minutes
This tried-and-true soul food dish makes the most out of leftover chicken. From the first look, you can tell that there's so much cheesiness going into this: with the presence of Cheddar cheese, cream cheese, and heavy cream as a binding agent.
When it comes to the taste, this main course is chockful of flavors, ranging from cheesy to savory and decadent. With the addition of tomatoes and chiles, it also has a hint of sharpness and mild spiciness to cut through to the creaminess and balance it out.
This casserole takes 30 minutes to get ready, as fulfilling as it looks. Better yet, the whole thing can be prepared up to 3 days in advance and covered in the fridge until serving. When a busy schedule and dinnertime clashes, this casserole can be a delicious savior!
Total time: 1 hour 10 minutes
Often considered the most popular shape of pasta anywhere, penne pasta has a particular spot in the hearts of pasta lovers. With a thick and creamy dish, penne is the ideal choice of pasta to capture the sauces, thanks to its short and cylinder shape.
Because the whole assembly can be made ahead of time and refrigerated, this casserole can save you some time for dinner. When ready to serve, get it out for 30 minutes before baking, add some of your favorite toppings, and bake until the cheese is bubbling and melted.
Flavor-wise, this dinner fare packs all the good stuff. From a creamy and tomato-based sauce to bits of ground meat and three types of cheese, each with its unique flavor, this casserole is guaranteed to hit all the bases.
This heartwarming Penne Pasta Casserole can be a game-changer or a busy night!
Total time: 1 hour
Your next Meatless Monday will be everything but bland! Yielding up to size servings at once, this White Bean Pesto Pasta Casserole is sure to please an entire household at any vegetarian-friendly or Italian-themed party.
Without meat, this casserole is still totally fulfilling and delicious. Ingredients such as cannellini beans provide a substantial protein content, which can help you hit your daily intake target in a healthy diet.
Creamy, juicy, and cheesy with little pops of tomatoes and breadcrumbs on top, nothing hits the spot like a plate of pesto pasta casserole on a snowy day. The dish comes together in an hour and is versatile as a weeknight dinner or a fancy fare for special occasions.
Total time: 1 hour
This heartwarming Butternut Squash Pasta Casserole will give you the feeling of warmth on those chilly winter days. Coming together in over an hour, it's a heartwarming, family-friendly meal you can prepare for any easy and luscious family dinner.
At its best, penne pasta is tossed in with butternut squash, chicken stock, and a host of vegetables and then left to bake until brown and bubbling. If you're sensitive to the heat, feel free to leave out the ground black and red pepper.
While you already know it's tasty, this starchy winter veggie is also a superfood with many health benefits. Besides fiber as the standout star, butternut squash is low in calories and high in fiber as well as other nutrients like vitamin A and potassium.
You'll enjoy the autumn weather with a big plate of this Butternut Squash Pasta Casserole on hand!
Total time: 1 hour 25 minutes
Enchilada hails from Mexican cuisine. In the Mayan times, the practice of rolling tortillas with tomatoes, cheese, and other elements was ubiquitous. Over time, enchilada evolved into many complex variations, with this casserole being one of them.
In this Chicken Enchilada Pasta Casserole, shell macaroni is tossed in with a chicken mixture and enchilada sauce. It's then topped off with some cheese and green onions.
You'll love a side of tortilla chips or whipped cream as complimentary dishes to serve with chicken casserole.
When you can't decide between pasta or enchilada, this heartwarming meal will satisfy both desires. Hearty, cheesy, and full of zesty flavors, it's just the cozy recipe that a busy weeknight calls for.
Total time: 1 hour
Are you looking to use that can of pumpkin? Pair it with pasta! With the prominent flavor being a pumpkin, this Cheesy Pumpkin Pasta Casserole seems to capture the essence of autumn on one plate alongside brown rice pasta and Pecorino Romano cheese.
A staple in Italian cuisine, Pecorino Romano Cherished has a rich, slightly tangy, and complex flavor that's earned itself the title of the "King Of Cheeses." It provides the ideal contrast to the earthiness and sweetness of pumpkin sauce in this delicate fall casserole.
If you're not a fan of supermarket pumpkin puree, homemade is also an option. Not only is made-from-scratch pumpkin puree required a few simple steps, but the differences in texture and taste are also worth the effort.
The vegan-friendly version of this Cheesy Pumpkin Pasta Casserole is worth indulgence!
Total time: 1 hour 20 minutes
Double down on dinner this evening by combining your leftover chili into this dish with pasta (of course, you can make a new batch if desired). The topping looks like parmesan cheese, but it's actually almond flour, which is equally tasty while giving a protein boost.
From small shell pasta to tomato sauce and many touches of warm spice, this epic bake is a complete meal on its own. But a simple leafy salad will do just fine if you need something to cut through the richness.
I love this chili pasta casserole because you can keep it for a month in the freeze. This way, it's a breeze to prepare a tasty cook from frozen when you're low on time. It's also gluten-free and vegetarian, so don't be shy to adopt it to your healthy diet.
Total time: 40 minutes
With everything more expensive these days, this Pepperoni Pasta Casserole proves why luscious meals don't need to cost an arm and a leg. Based on the four main elements, it's easy to customize the recipe, be it a lighter or a well-balanced version with some veggies.
The show's star – pepperonis- offers a meaty and slightly spicy flavor to balance the natural sweetness of the marinara sauce. For the base, you can choose any type of dry pasta your taste buds desire before throwing in some Mozzarella cheese.
Let the assembly bake for about 20-25 minutes, and you've got yourself the glory meal that can win anybody over. The smell emitted from the oven is honestly one of my favorites in the world. You'll know it's a delicious dish when everyone fights over the leftovers.
Double down on comfort food with a foolproof Pepperoni Pasta Casserole recipe!
Total time: 55 minutes
Who else adores thinking of a delectable meal with your loved ones on Christmas Eve? The perfect ground sausage dish to treat your friends and family, this quintessential casserole for Christmas and the holiday season will go down as a go-to with young and old alike.
Reminiscent of the long-awaited holidays, this delightful casserole combines layers of pasta followed by creamy Mozzarella and grated cheese. The whole thing is drenched in a luscious homemade sauce featuring sausages, Sans Wine Co. Carignan, and a medley of herbs.
Visually speaking, this holiday-themed dish is bright and appealing enough to awaken any appetite. Yielding a crowd size, it's a joy to share. Once it's done baking, you can slice it into serving portions and let the guests help themselves.
Total time: 40 minutes
Not sure what to do with that can of tuna? This Tuna Pasta Casserole is the gift that keeps on giving. Like other pasta recipes, a lovely green salad or a few slices of garlic bread works nicely to accompany this tuna casserole and feed a crowd for a cozy dinner party.
Ready for serving in just 40 minutes, this all-in-one-pot family-sized meal is loaded with the flavors of tuna in harmony with ooey-gooey mozzarella cheese. At the base, a homemade tomato sauce gets its characteristic taste from tomatoes, herbs, and pepper.
In this dish, canned tuna is gently stirred in a mixture of pasta and tomato sauce. Meaty, rich, and filled with flavors, oil-packed tuna is the best option to shine through in this recipe. However, others like salmon or tuna in the water get the job done if that's not available.
This Tuna Pasta Casserole is a dinner winner and can be made with mostly pantry staples!
Total time: 20 minutes
Two of the world's favorite foods, pizza, and pasta, join forces in an outrageously delicious weeknight dinner you'll keep returning to. It's a pretty well-balanced meal and ideal for a cookout party or family gathering.
In essence, it's a mix of pasta, Mozzarella cheese, and thin slices of pepperoni that crisp up as they bake. Various pizza flavors, such as ground beef, parsley, and pizza sauce, are also added. To suit your family's taste, switch certain toppings for others of your favorites.
But what makes this casserole stand out from the rest is that the whole thing takes just 20 minutes to get on the dining table. That's right! Making up to eight servings in one go, this casserole can feed a hungry army and conquer the pickiest eaters in the house.
Total time: 1 hour 25 minutes
Stuffed shells are simply perfect. Talking about convenience, this Italian Stuffed Shell Casserole can be made a day ahead and frozen overnight until you want to bake it. This will also allow the various flavors to meld together.
A true crowd-pleaser, this delightful Italian-style recipe is so tasty and complex that everyone will return for a second. Paired with a side of garlic bread, it's great for a Sunday lunch, a potluck course, or even Valentine's Day dinner with your special someone.
At its most basic, this Valentine's-worthy fare involves stuffed shells loaded with cheesy Mozzarella and Parmesan filling and smothered in a meaty tomato sauce. The dish is baked until browned and gooey.
An ultra-delicious family meal that anyone can whip up – Italian Stuffed Shell Casserole
Total time: 40 minutes
Kids will line up for this scrumptious Mexican casserole! Not only does this Fiesta Chicken Pasta Casserole offer enough servings for a crowd, but it also packs some unique flavors to sate your appetite. Cheesy, creamy, and spicy, it's the ultimate, foolproof fiesta-style meal.
From corn to beans and taco seasoning, this Fiesta Chicken Pasta Casserole is brimming with quintessential Southwestern flavors. Meanwhile, spirals of fusilli pasta are designed to hold on to the creamy and rich sauce, making every bite a pleasure for your taste buds.
You'll also love that this one-course meal comes together in 40 minutes. A touch of cilantro or green onions is the traditional way to give it a finishing touch. Since the casserole has good richness and a spicy kick, mild dishes on the side like rice and tortilla are your best bet!
Total time: 50 minutes
Cheesy pasta is the moment; that's a sure thing for cheese lovers worldwide. With an unapologetic generous cheese content involving three different types, this Chicken Alfredo Pasta Casserole is an Italian casserole delicacy at its finest!
Upon baking, tender pasta and juicy chicken cubes are drenched in a simple yet elegant and ultra-creamy Alfredo sauce. On the other hand, Mozzarella, ricotta, and Parmesan all melt together, creating cheese heaven that's worth the indulgence.
Besides their obviously delicious taste, cheeses are also one of the best ways to receive your daily protein and calcium intake. Undoubtedly, it's a staple at parties of all kinds, especially those celebrating Italian cuisine.
This Chicken Alfredo Pasta Casserole is so good that everyone will return for a second!
Total time: 1 hour 5 minutes
Foods made with Cajun seasoning are known to be spicy. Therefore, if you're eager to kick things up a notch, this Cajun Chicken Pasta Casserole is your best bet.
The leftovers stay in the refrigerator for four days, so you can serve some at supper and save the rest for busy nights.
Instead of boiling the pasta, as usual, you can simply let it cook in the sauce with this recipe. Protein elements include chicken and Andouille sausage. Finally, before baking, every part is coated in a flavorful, spicy, and creamy sauce.
For complimentary dishes, this Cajun-flavored casserole goes well with just about anything. Some warm garlic bread or a bowl of tossed salad is ideal for scooping up the creamy Cajun sauce. Set the tray on the table and watch everyone gobble it up!
Total time: 40 minutes
Do you have an impromptu guest? Fear not! Treat them to this delicious meal that can be on the dining table in 40 minutes or less. A Cheesy Potato Gnocchi Casserole is a delectable meal for a holiday, gathering with guests, or just a weeknight dinner.
This dinner will warm you up on cold wintry days and feature homemade macaroni, gnocchi, and shredded cheese. The texture of gnocchi is a match made in heaven with the oozing, cheesy flavor that's great for savoring on its own.
When it comes to feeding a big family, this cheesy gnocchi bake goes wonderfully with some garlic bread and fresh salad. Since everything tastes good with this comforting meal, it's a great chance to sneak in some greens like mushrooms and spinach.
Simple yet flavorful; this Cheesy Potato Gnocchi Casserole is the best bet for any weeknight dinner!
Total time: 55 minutes
When it comes to decent quality, nice texture, and a spot-on flavor profile, I've got to hand it over to Jimmy Dean Sausage. For anyone fancying a sausage casserole that will keep the family happy, this Italian Sausage Pasta Casserole is sure to get you covered.
If Jimmy Dean's Sausage isn't at your disposal, feel free to substitute it with any type of sausage you'd like. While waiting for the casserole, chop some fresh pineapples for an easy side dish. This recipe is a proper dinner winner on those lazy nights when you're burnt out.
You probably have everything needed at home with a recipe that shines from its simplicity. A touch of cream creates the richness to contrast the savory, crispy taste of browned sausage. Thanks to the Parmesan cheese, the dish has a lovely golden brown color upon baking.
Total time: 1 hour
A no-fail family-sized dish that consistently pleases the whole family, Leftover Roast Pork Pasta Casserole is a beautiful way to use up that leftover from Sunday lunch. Because it's so straightforward, this recipe is the best fit for Monday night dinner.
The hearty pasta is simmered with leftover pulled pork and smothered in tomato puree before being transferred to a baking dish. Grated Parmesan and cheddar are added on top, which results in an ooey-gooey meltiness as this flavorful leftover pulled pork dish is done.
Serve this casserole hot with a side of baked buttermilk biscuits or yeast rolls. Or else, a tossed green salad will balance out the richness and meatiness of the pulled pork. You can always count on this one-course meal to feed your stomach and warm your soul.
A big tray of Leftover Roast Pork Pasta Casserole is both budget-friendly and satisfying with a plethora of flavors
Total time: 1 hour
Skip the upscale steak and lobster houses to try this elegant Lobster Cheese And Shell Pasta Casserole at home. The rich and oozy mac and cheese, the meaty and sweet taste of lobster, and the crunchy bite of bread crumbs harmonize together in an unforgettable dinner hit.
Starting with the lobster sauce, accurate lobster stock and a generous amount of gruyere cheese combine to create a slight rosy pink color. Flavor-wise, this gives the casserole a stunning seafood fusion rather than just chunks of lobster meat.
Thanks to their compact shapes, shell pasta is renowned for the ability to hold the rich sauce in every nook and cranny. As a result, each bite is a marriage between fresh fare and decadent treat, taking your mouth on a trip to the summer afternoon on the Maine coast.
Total time: 1 hour
An epicenter of authentic Italian cuisine, ravioli rose to fame for its decadent taste and unique shape. In essence, it's Italian-style dumplings loaded with ground meat, cheese, and veggies sealed between two thin layers of egg pasta dough.
This five-ingredient recipe makes a simple and classic dinner just a few steps away. To prepare this dish, layers of pasta sauce, frozen ravioli, beef mixture, and shredded Mozzarella cheese are stacked on top.
At its finest, this casserole yields a meaty, filling, and tasty main course with little effort. Add any of your favorite veggies and switch the ground beef for Italian sausage. Bring this dish to a dinner party and receive all the attention!
Can You Ever Have Enough Pasta Casseroles? Definitely Not!
When nicely executed, pasta casseroles can be the most comforting food to soothe your soul. Plus, every home cook knows the struggle of creating different starchy and protein dishes at every mealtime.
Not only an excellent choice for weeknight dinners, but casseroles are also well-loved for their versatility. A big one-course tray with delicious flavors is easily the star of any function, be it carry-in dinners, picnics, or a summer potluck with your neighbors.
If you're happy with these creative pasta casserole ideas, don't hesitate to share this list with your loved ones. Plus, if you have some interesting home-cooking anecdotes you'd want to share, it's my pleasure to tell you that I'm all ears!