Don't miss the chance to find the best passion fruit desserts you can make in your kitchen. Since they are unquestionably simple to prepare, you won't have any difficulty when making them.
Passion fruit is a tropical fruit offering an excellent source of vitamins, fiber, and antioxidants. It is very popular and widely used in a variety of dishes. See how passion fruit can bring your dessert menu to a new level through these delicacies below!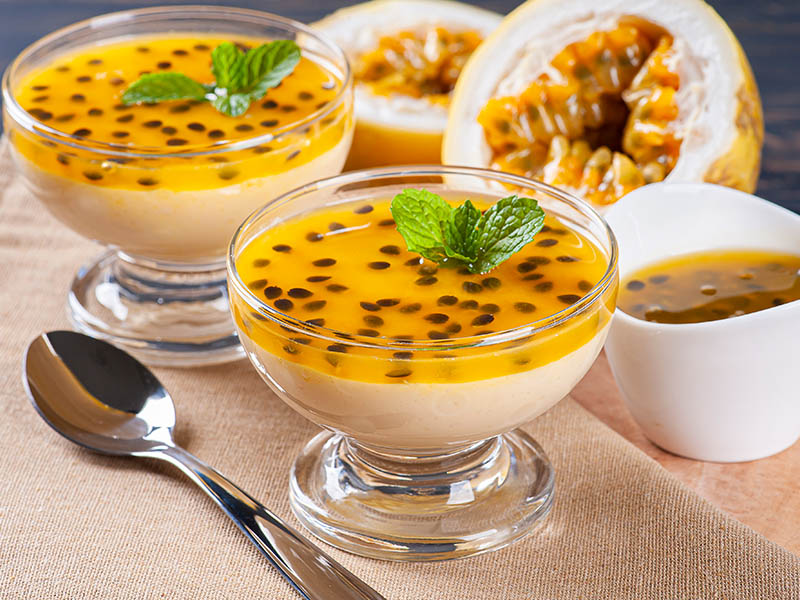 What's Not To Love About These Lovely Passion Fruit Delicacies?
Passion fruit features a fragrant aroma, playing an essential role in enhancing your eating experience. If you don't know which dessert you should do for the next gatherings, discover the list below.
Total time: 20 minutes.
Passion fruit curd is a start for you to complete most of the other delicacies below. Therefore, if you want to master this recipe list, don't miss passion fruit curd. The two main methods you can apply to prepare this versatile treat are indirect heat and direct heat.
No matter what method, you will achieve a thick consistency of passion fruit with other ingredients, such as unsalted butter, egg yolks, and sugar. After cooking, let your curd chill in the fridge for about 2 hours.
To ensure your curd gets a creamy and smooth texture, strain it before chilling to remove unnecessary egg bits. Feel free to use fresh or frozen passion fruits in this recipe since this doesn't negatively affect the taste of your treat.
This crud is a balance of sweetness and tartness. Moreover, it features a slightly fruity flavor. Don't forget this curd when you want some partners with your biscuits or cakes.
Total time: 20 minutes.
Bring this beauty to your party to win the hearts of your guests. As its name suggests, these passion fruit cheesecake jars consist of no more than 8 ingredients, but every bite will bring you a satisfying feeling.
At first glance, you will love the gorgeousness of this delight. With layers of granola mixture and cream, these passion fruit cheesecake jars are creamy and sweet with a fragrant aroma.
Feel free to replace granola with other slightly sweet crackers to make a fun twist for your treat. After assembling, remember to let your jars rest in the fridge for about 1 hour before tasting.
Total time: 1 hour 30 minutes (plus refrigerating time).
This passion fruit meringue tart is one of the most time-consuming treats on this list. However, most of the time is for your passion fruit curd to chill in the fridge, so you don't need to make much effort.
To accomplish this tart, you need to prepare passion fruit curd (as I mentioned above), pastry crust, and meringue (a European dessert made with egg whites and sugar).
Passion fruit curd is the ideal tart filling, lending your treat a deliciously creamy and fruity taste. This recipe also needs an assembling step, like passion fruit cheesecake jars.
When everything is ready, enjoy your results. With a light golden brown crust and lightly browned spots on top, this tart can easily melt in your mouth.
Total time: 45 minutes.
Ending your dinner party with passion fruit thumbprint cookies is never a bad idea. What could be more interesting than pairing this wonderful treat with a cup of tea?
Coming out with characteristic thumbprints in the middle, these cookies are crispy on the outside and soft and creamy on the inside.
Consisting of passion fruit curd, vanilla extract, unsalted butter, and flour, this recipe settles everything into perfection, making it your next favorite.
Don't worry if you don't like an overly sweet dessert. The fruity and slightly tart flavor of passion fruit curd contrasts the sweetness of cookies, yielding a moderately sweet treat.
Total time: 20 minutes (plus 4 hours of freezing time).
What are you waiting for without refreshing your taste with a passion fruit ice cream? If you don't have a sweet tooth, go for this dessert because passion fruit's tanginess will improve the overall flavor.
Let's start with mixing condensed milk, passion fruit pulp, and yogurt until you get a perfectly dense texture. Make sure that you strain the pulp before combining passion fruit with other components.
The next step is to pour whipped cream and your passion fruit mixture into an airtight container. Finally, freeze your ice cream and wait to enjoy your summertime dessert. Let's see how passion fruit takes this ice cream to a higher level.
Total time: 15 minutes.
It's no exaggeration to say that mango and passion fruit Australian Eton mess is one of the easiest delicacies to make on this list. Have you ever heard about Eton mess? It is a traditional British dessert from Eton college, hence its name.
To make this sweet treat, you need to dice mangos and scoop out the pulp of passion fruit. Next, whisk the whipped cream with sugar, heavy cream, and vanilla, and then combine this mixture with meringue pieces.
When everything is well prepared, put all the ingredients in a glass and serve. While passion fruit lends your treat a tart taste, mango will add a sweet flavor to your dish to complement its overall flavor.
Total time: 15 minutes (plus 1 hour of chilling time).
In case you are unaware, Possets indicate a cold set dessert originating in Britain. They are creamy and have an eggnog-like consistency. Let's see how delicious passion fruit can work in this recipe.
First, boil a mixture of heavy cream and sugar at medium-low heat for a few minutes. You can combine this mix with passion fruit juice and lemon juice after simmering.
This tropical treat will be more mouthwatering if you garnish it with coconut yogurt or whipped cream before serving. Besides the creamy texture, you will feel the sweetness and tanginess of this dessert at the first bite.
Total time: 1 hour 50 minutes (plus 6 hours of cooling time).
Have you ever heard about Pavlova? Simply put, Pavlova is a dessert made with meringue and other ingredients. It derived the name from a Russian ballerina (a ballet dancer) named Anna Pavlova. Trust me; this mango passion fruit Pavlova is so addictive.
The combination of corn flour and white vinegar helps stabilize the egg whites in this recipe. Furthermore, it can give your Pavlova a light and fluffy interior. Remember to add caster sugar to your dish since it imparts a sweet taste.
What could be more mouthwatering than balancing this sweetness with a bit of sourness of passion fruit and mango? Although this delight uses mango and passion fruit as the main topping, you can also use strawberries, banana, and lemon curd to make a fun twist.
Total time: 1 hour (plus 3 hours of chilling time).
Creamy, fancy, and easy to make, this passion fruit Creme Brulee will help you become a winner in your whole family. Egg yolks, sugar, passion fruit, and heavy cream come together in this luxurious dessert.
First, you need to whisk a mix of passion fruit juice, egg yolks, and sugar together. After that, create the cream mixture. Baking your dessert is, of course, the final step.
Never forget to sprinkle sugar on top of your ramekin and create a caramelized layer before serving. The inclusion of passion fruit helps balance the sweetness of this delight, making this tropical treat highly addictive.
Total time: 25 minutes (plus 1 hour of chilling time).
Imagine how visually enticing these layers of whites, deep reds, and yellows would be in a glass. Give this passion fruit blood orange trifle a chance to become your go-to dessert recipe in any gathering.
After preparing passion fruit curd and passion fruit coulis, you can start creating the yogurt mixture by whisking Greek yogurt with sugar. The final step is to assemble different layers of your trifle. Light, sweet, and tangy, this treat won't disappoint your taste.
I only drizzle a little passion fruit coulis on top of this trifle. However, if you prefer something sourer, feel free to add this ingredient between layers to make this delight suit your appetite better.
Total time: 42 minutes (plus 4 hours of cooling time).
Are you eager to see a baked dessert on this list? Display your talent with this passion fruit and mango cheesecake. This cheesecake amazingly melts in your mouth with a balance of sweet and sour, making it irresistible.
Although this recipe is very straightforward, you should notice some things for the best creamy and fluffy texture. First, to avoid cracks forming while your cheesecake cools, you should bake it at a slow temperature (325 degrees F is preferable).
Second, allow your cheesecake to rest in the oven after baking. This is crucial in preventing your cake surface from breaking as well. And now, enjoy your perfect summertime dessert.
Total time: 10 minutes (plus 4 hours of freezing time).
Are you an ice cream fanatic? This coconut ice cream will remove your ice cream craving on hot summer days. Instead of the tart taste of passion fruit, this treat with lime as the main ingredient also has a fresh, tangy flavor with a wafting floral and citrus scent.
Let's start preparing this ice cream by creating a smooth mixture of coconut milk, passion fruit, and lime zest. Next, add the remaining ingredients to the combination and cook it slowly.
After your custard is entirely cool, time to freeze your ice cream. This recipe uses roasted coconut shavings as a flavor booster. It provides your dessert with a characteristic smoky aroma. Feel free to omit this component if you don't like it.
Total time: 15 minutes (plus 3 hours of waiting time).
Let's continue the interesting list today with one of Brazil's most popular tropical desserts, passion fruit mousse. This specialty not only requires some simple ingredients but is also mouthwatering and easy to prepare.
A touch of heavy cream plays a key role in helping your treat acquire the desired consistency. Unflavored gelatin is optional, but if you prefer a thicker texture, don't miss this component.
This passion fruit mousse is slightly sour and sweet with a creamy and fluffy texture. Instead of removing the seeds of passion fruit, you can keep them on passion fruits to add a crunchy topping to this dessert.
Total time: 15 minutes (plus 8 hours of freezing time).
Believe me or not, one bite of this passion fruit coconut tropical popsicle, and you will think you are on a tropical island. Tangy passion fruit and sweet mango combine to generate a perfect tropical treat.
When making this delight, you need to puree a mixture of mango and passion fruit until you achieve a smooth consistency. Don't forget to strain the mix to eliminate any remaining seed.
The next step is to combine coconut milk and agave syrup. When everything is ready, you can pour the mixtures into the popsicle molds. Freeze them and enjoy your dessert! This sweet treat is not just appropriate for a gluten-free diet but also perfect for vegans.
Total time: 1 hour 10 minutes.
Nothing is more exciting than enjoying these tropical passion fruit coconut cupcakes on summer days. These cupcakes always have a special place in people's hearts thanks to their creamy texture and fantastic flavor.
These cupcakes appear in three beautiful layers. Coconut buttercream gives your dessert a silky smooth and creamy texture. At the same time, coconut cupcakes will refresh your taste with a light and moist consistency.
Moreover, this delight cannot be perfect without meringue. After making it, you can shape the meringue into kisses and decorate them with any colorings you like to make these cupcakes more appealing.
Total time: 41 minutes (plus 3 hours 45 minutes of resting and chilling time).
It would be a crime to mention passion fruit desserts without these passion fruit macarons. These little French cookies appear like a sandwich with some stunning layers from macarons, passion fruit curd, and milk chocolate ganache.
For making milk chocolate ganache, remember to choose high-quality chocolate and soften the butter before cooking. This step plays a crucial role in improving the texture of this sweet treat.
To create completely circular macarons, you can paint circles on parchment paper before you pipe them. An oven thermometer is also indispensable if you wish to achieve the best results.
Milk chocolate ganache imparts a perfectly sweet taste. Furthermore, this delicacy derives a tangy flavor from passion fruit curd, making your dish more delectable than ever. Another good news is that you can store these cookies for up to 1 month.
Total time: Approximately 40 minutes (plus chilling time).
Who can resist the stunning appearance of this mango and passion fruit flan? Coming out with a beautiful orange color, this sweet treat is an excellent combination of mango, passion fruit, coconut milk, and other things.
A flan can not be without caramel, correct? Prepare caramel as a piece of cake! You need to combine maple syrup, vinegar, and sugar and boil the mixture for about 30 seconds.
While cornstarch helps create a tender texture for your flan, agar plays an essential role in solidifying your sweet treat. This treat has a perfect amount of creaminess with a sweet, fruity, and tangy flavor.
Total time: 1 hour (plus 1 hour of chilling time).
The sweet and tangy flavor combination in these easy passion fruit bars will have your tastebuds doing a happy dance. To succeed in making this treat, you need to prepare the crust and the filling.
For the crust itself, create the dough by combining flour, confectioner sugar, and unsalted butter and bake the mixture until you get a brown crust. Next, start making the passion fruit filling with the leftover ingredients.
Finally, you just need to pour the filling over the crust and bake your bars for about half an hour at 350 degrees F. Never forget to sprinkle some sugar on top of your moist and creamy dessert before serving to enhance your experience.
Total time: 1 hour 45 minutes (plus cooling time).
Don't miss these cream puffs with passion fruit cream since they are the last delight on this list! Their flavor will help you forget any troubles in your life. These puffs are amazingly delicious with a crisp exterior and a soft and creamy interior.
As the name implies, passion fruit cream is the main ingredient in this recipe. It is a perfect blend of lemon juice, passion fruit juice, and egg yolks. Remember that after finishing making this cream, it hasn't gotten the desired consistency as you think.
You need to chill passion fruit cream in the fridge overnight for an ideal thick texture. Besides a smooth texture, you will feel the typical sourness of this cream at the first bite.
This sweet treat can't be perfect without the presence of cream puffs. After baking, cream puffs have a characteristic deeply golden color. All remains are to assemble your dessert. If someone asks me to use one word to describe these cream puffs, it would be "fabulous".
Serve These Tasty Passion Fruit Desserts At Your Next Parties
Are you excited about these best passion fruit desserts? They are not only luscious but also easy to make and visually satisfying. You have to admit that their beauty and elegance are enough to win over. And now, let's roll up your sleeves and try them!
How many desserts mentioned above have you tried with passion fruit, and are they mouthwatering? Don't be afraid to write your opinions in the comment box. Remember to share this post to help more people know about these sweet treats. Thank you!