If you're finding some best panini recipes to change your breakfast menu, it's fortunate since you have come to the right place.
Panini is a warm Italian treat that traditionally includes many deli ingredients and some types of vegetables. Since panini is becoming prevalent worldwide, many variants have appeared and made the dish more prominent.  
Also, the diversity of ingredients helps this dish become a pack of nutrients suitable for your first meal of the day. Why wait? Give yourself the nutritious breakfast you deserve today!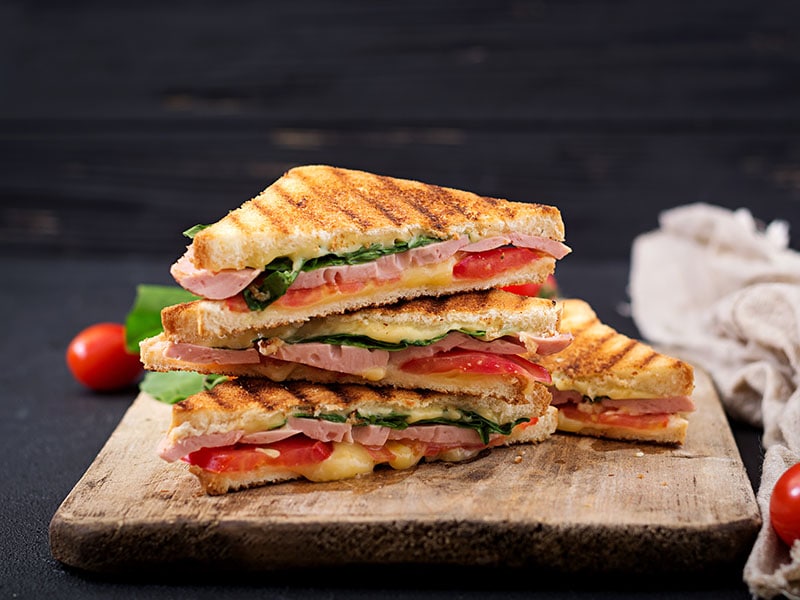 Here Are The 30+ Best Panini Ideas For Your Breakfast
You can eat paninis all the time, but breakfast seems to be the most suitable. This dish is indeed straightforward and costs no time to make; that's why it is loved worldwide. Now, let's take a look at these 30+ panini recipes to choose one for your next breakfast.
The first candidate on the must-try paninis list is a delightful sweet morning dish. If the usual chocolate filling is too dull, try a combination of bittersweet chocolate, delicate brie creaminess, and the fresh, crispness of fresh fruit. You will be incredibly pleased if you give it a try.
With a slight twist in the brie-chocolate combination, now you will roast your panini with strawberries. Heat your skillet until hot and put your panini in; the melted brie and chocolate will cover your strawberry beautifully.
You and I all know how well strawberries and chocolate pair with each other. It takes longer to prepare, but the crispy crust is well worth the wait.
No one can deny the magic combination between peanut butter, banana, and chocolate in sweets. The nutty, rich peanut butter, a mild sweet and fruity taste of banana, and the slight bitterness from the chocolate; all of that flavor can make an irresistible panini.
Just like the name, it's the panini with "apple pie" fillings. I love how the ingredients match so well together, and the signature sourness of Granny Smith makes the dish's taste spot-on. The acidic mascarpone base creates a beautiful balance for the panini.
If you're a Nutella lover, you'll know that it can match almost everything, and that's not an exaggeration (maybe a little bit). You can make a tasty panini for breakfast in 5 minutes with a few ingredients from the fridge and a spoonful of Nutella.
Grab your Nutella jar and try it now.
This is the easiest way in the world to make a Nutella panini. Let's have a look at the following video!
Another nominator on the list is the mix of raspberry and cream cheese. The fruity tart and the mild sweetness of raspberry complement nicely with the creamy, milky, and tang taste of cream cheese. This pairing can work with all types of sweets, not only for this sweet panini.
S'mores is a treat with marshmallows between 2 pieces of Graham crackers, so now you will make your panini dishes the same way. You will put your marshmallows between 2 slices of bread with some other ingredients.
If you love sweets and the combination of cream, butter, and sugar, this recipe will be for you.
It will be amiss if you don't dip your sweet panini into the chocolate sauce. Chocolate's delightful bitterness will balance the sweetness of the above panini recipes while also enhancing the dish's overall flavor. It will tempt you to have a few more bites.
No meat ingredients, this veggie panini is full of cheese and fresh, delicious vegetables. The cheesy, mild saltiness of the cheese will be mingled with the brightness and crispy texture of the veggies you've chosen for the filling.
Try the vegetable proportions in the recipe I recommend; you will want to eat the following morning again.
This is a lovely way to make a veggie panini for your breakfast. The video below should be able to help you:
This is a must-try breakfast sandwich recipe, especially for people who want to change their diet to vegan.
The herby, garlicky, and great flavor from olive oil can help pesto become the perfect sauce base for any panini fillings, such as this eggplant panini. The grilled eggplant brings a fish-like texture with a much earthy and veggie-sweet taste that can pair well with the pesto.
Instead of pesto, try pairing your grilled eggplant filling with some fresh basil. Fresh basil leaves have a unique flavor, with traces of mint, anise, and black pepper spiciness in the aftertaste. The refreshing taste of this filling option may shake you awake.
Eggplant parmesan has an almost similar taste to chicken parmesan. Everything is perfect, from the tough longitudinal fiber that feels like the meat's grain to the juiciness and infusion of the spices, oil, and cheese tastes inside.
I'm not trying to impose my favorites on you, but eggplant is an ideal choice if you want a perfect alternative to a meat-filled panini.
It's a fact that zucchini brings the flavor somehow like eggplant; they are usually compared with the other one. On the other side, zucchini brings a more veggie texture when cooked than eggplant.
The grilled zucchini has less bitterness and more evidence of sweetness with lovely veggie moisture inside. Therefore, as panini's fillings, zucchini will help you experience a unique bite, from crunchy to juicy.
If you enjoy cheese but find that cheese-only panini makes you feel greasy, try adding mushrooms to the fillings. Mushrooms may lend vegetable freshness to the panini while also providing an earthy, meat-like taste.
You may now add even more cheese; the more, the merrier!
When compared to other types of mushrooms, shiitake mushrooms have a complex taste. They have a meaty, buttery, and flavorful texture. When accompanied with the other greens, the combination creates the ideal option for a healthy vegan panini dish.
Move on to the recipe with protein ingredients; this bistro apple panini combines bacon and apple in the fillings. The light acidic taste of apple has lifted the natural fatty and salty taste of bacon to another and made the flavor burst in your mouth. Gorgeous!
You can make this delicacy with any deli meat or bacon, but the cheddar cheese's distinctive fiery, fatty, salty, silky flavor combined with sour and sweet apples is the hero.
This apple cheddar panini recipe is excellent for lunch, breakfast, or a snack amid the day. You should give it a go!
The apple's sweetness and tart umami flavor tones out the ham's smoky, savory taste, making this dish palatable.
This ham and apple panini will also have a lovely cheesy, buttery richness from dairy components, which will make the dish more balanced and flavorful; what an effortless morning treat!
It is more like using gluten-free bread to make a healthier version of panini, so there are some ingredients you can choose to pair with the type of bread, which is quite dry and blander than the regular white or wheat bread.
The tip is to choose fresh and healthy vegetables or fruits to eat; their juice will make a great supplement.
Caprese is the name for the combination of fresh mozzarella, basils, and fresh tomatoes. Regular Caprese is good; but putting it into the panini is even better. The heat when you are toasting the bread might make the cheese half-melted and coat the other ingredients.
And that ooey gooey cheese does help the fillings connect better and enhance the taste of the panini to another level.
Making Italian Caprese panini like this, and you will be delighted with the outcome. Watch the video to know more:
Avocado is a superfood that provides tons of health benefits and a buttery flavor to any sandwich dish. Instead of using too much butter, replacing it with avocado is better for your health.
Serving it with chicken breast and other vegetables can make your brunch look like an inspirational lifestyle breakfast that usually is seen on the Internet.
Since pesto is a perfect sauce base for almost all types of panini, chicken is not exceptional. You can have many options to process your chicken, but I prefer the most basic way.
You can prepare the chicken in advance, let it be in the refrigerator, and take it out for breakfast a few times.
If you love spicy Asian cuisine, this is the chicken panini for you. Every mouthful of your tandoori chicken filling will be an explosion of taste, as it has been well seasoned with a variety of spices and condiments.
The recipe I'm bringing to you today will take you no more than 35 minutes to complete. You can also marinate the chicken with these spice ratios before cooking it when you want another tandoori chicken panini on the table.
Smoking is another good way to process your chicken fillings for paninis and also an excellent way to use up your leftover chicken.
The mixed fresh veggie can enlighten the smoky, savory taste of the chicken, and you can also have a wide range of sauce choices. Choose whatever sauce you like, and your smoked chicken panini will be a scrumptious breakfast in 20 minutes.
Using turkey deli or cold cuts is a way to make this recipe more simple and accessible. The dish's star will belong to the pesto combined with fresh vegetables and a hint of smoke from the turkey. Simple, yet delicious. You can make it nearly anytime in a day.
Making a turkey pesto panini has never been this easy if you follow this instruction!
The everyday use of bacon and eggs for breakfast has a scientific basis. Not only do the flavor and texture go well together, but these two may also provide various health benefits.
One of the benefits is providing enough protein, other nutrition values, and energy to start the day. To make a tasty meal for your next morning, check out this hearty bacon and egg breakfast panini!
This prosciutto and provolone panini is the most "Italian" panini on the list so far. The Italian signature dry-cured ham goes with the hint of the earthy, nutty, and mildly sweet taste of the provolone; this pair makes your humble breakfast become a gourmet delicacy.
Since it also takes nearly no time to make, let's try it once.
Wow, this might be the weirdest mix on this list if you are thinking about putting a whole slice of pizza between two slices of bread. To be precise, only the pizza toppings are now becoming the fillings for the panini.
Mozzarella, sauces, and so on, everything you want for a pizza, toss it into your bread, and grill it crisply on both sides. Then in every bite, you can feel the taste of pizza, but strangely mouth-watering.
Bruschetta is a famous Italian starter dish, topped with colorful mixed vegetables like tomatoes, herbs, a splash of olive oil, and salt. It is light and fresh with a mix of multi flavors.
You can grill your bruschetta panini in the toaster or grill for better effect and the crunchier hot panini bread.
This steak panini recipe is irresistible to a meat lover like me. My mouth is already watering, thinking about the juicy, finely cut steak melting in my mouth after each bite. The key to perfecting this steak panini is not to overdo it with the other components.
The steak should be the main attraction!
The secret to having a good patty melt panini is the perfect meat with spice ratios. The cheese should be melted finely to cover and infuse its flavor in your mouth when eating.
Every time I have this panini, I will remember the delicious Vietnamese meatball "banh mi" I had once I came there. The crispy bread outside and the well-seasoned ground meat fillings do bring a similar effect.
If a whole meat patty might be too much for your appetít, I suggest making meatballs and using the pesto sauce to balance the taste. There are various ways to make meatballs, every family might have their recipes, but you should try the one I offer today.
It is because the outcome is phenomenal, and you will be glad that you have tried it.
Corned beef is a brined beef that brings the attractive sweet, salty, spicy, and meaty flavor with the extra tender flavor. The meat plays an irreplaceable role for this specific type of panini.
Having thick-cut beef slices can help the dish be hearty for breakfast and ideal for lunch.
In case you don't have beef on hand to make the patty melt, use tuna to make a tuna melt instead, and the taste is no less than that. Flavor-wise, the tuna melt panini recipe I give you can make the canned tuna have a distinctive flavor that you might not think of before.
Try it and confirm my word!
Now you know another way to reuse your leftover pulled pork. The slow-cook pulled pork can become an excellent filling for panini since the meat is cooked until softened and  it gives you a gorgeous melted butter or paté.
If you want to prepare the steaming hot, slow-cooked pork, spare half of your time in a day since this dish takes no less than 3 or 6 hours to be ready to serve. Believe me; you will not regret making this. You will only regret not doing it the second time.
Perfect guidance to make your own slow-cook pulled pork at home for panini!
Which Is Your Favorite Panini?
Have you decided which panini recipe you would like to try first? How to make a decision when everything is so delicious? Panini may be made with various ingredients, and there is absolutely no limit to how creative you can be with this rustic dish.
Paninis are traditionally made with Italian bread, although they may now be made using baguettes. So, other than the 30+ recipes I've shared with you today, which vary from sweet to vegetarian to savory, there's no end to the panini choices.
Please share your unique panini recipe with me if you have one. Isn't sharing the act of caring?