These easy Oreo desserts are devoted to the fans of this popular cookie. There are a ton of flavors and appearances for you to choose from, creating an endless world of Oreo sweet treats and goodness.
If you are bored with eating regular Oreos with milk, don't hesitate to try out these recipes. I have tracked down the best formulas using simple ingredients that people with low cooking skills can follow.
There are also some healthy recipes with low fat and sugar content for people following a diet. Regardless of what you choose, the yummy flavors they bring won't let you down. So no further talking. Let's discover these fabulous desserts!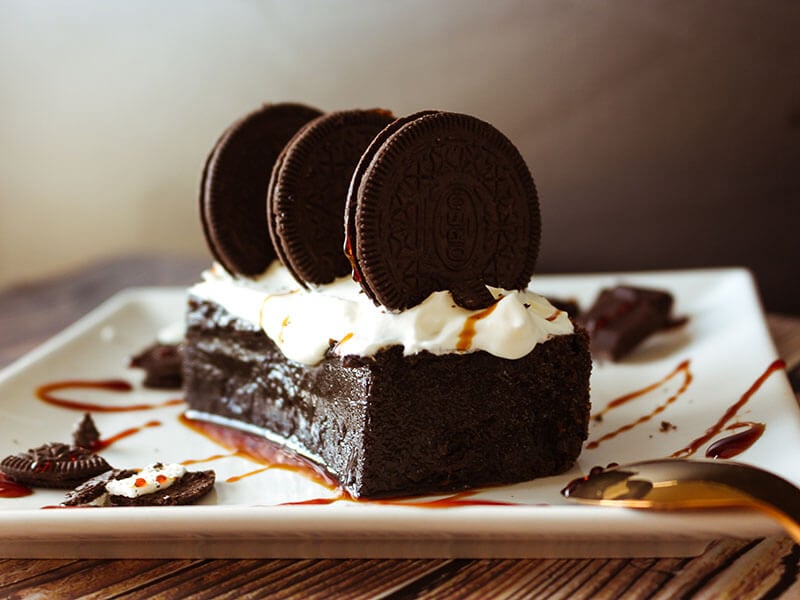 Redefine A Tasty Sweet Treat With These Effortless Oreo Desserts
Since I'm an ardent fan of the store-bought Oreo cookies, these Oreo dessert recipes can only taste better. Plus, they are nearly effortless to prepare, so I rarely have to leave home early with an empty stomach.
You can also incorporate Oreo cookies in various dishes, from cupcakes and ice cream to even popcorn. Each recipe is a different culinary experience with a distinct flavor and appearance. Now let's see what I can offer!
Total time: 55 minutes
This is a simple and delicious Oreo cake devoted to the vegetarians with vegan and dairy-free buttercream frosting. The chocolate creme filled Oreos also bring a familiar and delicious flavor that every cookie fan will love.
A delicious vegan Oreo cake should have a perfect chocolate color and flavor topped with a creamy white buttercream frosting. Its gorgeous beauty and taste will add more fun to any party or family gatherings.
It's important to blend the ingredients in proper ratios to create a good cake dough texture. You could use the cups or gram measurements to measure them accurately. In addition, keeping the components at room temperature is critical to this recipe.
Otherwise, using frozen vegan buttermilk and applesauce may create clumps in the cake batter and ruin its soft texture.
Does making the vegan Oreo cake sound too challenging? This simple guide will help you out!
Total time: 10 minutes
Do you have some leftover Oreos, cream cheese, white chocolate chips, and sprinkles in the pantry? That's all it takes to create these sweet and colorful Oreo Truffles. They look more delicious than any store-bought sweet treat and take only 10 minutes to prepare.
Inside the airy white chocolate layer is the filling crusted Oreo. It delivers a soft and crunchy texture with a mild cookie taste that doesn't overtake the cheesecake flavor. You can either crust the Oreos in a food processor or grind them in a ziplock bag.
Before dipping the truffles into chocolate melts, remember to freeze them for at least 15 minutes so the balls won't turn soggy. A little colorful sprinkle garnishing adds more attractiveness to the truffles, making them an ideal dessert for the kids' party.
Total time: 5 minutes
My heart melted when I first saw these cute little bites of Oreo muddy buddies. This recipe utilizes everyone's favorite ingredients like Oreo, white chocolate chips, Chex cereal, and sugar. These delicious cookies are a simple and convenient snack you can enjoy at any time.
The Chex cereal combined with white and semi-sweet chocolate chips creates a crunchy texture with a beautiful mix of black and white colors.
With some additional salt, these Oreo muddy buddies feature an excellent blend of salty, sweet, and chocolatey flavors from the Oreo and chocolate chips. You can prepare a large batch to enjoy as the cookies can last up to two weeks in the fridge.
Total time: 25 minutes (Including 15 minutes of chilling time)
No one can hate strawberries. It's my favorite fruit, delighting me with a wonderfully sweet and sour flavor combined with its natural freshness. No wonder why these strawberry shortcake Oreo balls taste so amazing.
The shortcake Oreo balls possess a beautiful golden coating of vanilla candy, making them look like a fancy dessert served in five-star restaurants. Instead of regular or lemon cookies, this recipe works best with the yellow packages of golden Oreos.
Both whipped and regular cream cheese is applicable, but remember to soften them at room temperature. You don't need much strawberry: about 6 slices are sufficient.
The vanilla coating is the soul of these Oreo balls, which gives them a sugary fragrance and that beautiful golden caramel texture. Instead of melting the vanilla candies in the microwave, you should use a double boiler to melt them more evenly.
Total time: 30 minutes
It might sound odd, but frying the Oreos ball gives a surprisingly good taste and texture. The crunchy golden fried texture combined with the sugary Oreo goodness creates a unique culinary experience that you should not miss.
Preparing this dessert is very simple, which is quite similar to how you make meatballs. But instead of grounded meat, you'll need around 20 original Oreo cookies filled with sweet creme.
Obviously, you'll need to coat the Oreos with pancake batter, or the hot oil will burn its crust. The batter is a blend of pancake mix, milk, eggs, and a little vegetable oil. Your batter should feature a thick and creamy texture that will turn into a vibrant yellow color after frying.
What are the secrets for making the tastiest deep fried Oreos? This video will tell you everything.
Total time: 2 hours and 15 minutes (including 2 hours of refrigerating time)
Lemon Oreo crust has always been my favorite cookie flavor with its mildly sour and refreshing taste. Try serving this delectable lemon sweet treat on a peaceful spring morning. Its vibrant yellow crust and creamy texture will make your day.
The lemon Oreos are filled with tasty lemon creme. They are like the sugar bomb cracking in your mouth with a perfect balance of sweetness and lemon tartness. To make the cheesecake crust, you can use a blender or food processor to crush the Oreos.
The crushed Oreos are then mixed with melted butter in a zip lock bag, giving it a creamy and thick consistency. However, the best part of this cheesecake lies in its lemon filling, which is a blend of cream cheese, condensed milk, and fresh lemons.
You should beat the lemon filling using a hand mixer so the ingredients can fully combine. Finish the cheesecake by glazing some extra lemon zest to enhance its filling taste. Remember to refrigerate the cake for a few hours before serving!
Total time: 1 hour and 9 minutes (Including 40 minutes of chilling time)
Who doesn't love chocolate, especially the semi-sweet chocolate chips sold at the grocery store? Chocolate lovers can feel free to indulge in this super tasty chocolate dessert. Their delicious chocolatey flavor won't let you down!
The Oreo cookies are topped with pieces, crumbs, and some yummy chocolate chips. Inside their finely baked brown texture is a chewy and gooey cookie batter. The unsalted butter and egg yolks also enrich the creamy batter with a rich aroma.
You should pull the eggs and butter out two hours in advance to achieve that chewy cookie batter. At room temperature, they will have time to fully incorporate into the cookie batter. If you want the melting toppings, put them on the cookies when they're still hot.
Total time: 15 minutes
I'm not exaggerating when saying these 3-ingredient Oreo balls are the easiest desserts to whip up without using eggs or flour. They are simple and delicious, using only three store-bought ingredients. For those who're too lazy to make desserts, this recipe is a true blessing.
Any Oreo flavor is applicable, but you should use the traditional Oreo cookie to achieve the best result. The high-fat cream cheese is better since it gives the balls a fatty flavor and consistent content.
You can garnish the balls with colorful sprinkles to celebrate the special occasion. If you use crushed Oreos, sprinkle them on the soft chocolate layer. The balls can last up to months in the freezer, so don't hesitate to prepare a large batch and enjoy it later.
You cannot say no to these super simple and tasty 3-ingredient Oreo balls. Learn to cook them with this video!
Total time: 20 minutes
It's so fun making this Golden Oreo banana pudding at home. Its creamy texture of cream cheese combined with the satisfying sweetness of banana will make you happy. Plus, this recipe is super simple to prepare with no baking required.
You should use Golden Oreos to harmonize with the mild yellow texture of ripe bananas. They give a mild chocolatey and cookie flavor that doesn't overshadow the banana's sweetness.
The pleasant tangy undertone and richness of the softened cream cheese mixed with condensed milk also stand out in this pudding. You can put some extra cookies and whipped cream on the cream cheese layer to make the pudding more appetizing.
Total time: 10 minute
Disney fans should not skip these cute and delicious Mickey Mouse Oreos. With only 10 minutes and a few simple steps, you can create an extremely tasty and cute version of Oreo cookies to indulge your kids.
This recipe uses the black candy melt for the ear, red melt for the face, and white ball sprinkles for the eye. Everyone has a little child in their soul, and making these little Mickey Mouse Oreos will bring you back to your beautiful childhood days.
With the mild sweetness of melted candies, this recipe brings the original Oreo flavor to another level. Save it for the upcoming birthdays and little occasions. They are a great addition to any party that will cheer everybody up.
Total time: 3 hours and 10 minutes (Plus 3 hours of freezing time)
While it's not a versatile flavor, the mint chocolate chip gives you the refreshing and mildly minty taste, making it a great addition to this Oreo pie. The exotic greenish color of the pie batter and chocolatey crust attracts me at first glance.
Though the mint chocolate chip ice cream is delicious, you can use whatever flavor you like. The idea of this Oreo pie is to combine simple and tasty ingredients to create a yummy sweet treat that can please everyone's sweet tooth.
To prepare the pie, start by blending a cool whip with softened ice cream and spread the mixture evenly on the pie crust. You can garnish the pie with more crumbled Oreos and chocolate sauce to serve. Don't forget to freeze the pie to increase its yumminess.
Why does this frozen mint chocolate chip ice cream pie taste so good? Watch this video to find out!
Total time: 6 minutes
Four Oreo cookies, a little milk, and six minutes are all it takes to prepare this magical microwave dessert. You cannot demand more of a delicious and simple Oreo dessert like this recipe. It's a light snack suitable for busy people who have to leave home early in the morning.
If you love dipping the little Oreo into milk, you'll enjoy this Oreo mug cake flavor. The simple and milky flavor helps maximize the cookie taste of Oreos while creating a smooth and creamy texture.
But why the name mug cake? It's because you'll assemble the Oreos in a mug and crush them. When the Oreos crusts are fully crushed, pour in the milk and stir to soften the mixture. Making this mug cake is really enjoyable, just like preparing a hot morning coffee.
However, you must microwave the mug cake to harden the liquid texture and let it cool down before serving. Consider adding some baking soda if you want an airier texture.
Total time: 5 hours and 20 minutes (including 5 hours of refrigerating time)
These Oreo Jell-O shots look similar to the original Oreos cookies, except that they have a filling of vodka and gelatin. The boozy jello gives a spicy and briny flavor like a straight vodka shot. I can't help but get amazed by this special condensed milk dessert.
Gelatin is the secret ingredient for creating a firm and creamy jello filling. On a greased pan, mix gelatin and vodka until they fully combine, then pour in boiling water. Finally, add the condensed milk to the dissolved mixture and keep stirring.
However, you will need to freeze the mixture for around 5 hours so it can harden. The last step is child's play. Remove the Oreos cream filling with a butter knife and replace it with the hardened gelatin mixture to serve.
Total time: 1 hour and 30 minutes
It's hard to believe that this grand Marnier cheesecake is a homemade dessert with its gorgeous appearance and decoration. The moist yellow cheesecake texture covered with melted chocolate layers will make your stomach roar.
This grand Marnier cheesecake is filled with cream cheese, ricotta cheese, and especially the Grand Marnier liqueur. It gives a subtle orange flavor with a vanilla and oak undertone that makes the cheesecake taste like heaven.
However, those who cannot tolerate liqueur can substitute it with regular Grand Marnier extract. The exotic dark glazing is a simple mix of unsalted butter, chocolate, and light corn syrup. It's a big plus for those craving a delicious chocolate dessert.
To create that flawless cheesecake batter, you should use a water bath. Otherwise, placing a cup of warm water in the oven to add more moisture also helps prevent the cracks.
Total time: 1 hour and 5 minutes
Sometimes my craving for chocolate kicks in, and these stuffed Oreo brownies come straight to my mind. Inside the delicious brownie is a creamy and fudgy cream center to indulge your sweet tooth.
The brownies batter involves basic ingredients like flour, butter, egg, and cocoa powder. Though this recipe uses the classic salt, sugar, and vanilla extract for seasoning, the sharp chocolatey flavor of cocoa powder is the main theme of these little desserts.
Leftover Oreo cookies are blended with cream cheese, eggs, and cream bars to make the filling. The chocolate Oreo cookies work best since they enhance the chocolatey flavor of the brownies.
Making stuffed Oreo brownies is just a cup of tea. This video will demonstrate it!
Total time: 35 minutes
It would be a big loss to list the best Oreo desserts without mentioning ice cream. No sweet treat can match this delightful ice cream dessert for a hot summer day. Its freshness and filling taste will add more joy and happiness to your day.
Besides the granulated sugar, this recipe uses both vanilla extract and vanilla bean pods to maximize its sweet flavor. The crushed Oreos are mixed with heavy cream and whole milk, giving a creamy and fatty ice cream base.
If you don't like the soft texture, freeze the ice cream for a few hours to harden it. Ensure that you blend the base vigorously to fully combine the ingredients and seasoning materials.
Total time: 20 minutes (Plus 4 hours of refrigerate)
This Butterfinger Oreo icebox cake looks more like a fancy sweet course served in five-star restaurants than a homemade dessert. It will instantly light up your mood with its colorful and bright appearance, which looks like glowing sunshine.
The icebox cake is stacked with Oreos cookies, butter filling, whipped cream, and crushed butterfingers. The Oreos feature a soft texture, just like when you dip them into milk.
In addition, the vanilla extract gives a mildly bitter undertone that combines so well with the ingredients, creating a delicious balmy taste and floral aroma.
Total time: 2 hours and 15 minutes
I always order an Oreo cheesecake when visiting a Cheesecake Factory restaurant. This flavorful and beautiful delicacy is always my go-to dessert on the menu. But I rarely have time to enjoy it there, so preparing a homemade copycat recipe is ideal.
Though the brand keeps its recipe a secret, this Oreo dream extreme cheesecake brings a similar if not more delicious taste. The best thing about Oreo Dream Extreme cheesecake is its six layers of Oreo waffles mixed with milk chocolate icing.
This recipe does the same thing with 6 assembling parts consisting of whipped ganache, Oreo mousse, and the cake layer. You don't have to be a professional baker to make this Oreo Dream Extreme cheesecake; a little patience and attentiveness are enough.
Learn to make the Oreo Dream Extreme cheesecake through this fun and relaxing instruction!
Total time: 5 minutes
The milkshake is a simple and classic beverage of milk, sweeteners, and ice cream. But have you tried incorporating strawberry and Oreo in a milkshake? I guarantee that this delicious strawberry Oreo milkshake tastes better than any beverage treat you've ever had.
This recipe takes less than ten minutes to prepare using only easy-to-find ingredients. To make the deliciously fruity treat even more simple, you can use instant strawberry ice cream, which boasts a similar sweet-tart flavor as fresh strawberries.
Since the ice cream is already sweetened, you don't need to add more sugar or sweeteners to this recipe. All types of milk and Oreo cookie flavors are applicable, so just go for your favorite. You can also use low-carb strawberry ice cream to make this treat healthier.
Total time: 40 minutes
I have tried countless caramel desserts, but they can hardly match this recipe. It's a must-try for Oreo addicts with the ecstatic flavor from chocolate chips, cookies, and caramel sauce.
The beautiful yellowish color of the cookie filling comes from the salted caramel sauce. It brings to the dish a subtle aroma of brown sugar and honey combined with a satisfying caramelly sweetness.
The mild saltiness of this skillet cookie also makes it stand out from the regular sweet treats. With a bunch of added sugar, salt, and flavors, this recipe can easily satisfy anyone with its heavenly taste and a gooey baked texture.
Total time: 38 minutes
When was the last time you had a pudding poke cake? Are its moist texture and delicious flavor still lingering in your mind? If the answer is yes, this tasty Oreo pudding poke cake is what you're looking for.
I love poke cakes for their super tender and fluffy texture. Plus, they are very easy to prepare and rich in calories, which can fill my stomach for the whole day. With this recipe, you'll use the instant Oreo mix and chocolate cake mix to save the effort.
But the flavorful pudding dessert can't be complete without fluffy whip cream toppings mixed with more crushed Oreos. Original Oreo cookies work fabulously in this poke cake, but feel free to experiment with any Oreo flavor you like. I think the Mint or Gingerbread Oreo is a good example.
Have fun with this exciting Oreo pudding poke cake instruction!
Total time: 1 hour and 30 minutes (Including 1 hour of chilling time)
Serve these golden Oreo Truffles with cream cheese on a dining table, and they will run out in seconds. There can't be a more suitable dessert for Christmas than these Oreo Truffles with their beautiful golden crust and delicious taste.
Obviously, you'll need the Golden Oreos for this recipe. They still come with the tasty creme filling but have a more subtle twist of the vanilla flavor. Their mild and enjoyable sweetness mixed with chocolate chips and cream cheese creates an excellent combination.
Ensure that you choose the highest-quality white chocolate to achieve the best flavor. You can garnish the truffles with sprinkles or with melted chocolate. But some crushed Golden Oreos for garnishing are also a good choice.
Total time: 40 minutes
Here comes a chewy and super delicious dessert made from brownie mixes and other ingredients. There is chocolate in all parts of this dessert, from its creamy brownie base and Double Stuf Oreo crumbs to the melted chocolate glazing.
The Double Stuf Oreo has a more special cream filling, which tastes like a mix between regular Oreos and chocolate cookies. But you can use the regular Oreos if you prefer the original flavor.
For those who are short on time, just use the store-bought brownie mix to save more effort. The melted chocolate is optional, but trust me, it will make your stuffed brownies taste twice as delicious. Remember to refrigerate the cake for half an hour before serving.
Total time: 45 minutes
What if the party is coming, but you only have some Oreo biscuits and cream left in the pantry? These Oreo dessert pots are a brilliant way to amaze your friends with a delicious taste and super fancy appearance using simple ingredients.
It doesn't take much effort to prepare these dessert pots. All you have to do is alternate the layers of crushed Oreo, cream cheese, and double cream. To save time, use the food processor to crush the Oreos and butter until they turn into a smooth and lump-free batter.
If you don't have the food processor at hand, just put the Oreo crusts into a bowl and grind them using a rolling pin. Either way, put an Oreo biscuit on top of the glazing in each pot to serve!
Surprise your friends and guests with these super simple yet delicious Oreo dessert pots
Total time: 42 minutes
These Red Velvet Oreo cheesecake cupcakes are a perfect dessert to celebrate Valentine with your love. The silky and smooth cheesecake batter features a vibrant crimson color. These cupcakes are full of love and vitality that help you cherish this precious moment.
Not only Valentine but this can also be prepared and enjoyed on every special occasion of the year thanks to its exotic appearance. But it's not only the look that makes these cupcakes so amazing.
You will love them because of their satisfying sweetness and heavenly flavor, too. If the silky chocolate ganache and whipped cream are not flavorful enough, feel free to garnish the cupcakes with more chocolate chips and fudge.
Total time: 1 hour
The first time I saw this flavorsome orange dessert, its glowing and flawless orange top surrounded by the finely baked Oreo crust instantly caught my attention. Beautiful Aperol spritz jelly combined with Oreo biscuit and mascarpone filling creates its irresistible charm.
The creamy filling is a mix of mascarpone, icing sugar, cream cheese, double cream, and especially orange zest. It gives the classic circuitry and tangy flavor of this fruit combined with the sweet taste of icing sugar.
Meanwhile, the mascarpone brings a mildly sweet and deliciously nutty flavor to the cheesecake. The flavorful taste of the mascarpone filling excellently accompanies the chocolatey taste of the Oreo base, creating a burst of flavor and satisfaction in each bite.
Total time: 5 hours and 15 minutes (Including 4 hours and 30 mins of chill time)
This mud pie is well-known for its delicious and rich chocolate filling topped with a beautiful creamy whip cream layer mixed with crushed Oreos. You don't even need the oven to make this beautiful pie.
Start with crushing the Oreo crusts in a Ziploc bag or food processor. If you don't have time, just use the instant Oreo pie crust sold in the grocery store. The chocolate filling is a rich mixture of eggs, cream, milk, and sugar.
Blend the ingredients at medium heat until they turn smooth and fully combined, then add chocolate, vanilla extract, and unsalted butter for the flavors. Don't forget that the filling takes around four hours to one night to form a proper consistency.
Total time: 38 minutes
You can prepare and enjoy those captivating cookies and cream cupcakes at any time of the day. Just looking at their soft and dreamy texture of buttercream and Oreo cookies is enough to make you hungry.
On top of the creamy and fluffy butter frosting is a piece of Oreo biscuit plus more crushed Oreos to maximize the cookie flavor. The frosting delivers a balanced taste of buttery sweetness and salty flavor.
Don't rush when making the buttercream frosting, or you'll end up over-creaming the texture. Ensure that you combine the ingredients according to the proper ratio.
Can you create these beautiful cookies and cream cupcakes? Challenge your cooking skill with this video!
Total time: 30 minutes
These Oreo cheesecake layered bars are a dream for cream and cookie lovers. The tasty mix of cheesecake mixture, Oreos cookies topping, and hot fudge drizzling creates an irresistible dessert.
Every bite of this dish is filled with cookies and cream flavor from the cheesecake mixture (a blend of sour cream and softened cream cheese). Meanwhile, the top layer of Oreo cookie crust drizzled with hot fudge gives this cheesecake a rich chocolatey taste.
To achieve a fluffy cheesecake texture, you should use an electric mixer to blend the ingredients.
Total time: 6 hours and 20 minutes (Including 6 hours of freezing time)
I cannot find a more delicious treat to enjoy in the summer months than this ice cream pie. It is packed with delicious golden Oreos and sprinkles. The eye-catching and colorful appearance makes this dish a perfect dessert for the kid's party.
The bright yellow texture of the pie comes from golden Oreos and yellow cake mix, which make this dish look like sunshine. Imagine seeing a beautiful rainbow crossing the sunny summer sky! That nicely sums up the description of this ice cream pie.
The cake batter is a mix of sprinkle, condensed milk, and cake mix. You should stir the cake batter gently, so the air doesn't get out and ruin its fluffy texture. It is best to prepare the pie one night before serving since it requires 6 hours of freezing time.
Total time: 1 hour and 12 minutes
With everyone's favorite ingredients like cream cheese, cocoa, and Oreo crumbs, this Oreo cheesecake brownie trifle is a tasty treat that you can't have enough of. My heart melted when I saw its fluffy whipped cream layer mixed with the luscious cheesecake brownie.
The Oreo crumbs are added straight to the cheesecake filling. Its rich chocolatey flavor combines so well with the cream cheese and milk mixture, creating an addicting flavor for this cheesecake.
You should serve the cheesecake in a trifle dish or wine glasses to make it more classy. Don't forget to top the trifle with more whipped cream, chocolate sauce drizzle, and Oreos to maximize its delicious taste.
This is the only instruction you need for making the Oreo cheesecake brownie trifle.
Total time: 18 minutes
Chocolate and peppermint always make the best duo. So it's not surprising when this peppermint Oreo fudge tastes so delicious. Its sweet and creamy texture combined with the minty and cooling peppermint flavor create a delicious dessert for the hot summer days.
Fudge is a famous candy people often make at home. It normally consists of sugar, milk, cream, and butter. This recipe takes this tasty sweet treat one step further by adding Oreo crusts, white chocolate chips, and peppermint Crunch Bits.
All the ingredients are blended in perfect ratio, resulting in a soft and chewy candy texture with a satisfying burst of flavor in each bite. The fudge can last for up to six months in the fridge, so don't hesitate to prepare a generous batch to enjoy.
Total time: 15 minutes
Get bored with cheesecakes and Oreo muffins? Then, I will finish the list with something more special. Among other unique flavored popcorn recipes, this chocolate and lemon Oreo version will bring you a brand new experience with its excellent taste and crispy, filling texture.
Obviously, the filling sweetness and sour undertone are the main flavors of this sweet popcorn dish. The lemon Oreos are filled with delicious lemon-flavored creme with a satisfying yet not-too-strong sweetness.
Each popcorn is a perfect symphony of sweetness and tartnes that will instantly light up your mood. After a tiring day at school and work, a bowl of delicious Oreo popcorn and your favorite movie show are enough for a happy and relaxing evening.
The Best Oreo Desserts Don't Have To Be Complicated
These easy Oreo desserts demonstrate why simplicity is a true beauty, especially in making food and sugary sweet treats. They are very delightful when you are too busy with the bustle and hustle of life and don't have time for the luxurious treats.
These easy and tasty Oreo desserts remind me to cherish the little moments in life by adding more flavors and joy to the tiring days after work. With convenient ingredients and a few steps in preparation, you can create a yummy dessert with simple and delicate flavors.
So, which recipe would you try first on this list? Did the information and instructions in this post satisfy you? What's your definition of a tasty and excellent Oreo dessert? Feel free to share with me your thoughts via the comment section.
Also, a share and thumb up for this post will make my day. Thank you for your precious time!