If you are stuck in the search for easy orange desserts, look no further than this article. The dishes I will introduce to you here make good use of the healthy, vitamin C-rich fruit while taking little time and effort to make.
Among these recipes, some are all about the orange, some pair it with other fruits like cranberries, and some even combine it with chocolate. Regardless, you will surely get a yummy dessert. What are you waiting for? Let's dig in!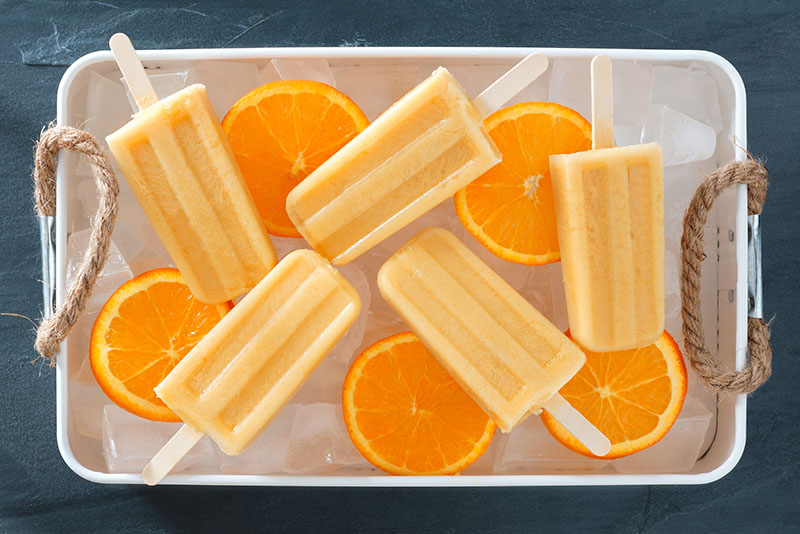 These Recipes Bring Out The Best In The Orange
Before browsing this recipe list, remember that many require an oven, a blender, and several other baking tools. You should read carefully to decide which ones suit the equipment you have or which you have to buy.
Total time: 55 minutes
These orange olive oil donuts are among the easiest desserts to make. You just need to mix all the dry ingredients, add the wet ingredients, mix well, and bake in a donut pan.
However, apart from must-have ingredients like flour, egg, and milk, this recipe adds ground cinnamon, ground nutmeg, yogurt, olive oil, vanilla extract, and especially orange zest. Together, they create flavor-rich, moist, refreshing donuts.
After dipping these treats in melted chocolate, you can sprinkle more orange zest on top to enhance the fruity scent.
Total time: 1 hour and 15 minutes
The orange crush pound cake is a dense, heavy, flour-based dessert full of orange scent and flavor. You can taste the orange soda and the invigorating zest packed with natural essential oil.
It has a moist, velvety texture that won't choke you when you excitedly take a big bite. If you want the cake to feature a dark orange color, add a few drops of food coloring. Otherwise, it will have a naturally yellow orangish tone.
The orange crush pound cake is a yummy, relaxing, reviving dessert to have in summer or any day you like as long as you can get some fresh orange zest.
Total time: 35 minutes
Shortbread cookies have a much higher ratio of butter to flour than regular cookies. It means they are very tender and prone to crumbling when transported. Therefore, as tasty as they are, I prefer making and serving them at home to shipping them as gifts.
That aside, you should really give these orange shortbread cookies a try. It takes only 5 ingredients and 35 minutes to make these delectable treats. The ingredients are so common that you may not even need to go shopping: butter, sugar, flour, salt, and orange peel.
It's worth noting that you must use soft butter, not melted. In hot weather, you can simply let the butter sit at room temperature for 30 to 45 minutes. On a cold day, however, you can microwave it within 15 seconds at the defrost setting.
Love chocolate? Follow this instruction to integrate it into Orange Shortbread Cookies.
Total time: 15 minutes
Traditionally, Caprese salad consists of mozzarella cheese, basil leaves, and tomatoes. This recipe keeps the first two ingredients and replaces the last one with citrus fruits like oranges and blood oranges. You can also toss in some grapefruits and tangerines.
This dish is overall reviving. It features the tangy flavor of citrus fruits, savory and creamy taste of cheese, sweetness, smoothness of honey, and a unique basil touch.
You can serve this healthy dessert with fried rice or grilled cheese sandwiches. It also works as a light lunch for the summer.
Total time: 4 hours and 10 minutes (including freezing time)
When it comes to dessert, you can't go wrong with frozen yogurt. However, it's not easy to find citrus yogurt. The good news is that you can quickly make some yourself and enjoy it the way you like.
First, dice the oranges and freeze them for at least 2 hours beforehand. Once they are frozen, put them in a food processor with Agave nectar, lemon juice, and yogurt. Blend everything for 5 to 10 minutes or until the mix is smooth.
Lastly, pour the mix into a container and freeze until it's firm. This may take another few hours.
This beautiful yogurt treat is creamy with a luscious acidity that will cheer you up on a dull day, while its pink-red color is pleasant to the eye. Take a few scoops, place a slice of blood orange on top for garnish, and serve.
Total time: 1 hour and 40 minutes
You will be happy with orange dream bars if you love lemon bars. These bite-sized treats comprise a shortbread layer as the base, a layer of orange-flavored filling, and a layer of powdered sugar on top.
You can use any type of orange available, and the bars will still taste amazing. But to obtain the best flavor, don't strain the juice as the pulp will amplify the orange flavor. The orange extract is a must for the same purpose.
Here's a tip for those who enjoy a crunchier crust, you should bake it for 22 minutes, no less.
Total time: 2 hours and 40 minutes (including rising time)
Orange rolls offer a combination of three flavors. These include the sweetness of the traditional batter, the orange taste of orange juice and orange zest, and the creaminess and sourness of cream cheese.
The secret to perfect orange rolls is ground ginger. With only half a teaspoon, this ingredient will enhance the orange flavor significantly, creating a fruity blast in your mouth.
For beginners, note that making bread requires a lot of practice and a few advanced skills. So, if you try this recipe early on your baking path, strictly follow the instructions. Significantly, don't cut down on the rising time since it's crucially important.
Don't know how to work the dough for Orange Rolls? Here's how this chef does it!
Total time: 45 minutes
I'm a chocolate enthusiast, so I made searching for new chocolate-related recipes my life-long mission. And while chocolate-banana is a famous mixture, you will be surprised how orange also works well with chocolate.
These dark chocolate orange cookies are sweet and subtly bitter with a hint of orange flavor. The dessert has a texture similar to that of brownies by they don't dry out. It means you can store them in the fridge for a week, and they are still fudgy whenever you take a bite.
It's easy and quick to make this lovely dessert. Dark chocolate orange Grand Marnier cookies are perfect for small get-togethers, movie nights, children, and any other time you crave a special flavor.
Total time: 4 hours and 15 minutes (including freezing time)
When it comes to Italian cuisine, pizza and pasta aren't the only highlights: the country also has delectable desserts, such as Granita. This is a popular dessert made up of fruit juice and sugar.
Rather than ordinary orange fruits, I will show you a recipe with antioxidant-packed blood oranges. First, create a simple syrup by simmering water and sugar on low heat, then add blood orange juice.
Pour the mix into a flat metal pan and place it in the freezer for 3 to 4 hours. During this time, stir up the mixture every 30 minutes with a fork. This will prevent it from turning into a large piece of ice. When serving, just scoop up the Granita with an amount of your choice.
Total time: 40 minutes
First of all, sorbet is not yogurt. These two desserts look alike, but they are very different. While yogurt is a dairy treat, this orange sorbet is a frozen, blended mix of orange juice, sugar, and water.
Therefore, this recipe is the perfect summer rescue for lactose-intolerant people. Also, if you don't have an ice cream maker, you can use a blender or food processor instead. You can serve orange sorbet in a glass, a bowl, or in waffle cones.
You can add orange zest to Orange Sorbet to boost the flavor.
Total time: 25 hours (including prep time)
It will be a huge mistake if I don't include at least one ice cream recipe in this list. Though ice cream is the most popular in summer, you can have it in any season you like. I even enjoy brain freeze when having this dessert in winter.
Luckily, there are different types of orange all year round, so you can always get the super flavorful orange zest. On the other hand, chopped dark chocolate adds an exotic taste to the treat and something hard to chew.
In this recipe, you will have to make ice cream from scratch using an ice cream maker. It will take much more time, but you can adjust the amount of sugar depending on your appetite.
Also, when making the ice cream yourself, you can whisk the orange zest into the mix very early in the process. This way, everything is mixed well, enhancing the orange flavor of your dessert.
Total time: 1 hour and 35 minutes
This bright citrusy Italian orange cake is no ordinary sweet dessert. The cake sponge features a luscious fresh orange flavor, a creaminess yet tartness of yogurt, and moisture thanks to olive oil.
Besides that, there's a layer of candied orange slices on top that adds even more orange taste to the cake. This layer also makes the cake moister. However, if you don't like this layer, you can omit it completely, and the cake will still be as delicious as ever.
This Italian orange cake offers a mind-blowing flavor when served warm. So, I recommend you try it on a chill or cold day.
Total time: 2 hours and 10 minutes (including chill time)
An orange creamsicle pie is most suitable for people who prefer a quick recipe, don't have an oven, don't like the heat from baking, or crave creaminess. It takes only 10 minutes to make this cake and 2 hours to chill before serving.
The cake comes with a thin crust requiring no baking or cooking. You need to mix shortbread cookie crumbs with melted butter and press firmly to form the crust.
Next is a thick filling, comprising a fruity orange taste, sourness and fatty taste of cream cheese, and a super-smooth texture. Lastly, the light, creamy whipped cream topping completes the pie.
Whether you want to enjoy it alone or with others, the orange creamsicle pie makes a relaxing dessert for any day.
See how this baker makes the graham crust for the Orange Creamsicle Pie and other steps from start to end.
Total time: 1 hour and 5 minutes
Biscotti is one of the simplest desserts to make. Additionally, you can send them to your loved ones without worrying they will break on the way. However, it helps to keep a few tips in mind if you want to achieve the best quality for this delectable cranberry-filled dessert recipe.
Firstly, slice the biscotti 5 minutes after taking them out of the oven, or they will be too tough to slice. Secondly, to ensure even thickness and crispiness, in the second bake, flip the biscotti at about 7 minutes after putting them in the oven.
Last but not least, always use parchment paper. This way, you can avoid sticking, and cleaning will be less of a chore.
Total time: 30 minutes
Truffles have a dense, compact texture, similar to damp cheese but smoother. Traditionally, you use dark chocolate to make truffles. In this recipe, however, you need to switch to white chocolate to integrate the orange flavor into this dessert.
By following this recipe, after half an hour or so, you will have over 20 creamy truffles that melt right in your mouth. It's full of orange flavor, a captivating dessert any orange lover will die to have in the summer.
Best of all, making these truffles is a piece of cake. There are no special notes to take, and you can expect success in the first attempt.
Total time: 1 hour and 30 minutes
If you run out of ideas for Halloween desserts, I'm glad to introduce this chocolate orange brownie recipe. These bite-sized treats are dark down and orange in color, fudgy in texture, and rich in flavor.
With only 7 ingredients, this recipe will help you make a batch of bitter-sweet, fruity brownies to enjoy on Halloween. While this dessert is not difficult to make, you should be careful not to overmix the batter before baking, or your brownies will end up dry.
The Orange Brownie batter is quite runny, which you can see in this instruction video.
Total time: 2 hours and 15 minutes
The babka originated in the Jewish communities in Eastern Europe. Now, it is a popular dessert for Hanukkah, Sukkot, Yom Kippur, and other holidays for Jewish people. This braided, yeast-leavened bread comes in various types of fillings, like cinnamon, chocolate, cheese, or fruits.
This version is special thanks to an excellent combination of orange and cardamom. They support and promote each other efficiently, creating a flavorful blast in your mouth from the very first bite to the last.
Total time: 4 hours and 25 minutes (including chilling time)
Orange custard is similar to traditional custard but with an impression of fresh orange. You can expect the top-notch egg yolk-based recipe to have a creamy, velvety texture that will give you an unforgettable mouth feel.
When making custard in general and orange custard in particular, it's essential to cook the mixture over medium heat in a large saucepan and stir constantly. Otherwise, the heat distribution won't be even, and the mix will easily curdle.
Orange custard delivers the best mouthfeel when you serve it chilled. So, remember to put it in the fridge for at least 4 hours.
Total time: 1 hour and 20 minutes (including cooling time)
From the cake to the frosting, these cupcakes are all about orange. When the orange season comes, and you have a party, this orange-flavored creamy treat is the perfect dessert to include on your menu.
There are many ways to decorate orange cupcakes. You can follow the recipe, place a slice on top or be creative and drizzle some marmalade over the frosting. The desert will also look great with orange segments as a garnish. It all depends on how you like it.
Regarding the making process, if you want to reduce the chilling time, you can put the flour/milk paste in the fridge. However, check it regularly, or you may forget about it, and the mixture will end up cold.
You can add cream cheese to the center of the Orange Cupcakes for an extra flavor.
Total time: 35 minutes
From the first look, you can immediately tell these scones have cranberries as they are randomly distributed on the surface. But when you take a bite, the orange flavor takes over. The refreshment and fruity taste of these scones are incomparable.
Cranberry orange scones are crunchy outside, soft, flaky inside, and absolutely moist. They are also fairly easy to make, involving no complicated steps or techniques.
Yet, you can still benefit from a few tips with this recipe. To start with, use cold eggs, milk, and butter. They help keep the dough solid as you work with it. Also, don't skip the chilling step; it gives the gluten time to relax, creating tender scones.
Total time: 36 minutes
If you have tried a poke cake before, you would know that this name checks out. You need to poke from top to bottom of the sponge, creating deep holes, then pour something syrupy, sweet, or cream all over the cake. It will run down into these holes and penetrate the sponge.
As a result, you will get a super moist, soft, and a bit wet cake. Top the dessert with a layer of whipped cream and decorate it however you like. A poke cake will please even the pickiest guest with its lovely texture.
With this orange-flavored poke cake, you need to fill the holes with Orange Crush and Jell-O. They provide a summer vibe and cheerful, refreshing feel for the dessert.
Total time: 1 hour
A great thing about cakes is that they are highly adaptive. It means that with the basic recipe, you can make countless tweaks to create your own versions without ruining its core structure or texture, such as this orange cake.
To make this delectable dessert, simply adopt orange juice, orange zest, and orange extract. The first two ingredients offer an authentic touch to the fruit, while the extract boosts the flavor effectively.
Between the cake pans and covering the whole cake is a savory, creamy layer of cream cheese infused with orange zest. Cream cheese makes an incredible frosting for this dessert, especially if you want to reduce the sweetness.
Total time: 10 minutes (excluding chilling time)
I bet you can't say no to this refreshing recipe with cottage cheese. It combines slightly salty cheese with an acidic orange flavor, forming a relaxing, refreshing fusion. It's also exceptionally thick, smooth, and creamy.
A huge advantage of this dessert is how simple it is. Its recipe uses only four ingredients: Mandarin oranges, Cottage cheese, topping cream, and orange Jell-O powder. Basically, you just have to mix everything together in order.
The process takes about 10 minutes only, but you need to let the salad chill in the fridge before serving. So, remember to prepare it ahead of your meal.
Total time: 10 minutes
A cup of hot chocolate can give a lot of coziness to your chilly days. The toasted marshmallows add a fudgy, chewy texture to this drinkable dessert. Meanwhile, orange zest provides a citrusy hint, not too much but enough for you to recognize its presence.
To make this flavorful chocolate dessert, you first need to whisk the milk, chocolate shake, and orange zest in a saucepan. Stir until there are no lumps. Then, pour the drink into a mug, and top it with toasted marshmallows.
You can replace marshmallows with whipped cream, either of them works.
Total time: 1 hour and 30 minutes
In Greek, Portokali means orange, and Pila means pie. When combined, Portolopita is an old-fashioned cake in Greek cuisine consisting of phyllo pastry, Greek yogurt, and syrup. It's dense, moist, and has a tad creaminess.
For those with a sweet tooth, you can serve this dessert with a scoop of ice cream in place of Greek yogurt. Ice cream will add sweetness while yogurt balances out this flavor. You can also replace the syrup with honey and a pinch of ground cinnamon to boost a unique flavor.
Total time: 5 minutes
Orange hot chocolate is meant for the cold weather, and this orange creamsicle milkshake will save your hot days. This is the type of dessert you can always make for your kids. It will also remind you of your childhood.
In 5 minutes, with a blender and 5 ingredients, you can quickly fix two glasses of delicious milkshakes. Simply put orange soda, Sherbet, and ice cream into the blender; the machine will do its job. Once you get a smooth mixture, pour it into a glass, and top it with whipped cream.
Orange creamsicle milkshake features a thick, creamy texture and orange blast. This dessert will cool you down instantly.
Add frozen bananas to your Orange Creamsicle Milkshake to get a thicker texture.
Total time: 5 hours and 5 minutes (including freezing time)
Popsicles are the ultimate summer desserts. They are refreshing, yummy, and fun. Orange creamsicle popsicles appear on this list as a beginner dessert recipe anyone can try and succeed the first time. It takes 5 minutes to complete and requires zero effort.
If you are experienced, you may have pocketed many facts and tips about different foods. But for this specific recipe, here are a few things worth keeping in mind.
First of all, using whole milk will produce the best outcome. Secondly, a food processor will do the job if you don't have a blender in your kitchen. Last but not least, apart from oranges, this recipe works for all types of fruit juice.
Total time: 6 hours (including chilling time)
When you are free an entire afternoon, don't mind waiting for hours to taste the result, I highly recommend this dessert.
The caramelized orange cheesecake has a firm, yet moist graham crust, lightly orange filling, and beautiful candied orange slices. Hence, each piece contains multiple textures, taking you from smoothness to crunchiness.
My favorite twist in this dessert is the orange-flavored liqueur. With just one tablespoon of this ingredient, the overall taste of the cake is raised to a new level. It's even better when you serve it chilled.
Total time: 25 minutes
Cookies are a flaky bite-sized dessert that you can enjoy all year round. These cranberry orange cookies are the best to make in fall when both these fruits are available. The red fruit adds a chewy, juicy texture to the cookies, while the orange one dedicates its refreshment.
These cookies are not overly sweet but rather tart. Due to the yellow and red colors of the fruits, they look festive, making them an ideal choice for the holiday season, especially Christmas.
Total time: 55 minutes
At this point, you have seen candied orange slices in some other recipes, as part of the dish or as garnish. They are thin and glossy. However, making them a standalone dessert will be a little different.
The first difference is that you need to cut the slices thicker so that they fit better for biting. Secondly, you can coat them with white sugar to achieve a fancier appearance.
Also, it could be fun to use different types of oranges with this recipe, such as blood oranges, tangerines, and mandarine oranges. They will give you slices of multiple colors.
Total time: 5 minutes
To be honest, this salad is not as healthy as green salads. Rather than veggies, it has only some fruits, marshmallows, coconut, and sour cream. But you will be hard-pressed to find a more refreshing dessert with cream than this one.
To make Ambrosia salad, you only have to mix everything together. However, remember to drain the fruits well beforehand if you don't want to end up with watery salad. Also, when mixing the dessert, stir gently not to mash the oranges and cherries.
On top of that, this salad tastes the best when you serve it chilled. Therefore, you should let it sit in the fridge for 4 to 6 hours before serving.
Delectable Orange Desserts Are Awaiting
My favorite orange recipes are the ones blending orange with chocolate as I'm a chocolate fan. However, there are other great combinations, and I'm sure you will find your own favorite desserts in this article.
Do you know anyone who appreciates a comprehensive list of orange desserts? Share these recipes with them. Maybe you will even receive an orange crush pound cake or a box of orange cookies from them some time.
Nutrition Facts
30 servings per container
---
Amount Per ServingCalories71
% Daily Value *
Total Fat 6.1g

10

%
Cholesterol 16mg

6

%
Sodium 64mg

3

%
Potassium 10mg

1

%
Total Carbohydrate 4g

2

%

Dietary Fiber 0.1g

1

%
Sugars 2.5g

Protein 0.3g

1

%
---
* The % Daily Value tells you how much a nutrient in a serving of food contributes to a daily diet. 2,000 calories a day is used for general nutrition advice.