One-pot pasta recipes are a lifesaver whenever you are too busy to cook anything. Undoubtedly, this all-in-one method will save you much more energy than the old-fashioned way. Cooking pasta in one pot brings you pleasure without much washing-up or an annoying mess.
You won't believe how hearty pasta dishes can be ready to dish up within the blink of an eye. Even if your family is the pickiest eaters, they will immediately fall for the melded flavors of these pasta dishes. These recipes are enough for you to try out all year long.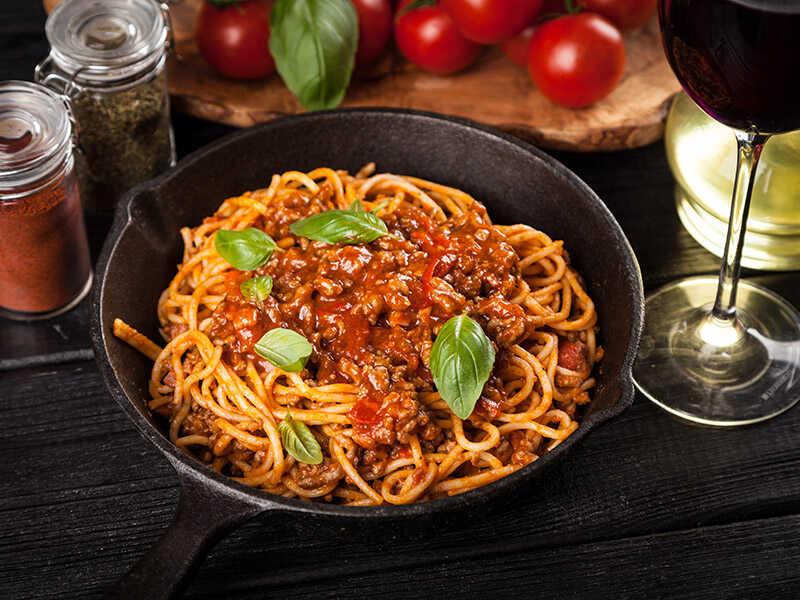 Don't Dirty Another Pot With These Pasta Recipes
Are you searching for creamy, meaty, or vegan pasta recipes? You've come to the right place. Whatever you want, you can find it in this recipe collection. Combining al dente pasta with various ingredients is worth giving a try.
Total time: 30 minutes
One-pot taco pasta will amaze you with its heavenly addictive flavor. It's the ideal mix of nutty black beans, sweet corn kernels, meaty ground beef, and cheesy cheddar cheese. This appetizing pasta can satisfy your hungry stomach immediately.
You can effortlessly whip up the pasta in the morning and place them in your lunchbox before getting to work. It'll be a relief once you come home because you won't have to waste your energy on dishwashing.
Believe me, you will repeat eating the taco pasta countless times.
Add one-pot taco pasta to your dinner menu because everyone will love it.
Total time: 25 minutes
This one-pot pasta can comfort both vegans and meat eaters. The combination of impeccable pasta sauce and veggie will bring out the deliciousness in a pot. Though this meal is meatless, it is admittedly packed with the flavors of zucchini, mushrooms, sauce, and seasonings.
All you do is saute the veggies in olive oil, add pasta and other ingredients, and simmer until cooked through. Besides the listed components, you can make your own vegan pasta with any of your favorite veggies. Or even change it to a meaty meal by mixing it with ground turkey.
The vegan pasta can last around 3-5 days when kept in the fridge. Before storing them, cool your dish and place it in an airtight container.
Total time: 30 minutes
Can you believe a pasta meal produced in a single pot in 30 minutes could be as yummy and elegant as one prepared in an Italian restaurant? With this delicious ricotta cheese delight, nothing is impossible. The hot penne pasta with sun-dried tomatoes, paprika, and cheese is unbeatable.
Try to look for oil-packed sun-dried tomatoes for this recipe because you will need both tomatoes and oil in the jar. Sun-dried tomatoes are undoubtedly wholesome, but their oil can also deepen the taste.
In addition, ricotta cheese is a key component. Blend the ricotta, lemon, and salt until smooth in a food processor. Place the creamy mixture in a bowl and toss it with cooked pasta before serving.
Total time: 20 minutes
Creamy garlic pasta made with cheese, butter, and herbs is best when you crave simplicity. Although the meal includes neither meat nor veggies, pasta mixed with cheesy sauce is also a hit. Not just kids but even adults will get obsessed with this pasta version.
Heavy cream is responsible for the creamy and gooey texture in this recipe. And chicken broth adds flavor to the pasta. By reserving 1/4 cup of liquid, you can adjust the consistency of the pasta sauce to be thin or thick.
You can discard the reserved liquid if the pasta reaches your desired texture. Otherwise, to thin the sauce, pour the liquid into the pot and stir to combine.
Total time: 30 minutes
Let's make a joyful and budget-friendly dish with chorizo and pasta. Chorizo is a cured and smoked pork sausage which creates a meaty and savory flavor for your dinner. And I bet you find it easier and faster to cook sausages than raw pork.
There are many types of pasta you can choose, from Rigatoni and macaroni to tasty penne pasta recipes ready to cook up in your kitchen. What's more, you'll need a large saucepan to throw everything in.
Add some chili flakes to the pasta if you want the pasta mildly spicy and hot. A sprinkle of grated parmesan and fresh basil on the pasta bowl is a hit.
One-pot chorizo pasta will melt your heart with its irresistible deliciousness.
Total time: 30 minutes
Your whole family is sure to love chicken fajita pasta. A bowl of creamy, thick, and tender pasta will make them beg for more. Top the dish with shredded cheese. The heat from the pasta will gradually melt the cheese. It doesn't get any better!
You can alter the taste of the chicken fajita by replacing the ground chicken with beef, pork, or even turkey. If you want to change it into a vegetarian dish, look for vegan meat crumbles, vegetable broth, and plant-based cheese.
In case you are planning to cook a big dinner, a big-sized skillet can ensure your pasta does not spill over while cooking. I'm sure you don't want to clean up a messy stovetop on a hectic day.
Total time: 35 minutes
Preparing a dinner to feed a crowd won't be a bad dream anymore since you've got this recipe. I'll describe it in three words: effortless, time-saving, and crowd-pleasing. If you don't believe me, go and check it yourself.
This skinny buffalo chicken pasta is a mix of chewy chicken breast, mildly sweet carrots, hot sauce, and shredded cheddar. All of them offer an indulgent and irresistible taste to the creamy meal.
You can cook, store, and even reheat the pasta in one pot. For freezing, divide the whole batch of pasta into smaller portions and put them in Ziplock bags. To reheat, add liquid to the pasta, place the pot on the stovetop, and cook over medium heat.
Total time: 35 minutes
Chicken ranch pasta in a pot is delectable for weeknight dinners. Gooey cheddar, tender rotisserie chicken, and pasta tossed in ranch seasoning are heavenly and charming. You'll love how all the components incorporate and form an irresistible pasta dish.
Start by preparing the bacon for the topping first. Cook the bacon slices over medium-high heat until crispy, for 6-8 minutes. Place them on a plate lined with a paper towel to absorb the oil. Set it aside until you finish cooking the pasta.
Reserve 1 tablespoon of fat to saute the garlic (discard the rest). Next, add all the remaining ingredients and cook until the mixture is thick. Once the broth comes to a boil, reduce the heat to let the pasta cook through.
Total time: 1 hour
Loaded with savory flavor, this French onion pasta will be ideal to eat from fall to winter. The pasta will offer your mouth an outstanding taste of caramelized onions, fatty prosciutto, and umami wild mushrooms.
To assemble the perfectly cooked onions, you can melt the butter, stir the onions, and pour a little dry white wine. The wine gives the onions an eye-catching color and an intense taste.
Don't you have any dry white wine on hand? Simply alternate it with apple cider or apple juice.
Total time: 25 minutes
Alfredo is a pasta sauce consisting of butter and parmesan cheese, usually paired with fettuccine, a type of long pasta. Classic fettuccine Alfredo is popular for its rich and creamy consistency.
Similar to the traditional dish, this one-pot meal is pasta coated in the creamiest sauce. However, the recipe has substituted fettuccine for another healthier component, gluten-free chickpea pasta. Also, broccoli florets make the food nutritious.
Some amazing ways to serve this goody are to spread it on slices of garlic bread, mix the pasta with a bowl of Caesar salad, or top it with an oven-baked chicken breast. It's your choice.
One-pot broccoli pasta Alfredo will hit your tongue with a rich flavor.
Total time: 25 minutes
This pasta is incredibly rich and gooey without a tiny bit of cheese. Instead, it's pasta tossed in pumpkin puree, warm spices, and slightly zesty lemon juice. Even if you're a picky veggie eater, you won't believe how nice it is.
Be sure to choose short pasta types for cooking pumpkin pasta. Spaghetti or other long pasta shapes can break apart when you stir. Fresh sage and rosemary give the food a pleasant smell. Replace them with dried herbs if they are not available.
Total time: 30 minutes
Asparagus and pasta? Yep. And you won't regret it after trying this for lunch or dinner. Thanks to the one-pot cooking method, all you need to do is simply cook the veggies and pasta for several minutes on the stovetop and serve warm.
I'm sure you don't want to chew large pieces of asparagus in your meal. So, after trimming off the ends, chop the greens into 6 to 8 small parts. As for the mushrooms, cut them into equal slices.
Feel free to choose your favorite mushroom varieties or deepen the flavor with more vegetables. Leftover asparagus pasta can still be tasty the next day.
Total time: 15 minutes
How do you frequently cook mac and cheese? Do you cook the pasta in a pot, prepare the creamy cheese sauce in another pan, and end up baking it in the oven? If so, it's time to try this recipe.
The recipe can greatly reduce the cooking time to create a pork tenderloin-worthy side for your meal. Get a high-sided skillet and cook water, milk, and pasta in it, with salt to taste. Lower the heat to let the pasta cook tenderly. Now, remove it from the heat to mix it with cheddar.
Shredded bagged cheddar or any type of cheese is welcome. However, shredding cheese at home can result in a creamier melt.
This is the easiest recipe you've ever found to cook mac and cheese in one pot.
Total time: 25 minutes
One-pot orzo with shrimp and peas is an ultimate dish to feed everyone. Even though the pasta dish is packed with several basic ingredients, your family will eat this up with two thumbs up and zero complaints.
For this pasta recipe, you should cook the orzo until al dente first, set aside, and then add it to the pot after cooking other ingredients thoroughly. Don't worry! It's still a one-pot recipe, I promise.
Add lemon zest and juice once everything is nearly done. This trick helps the dish produce a slightly acidic and zesty taste.
Total time: 30 minutes
You may get too familiar with chicken or beef pasta. But what about salmon pasta? You have to try it yourself to figure out how tasty it is. Salmon, broccoli, and spices, everything pulls together quickly within a few minutes of prep work.
Take note of these pointers for a successful fish dinner. Sear the salmon for 2 minutes, and don't move it too much, or the crust won't look charming. While cooking, occasionally stir to prevent the food from sticking to your pot.
Total time: 30 minutes
This is one of the best ideas for a comforting and satisfying pasta dish. Orzo combined with oregano, red pepper, and garlic will hit your nose with a strongly inviting aroma. You'll want to pair the goody with a Caesar salad and place a white wine glass alongside to enjoy.
If your children can't consume spicy food, remove the red pepper and white wine. Once completely cooking the food on the stovetop, quickly stir in capers and basil, and leave the pasta to sit for 1-2 minutes to thicken.
Total time: 25 minutes
This is what you need for a simple summer pasta dish to beat the heat. The excellent combination of ricotta cheese, zucchini, and pasta create a fresh, cheesy, and cozy dinner. Your babies will never know this contains zucchini since it's grated.
More than being luscious, zucchini pasta has an aromatic fragrance of nutty butter, herby thyme, and pleasant shallots. It will make your kids unable to stop asking when the dish is ready to be served.
For a tastier result, it never goes wrong when you sprinkle salted pistachios, toasted walnuts, or pepitas on top of the food. Serve the course warm, or the pasta will become mushy if you leave it for too long.
Total time: 45 minutes
To be honest, meat sauce spaghetti is my go-to recipe on weekdays. The savory blend of beef and sausage mixed with carrots and spaghetti always fills my mouth with flavors. This protein-packed pasta is suitable to serve in the middle of the day.
A large Dutch oven or a pot will be fit for cooking the dish. As for the sausage, it's advisable to use Italian turkey sausage and remove the casings. Cook the sausage and meat over high heat, and don't stir for the first 2 minutes.
Cooking spaghetti with meat sauce in one pot is never troublesome.
Total time: 30 minutes
Always keep some pasta in your kitchen cabinet because there is a wide range of simple pasta recipes you'll want to whip up all year round, including this one. The curry pasta and vegetables are attractive for their stunning look and the spiciness of red curry paste.
Compared to takeout meals, homemade curry pasta is much more affordable but can please everyone's taste buds. Moreover, it's family-friendly and saves you time when most ingredients are pre-made.
If you can't deal with the hot spiciness of red curry paste, choose milder types of curry paste. Or add more, as you wish. Use tri-color rotini for a vibrant appearance.
Total time: 30 minutes
If life is too hard for you, let's make it easier by treating yourself to this unbeatable vegetarian pasta dish. The soup is quick, but that doesn't mean you have to sacrifice taste. Pasta, spinach, carrots, and Italian seasoning blend are all combined together in one pot.
It's recommendable to use refrigerated cheese-filled ravioli. But if it's inconvenient for you, customize it with other types you have. You can make this dish ahead for a few days and store it in the fridge. Eat it warm by microwaving for a few seconds or reheating it on the stove.
Total time: 23 minutes
The pasta dish will surprise you in the mouth with its flavorful puttanesca sauce. Puttanesca, meaning lady of the night, first appeared in World War II. It is salty and garlicky due to capers, olives, and garlic.
Besides the sauce, the pasta here is also a star of the show. This recipe calls for casarecce (short twists of pasta). You will cook the pasta directly in the puttanesca to thicken the sauce and form a creamy texture.
Whole wheat casarecce pasta works the best because its gluten acts as a sauce thickener in the dish. Nevertheless, if you want to make the food gluten-free, swap the whole wheat casarecce with another pasta type.
Total time: 30 minutes
This ready-in-30-minute soup requires several common ingredients like marinara sauce, cheese, beef, and pasta. The one-pot recipe is awesome when you can make it on the stovetop, instant pot, or turn it into a brilliant slow cooker pasta dish for convenience. It's so unrealistic!
The warm and fragrant lasagna soup is enough to fill your stomach with mind-blowing deliciousness. Moreover, you can place a refreshing salad, crusty sliced bread, or roasted veggies alongside to complement your soup course.
You'll never get bored of this delectable one-pot lasagna soup.
Cooking Pasta In One Pot Is Nothing But Joyful
Incredibly, you can mix the pasta with so many different ingredients. Cooking them in one pot is a relief since you can minimize the cleaning up. And the dishes can satisfy your entire family, too. What an ultimate way to make pasta dishes on busy weeknights!
Rate 5 stars to the recipe you like the most in the comment section. If you feel my post is useful, hit the share button to support me and to let it reach more people. Now, it's time to pick up one impressive recipe and feed your beloved with pasta tonight.