Do you want to get a bit more creative in the kitchen with the best omelette recipes? For a long time, I've been enjoying cooking up this classic dish for breakfast (though it's perfect for any meal of the day).
Of course, with some eggs, butter, and salt, omelette already stands its ground. However, you can always take it to the next level!
Brace yourself because the myriad cooking ideas I provide here will make you see eggs in a new light. Not only do they create wonderful and memorable dimensions of flavor, but they also bring the tastes of different cuisines across the globe to your kitchen!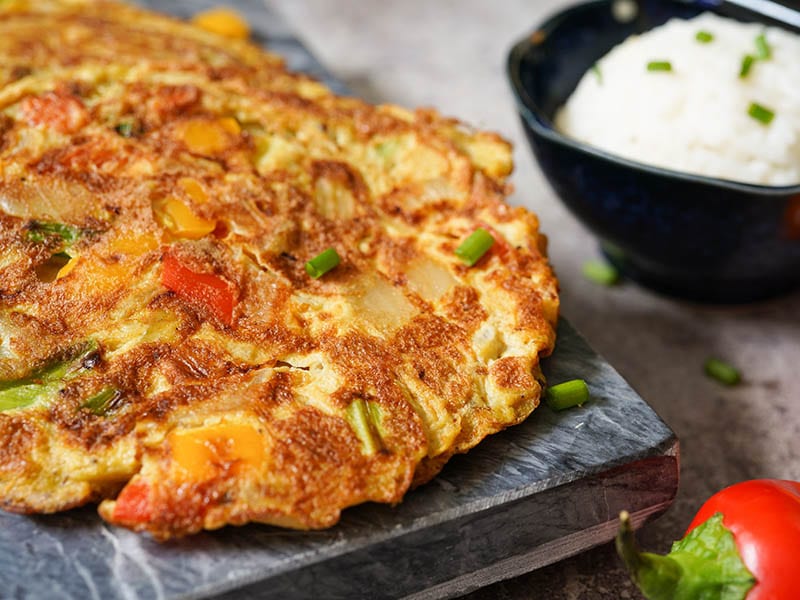 Have An Omelette To Start And Lighten Your Day!
Before diving in, let's go through some common rules for the perfect omelette.
Pick your eggs carefully. They should be at room temperature before cooking, so make sure you keep them out of the fridge for a while. Cold eggs take longer to set, which increases the risk of overcooking your dish.
A good omelette should be fluffy. You can add a tiny amount of milk or cream and watch your eggs puff up in all of their splendor!
Beat them right. Don't forget to beat your eggs until there are no more flecks or white visible. They should be light and frothy.
And you are all set! Now, I present to you this complete list of the best omelette recipes that are worth waking up for.
Total time: 25 minutes.
Behind almost every Asian dish is a not-so-secret ingredient: Soy sauce, a fermented mixture of soybeans, koji mold, and other ingredients.
My Asian-style chicken omelette relies on soy sauce for much of its flavor, so you will find a balance of umami, sweetness, and saltiness in the dish. Keep in mind that each Asian culture has its own take on soy sauce, so you can customize the dish depending on your preference.
Using chicken breast and plenty of fresh vegetables such as carrots, snow peas, and sprouts, the recipe is made for a light and healthy meal. It has plenty of lean protein; it's low in calories and low in fat. Perfect for weight watchers, I'd say!
Total time: 20 minutes.
To many, southern California is like heaven on earth. You and I both long for the sun on the warm beach, mild sea breezes, and, most importantly, the farmer's markets. This Cali-inspired omelette will take you back to the Golden State once again.
What makes this recipe special? All the things that define Californian cuisine, of course: A lot of cheese, fresh herbs, crispy bacon, grilled corn, perfectly ripe avocado, and arugula. Though it seems like there are too many ingredients for an omelette, the cooking process is very simple.
Altogether, they make your meal look like a rainbow on the plate: Colorful, vibrant, light, and fresh, yet brimming with flavors! This is how you do things in California, right?
Total time: 15 minutes.
Here comes another hearty omelette recipe! Making this delicacy is one of the easiest, fastest ways to keto nirvana. But when you fill it with avocado and salmon, the dish is taken to a whole new level.
For a long time, avocados have been well known as a rich source of vitamins, magnesium, and potassium. The amount of unsaturated fats they contain also makes them a staple in healthy pantries.
This fruit (yes, it's actually a fruit, not a veggie!) pairs wonderfully with salmon. Just like avocado, the beloved fatty fish contains plenty of healthy fats while adding no carbs to your meal.
Altogether, eggs, avocado, and salmon make the most wonderful keto dish ever. If you prefer a more robust flavor, you can add a pinch of cayenne for some extra heat. The recipe is quick enough for a busy weeknight yet elegant enough for a gathering!
You can enjoy this salmon & avocado omelette any time of the day!
Total time: 35 minutes.
Your blanket is ready, your cooler is out, and now all you need is some good picnic foods to take with you? This baked omelette roll will do the job! This caramelized onion, carrot, and ham omelette roll is not only tasty but also simple to prepare and serve.
The secret to this dish is the caramelized onion. If you cook them nicely, they will be sweetly savory with an irresistible luxurious texture. To achieve this, remember to keep the heat on medium-high. If you go higher, you will risk burning the onions before they are tender.
Together with carrots, the onion grants this dish a touch of sweetness, which is balanced out by the saltiness of the ham. You can enjoy the dish with pickles and mayonnaise, fresh garden salad, or spicy harissa sauce.
Total time: 30 minutes.
Perhaps tomato omelette sounds strange to you, but they really go well together. This dish is visually appealing: An open-faced omelette topped with bright red sauteed cherry tomatoes. Just take a bite, and you will know it tastes as great as it looks.
The most important step is to sautée cherry tomatoes. Using a deep-sided pan, heat the butter until it melts. After adding the peppers, keep cooking for another 5 minutes. Then, add the cherry tomatoes and cook them until they are softer and get a little witty-looking.
Afterward, you can add the egg mixture. This will make a delicious meal in the summer when tomatoes are naturally in season and tasting their best.
Total time: 12 minutes.
Kick your omelette game up a notch with this new and exciting way to use a waffle iron! Yes, you are not reading it wrong. If you love these egg-based delights but are afraid of all the mess, you can whip up your eggs in a waffle iron and let it do all the work.
All you have to do is grease the waffle maker with non-stick cooking spray, pour the eggs-and-milk mixture onto the iron, and let it cook. The key is to cook on low heat for just 2 to 5 minutes. Personally, I'd like my eggs to be slightly browned with crusty edges.
This method shortens your cooking time and saves you from all the cleaning. The best thing is, you can top or fill your "waffle" with anything you like. In this recipe, the fillings I choose are Cheddar cheese, diced ham, sauteéd onions, and green bell peppers.
Exactly what the classic Denver omelette is famous for, right? Only that it looks a hundred times cooler!
Total time: 20 minutes.
When you think about German cuisine, the first things that come to your mind are usually potatoes and sausage. Here is a fun fact for you: The Germans also have their own take on omelette!
"Bauernomelett", which literally means "farmer's omelette", is one of the most popular breakfast dishes in the country of poets and thinkers.
Farmers surely need a lot of energy for a long day staying in the barn, so this dish is a whole meal in one: Bacon, sausage, cheese, potatoes, and onion are packed into an eggy exterior.
In case you are going to have a busy day and don't think a classic omelette is filling enough, you can upgrade it the way the Germans do!
There is only one caveat: Traditional Bauernomelett is usually made with "schinkenspeck", a special type of dry-aged bacon seasoned with juniper berries. It's challenging to find in American grocery stores, so in this case, you can replace it with normal North American bacon.
Total time: 30 minutes.
Quinoa is hailed as a "superfood" due to its high nutritional content, while feta cheese is lower in calories and fat compared to other cheeses. So you may say, this omelette is stuffed with all the good things in the world.
Making an authentic Greek quinoa salad is quick and simple: Put the quinoa, olives, chopped spinach, artichokes, red peppers, sun-dried tomatoes, oregano, and garlic in a large bowl. Toss them well with one tablespoon of olive brine, then season with salt and peppers.
The salad will serve as a fresh filling for your omelette. To make it even more satisfying, top the dish with Tzatziki sauce once you've finished cooking. This creamy sauce has a slight taste of lemon and cucumber that goes well with feta cheese's rich and salty flavor.
Total time: 20 minutes.
Indian cuisine is, without a doubt, one of the unique culinary traditions in the world. The secret to its enchantment is how various spices come together to create a simple dish. This gives the food all sorts of flavors that explode in the mouth once you take a bite.
When any two or more spices are mixed, it's called "masala". So you understand the core of this masala omelette now. Your classic meal is jazzed up with black peppercorn powder, red chili pepper powder, turmeric, and ginger-garlic paste to make it mouth-watering.
Dried spices such as black peppercorn powder and red chili pepper powder bring warmth to the dish, while turmeric contributes to the bright color and subtle bitterness. I would suggest adding some cumin since its earthiness goes wonderfully with creamy eggs, but that's up to you.
The masala omelette makes a savory treat on its own, but it is even better paired with bread. I recommend rolling it into a chapati with chutney, like how they do it in Mowgli, and finishing it off with a Bollywood soundtrack.
The Indians' exciting twist on the traditional omelette will amaze your taste buds!
Total time: 15 minutes.
There is nothing complicated about the traditional Irish omelette. In short, it's a nice dish using egg yolks and mixed potatoes. Hence, fans of ham-and-cheese or flavorful Mexican-style omelettes might find this dish a bit on the bland side.
But, for me, Irish omelette is amazing for its simpleness. The most important aspect of this dish is the mashed potatoes. Make sure you pick the right potatoes (I'd recommend Yukon Gold!), and they will give your food a wonderfully creamy, buttery texture.
To take your mashed potatoes to the next level, here is a tip from my mom: Warm your butter and cream before mixing. It helps them blend easier with the potatoes, making them creamier and softer. This might seem like a fussy step, but trust me, it creates miracles.
The remaining should be easy: Add the egg yolks to the mashed potatoes with chopped-up chives, lemon juice, butter, a pinch of pepper, and salt. Then, cook the mixture in the pan until the bottom gets a nice brown color.
Both omelette and mashed potatoes have been familiar to us since our childhood. When mixing together, they create a rich, creamy dish that is soothing to the soul and warms us up from the inside. Try this recipe out, and you will find yourself craving it more than anything on a cold winter day!
Total time: 15 minutes.
Mediterranean cuisine has long been known as one of the healthiest in the world, focusing on plant-based foods, minimally processed herbs and spices. Instead of throwing your eggs into the microwave, why don't you take some inspiration from Tuscan and Moroccan flavors?
This recipe includes classic Mediterranean ingredients, such as artichokes, tomatoes, olives, and feta cheese. The main attractions are artichokes and olives. Their tangy and grassy flavors contribute to the freshness of this dish, making it a ray of sunshine on your table.
To make yourself a Mediterranean-style omelette, simply mix the eggs with oregano, milk, pepper, and salt, before combining them with the artichokes, tomatoes, olives, and feta.
I'd suggest topping the dish with Romesco sauce-the taste of roasted tomatoes and peppers will brighten it up even more.
Total time: 30 minutes.
If you are an anime-lover, you probably have heard of Cmurice (オムライス, pronounced omu-raisu). "Omu" comes from "omelette" and "raisu" stands for "rice". Simply put, it's an omelette filled with fried rice and usually topped with ketchup.
Traditionally, Omurice often goes with chicken rice. To make this, you sauté the chicken with onion, garlic, button mushrooms, white wine, tomatoes, and ketchup. Then, fry the mixture with warm steamed rice. Thanks to the ketchup, the rice will have a sweet-and-savory flavor.
For the best result, the key is to use a non-stick or ceramic pan to cook so the egg mixture can slide out of the pan easily. Cook it until the eggs are set but still soft and runny. Finally, place the chicken rice on top of the omelette and fold both sides to wrap the rice.
Because the eggs are only half-cooked, they should maintain a silky, creamy texture. Since it's typical to have a message or a person's name written in ketchup across the omelette's top, this dish can be used to express love.
So if you want to surprise your loved one, this is a sweet idea to try!
Just give it a try; you will know why Omurice is a beloved staple of Japanese home cooking!
Total time: 35 minutes.
A classic Philly cheesesteak sandwich is made with thinly sliced, freshly sautéed ribeye beef and melted cheese in a long hoagie roll. That might sound like a lot of carbs for some people, so the ultimate way to guiltlessly enjoy it is to swap the roll with an omelette.
To me, the most important step is seasoning your beef before roasting: Salt, pepper, and garlic powder enhance the flavor. After you are done with the filling, you can make a delicate egg blanket for this dish the way you prepare a classic French variant.
As you bite into a Philly cheesesteak omelette, you should get the savory pieces of thin steak and melty, gooey cheese wrapped in fluffy eggs. Add in some caramelized onions, and you are ready to enjoy this treat!
Total time: 40 minutes.
Literally translated into "Thai stir-fry", pad Thai is a combination of stir-fried rice noodles, eggs, tofu, and meat, topped with a sweet-sour-salty and slightly spicy sauce. Now, you can pack all of these great flavors into a tasty omelette!
I'd like to take note that the noodles used in pad Thai are not the typical rice noodles you can find in the grocery store. Generally, this iconic dish is made with chewy al-dente noodles that are a bit thinner than other varieties. Other types won't have the same texture, but they might also work.
For the cooking process, you will first prepare the noodles by stir-frying them with prawns, soy sauce, and other spices. Then whisk eggs, milk, and fish sauce together and fry the mixture. Place the prawn noodles over half the omelette and fold the eggs over to enclose the filling.
Prawn pad Thai's sweet, acidic, bitter, nutty flavor surprisingly goes well with this egg-based food. Topping the eggs with extra basil, bean sprouts, chillies, and peanuts – you are all set for the most authentic Thai flavors!
Total time: 50 minutes.
So are you going to host a dinner party? Usually, an omelette is not the first thing that comes to your mind when you want to come up with some impressive dish. But, trust me, you can elevate the humble dish to a five-star delicacy oozing with luxury by adding lobster.
The dish features a wonderful combination of soft omelette, delicate lobster, Gruyere cheese, and parsley. It's rich in flavor and freshness as well.
Lobsters might sound a bit intimidating for home cooks, but since it's only used here as a filling, all you have to do is simmer them in the milk for about 10 minutes, then add them to the egg mixture.
Keep in mind that when you pour the egg mixture over the filling ingredients, it's best to cook it at a low temperature so it doesn't burn on the bottom. The recipe is a bit time-consuming, but for a special meal, it is totally worthwhile!
The lobster omelette can be enjoyed at any time of the day. However, rather than breakfast, I'd prefer to have it for a nice brunch or lunch since the dish feels a bit indulgent.
Did you know lobster omelette is one of Gordon Ramsey's favorite?
Total time: 10 minutes.
For me, this cheddar-jalapeno omelette is a robust way to kickstart the day. It is absolutely fuss-free, requiring only 10 minutes to provide maximum flavor with minimum effort.
Most importantly, jalapeno's spiciness will pull you out of the half-asleep state and make you feel truly alert. Yes, this Tex-Mex-style dish is on the hotter end! If you worry about the heat level, you can remove the seeds, but I'd like to leave them in for extra odor and taste.
The dish can be served with fresh coriander and a side of sliced avocado. Sometimes I also enjoy it with a few tortilla chips for some crunch. Hey, are your taste buds transported to the beautiful streets of Mexico now?
Total time: 1 hour.
It's almost impossible to imagine the dynamic Mexican food scene without tortillas-thin, flat pancakes made of cornmeal or flour. But did you know that Spanish cuisine also has its own "tortilla"?
In Spanish cooking, the term refers to a thick omelette containing other fillings. While it might look a bit like an Italian frittata, the tortilla española is cooked on the stove instead of the oven.
Traditionally, the Spanish-style omelette is packed full of melted cheese and potato slices. This recipe is a bit different: It's still cheesy with ricotta and vegetarian Parmesan, yet lower in carbs and calories since it uses mainly egg white.
To make it even better, your treat will be stuffed with plenty of veggies, such as pumpkin, spinach, and sage. That means you can enjoy your favorite tortilla española more freely without having to worry about packing on the pounds.
Note: Prefer some more sweetness in this Spanish version? You can always swap the white potatoes with sweet potatoes.
Total time: 15 minutes.
Omelettes are for breakfast and spaghetti is for dinner. Well, then, when is the proper time to enjoy a spaghetti omelette?
The correct answer is "whenever you want". The Spaghetti omelette (also known as frittata di pasta or frittata di maccheroni) is a classic dish in the Neapolitan cuisine. Due to the Neapolitans' resourceful nature, this dish was invented as a way to use up leftover pasta.
How do you make it? Add some eggs, plenty of grated cheese, a few grinds of black pepper, and some salt to the remaining pasta, then fry the mixture. You now have a delicious new dish that has been cherished for decades in Naples cuisine.
Thanks to the pasta being fried, this omelette now has a very crunchy underside. To further flavor the dish, you can top it with cooked ham, Neapolitan salami, or hot dogs cut into small bite-size pieces to hear the cheers of joy from children.
Buon Appetito a Tutti!
Total time: 20 minutes.
Egg foo young is a classic Cantonese-American dish that was popular in Chinese restaurants across the U.S from the early 1900s until the late 1970s . The original name of this dish (芙蓉蛋 – fúróngdàn) means "hibiscus dish".
Ironically, you won't be able to find hibiscus in any of the egg foo young recipes. Instead, this light and airy Chinese omelette is bursting with flavors from celery, mushrooms, onions, bean sprouts, red pepper, and chicken.
All of them are covered in a rich and glossy brown gravy that will leave you licking your plate. Nowadays, the dish is no longer popular in restaurants like it was before – just because it's easy enough to make at home!
The perfect egg foo young should puff like a souffle and remain creamy in the center.
Total time: 15 minutes
Many people out there would frown at the idea of having beans for breakfast, but this spicy black bean omelette is an amazing way to start your day with some protein in your diet. It also fills you up and keeps you full, too!
Along with bell pepper, arugula, paprika, and fresh tomatoes, the black bean filling has a vibe similar to huevos rancheros but without the tortilla. You can consider this a brighter, fresher, and gluten-free version of the iconic Mexican dish.
Total time: 25 minutes.
Looking for more vegetarian recipes? You've come to the right place. Filled with spinach, feta, and a hint of spices, this omelette recipe will satisfy you if you want to enjoy a breakfast that's both hearty and satisfying.
Most of the flavors come from the sauteéd mixture of spinach, onions, and peppers. It's important to sauteé it until the onions and peppers are caramelized – it will make the dish savory and rich and totally addictive.
Now, who said going vegetarian can't be delicious? This spinach feta omelette will have you think again!
Total time: 35 minutes.
If you like a sweet treat for breakfast (just like me), here is the recipe for you. It's time to take a break from the classic savory omelette and get all creative with a luscious, lovely version of this dish.
As long as you separate the whites and whip them up separately from the yolks, making a fluffy omelette is not difficult at all. Then, all you have to do is adding some lemon juice, zest, honey, and juicy blueberries to the whole mixture.
The idea of a sweet breakfast might not sound so wholesome at first, but with a generous topping of mixed berries, you will have a meal that's light, protein-packed, and gluten-free!
Total time: 20 minutes.
Oyster omelette is one of the most beloved Taiwanese street foods that works flawlessly as a unique oyster appetizer. The way the softness of the eggs dances up against the delicious briny slipperiness of oysters creates an unforgettable culinary experience, and after just a bite, you will never forget its taste.
To make Taiwanese oyster omelette, it is better to choose smaller oysters or cut the big ones in halves. Stir with salt, oyster juice, and sweet potato starch. After just 20 minutes, your treat is ready.
Why potato starch, you might ask? If you have tried the dish once, you will notice an intriguing textural contrast between "eggy" bits and gelatinous bits. The mysterious, deliciously-sticky substance is sweet potato starch. Aside from oysters and eggs, this ingredient is the key to the dish's enchantment.
What is love at first bite? It's in the form of Taiwanese oyster omelette!
Total time: 15 minutes.
Here comes another Japanese-style omelette! This dish is ubiquitous in Japan and may be found on the menus of all sushi restaurants, in bento boxes, and in family meals. Tamagoyaki is so popular that you might think it's simple to make, but it does require some real techniques.
To make a basic tamagoyaki, you start by whisking the eggs the way you do with a regular one. The difference is in the seasoning: You will add sugar, mirin (a type of sweet rice wine), soy sauce, and a bit of salt to the mixture.
Mirin and sugar make tamagoyaki much sweeter than other types of omelette, while its saltiness/umami comes from soy sauce. Afterward, pour a thin layer of the egg mixture into a pan to cook.
When the mixture's bottom has set, roll it up in several thin layers until it resembles a thick log. The key is to coat the pan with oil thoroughly beforehand – you wouldn't want your eggs to stick to the pan while rolling.
Perfectly cooked tamagoyaki should have a mellow custardy texture as you bite into the bread. Dashi stock can be added to enhance the flavor, but the liquid will make the cooking process trickier. If you want to give it a shot, 1 tablespoon of dashi per egg is a safe ratio.
Total time: 10 minutes.
Unlike how we Westerners see omelettes, for the Thai people, Khai Jiao serves as a rice topper to create a complete meal. The dish is characterized by its signature savoriness, which comes from Thai fish sauce (prik nam pla).
It also has an irresistible texture: Crispy on the outside, soft and light on the inside. To help this dish form crispy, golden-brown edges, you will need a generous amount of oil, more than you think you will need for a two-egg omelette. The oil should form a pool that's at least one inch deep.
Heat the oil in a pan until it's smoking hot—be careful! Pour in the egg mixture, consisting of eggs, vinegar, water, and fish sauce, and let it cook until the bottom side turns golden brown. Carefully flip the mixture so the other side can change color as well. Cook for another 1 minute.
Once again, Khai Jiao isn't meant to be enjoyed alone. Serve it on top of rice, and you will be overwhelmed with all the flavors packed in this deceptively simple dish.
When you try Thai Khai Jiao, you will never be able to come back to the standard omelette again!
Time To Enjoy Your Egg-cellent Meal!
"Have breakfast like a king, lunch like a prince, and dinner like a pauper", that's what the old saying goes. We all need energy to keep us going during the day, and a humble treat can fuel up your body all day long.
But if you are looking for something more exciting than the classic version, you know where to turn to. Keep this list of the best omelette recipes in your back pocket for busy morning and breakfast soirees alike!
Do you find this information useful? Let us know by hitting the "like" button. You can also share this on your social media so others can get all creative in their kitchens. Have fun cracking!