In this article, you will see the best oatmeal desserts listed with detailed information. This provides you with sufficient guidance when making these dishes.
Oatmeal, a highly appreciated type of food all over the world, comes from the oat plants' grains. The kinds of oats to make oatmeal are rolled oats, steel-cut oats, or ground oat groats.
Oatmeal has been proven to lower the bad cholesterol in the human body. The beneficial influences of oatmeal on the human body include lowering blood sugar and the risks of colon cancer. It also provides antioxidants and helps in weight loss and keeping fit.
Because of the great advantages to the body, oatmeal is widely and regularly used in daily meals. Oatmeal is present in a large number of dishes, including appetizers, main courses, desserts, and drinks.
Among these types, desserts with oatmeal are an abundant and diverse source for those who love oatmeal. The recipes vary according to the ingredients you combine with oatmeal in cooking.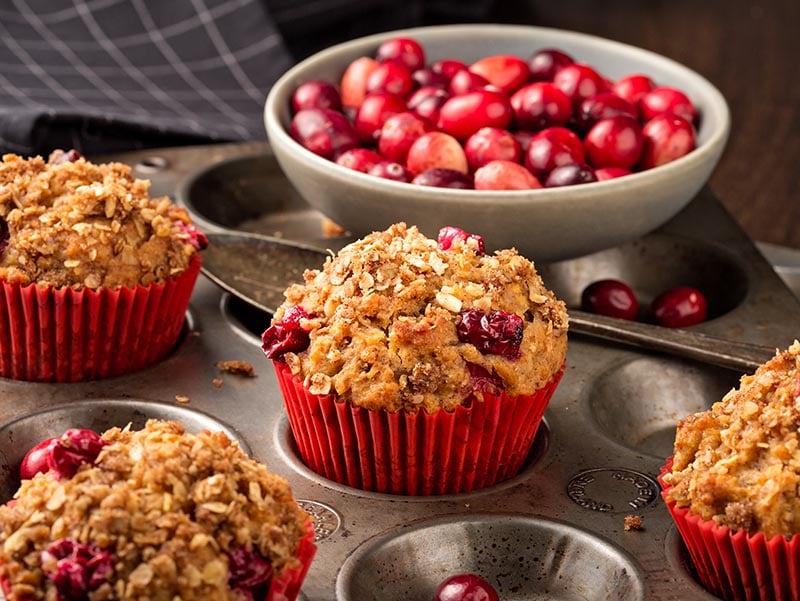 Top 20+ Incredible Dessert Recipes Made From Oatmeal
These are over 20 fantastic dishes made from oatmeal that you can have a look at and try. Hope you will have fun trying these desserts!
Total time: 30 minutes
Cranberries and apples give an impression of an appealing look and a pure, sweet taste. Together with oatmeal, they create a healthy dessert with a sweet flavor to enjoy after the main dishes.
You can also create your own version with your favorite ingredients. For example, you replace dried cranberries with dried apricots, cherries, raisins, spices, and dried food.
The chewy taste of dried fruits is the essence and the attractive feature of this yummy dessert.
Total time: 45 minutes
Healthy oatmeal Carmelita is a great choice for your desserts, as this dish has a unique and excellent flavor. It tastes like a tiny sweet party with the smooth caramel, pecan, and chocolate inside the bars and a crispy outer layer.
Oatmeal Carmelita bar attracts you at first sight with a golden yellow appearance outside and the brown color of creamy chocolate and caramel in the center. This appealing appearance will do a good job of stimulating your taste buds!
With an easy baking way, this dish is suitable for you on your holidays or daily consumption. There is no special notice when making this dish as it only requires basic techniques in cooking.
A super quick and easy guide to making oatmeal Carmelita bars.
Total time: 50 minutes
The main season of strawberries starts in mid-May. During this season, you can choose the best and freshest ones among several different kinds. Frozen strawberries are also a good choice for this dessert, but you need to thaw them before cooking.
However, fresh strawberries are the very best choice for this recipe. Once you have made this dessert, it lasts up to five days in the fridge. You only need to take it back to room temperature before you eat to enjoy this dessert to the fullest.
Total time: 4 hours
The beauty of oatmeal pie lies in its gooey and sweet taste. This magical, low-carb dish can fulfill your appetite without gaining calories or fat.
The total time of 4 hours seems quite long, but actually, you only spend approximately 1 hour making this pie. The rest 3 hours are for cooling your recipe. After cooling, you can store this dish in the fridge for up to 3 days.
Total time: 12 minutes
With only three steps, this super quick dessert is the coziest touch of gentle sweetness for your revering days. Pumpkin oatmeal tastes creamy and thick and has a strong aromatic flavor of pumpkin puree.
The sweetness and greasiness level of this dessert depends on your appetite. You can replace water with milk to make it super creamy or add maple syrup to enhance the sweetness.
You should use a stovetop when cooking this dish; but if you want to make it faster, you can use a microwave instead.
Total time: 27 minutes
Cookie has been a familiar dessert on both daily and special occasions. Banana oatmeal cookies have a unique chewy flavor attracting both adults and children.
This kind of cookie requires neither sugar, flour, nor eggs. The sweetness of this dessert comes from the ripe bananas. It is also a great fresh and healthy dish for vegetarians.
With only 27 minutes to prepare, this is also an easy and convenient dish so that you can enjoy more free time.
How to make amazingly good banana oatmeal cookies with only 3 ingredients.
Total time: 40 minutes
The very first impression of oatmeal cherry bars is the excellent performance of colors, which makes you fall in love with them right at the initial look.
The bright, vivid color of cherries at the center combined with the golden brown oatmeal outside does a good job of tickling your taste buds.
Pairing with the crispiness of the outer oatmeal, the cherry filling has a refreshing, pure, and sweet taste that you will never get bored with. This combination is a great dessert choice if you love sweetness but do not like creamy dishes.
Total time: 1 hour 25 minutes
The oatmeal cookies for this cream pie are made from cookie dough consisting of all-purpose flour, salt, baking soda, and oatmeal. When mixing this dough, you do not need an electric mixer and can stir it by hand.
Another part of this dessert is the filling in the center. It is a fluffy, greasy mixture of butter, powdered sugar, marshmallow fluff, and vanilla extract. A scoop of creamy and gooey filling at the center perfectly goes with the crispy baked cookies on the outside.
When making this dessert, you need to add a bit of molasses with vanilla to the dough to keep it soft. The pies can last up to 5 days in an airtight container in the fridge.
Total time: 45 minutes
An aromatic, browning oatmeal jam bar is a wonderful choice after having the main course for a cool refresh of appetizing. It will attract you at the first look, thanks to the fruity and delicious taste.
Making this dessert is super easy. You need to only mix melted butter with flour, brown sugar, vanilla extract, lemon zest, and baking powder, then flatten the dough into the bottom layer, and put jam and a top layer of dough above. You can cut the bars into your wanted size.
Total time: 20 minutes
If you want to try a new cookie recipe without the traditional baking method, this is the best option. It is even easier and much faster to make than other baked cookies.
You only need the saucepan to make this dessert. It can be done very quickly and simply by adding the ingredients step by step and stirring them. Finally, you will wait for it to cool down, about 15 minutes at most.
This dessert not only saves your time but also offers you a new experience in trying non-traditional, tasty, and sweet cookies made from oatmeal and chocolate.
The easiest way to make no-bake chocolate oatmeal cookies at home.
Total time: 30 minutes
Many popular cranberry desserts emphasize the tartness of the fruit, but this muffin delight is an exception. It is a healthy and beneficial dessert using the naturally sweet flavor of honey and orange. So there is no need for any additional sugar to this recipe.
What is more suitable for a light dessert than these sweet, fruity, and flavorful muffins made from cranberry, orange, and oatmeals? While its refreshing taste makes you feel good and comfortable, it brings many positive effects to your health.
The cranberries in the dessert bring numerous benefits to the human body. They help improve heart health and the digestive system, lower blood pressure, prevent liver disease risks, and prevent urinary infection.
Total time: 3 hours 5 minutes
What is greater than having a cool and fresh orange creamsicle oatmeal smoothie after lunch on a hot day?
Moreover, this smoothie also makes you healthier by providing antioxidants, helping you prevent aging and keep fit. This amazing dessert is not only appealing in terms of flavors but also beneficial for health and beauty.
You only need to spend 5 minutes putting the ingredients into the blender to stir and wait until it is cool enough for use. The rest 3-hour period is for chilling time. After this, it is ready to serve.
Total time: 1 hour and 3 minutes
One of the special ingredients in these oatmeal scotchies is the butterscotch chips in them. Butterscotch is a creative flavor made by mixing brown sugar with melted butter.
While the scotchies are tender, chewy, and greasy, the butterscotch chips in the dessert are crispy, sweet, and gooey. They go together as a perfect combination for a tangy dish. It will impress you right the first time you try.
Cooking this dessert is easy and quick. You need to add the ingredients to a bowl, mix them step by step, and refrigerate the dough. Then, scoop it into the shape of the cookies and bake for 10 to 13 minutes.
Total time: 55 minutes
Pear is a healthy and yummy fruit. It can go with many other types of food to create amazingly delicious dishes. Combined with oatmeal, they offer consumers a beneficial and delicious recipe to satisfy the most difficult diners.
To make this dessert, you need a mixer to mix butter and sugar. This first step is very important as it makes the cake fluffy. Then you can follow the next steps in the recipes and cook it successfully.
This low-carb dessert is easy to make and very versatile. You can replace pear with other fruits such as kiwi, banana, apple, or pineapple, depending on your likes.
Total time: 5 minutes
On busy days, you need a healthy dessert that helps you enhance your health and refresh your mind. Surely, a fresh and attractive glass of peanut butter oatmeal smoothie will do it for you!
Peanut butter oatmeal smoothie is made mainly with these ingredients: oats, frozen ripe bananas, peanut butter, maple syrup, vanilla extract, ground cinnamon, etc. All you need to do is blend all ingredients with a blender.
With this creamy, sweet, and aromatic smoothie, after pouring them into glasses, you can add extra peanut butter on top to enhance the rich flavor, making it more attractive.
Easy homemade peanut butter oatmeal smoothie in 5 minutes.
Total time: 15 minutes
Made with easy-to-find ingredients, this healthy dessert is free of flour and sugar. This is also a versatile dish in that you can add your favorite ingredients to make it yummier.
Oatmeal pancakes have a soft and sweet taste. After the main course, enjoying this healthy dessert will help you maintain good health with its balanced nutrition.
In addition, this dish is also abundant in fiber and potassium. You will also get a healthy amount of protein when you consume this dessert.
Total time: 50 minutes
Apple pie baked oatmeal is a great choice for any occasion, thanks to its golden brown outer layer and wonderful taste.
Apple pie baked oatmeal gives the best flavors of apple: sweet, fresh, clean, bright, but never cloying. You will certainly fall in love with this light, delicate but addictive dessert.
Another plus of this recipe is its variations. You can add your favorite toppings to this pie to make it more appealing. The recommended toppings are chia seeds or flaxseeds.
Total time: 10 mins
Another great oatmeal dessert related to chocolate is a chocolate oatmeal smoothie. It is an incredible recipe that provides the natural source of caffeine from cocoa to keep you healthy and conscious for the day.
Instead of making this smoothie from chocolate bars as normal, using cocoa powder is perfect, thanks to the numerous health benefits to your health.
In addition, spinach and banana also contribute to the smoothie's creamy, sweet and clean taste. It is a good source of fiber as well as minerals.
Total time: 7 minutes
Chia seeds contain quercetin and fiber. Quercetin is an antioxidant that lowers the risks of many health issues, including heart diseases. The fiber in chia seeds helps with reducing blood pressure and controlling weight.
Chia seeds go with oatmeal creating a healthy dessert full of flavors. It has the sweet fruity taste of banana and strawberry, the nutty and mild taste of chia seed, and the warm spice of cinnamon.
You can make this dessert in only 7 minutes with very easy ingredients. The steps to take consist of boiling water, adding chia seed and oatmeal, and finally adding the spices. Then, it is ready for your consumption!
Total time: 30 minutes
This custard is rich in fiber and protein. And you can make it quickly in only 40 minutes, with easy ingredients: skim milk, oats, Greek yogurt, maple syrup, etc.
The main steps are blending these ingredients at medium speed and baking the mixture until golden brown. You'll need a blender for the first step. The custard is ready when the center becomes firm. You can store it in an airtight container in the fridge. It can last for 3 to 5 days.
Total time: 2 hours and 5 minutes
The pinkish-red color of raspberry and the golden brown color of oatmeal will create an appealing impression and captivate your palate! You will not be disappointed because the flavor of these bars is no less attractive than their looks.
In the bars, the raspberry jam is tart and sweet, and the big oatmeal crumbles are fat, buttery, and crispy. These flavors come together, creating a perfect combination for your dessert.
You can replace raspberry with strawberry or another kind of fruit to make numerous oatmeal crumble bars versions.
You can now make raspberry oatmeal crumble bars at home with this guide.
Total time: 40 minutes
Raspberry chocolate chip baked oatmeal is a freezer-friendly dessert that you can make once and save in the freezer for later use.
The brown chocolate and the golden color of baked oatmeal going together with the vivid red of raspberry create an excellent performance of colors. Thanks to the tangy and colorful texture, this dessert is irresistible.
You can also make your variations if raspberry is not your favorite. You can change the ingredients with strawberry, chocolate chips, milk, almond butter, or your favorite substitutions. It depends on your likes.
Best Oatmeal Desserts – Healthy And Super Delicious For You
Numerous healthy, fast, and easy oatmeal desserts in this article will help you whenever you want a brilliant idea for cooking with oatmeal.
I also provide you with all possible variations of each dessert. You can make your versions of these amazing dishes as well.
Yummy foods are often not good for health, but there is no need to worry about dishes made from oatmeal! They are both appetizing and beneficial. You can spread this message to your friends and family by sharing this article with them.
And don't forget to leave a comment here to share your experiences with me!