Nepalese foods are just as brilliant and unique as this country's breath-taking scenery and beautiful higher peaks. What's a better way to explore a nation's culture than through its local dishes and etiquette?
A Nepalese-style full course meal would include a starter, a vegetable-based or lentil soup, two or more main dishes, an Achar or chutney, and side dishes. After a meal, Nepalese would often eat desserts or drink tea.
I'm sure the simple yet sophisticated Nepalese cuisine will fascinate you and capture your heart (or belly) in no time. If you are interested, keep scrolling down, and soon you'll find an extensive list of amazing Nepalese dishes that one must try once visiting this country.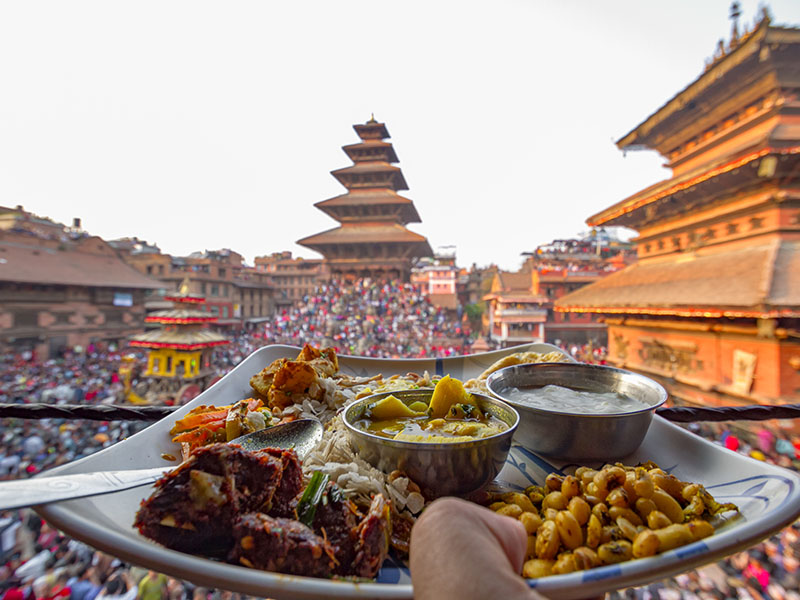 Mind-Blowing Nepalese Appetizers & Snacks That Everyone Must Try
The thing about Nepalese is that they don't have a conventional breakfast. Traditionally, the mornings are more of a snack and tea time. People would wake up early (from 5:00 am to 6:30 am), then drink tea and eat some fried dough. It's always about prioritizing the former over the latter.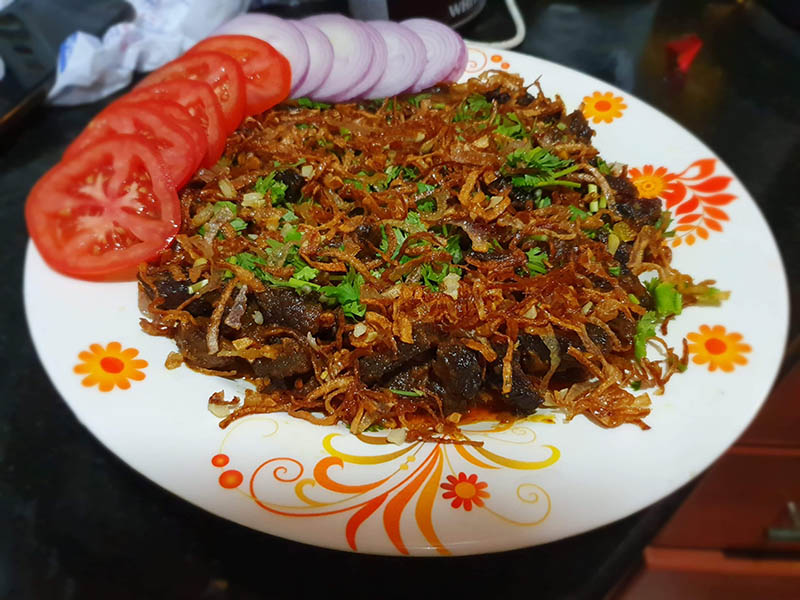 The best way to describe Sukiti is that it's a Nepalese-style jerky. Since there is too much meat on the Dashain (a Hindu festival), people would make the meat into pickles so that they can enjoy the meat on later days.
Sukuti is fairly simple and easy to make, you can make it with or without spices using any meat of your choice (be it chicken, duck, lamb, buffalo, or goat). This is a truly versatile side dish, you can eat it as it is or mix it into curry, Achar, or soup-based meals.
First, cut the meat into long thin strips and remove the fat. After marinating the meat in the refrigerator for about 24 hours, people hang the meat above the fire or under the sun for about 5-7 days.
Explore an Australian-Nepali family and their reaction to Sukuti.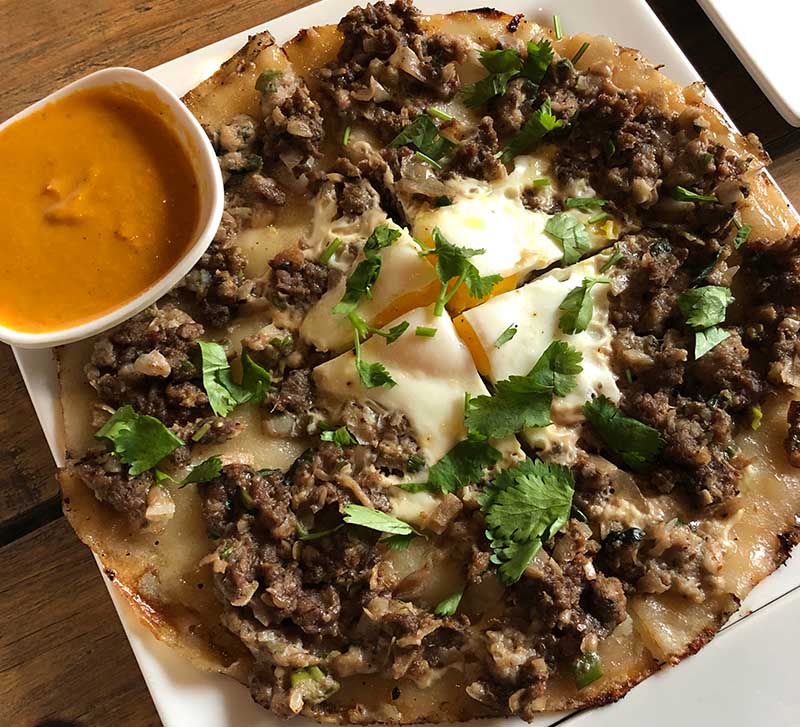 This is a traditional specialty of the Newar community in the Kathmandu Valley, Nepal. Nepalese eat it on special occasions like Sithi Nakha (a day to celebrate God Kartikeya or Kumar, the elder son of God Mahadev and Goddess Parvati) and Jatra (the biggest street festival in Kathmandu).
Chatamari is a lovely street food that everyone loves to chew on. I can see why the Pizza's crunchy crust and Nepalese-invented toppings (onions, tomatoes, and minced meat) are a league on their own. Sometimes people also top it off with eggs or cheese.
Creating a thin piece of Chatamari is no hard work. All you need to do is just fry the batter mix on a pan. It's important to keep the pan not too hot before adding the batter onto it and keep the fire low while cooking.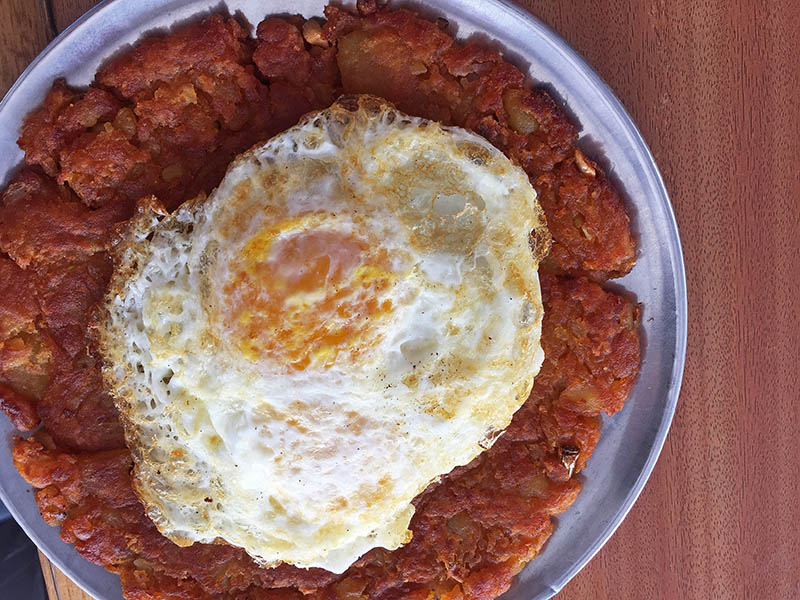 Yet another great traditional Newari snack. The best way to describe Bara (Wo in the Newari language) is a pancake made of black lentils mixed with spices such as asafoetida, cumin, and turmeric. Thus, the flavor is beyond your simple mix of batter.
Unlike Chatamari, it is thick and vegetarian as well as gluten-free. You can eat Bara on its own or with an egg or minced meat (this is when it stops being vegetarian-friendly). People often eat this snack with tomato pickles and/or buffalo soup.
The cooking process is quick and easy. First, you need to soak dried split black lentils for 8 hours, then make a mixture out of it, add spices, then cook it on a pan. Bam! A serving of Bara is ready within 30 minutes.
Bara also holds significance to the Newari communities. Sagan, a set of auspicious foods given to another for good luck or showing respect, includes this pancake, among other dishes.
Explore Bara along with many Nepalese street snacks here.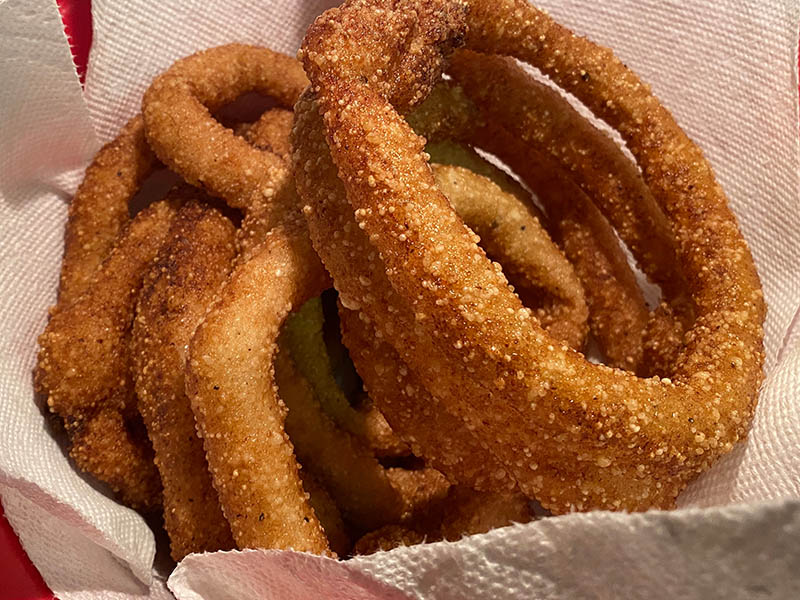 Sel Roti is a round-shaped bread that is comparable to a donut. But it's bigger and comprises rice flour, water, sugar, cooking oil, and Ghee (butter). Some variants replace water with milk or mix milk with water.
At Hindu festivals and ceremonies like Dashain (a day to celebrate Goddess Durga's victory over evil) and Tihar (the festival of lights), you will certainly see it served hot on a plate.
Sel Roti is also well-known throughout India, where people would often enjoy it with an Indian beverage, especially a hot one. Crunchy on the outside and fluffy inside, there's no reason to pass such a delicious snack.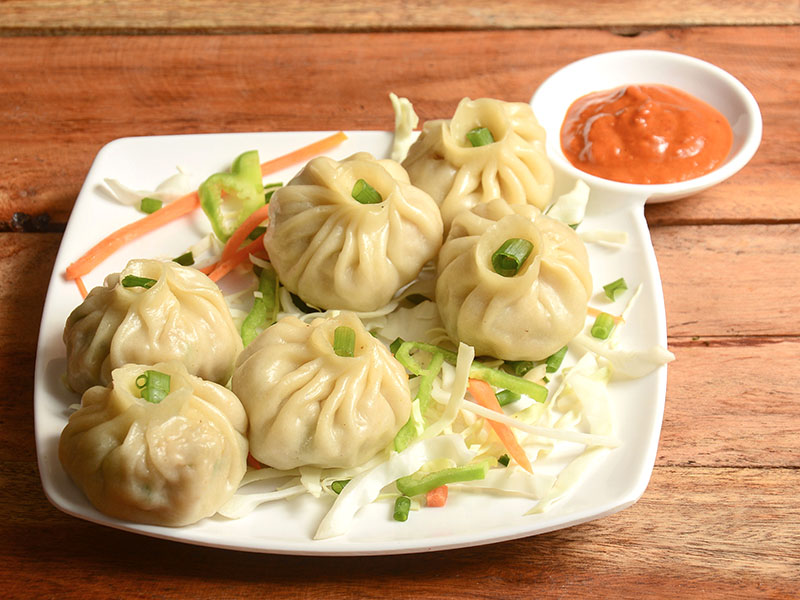 It's a crime to talk about Nepalese starters without mentioning this street serving. Momo is what Pizza is to Italy, hamburgers to America. It's truly Nepal's de facto "national food". It was famous in Kathmandu Valley and amongst the Newar community.
Initially, Newar communities ate buffalo-meat fillings Momo. Then comes the vegetable Momo and chicken Momo as most people don't favor buffalo meat. Since then, Momo has been spreading all over Nepal and the world with new variants.
Once purchasing a serving of Momo (which is very affordable), you'll see a plate of several Momo dumplings with dipping sauces. In Nepal, the sauces could be tomato-based chutneys, sesame, peanut, or soybean-based. This is a light meal on its own for a light lunch.
This little snack also has a long history. The exact origin is unclear. People believe that during the trading with the Tibetans, Newar merchants of the Kathmandu valley picked up the dumplings-making technique somewhere along the way and brought it back to Nepal.
Come and explore many unique and exciting variants of Momos.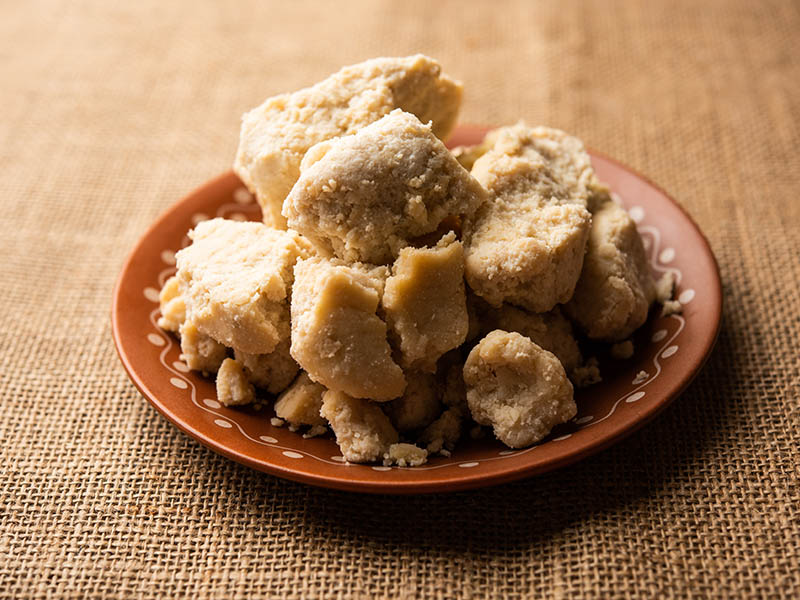 Khoya, also known as Mawa or Khoa, is a dairy product. This little milky product is also an essential part of many South Asia cuisines, like India, Nepal, Pakistan, and Bangladesh. To make Khoya, you need to use dried whole milk or milk thickened by heating in an iron pan.
It's about simmering full-fat milk in a pan until all the moisture evaporates and only the milk solids remain. There are a lot of variants that people classify based on the percentage of milk fat in the total weight.
Its color is usually either white or yellow. Khoya is rich and nutty in flavor with a grainy texture. It's a good way to introduce sweetness and milky flavor to your baking.
There is a variety of Khoya based on moisture content. For instance, Chikna is soft with 50% moisture by weight. There's a dry version, Pindi, which people use in Barfi and Peda preparation.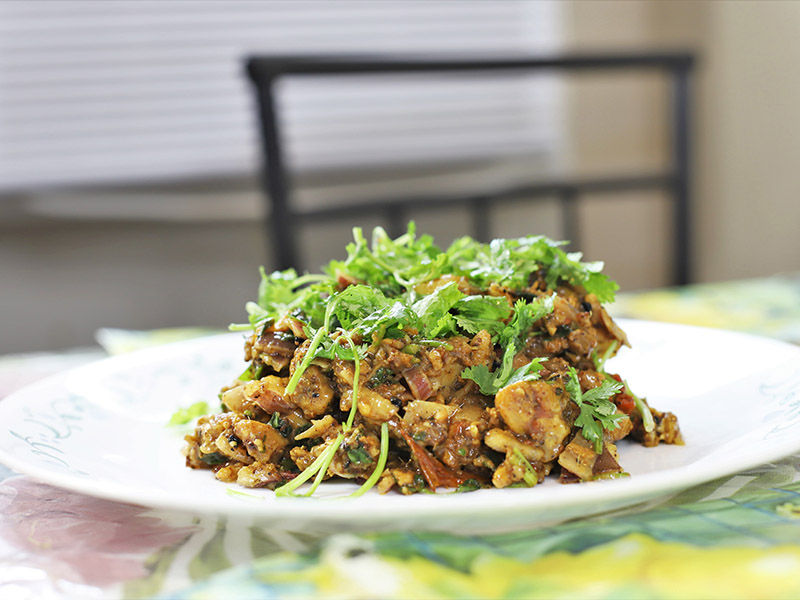 Similar to the distinctive cuisine in Bangladesh and India, Nepal has no shortage of meaty meals. If you come to the Kathmandu Valley, you've come to the birthplace of Choila.
Nepalese usually cook this dish using lamb or goat meat. Traditionally, you would eat it with Baji (beaten rice) as an appetizer. It is ideal to enjoy the local Nepalese beverages along with a plate of Choila or spiced nuts.
Aside from the traditional meat Choila, there is an array of variants too: buff Choila, chicken Choila, and veggie Choila. As you can guess, the vegan version replaced meat with vegetables.
Visit a Choila-specialized restaurant that has been pumping out this dish for more than 20 years.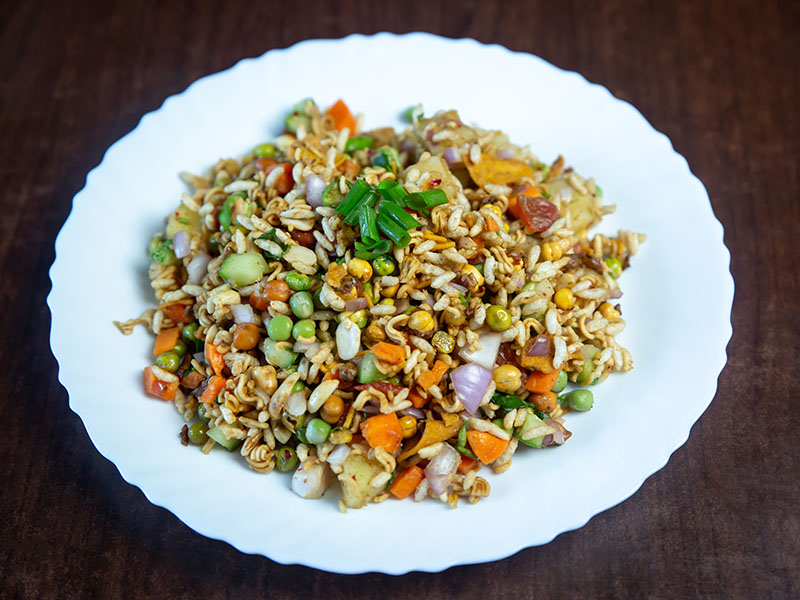 When anyone craves something light with a crunchy texture, then Chatpate is the perfect snack. What's more, this sour and spicy serving requires no cooking!
All you need to do is just throw all the ingredients together, then give the mixture a nice stirring and seasoning. Take a newspaper, fold it into the cone shape, then pour it into this makeshift container. Voila! Chatpate is ready to fill your belly with happiness.
Or if you don't feel like making it, you can easily purchase Chatpate at the food stall or Nepalese markets. Chatpate has many versions and is different from place to place. In Kathmandu, the capital city of Nepal, Chatpate includes puffed rice, dried instant noodles, tomato, spices, etc.
The Best Nepalese Main Dishes You Don't Want To Miss
In Nepal, people wake up early to drink tea. So lunch comes earlier than usual, at mid-morning. Dinner often happens around 5 pm, similar to the rest of the world.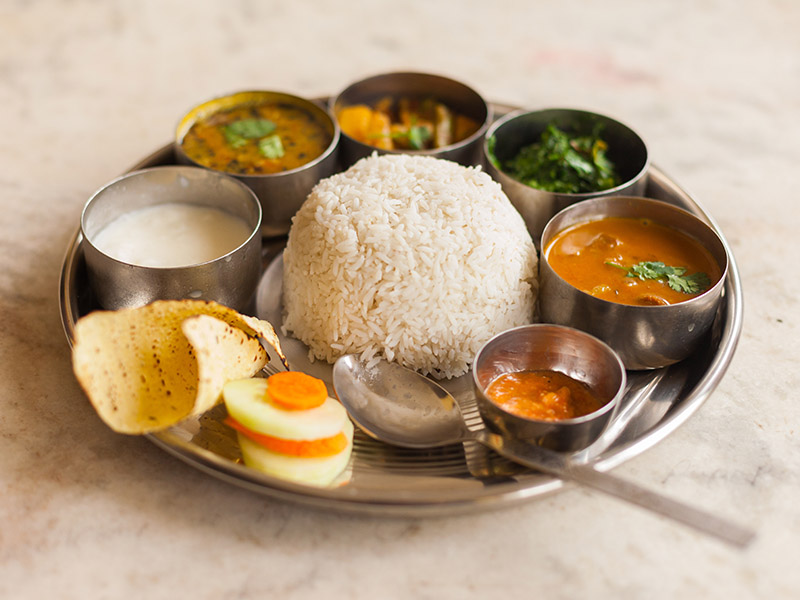 If Momo is the symbol of Nepalese cuisine, Darl Bhat is surely up there with it. Consisting of rice and lentils, it's the ultimate vegetarian dish.
Dal Bhat's easy-to-prepare and nutrient-rich nature makes it the staple food of many households in Nepal. They eat it on most days, once to twice a day.
Nepalese often serve this dish with various side dishes like Tarkari (vegetable curry), curd, pickle, and Papadums (Indian deep-fried dough) on a big tray.
Sometimes, people refer to Dal Bhat as the whole selection of foods, including the side dishes, not only the rice and lentils meal.
You would often find many tourists wearing a T-shirt with a print of "Dal Bhat power, 24 hours!". As being a superfood as it is, Dal Bhat is a great fuel for the trekkers traveling the mountainous regions. No wonder it's a traditional food of locals and trekkers in the Himalayas.
A real experience of eating a home-cooked Dal Bhat here.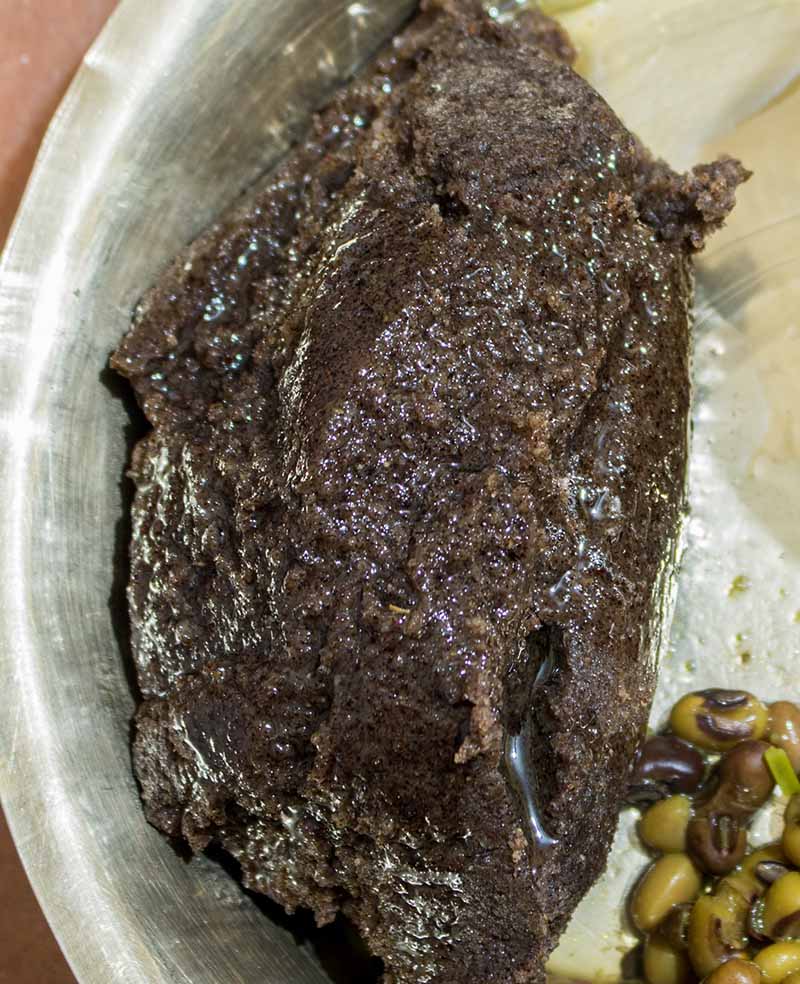 Dhido, or Dhindho, is a traditional Nepalese cuisine that is popular; with locals and visitors alike. Like many other Nepalese-style foods, it is a staple food for the people who live in the rural and middle mountain areas, where it's difficult to grow rice or wheat crops.
To make this dish, one needs to add flour to boiling water in a pan while constantly stirring. The traditional recipes call for buckwheat or millet to use as flour. However, you can use corn flour as well.
Dhido can be lacking in flavor as there are no spices in it. On the flip side, it makes for a perfect light meal and won't make you feel funny after eating as there's no oil or spices involved.
As Dhido has a humble birthplace, many people don't consider it a high-class food of the sort. However, over time, you start to see it served on urban restaurant menus as well.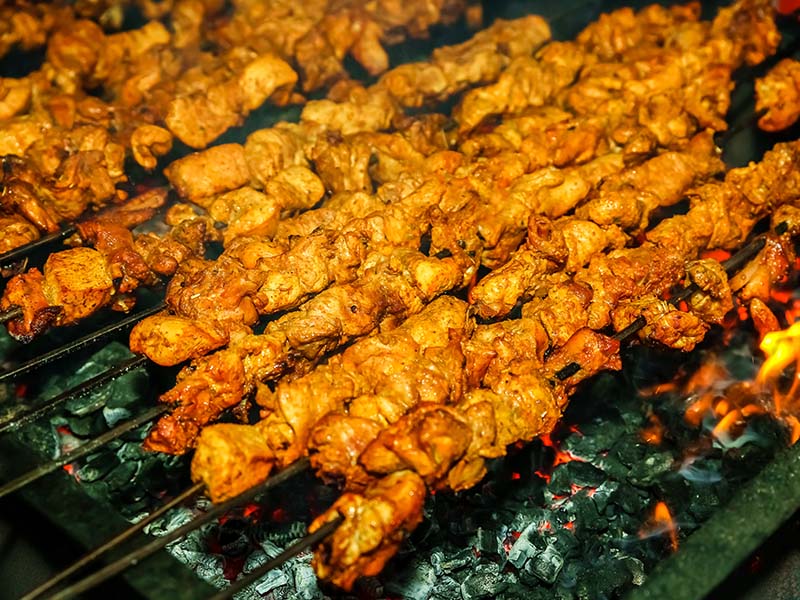 Sekuwa is lip-smacking roasted street food from Nepal. This dish is grilled/skewered (goat, pig, chicken, buff, or lamb) meat that people cook over a wood fire. Before the grilling, Nepalese would marinate the meat with spices, herbs, and other ingredients.
Marinating and grilling are all it takes to prepare the Sekuwa, yet the flavor is so beyond that of a typical barbecued meal.
The secret here is marinating the meat overnight so that the added spices soak fully into the meat. Plus, the final product becomes juicy and tender thanks to the retaining moisture.
Visitors or locals can easily find a serving of Sekuwa on any street. Recently, many hotels and restaurants have started to put this grilled meat on their menu.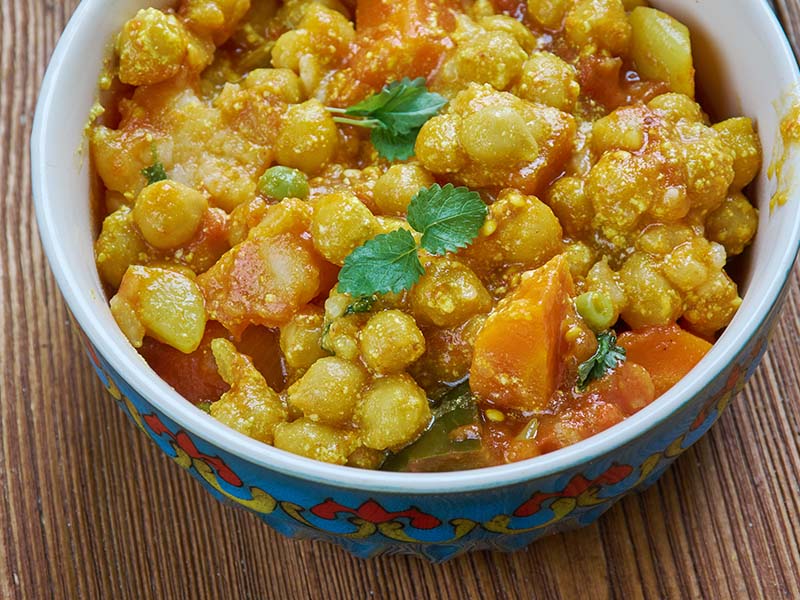 You could say that this dish is the Nepalese version of curry. Veggie Tarkari is one of the possible dishes that Nepalese put into a Thali where multiple foods surround Dal Bhat. However, you can serve it on its own or with rice.
Similar to most curry dishes, Tarkari has its roots in the Indian subcontinent. It usually has potatoes, cabbage, carrots, green beans, or peas as ingredients. There is also a meat-based version, but it is not as popular as the green-based ones.
The recipes for making this delicious serving are simple. First, stir fry the garlic, ginger, mustard seeds, fenugreek, etc. with cooking oil. Then toss in the tomatoes, cauliflower, potatoes, and water. Simmer around for some time, you get yourself a nice dish to enjoy on the weekdays.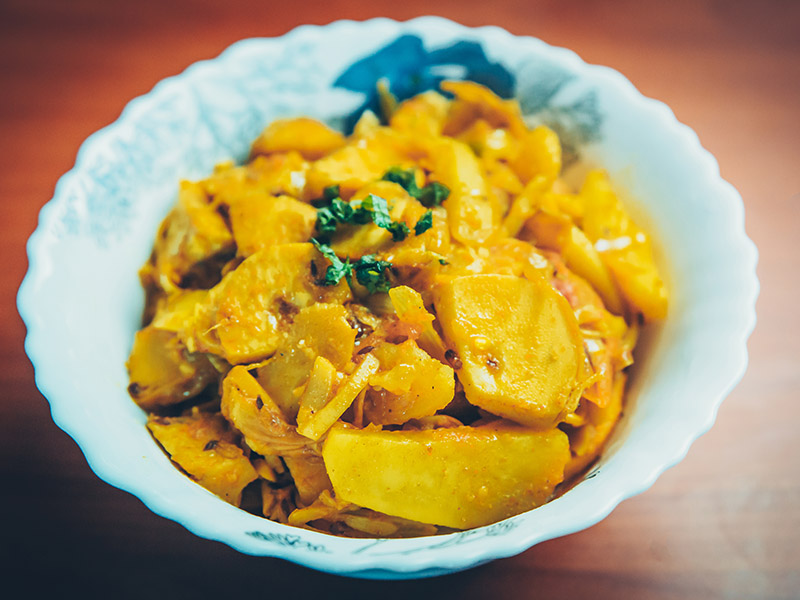 Aloo Tama is an example of an interesting crossover between cultures. It results from Chinese foods (bamboo shoots) meeting Indian foods (curry). No place combines these 2 elements (bamboo shoot and curry) like Nepal.
The name tells it all, Aloo Tama includes adding pickled bamboo to a soupy potato curry alongside spices, onions, and tomatoes. Some versions require you to add black-eyed peas. The flavor is spicy and zesty, and people often squeeze in a lemon.
Judging from its ingredients, I'm sure you can tell this is a veggie-based meal and gluten-free. So if you have the chance to cook this dish, your vegetarian friends can join.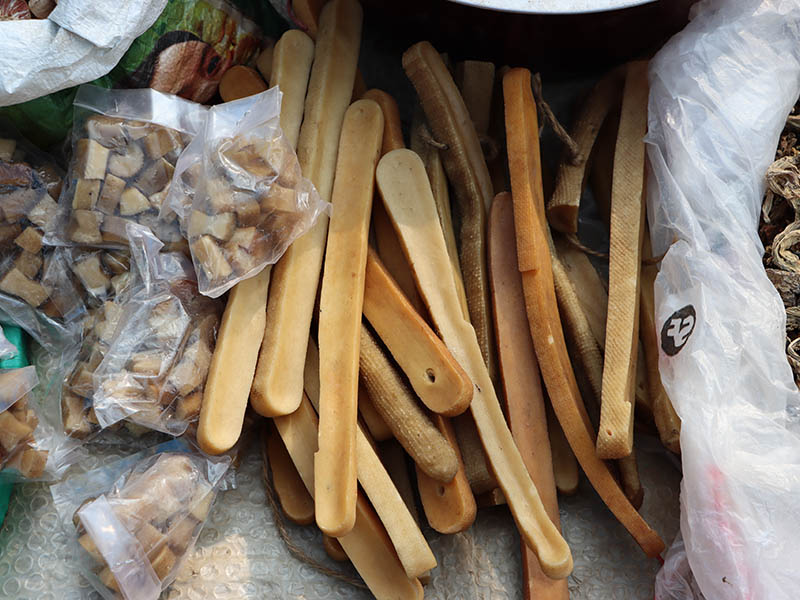 Chhurpi, or Durkha, is a traditional cheese prepared in the highlands of the Himalayas parts of Nepal, Sikkim, Darjeeling, Kalimpong, Bhutan, and Tibet. Its ingredients include milk from a Chauri – a hybrid between a male yak and a female cow. However, you can also use milk from either of those animals.
There are two varieties: soft and hard. The former is suitable for use as a substitute for vegetables to eat with rice as it is a rich source of protein. People also use it as a filling for Momo or eat it with soup/chutney.
Consuming it, you'll notice a smoky flavor. This is because one of the preparation steps involves tying a bunch of Chhurpi blocks together and drying them by the fire. People on the mountain ranges chew it like gum, keeping this cheese in their mouths while traveling.
Hard Chhurpi is ideal and often used for this purpose – chewing on. As people often leave this variant to dry in the sun or an oven, it has a very low moisture content. Thus, this type of Chhurpi is hard and can last for a long time, up to two decades.
If you want to know more about Chhurpi, then watch this.
Soothing Nepalese Soups And Curries To Warm Your Souls
As stated before, Nepalese usually accompany their main dishes with one or two soup-based dishes. Due to the living conditions at high altitudes, eating hot soups is a good way to keep the body warm and find some comfort in the freezing winters.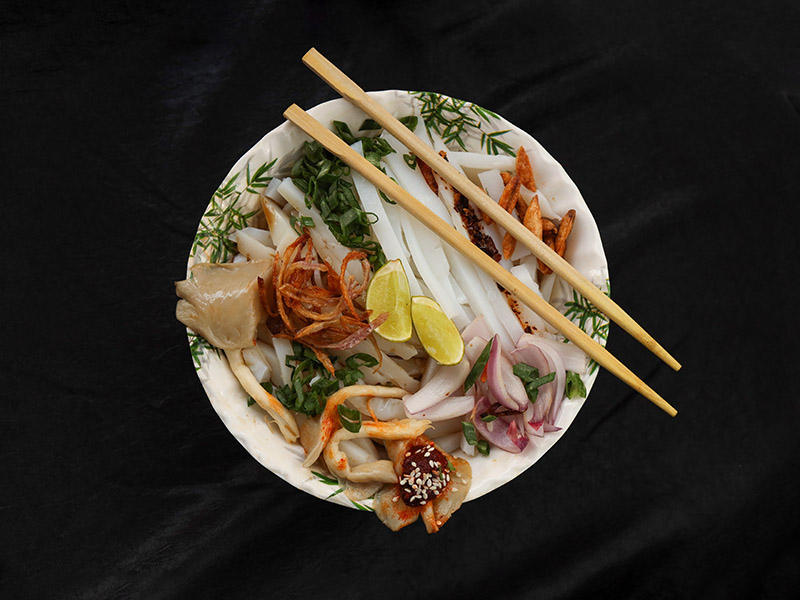 This Tibetan-originated dish has found its footing in Nepal. In the past, you could only find Laphing around the Boudhha and Swoyambh areas (the places that are a gathering for Tibetans), but now it is available almost everywhere.
You can trace the actual origin of Laphing far back to China. It was a summer treat for the Northern provinces of Gansu and Shaanxi. The Chinese called it Liangfen.
Somehow this dish made its way to Tibet and transformed into the Laphing as we know it today. It has just become popular in Nepal recently.
The cold noodles themselves are bland and jelly-like. It comes with a mixture of red pepper chili, coriander, and green onion sauce. The soup is what makes all the difference. There is also a dry version where people serve the soup separated from the dish.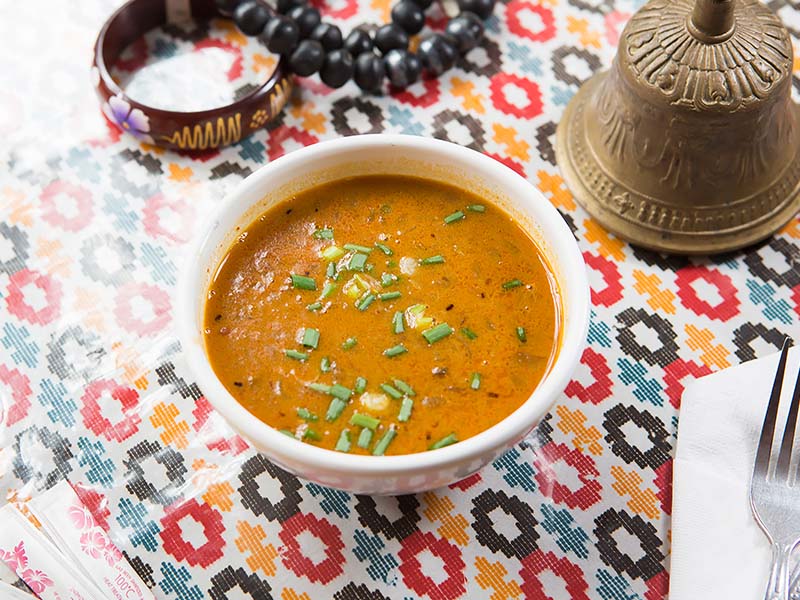 The Newar people consume Kwati, their traditional soup, during the Guni Punhi festival (the full moon day of the tenth month in the Nepal Sambat lunar calendar). It's a mixture of nine types of sprouted beans.
When food was scarce, farmers needed something to provide them the much-needed nourishment and warmth during the crop-planting season. That's when Kwati came to the rescue.
This simple 9-beans soup not only supplies people with nutrition but also brings many benefits. People believe that it is capable of curing colds and coughs. What's more, apparently, Kwati is also good for pregnant women.
Let's see what Americans think when tasting the spicy Kwati.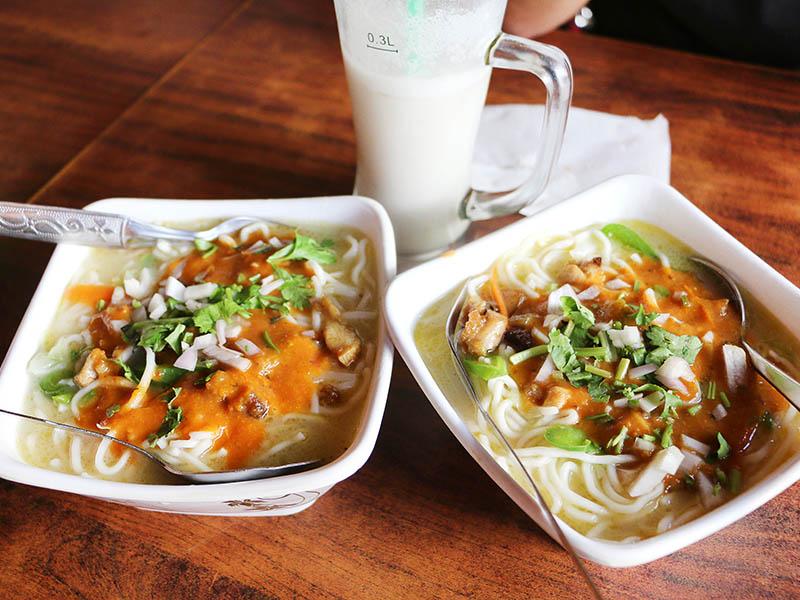 Here's another Nepalese non-indigenous soup. Thukpa comes from the Eastern areas of Tibet. And now, it has become a part of Nepalese and Indian cuisines. In the Tibet language, Thukpa refers to " any soup or stew combined with noodles".
The Nepalese's take on Thukpa is a spicier and more vegetarian-focused version. Having said that, this dish commonly has boiled noodles, vegetables, and meat items as ingredients.
Sometimes, depending on the availability, Nepalese use vegetarian alternatives like beans, tofu, chickpeas, paneer, etc. for protein items. People often eat the warming and comforting Thukpa with Momo.
Nepalese Side Dishes That You Will Love
Just like the name implies, foods in this class are better when you eat them alongside the main dishes. You can eat some of them on their own. But to see and taste all the flavor combinations, you should try to eat these side dishes with the mains.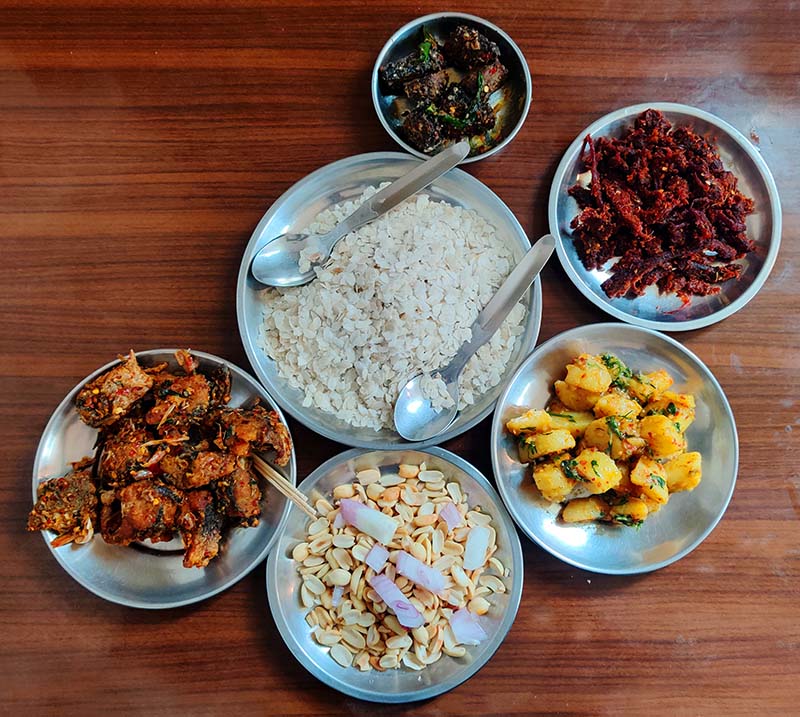 If you ever want to try a meal that feels like a feast or a full course on its own, then you can't go wrong with Samay Baji. The beauty of this dish is that it is a colorful combination of several foods instead of just one major dish.
To the Newar people, this set represents celebration and festivity. It is a symbol of fortune, health, and prosperity. This set includes Chatamari, beaten rice, Bara, buffalo meat, fried boiled egg, etc. on a plate.
A complete meal on its own, you can eat this for lunch, dinner, or any time of the day. If you want to experience the best the Newari cuisine has to offer, then you must eat this dish.
19. Wachipa (Rice With Minced Meat And Feathers Burnt Powder)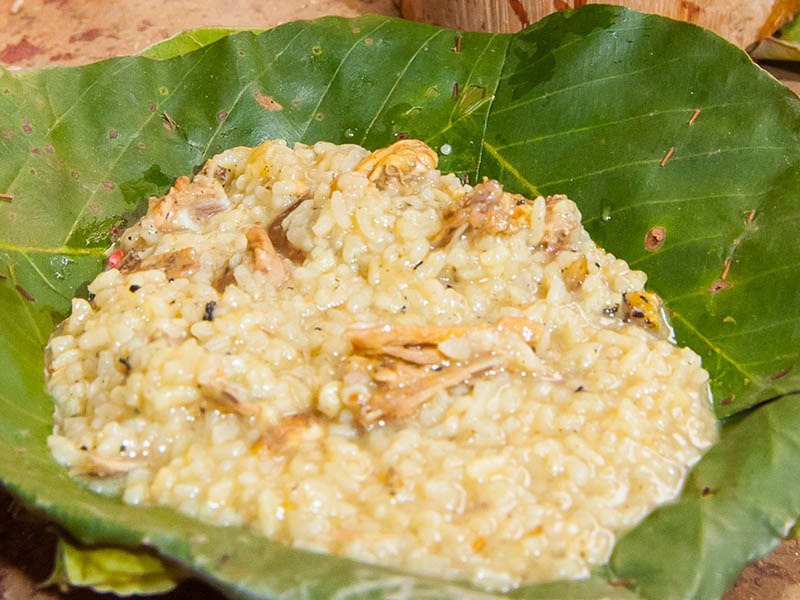 Wachipa is a signature dish of the Kirat Rai people (an ethnolinguistic group that lives in the Eastern parts of Nepal and other parts of many other countries).
There are two versions: non-vegetarian and vegetarian. You would often find the latter rather than the former. Nonetheless, both of them are suitable to eat as a wonderful rice-based side dish.
Traditionally, Wachipa is a product of rice fried with minced meat and a powder that's originally from burnt chicken or hen feathers.
As for the vegetarian variant, people replace the minced meat and the powder with leaves or flowers of the Damlapa plant. The Rai people believe that consuming Wachipa cures body aches.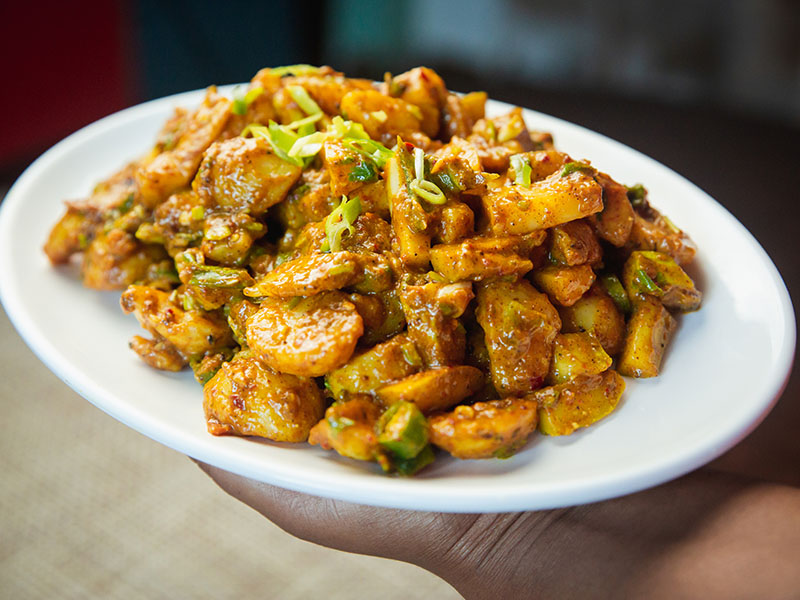 Achar means pickles, especially spicy ones. It plays an important part in enhancing the flavor of a full course meal, and you should eat it as a side dish. This recipe involves the use of potatoes as the main ingredient.
It is one of the basic foods you can eat alongside the mains. You would often see this dish served on Bhoj (a ceremonial feast). Alu Ko Achar complements the other dishes so well that you don't have to eat it on its own.
Its flavor is just like any potato salad, but spicier and better. An array of spices and asafoetida amp the dish up so much that you won't get bored with this potato-based Nepalese offering. I'm sure anyone will have a great time enjoying Alu Ko Achar!
Making Alu Ko Achar is an effortless procedure, learn to cook it now!
If you want to eat a regional side dish that is spicy and simple, then Chukauni fits the bill. It originates from the Western Palpa parts of Nelpa. People eat this salad as a side dish with other foods like steamed rice, Sel Roti, etc.
The key ingredients are potatoes, yogurt, mustard oil, and fenugreek seeds. From this list, one can tell that Chukauni is vegan and gluten-free. It's simple to make with a few readily available ingredients. You can serve it either warm or cold.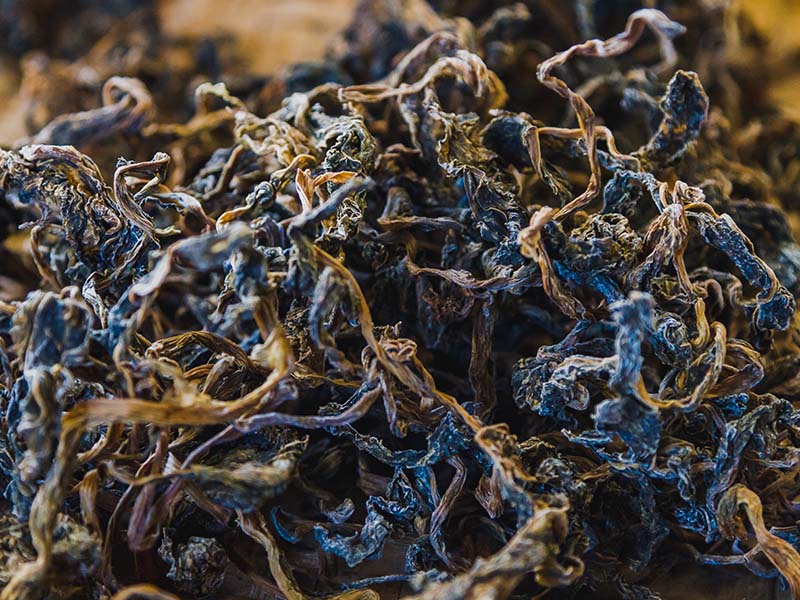 Gundruk is a product of leafy vegetable fermentation. It is an excellent source of greens, minerals, and dietary fiber.
Unsurprisingly, this nutritious veggie-packed dish is very popular in Nepal, especially in areas where food is scarce in the winter. Most households expect to stock up on Gundruk so they can last through winter.
First, Nepalese gather leaves from harvested radishes, cabbages, saag, and spinach. Then they wash it in warm water vigorously to clean off any dust or soil particles.
After that, they crush the leaves with stones and store them in an airtight container in a dark corner of the house for 1-2 weeks. Then comes the drying part, Nepalese take the leaves out and spread them over a tray under the sun.
This dish's distinctive sour-hot taste will stimulate anyone's taste buds. You can rehydrate the sun-dried leaves in water and then use them as an Achar. Alternatively, you can add dry leaves to soups. The Gundruk is not ready until the leaves are hard and crisp with dark brown color.
Want to experience an interaction with the locals and learn from them all about Gundruk making? See it here.
Elevate Your Dining Experience With These Excellent Nepalese Desserts
They are sweets, but it doesn't mean you can only strictly eat them after a meal. Nepalese desserts are versatile, you can enjoy them in the mornings, at lunches/dinner, or any time of the day. However, these foods are in this category mostly because of their sweetness.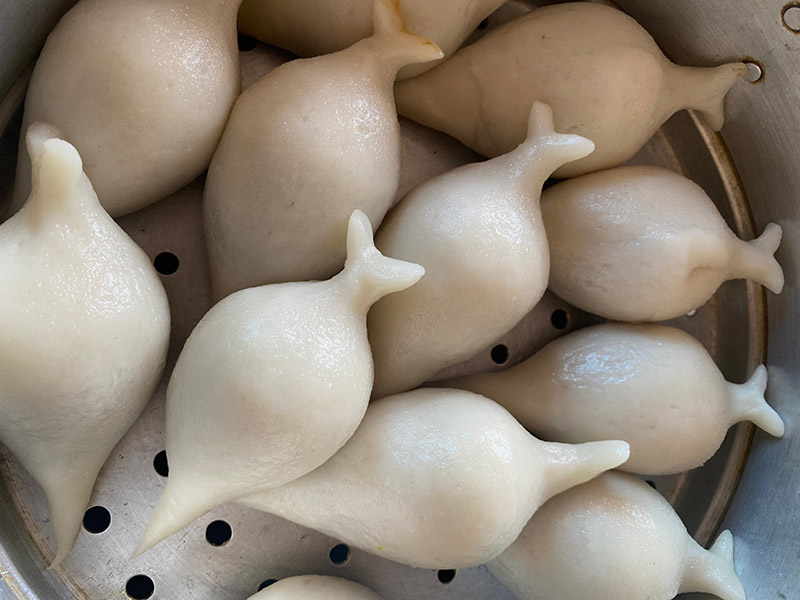 Yomari, also called Yamari, is a steamed rice-flour dumpling with fillings from the Newari communities. In the Newar language, "yo" means to love or to like, "mari" means "bread dish". So the name Yomari means "a popular delicacy/bread".
True to its name, Yomari is popular and well-liked throughout the country. People often associate it with Yomari Punhi, a Newari festival marking the end of the rice harvest on the full moon day of the second month in the lunar Nepal Era calendar.
Legends have it that one married couple at present-day Panauti experimented with rice from their rice fields and invented the first Yomari. They then distributed the new dish to everyone in the village. And the rest is history.
The dumpling has a signature fig-like shape. To make one, you need a rice-flour dough (from a freshly-harvested crop) and fill it with molasses and sesame seeds, then just steam the whole thing.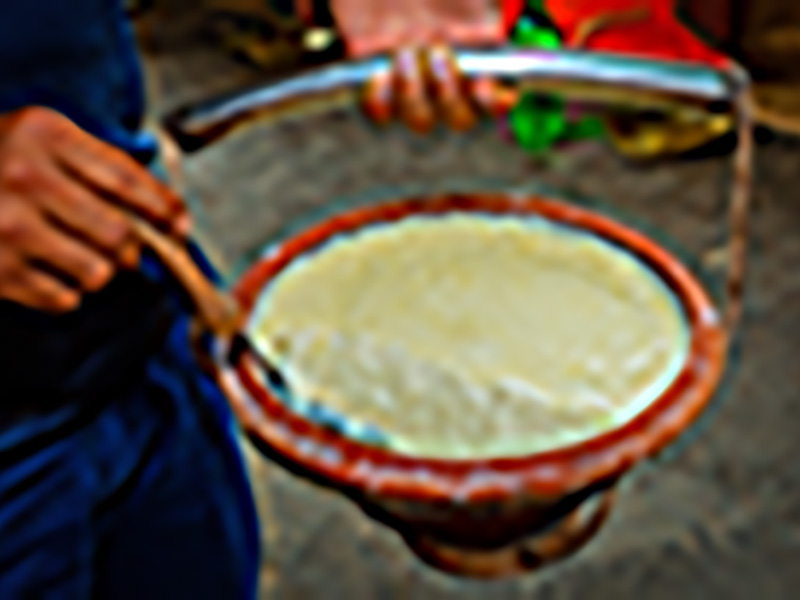 In the Newari language, Dhau refers to a sweet yogurt made by these people. So what's Juju Dhau then? It means "the king of yogurt", and not without good reasons. Juju Dhau is well-liked for its thick, creamy consistency and deliciousness.
The locals make Dhau by first boiling and pouring buffalo milk into a clay pot. Then they toss in spices like coconut shavings, cloves, etc. Finally, Nepalese keep the clay pots warm so that the milk can ferment. They then serve and sell it in a small clay pot or even a plastic cup.
Trying out the simple yet delicious Juju Dhau in the beautiful city of Bhaktapur.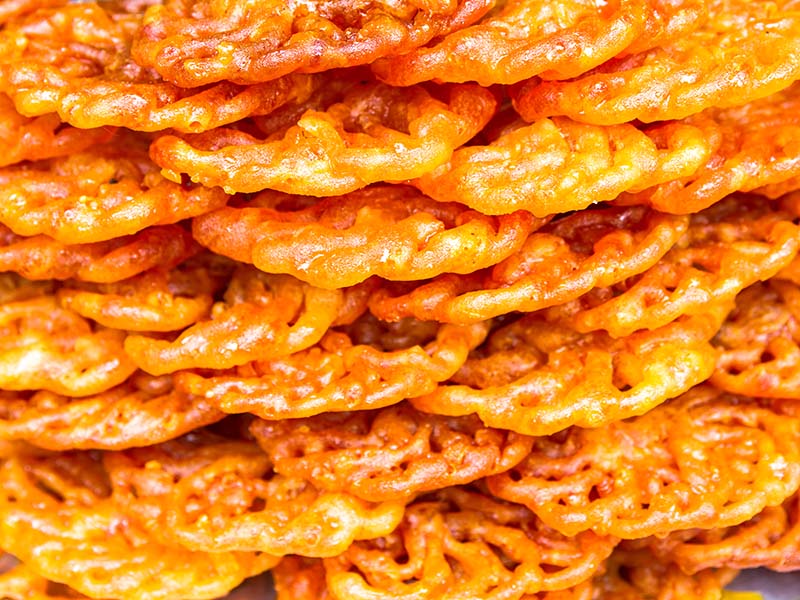 Jalebi makes its presence well-known throughout South and West Asia as well as West Africa. This dish has many names, like Jilapi, Jilebi, Zulbia, Z'labia, etc. The Nepalese people call it Jerry.
Contrary to many beliefs, Jalebi comes from Iraq, where people call it Kundalika. This sweet bread is popular in Indian and Pakistani cuisines. Jalebi then made its way Northward to Nepal.
What's a Jalebi then? To sum it up, it is a circular-shaped deep-fried flour soaked in sugar syrup. The taste is very sweet, with a hint of fresh flour, sugar, and syrup. On the street, people serve Jalebi cold, but you can also eat it hot and freshly made.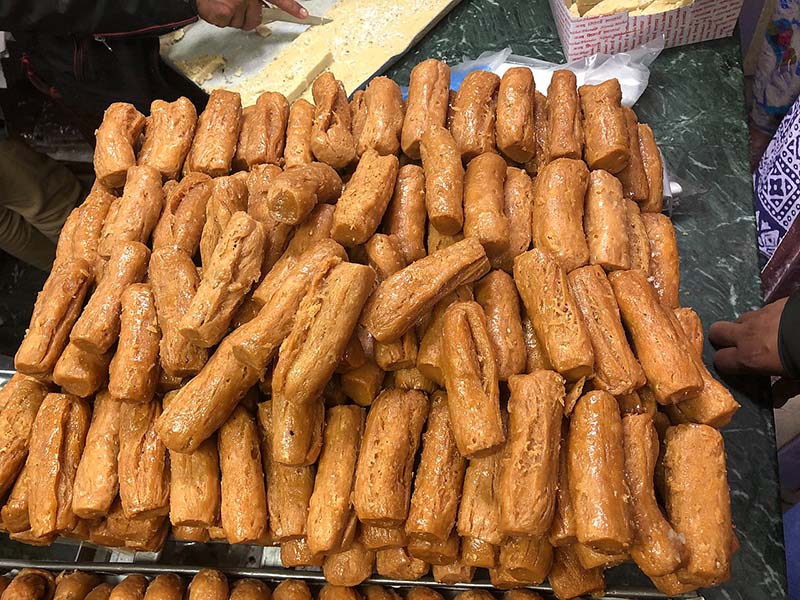 Lakhamari is a sweet bread that the Newars eat on special occasions like weddings. Although this sweet bread has its origin in the Newar comminutes, it has steadily gained popularity with other Nepalese ethnic groups over the years.
The main ingredients are flour, sugar, butter, and many other ingredients. It comes in all shapes and sizes. Regardless of the form, Lakhamari usually tastes sweet with a crunchy-flaky texture.
As I've said, this sweet bread is a part of the marriage customs of the Newars. Before the formal ceremony, the groom's side sends Lakhamari, along with many other foods and gifts, to the bride's family.
27. Gudpak (Edible Gum Fudge)
Gudpak is a traditional delicacy for the winter season. It's very famous in Nepal, where people often buy it as a gift to bring home for their children and the elders. This nutritional and soft texture treat is suitable for the young and the old alike.
People make Gudpak from a batter of honey, nuts, Ghee, and dried fruits. It has health benefits as there is a variant specially prepared for new mothers. Nepalese often associate Gudpak with Pustakari (Nepalese candy) as these two desserts share some similarities, such as ingredients.
Don't hesitate to explore Gudpak and many more traditional sweets of Nepal.
Nepalese Foods Are Simple Yet Soulful As Its Country And People
The great Nepalese foods have captured the hearts of those who visit this beautiful country. From the superfood Dal Bhat and hearty Momo to the savory Thukpa, I'm sure at least one of the dishes covered on this list has become your favorite pick.
I hope this article has helped you from being an educated person who knows next to nothing about Nepalese cuisine to becoming an expert on this topic. Or, even better, become a fan!
Don't hesitate to share this post and leave a comment below to tell everybody about the delicious Nepalese servings that you've had the chance to taste.