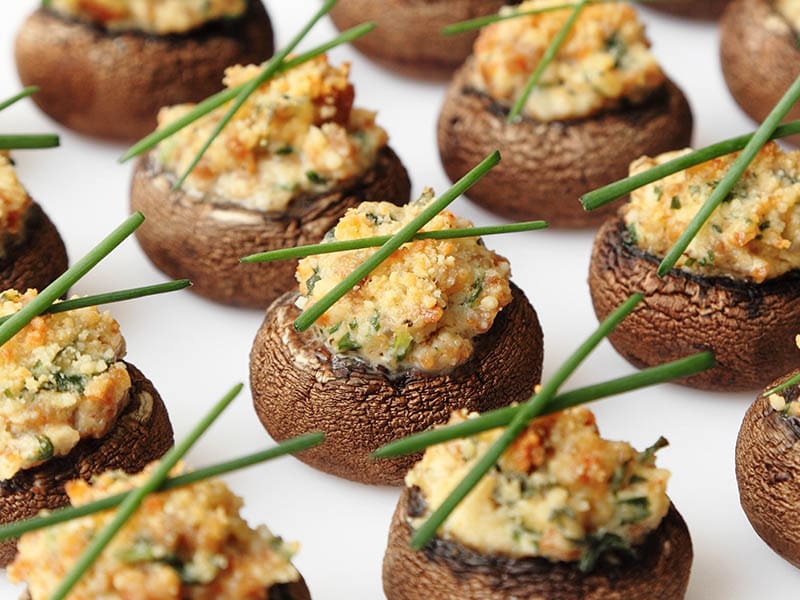 Easy mushroom appetizers ask for a few simple ingredients and are quick to whip up if you're short on time. From crostini, dip, soup, poppers, and pate to tart and medley, you're about to explore a world of possibilities with these savory and meaty fungi.
They are versatile and can go into so many dishes that I struggled to narrow down this list (and more recipes deserve to be here, honestly!). Scroll down, as you'll be spoiled for choices by the options you have to use mushrooms in appetizers!
22 Easy Mushroom Appetizers That You Must Try
Start your weekday meal or party off right with these yummy, easy mushroom appetizers. There are a variety of ways you can incorporate these meaty fungi into your dish for the best flavor and texture:
Total time: 45 minutes
These scrumptious half-moon-shaped pastries wrap around the earthy and creamy mixture of mushrooms and cheese filling. Despite its somewhat fancy appearance, the pastry only calls for three simple ingredients: cream cheese, butter, and flour.
But the best part is that the tender and flaky texture combined with the savory filling inside results in an irresistible entree suitable for single servings on every holiday or special occasion.
The mushrooms are already fantastic on their own. Yet, the shallots, fresh rosemary, and thyme will add an extra umami impact. As these spices are quite pronounced, you don't want to go overboard in this recipe.
Finally, adding cream cheese makes these turnovers nothing short of divine. These savory turnovers have a long shelf life when refrigerated, so you can make them beforehand for your next get-together!
You can keep the cooked turnovers for three days in the fridge and up to a week for uncooked pastries. A glass of Pinot Noir would take this entry to the next level!
Let's observe an incredibly simple demonstration of how to make mushroom turnovers.
Total time: 35 minutes
Have you ever heard of Jalapeno Poppers? These poppers are hollowed-out jalapeños that are cut in half full of gooey cheese and bacon. They are then deep-fried to golden perfection for a real treat.
Stuff mushrooms and Jalapeno Poppers can be combined at the same time. All the flavors of Jalapeno poppers are on offer here in these stuffed baby mushrooms. This should be your new go-to party appetizer!
These cheesy, size-bite Jalapeno mushrooms only call for a few simple ingredients, such as baby Bella mushrooms and some cheese to hold them together.
Total time: 1 hour 10 minutes
You can put these decadent vegan tarts on your dinner table without doing much painstaking cooking.
This recipe only requires store-bought puff pastry, a muffin pan, egg, mushrooms, and cheese of your choice to hold the mushrooms together. Shallots work perfectly with mushrooms when sauteed together, so don't skip them.
Any kind of mushroom will work here. However, if you use cultivated mushrooms, be cautious with cremini and portobellos because they can give your mini tarts an unappealing dark and dull appearance.
Plus, go for all-butter pastry when possible. It's made 100% from butter and has a way richer flavor than other pastry that contains vegetable shortening.
Total time: 45 minutes
These crostinis are a tasty take on a popular appetizer. Despite the somewhat sophisticated and elegant look, this hors d'oeuvres is simple to make and takes just 33 minutes.
The crunchy bread, the sweet and savory mushroom, and the flavorful mix of herbs would be a crowd-pleaser. On the first bite, you will immediately notice how well the crunchy little crusts complement the harmony of flavors of the toppings you throw in.
The herbed goat cheese spread in this recipe serves to complement your tender sauteed mushrooms. It adds just enough tang and creaminess to not overpower the mushroom flavor.
Try this easy mushroom crostini recipe that only calls for a few easy-to-find ingredients!
Total time: 45 minutes
Any brie-lovers can't deny themselves the pleasure of enjoying these bite-sized savory bundles! These sturdy puff pastries offer a nice wrapping for earthy, juicy, and savory mushroom filling, which is bound to be a delightful way to start an evening's meal.
And here's a little tip while working with the phyllo dough. Cover the phyllo sheets with a plastic wrap or waxed paper and a damp towel to prevent them from drying. Using the damp towel alone can dampen the sheets, which leads to sticky clumps at the end.
Total time: 35 minutes
This easy appetizer is ideal for any occasion, from a tasty dish for New Year's Eve or Christmas to a flavorsome Hanukkah starter for your dinner. Plus, you'll love how quick and easy it is to make them!
Crab-stuffed mushrooms are always a big hit at any party. They deliver a gourmet taste and are also fancy to look at. The combination of cream cheese and Parmesan never fails to amp up the umami level, giving the best entry to hit your table.
Juicy mushrooms can drip and leave a stain when you bite them. For this reason, you may want to fry them on a rack for some minutes to drain some juice out of the mushroom.
Cheesy, tasty, and full of crab meat, this appetizer should be a crowd-pleaser at your next party.
Total time: 1 hour
Whether filled with savory or sweet toppings, a galette is simpler than the traditional tart. It comes with a single crispy crust made of bread dough or pastry. This spinach mushroom galette works wonderfully as an inviting vegetarian appetizer or a side dish for any meal.
This galette is a nice combination of layered spinach and mushroom topped with shaved cheese Grana Padano and Mozzarella cheese. Fresh mushroom and spinach make a super harmonious combination perfect for the two.
Because it is a galette, there is no tart pan or pie dish needed. All you need to do is fold the galette crust edges over themselves so that they can hold the filling.
Although it takes an hour for the total time, the prepping is only 20 minutes, and the rest is when you wait for the oven to do its job.
Total time: 35 minutes
Garlicky and crispy, this simple fish is full of flavors that easily pique your taste buds and get them ready for the main course.
The mushroom and garlic duo creates a punchy flavor for the dish, whereas the crispy breadcrumb coating offers a joyful bite that you and your loved ones can't get enough of.
I love how all the savoriness and satisfaction of biting these garlicky mushrooms comes without any guilty pleasure. They're just as tasty as the restaurant-style appetizers but have much fewer calories since you're not dipping them in a huge vessel of hot oil.
Total time: 33 minutes
Why choose between stuffed mushrooms and bruschetta when you can have both in one appetizer? These stuffed mushrooms with bruschetta topping, aromatic herbs, and a variety of cheeses make for a perfect bite-sized hors d'oeuvre to any meal.
The sweet, tart, tangy fresh tomatoes with the meaty and savory mushrooms will create a balanced combination that refreshes your taste buds. The fresh herbs such as thyme, parsley, and basil add a touch of color and make everything pop!
Total time: 26 minutes
You don't have to love liver to love pate. This flavorsome pate made from mushrooms will please vegetarians and non-vegetarians alike. Packed with vitamins and antioxidants, this appetizer delivers a cheesy flavor without any dairy going into the recipe.
For this rich ricotta-based recipe, you can use any type of chopped mushroom you like. Or, you can combine wild mushrooms, shiitake, and oysters for a delicious mix of flavors and textures.
The taste and texture are quite comparable to mushroom soup, yet you'll love quickly and less fussy it is to bring this pate to life. Mushroom pate can be a winning entree with pickled onions and crackers, or you can use it as a delicious spread on a sandwich.
This gluten and dairy-free mushroom pate is easy to make but every bit exceedingly flavorsome.
Total time: 1 hour and 20 minutes
You'll love this too if you're a big fan of creamy mushroom soup. It is packed with mushroomy goodness, onions, and garlic for an extra savory flavor and aroma. This creamy dip is just about as satisfying as mushroom soup. However, it's easier to share and eat.
Adding mozzarella, Parmigiano, and sour cheese gives this dip tang and brightness. If you want more flavor, don't puree all the mushrooms but keep some intact ones and mix them with the dip for a bite.
Total time: 1 hour and 15 minutes
This bolognese is a flavorful appetizer to embrace your Meatless Monday. It takes some time, but I promise there should not be much elbow grease along the way.
Bolognese is a type of ragù (an Italian word that translates to meat sauce) made from ground meat such as pork or beef. However, in this mushroom-based version, you can skip the meat and enjoy the savory goodness of your favorite fungi.
For this bolognese, you should cook the sauce in a heavy-bottomed pan, such as a Dutch oven, which distributes the heat more evenly and improves the appearance of the sauce.
In addition, it takes some patience to achieve perfectly browned mushrooms. They will initially emit plenty of liquid. So wait for all the water to fully draw out and form a thin film of oil before moving to the next step.
This tutorial will help you add mushrooms to bolognese gracefully.
Total time: 35 minutes
These stuffed mushrooms are scrumptious, healthy, and quick to make. Obviously, I cannot find any excuse to add one more stuffed mushroom recipe to this list.
These turkey taco mushrooms have taco filling made with ground turkey, crushed tomatoes, parsley, and taco seasonings.
Mushrooms will release plenty of water when baked. Therefore, ensure you remove all the water inside the caps, so your appetizer won't turn into a soggy, wet mulch. This updated taco version comes together in about 35 minutes but can spruce up your taco nights.
Total time: 1 hour and 40 minutes
Serve this mushroom appetizer with a fork and knife to explore the creamy and mushroom-y goodness of the dish. For this recipe, fresh, wild mushrooms work like a charm. Yet, feel free to use any mushroom you have at hand.
I love the brilliant ideas of cream sauce in this recipe. It uses a mixture of rice, onions, wine, and broth that is simmered and pureed into a pourable sauce-like consistency.
If you don't use up all the sauce, keep it in the fridge/freezer and use it as a substitute for heavy cream on soup or sauce.
Of course, you can make a little twist to make this a vegetarian version. Otherwise, go for chicken-flavored broth instead of the regular ones as it lends a richer and heartier flavor.
Total time: 50 minutes
This creamy mushroom soup is a perfect entry for a cozy dinner. The star of the show here is mushrooms, and you'll need plenty of them (1 ½ pounds).
Pre-bake these mushrooms until they get caramelized. Then, transfer them to the pan and cook them with the brie and other ingredients, and then puree the whole thing. It's truly awesome how meaty and flavorsome the mushrooms are when you cook them this way.
On top of that, the Brie cheese is what binds everything together, giving the soup a creamy and buttery texture.
Total time: 20 minutes
They look quite similar to the Jalapeno poppers mentioned above. You'll also use cheddar, cream cheese, and jalapenos in the same manner. But this time, more mushrooms will go into the charming kid-friendly appetizer recipe for a bust of earthy flavors that your children will find very exciting.
Besides mushroom and creamy ​​jalapeno filling, these poppers are also coated with breadcrumbs before being baked to crispy goodness. They are best served with ranch dressing. Alternatively, you can use bleu dressing to compensate for the fire of the buffalo sauce.
Total time: 25 minutes
These portobello mushroom sliders might be the easiest burger you've ever made. The absence of meat in this recipe is nicely compensated by the texture of mushrooms, making it an equally (if not more) tasty vegan burger.
Juicy and filling, these sliders are the perfect entry for a summer BBQ or an easy, lazy weeknight meal.
When choosing Portobello mushrooms, you should go for the one that fits the size of your sliders. Other main ingredients that these sliders call for include vegan mayo, hot sauce, greens, and Kimchi.
These simple sliders with Portobello mushrooms would be an awesome way to start your meal.
Total time: 1 hour and 5 minutes
This classic mushroom recipe is always a crowd-pleaser. This protein-packed appetizer tastes like French Onion soup despite being stuffed in a delicious, crunchy pasty. The savory mushroom and cream cheese filling add more depth to the flavors.
Camazilizing onions in this recipe might take you quite a while. However, if you want to speed up the cooking, add something sweet like honey or sugar, and the onions will quickly fry to a perfect golden brown.
Both mushrooms and onions are quite easy-going to pair with many ingredients. Throw in some spinach, sage, or butternut squash if you like.
These pinwheels are ideal for preparing hours in advance, which is why I love to serve them as an appetizer. Besides, you can make big batches and keep unbaked pinwheels in the freezer for a real treat readily available in your house.
Total time: 15 minutes
This appetizer is a favorite of British and other Anglophone cooks. The savory and quick dish gets ready in no more than 15 minutes. It's best to mix in a wide variety of mushrooms so you can derive the most earthy and meaty flavors from them.
On a side note, instead of adding all the mushrooms into the pan, you should fry them in batches. This helps avoid steaming the mushroom and results in brown, well-seared mushrooms.
When choosing the ideal toast for this dish, you should go for thick slices so that they can accommodate your seated mushroom better. Thick slices of white bread, sourdough, or wholegrain bread would all be a nice choice.
This garlicky, cheesy mushroom on toast is one of the simplest and most satisfying you've made.
Total time: 25 minutes
These vegan crescent rolls should be on the back of your pocket whenever you want a last-minute appetizer. This bite-sized delight only calls for mushrooms, crescent rolls, cheese, and milk as the main ingredients and is ready to serve in 25 minutes.
It should be a good choice when your main course takes longer than usual. Savory sauteed mushrooms with cream cheese baked inside the soft crescent rolls will surely satisfy everyone's palate.
For this easy recipe for appetizers with cream cheese, you should not use fresh mushrooms as they're likely to release water when baked. Instead, sautee them beforehand to remove some of the excess moisture.
Plus, if you don't have crescent rolls in your pantry, feel free to swap in puff pastry as it will be equally wonderful wrapping from the mushroom filling.
Total time: 20 minutes
Have you already fired up the grill? Then, throw in these mushroom skewers and wait only 10 minutes for a delectable appetizer! Mushroom is often sidelined at a BBQ, but these savory skewers are fun and satisfying to eat, whether as an appetizer, side dish, or even light main.
After thoroughly soaking all the goodness of balsamic garlic marinade, these flavorful mushrooms are certain to get all the attention they deserve. Skewering mushrooms makes it easy to grill, and everyone will love to take these portable skewers around with them.
You should try this tasty version of grilled mushroom skewers in your next outdoor grilling event!
Total time: 1 hour
In case you have passed by it, Vol Au Vent is a hollow case of puff pastry with a savory mixture inside. The filling is typically fish or meat flavored with a rich sauce. Yet, in this recipe, meat is out of the picture, and the savory, creamy mushroom filling will take the spotlight.
To avoid making things complicated, you can use store-bought pastry instead of making it from scratch. However, the puff pastry still can deliver the same brown, crispy, and flaky bites when baked.
The filling inside is creamy and garlicky at the same time. Finally, the chopped parsley added during the last minutes of the cooking, as always, lends this Vol Au Vent a beautiful brightness.
How Many Of These Mushroom Recipes Have You Tried?
Tell me your experience with any of these recipes that you have tried. If you (and your family) are mushroom lovers, this compilation will back you up for quite a while.
These appetizers are simple and effortless to prepare, but almost never fail to satisfy everyone while they're waiting for the main course.
Mushrooms are incredibly versatile, and if you have fallen in love with them already, now you know how to make the most out of them. Do you have anything to add to this list? If yes, let me know in the comment section. Share these recipes for your friends and loved ones!