Have you ever come across any fresh mozzarella recipes you don't like? They are pretty much a winner on their own with the cheesiness and creaminess they offer. I mean, who doesn't love themselves some cheese-based food regardless of time and day, right?
Fresh mozzarella is tasty to eat as-is or with some seasonings like salt and pepper. Dig a little more, and you will find out how extensive people incorporate this fresh cheese into many dishes, from pasta to, perhaps the most well-known of all, pizza toppings.
However, there's more to it than that; there are salads, Caprese meals, burgers, etc., with fresh mozzarella. You can whip up all of them at home without the need for professional cooking skills. Read more to find out the best use of fresh mozzarella you can implement in your own kitchen.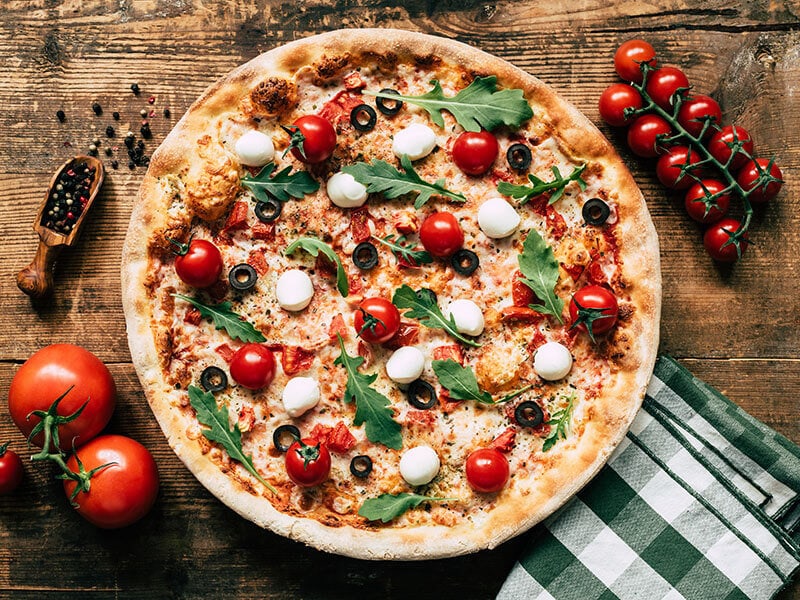 Mozzarella-Based Foods Are A Thing Of Beauty Anyone Can Appreciate
The gooey and melted fresh mozzarella can be a glue that holds the ingredients together. Moreover, it adds so much pop to the whole dish thanks to the milky and slightly acidic-lactic flavor. Given how good fresh mozzarella is, is there any reason you shouldn't put it in your dishes?
Total time: 25 minutes
Most people would assume fried mozzarella sticks are of Italian origin. But some believe they are a French-originated dish as the first record recipe was featured in Le Ménagier de Paris (The Parisian Household Book), a French medieval manuscript.
Fried mozzarella sticks are a hit with many folks because of the stretchy cheese filings as well as the crunchy and savory exterior. But if you don't feel like cutting the cheese into strips, just cut large slices from cheese blocks and make these fried mozzarella cakes instead.
The deep-fried mozzarella recipe with marinara sauce is as good as it can get. The meaty condiment is a nice accompaniment to the gooey and yummy cheese coated in flour, egg, and breadcrumbs mixture.
Total time: 10 minutes
Fresh mozzarella salad is among the easiest recipes using cherry tomatoes you can whip up in a snap; there's no cooking involved, just chopping and tossing all the ingredients. Within 10 minutes, you can enjoy the best this recipe has to offer.
As you can see, this recipe only asks for simple ingredients. Yet it makes for a simple and addictive dish. You feel like you could almost taste summer with creamy fresh mozzarella cheese, juicy cherry tomatoes, and sweet-tangy dressing.
Fresh mozzarella works best as the regular ones are not as soft and creamy. The dish calls for little round mozzarella balls, but you can slice the larger ones into smaller balls that are the same size as the sliced cherry tomatoes.
You can recreate the easy and fresh mozzarella and tomato salad without breaking a sweat.
Total time: 1 hour 5 minutes
This recipe is a healthy take on the classic sliders, which are typically mini burgers made with meat. The deep orange sweet potato Caprese sliders are chock-full of vitamin C, carotenoids, and bioflavonoids from cherry tomatoes, sweet potatoes, egg, and fresh mozzarella.
The cooking steps are straightforward. First, turn the sweet potatoes into noodles using a spiralizer and cook them with garlic powder, salt, and pepper in olive oil. Next, combine the spiralized sweet potato with eggs, then pour the mixture into a muffin tin tray.
After 15-20 minutes of freezing, bake them in an oven at 450℉ for about 5 minutes for each side. Once done, top the sliders with fresh mozzarella, tomatoes, and basil. That's it! Now you can leisurely enjoy the toothsome and finger-licking sliders.
Total time: 35 minutes
Do you want a flavorful, fresh mozzarella dish that is simple to throw together? Marinated mozzarella balls fit the bill. They require no fancy kitchen equipment and minimal effort. Most of the time you spend is waiting for the balls to marinate well.
The olive oil mixture is important since it's the main component that makes the fresh mozzarella balls flavorsome. Therefore, you should opt for premium options. But you don't have to spend a fortune on one bottle. Just go with cold-pressed and organic olive oil.
The recommended marinating time is between 30-60 minutes. Should you choose to marinate beyond that, place the whole thing in a fridge to keep garlic and parsley fresh. However, immersing the balls for longer than 24 hours is not a good idea as it can damage the texture.
Explore how you can recreate marinated mozzarella balls with basil and cherry tomatoes here.
Total time: 20 minutes
Mozzarella Bruschetta is a great recipe for anyone who wants to eat a tasty dish while keeping themselves healthy. The whole thing is gluten-free, paleo-friendly, vegan, and more while being a delectable offering.
Traditionally, Bruschetta is an Italian-inspired starter consisting of olive oil, bread, tomatoes, etc. What makes this recipe stand out here is the use of mozzarella, balsamic vinegar, and black pepper, an uncommon ingredient in Italian cuisine.
Total time: 16 minutes
Pizza! Should I say anything more about the most famous Italian dish? The star of the show is undoubtedly the melted fresh mozzarella, which turns all golden and bubbly on top of pesto when cooking. Everything can be ready on your plates in as little as 16 minutes.
You can enjoy the great combination of bright pesto, fresh mozzarella, and tangy arugula salad in the comfort of your own home. For an extra pop of flavors, consider garnishing the finished slices of pizza with parmesan cheese and red chili flakes.
The grilled pesto pizza is best done on a grill, but you can cook it in an oven. Baking the recipe at 425℉ for about 7-10 minutes should do the job.
Total time: 9 minutes
This is another fail-proof starting course with watermelon and mozzarella. All you have to do is thread these two ingredients and tomatoes onto skewers, drizzle them with balsamic vinegar and fresh basil, then you are all set!
Watermelon Caprese skewers are the ideal and refreshing twist to Caprese salad recipes for those not too fond of tomatoes. You can make, serve, and devour this gluten-free, bite-sized appetizer throughout the summer.
Let's enjoy summer to the fullest by whipping up the watermelon Caprese skewers.
Total time: About 28 minutes
What is gnocchi? They are miniature pasta dumplings typically made from flour, potatoes, and eggs. Simple, comforting, cheesy, and full of flavor, gnocchi baked in tomato and mozzarella sauce is a perfect veggie main with Italian tastes for your weeknights pleasure.
Although gnocchi is a dumpling, you can find them in the pasta aisle or somewhere near it. Because this ingredient tends to soften upon reheating, this dish does not freeze well. You should store the leftovers in an airtight container in the fridge for up to 2-3 days.
Total time: 25 minutes
Panini is how Italians refer to sandwiches. It means "small bread" in their language. However, they are not essentially the same. A sandwich can be anything with a filling crammed between two slices of bread, while a Panini is typically grilled on both sides and is not made of sliced bread.
Therefore, although there are similarities, Panini is different from grilled cheese sandwiches. The best part of this recipe is you can make Panini without a grill or press. All you need is a cast-iron skillet.
This mouth-watering panini-style treat is crunchier than grilled cheese with gooey goodness. The thin, flattened chicken makes everything easy to bite, and you can sear it and assemble the items in one pan. Making a delicious Panini couldn't be easier!
Total time: 15 minutes
Like almost every fresh mozzarella recipe I have covered so far, baked mozzarella and marinara dip is plain and simple but does not lack the fine and dandy qualities. The dip is as easy as it gets to whip up, but you may be surprised by what it brings to your meals.
The dish is a collection of 3 ingredients baked to perfection. The fresh and juicy marinara sauce, slightly sweet spinach, and fresh mozzarella cheese dance together in one pan, creating an inviting and succulent experience you can't say no to.
Just wait until you get to dip the baked mozzarella and marinara with toasted slices of baguette, and you will know what a heavenly taste is like. Consider putting olive oil and garlic onto the baguette slices for better enjoyment.
Total time: 10 minutes
This is a salad with 2 serving options: with or without pasta. If you opt for the latter, cook the pasta according to the package instructions and stir it into the salad with balsamic glaze, salt, and pepper.
Either way, you need to prepare the cucumber Caprese salad, which requires just 5 simple ingredients to make in a snap. English cucumber and fresh smaller mozzarella balls work best. As for tomatoes, you can use the cherry or grape varieties.
If you are a person who loves to spice things up, don't hesitate to add more items to make new variants. For instance, diced avocado, cooked chicken, strawberries, artichoke hearts, etc., are noteworthy choices.
Total time: About 35 minutes
There are no pasta dishes screaming summer more than this recipe with fresh mozzarella and tomatoes. It uses Ditalini, a small tube-shaped pasta, as they absorb the sauce flavors very well. Then there's also the melt of creamy cheese into fresh, sweet corn.
Making authentic Italian-style pasta in your kitchen is no hard work. You have to make 3 components: the pasta, the garlic herb roasted tomatoes, and the corn. Then combine them into a delicious pasta dish. There's no baking involved, just a few minutes of microwave warming.
If you can't get your hand on Ditalini, feel free to replace them with any small tubular pasta, even macaroni. Smaller fresh mozzarella balls work best for the recipe. Should you can't find them, you can chop larger balls or log ones into smaller sizes.
Total time: 30 minutes
Chicken is worth repeating as a dish for dinner. They are so decadent and tasty, especially when you stuff the meat with tomato, basil, and fresh mozzarella. All of the fresh ingredients just add so much flavor to the whole.
Remember to slice the chicken pieces with equal thickness so that the stuffing will be cooked evenly and thoroughly. You should also use toothpicks to secure the meat in place, especially if the fillings are plenty.
To make a good dish even better, you can serve this recipe with pasta, salad, or veggies. If it fancies you, try pairing the stuffed chicken with a dish that includes mozzarella, tomato, and basil. You can never get enough of them, right?
Total time: 40 minutes
Zucchini mushroom pepper "boats" are the dish to make for your vegetarian friends when they visit and crave some recipes with fresh mozzarella balls. The summertime veggie entree is one of the best ways to enjoy what summer has to offer. And it's low-carb and meat-free to boot.
Gather coconut oil, zucchini squash, mushrooms, fresh mozzarella, and spices if you want to fix this hearty and refreshing dish. All required ingredients are widely available and may have been available on your shelf, save for zucchini, which you may have to go to the store for.
To summarize, the recipe consists of zucchini as a base and a mixture of the other items as toppings. If you want to save time, prepare the coconut oil combination while roasting the zucchini.
Total time: 3 hours 50 minutes (Including 3 hours of resting and rising time)
Check out the result of bringing together a simplified tomato canape creation with mozzarella cheese to make something to munch on. The soft and fluffy texture is perfect for lunch and dinner as a sandwich, especially when you dip it into olive oil or tomato soup.
Moreover, the making process is hassle-free and involves minimal clean-up. There are about 3 hours of total resting and rising time. The active cooking time takes about less than an hour. You can make the recipe 1-2 days ahead to save time.
The rich and cheesy final product keeps well at room temperature for up to 4-5 days (in a plastic wrap, ideally). You can also freeze the bread in two layers of plastic wrap and aluminum foil for up to 2 months.
Total time: 35 minutes
If you are bored of traditional pizzas, give this gluten-free and green variant a chance. The peas-mint-lemon trio blends nicely and adds so much depth to the flavor. The tanginess, sweetness, and savor may pull you far away from the conventional pizza recipes.
The green color of little peas and mint on a white bed of mozzarella and goat cheese with some yellow lemon makes for an elegant appearance. From the look of it, you can tell how vegetarian-friendly this pizza is going to be.
Total time: 1 hour 40 minutes
Here's another appealing recipe to add to your cooking arsenal. There are multiple colors from the ricotta, fresh mozzarella, egg, half and half, etc. The dish tasted wonderful, too. Being a tart, it's sweet and savory in a good way.
Tomato basil fresh mozzarella tart is ideal for brunches, lunchers, and dinners. Just make it ahead earlier, and reheat the dish about 10 minutes before eating. The tart is at its best when you serve it warm or at room temperature.
Learn how to make tomato fresh mozzarella tart in your kitchen with this detailed cooking guide.
Total time: 50 minutes
This vegetarian recipe will capture the hearts of not only vegetarians but also the meat lover crowd. Since the stacks include eggplant, tomatoes, pine nuts, etc., you can tell they are going to be healthy, especially when you consume them fresh.
All you need is an oven and a food processor. Maybe a bowl and sheet pan is also required to contain the dish. Anyone can make the roasted eggplant with bright pesto, melted mozzarella, and ripe tomatoes within less than an hour.
The layering is like this: an eggplant bottom, mozzarella, tomatoes, basil leaves, another eggplant top, then more mozzarella. After another 5 minutes in the oven, put on a topping of sun-dried tomato strips and basil leaves (and balsamic vinegar, if using).
Total time: 20 minutes
Can you name a better duo than grilled steak and fresh mozzarella cheese? They work surprisingly well together. A medium-rare filet mignon topped with slices of Roma tomatoes, mozzarella, basil leaves, and balsamic reduction is nothing to sneeze at.
Alternatively, you can cook the steaks with the Caprese salad directly on the grill until the cheese melts completely. Either way, you can taste the nice contrast between a crisper salad and steaming hot meat.
You should store the filet mignon, cheese, tomatoes, and reduction in their separate airtight containers. These items can keep well for up to 2-3 days in a refrigerator. You can reheat the steaks on the stove or in a microwave.
Total time: 10 minutes
Be careful, or you may become obsessed with the Caprese cheese board. It is easy to whip up and has all the deliciousness of different ingredients. Caprese cheese board is not just a meal; the recipe is a food festival on its own.
I mean, can you find any meal that is a big collection of distinct items like this one? The dish is colorful confetti of veggies, fruits, nuts, salami, and cheese. The best part? It tastes as wonderful as it looks.
You can also make a simple balsamic vinaigrette, which adds so much depth to the whole dish. To make the dressing, combine olive oil, balsamic, and basil and shake well in a sealed jar. Set the vinaigrette aside at room temperature. Remember to shake well before use.
Total time: 40 minutes
As you may have already noticed, people often pair fresh mozzarella with tomatoes. But you can also pair the cheese with peaches, red plums, apricots, or pitted cherries for a fruity entree mix that can impress anyone at the dinner table. This recipe shows you how you can do that.
You may say that mozzarella and roasted peaches pairing are the next steps in the cheese and fruits duo evolution. The lactic mozzarella's creaminess and roasted fruits' lusciousness just brings so much to the table. There's a balance to the tastes of the whole dish.
But wait, there's more. How can I forget about the chunks of bread and their crispness? You can enjoy the crunchy sliced ciabatta or sourdough bread alongside the rich olive oil and sweet fruits. Everything makes for a culinary experience you don't want to miss.
Total time: 20 minutes
Now, this is a classic and a crowd favorite. The mac and cheese get an extra kick of creaminess when you cook them in Caprese style, with extra fresh mozzarella. The dish is more pleasant than ever when you smother it in a creamy mozzarella combination.
Prepare the pasta, then toss it along with other ingredients into a saucepan. Next, cook and stir everything, and you are good to go. That's all the required steps for whipping up this stunning take on the all-too-familiar mac and cheese.
Impress your family with the Caprese take on the classic mac and cheese now.
Total time: 55 minutes
Are you looking for guilt-free comfort food? Look no more and check out this amazing recipe. It's a low-carb and home-cooked offering of tender spaghetti squash, flavorful meatballs, and a fresh homemade marinara sauce. You can enjoy spaghetti in a completely new light!
You can cook the spaghetti squash in many ways: oven-roasted, microwave, on a stovetop, or with an instant pot. Rotating takes the longest, but this method also produces the most flavors. The remaining options are faster (about 15 minutes at most), but the result won't be the same.
Low-carb spaghetti squash with meatballs is very easy to customize. You can change almost every ingredient to an extended degree. For instance, you can use any meat of your choice, like ground beef or turkey, for the meatballs.
Total time: 23 minutes
In case you are wondering, a frittata is an Italian-style egg dish. You can describe it as an open-faced omelet. However, the frittata is different from omelets as it has a custard-like consistency and is cooked on low heat on both sides.
Caprese frittata has a filling of melted mozzarella, fresh basil, garlic, and toasted tomatoes – all heavenly and mouth-watering ingredients. The protein-packed Frittata is wonderful to eat as breakfast, on lunches, brunches, or dinners.
The red and green colors on a bed of yellow egg-milk mixture infused with fresh mozzarella balls make for a colorful and appealing appearance. It's inviting enough to make everyone want to have a scoop of it.
Total time: 20 minutes
When you are bored of the mayo-based salad, it's time to try this simple recipe with green tomatoes and fresh mozzarella. It's a tangy experience that is unlike any other salad. The pickled green tomatoes can keep well in the refrigerator for up to a week, even months!
First, pickle the tomato wedges by packing them in a jar with vinegar mixture along with other ingredients. Remember to seal the jar completely and store it in the refrigerator for at least 2-3 days before serving.
This way, the tomato shelf life is longer, and you can get many enhanced health benefits like probiotics. The green fruits on their own are already plenty good for your health. They provide you with vitamin C and K as well as boost eye health.
Total time: 1 hour
The pizza and mozzarella combo is a crowd favorite, and not without good reasons. Everyone loves to stretch the melted cheese in slices of pizza and enjoy its stringy, stretchy quality. You can indulge all of your cheesy whims in just one dish.
The golden crust Margherita pizza is eye-catching when sitting neatly in one place with some red and green from the fruits and leaves. You don't need to go to the store or a pizza stone. This homemade recipe can be made with a cast iron skillet.
What's special about the dish is the toppings. Slices of sweet, mild mozzarella, fruity tomatoes, and fresh basil leaves on top of the chunky consistency of the homemade marinara sauce is a showstopper. You don't want to miss the warm and delicious Margherita pizza.
Elevate your pizza eating experience with this Margherita pizza recipe.
Total time: About 15 minutes
Besides pizzas, burgers are one of the most well-known hand-held foods in the world. They simply are the best, being well-balanced with meat, veggies, cheese, and spices. Pesto mozzarella chicken burger is no exception. And it won't disappoint!
A great thing about the recipe is how you incorporate the pesto into the chicken. This is because the strong flavor of pesto is enough to handle the chicken's hearty flavors. Combine that with a top of gooey mozzarella, and you can't resist the deliciousness of this burger.
Total time: 25 minutes
Do you want to consume the Caprese salad in another way? Putting them on a cracker is a great idea! With this simple method, you turn them into addicting cracker stacks that make for an excellent mozzarella cheese appetizer.
People often associate cheese with crackers, so it makes sense to put them together. The duo becomes better when you pair it with toothsome balsamic reduction. If you want these bites to be 100% gluten-free, check the labels and make sure the crackers contain no gluten.
Plus, everything is simple to make and won't take more than 25 minutes of your time. You just need to assemble the layerings of ingredients, then pour the balsamic reduction over them. Caprese salad cracker stacks with balsamic reduction couldn't be easier to make.
Total time: 40 minutes
Speaking of cheese, you can't help but think of grilled cheese. The gooey and cheesy sandwich scores so many points just being a simple toasted slice of bread with melted cheese filling. But feel free to make this dish with your leftover stuffing or other stuffing choices.
As for the recipe, it calls for three different kinds of cheese: mozzarella, parmesan, and goat cheese. There's no way your creaminess craving won't be satisfied with the roasted mushroom grilled cheese.
If you prefer something more flavorful, consider putting in fresh pesto, roasted garlic, balsamic glaze, or truffle oil. Adding some more protein like bacon, chicken, or ham is another good idea. For veggie lovers, you can layer some more chopped spinach, sliced tomato, corn, or arugula.
Total time: 25 minutes
Under the relentless heat of summer, a fresh and cool salad can be a lifesaver. The Panzanella originates from Tuscany and Umbria, Italy. The salad consists of creamy fresh mozzarella, ripe tomatoes, and crispy french bread. It also includes Italian seasoning, capers, basil, and spices.
You can make the popular Italian-inspired recipe at home effortlessly. You only have to cook the bread on a skillet over medium-high heat and combine them with the remaining items. That's easy, right?
Total time: 1 hour 5 minutes
Food lovers will have a field day with this Lasaña De Berenjenas, a tasty take on the casserole. Instead of pasta, you use eggplant, which introduces a tender and vegetal flavor to everything. You can even fry the darkish purple plant beforehand for extra crunchiness.
The dish calls for a minced beef filling. But if you want a vegetarian-friendly version, use vegan mice or meatless eggplant casserole filing. Besides fresh mozzarella, the recipe also tells you to use one layer of grated low-moisture mozzarella.
The making is simple: prepare the eggplant, layer the plant with other items in the casserole dish, then start wrapping in aluminum foil and baking. Lastly, serve the finished product with salad.
Total time: 30 minutes
Grilled chicken and marinated tomatoes make for a flavor explosion for your taste buds. The recipe is an easy and healthy dish to enjoy and make use of all the in-season summer tomatoes. You just need five ingredients to whip up this delicious serving!
To summarize, sweet cherry tomatoes are marinated in olive oil-balsamic vinegar mixture and topped with mozzarella and basil leaves. Then you pour the salad over the juicy, flavorful grilled chicken.
Simple as that. The only cooking you must do here is cooking the seasoned chicken on a grill. It's an easy-peasy job as you only have to watch and flip the meat once or twice.
The recipe uses chicken breast, but feel free to use boneless skinless chicken thighs, be sure to cook a little longer, though.
Total time: 15 minutes
This is the recipe for when you don't feel like putting in the work for a dish. What's more simple than boiling green beans, sauteing tomatoes, then tossing them with mozzarella cheese? The dish works best with bocconcini – mini fresh mozzarella balls.
Most other recipes tell you to bake green beans along with cheese, but this one is more straightforward. There's no complicated cooking required. No baking or roasting, you only need to know how to parboil, saute, and combine ingredients.
The last step also involves drizzling the whole thing with salt and freshly-cracked black pepper. Everything is simple yet the end result is tasty beyond belief. With this green bean recipe, you get to taste veggie, fruit, and cheese all in one dish in a simple way.
How To Make Use Of Fresh Mozzarella In The Best Ways Possible
Now you know at least 30 ways of whipping up fresh mozzarella recipes. The Southern Italian cheese brings not only milky flavor and butteriness to the meal but also so much joy with it. Eating anything cheese-based will make me happy as a clam. What about you?
If you fancy sharing your thoughts on this topic, please type what you want to say in the comment section. It helps you engage in interesting conversations with me and others. Better yet, you may have another perceptive upon looking at what you've just typed.
And don't forget to share the recipes if any of them turn out great for you. If not, I'm here and always open to discussion about how you and I could improve the dishes to your liking. Be sure to share and comment to inform more people about how great this cheese is.
Nutrition Facts
8 servings per container
---
Amount Per ServingCalories126
% Daily Value *
Total Fat 11.3g

18

%
Cholesterol 20mg

7

%
Sodium 86mg

4

%
Potassium 11mg

1

%
Total Carbohydrate 0.8g

1

%
Protein 5.1g

11

%
---
* The % Daily Value tells you how much a nutrient in a serving of food contributes to a daily diet. 2,000 calories a day is used for general nutrition advice.