Easy Middle Eastern recipes should be your first choice if you are craving ethnic dishes with distinct flavors. That's because these recipes are so straightforward to cook, but they taste the most vibrant, aromatic, and scrumptious that you will fall in love with at the first bite.
These recipes are wholesome and delightsome, coming from various countries in the Middle East, such as Lebanon, Turkey, Israel, and ranging from hummus to couscous. I guess that you might know some of these recipes, but some like mutabal or sfeehas might be new to you.
Middle Eastern cuisines are usually made with chickpeas, tahini sauce, or garlic powder, giving them a strong and exotic taste that you can't stop eating. Most dishes in this post are full of healthy and simple ingredients that are good for your health. Let's explore and give them a shot.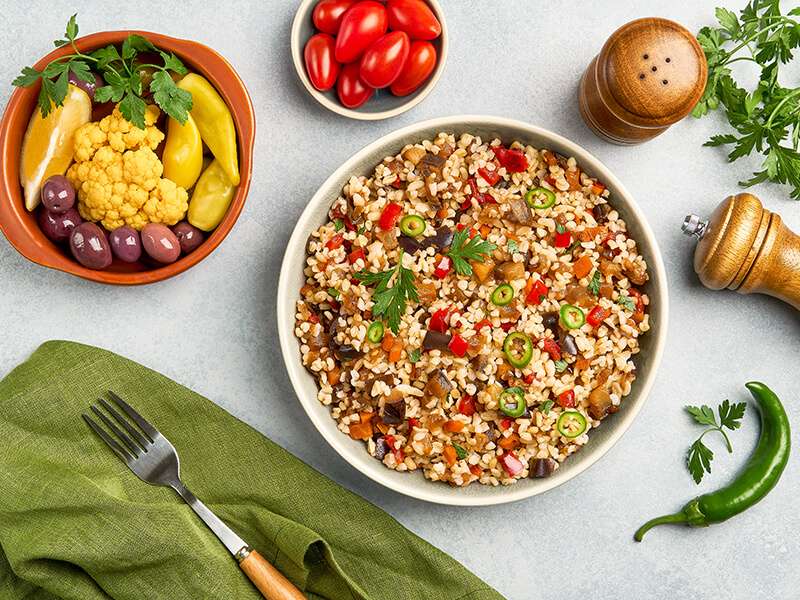 35 Easy Middle Eastern Recipes For Beginners To Cook At Home
Easy Middle Eastern recipes have loads of options, so you have many great ways to prepare your delicious meals. I believe that you will find your favorite dish you might love in these recipes. Here are four categories of Middle Eastern dishes for you to opt for.
Appetizers
Hummus With Tahini
Falafel Kebabs
Fried Kibbe Balls (Lebanese Kibbeh)
Sfeehas (Lebanese Meat Pies)
Chickpea Shawarma
Baba Ganoush (Smoky Loaded Eggplant Dip)
Lamb Kofta
Side Dishes
Turkish Bulgur Pilaf
Israeli Couscous
Roasted Vegetable With Tahini Sauce
Quinoa Tabbouleh Salad
Mutabal (Arabic Eggplant Dip)
Khyar Bi Laban (Lebanese Cucumber Yogurt Sauce)
Turkish Sumac Onions
Dolmades (Greek Stuffed Vine Leaves)
Main Dishes
Middle Eastern Lamb Burgers
Dill Rice
Spicy Lamb Pizza
Chicken Kofta
Balela Salad (Middle Eastern Chickpea Salad)
Middle Eastern Lentil Soup
Shakshuka
Lebanese Fattoush Salad
Maghmour (Eggplant And Chickpea Stew)
Falafel Sandwiches
Desserts
Manakish/Za'atar Bread (Mediterranean Flatbread)
Basbousa (Semolina Cake)
Sahlab (Middle Eastern Milk Pudding)
Baklava (Layered Pastry Dessert)
Halawet El Jibn (Sweet Cheese Rolls)
Ghraybeh (Middle Eastern Butter Cookies)
Turkish Delight
Atayef (Middle Eastern Pancakes)
Aish El Saraya (Middle Eastern Bread Pudding)
Halva
Fabulous Middle Eastern Appetizer Recipes To Begin Your Meals
These appetizer recipes taste amazing and are made with very typical ingredients you can easily find in your kitchen. It is ideal for starting your lunch or dinner today with these Middle Eastern appetizers.
Hummus has gained popularity among Middle Eastern countries, made from chickpeas, lemon, olive oil, and garlic. Hummus going with tahini creates an excellent appetizer that can make you obsessed. Tahini is an important ingredient to make your dish creamy, nutty, and luxurious.
This hummus with tahini is topped with cumin, pepper, and roasted jalapeno, making it spicy and flavorful. This wonderful appetizer will be more delicious if served with veggies like carrots or broccoli, or you can use it to spread on your sandwich or pita bread.
Making the best creamy hummus with tahini at home is so simple with a few tricks.
Falafel is a famous Middle Eastern food. These lovely balls have a soft and tender interior covered by a decadent golden-brown crust and are packed with pickles or healthy veggies like fresh cucumber, onion, lettuce, and tomato.
These falafel kebabs are usually drizzled with garlic sauce or tahini to make them more savory. The good news is that you can use canned chickpeas in this recipe, which is so convenient and entirely suitable for busy home cooks.
Even the canned chickpeas bring your falafel a tender, fairly light, and moist texture. However, traditional falafel kebabs should be made with dried chickpeas that you have soaked overnight to get a drier and crunchier falafel.
Kibbeh combines ground beef, bulgur wheat, onions, and warm spices like cinnamon. Kibbeh is made into various dishes like these Lebanese kibbeh balls. Kibbeh is also known as kubbeh or kibie, which means "the shape of a ball" in Arabic.
This Lebanese kibbeh can be made by frying or baking them. In both ways, you have to flip them halfway thoroughly to make sure they are heated through.
One more tip for you is to place other ingredients in your bulgur wheat only after letting it rest. Otherwise, your dough will be too wet since the wheat cannot absorb the excess moisture.
Sfeehas looks like a triangle of doughy bread filled with delicious ground beef or lamb and flavored with clarified butter, cinnamon, and other spices. These small Lebanese meat pies can be served as an ideal appetizer, or you can make large sizes of sfeehas to eat as a main dish.
These savory pies can be made with store-bought pizza dough to save your time. You can also add toasted pine nuts to your Lebanese meat pies to make them unique. Sfeehas should be dipped with plain yogurt or your favorite sauce to have the best appetizer.
Lebanese meat pies are ready to eat after following some basic steps.
This healthy chickpea shawarma is a plant-based, vegan, and gluten-free starter dish, so it is a fantastic choice for people on a diet or who want to keep fit. Chickpea shawarma is loaded with roasted crunchy chickpea, fluffy quinoa, and nutritious veggies.
Shawarma originates in Turkey and is also a classic Arab dish cooked with meat on a spit and slow-roasted and often served with tomato, red onion, and various sauces.
This chickpea shawarma with hummus or tahini sauce creates an irresistible taste for your creamy, hearty, and savory appetizer beyond your satisfaction.
Baba ganoush is a remarkable appetizer in Arab and other Middle Eastern countries. Like hummus, baba ganoush is a famous Middle Eastern dip that you can adjust seasonings to suit your taste. You can add a touch of sugar for more sweetness or mayonnaise for richness.
This smoky-loaded eggplant dip is pretty delicious with all wonderful flavors from smoky roasted eggplant, olive oil, tahini, and spices. This healthy and vegan dip is great to serve with pita bread, chips, or crackers for an out-of-this-world appetizer that your family will love so much.
Watch this video to know more:
Lamb kofta is full of aromatic flavors from the fat in the lamb and spices, making the dish so delicious and juicy. Lamb kofta has an iconic flavor of Middle Eastern street food with many variations. The spices used in lamb kofta are usually cinnamon and cumin.
These lamb koftas can be also flavored with cayenne, onion, and garlic to kick an aromatic flavor. This delicious dish can be poured with tahini lemon sauce and served with flatbread or pita bread. Moreover, you can also enjoy lamb kofta with a green salad or dip in tzatziki sauce.
Out-Of-Sight And Nutritious Middle Eastern Side Dish Recipes
These side dishes are basic yet delicious and will give you a perfect meal. They mostly feature healthy vegetables and bring you some essential nutrients for your body.
Turkish bulgur pilaf features whole-grain bulgur and chickpeas. This special food from Turkish cuisine has a hint of nutty flavor and chewy texture from bulgur, a critical ingredient in many dishes throughout the Middle East.
Turkish bulgur pilaf is the intelligent choice to serve as a side dish with your meat dishes. This bulgur pilaf is straightforward for even a beginner to cook and add to daily cooking recipes.
This versatile dish can be created based on your favorite ingredients and your time. You can use canned tomatoes instead of fresh ones, or substitute canned chickpeas for dried chickpeas, or fresh coriander is also a great replacement for parsley.
Israeli couscous is a tiny, tender, fluffy pasta that can be loaded with lemon zest, parmesan cheese, chopped parsley, or made in the type of salad by adding some curried vegan mayo, fresh peas, cranberries, and cashews.
Israeli couscous seems to have an earthier and deeper taste than other regular types of pasta. Its flavor tends to be nutty since this pasta is toasted before packaged. Moreover, you might also feel a cheesy and creamy taste when eating this fantastic pasta.
Israeli couscous is an ideal side dish for lunches, potlucks, or BBQs. The best thing is you can freeze this Israeli couscous and use it in soups in addition to salads.
Watch this video to know more:
Roasted veggies and tahini sauce are an incredible pair to create a scrumptious side dish. The smoothy, creamy tahini sauce will bring your roasted vegetables to a new height. This dish is so simple, but it can make you addicted.
While baking your vegetables, make the tahini sauce by mixing all ingredients until smooth. After your roasted vegetables are ready, put them on a plate, add za'atar, and pour tahini sauce over your dish. Then, you can sprinkle roasted pine nuts and serve them with bread.
This healthy quinoa tabbouleh salad features gluten-free quinoa, fresh herbs, and vegetables, making it a tasty gluten-free side dish for any meal.
Tabbouleh salad is a conventional salad packed with plenty of parleys, lemon juice, bulgur, and other veggies like cucumbers and tomatoes. This recipe calls for quinoa instead of bulgur to make it a gluten-free dish.
You can also season your salad with olive oil and pepper or any seasonings you like to have the best side dish with a unique flavor.
The reputation of mutabal in the Middle East cannot be denied. This eggplant dip has a smoky flavor due to the cooking method where the eggplants are grilled over an open flame. This side dish is super easy to cook on your stovetop, charcoal grill, or gas, even in the oven.
Mutabal has a deep, savory flavor from garlic and smooth texture thanks to olive oil. Besides, this eggplant dip has a nutty and earthy flavor from tahini.
This mutabal is great to serve with your grilled meat and fish. Besides, vegetable skewers like bell peppers, carrots, and cucumber are also excellent to enjoy with mutabal.
Khyar bi laban is also known as Lebanese cucumber yogurt sauce. This cool and creamy sauce is a refreshing yogurt salad with a few simple ingredients like cucumber, yogurt, and mint. Khyar bi laban is a perfect side dish for grilled meats, salmon, or fried kibbeh at holiday gatherings.
It is recommended to use freshly mashed garlic and both fresh or dried mint to make the best version of Lebanese cucumber yogurt sauce. The excellent mix of tangy mashed garlic, crispy cucumbers, and refreshing fresh mint leaves gives you a fantastic side dish for everyday meals.
This Turkish-style onion salad is super easy to make within five minutes. Turkish sumac onions are ideal to serve in soups, hamburgers, or sandwiches for more crunchiness and tasty flavors. This Middle Eastern onion pickle features sumac, sliced red onions, and other basic ingredients.
This amazing salad is so crispy, tangy with various uses. This recipe requires olive oil, red wine vinegar, which will make the onions soft and have a wonderful flavor. Besides, sumac also helps your salad get a refreshing lemon flavor.
Turkish sumac onions will bring your meat and chicken dishes to a new height since the combination of crunchy onions with savory meat makes the meat flavors more delicious.
Watch this video to know more:
Dolmades is a prominent and unique Greek cuisine loaded with vine leaves or grape leaves, rice, and fresh herbs. You can also use ground meat like beef or lamb in this recipe to substitute for rice. These Greek stuffed vine leaves have a distinct flavor that no one can resist.
First, fresh grape leaves in this recipe will be blanched in the mixture of boiling water and white wine or vinegar before they are stuffed with rice or ground meat. Unless you can find fresh grape leaves in your accommodation, you can use cabbage leaves for a replacement.
Top 10 Middle Eastern Main Dishes That You Can Not Miss
Here are ten easy Middle Eastern main dish recipes that I choose for you. They are wonderful dishes that should be on your dining table the next time.
Middle Eastern lamb burgers are made from juicy lamb patties with tons of warm spices like ground cumin. These burgers can be served with tzatziki sauce or some creamy, nutty hummus. Lamb burgers are ideal for a refreshing meal on a summer night.
Tzatziki sauce is super easy to make with lemon juice, yogurt, fresh mint leaves, and small cubes or slices of cucumber. You can top your burger with a slice of tomato to add some veggies to balance the savory flavor of lamb. This burger is also great with ketchup.
Watch this video to know more:
If you are looking for an easy and new white rice recipe for your quick dinner, then this Middle Eastern dill rice is created for you. This nutritious dish is made with fava beans or sweet peas, basmati rice, and, more importantly, dill.
Dill is an excellent, nutritious, and versatile herb used in various dishes globally. This unique herb and basmati rice are a great pair to make a bowl of amazing and simple dill rice for your main course. Basmati rice is the best option to make your dish fluffier and lighter.
This spicy lamb pizza has the inspiration from Middle Eastern countries, packed with ground lamb, onions, diced tomatoes, spices, and garnished with parsley or fresh mint, pickled red onions, or crushed red pepper flakes to make a gorgeous look.
This Middle Eastern-style lamb pizza can be made successfully in the oven, but if you want your pizza to lighten up the barbecue, use a grill for cooking lamb pizza.
After your lamb pizza is thoroughly cooked, take it out of the grill or the oven, then you can drizzle it with more olive oil, season with salt, then top it with the ingredients in your pantry staple.
Kofta or kafta is a kebab that includes ground meat like beef, chicken, or lamb with herbs and spices. Kofta originates in the Middle East. Chicken kofta is a fabulous Mediterranean meal and a wonderful concept of kofta.
Then you can guess that this chicken kofta is made with ground chicken. Besides, it is mixed with breadcrumbs, warm spices, and fresh herbs to make it flavorful and scrumptious.
These chicken kofta skewers would be great to serve with rice bowls, shaved Greek salad bowls, or pita sandwiches. Moreover, chicken kofta can be eaten on its own with fresh or roasted vegetables and dipped in a tahini yogurt dressing.
This healthy Middle Eastern chickpea salad is gluten-free and high in protein, thanks to chickpeas and fresh veggies like tomatoes, bell peppers, and cucumbers. This salad is a delicious and effortless veggie side dish to make for your lunch, or as an appetizer.
With just a few pantry staples dressed up with lemon juice or lemon basil vinaigrette, you can make this amazing salad quickly. First, make the dressing by mixing lemon juice, garlic, olive oil, and other seasonings in a bowl.
Then, combine the rest of the ingredients, including black beans, chickpeas, tomatoes, and other veggies, in a separate bowl. Add the dressing and slightly stir to ensure your salad is mixed well. This salad should be refrigerated to let it absorb the flavors before you serve.
Watch this video to know more:
With the combination of hearty chickpeas, soft lentils, and a decadent broth, this Middle Eastern lentil soup will get the spotlight in your weeknight meals. This nutritious lentil soup can be made with green or red lentils. They both work well in this recipe and taste so tasty.
After cooking, this Middle Eastern lentil soup can be finished with some parsley and lemon juice. Feel free to swap chickpeas for black beans unless you have black beans on hand. In addition, you can add chopped greens like spinach or pepper flakes to your soup for your preference.
Shakshuka is a traditional breakfast in the Middle East in which poached eggs are cooked in flavorful tomato sauce and the toppings are parsley, olives, and feta cheese. The delicious tomato sauce is made from peppers, tomatoes, garlic, and other spices like cumin or nutmeg.
Shakshuka has had many variations through centuries, but traditionally, this breakfast is usually served with crusty bread, challah, or pita bread. This savory breakfast has a unique combination of spices, making the dish so flavorful, scrumptious, and impressive.
This shakshuka recipe is super quick and easy to make, but the result will surprise you.
This Lebanese bread salad or fattoush salad is a mix of staple ingredients in your pantry, primarily cucumber and pita croutons. All the ingredients are stirred in a lemony dressing, creating a tasty and irresistible main dish with Middle Eastern style.
Lebanese fattoush salad is loaded with tons of wonderful flavors from fresh herbs and a crunchy texture of pita croutons. Fattoush salad is a great way to use up your leftover pita bread. You need to cut your pita bread into bite-size pieces and fry them in olive oil.
To make your pita bread healthier and lighter in the salad, you can also bake it after adding a drizzle of olive oil. Bake these pieces of pita bread until they are crispy.
Maghmour is also known as Lebanese moussaka and is a delicious vegetable stew made of eggplant, chickpeas, and spices. You can also add mint to this vegan and gluten-free dish. It sounds strange but it will make your dish taste really good with a hint of deep, musky flavor.
Fried eggplant, roasted eggplant, or even fresh eggplant all work well in this recipe. If you are a huge fan of spicy food, you can bring a bit of fire to your stew by adding some cayenne pepper. This recipe calls for a large amount of olive oil to bring a deeper flavor to your vegetarian dish.
Making Lebanese maghmour cannot be easier with some basic ingredients.
Falafel sandwiches will be a new twist for your vegan meals. These Middle Eastern sandwiches are packed with many fantastic flavors and textures to give you a filling and tasty vegetarian meal that you cannot refuse. Making falafel sandwiches is a valuable experience you should try.
The mix of crunchy fritters, soft flatbread, crispy veggies, and creamy sauces creates the ultimate vegan sandwiches. The flatbread can be made in advance or bought from the stores for convenience. Remember to use dried chickpeas for a crispy texture.
10 Elegant Middle Eastern Dessert Recipes For Busy Home Cooks
These gorgeous desserts are great ways to end your meals. With just basic ingredients and some fruits or nuts, these desserts taste incredibly good with a fantastic texture and a beautiful look to celebrate any occasion.
Being a scrumptious snack, manakish or za'atar bread has gained its reputation throughout Middle Eastern countries. This Lebanese flatbread can be eaten on its own, or you can top it with cheeses, meat, or spice blends to make your snack filling.
Za'atar is an essential ingredient in this recipe. Not only does this condiment bring more fantastic flavors to your flatbread, but it is also good for your health. Soft flatbread topped with Lebanese za'atar and olive oil gives you a fabulous dessert to impress your guests.
Basbousa made with semolina, coconut, and flavored with sugar syrup is a fantastic dessert on any occasion. This moist and decadent cake is out-of-this-world delicious with its sweetness from the syrup and fresh aroma from semolina combined with coconut.
The mix of two main ingredients, semolina, and coconut, brings a distinct taste and great texture to the cake. Besides, the smooth texture of basbousa is also created from vanilla and eggs.
Basbousa is sure to take you to the sweet heaven, whether it is topped with frosting or without frosting. This semolina cake can also be garnished with pistachios or slivered almonds.
Watch this video to know more:
Sahlab is one of the most famous drinks in the Middle East. It is also known as Middle Eastern milk pudding with a slight sweetness. This comforting drink is a great choice for a cozy dessert or an afternoon drink on cold, rainy, or snowy days.
This milky warm drink is effortless to make with a few simple ingredients and takes you only five to ten minutes to prepare. Sahlab can be sweetened with honey or sugar and flavored with rose water or vanilla extract.
This Middle Eastern milk pudding is also versatile on the toppings. You can choose to add cinnamon, coconut flakes, raisins, chopped dried apricots, or any nuts to make your drink have a distinct flavor.
Baklava is a well-known syrupy dessert among Turkish foods. Baklava is formed by flaky and thin layers packed with nuts and flavored with baklava syrup. This famous Turkish pastry can leave you craving more with the nice combination of melted butter, phyllo sheets, and walnuts.
Using packaged phyllo will make everything easier and more convenient since making phyllo sheets from scratch might be quite tricky for most people. These flaky layers have a gooey, sticky, moist texture and are extremely delightsome that you cannot resist.
These elegant and delectable sweet cheese rolls are incredibly delicious that you can't help eating them. Halawet El Jibn is an Arabic dessert made from sweet cheese dough, loaded with clotted cream and topped with rose petal jam and crushed pistachios.
To create the best dessert with exotic flavors, these sweet and creamy cheese rolls can also be sweetened by a drizzle of sugar syrup, orange blossom, or rose water. These Middle Eastern cheese rolls might sound weird to you, but they have tons of aromatic and addictive taste.
Ghraybeh or Ghorayeba is a delicious and decadent Middle Eastern cookie made with a few ingredients. These lovely cookies can be sprinkled with some powdered sugar on top and crowned with nuts like almonds and pistachios to make them crunchy and look more beautiful.
This easy shortbread cookie will not disappoint you since it is insanely good with crispness on the outside and softness inside. Surprisingly, these melt-in-your-mouth cookies can keep fresh for a long time at room temperature if you store them properly in an airtight container.
Turkish delights are the ideal way to celebrate your party next time. This dessert is loaded with a delightsome rose flavor and a chewy, light, soft texture. Turkish delight can be made with other flavors, but traditionally, rose is often used and can be seen as the best version.
Conventional Turkish delight is usually made from sugar, cornflour, and rosewater. Besides, water, lemon juice, and coloring are also vital in this recipe to create a crowd-pleasing treat that your guests can't stop eating. You can also add gelatin to make the process faster and easier.
These Middle Eastern pancakes or atayef are made with white cheese or nuts, then covered by a rose sugary syrup. These pancakes have a variety of delicious fillings and must be on your kitchen table during Ramadan. Atayef is also popular as tasty street food in Jordan or Syria.
Like other pancakes, atayef is also made from flour, baking powder and flavored with vanilla or rose water if desired. Atayef is straightforward to make from scratch by frying the batter on a griddle pan or a nonstick pan without using oil.
In addition, you can also bake these Middle Eastern pancakes after brushing with corn oil and bake them until golden and crispy. After frying or baking, add a drizzle of sugary syrup and serve.
Watch this video to know more:
Aish el saraya is a special and decadent pudding dessert, known as Middle Eastern bread pudding. The name of this dessert refers to palace bread in Arabic, so it's really gorgeous and will make your guests beg for more. Some people believe this dessert suits kings and you deserve to eat it.
Aish el saraya has a layer of toasted and crumbly white bread as the base and a layer of luscious clotted cream on the top. This cream layer is flavored with rose and topped with pistachios or some rosebuds for wonderful decoration.
Halva is a well-known Middle Eastern dessert and prevalent in Turkey, Greece, Israel. Halva features tahini and sugar or honey, so it has a sweet, nutty flavor and a soft texture. Serve halva with a cup of coffee will make a fantastic afternoon.
You can substitute maple syrup for white sugar to create a healthier dessert but it doesn't make any change in halva's flavors. With just a few ingredients, not only is halva vegan, but it is also healthy. The two key ingredients in this recipe are tahini and maple syrup or honey.
Halva has many delicious versions varying from its flavors. There are some incredible halva flavors that you should try, such as vanilla, pistachio, chocolate hazelnut, pecan cinnamon, marble, and peanut butter. You can also add rose extract or ground coffee to flavor your halva.
Save These Easy Middle Eastern Recipes To Diversify Your Meals
It is a smart choice to use these Middle Eastern recipes in your next weeknight meal. These unique dishes with full of taste are worth putting on the table tonight. Once you eat them, you will remember them for your whole life.
Middle Eastern recipes will impress your family and guests, whether it is a familiar dish like hummus or an exotic dish that you have never tried before. These recipes are sure to enhance your cooking experience and allow you to learn new things.
I hope you have chosen for yourself the best recipes you love. Please tell me what recipes impress you most in the comments. And don't forget to share this post with your friends if you find it helpful for them.
Nutrition Facts
8 servings per container
---
Amount Per ServingCalories218
% Daily Value *
Total Fat 3.2g

5

%
Sodium 309mg

13

%
Potassium 278mg

8

%
Total Carbohydrate 42.4g

15

%

Dietary Fiber 2.2g

9

%
Sugars 0.6g

Protein 5.2g

11

%
---
* The % Daily Value tells you how much a nutrient in a serving of food contributes to a daily diet. 2,000 calories a day is used for general nutrition advice.