Easy microwave recipes are really worth trying and time-saving. Just with a single microwave, you can create a ton of fabulous recipes that you probably have not imagined before!
In this post, I will introduce to you 28 stunning microwave recipes that are unbelievably simple. These dishes come from different cuisines and cultures, and hence you can freely opt for whichever recipes you like the most.
Be prepared to marvel at the ultimate microwave food list below!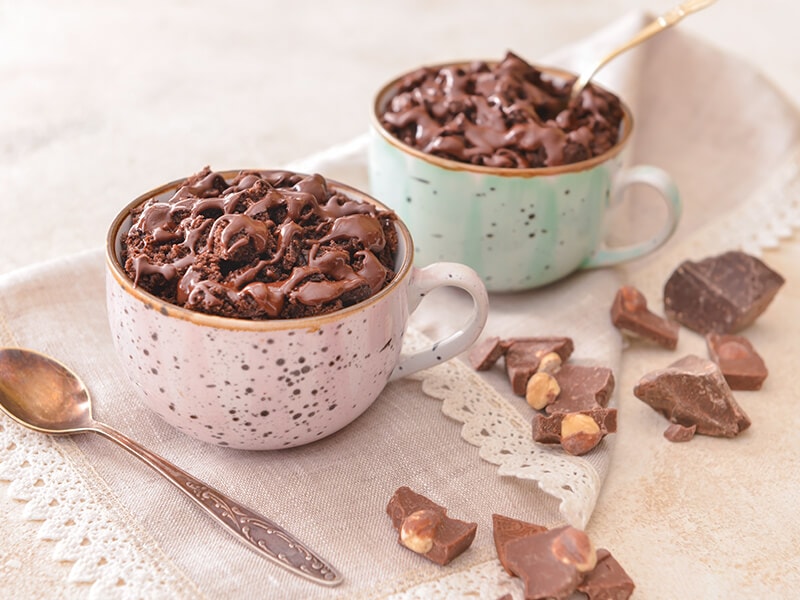 What Are The 28 Easy Microwave Recipes?
I have classified the food in this article into various categories. From my classification, you can choose what recipes are suitable for you based on the dishes' tastes or ingredients.
Savory recipes:
Vegetable recipes:
Spaghetti Squash
Easy Microwave Glazed Carrots
Microwave Lemon Garlic Broccoli
Microwave Mashed Potatoes
Chicken recipes:
Microwave Chicken Casserole
Creamy Chicken Ramen
Microwave Mug Pesto Chicken
Chicken Enchiladas In The Microwave
Egg recipes:
Microwave Scrambled Egg
Microwave Omelet
Microwave Steamed Egg
Other ingredient recipes:
Microwave Mac N' Cheese
Microwave Risotto With Ham
Easy Microwave Pizza Mug
Sweet recipes:
Cake recipes:
Carrot Mug Cake
Lemon Mug Cake
Cinnamon Roll Mug Cake
Chocolate Chip Mug Cake
2-ingredient Oreo Mug Cake
Peanut Butter Chocolate Mug Cake
Easy Vanilla Mug Cake
Easy Microwave Brownie In A Mug
Healthy Banana Bread Mug Cake
Sticky Toffee Pudding
Other ingredient recipes:
Microwave Granola
Microwave Caramel Corn
Microwave Oatmeal With Fruits And Nuts
Microwave Apple Cinnamon Crisp
Terrific Microwave Savory Recipes That Will Knock Your Socks Off
A bunch of interesting microwave foods are waiting for you to discover! Not only are these savory dishes excellently delish but also quickly finished. Let's check out these outstanding recipes now!
Cooking Veggies With A Microwave Is A Brilliant Method
Vegetables are loaded with fiber and are very beneficial to your health. With the support from your microwave, vegetable dishes are not only incredibly tasty but also very quick and easy.
Have you ever thought of cooking squash spaghetti in the microwave? Squashes are pretty hard to peel and cut, but by microwaving them within 10-15 minutes, they become much softer and fluffier.
The recipe only calls for two seasonings: salt and pepper. You can either use water or oil to make the squash juicier. Please remember to handle your spaghetti squash carefully after cooking to avoid skin burning.
These microwaved glazed carrots are incredibly tender and watery! Carrots are already naturally sweet themselves, but when added honey or brown sugar, they turn out to be undeniably irresistible!
And you can totally whip these fancy glazed carrots up in less than 10 minutes! Depending on the size of your carrots, you can adjust the timing accordingly. Keep in mind that you should place the carrots in a microwave-safe container.
Instead of using a pot and boiling in hot water, you can try this marvelous microwave lemon garlic broccoli. This green veggie is packed with protein and healthy nutrients, and it only costs you a very short time for the broccoli to be thoroughly cooked.
Kids who hate eating green vegetables are very likely to fall for this magnificent dish. Lemon, garlic, and broccoli are such a divine combo. You can sprinkle some white sesame or drizzled sauce on top to make the dish look way more attractive.
There is nothing more convenient than serving a hot plate of mashed potatoes straight out from the microwave! Fancy as the dish may sound, it turns out that microwave mashed potatoes are quick and simple enough for any novice cook to try!
This marvelous microwaved dish will be the star on your table, and your guests should be delighted with your cooking skills. If you don't reveal how easy the recipe is, they will probably think that mashed potatoes are intricate and very time-consuming.
Mouthwatering Microwaved Chicken Food For Your Protein Craving
If you are looking for some meat that is extra lean yet delightful to serve, chicken is your ideal solution. There are several recipes you can try with chicken out of a microwave, and they all taste wonderful!
Do you enjoy eating casserole? If yes, why not include chicken in the dish and transform it to be a super breathtaking casserole? Though it looks really restaurant-like, the food requires no culinary challenge at all!
And here is the best part: you can customize the ingredients when it comes to a chicken casserole. No matter what variety you choose, it will deliver a significant creamy, meaty, and comfortable feeling.
If you love Asian noodles, creamy chicken ramen is definitely your to-go microwave dish. The whole process is done in no time, and you literally just need to put all the great components together.
Creamy chicken ramen is actually pretty affordable to make. If you want to save your money but still crave for yummy food at the same time, this dish will be your savior. The recipe only calls for a handful of ingredients and a very short amount of time to finish.
Believe it or not, you can make luxurious yet healthy Italian recipes right in your oven. And the total time for making microwave mug pesto chicken is super short! You can elevate your appetite by grating some parmesan cheese on top of the pesto.
The recipe requires no special equipment yet still turns out extraordinary. It can quickly warm up your stomach and fill your heart with joy. You can multiply the recipe twice or more to enjoy this phenomenal microwaved chicken with your beloved ones.
Enchiladas are a well-known dish using tortillas that both adults and children love to have. By incorporating chicken meat into the dish, you will bring your meal to a whole new level. And you can cook this exquisite version of enchiladas in a microwave.
Chicken enchiladas is my absolute favorite Mexican food. Heating the tortilla up in a microwave is very fast and simple, and you only need several more ingredients to fulfill the seductive taste.
Phenomenal Yet Basic Egg Recipes You Can Try In A Microwave
The egg is a kitchen staple around the globe, and there are multiple microwaved dishes that contain eggs as a major ingredient. Let's have a look at those basic yet wholesome recipes!
Scrambled egg is a classic dish to enjoy at breakfast, isn't it? However, everyone tends to be super busy in the morning, and making scrambled eggs in the traditional way can be time-consuming. Hence, microwave scrambled eggs are more convenient.
Melted cheese and scrambled eggs are just meant for each other. When combined together, they taste heavenly, and they are effortless to brighten up your meal at the beginning of the day. Making scrambled eggs with a microwave is ultimate!
Instead of frying with oil in a saucepan and using a spatula, you can totally switch to making an omelet in the microwave with just one mug! This simple-making omelet is insanely flavorful and has an eye-catching appearance.
This basic egg dish only demands very minimal ingredients, but you can upgrade this stunning breakfast idea by adding more veggies and meat into the mixture. I recommend checking for the eggs every 30 seconds when microwaving.
Want to know the detailed steps in making a microwave omelet? This recipe is your ultimate answer!
I love the feeling when biting into steamed eggs: moist, super airy, and delicious. You can substitute a microwave for a steamer when it comes to making the custard but still achieve the authentic quality of this comfort food.
The steps to "steam" your eggs in the microwave are pretty simple. Just thin your eggs by adding chicken broth to them, microwave the mixture, and stir occasionally. You can chop and sprinkle green onions on the surface to enhance the look.
Wonderful Microwave Hacks From Other Ingredients You Must Try
Besides the main ingredients mentioned above, there are some more microwave dishes that you should discover. Keep rolling down to see what is contained in these secret treats!
Who wouldn't love eating the famous macaroni and cheese, right? But you might not have imagined that you are capable of creating this cheesy dish inside a microwave, and the result is really satisfying!
You will prepare a handful of things to make this macaroni: elbow pasta, water, and dairy products. What I love about making this gorgeous treat in a microwave is that it is such a breeze to make but tastes ridiculously yummy.
Things can turn out to be much more simple if risotto is cooked in a microwave. This cheesy rice dish demands none of your efforts yet still features a restaurant-like quality. And microwave risotto is extremely speedy to make.
Arborio rice and ham pair perfectly with each other. The rice is mildly sweet and elegant, while ham will give a powerful meaty kick to your exquisite dish. Observe the timing and garnish your microwaved risotto with green herbs to make it even more appealing.
Craving for Italian pizza but too lazy to make the dough then bake it in the oven? Then you have come to the right place because this recipe will instruct you how to successfully make an exceptional pizza in just a few minutes.
Tomato sauce, pepperoni, and cheese are the essential parts of this microwaved version of pizza. Just toss them all into a mug and let the microwave do the magic for you. In the end, a hot mug of bubbling cheese and stuffed pizza will welcome you!
A Wide Variety Of Delish Sweet Options Coming Out From The Microwave
Have you ever tried making sweet treats with a microwave instead of a regular oven before? Do you want to know about other super delicious snacks and desserts you can whip up in the microwave? Dive into this section right away!
Terrific Mug Cakes That Everyone Loves To Enjoy
When it comes to microwave cakes, I can describe them with three adjectives: delectable, straightforward, and time-saving. There's a bunch of wholesome desserts you definitely should try down here!
If you want a carrot-based sweet treat to help your kids get used to this vegetable but are too busy to bake, I highly recommend trying this recipe. You barely won't have to do anything or spend much time making these astonishing carrot mug cakes.
Microwave carrot cakes are cozy and festive because they contain warm spices and brown sugar. The two elements evoke a charming aroma for the cakes and give them a perfect golden brown hue.
Everything that consists of lemon tends to be cheerful and has a wonderful citrus scent. That is true for lemon mug cakes, as they can easily brighten up any meal and lift your mood with their luscious flavor.
This recipe for lemon mug cake couldn't be more straightforward. Mixing all the ingredients and popping them into your microwave are all it takes to achieve this gourmet mug cake. You can choose any kind of frosting according to your personal preference.
Microwave cinnamon rolls are such a dessert winner! I bet that your friend and family will keep asking for more of this astonishing once served. And the secret is these cinnamon rolls are done within a relatively short time!
The rolls deliver a charming aroma and unforgettable flavors of outstanding blended components. And it's not hard to make at all, as long as you have a microwave. A hot mug of cozy cinnamon rolls is perfect for any winter day!
Wanna make some satisfying yet speedy desserts? Then attempt to make a decadent chocolate chip mug cake with your microwave. This treat is surprisingly good, so don't be freaked out if it's gone in just a blink of an eye!
You can use this chocolate cake as a reward for your strict diet: it's vegan and gluten-free. What is more amazing is that it will only take you a couple of minutes to finish, and then you can gobble the cake with no hesitation.
This incredible recipe will show you how to make beautiful and delicious chocolate chip mug cakes with your microwave.
Oreo is such a popular confection in the world, and this 2-ingredient oreo mug cake recipe is totally a dessert hack! It's super easy to make, delicious to dig in, and can easily satisfy anyone with a sweet tooth.
Simple at its best, microwave oreo mug cakes turn out to be extra moist, tender, and fluffy. You can try different varieties of oreo to experience all sorts of wonderful flavors. And this 2-ingredient cake is always yummy regardless of the topping.
Do you love the fatty, creamy flavor of peanut butter? How about incorporating some chocolates? If you are a fan of these two awesome treats, this will absolutely be one of your top-list recipes.
Besides peanut butter and mug cake, you will need to repair some other dairy products and flour. A touch of vanilla extract will nicely give a heavenly kick to the mug cake. You can skip the sugar in the recipe as peanut butter and chocolate are sweet on their own.
If you are planning for a party, why not throw some cheerful and tasty vanilla mug cakes? These irresistible treats are hearty enough to be the centerpiece of desserts, and their vibrant colors are breathtaking.
Vanilla mug cakes burst with a rich, buttery, and sugary taste. The more colorful sprinkles you choose, the better and more festive your cakes will look. You can freely change the frosting's consistency by adjusting the ingredients.
Get to know every amazing technique when making vanilla mug cake with this recipe
No dish is too fancy for a hot mug of brownies, right? This quick version of brownie cake is incredible in terms of texture and taste. One bite is never enough for me with this crowd-pleaser dessert for any potluck party!
And the method to make brownies in the microwave is just simply brilliant! Just whisk everything until smooth in a microwave-safe mug, and transfer it to your microwave. A pinch of salt will balance the sweetness of the brownie excellently!
Inspired by the supreme banana bread, this imitative banana bread cake in the microwave is able to achieve the same chewy texture and that pleasing taste of the bread. When placed inside a mug, it becomes much more seductive yet still healthy.
This "bread" recipe is indeed foolproof as it requires no proofing at all! You can either make a banana bread mug in a vegan or non-vegan way. The ingredients are probably what you already have in your pantry, yet you are guaranteed to be happy with the result.
This Scottish originating pudding is truly a masterpiece of microwave desserts! Be ready to fall in love with this extremely soft, juicy, and mouth-watering treat, dear all you pudding lovers!
Both the sponge and toffee sauce can be made inside a microwave. Using baking soda will help your pudding rise higher and become much more fluffy. One thing to notice when making sticky toffee pudding is to fold the mixture gently and carefully.
Other Astounding Treats To Satisfy Your Sweet Food Craving
Not really into cakes but still looking for something sugary? Then you absolutely need to read this entire category because every single microwaved food below stands a chance of stealing your heart!
Step up your diet with this marvelous granola. The stunning treat is perfect for enjoying at breakfast or during snack time. It is packed with healthy nutrients and ready to boost your energy up at any time of the day.
No matter what nuts and seeds you incorporate in the granola, they all turn out beautiful and full of flavors after being microwaved. You can be creative by adding green tea or cocoa powder to make the recipe even more enjoyable.
Wanna relax by watching movies with a pack of caramel popcorn set aside? Then try making this effortless flavored popcorn version because it is really worth trying. It almost 100% resembles the traditional one but is much faster to complete!
Making the caramel coating in the microwave is extremely convenient and time-saving compared to a saucepan. Just within a few minutes, a hot pack of freshly popped caramel corn is ready to steal your show!
Get ready to make a stunning version of homemade caramel corn after learning this visual instruction
Besides granola, here is another delectable sweet food made of oatmeal for you to go crazy about. This simple yet elegant and healthy dish will take your breakfast to a new height.
To microwave oatmeal with fruits and nuts, you will need to prepare a deep bowl in order to prevent oatmeal from flowing to the outside. The more fruits and nuts you decorate your bowl with, the tastier and more energetic this oatmeal will become.
Please pay more attention to this section, dear all your apple lovers! Brown sugar and butter are a perfect couple, and when combined together, they will bring out the best of your mouth-watering apples!
The other ingredients required for microwave apple cinnamon crisp complement each other really well. With its charming presence and unmistakably taste, everyone will surely embrace this appetizing apple crisp with open arms!
Learn how to make the crumbly apple cinnamon crisp with this super useful instruction
Relax In The Kitchen With These Excellent Microwave Recipes
As you can see, microwave foods are not hard to make or time-consuming. Convenient as they may sound, the recipes above are all very impressive, aren't they? Therefore, don't be afraid to serve your family and friends with the stunning food in this list!
Just take your time and read the recipes carefully. I'm confident that you will succeed in making any dish that I have mentioned. Have a good time microwaving, and sharing my post with your beloved ones will be much appreciated!