Do you think microwave desserts take a lot of time and energy? You have spent hours in the kitchen making a sweet dish, but the result isn't as you wish. Or do you want something sweet to satisfy your sweet tooth but the dessert recipes are too difficult?
I'm here to sweep away all your worries. This is a complete list of quick and easy microwave dessert recipes. Even if you're in a rush, you can still satisfy your needs for dessert in a short amount of time with these effortless microwave desserts. Check them out now!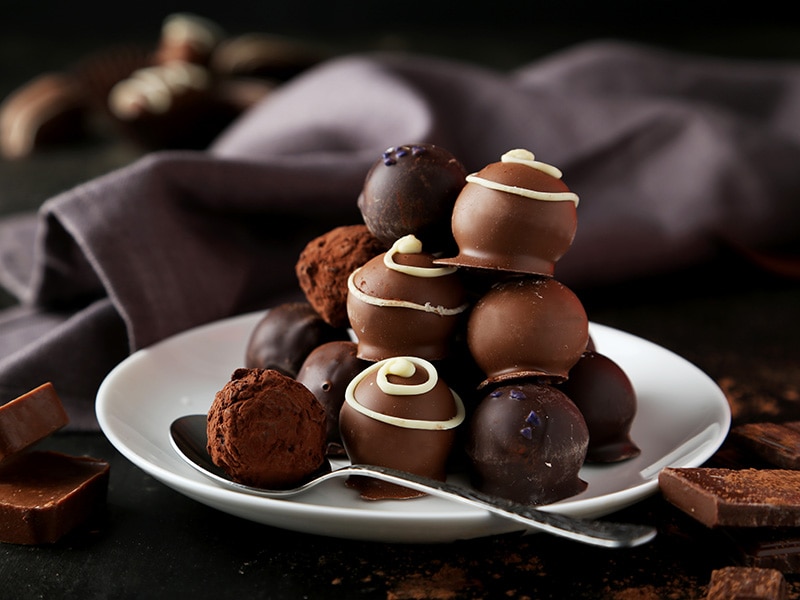 Making Microwave Desserts Has Never Been So Easy
Are you looking for microwave desserts that are soft and moist or crisp and crunchy? Everything to satisfy your sweet cravings is on this recipe list. Make sure to go through every dessert recipe because there are some helpful cooking tips you should not dismiss.
Total time: 5 minutes
If there are some leftover apples in your fridge, don't waste them. Let's change them into something crumbly, crispy, and more interesting. Microwave apple cinnamon crisp only takes 5 minutes to make and is completely gluten-free.
A moist apple base layer combined with crisp toppings totally creates a satisfying taste when chewing. Fuji, Gala, Honeycrisp, or Jonagold apples are some kinds of apples that are really suitable for this recipe.
Total time: 5 minutes
Making cake within 5 minutes and not using eggs? I'm not joking. With a microwave, this is just a piece of cake. Homemade chocolate mug cake can comfort your taste buds with its softness and delicious flavor similar to premade cakes.
What you need to do is combine and whisk several kinds of basic baking ingredients, drop some butter in the center of the batter, and cook it in the microwave. Adding butter in the middle will make your chocolate mug cake super creamy and moist inside.
Chocolate mug cake can please your sweet tooth on weekdays.
Total time: 5 minutes
Instead of running to stores and buying sweets, there's a moist, tender, and yummy dessert you can make at home. Sticky toffee pudding is a soft sponge cake with caramel sweetness and bears a resemblance to an English muffin.
What's better than watching your favorite TV shows while enjoying a delicious pudding plate? The cooking process consists of two separate steps, making the sponge and the sauce. After cooking the sponge, let's cut around it and pour the sauce on top.
Total time: 3 minutes
Mug desserts have recently become popular because of their convenience and tastiness. Do you believe there's a flavorful cake that can be made within 3 minutes? The answer is yes, with Piña colada mug cake, a tropical dessert full of vanilla, pineapple, and coconut flavors.
The secret that creates the uniqueness of Piña colada mug cake is the ingredients. Before baking the cake in the microwave, let's mix a tablespoon of coconut and pineapple into the cake mixture. Once finished, sprinkle the top with pineapple, coconut ice cream, or syrup.
Total time: 7 minutes
The visual appeal of a red velvet mug cake can lift your mood for the day. Moreover, you can find all of the ingredients to make a red velvet mug cake in any baking aisle.
To produce an appealing red color on the cake, you will need a few drops of food coloring. It's advisable to use food coloring gels from reputable brands. Use unsweetened cocoa powder, baking powder, and superfine sugar for a better outcome.
Please note that you should always use measuring spoons and cups to measure the correct amount of baking ingredients to make the cake as gummy as you desire.
Eggless red velvet mug cake is ready to serve within a few minutes.
Total time: 5 minutes
Which kind of sweet treat can be quick to make and healthy at the same time? It's exactly like the description of a cinnamon roll mug cake. The cake offers an extremely moist texture combined with the creamy taste of the cream cheese frosting.
Instead of using white and all-purpose flours, which are less healthy, let's try almond flour and add an egg to stabilize the cake.
Never forget to check if your mug is microwave-safe and large enough to prevent overflowing. Fill your mug no more than halfway full. But, if your mug is small, you can make two cakes and cook them one at a time in the microwave.
Total time: 5 minutes
A banana is always an ideal ingredient to turn into a tasty sweet treat. Banana bread mug cake can be a lifesaver to comfort your sweet tooth. There's nothing better than sipping a cup of tea and enjoying your favorite banana mug cake during the busiest time.
How can you make a toothsome banana bread mug cake within 5 minutes? Let's mix well-mashed bananas, walnuts, cinnamon, and dry ingredients. Place the mixture in a coffee mug and put it in the microwave for 2 minutes. Finally, let it cool and serve it straight away.
Total time: 2 minutes
Don't you have time for oven-baked desserts? With orange mug cake, it only takes 2 minutes and 3 main ingredients: orange marmalade, angel food cake mix, and yellow cake mix. Some optional add-ins to enhance the flavor are chocolate, fruits, nuts, etc.
If you use mugs, apply non-stick spray first to keep the cake from sticking to your mugs. On the other hand, feel free to use microwave-safe paper cups instead. About the cooking time, it may vary from 5 to 15 seconds each time, depending on the different types of a microwave.
Total time: 1 minute 31 seconds
Fresh strawberries are easy to spoil. If there are too many leftover strawberries, there's a cool way to turn your ripe strawberries into a lovely mug cake. This is one of the super quick desserts on my list: strawberry mug cake.
A strawberry mug cake will be a pretty decoration for your dinner table. It combines squishy and tender mouthfeel with slightly acidic and sweet strawberries. Top it with cream cheese frosting; the wholesome flavor will explode in your mouth.
Total time: 4 minutes
Chocolate never gets old in many desserts. So do chocolate chip cookies. What flavors does a 4-minute chocolate chip cookie have? Well, it's something chewy, moist, cookie-like, and heavenly delicious.
It's recommendable to use both milk and egg yolk rather than only milk for a moist and chewy texture. Additionally, cookies made with brown sugar tend to have a denser texture, better flavors, and enhanced color.
You can serve this chocolate chip cookie with a scoop of ice cream on top (any flavor that you like) whenever you need a sweet treat.
Chocolate chip mug cookies are a wholesome must-try dessert.
Total time: 6 minutes
Did you believe you could create hundreds of kinds of desserts in a mug? Microwave cheddar and herb biscuit in a mug can satisfy your sweet cravings with their incredibly soft and buttery taste. Your tasty biscuit only takes 5 minutes to prepare and 1 minute to cook.
The instructions are very easy. Blend some dry ingredients with cheese, milk, and herbs to form a batter. Then, place it in the microwave for 45–60 seconds. The time may vary, so always stand close to your microwave to keep your cakes from overflowing or getting overdone.
As for the herbs used in this dessert, I recommend using fresh chopped herbs such as parsley, oregano, or sage.
Total time: 3 minutes
A 3-minute carrot cake can blow your mind with its cozy and special taste. I'm sure you can not resist the lovely light brown color and the extreme softness of this carrot mug cake.
First, in a mug, mix or whisk all the ingredients needed to form the batter. Make sure to stir well until the batter is smooth with no dry lumps. Then add shredded carrots and put the cake in the microwave.
Once it's perfectly done, let it cool a little bit and serve. It's optional to add some toppings to the cake. If you prefer something creamy, cream cheese frosting or whipped cream will be the perfect finish for your carrot cake.
Total time: 5 minutes
Blueberry mug cake is an ideal dessert in the blueberry season from April to October. Even if you're not a fan of blueberries, you may fall for this dessert after giving it a try. Now, get ready by gathering all the needed ingredients and a large microwave-safe mug.
You can apply this recipe to other different fresh berries as well. Consider substituting blueberries with any other juicy fruit that you like. They can be raspberries, cranberries, cherries, mangoes, etc. Fruit mug cakes are lifesaving desserts on weekdays or on busy days.
Total time: 3 minutes
Are you getting bored of eating Oreos in an old-fashioned way? Let's make your dessert fun with a microwave Oreo cake. I can say this is a magically simple recipe because it needs only 2 components to make: milk and Oreo.
Despite excluding eggs, any cake powder, or flour, the result is still amazingly spongy and good. When you realize how creamy and milky the cake is, you'll fall in love with it. This is definitely a must-cook quick snack for anyone, anytime, and anywhere.
Total time: 2 minutes
What to do when your kids need a treat and you're still loaded with work? Let's surprise them with colorful and delicious dessert-like M&M microwave cookies. Kids and adults alike will be completely obsessed with it.
Why do they call it an M&M cookie? It's simply because this sweet includes colorful button-shaped chocolates from a globally well-known brand of the same name.
Here's how to make it. After mixing some baking ingredients well, combine the M&M baking bits, form the dough into a flat shape, and microwave for 1 minute and 30 seconds. It's much tastier when you top it with a huge scoop of ice cream (whatever flavor you desire).
M&M microwave cookies are full of colors and flavors.
Total time: 5 minutes
When you want to make some cookies but are running out of flour, I highly recommend making microwave flourless peanut butter cookies. Though this deep-dish cookie doesn't use flour, it does need baking soda to work as a leavening agent.
The light brown butter cookie provides a super tender and spongy texture, loaded with the sweet, creamy, and buttery taste of chocolate chips and peanut butter.
To keep the cookies from becoming too thick and dry, make sure to stick to the following ratios. For every ⅛ teaspoon of baking soda, use 2 tablespoons of peanut butter, 2 tablespoons of brown sugar, and ½ tablespoon of a whisked egg.
Total time: 4 minutes
Let's use up a popular breakfast ingredient to make a quick and easy dessert. Microwave oatmeal cookies are a delicious and healthy sweet treat for oatmeal lovers. Stir all the components well, shape the mixture, microwave on high, and your dessert is ready to serve.
It's preferable to use quick oats or rolled oats rather than instant or flavored oats to make a chewy cookie. If you would like to create a pleasant sugary flavor, use brown sugar. However, as for the applesauce, it should be unsweetened.
It's better to serve microwave oatmeal cookies immediately when it's still warm. In case you want to store it, you can place it in an airtight bag and keep it in your fridge. You can reheat it in a few seconds in the microwave again if you'd like to.
Total time: 10 minutes
It's never a bad idea to conclude your meal with chocolate pudding, especially when you only need to spend 10 minutes to finish. Homemade chocolate pudding can be smooth, creamy, and deep in a pleasant smell.
This is a gluten-free and vegan pudding, so some key ingredients include unsweetened cocoa powder, cornstarch, almond milk, etc. Please note that unsweetened cocoa powder is easier to get clumps, so don't forget to sift or break them up first.
Plus, you can freely serve the chocolate pudding at different temperatures, either when it's still hot or leave it some time to cool in the fridge.
Total time: 10 minutes
Save this recipe for the circumstance that you suddenly have a sweet craving. Microwave syrup sponge pudding can satisfy you with an appetizing appearance as well as a moist, spongy, and sweet flavor.
The secret component that makes this dessert wholesome is molasses. Molasses, or black treacle, is a thick and dark brown juice and has a slightly bitter sweetness. This type of treacle gives the sweet treat a moist and fudgy texture better than honey.
These are some bonus tips for knowing if your eggs get spoiled. You can check it by letting the egg soak in fresh water. The one that floats is filled with gas and even contains bacteria.
It's advisable to crack the eggs into a separate bowl to avoid the bad ones from getting into the recipe.
Total time: 3 hours 17 minutes (including 3 hours of chilling time)
Let's try microwave banana pudding when you're in the mood to make a big dessert rather than a single-serving one. This will be the best sweet and fruity treat for any family gathering or even a big holiday like Thanksgiving.
Microwave banana pudding needs 2-3 hours to chill, but you can also make the pudding the night before. Nevertheless, keep in mind that the sliced bananas easily turn brown due to oxygen exposure. Please serve this tender and beautiful treat as soon as possible.
Total time: 2 hours 7 minutes (including 2 hours of chilling time)
White chocolate pudding will attract your attention with an alluring milky white color, a supremely smooth texture, and a creamy flavor. The microwave white chocolate pudding recipe isn't difficult at all.
Make sure not to overcook the pudding in the microwave because it may get thicker and less creamy. Use a spoon to check the thickness. If the pudding coats the back of the spoon fully, it's perfectly done. Otherwise, continue microwaving for 1 minute.
Total time: 13 minutes
Looking for a sweet snack that you enjoy in the workplace or at a tea party? Chocolate peanut brittle is a perfect option. The brittle is covered in rich brown color and loaded with nutty as well as salty-sweet flavors.
Please note that, for every step of making this snack, you have to stir well all ingredients, especially sugar and corn syrup. And when you just take it out from the microwave, make sure your kids are not around because the mixture is extremely hot.
After finishing, you can break the brittle into small pieces, store them in a box, and carry them to any place you want.
Chocolate peanut brittle is a classic tasty dessert of all time.
Total time: 4 hours 6 minutes (including 4 hours of chilling)
Salted caramel fudge truffles are one of the most delicious sweet treats ever. The bitterness of the dark chocolate coat balances out the rich flavor of the sweet white chocolate inside. These truffles leave a creamy, melting feeling and an astringent sensation in your mouth.
Nothing can beat the super soft and smooth texture of this sweet treat. That's the caramel fudge balls coated in the melted dark chocolate.
Rather than grabbing an instant truffle box off the shelf, it'll be fun when you do it at home. Let's whip up salted caramel fudge truffles with only 6 ingredients; no need to use an oven or a stovetop.
Total time: 8 minutes
Are you seeking a healthy microwave dessert made with pumpkin? Give it to me! This healthy chocolate pumpkin microwave muffin is not only full of flavor but rich in nutrients. In particular, it is also vegan-friendly and contains no sugar, gluten, and dairy products.
What makes it a healthy dessert? It comprises flaxseed, which is well-known as a rich source of omega 3 and can help manage cholesterol and blood pressure, and even reduce cancer risks. Besides, the muffin also includes unsweetened plant milk and natural sweetener.
Total time: 6 minutes
There are so many ways to vary your desserts. One of them is this flourless banana oatmeal microwavable muffin, which deserves to be on your gluten-free dessert list. Plus, this can be a yummy snack for any time of the day or even a quick breakfast.
Flourless banana oatmeal muffin will please you with the moist and tender texture as well as the pale color of the cake.
For a single-serving mug-muffin, it merely needs ½ cup of rolled oats, ¼ banana, 1 oz greek yogurt, and some dry ingredients. Go ahead and top your muffin with whipped cream, chocolate chips, or anything you desire.
Total time: 15 minutes
Microwave caramel corn always reminds me of my childhood snack, and I bet so do you. Popcorn can be the king of cheap, easy, and quick desserts. With a microwave, making this crispy, golden, and buttery delight is never a big problem.
Then, stir well the popped corn and caramel mixture together in a large brown bag to coat the crunchy popcorn evenly with caramel. Put the folded bag in the microwave for 1 minute. Take it out and shake. Repeat the process several times for 3 minutes.
Total time: 10 minutes
You'll realize how easy and tasty 10-minute microwave caramels are after the first time making them. These mouthwatering caramels will become your new favorite homemade dessert in no time.
To make soft and chewy caramels, allow them to microwave for 3 minutes and 5 to 15 seconds, then remove and stir. Repeat this process again until the mixture reaches the desired consistency.
You can easily enjoy cubes of caramels whenever you want to satisfy your sweet cravings. They only include basic baking ingredients, such as butter, syrup, sugar, condensed milk, and vanilla. You will have no difficulties finding them in every local grocery.
Making chewy caramels is super easy with a microwave.
Turn Any Leftover In Your Fridge To A Luscious Dessert
Sweets indeed make us happy and energetic. It'll be more fun when you can do it and enjoy it together with your family and friends. You can prepare and serve the listed microwave dessert recipes after a meal or anytime you want to please your sweet tooth.
If you have tried and succeeded with any of the microwave desserts above, don't forget to let me know by leaving a comment. Plus, you can always share this recipe list with anyone who needs it. And now, let's check your fridge and make something sweet today!