Mexican drinks are not limited to some iconic cocktails that you often hear at bars or clubs. You will soon uncover many traditional types of beverages that utilize some of the most iconic ingredients of Mexico.
When people mention Mexico, many often think about the country's diverse types of alcohol. That's true because Mexico is famous for producing some of the finest alcohol out there in the world. Therefore, it's common to see many Mexican beverages featuring alcohol.
So keep on scrolling since you will soon learn amazing facts about Mexico's famous drinks.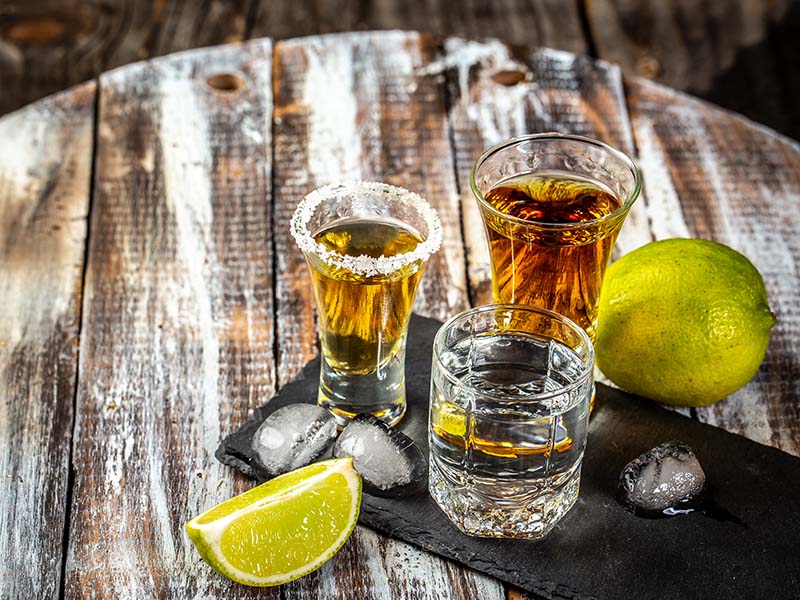 Top 7 Popular Spirits Native To Mexico
Many people in Mexico make a living out of producing alcohol. Therefore, it's not a rarity to see that Mexico possesses high-quality spirit brands around the world. Here are some of the most iconic alcohol that you can find in the country.
1. Tequila
Alcoholic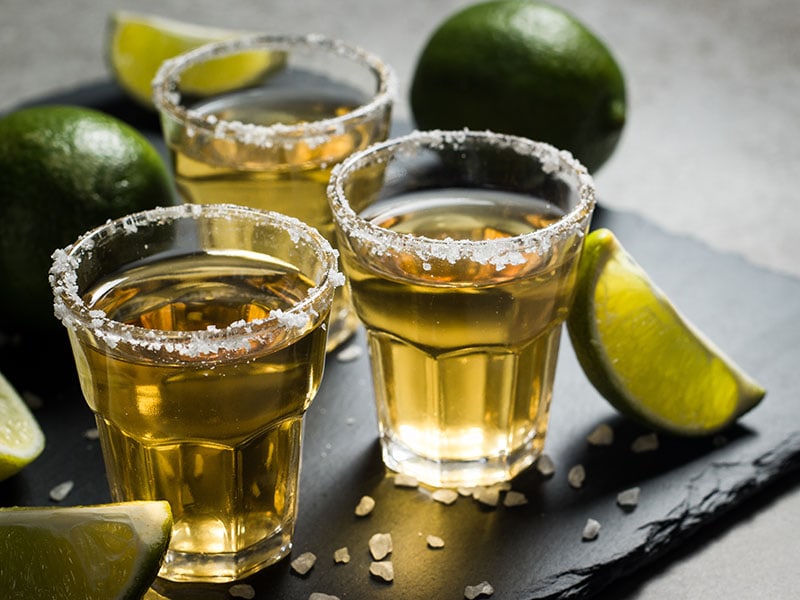 Tequila is a staple drink of Mexico. The local Mexicans create this alcoholic drink through the distillation process of the blue agave plant. A friendly reminder: Tequila contains 38% – 55% alcohol level, so you should consider that before taking a sip.
The present-day Tequila city in Mexico was the first place to produce Tequila in the 16th century. Interestingly, Mexico has strict laws on Tequila production. Only the Jalisco state, along with areas like Michoacán, Guanajuato, Tamaulipas, and Nayarit, is allowed to produce this alcohol.
People often serve Tequila in a small shot glass with salt on the brim. For garnish, a lime wedge is placed on top of the Tequila shot. For beginners, my advice is to take small sips instead of taking the entire shot at once.
Where to find: At any Mexican liquor store, bar, or club.
2. Raicilla
Alcoholic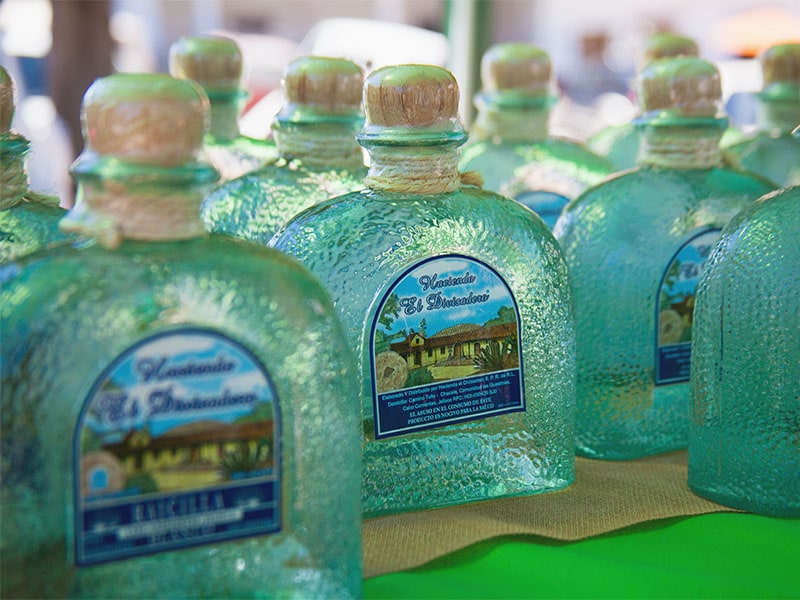 Similar to Tequila, the Mexican locals also produce Raicilla from the distillation of the agave plant. The alcohol is produced in the Jalisco state in Southwest Mexico. Most often, the residents of Jalisco produce Raicilla with no regulation from authority.
However, Raicilla entered commercial production in 2008 and has received much attention from alcohol lovers from around the world.
On the history side, Raicilla has a history of over 300 years, which dates back to the 17th century in a mountainous mining town of Jalisco, called San Sebastián del Oeste.
The alcohol has no color when matured in glass bottles. However, when matured in a wood container, Raicilla has a yellowish color instead. Many factors influence the flavor of Raicilla. Commonly it's the type of agave and the producer that dictate the outcome.
Where to find: In Jalisco city of Mexico, you may want to go to local Mexican liquor stores.
Discover more interesting facts about the illegal Mexican Raicilla.
3. Mezcal
Alcoholic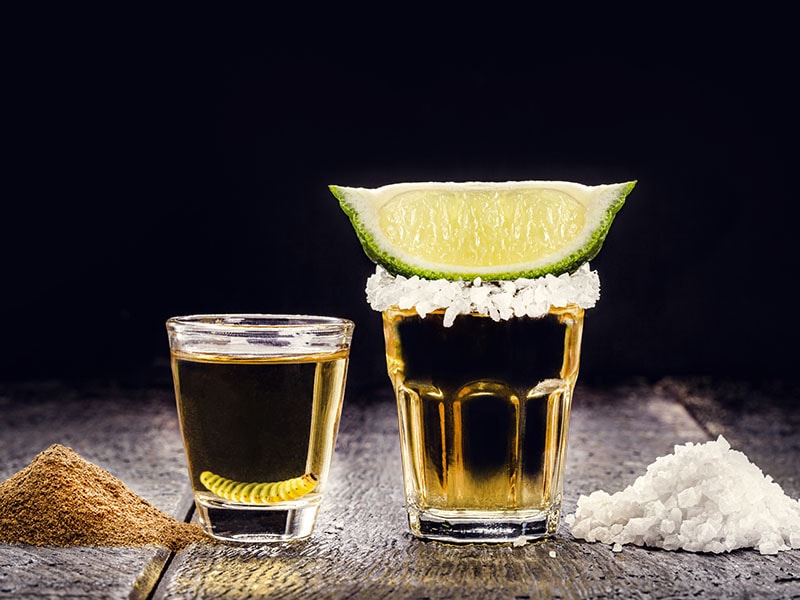 Mezcal is more common than Tequila or Raicilla because people make it from many types of agave. In Mexico, the word Mezcal refers to any agave distilled spirits. The Oaxaca state of Mexico accounts for the largest portion of the national Mezcal production.
On average, Mezcal contains 40% – 55% levels of alcohol. Different from the traditional Tequila flavor, Mezcal has a distinct smoky flavor. Generally, Mexican locals often drink Mezcal as it is without any modified substance to the flavor.
Where to find: At any Mexican liquor store, bar, or club.
4. Mexican Beer
Alcoholic

Do you know what beer is called in Spanish? It's "Cerveza", one of the most popular drinks in the nation. Mexico is on top of the game when it comes to exporting beer.
If you're coming to Mexico for a vacation, then having some iconic Mexican craft beers is a must. Some of the most famous brands of Mexican beer are Dos Equis, Corona, and Model. There's no better feeling than to crack a cold Mexican beer and enjoy the night with your friends.
Mexican beer has a different taste than other regular types of beer. It's because Mexicans mainly use corn, plant, or barley to create their beer.
Where to find: At any store, club, or bar in Mexico.
5. Mexican Wines
Alcoholic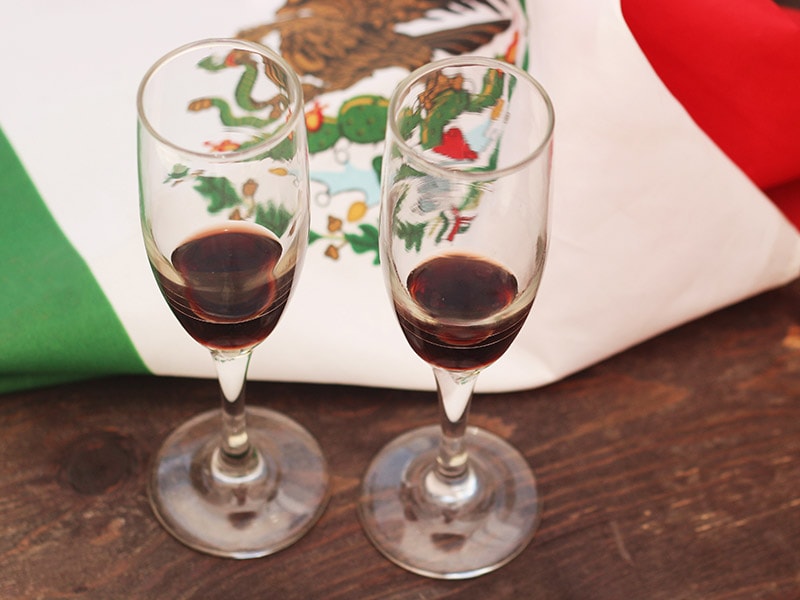 I am surprised to know that Mexicans have wines. Since there are fewer restrictions in Mexico, the country's wine business develops numerous varieties of wine. The origin of wine-making in Mexico dates back to the 16th century when the Spanish first arrived in the country.
In Mexico, you may not find people drinking wine often. That's because the locals prefer Tequila, Mezcal, and beer. If you're looking for a major production of Mexican wine, then the Valle de Guadalupe (Valley of Guadalupe) is a perfect spot.
Where to find: At any Mexican liquor store.
6. Kahlúa (Mexican Coffee Liqueur)
Alcoholic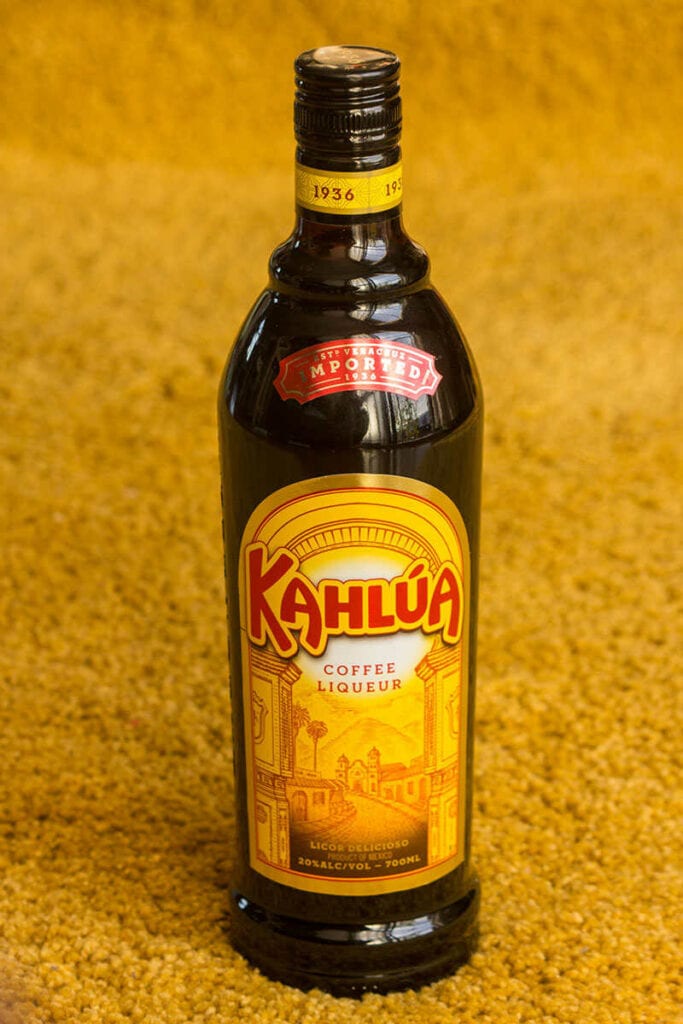 Kahlúa is a popular Mexican liqueur that originates in the Veracruz state of Mexico. The name Kahlúa is a Nahuatl word meaning "House of the Acolhua people" in the state of Veracruz. The liqueur was first produced in 1936 by Pedro Domecq.
Traditionally, people create Kahlúa using 3 main ingredients of rum, Arabica coffee, and sugar. Yes, this drink has alcohol in it, with a mild 20% alcohol level. However, the strong taste of coffee often overshadows the alcohol content.
Commonly, people often feature Kahlúa in many cocktail recipes along with milk, cream, and cocoa or drink it directly on the ice. In some regions, locals will even use this coffee liqueur for cooking delicious Mexican desserts, or as a topping over ice cream and cheesecake.
Where to find: Kahlúa often appears in many stores in Mexico.
8 Fascinating Mexican Cocktails For Your Party
If you're having a wonderful time traveling around Mexico, there's a high chance you will run into one of these popular cocktails. Learn these key features of each type of cocktail so you won't get confused about what to order for your next bar beverage.
Alcoholic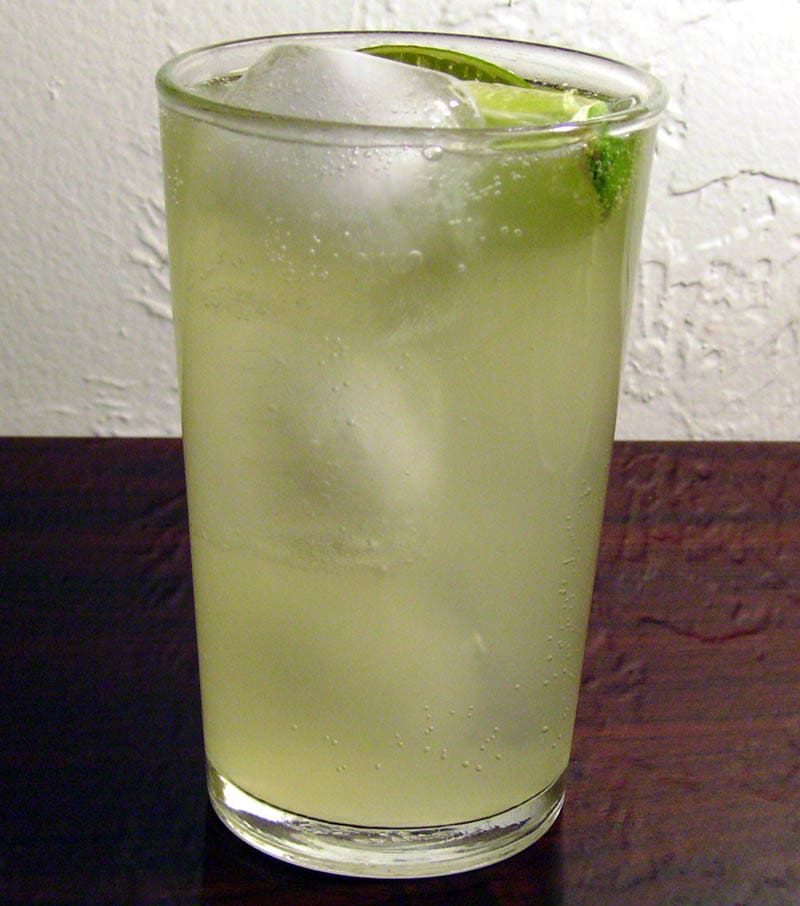 If you're struggling to try Tequila in its pure form, then I recommend Paloma as a guide to Mexican Tequila. The cocktail is a refreshing beverage with lime juice, Tequila, and soda as the main ingredients.
Many locals believed the cocktail was named after La Paloma (The Dove), a folk song of the 1860s.
Typically, the recipe of Paloma can vary by switching between Mezcal and Tequila. For optional garnish and enhancing flavor, people often cover the glass rim with a light touch of salt. Commonly, I suggest using grapefruit soda for the closest taste to the original recipe.
Where to find: At Mexican bars or clubs, but you can make it by yourself at home.
Impress anyone at your party with this simple mixture of Paloma.
Alcoholic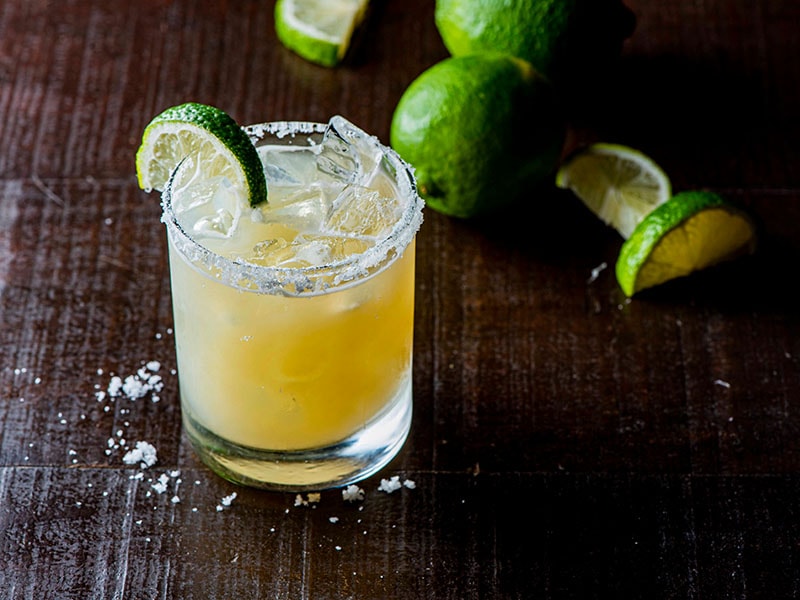 Even if you're not in Mexico, you must have heard about Margarita through many iconic movies as a high-class cocktail. The history of Margarita is a complex one, but many believe it was Carlos "Danny" Herrera who invented the iconic cocktail in 1938.
Traditionally, a standard Mexican recipe for the Margarita consists of lime juice, Tequila, and orange liqueur. Most commonly, the mixture is shaken or blended with ice before your bartender will elegantly pour the mixture into a Coupette glass for serving.
Finally, people often stick a wedge of lime to the side and salt the brim of the glass for a simple garnish.
The flavor of the Margarita is dictated by the Tequila, so it's no surprise when the cocktail tastes like agave. However, the citrus essence from the lime juice and orange liqueur balance out the cocktail in terms of sweetness and sourness.
Where to find: Any bar or club in Mexico
Alcoholic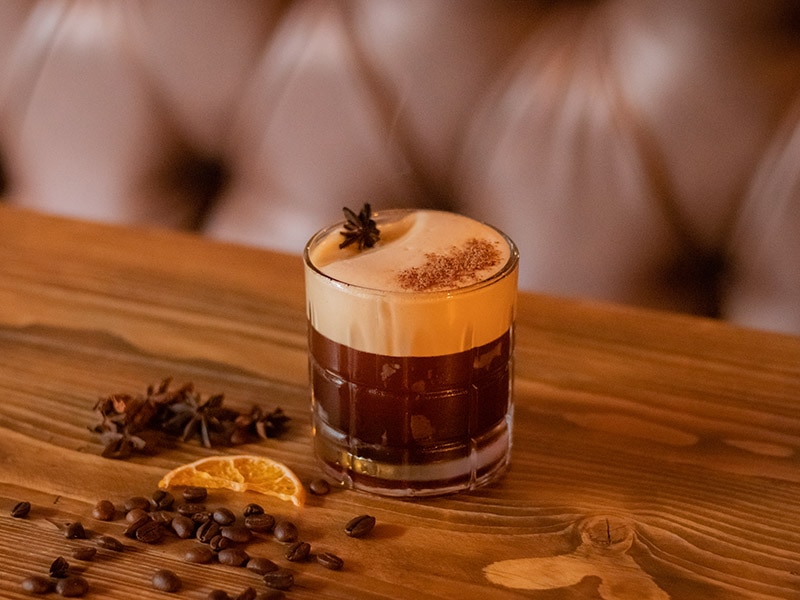 If you're a big fan of coffee, then Carajillo is a cocktail specifically tailored for you. The cocktail is a famous drink across Latin American countries. Most often, people will serve the cocktail cold at bars across Mexico city.
For a simple Carajillo, most bars will use Liquor 43 (a Spanish liqueur with bright yellow, vanilla-flavored) to create the base flavor with a shot of Espresso. Typically, the coffee will stay on top of the Liquor 43 layer.
To Mexicans, Carajillo is a popular drink for brunch; however, people also have it at night. Overall, the cocktail is mildly sweet from the Liquor 43 with a slight bitterness of Espresso coffee.
Where to find: Any Mexican bar or club.
Alcoholic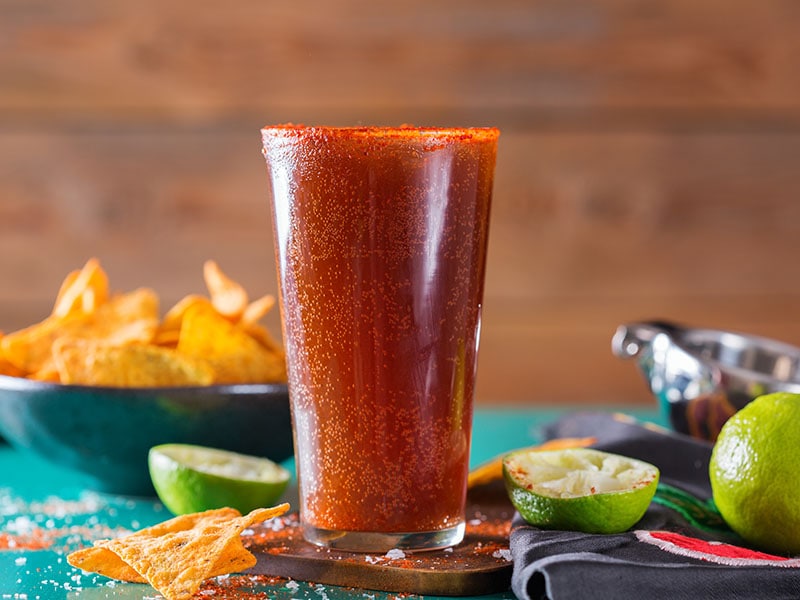 Do you fancy a beer and want to taste something interesting at the same time? Then, the Michelada is the perfect beer mix just for you. The concoction made its debut in the 1960s when Michel Ésper served his guests with a mixture of beer, lime, and salt in a Chabela glass.
There are 2 variations of Michelada. The Chelada version uses Chelada beer to replace the tomato juice, while the Ojo Rojo has Chamoy syrup on the glass with a spiced mix.
For a standard Michelada, the locals use any kind of beer to mix with lime and tomato juice. In addition, the glass rim is often covered with a mixture of chili powder and salt. To intensify the spiciness, people often add hot sauce to the Michelada.
Where to find: Michelada is popular as a bar or club drink in Mexico.
Learn the secret to creating your homemade Michelada.
Alcoholic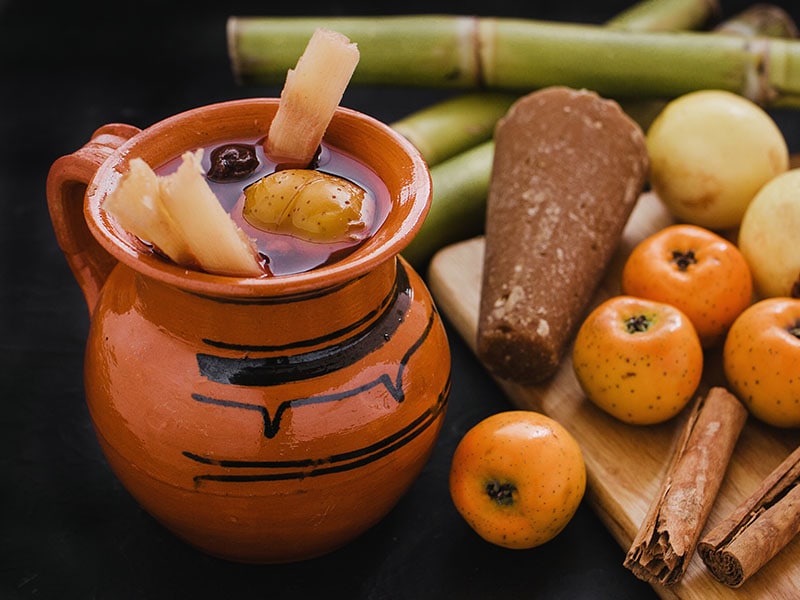 Ponche Navideño is a Mexican punch that features Tejocotes, a native fruit of Mexican mountains. The natives call this fruit many names like Tejocoreta, Manzanita, and Mexican hawthorn. Tejocotes have a bright yellow color with a flavor similar to a plum or apricot.
As a tradition, Mexican locals often consume Ponche during Las Posadas (16 – 24 December) and Christmas nights. People often serve the drink hot in a clay pot with fruit pieces of apples, pear, and guavas floating in the mixture.
Typically, people use Rum or Brandy as the main alcohol for Ponche. However, the most striking feature of Ponche has to be the color of the hibiscus flower. If you can't gain access to the hibiscus flower, I suggest using tamarind pods instead.
Where to find: At Mexican convenience stores.
Ponche Navideño is a super simple punch for your next Christmas with friends and family.
Alcoholic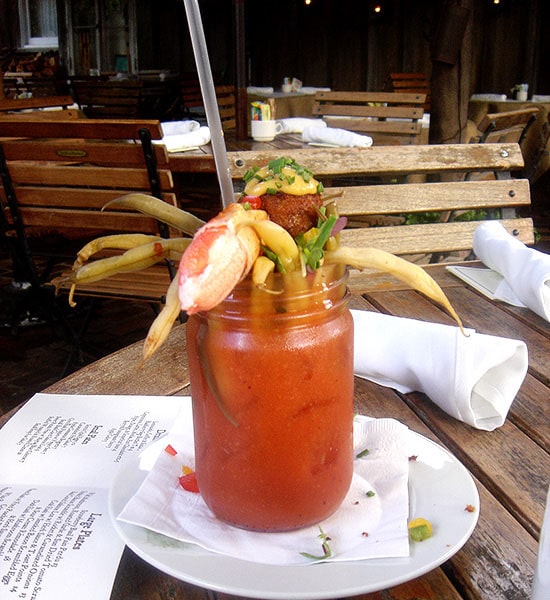 Similar to a Bloody Mary in terms of ingredients like tomato, Worcestershire sauce, and spices, the Bloody Maria may be your best brunch beverage. For a Mexican twist, you can use Tequila to replace the Vodka.
To give the Bloody Maria extra kicks of heat, you should use Tabasco sauce with a combination of smoked paprika for the best result. In general, using Tequila will give an extra kick to the punchy flavor that the beverage already possesses.
Where to find: At Mexican bars or clubs.
Alcoholic
Here's a cocktail that you mustn't miss if you want your Mexican experience to be a whole. The Bandera Mexicana is a Mexican cocktail with a unique look inspired by the color of the Mexican flag. The cocktail is beautiful to look at and tastes amazing.
Bandera Mexicana is challenging to create because of the layering process. The cocktail mainly exploits different alcohol densities to create the signature green, white, and red.
As for the ingredients, most bartenders use Grenadine for red, Tequila for white, and crème de menthe (mint-flavored alcohol) for green. Most often, you can celebrate Cinco de Mayo (May 5th) and Mexico's Independence Day (September 16th) with this patriotic beverage.
Where to find: The cocktail commonly appears at bars or clubs in Mexico.
Alcoholic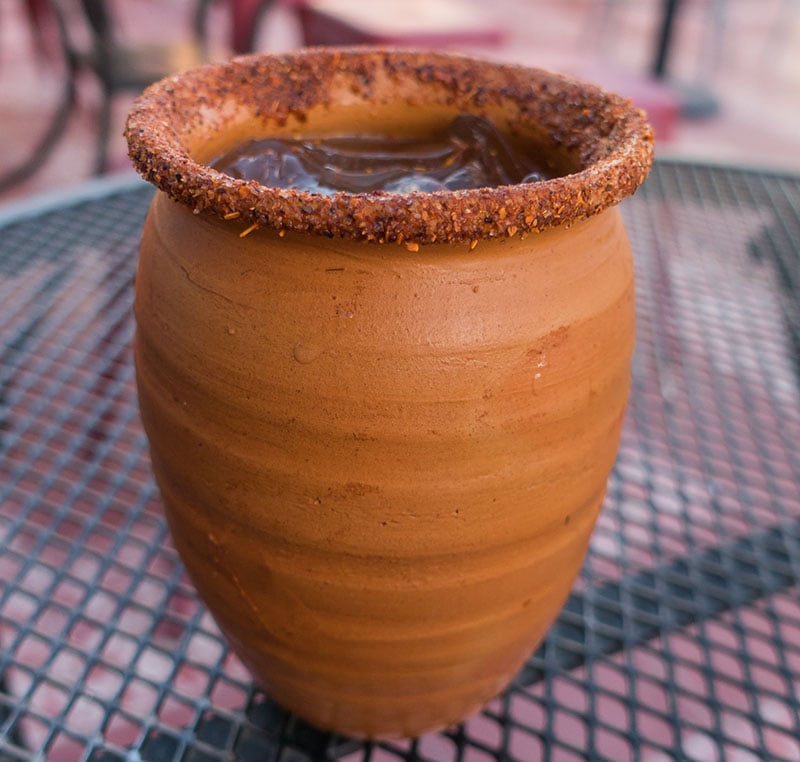 Do you want to experience Mexican Tequila more enjoyably? Then, the Jarritos de Feria is just for you. Commonly, the locals have this drink as a way to cool themselves down during the summer heat.
In Mexico, people refer to the beverage by many names like Jarritos de Feria, Cantaritos de Tequila, or Jarritos loco.
Interestingly, locals will often serve Jarritos de Feria in a clay cup called Jarrito to help keep the drink cold. This wonderful mixture consists of Tequila as the alcohol base with a fruity concoction of lime juice, orange juice, and grapefruit juice.
As for the garnish, locals often use Chamoy (Mexican savory sauce) to cover the rim and sprinkle some chili lime salt over it. In addition, a small wedge of citrus will often go on top of the beverage.
Where to find: At vendors or fairs in Mexico.
11 Alcohol-Free Mexican Drinks For Your Entire Family
Mexicans don't rely entirely on their alcohol to make refreshing beverages. Thanks to a variety of ingredients, you get to enjoy and explore many unique flavors that are only available in Mexico.
Non-alcoholic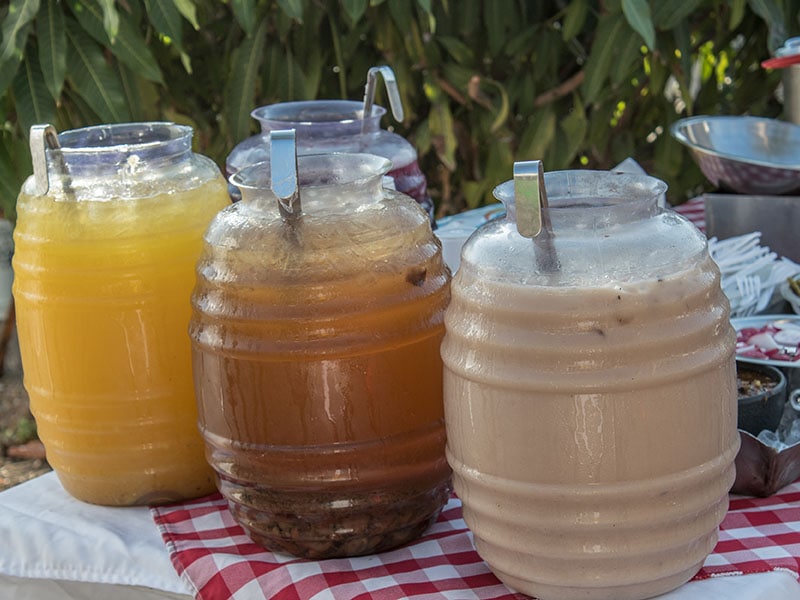 In Mexico, Agua Fresca is a popular drink made from fresh Mexican fruits or cereal blended with sugar and water. The direct translation of Agua Fresca is "fresh water" or "cool water", but I promise the beverage is full of fruity flavor.
There are no limits to what fruit can be used to make Agua Fresca. Most often, vendors will store the beverage in a big glass jar before serving it. Agua Fresca is a quick and easy way to keep yourself hydrated while discovering the nation's fruit flavors at the same time.
Where to find: Agua Fresca often appears at local food stalls, vendors, juice bars, or restaurants.
Discover the easiest way to make a cool glass of Agua Fresca right at home.
Non-alcoholic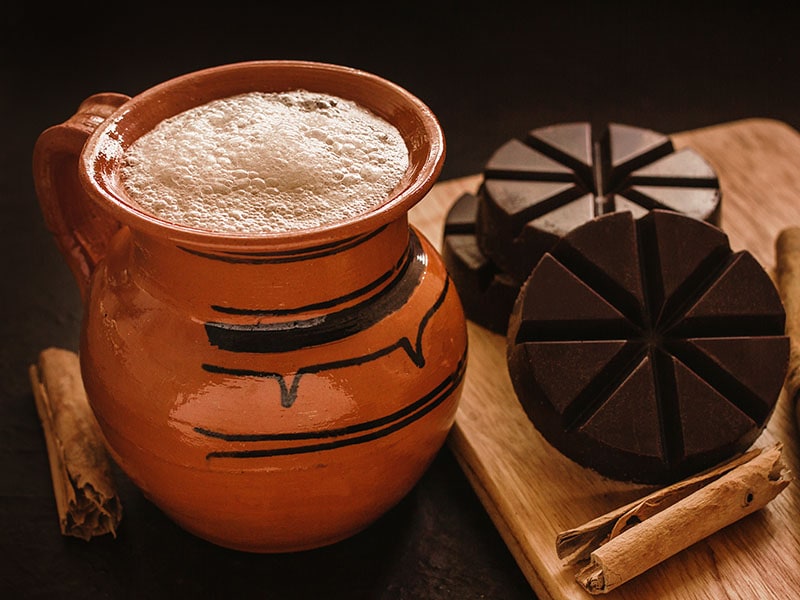 Your trip to Mexico wouldn't be completed without having an authentic cup of Mexican hot chocolate. In Mexico, hot chocolate is such a symbol that everywhere you go, you will bump into this delicious beverage.
It was the Maya that created the first chocolate drink 2500 – 3000 years ago. The concept of a hot cup of chocolate became popular after the chocolate was introduced to European countries from Mexico. In the 19th century, people used hot chocolate as a remedy for many illnesses.
Most often, Mexican hot chocolate makes a perfect companion with tasty Spanish foods because of the delicious cocoa flavor.
Different from the US hot chocolate variety, the Mexican version uses chili powder and cinnamon to create a distinct flavor. Sometimes, people will add sugar to enhance the sweetness.
Where to find: Mexican hot chocolate can be found at any stores or vendors across Mexico.
Non-alcoholic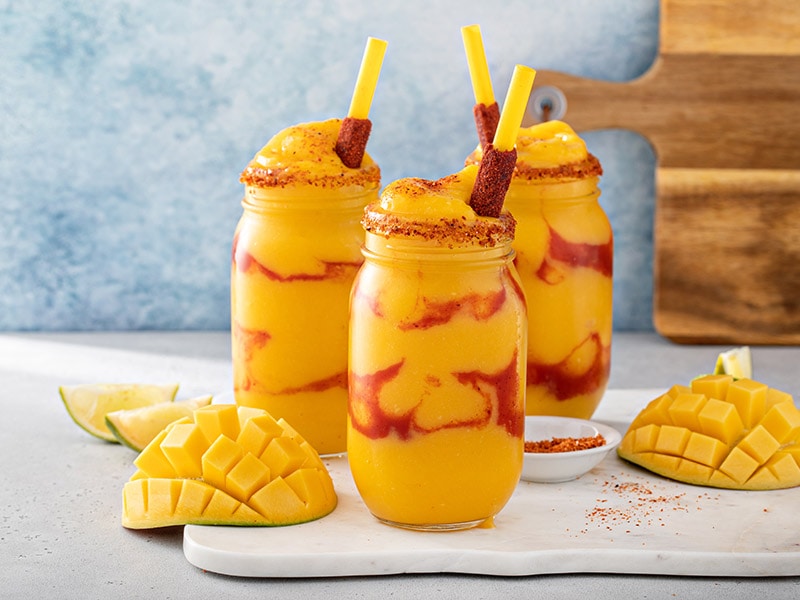 Meet your new favorite Mexican street food while traveling in Mexico, the Mangonada or Chamoyada. Vendors in Mexico often combine Chamoy with shaved ice and mango for a classic Mangonada. You will soon fall in love with the beverage for its smoothie-like consistency.
Besides mango, the Mexican locals use different fruits like strawberry, tamarind, and pineapple to diversify the flavors of Mangonada. In addition, vendors throw in some extra fruit chunks for a better texture. Most often, chili powder is sprinkled on top to add a light kick of heat.
Where to find: Across Mexico at food stalls or vendors.
Non-alcoholic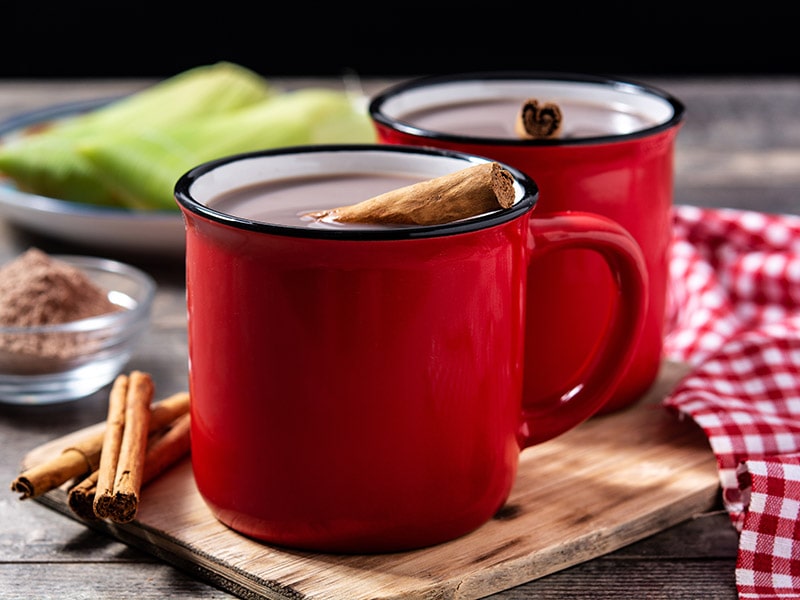 Waking up in the morning with a hot bowl of Champurrado to start my day is all I dream about. Champurrado is a Mexican chocolate drink with corn-based dough. People often pair Churro (fried dough stick) with hot Champurrados as warm Mexican food in the country.
The combination of corn dough and chocolate gives the beverage a thick consistency. In addition, locals use piloncillo (unrefined cane sugar), cinnamon, and milk to control the mixture's flavor.
Champurrado often appears during the Day of the Dead (November 2nd) or Las Posadas events with Tamale (cornmeal pie) as a side dish. In some areas, people even add alcohol into the standard recipe.
Where to find: At local stalls or vendors in Mexico.
Non-alcoholic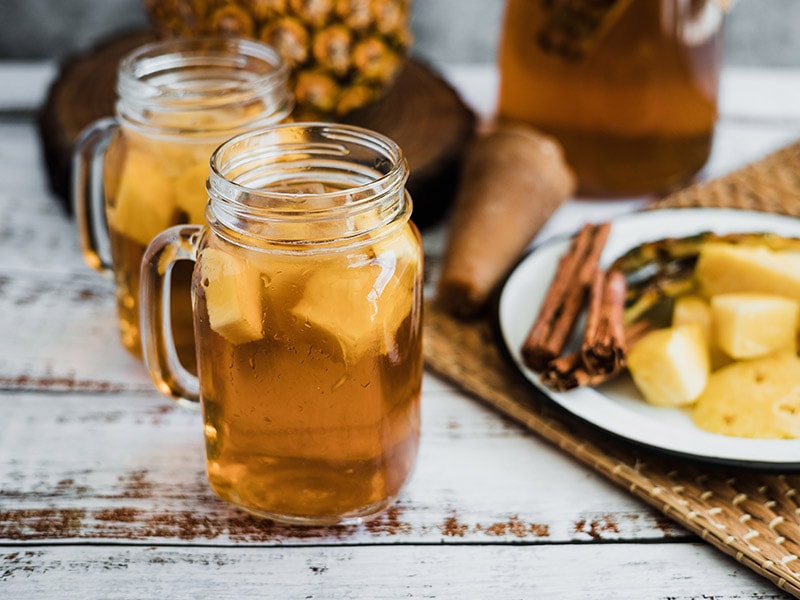 Although many Mexican locals rely on the fermentation process of pineapple to make Tepache, the alcohol content is too low to classify it as an alcoholic drink. Some will pour in extra beer to enhance the alcohol content
In the past, the original Tepache recipe of the Nahua people used corn as the main ingredient. Today's recipe uses pineapple skin to create a Tepache full of tart flavor. Locals often keep Tepache in a wooden barrel to promote the fermentation process.
Where to find: At local Mexican food stalls, or vendors.
Learn how you can make refreshing Tepache right at home.
Non-alcoholic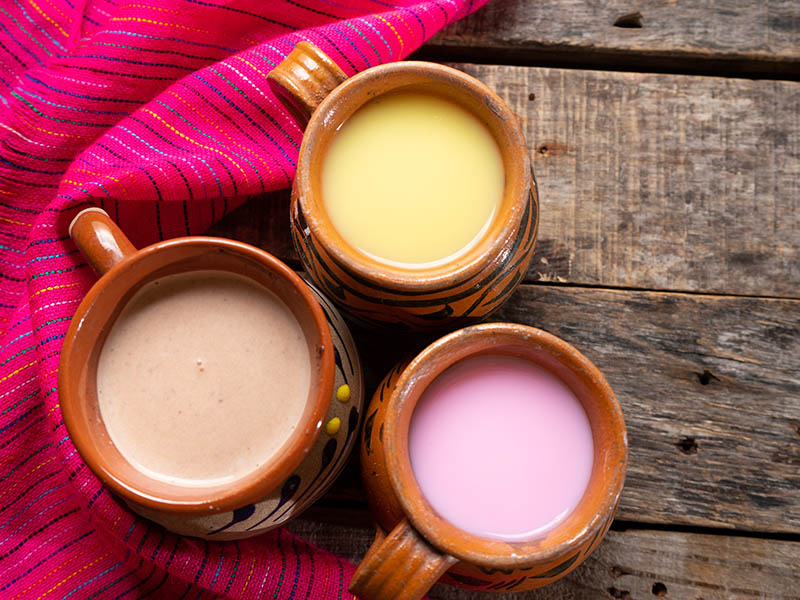 Mexican cuisine relies heavily on corn, so it shouldn't be a surprise to know that Atole is the country's staple corn beverage. Mexican locals often refer to it as Atol de Elote or Atolli.
The traditional Mexican Atole recipe requires a mixture of Masa (dried corn), with cinnamon, vanilla, and piloncillo. Commonly, the locals will blend the mixture to create a smooth Atole mixture. Depending on the blending process, Atole can have various consistency.
Atole is often served during the Day of the Dead or Las Posadas celebrations. In addition, Mexican people also have Atole as breakfast or dinner.
Where to find: Mexican street food vendors.
Non-alcoholic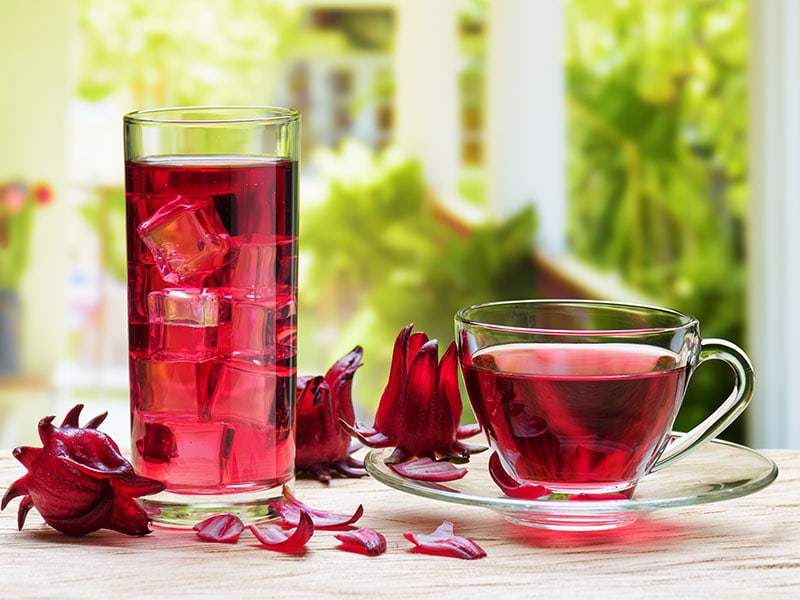 If you're looking for a healthy option, then Mexican Hibiscus tea is the perfect option. The tea has a standout crimson dark color from the infusion process of the Hibiscus sabdariffa flower. A common name for hibiscus flowers to the Mexican locals is Flor de Jamaica.
In Mexico, the beverage is sweet and has a slight tart flavor. Most often, locals will dilute the Agua de Jamaica mixture with water and add a generous amount of sugar for sweetness. Hibiscus tea is often served in a large pitcher for easy distribution.
Where to find: Vendors or juice bars in Mexico often sell Hibiscus tea as Agua Fresca.
Non-alcoholic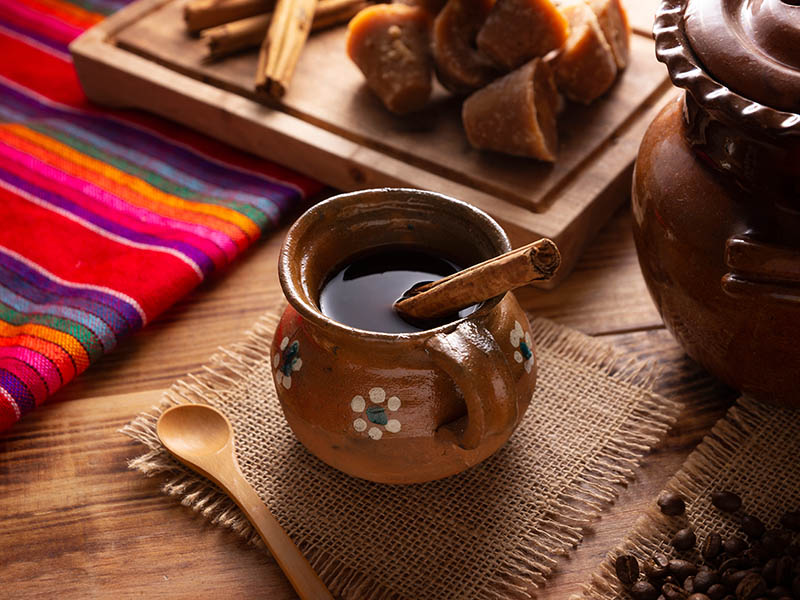 Cafe de Olla is one of the most fantastic coffee experiences that you will ever have. The coffee often appears in rural areas and is consumed on cold days.
The selling point of Cafe de Olla is the clay mug that it's served in. The earthen clay pot creates a unique flavor for the drink. To enhance the sweetness, you can use piloncillo and cinnamon to keep the traditional coffee taste intact.
The coffee itself is mildly sweet with a signature black color of ground coffee. Typically, Mexicans often have Cafe de Olla with Concha (Mexican Pan Dulce/ sweet bread) as a cheap and reliable breakfast.
Where to find: At Mexican café shops.
Bring that unique Mexican coffee experience right to your home with this simple guide to making Cafe de Olla.
Non-alcoholic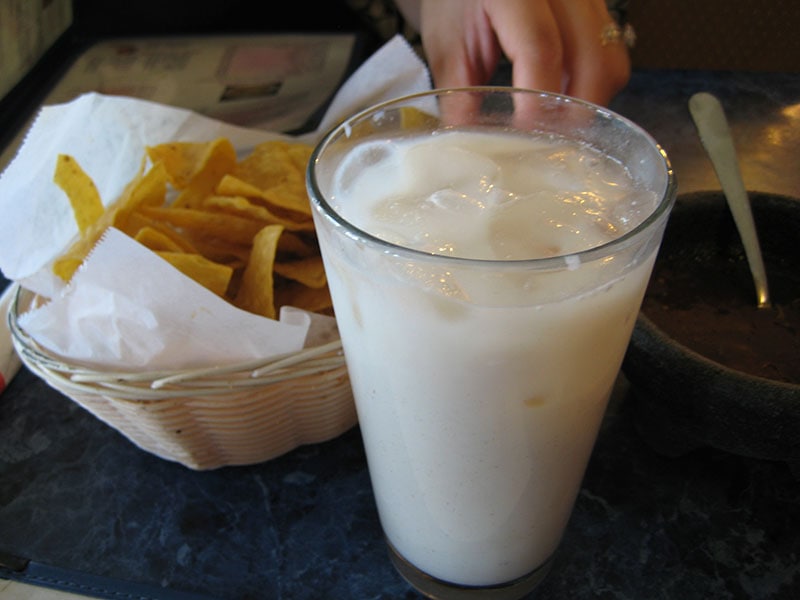 Many people believe that Horchata originates in North Africa back in 2400 B.C, in today's Nigeria and Mali. Horchata was popularized by the Moors in many places when they invaded Spain.
In Mexico, locals make Horchata from rice with vanilla extract and cinnamon for flavors. However, there's another version of Horchata de Arroz in the traditional Spanish recipes, where people use tiger nuts for the sweet and nutty flavor instead of rice.
Typically, Horchata de Arroz is a homemade drink, but there are powdered versions out there in convenience stores. As expected from a rice drink, Horchata de Arroz has a sweet and creamy taste with a smooth texture.
To make Horchata de Arroz, locals often soak the rice overnight or for a couple of hours to soften the rice grain. Then, a mixture of rice, cinnamon, and milk will be blended until it becomes smooth. Strain the blended mixture and you will get your delicious rice drink.
Some even say the drink has a similar taste to Mexican traditional rice pudding. For me, Horchata de Arroz is an amazing drink that can satisfy my thirst in the summer heat.
Where to find: At convenience stores or local vendors. Better yet, you should make Horchata right at home.
Non-alcoholic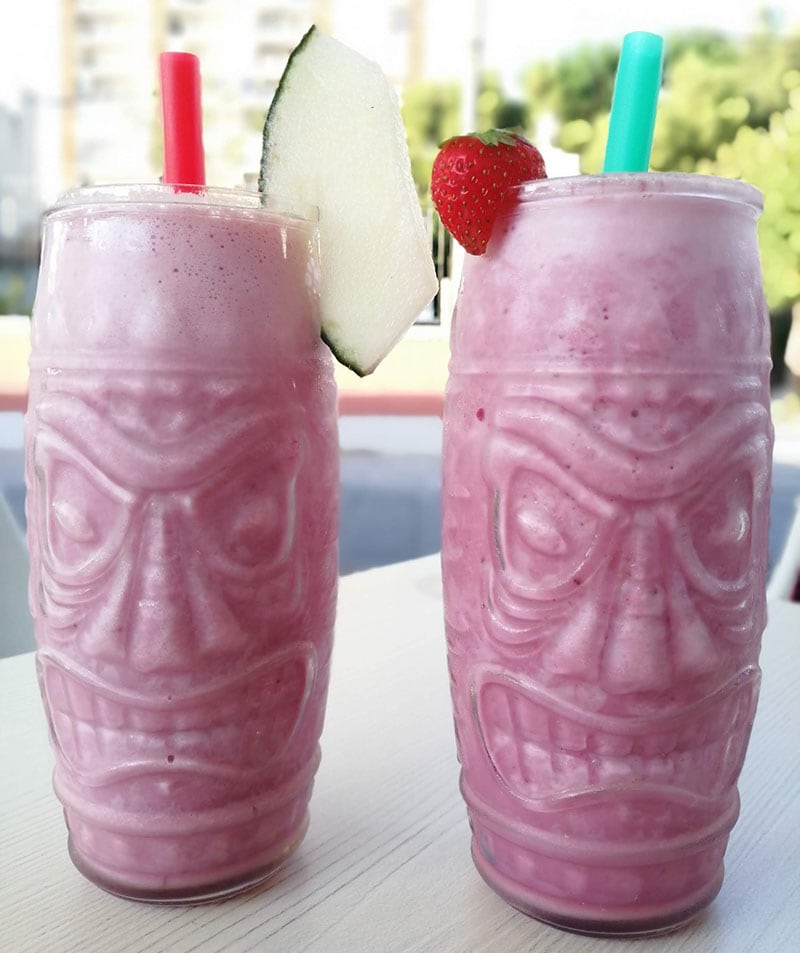 Batidos is only the local name of this beverage: people refer to Batido as Licuado more widely. In some ways, Batido is similar to a standard cup of smoothie because of the ingredients like fruit, ice, and milk.
Vendors often use milk as the base flavor for any Batido. In Mexico, you can find Batido anywhere because of its popularity.
In contrast to Agua Fresca, vendors only make Batido when there's an order instead of preparing it in advance.
Where to find: At local Mexican vendors.
25. Jarrito (Mexican Soda)
Non-alcoholic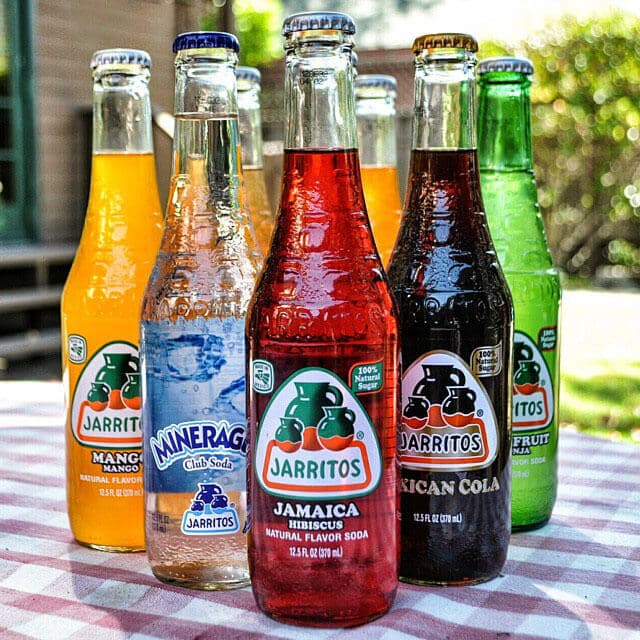 Jarritos is a popular Mexican soda that is made of many types of fruit flavors and has a mild carbonated flavor than regular soda. The direct translation of the word Jarrito means "little jug" which refers to the traditional Mexican way of consuming beverages in a clay pottery mug.
The first produced flavor of Jarrito was a coffee flavor soda. It may sound strange to you, but it was a popular flavor in the 1960s. Today, Jarrito has more than 14 flavors for you to pick from. Most often, Jarrito comes in a 370ml or 600ml bottle, but there's also a 1.5-liter plastic bottle.
Where to find: At local stores in Mexico.
Some Exhilarating Mexican Recipes For Your Homemade Concoction
Are you feeling thirsty already? Then get to the kitchen quickly and implement one of these recipes instantly to enjoy that Mexican flavor right in your house.
Are you ready for an energy-packed smoothie from Mexican cuisine? To keep this recipe simple, I use bananas as they are easy to find and loaded with nutrients. The thick consistency and creaminess are the main highlights of these delicious smoothies.
For instant relief from the summer heat, Batido is an amazing beverage that you can make at home with simple-to-find ingredients.
Ingredients: bananas, milk, sugar, milk, and nutmeg (optional)
Step 1: Prepare your blender with banana, ice, and milk
Step 2: Blend the mixture until it becomes smooth.
Step 3: Pour into serving glasses and you're good to go.
Batido is super easy to make with some basic ingredients.
Agua Fresca is a simple yet delicious way to enjoy the natural fruits of Mexico. With the vast choices of fruits, you will never run out of options. The nice thing about this recipe is that you can make them right at home with the remaining fruits.
Ingredients: fruits of any kind, lime juice, mint (optional), cane sugar, or agave nectar
Step 1: Chop your fruits into a manageable size.
Step 2: Combine the fruits in the blender with ½ teaspoon of lime juice and mint leaves. Blend the mixture until it becomes a pureé. Taste test and adjust the flavor accordingly.
Step 3: Pour the mixture over ice to serve.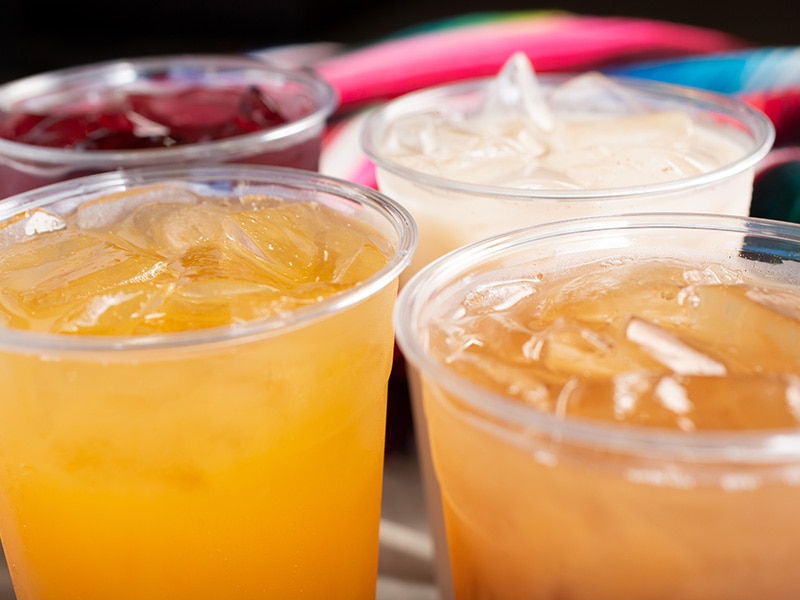 Nothing beats cold nights better than a hot cup of Mexican hot chocolate. You will never again have to mix those boring hot chocolate packages from the supermarket. Instead, you can learn to customize your cup of Mexican hot chocolate with this super simple guide.
The recipe I bring here to you is so easy to make won't take more than 10 minutes before you can start sipping away on delicious warm Mexican hot chocolate.
Ingredients: Cocoa powder, ground cinnamon, whole milk, whipped cream, cinnamon stick, vanilla extract, ground cloves or nutmeg, brown sugar.
Step 1: Start mixing your ¼ cup of cocoa powder and 2 tablespoons of brown sugar with 1 cup of water in a small saucepan.
Step 2: Bring the mixture to a boil. Then stir constantly and gradually turn down the heat.
Step 3: Add ¼ teaspoon of your ground cinnamon and sprinkle some ground clove into the mixture along with 3 cups of whole milk.
Step 4: Simmer the mixture for around 5 minutes before adding vanilla extract.
Step 5: Pour the chocolate mixture into your mug and add your whipped cream on top. Don't forget to use the cinnamon stick to stir the mixture.
Nothing can stop you from enjoying cold nights with your favorite Mexican hot chocolate.
Which Is Your Favorite Mexican Drink?
Mexican drinks have many varieties that allow you to create endless combinations of beverages. You no longer have to wonder what drinks you need to serve for your Mexican-themed party.
Maybe, this post can help you with your diet with many healthy choices of beverages that provide you with various nutrients. Whatever the case, I'm sure you will enjoy these amazing Mexican drinks.
That's all I have to offer for this post. The journey of uncovering Mexican drinks has been interesting with you onboard. If you like this post, please share it with your close ones and tell me your thoughts in the comment section. Thank you!