Mexican desserts can surprise you as they have distinct flavors that represent Mexico's variety of ingredients. If you're looking to travel to the country to understand more about the local dessert cuisine, then this is a perfect occasion to do your research with this article.
As a Latin American country, you may think of Churro as the first answer for Mexican dessert. That's correct, but Mexico can offer more than just fried breadsticks for you because the country has abundant ingredients to make desserts.
So keep on scrolling because I know you will be surprised by some of the features of these exotic Mexican desserts.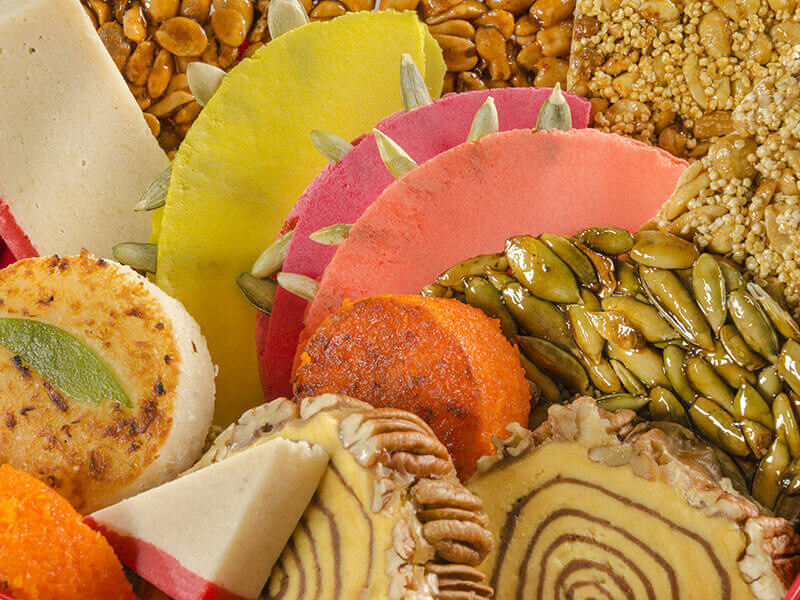 Discover 23 Traditional Mexican Dessert Recipes
Mexican locals have many ways to make desserts. This makes for an array of options when it comes to making desserts in Mexico. Each Mexican dessert has a special meaning to the locals. Some dishes only appear on particular occasions.
Churro is a popular fried dough in Latin American cuisine, Spain, and Portugal. Although the origin of Churros remains a mystery, many stories and theories point to China or Rome as the birthplaces of Churros. This is the easiest dessert to make.
In Mexico, you will need eggs, all-purpose flour, water, and oil to create Churros dough. Before frying, the dough will need to have a thick consistency. Churro dough will often be pumped through a nozzle called a Churrera and fried until it has a golden brown color on the surface.
You can sprinkle fried Churros with a mixture of cinnamon sugar. There are also other variations where chocolate and vanilla are the toppings instead. Locals sometimes fill the Churro with Cajeta (caramelized milk) to diversify the flavor option.
Churros will have a crunchy outer layer, and the inner is soft and moist. Locals often have Churro as a starter in a Mexican meal. But you can eat it anytime you want.
Did you know that the first recorded chocolate drink was around 2500 – 3000 years ago? The early Aztec civilization in Central Mexico considered cocoa as part of their culture. Hot chocolate became popular around the world after the Europeans discovered it in Mexico.
Different from American powdered cocoa, the Mexican variety is much grainier. In addition, when Mexican locals make hot chocolate, they tend to add extra spices like cinnamon and chili powder. This addition of spices makes Mexican hot chocolate more enjoyable during cold days.
Like any other hot chocolate, whipped cream or marshmallows are the two best choices for this iconic Mexican drink. Most often, Mexican hot chocolate will be served alongside sweet Mexican desserts like Churro or pastries.
Check out how you can recreate the Mexican hot chocolate flavor right at home.
Sopapilla often goes by many names Sopaipilla, Cachanga, or Sopaipa. It's a fried pastry popular in Spanish-speaking countries. The origin of this dish's name dates back to the Mozarabic word of Xopaipa, meaning bread that is soaked in oil.
To make it into a dessert, Mexican locals will use cream or berry as fillings for the Sopapilla. However, for a quick savory snack, you can also use some leftover Mexican chicken dishes for your Sopapillas filling.
Traditional Sopapillas have a rectangular shape similar to a pillow, and they are often fried until golden brown. The texture of Sopapilla resembles Churro, with a crunchy outside layer and a soft inner.
Rice pudding is a popular dish around the world, especially in Asia, where rice is everywhere. It's suitable as a Mexican recipe for vegetarians. To make this delicious dessert, you will need rice, spices, natural sweeteners, and milk.
In Mexico, Arroz con Leche is the name for rice pudding. The recipes for making rice pudding are varied since it can have many variations by adding different types of topping. The Mexican version of rice pudding will usually have orange zest or raisin as toppings.
You can have Mexican rice pudding, hot or cold, depending on your liking. It's just a mouthwatering, sweet, and addictive dessert that will keep you coming back for more.
I know what you're thinking. How can you fry ice cream when the dessert is prone to melting? Well, the secret here is a flash fry that will help solidify the surface, preventing the ice cream from oozing out. Or you can make this dessert with an air fryer.
In Mexico, fried ice cream is an amazing treat for both your eyes and belly. The ice cream corn flakes coating will instantly become crunchy when it comes in contact with the hot oil. You can watch the mesmerizing frying process of this dessert in Mexican street food stalls.
To make this possible, Mexicans will coat ice cream balls with corn flakes and put them back into the fridge to harden for a few hours. Then, they will start flash-frying the ice cream balls. You can also use an air fryer for this recipe which helps simplify the frying process a lot.
Additional garnish to go along with fried ice cream includes whipped cream, chocolate syrup, and cherries. The experience you have with fried ice cream will be an unforgettable one. The outer layer is hot and crunchy, while the inside is cold and soft.
Making your first homemade Mexican fried ice cream can be an interesting experience.
Buñuelos is a dessert that has centuries to its history. Many theories pointed out that the dessert came to Mexico along with Spanish settlers looking for the New World. Mexican Buñuelos will often use yeast to raise the dough and give the dough some texture.
In Mexico, Buñuelos is recognized as a lucky symbol that people often have as a Mexican Christmas treat. It's a tradition for family members to gather and make this dessert on New Year's occasion.
Typically, Mexican locals will have Buñuelos with some sprinkled sugar or drizzle it with syrup made from unrefined cane sugar. Besides the flattened version, the dessert also comes in a ball shape. You will see people often enjoy this along with a hot cup of Mexican chocolate.
The origin of Mexican wedding cookies dates back to the medieval era of Arabs. The main ingredients include butter, spices, sugar, and various nuts. Many believe that the dessert came to Mexico by Spanish conquistadors or European nuns in the 16th century.
These Mexican wedding cookies are a special sweet treat requiring no eggs. However, you need to be careful to avoid over-baking the cookie, or it will ruin the soft texture. The best sign to look for is a light golden on the surface of those cookies.
Outside of Mexico, the cookies have many names like Snowballs, Butterballs, and Polvorones. When consumed, Mexican wedding cookies should have a consistency that melts in your mouth. Accompanying that should be a light sweet of sugar and nutty flavor of pecans.
This dessert is dedicated to people who have a craving for corn. You will be amazed by the ingredients to create this corn cake. It only takes 3 ingredients to make this recipe. They are cornmeal, corn, and cornflour.
Mexican corn cake is packed with corn flavor with every bite. Cajeta or syrup will often accompany on top of the corn cake to enhance the cake's sweetness even more. In some regions, locals will also use corn cake as a side dish for other Mexican dishes, like soups.
You will often see corn cake in Mexican festivals as a delicious homemade dessert. Sometimes the locals will shape the corn cake into small balls packed with sweet fillings of Cajeta or caramel.
If you love corn, then Mexican corn cake is a must-try recipe for you.
The origin of caramel flan is interesting, it started as a savory dish that the Roman would frequently have along with fish or meat. Then, a chef in Rome tried using honey in the dish. It became famous to people at that time.
Flan is a simple dessert with 3 ingredients of eggs, sugar, and milk. Make sure you pay attention, as your caramel sauce should have a light brown color. After transferring your flan mold into the pot, don't forget to put some water in it to help the flan rise evenly.
In Mexico, you can find Flan almost everywhere you go. There's Flan Napolitano which has sour cream to enhance the creamy texture. In other regions, sometimes the locals will use Cajeta to replace the milk for a much more caramel flavored flan called Flan de Cajeta.
While there are not many differences from the flan around the world, Flan Mexicano is still a delicious dessert that fits people looking for a healthy Mexican keto recipe. A lot of people see flan as a demanding dish, but the truth is it's simple to make.
Dulce De Leche is a Spanish word for caramelized milk or milk jam in English. It's a general term to refer to the process of simmering milk and sugar until it becomes a vicious and spreadable mixture.
In the traditional Mexican recipe, people use goat milk to make this mixture. Mexicans call this Cajeta to differentiate from the cow milk version of Dulce De Leche.
This is simple to make dessert, but it will require you to have a lot of patience. It's because the simmering process can take hours to complete. As for ingredients, you can either make your mixture of milk and sugar or use an unopened can of condensed milk to save some time.
The result you get is a brown mixture that has a similar taste to caramel, but it is much creamier. Mexican locals often use Cajeta as toppings for a variety of other desserts like cakes or ice cream.
Another name for this unique Mexican bread is Pan Dulces. Concha is the Spanish name of the dish, meaning "shell". This is also a distinctive bread feature because of its shell-like look. In addition, the bread will also need to have stripes all over the seashell-like appearance.
The outer layer of Concha is crunchy, while the inner is soft and sweet. To create the stripes on Concha, locals use a bread stamp or knife to make incisions on the bread during the proofing process. After baking, you can have some sprinkles or frosted sugar over the bread as well.
In Mexico, people have Concha at any time of the day with Cajeta or coffee as a quick Mexican breakfast. However, if you want your Conchas to be fancy, then drizzle some condensed milk or Cajeta for extra creamy flavor.
Explore how you can make Conchas from your kitchen.
Oreja is a dessert that has a French origin. In France, Palmier is the short name of "Feuille de Palmier", a type of pastry in French cuisine. In French cuisine, people will fold and roll the dough repeatedly to create a deep layer of crunchy texture through the entire puff pastry.
In Mexico, making Oreja is similar to how the French created their Palmier. First, you will need to roll the puff pastry into thin slices and coat it with sugar. Then, grab the two sides of the puff pastry and pull them in together to create an ear-shaped.
After baking, Mexicans often have Orejas with a nice cup of tea. It's a sweet and crunchy dessert to enjoy during the Cinco De Mayo holiday.
If you're having an adventure in Mexico during the country holiday season, Tres Leches Cake will most likely appear everywhere. Tres Leches is a Spanish word for "three milk" in English. This is because it takes 3 different kinds of milk to make this fantastic dessert.
In Latin American countries, they will use sweetened condensed milk, evaporated milk, and heavy cream to create the milk mixture for the cake. Interestingly, the locals will pour the milk mixture over poked holes of the cake so the milk can soak deep inside.
If you're familiar with making sponge cake or poked cake, then it should be a breeze to make Tres Leches Cake. For garnish, you can add whipped cream and some cherries on top for a sweet and delicious flavor.
Unravel the basic techniques you need to make this delicious Tres Leches cake right here.
Don't let this dessert with a complex look deter you from making it, although it may sound difficult to combine chocolate cake and flan. The cake is an impeccable combination of soft flan on top and chocolate cake on the bottom.
Between the two-layer of the cake is Cajeta as the filling. The impossible things about this cake are in the "before" and "after" baking process.
Before going into the oven, the vanilla flan will be at the bottom of the mold while the chocolate cake mixture is on top. However, after going through the baking process, the order of the cake layer is completely reversed. Now that is magic right there for you to witness.
The cake is popular during the festival season, but you can also find it at any local Mexican bakery. You will soon love the flavor and the richness of the cake.
Empanada is very similar to Turnover. It is a dish of Spanish origin that people have as a savory or sweet dessert in Spain. Most Mexican locals enjoy having Empanada as a sweet dessert with various fruits as fillings.
To make Empanada, the dough will be kneaded repeatedly to create the signature crunchy texture. People will wrap the dough around the fillings and deep-fry it before serving. The most popular filling to use for Empanada in Mexico is pineapple.
Besides fruits, in some areas of Sonora and Sinaloa states, people even use pumpkin as a filling for Empanada.
Check here for a simple method of making apple Empanada.
Fresas con Crema is the Mexican recipe for a mixture of strawberry and sour cream, creating an irresistible dessert. It's a sweet treat that you should try while discovering amazing new foods in Mexico.
To start making the cream base for this recipe, you will need sour cream and sweetened condensed milk. If you want to make your cream mixture extra creamy, then I would recommend adding more condensed milk for a better result.
The strawberries are the highlights of this creamy mixture. You should prioritize bright red strawberries and cut them into slices to present the desert better. You could also use different types of sour fruit like pineapples or mangoes to replace the strawberries.
Don't let the regular look of Mexican popsicles fool you. This is one of the most famous treats around Mexico. The key difference is in the incorporation of spice in the popsicle.
Paletas have various flavors from tropical fruits. The base of this nice ice cream treat is in the fruit. You will squeeze or blend the fruit to extract the juice and mix it with a thick sugar mixture. Then you can start pouring your Paleta mixture into individual molds and refrigerate it.
In addition, you can sprinkle some special Mexican spices to complement the fruity flavor of the ice cream. Sometimes, herbs like basil will also appear in the strawberry flavor version of the popsicle.
On Mexican streets, you will often see Palateros (ice cream men) push old carts filled with these delicious Paletas around populated areas.
Check out how you can make Paletas for a refreshing summer treat.
Mexican Bionico is an amazing dessert that originates from Guadalajara city of Mexico in 1990. The Mexican locals will mix a variety of fruits like pineapple or papaya in a large mixing bowl. Then you choose different toppings like raisins or shredded coconut to go on top of the dessert.
The cream base of Mexican Bionico is a mixture of condensed milk and sour cream. Sometimes, you can even use yogurt or cottage cheese to substitute the milk mixture. Mexican Bionico is a creamy dessert that you should try at least once.
Do you think American apple pie and traditional Mexican taco make for a good combo? If your answer is yes, then this apple pie Taquito is a dessert. This is a dessert that Mexicans use Tortilla to wrap the sweet apple sauce filling.
The outer layer texture is crunchy Tacos, while the sweet apple sauce filling will ooze out after every bite. The dessert is easy to make and a great snack to pack for your next tourist trip.
Emerging from Spanish, Horchata refers to any plant-based drink. The word Horchata originated from a Valencian word of "Orxata". Most commonly, you will see people make Horchata by soaking any kind of nuts or grain with milk.
In Mexico, rice Horchata is the most popular type of Horchata. The Mexican name for it is Horchata de Arroz. Traditionally, Mexican locals often make Horchata right in their homes instead of buying them.
Horchata is a healthy drink that has many nutritional values. Since the milk of Horchata contains most of the nuts and grains essence, it's a great supplement to vitamins and minerals.
You will frequently come across this concoction of mango and Chamoy in Spanish-speaking countries as both a drink and dessert. Chamoy is a savory sauce that people in Mexico often use to put over many types of fruits. The main ingredient to create Chamoy is ume plums.
However, you don't always have to use mango. You can have a mix of tropical to create a Mexican salad full of fruits with Chamoy sauce as the main highlight to the dish.
Chamoyada is a combination of sweet fruit with the savory flavor of the Chamoy sauce. You will often see chili powder appear in the mixture as well. The dessert is popular with both children and adults in Mexico.
Camotes Enmielados is a sweet treat using sweet potatoes that often appears on the Day of the Dead in Mexico. The locals will often simmer the sweet potatoes in a mixture of syrup made from piloncillo, clove, and star anise.
The dessert is an amazing comfort food during cold days. In traditional Mexican households, Camotes Enmielados is a great dessert to celebrate Christmas or Thanks Giving. My advice for you is to add a bit of milk for a better overall flavor and texture.
The correct translation for Calaveritas de Azúcar is "Sugar skull". It's a Mexican traditional candy often made during the Day Of The Dead celebration. The origin of the candy dates back to the 1630s when early methods of making Calaveritas de Azúcar first appeared.
The sugar skull candy comes in many sizes and colors. Mexican locals will decorate their houses with these skulls to memorialize their loved ones who are no longer with them. You will find these candies sold at local stalls 2 weeks before the celebration.
Which Mexican Dessert Is Your Favorite?
All of these Mexican recipes are easy to recreate. You can impress your friends and family members the next time they're at your house.
The ingredients to make these desserts are available at any local store, so it should not be a problem to find them. You can also use these delicious treats as a perfect welcome gift to your new neighbors or colleagues.
Have you ever tasted these desserts? Let me know your thoughts about these treats in the comment section below. I would love to read about your experience with Mexican desserts. If you like this article, then give this article a high rating. Thank you!
Nutrition Facts
10 servings per container
---
Amount Per ServingCalories238
% Daily Value *
Total Fat 6.6g

11

%
Cholesterol 23mg

8

%
Sodium 129mg

6

%
Potassium 295mg

9

%
Total Carbohydrate 37.8g

13

%

Dietary Fiber 0.2g

1

%
Sugars 23.1g

Protein 7.1g

15

%
---
Calcium

226

%
Iron

1

%
Vitamin D

10

%
* The % Daily Value tells you how much a nutrient in a serving of food contributes to a daily diet. 2,000 calories a day is used for general nutrition advice.