Mexican crock pot recipes are unique in their way because people can adapt many alterations, but the flavor still comes out amazing. If you're having a busy morning, then the slow cooker is great for preparing a warm meal when you're home at night.
These mouth-watering Mexican recipes are perfect for a crock pot. You can simply toss the ingredients and get on with your day. You will never have to eat boring food with this list of recipes that I have for you.
So keep on scrolling as many surprises are awaiting you in the article.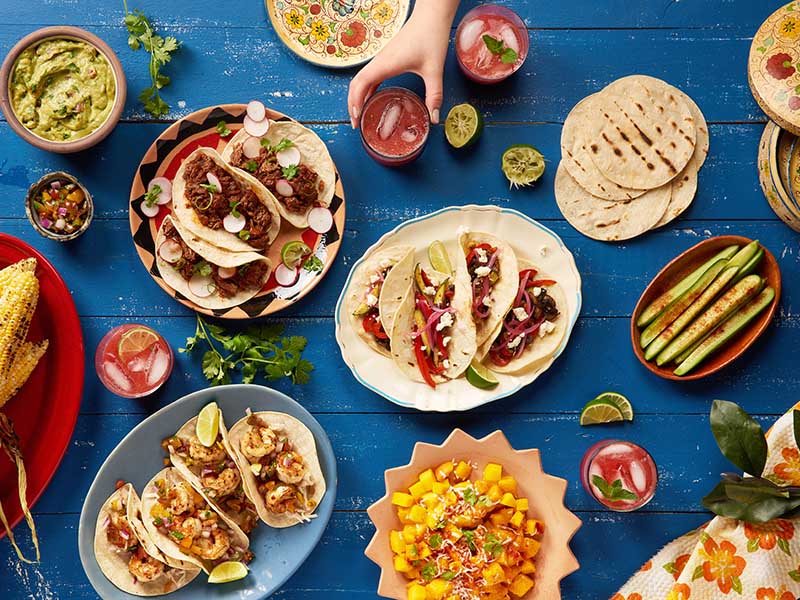 Insanely Delicious Mexican Dishes That Fit Your crock pot
Enjoy your peaceful night with these delicate Mexican dishes. You get to spend more quality time with your family as the slow cooker finishes cooking your meal at the same time. It's wonderful to enjoy moments like that.
Total time: 4 hours 10 minutes – 6 hours 15 minutes.
Many Casserole recipes have existed for thousands of years, people often refer to Casserole as a variety of dishes cooked in a large deep pan. Typically, people often pound or press the rice with other savory ingredients like meat or sweetbread, before slow-cooking it.
For an iconic Mexican Casserole recipe, you will start with a vegetable mixture of colorful bell peppers, corn kernels, and roasted tomato. The meat for Casserole is various, but I suggest using ground beef or chicken for the best flavor.
Casserole always comes with a signature cheesy topping. However, you can also use avocado slices or cilantro for extra depth in flavor.
Mexican Casserole is delicious and heartwarming when you make it at home.
Total time: 4 hours 10 minutes – 8 hours 20 minutes.
Originating in Mexico, Pozole is a staple soup of the country's cuisine, which is made from dried corn kernels (Hominy) and meat. Commonly, Mexican locals use avocado, shredded cabbage, or chili peppers as the toppings.
Traditionally, Mexican cuisine possesses 3 different types of Pozole with white, red, and green colors. The white (Blanco) Pozole has no colorful chili, while the green (Verde) and red (Roja) utilize chili to create the color.
In your crock pot, you can use chicken stock for the base of the Pozole, but before that, make sure you marinate the chicken meat in the Hominy mixture. Depending on your taste, you can slow cook the chicken Pozole for up to 8 hours for a melting meat texture.
Total time: 2 hours 5 minutes
Chili con Queso is a popular Mexican appetizer of Tex – Mex and Southwestern cuisine. Many people point to the Chihuahua state of Mexico as the first place to serve Chili con Queso. However, the sauce is different from regular cheesy dip because of the availability of peppers.
This spicy and cheesy appetizer is perfect for a slow cooker because it brings out all the goodness from the ingredients. My choice is Velveeta cheese for a traditional flavor. To spice up the heat, your chili powder mixture should include paprika, cayenne, and cumin.
Most often, people will serve Chili con Queso with Tortillas. Adding a squeeze of lime juice will help create a slightly sour after-taste.
Total time: 4 hours 10 minutes – 6 hours 15 minutes.
In Tex – Mex cuisine, people serve Fajita as strips of steak or bell pepper on a piece of Tortilla. Commonly, they use refried beans, Salsa, and lettuce as condiments for the Fajita filling. In Northern Mexico, Arrachera is another variation of Fajita that uses skirt steak.
Instead of using steak, I prefer chicken breast because it's more tenderized in my opinion. For the vegetable, you can use diced tomatoes to mix with colorful bell peppers. Finally, you can toss the vegetable and chicken with a mixture of honey and lime juice before cooking it.
Discover the secret to making your delicious Chicken Fajita.
Total time: 2 hours 55 minutes -4 hours 10 minutes.
Ready your big night by making mouth-watering Mexican Lasagna? The term Lasagna refers to a dish where people stack Italian Lasagne (a type of Italian square pasta) over fillings interchangeably. Typically, grated cheese is used for the topping of Lasagna.
For the Mexican version of Lasagna, you will use Tortilla to replace the Italian Lasagne. If you want a more creamy flavor, I recommend using Mexican cheese. In addition, adding corn between the layer of fillings makes for an amazingly crunchy and sweet experience.
Total time: 4 hours 15 minutes – 4 hours 30 minutes.
In Mexican culture, Tortilla soup is a comfort dish that can warm you up on any cold night. To make the dish, Mexican locals often soak the Tortilla in a flavorful soup mixture.
Although there's no clear origin to the Sopa de Tortilla, many believe the dish was invented in the area around Mexico City.
Traditionally, chicken stock is used to set the tone for the broth. In addition, people precook a mixture of garlic, Jalapeño (an iconic Mexican chili), and onion in oil to enhance the chicken stock flavor. Then, local Mexicans add black beans for a creamy texture along with the Tortilla.
Total time: Atmos 9 hours 30 minutes.
Are you up for a spicy challenge with your family? I recommend Chile Verde for its stupendous spiciness. In Spanish, the direct translation for Chile Verde is "green chili". The dish is popular in Mexican cuisine because of the signature green broth color.
Traditionally, Mexican locals often slow cook Chile Verde. Therefore, pork shoulder is often used for the cheap price and wide availability. The spiciness of Chili Verde is created by using a mixture of Jalapeño and Poblano peppers.
Most often, the Chile Verde recipe features Tomatillo, a unique Mexican fruit that has a husk. Remember, you will need to roast the Tomatillo and peppers so the stew can have a distinct flavor. I suggest having Chile Verde stew on cold nights with Tortillas for a perfect cozy night.
Total time: Around 2 hours 30 minutes.
Typically, Mexican rice or Spanish rice has a signature red color to the grains when served. Although the name Spanish rice is popular in the US, the dish originates from Mexico. This specialty is popular as a side dish.
In Mexico, the locals often fry the rice with lards or oil until the grains get a golden brown color. To turn the rice red, people use diced tomatoes for the color and the natural sweetness. A small piece of advice, you should cook the rice using chicken stock to enhance the overall taste.
Total time: 6 hours 30 minutes – 7 hours.
To my surprise, Tamale pie is not a traditional dish in Mexican cuisine. Instead, it originates in the Texas state of the US in the 1900s. However, Tamale Pie makes it to the list because of the familiar ingredients to Mexican cuisine.
Tamale pie is not to be confused with the traditional Mexican Tamale. Although both types utilize corn dough to make, people often serve the latter in a corn husk. As for the Tamale pie, it's often cooked on a large baking tray.
To make the Tamale pie, you need to stir fry the ground beef on a big skillet to drain off the excess fat. As for the topping, Mexican cheese will work wonders in creating a creamy experience.
For the vegetable, I use a mixture of beans, tomato, and corn to accompany the meat. If you're having a slow cooker, then you only need to pour in the mixture after the ground beef turns brown. You should set the crock pot on low and cook the mixture until heated through.
Try this Tamale pie recipe for your next homemade meal.
Total time: 6 hours 15 minutes – 12 hours 10 minutes.
In Mexico, the locals often mash Pinto beans to create the Mexican staple Refried Beans. The name of the dish can be misleading as people only fry the bean mixture once before serving it.
The nice thing about using a slow cooker is that you don't have to soak the bean before cooking. Although sauteéing the onion is optional, I highly recommend this to infuse the caramelized flavor into the beans.
Refried beans have a slightly sweet and earthy flavor to the Pinto beans. Hours of cooking will make the bean extremely creamy and flavorful.
Total time: 4 hours 10 minutes – 5 hours 10 minutes.
Coming home to a hot bowl of Mexican meatball soup is my simple wish for winter. Although the warm creaminess of traditional Mexican soup recipes can be tempting, I'm ready for a change. A spicy bowl of meatball soup will surely warm anyone up.
People often use chicken stock or beef broth for the soup. To enhance the natural sweetness, I suggest using tomatoes. For an added kick of spiciness, make sure to add Jalapeno or Ancho pepper.
Total time: 4 hours 10 minutes – 4 hours 15 minutes.
To my surprise, Mexican cuisine has an amazing remedy to cure flu or cold, a dish called Caldo de Pollo. Generally, the dish is made by combining shredded chicken with simple vegetables. Commonly, I use carrot, lime juice, and garlic to set the tone for the soup.
The soup of Caldo de Pollo should have a light and clear color. Most often, the broth has a light aroma of chicken and vegetables. The meat texture is so tender that it will melt in your mouth. Thanks to the crock pot, you will always come home to a hot Caldo de Pollo.
Total time: 8 hours 10 minutes – 8 hours 40 minutes.
The direct translation of Carnitas from Spanish is "little meat". It was the indigenous of Michoacán city that came up with the idea for Carnitas. On average, the locals simmer the pork for 3 – 4 hours before shredding it to serve on a Tortilla.
Using a crock pot to make Carnitas is a brilliant idea as the dish requires a lot of time to cook. For the meat, I recommend using pork butt or shoulder because of the tender and juicy texture. Finally, you can add lime juice and condiments powder for simple marination to the pork.
Learn the secret to making delicious Carnitas for your Tacos.
Total time: 6 hours – 7 hours 45 minutes.
In many Latin American countries, Picadillo is a traditional dish that combines minced meat with tomato and various types of ingredients. Interestingly, the word Picar means "to mince" in Spanish, which suggests the dish uses ground meat as the main ingredient.
There are many variations of Picadillo across Mexico. For example, in the north of the country, locals have Picadillo with Tortillas or corn chips. However, some regions will add lime or onion into the meat mixture. Sometimes people will add honey or sugar for a taste similar to Teriyaki.
For a simple slow cook Picadillo, I recommend using minced beef for a traditional approach. Tomato sauce is indispensable to this recipe: you can be sure that the fatty beef with the sweet and sour tomato sauce will keep you coming back for more.
Total time: 2 hours 45 minutes.
Simple, straightforward, and packed with flavors, Salsa is the iconic Mexican dip for any party. Traditionally, the Mexican locals use tomato as the base flavor for Salsa. Most often, locals use the sauce to spread over Tortillas or for dipping Tortilla chips.
In general, any type of tomato is good to make Salsa, but you should pick ones that have a bright red appearance for a better result. If you're looking for a traditional Mexican heat, then Jalapeno is your go-to choice.
As for garnish, you can keep it simple by sprinkling some chopped cilantro. If you want to preserve your Salsa, I suggest canning it. You only need to sterilize your can with hot water before transferring your Salsa to it and seal the lid tightly. Canned Salsa can last up to a year.
Total time: 1 hour 5 minutes – 2 hours 5 minutes.
Say hello to the king of every Mexican drink. Mexican hot chocolate is the most wonderful thing you have ever tasted in this world. The drink got its popularity after it was introduced to European countries from Mexico.
In the 19th century, people even used hot chocolate to deal with liver and stomach sickness.
Different from the traditional method of cooking Mexican hot chocolate on a stove, you only need to throw all the ingredients into one crock pot. I suggest combining cinnamon, nutmeg powder, and a pinch of chili powder for a slight kick of spiciness to the chocolate drink.
A small piece of advice, you will need to stir the mixture after an hour into the cooking process so the ingredient can mix well. As for garnish, a traditional splash of whipped cream on top should work beautifully.
Total time: 8 hours 10 minutes – 10 hours.
Barbacoa has many ways to interpret, but in Mexican cuisine, it refers to the cooking process of an entire animal over an open flame. In today's terms, most people see Barbacoa as a way of cooking a large chunk of meat until it becomes tender.
The main feature of any Barbacoa is the high content of fat with a strong flavor. I prefer using beef for Barbacoa as the meat tenderizes faster and is juicier than lamb or goat meat.
Cooking the beef in its broth will help the meat retain the beef flavor. Chipotle chili is a must-have ingredient to create the distinct spicy sauce of the Barbacoa. A friendly reminder: you should cut the beef into small cubes so that the seasoning is well absorbed.
For people who don't know about Chipotle, they are little Jalapeno peppers that have been smoke-dried. Chipotle has a standout smokiness with a slightly sweet flavor hidden under the intense spiciness.
Prepare this recipe at night so that your breakfast is always ready with flavorful Barbacoa.
Total time: 5 hours 10 minutes.
Mexican cuisine offers exotic and incredible flavor, and Chicken Mole is one prime example. The Mole sauce is created by combining Mexican chilies with chocolate, tomato, and cinnamon. The Puebla and Oaxaca states of Mexico claim to have invented this recipe.
Chicken Mole has a unique spiciness and bittersweet flavor with a slight earthy after-taste. I recommend using thigh meat to make Chicken Mole as this kind of meat has the best texture. Thanks to the thick consistency of the Mole sauce, most people serve the dish with rice.
Total time: 4 hours 10 minutes – 8 hours 20 minutes.
Here's an ultimate dish that combines the iconic Mexican Taco with heart-warming soup. Most people use ground beef with tomato and taco seasoning to set the tone for the Taco soup. Locals commonly use sour cream, Tortilla chips, or cheese for the toppings.
First, the ground beef is sauteéd in a frying pan with onion and garlic until the meat turns brown. Then, start transferring the beef mixture into a crock pot along with tomato paste and other seasonings. Adding corn is a great idea as it helps create an extra crunchiness texture.
A small tip: you can have Taco Soup prepared in the morning so that you will always have a warm pot of Taco soup for your night.
Anyone can make a delicious Taco soup to start their day with this guide.
Total time: 3 hours – 6 hours 10 minutes.
Chicken Tinga originates in the Puebla state of Mexico. The locals create the dish by cooking shredded chicken with a Tinga mixture consisting of Chipotle chilis, tomatoes, and onions. Typically, people serve the dish with traditional Salsa, Crema, or crumbled cheese on top.
If you're tired of familiar Taco fillings, then having a unique Mexican chicken recipe on a Taco is a brilliant idea. Chicken Tinga has a bold taste, loaded with savory and smoky flavors. Although it's optional, I prefer roasting tomatoes before making the sauce to get that smokiness flavor.
To get the most traditional flavor, make sure you use Adobo sauce with Chipotle chili. For those who don't know, Adobo is a condiment that consists of vinegar, chili powder, and oregano as the main ingredients.
Total time: 4 hours 20 minutes.
The first evidence of the practice of rolling Tortillas into Enchiladas dates back to the Aztec civilization. Traditionally, the locals use a mixture of minced meat, vegetables, and cheese as fillings. Finally, a savory sauce is poured over the Tortilla before serving.
Different from the standard method of making Enchilada, the crock pot recipe requires you to stack the Tortillas over each other. Start by putting the Tortilla as the base and drizzle the sauce mixture over it. Repeat the process until you reach a desirable stack and cook it in a crock pot.
Slow cooker Enchilada has a different texture compared to the traditional recipe. The Tortilla layers are soggy and soaked with delicious sweet and savory sauce. Garnish the Enchilada with cheese or avocado for extra creaminess.
Total time: 3 hours 40 minutes – 8 hours 5 minutes.
Do you ever feel like you could use a quick comfort food for your night? I have great news for you in the form of Creamy Fiesta Chicken. In Spanish, the word Fiesta means "party", so I'm sure the dish is an explosion of flavorful chicken and creamy taste.
Starting with the meat, I suggest chicken breasts as they are easy to debone and have a lot of flesh. To accompany the meat, you can use black beans and corn to elevate the texture and flavors. Finally, your super Creamy Fiesta Chicken is not perfect without cream cheese.
The nice thing is you can just throw everything into a crock pot. The dish will be ready before you know it.
Make your dinner a heartwarming one with this Creamy Fiesta Chicken recipe.
Total time: 2 hours 30 – 4 hours 10 minutes.
The Seven-layer dip is a popular appetizer in American cuisine, however, the ingredients are all of Tex-Mex origin. Typically, people use creamy Guacamole with sour cream and refried beans for the main ingredients.
Traditionally, grated cheese and olive slices will often appear as the topping over the Seven-layer Dip. If you want your dip to have some Mexican flavor, it's optional to add sliced Jalapeno as a topping.
The dipping sauce is perfect for impressing anyone at the dinner table. I recommend using Tortilla chips as a side dish to the Seven-layer dip.
Total time: 3 hours 30 minutes – 4 hours 25 minutes.
Like any other country, Flan is extremely popular in Mexico as a sweet and creamy dessert. However, the Mexicans sometimes tweak Flan by adding sour cream for the extra creaminess or using Cajeta (Mexican goat milk caramel) to replace the original caramel.
Although these two ingredients don't appear in a standard flan recipe, Mexicans often use them to create a distinct flavor for their flans.
Flan is very similar to Custard, but the main difference lies in the caramel sauce of flan. If you're using a slow cooker to make Flan, you should pay attention to the color. You will need to look for a light brown color with a firm (not solid) texture as an indication that the flan is fully cooked.
Another helpful tip is that you need to coat your Flan mold with a thin layer of cooking oil. It helps prevent the flan from sticking to the mold after cooking.
Total time: 2 hours 50 minutes – 5 hours 5 minutes.
Arroz con Leche is a creamy Mexican dessert made with rice and milk. The Mexican locals often have raisins, cinnamon, and vanilla as additional ingredients to the dessert. In some regions, people will even add chocolate or lime zest to Arroz con Leche.
Rice is an amazing source of carbohydrates and calories with low-fat content. Most often, you will cook the rice along with a creamy milk mixture of whole milk, butter, and sugar. Make sure you stir the rice pudding mixture well every 45 minutes or so.
Total time: 3 hours 10 minutes – 4 hours 50 minutes.
Nothing beats the feeling of coming to a delicious pot of hot Mexican corn chowder. The soup is loaded with crunchy corn and thick, flavorful broth. Interestingly, I find that Mexican corn chowder works wonders in terms of beating the summer heat.
I think it's because the heat from the soup makes your body produce more sweat than usual. More sweat evaporating from your body also takes away the heat.
To start this recipe, I suggest chicken broth as the base for the soup because it is easy to manipulate the flavor with garlic and chili powder. At the same time, you should prepare your corn. I prefer giving the corn a slight roast for that touch of smokiness to the broth.
Total time: 6 hours 10 minutes – 7 hours 15 minutes.
Lentil soup can be your next healthy vegetarian Mexican recipe. Lentil is a type of plant that produces small legume seeds in pods. In Mexico, this veggie is popular with the locals, especially the big yellow seed Macachiados variety.
When it comes to nutritional value, lentils are appreciated by vegans for the high amount of vitamins, protein, and fiber. To accompany the earthy lentil flavor, I recommend a mixture of carrot, celery, and tomato to deepen the flavor.
Add Lentil soup to your menu for a healthy meal every day.
Total time: 1 hour 45 minutes – 2 hours 10 minutes.
The star of this tasty Mexican fish recipe is a piece of Mahi Mahi filet, a vibrant green fish that appears in the Gulf of Mexico and other regions of the ocean. The Mahi Mahi Taco is believed to originate in the Baja California Peninsula in Northwestern Mexico.
The meat of Mahi Mahi is low in calories with many health benefits. Typically, the fish has a mild fishy taste with a sweet undertone. Before putting the Mahi filet in the slow cooker, make sure you give the filet a slight seasoning of paprika powder, garlic powder, and sour cream.
For additional toppings for the Taco, slice some cherry tomato in half and place some vegetables on the Taco for a traditional approach.
Total time: 4 hours 10 minutes – 8 hours 15 minutes.
Frito pie is so simple that it takes only 3 ingredients to make: corn chips, chili, and cheese. The true origin of Frito pie remains undetermined, but most believe the dish was invented in Mexico before Frito pie became popular in the US.
The main flavors of Frito pie come from the sweet and sour tomato sauce with minced beef. When served, a bag of Frito chips is a must-have as people will dip the sauce with it. In Mexico, the locals have a dish similar to the description of Frito pie, called Chilaquiles.
Total time: 4 hours 10 minutes – 8 hours 15 minutes.
I know what you're wondering. Why call this dish a Chicken Burrito Bowl when there's no Tortilla involved? That's because Chicken Burrito Bowl utilizes traditional ingredients that you usually put in a Burrito. Therefore, you don't have to overconsume carbs because of the Tortilla.
Besides the meat, rice is also the center of this dish. I suggest using brown rice because of the stable texture of the rice throughout the cooking process. Adding corn kernels to the mixture will greatly enhance the over texture.
Before serving, make sure you shred the chicken and mix it well with all the flavorful ingredients. As for optional toppings, cheese, shredded letter, or diced avocado will work beautifully for Chicken Burrito Bowl.
Total time: 6 hours – 8 hours 10 minutes.
A direct translation of Chili con Carne from Spanish is "chili with meat". The dish originates in the North of Mexico. However, many people consider Chili con Carne as a part of southern Texas cuisine.
For a traditional Mexican flavor, people often use ground beef and tomato sauce. In addition, the heat of Chili con Carne needs to come from paprika peppers. However, adding Chipotle flakes or paste is recommended for extra heat. Chili con Carne is often served with rice as a side dish.
Mexican Crock Pot Meals Make Your Cooking Simpler And More Flavorful
Maybe some of your guys think these recipes take too long to make compared to traditional ones. I say that's the beauty of a crock pot as it provides an alternate solution to your daily carefree cooking methods.
If your friends happen to possess a crock pot or a slow cooker, share this article with them. Who knows, maybe they will invite you for their next dinner time. Well, that's everything I have to offer for this article. Please tell me more about your thoughts in the comment section. Thank you!