Like many other countries, Mexican appetizers make full use of the various ingredients to make appetizing dishes. So you can take advantage of this post to make some additions to your amazing list of appetizers.
Mexican cuisine dates back to the time of Mesoamerican cuisine. It's no surprise that Mexicans rely a lot on their corn to make delicious dishes. Thanks to the ingenuity of the locals, they have come up with diverse Mexican recipes to go with their iconic Tortilla as an appetizer.
Without further ado, let's get straight into the amazing world of appetizers in Mexico.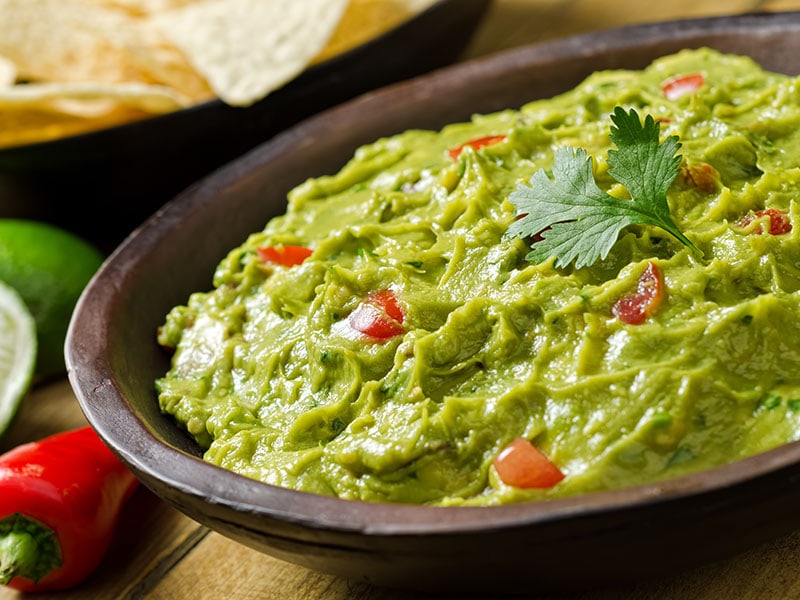 Delicious Mexican Appetizers Just For Your Taste Buds
These amazingly quick and easy appetizers are certified bangers to start your party. They will make your taste bud all tingly and provide you with the energy to last through the party.
Your family members and friends would wish you had made these dishes sooner.
Total time: 35 minutes.
Salsa verde is a traditional sauce in Mexican cuisine. The sauce originates from the Aztec civilization, where people mainly used green chilies and Tomatillo (a fruit similar to a green tomato covered in husk) to create a distinct green mixture.
Traditionally, locals often feature this classic tomatillo dish in many cooking phases. However, people also use it as a dipping sauce for their Tacos. Jalapeño, Serrano peppers, and chopped parsley are the most common ingredients to appear along with the Tomatillo sauce.
It's an incredibly refreshing, addictive, and flavorful appetizer to ready your taste bud for the main dish. No matter what you use for dipping the sauce, it makes the dish better than before.
Total time: 5 minutes.
Originally, the dish is called "Frijole Refritos" in Spanish, with Pinto beans being the most popular type of beans used. Refried Bean Dip is a staple dish in Tex – Mex and Mexican cuisine. Despite the word "refried" in the name, people usually fry it once.
Bean Dip is a perfect starter to grab everyone's attention. The dish is convenient because it takes little time to prepare. If you want to make it more diverse and flavorful, you can incorporate multiple types of beans.
Typically, the Refried Bean Dip has a thick consistency, making it a perfect dip for your chips or Tacos. By mushing the refried bean with a mixture of Salsa and hot sauce, you get an original flavor of Refried Bean Dip that will impress anyone at your house.
Total time: 30 minutes.
Do you love the classic chicken Enchilada? Then get ready to have it as a dip to start your amazing chicken-based appetizer. Enchilada is a corn Tortilla with a filling inside, while the outside shell is covered with a savory sauce. It was the Aztecs that first invented Enchilada.
To make chicken Enchilada into a dip, you will need to leave out the Tortilla. Instead, spread out your ingredients like shredded chicken, cheese, and chilies over a large baking tray for convenience when baked in the oven.
People often serve this Enchilada dipping sauce with Tortilla as a versatile Mexican side dish. If you want something simple for garnish, then sprinkling some parsley over the sauce will do the job.
Discover the secret to making chicken Enchilada dip for your next party.
Total time: 30 minutes.
Chipotle black bean soup will significantly level up your burritos experience. On the nutritional aspect, black beans are a great source of fiber and vitamin B9. The addition of Chipotle gives the soup a distinct flavor.
In Mexico, the locals smoke-dry small Jalapeño peppers to make Chipotle. People often use Chipotle as a seasoning or a popular ingredient in Mexican dishes.
Although many people consider it a main dish, you can still have it as a light starter to your meal. The soup is rich, hearty, and delicious. It's a great addition to your list of comfort foods. It has a slightly spicy flavor from the mixture of chopped bell pepper and Chipotle chili.
Total time: 15 minutes.
It wouldn't be a Mexican appetizer list without featuring a corn dish. Elote is a grilled corn cob with paprika to spice things up. Commonly, the locals put a mixture of Cotija cheese, chili powder, and lemon juice over the corn before the grilling process.
In Mexico, Elote often appears at street food stalls and vendors. Typically, you can use either soft or hard kernel corn to make Elote. A perfect Elote has a sweet, spicy, and tangy all in one bite. It's a dish that leaves you drooling just from seeing the cooking process.
In addition, it takes little effort to make these sweet and spicy corn cobs. You just need to combine the ingredients and be on the lookout for the grilling temperature to make a perfect appetizer for your entire family.
Leave your boring corn behind and try this epic recipe for Elote.
Total time: 35 -50 minutes.
Are you still missing that Tamale flavor in Mexico? Let's turn it into a dipping sauce then. The combination of soft Tamale pie with shredded chicken will soon make you fall in love with this flavorful dip.
You should use varieties of cheese like mozzarella and cheddar to enhance the creaminess of the Tamale sauce. In addition, you can turn up the heat by sprinkling some chili powder.
Before baking your Tamale Pie Dip in the oven, make sure you add some cheese over the top and drizzle the dip with oil. Tamale pie dip tastes amazing in return for the time you invest.
Total time: 20 – 30 minutes.
There are many names for Flautas in Spanish like Taquito, rolled Tacos, or Taco Dorados. It's a traditional dish in Mexico that involves using a Tortilla to roll up the filling. Then the Tortilla is deep-fried until the outer layer becomes crispy.
Typically, local vendors refer to Flautas as Taco Dorados (golden Tacos). You can have a variety of meat for fillings, but normally, people will have chicken or ground beef. Also, Crema (Mexican sour cream), Queso Fresco (Mexican cheese), and cabbage are added to the filling.
Flautas will impress you with an incredibly crunchy outside and a flavorful inside. The ingredients are fairly simple to find, but they work well together like magic to keep you coming back for more.
Total time: 20 minutes.
Although black bean dip may sound similar to Refried Bean Dip, they have significant differences. Instead of being sauteéd like Refried Bean, the beans are pureéd for Black Bean Dip.
Since people solely use black beans for this recipe, it has a distinct dark gray color. Sour cream, cilantro, and lime juice are used to create the flavor depth of the sauce.
Black bean dip may not leave you with a big impression. However, you can pair the sauce with traditional Mexican Tacos or Tortillas to experience a creamy, rich, and flavorful sauce. Don't forget you can add salt or lemon juice to adjust the flavor.
Total time: 10 minutes.
Sometimes it may feel inconvenient to have Elote on a cob. Then, you can try turning it into a cheerful treat for accompanying pizza to take your course to a whole new level. It'll be ideal for a party since people can just scoop the corn dip with their Tacos or chips.
For this to work, you need to strip the kernels from the corn cob or use frozen corn. By having only corn kernels, it's easy for you to incorporate other ingredients. It's optional to add extra Cojita cheese, yogurt, or mayonnaise for a sweeter and creamier texture to your corn dip.
Never waste your corn again by making this delicious corn dip for your next party.
Total time: Around 40 minutes.
You can try treating your family to these delicious Mexican sausage balls. They can accommodate so much flavor with every bite. Commonly, locals often feature Mexican sausage balls at weddings as an appetizer.
For a quick and easy cooking process, you can use regular pork sausage. Adding some cheese to the sausage filling will make it much more appetizing. The sausage balls should be crunchy and oozing with cheese from the filling.
Total time: 35 minutes.
Rajas con Crema is a dish that utilizes Poblano pepper as the main ingredient. In Spanish, the dish name is directly translated to "slices with cream". Rajas con Crema is a popular dish that often appears during Taquizas (Taco parties).
To make this dish is a breeze as it requires a few complicated steps. The Mexican locals will often char the outside skin of the Poblano chili before simmering it for some time in a milk mixture. Additionally, you can add chicken broth for extra flavor.
Normally, Poblano has a mild spiciness, but some can be unpredictable. Ripe Poblano tends to have more heat. As for the milk mixture, Mexican locals use Crema Mexican, which has a 30% higher fat content than other varieties, but it is thinner and not as sour as other types.
It's a creamy and rich mixture to go with crispy Tortilla. Plus, Rajas con Crema requires few ingredients and can be made as an improvised dish when you have friends over.
Total time: At most 30 minutes
Nachos first came to the world in the 1940s in the North of Mexico. People were using fried Tortillas chips to make a perfect combination with American cheese. Traditionally, Nachos have been used as a main dish or an appetizer at a party.
To turn your regular Nachos into the Nacho Supreme version, I recommend using popular Mexican ground beef recipes with colorful vegetables.
You can top off your tray with extra melted cheese of variety and beans to create a more diverse texture for the Nachos Supreme.
Fun fact: As a side story to your party, you can tell your friends about the history of Nachos. Specifically, a Mexican chef Ignacio "El Nacho" Anaya served his customers with a mixture of whatever he could find in the kitchen. This action of his gave birth to the modern Nachos.
Total time: 30 minutes.
For those who are unfamiliar with Guacamole, it is a Mexican dip that uses avocado as the main ingredient. Mexicans often spread the sauce with Tacos or Tortillas.
To my surprise, you can fry your Guacamole mix, and it makes for an amazing appetizer. The idea may be strange, but you can try it by rolling your Guacamole balls through breadcrumbs or Tortilla chips before deep-frying it.
Your Guacamole balls should come out with bright gold color. These little balls will fill your mouth with a richness and sweetness that you've never tasted before. You can now impress your friends with these unique deep-fried Guacamole balls at the next party.
Turn your Guacamole up a notch with this mouth-watering deep-fried Guacamole recipe.
Total time: 30 minutes.
Remaining one of the most iconic Mexican starters, it's no surprise that Jalapeño appears in many recipes. Better yet, these Jalapeño Poppers are baked instead of fried. Jalapeño Popper is a more viable option for an oil-free meal.
On the history side, Jalapeño Poppers is a tweaked version of Chiles Rellenos. Many people agree that the dish was first served in Texas around 1972. In today's cuisine, Jalapeño Popper is famous as an appetizer in Mexico, thanks to the iconic Jalapeño pepper used in the dish.
Traditionally, the locals often carve out the inside of the Jalapeño to make room for the stuffing. You can use a variety of cheese and seasonings to make your Jalapeño Popper more diverse. It's optional to add bacon if you want some meat texture in the dish.
Total time: Around 30 minutes.
Tostada is the name locals use to refer to little fried Tortillas and toppings. These little Tostada bites are full of flavorful Guacamole to accompany the seared shrimp. Shrimp Tostada is a great treat for Cinco de Mayo (Mexico's victory over France at the battle of Puebla 1862).
To achieve a beautiful searing color on the shrimp, you should use honey to glaze the shrimp before the searing process. As for the rest of the Tortillas, you can top it off with various options like beans, lettuce, or cheese.
Total time: 45 minutes – 1 hour 5 minutes.
Empanada is a popular dish in Spanish cuisine. Although the origin of the Empanada remains unknown, many people believe Empanada originates from Galicia. In Mexico, you can have Empanada as either a sweet or savory dish.
There's an array of fillings to pick from when it comes to this tasty food beginning with E. However, beef Empanada holds a special place in my heart as the beef is tender and more flavorful than other fillings.
For this version of Empanada, the locals adapt a flavorful ground beef recipe to be the filling. The shell of the Empanada should crumble with every bite, while the beef filling will burst into your mouth with all the goodness.
Total time: 10 minutes.
If you're on vacation in Mexico, then Cóctel de Camarones is a must-try appetizer using shrimp from Mexican cuisine. Don't let yourself be intimidated by the concept of having raw shrimp.
Around the world, each country has its version of Cóctel de Camarones. However, the Mexican version stands out because of its unique savory flavor from the Mexican seasonings.
The most important element of Cóctel de Camarónes is in the sauce. In Mexico, a tomato sauce-based mixture is used to marinate the shrimp and vegetables. It has a taste similar to Salsa. However, you can improve this flavor by using Hot sauce with Jalapeño and lime juice.
For the shrimps, you either have them raw or cooked. The natural sweetness of the shrimp is a great combo with the savory Salsa-styled sauce.
Cóctel de Camarónes is an unforgettable experience when coming to Mexico.
Total time: Approximately 20 minutes.
This healthy Mexican choice is a refreshing appetizer for vegetarians. Corn makes a perfect addition to your regular salad recipe, as it adds natural sweetness to the dish. Plus, you can easily make corn salad with ingredients available in your area.
The corn is sautéed with garlic and butter. Then, tasty Mexican salad will be added to a large bowl to mix with the corn. One secret is to wait for the corn to turn bright gold completely for the best taste. In addition, I recommend adding cheese and sour cream for extra creaminess.
Total time: 20 – 30 minutes.
Tortilla chips are made from fried Tortillas, which people cut into triangular shapes. Originally, the US Tortilla chips were derived from Mexican flatbread. In return, the Mexican locals also adopted the Tortilla chip as part of their cuisine.
You may think there's little reason to make Tortilla chips yourself. But a bowl of homemade Tortilla chips sounds much more heartwarming to your family members and friends. Making Tortilla is a breeze as it involves simple kneading steps to perfect the dough.
You can use your oven to make the baking process easier by a lot. It won't take long before you can have crispy homemade Tortilla chips for any meal of the day.
Total time: 60 minutes.
Mexican cuisine has an array of options to incorporate Tortillas: Sopa Azteca is one prime example. The dish originates from the area surrounding Mexico City, Mexico. The locals create Sopa Azteca by submerging fried Tortillas in a broth mixture of chilies, tomatoes, and onion.
If you're looking for a cozy way to start your meal, then Sopa Azteca is a delicious Mexican soup recipe to pick from. For a traditional experience, I recommend using chicken broth as the base for your Sopa Azteca, as it brings out the best in other ingredients.
Uncover how you can make delicious Sopa Azteca right at home.
Total time: 10 minutes.
Coleslaw is a light appetizer with finely shredded cabbage, perfect for anyone looking for a healthy keto starting dish with easy preparation steps. The main highlight of this dish is the crunchy cabbage with the salad dressing.
The secret to a delicious Coleslaw is in the dressing. You can add vinegar to the cabbage to soften it up a little bit. In addition, the appearance of cilantro and lime juice gives the Mexican Coleslaw a bit of tang to its flavor.
Total time: 30 minutes.
The Jalapeño corn cake is a combination of 2 iconic Mexican ingredients: the corn cake and Jalapeño pepper. The cake makes for a great vegetarian main course or a fitting appetizer when summer comes.
Jalapeño corn cake is sweet, tender, and moist. The slight spiciness creates a unique experience when combined with the sweetness of corn cake. For an extra kick, you can slice in some Jalapeño pepper.
Learn how you can make a unique Jalapeño to impress your friends and family members.
Total time: Around 30 minutes.
Chimichanga is the fried version of burritos. It is famous in American Southwestern and Mexican cuisine. Of course, you don't have to stick with chicken for the filling of Chimichangas. Most commonly, people will use dried meat or beef to accompany the Salsa sauce.
Although the origin of the Chimichanga is still up for debate, people still enjoy these mini Chimichangas as a way to start a party. Most often, people will fry the burrito until it reaches a light gold color on the outside.
Typically, you have mini chicken Chimichangas with Salsa, sour cream, and Guacamole. In addition, Mexican rice is a good choice to accompany the mini Chimichangas.
Total time: 30 minutes.
These small cute versions of the Burritos are packed with everything you love about Mexican cuisine. The locals will tightly wrap the corn Tortilla around various fillings. Also, the corn Tortilla can be either lightly grilled or steamed for a softer texture.
Like traditional Burritos, these mini Burritos are filled with Salsa sauce, vegetables, and a variety of meat. For the topping, you can make it simple by drizzling extra Salsa on top. However, I usually have them with sour cream or cheese for some extra cheesy and creamy flavors.
Total time: 40 minutes
Jicama (or yam bean) is a type of turnip native to Mexico that has starchy roots. Interestingly, people can consume Jicama raw. The texture of Jicama is crispy and refreshing when mixed with salad. I think it tastes similar to an apple.
You must be wondering why use Jicama when you can use potatoes, right? That's because Jicama has a lower calorie level than potatoes. Therefore, you can make a healthy Mexican recipe in an air fryer using Jicama fries. In addition, Mexican turnips are a better fiber source.
My advice is to sprinkle some simple seasonings and then fry the Jicama slices until they become crispy. Fried Jicama makes a great combo with various kinds of sauces.
Uncover the wonderful flavor of Jicama fries to replace your regular fried potatoes recipes.
Total time: 5 – 15 minutes
Peach strawberry Salsa may sound like a weird combination, but it's surprisingly good. The dish utilizes refreshing fruits to pair with creamy Salsa sauce. A nice thing about this is you can combine different types of fruit to create your unique fruit Salsa recipe.
You will need to dice peaches and strawberries into small cubes to mix easier with other ingredients. A little secret, you should add a splash of pineapple juice to keep the peach from turning brown. You can have Peach Strawberry Salsa with Tortilla chips for a perfect side dish.
Total time: 20 – 25 minutes.
Originating in the Chihuahua state of Mexico, white Queso is a dip made with chili peppers and melted cheese. Typically, people often serve white Queso as a dip for Tortilla chips. The good thing is you can use various types of white cheese to make White Queso.
Most often, people use Jalapeño for an extra kick of spiciness. Thanks to the cheese texture, Queso dip has a smooth and creamy consistency. People will often serve Queso hot because it helps the cheese to mix well with other ingredients.
Total time: 25 – 55 minutes.
It's surprising to see that Mexico has its version of mini pizzas, called Sope. The dish first made its appearance in Central and Southern Mexican under the name Pellizcada.
The locals use corn dough as the base for Sopes and add various types of toppings like cheese, refried beans, or red and green sauce.
Across Mexico, there are more than a thousand regional variations of Sope that vendors sell as street snacks. Traditionally, locals will add shredded chicken on top of the corn dough, but you can also add sour cream for a better depth in flavors.
These little Sopes are perfect to jump-start your taste bud.
Total time: 10 minutes.
Salsa Roja is similar to how green Salsa is created. The red version of this sauce utilizes red chilies and tomatoes to make a distinct bright red color. To make the sauce less watery, you can use canned fire-roasted tomato for the best result.
Red Salsa uses fully ripe pepper, making the overall flavor sweeter. As for the green Salsa, it tastes slightly bitter due to the pepper being picked earlier in the immature state.
Like other Salsa sauces, Salsa Roja goes extremely well with Tortilla chips. Of course, you can use Jalapeño as well for a more traditional Salsa. Finally, squeezed lime juice will make the sauce more flavorful.
Total time: 10 – 20 minutes.
An iconic dish to celebrate Cinco de Mayo, Huevos Diablos means deviled eggs. It's a hard-boiled egg that's cut in half. People will mix the egg yolk with various ingredients like mustard or mayonnaise.
The stuffing mixture of Huevos Diablo is often creamy and has a slight spiciness from the mustard. For extra heat, sprinkling some extra paprika powder will help you enhance the overall flavor dramatically. It's a quick and simple appetizer you can make to give your family a treat.
Total time: 25 – 30 minutes.
Here's one way that you can freshen up your Guacamole recipe. You can grill your ingredients before combining them to make Guacamole. It only takes one extra step to prepare, but the flavor you get in return is incredible.
The grilled ingredients will create a much more aromatic scent when they are mixed. The best sign to look for is the char marks on your ingredients before removing them from the heat. The smoky flavor is directly infused in the ingredients, making a drooling dip for Tacos.
Mexican Appetizers Are A Solid Choice For Any Occasions
I hope your next meal or party will start with a blast with these banging Mexican appetizers. The country cuisine offers so much variation that you can create your version of a dish just by tweaking some ingredients.
How many dishes have you noted in your list? Tell me more about your experience with Mexican appetizers in the comment section. That's all I have for this list. I take joy in reading your thoughts about the article. Thank you for reading.