At a pinch, meatball appetizers are always a party saver at the last minute. Simply put, everyone loves meatballs! Whether you make them from scratch or count on the frozen ones, meatballs are versatile ingredients and can be made into many dishes.
Combining meatballs with different sauces and cooking techniques will bring unexpected yet magnificent results! The possibilities are endless with these yummy balls.
You will never be in the appetizer rut again with my long list of meatball recipes. Be a terrific host and look for more ideas for your party food in this article, from Korean meatballs and firecracker to more glazed meatballs recipes you may not have heard of.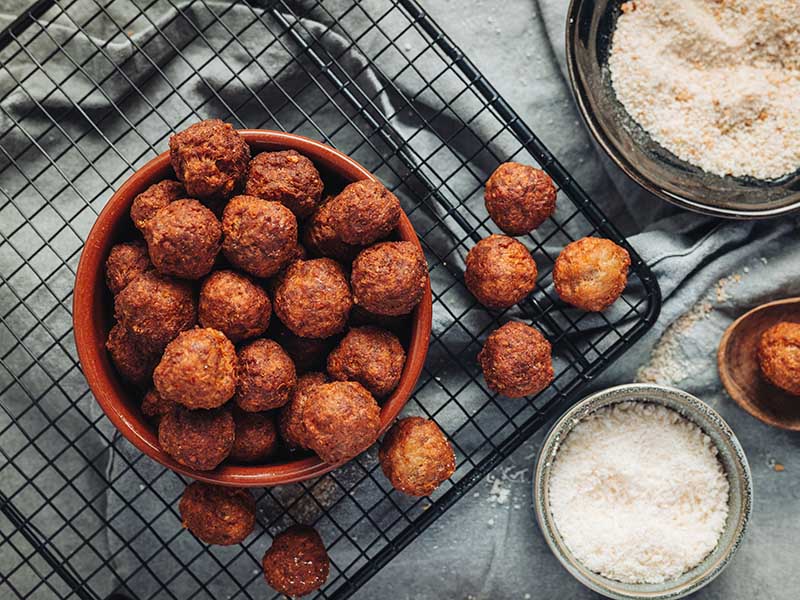 Note Down These Meatball Appetizers Recipes For Your Upcoming Parties
Say goodbye to the classic baked meatballs. There are more things to do to upgrade finger food. Add more twists and fun to your party table with my new versions of meatball recipe ideas. I'm sure your guests will love it.
Total time: 35 minutes
It's my honor to share my passion with you with this Korean meatball recipe. These meatballs deliver savory-sweet flavor with a beautifully caramelized glaze — 10 points for appearance and taste.
And since this is a Korean-inspired dish, Gochujang (a chili paste made from chili powder, sticky rice, fermented soybeans, and salt) is a must. The red sauce adds flavor and color to your dishes.
Honestly, I think these Korean meatballs are great candidates on the lines of "party food". However, for daily meals, you can serve them with rice or steamed broccoli. Lettuce is also a good choice to roll with meatballs.
Much to my surprise, you could freeze or refrigerate the balls for later use. Freeze only the meatballs and make glaze when ready to serve.
Enjoy a new experience with Gochujang and these Korean meatballs.
Total time: 2 hours and 5 minutes.
Bursting with saucy meatballs, rich whiskey, and sliced green onion (if desired), this easy appetizer made in a slow cooker is always a hit with a crowd!
Whiskey is what sets this recipe apart. But don't worry, the alcohol flavor will be light when the dish is ready. I promise, no one will get drunk from eating those whiskey balls.
Instead, the gentle whiskey flavor mixed with BBQ sauce, and slight heat from chili sauce, will amaze you. Try to add more flavor dimensions by swapping the classic whiskey with other flavored ones. Peach and apple whiskey always go well with this recipe. Choose your favorite!
Total time: 6 hours and 10 minutes
Cheesy enchilada crockpot meatballs are loaded with flavors. The moment it appears on the table, it may be gone in the blink of an eye.
If you're a fan of cheese, you'll love this dish. The cheese pops up in the middle, let alone more extra on top. They make you want to take more bites to uncover the yellow melty treasure under the meat.
Cheese aside, let's focus on the recipe: mix ground beef, bread crumbs, eggs, and other seasonings in a large bowl. Then, shape the meat into a small ball wrapped around the cheese slices. And put the balls in the crockpot and pour the sauce on top.
My favorite part is the finishing touch. To ramp up the deliciousness, a fresh cut of cilantro leaves and additional cheese add more color and flavor to the dish.
Total time: 45 minutes
Notice any difference about this delicacy compared to classics? Yes. You will use ground turkey or chicken instead of pork or beef. Don't worry that the meat turns out to be dried or tasteless. Its juiciness and tenderness will be preserved when covered with delicate red sauce.
There are some small tips to keep in mind when cooking turkey. Choose the cuts with a bit of fat to prevent them from drying out during cooking. For best results, I recommend 93% lean and 7% fat.
Also, remember not to overcook or overbake these gracious ground turkey treats. The suitable internal temp of the turkey is 165° F. These perfectly baked meatballs can be served with pasta, rice, or sandwiches.
Total time: 20 minutes
Tex-Mex meatballs are always a savior for last-minute appetizers or busy weeknights. You don't need to wait for hours to see the delicious finishes. Remember to make enough for everyone, as one dish is not enough for the hungry guests.
This delicacy is simpler than you thought. The meatballs soaked in red sauce and covered in melted Mexican cheese will make you unable to take your eyes off.
Following forming excellent meatballs, move them into a large skillet and let them stay on the medium heat for 2 minutes per side. Transfer these meatballs to a plate while stirring onion, crushed tomatoes, and chipotle.
Return the meatballs to the skillet, and after 10 minutes of simmering, your food is ready. Bonus point? You only need one utensil (the skillet) during the whole process. How convenient! This delicacy could be a fun hors d'oeuvre or perfect one-skillet dinner.
Here come your favorite Tex-Mex meatballs. Give it a go!
Total times: 30 minutes
Are you still scratching your head about appetizer ideas for an upcoming potluck? I'm glad to help. Amaze your guests with this meatball marinara poppers appetizer. Check out these delicious brown meatballs in red marinara sauce and creamy mozzarella cheese.
Meatballs are always a fun appetizer to make. And if you love to make yours from scratch, feel free to do it. But in this recipe, you could save a lot of time with frozen meatballs. You only need a few simple steps and 20 minutes from start to finish.
Most noteworthy, try to use fresh mozzarella for better melting. Additionally, a half teaspoon of red pepper will add a kick of heat.
Total time: 30 minutes
Just hearing "firecracker chicken meatballs" makes me feel like the flavor will explode in my mouth. Once you take a bite, the spicy and sweet flavor of this chicken starter dish will hit every part of your palate.
For the sauce, mix hot sauce, brown sugar, apple cider vinegar, and more over medium heat. Then simmer for 8 to 10 minutes. This sauce will tie ingredients together and create a perfect sticky coat for the meatballs.
Furthermore, you are free to choose other kinds of ground meat in place of chicken. However, chicken or turkey are the best companions for the sauce.
Remember to coat the meatballs with sauce twice: One is after the balls are cooked, and one is when they are rebaked. Serve them hot, and I'm sure this appetizer will become a new obsession at the next gatherings.
Total time: 30 minutes
Buffalo wings adaptation? Yup. Of course, the later version takes all the original's good and becomes more perfect. Indeed, buffalo chicken meatballs are more poppable, portable, and healthier. Look for an excellent appetizer for a game day or a party? You're at the right place.
Sometimes, a certain amount of guilt comes from eating buffalo wings due to the excessive calories. However, you don't have to worry about that with these 60kcal chicken meatballs.
Be creative with your food decoration. Serve these meatballs with a drizzle of blue cheese or ranch dressing. Keep them warm in the crockpot and prepare some toothpicks for the guests.
It's time for game night, and let's fill the stomach of your hangry guests with these buffalo chicken meatballs.
Total time: 25 minutes
Pasta and meatballs are a classic combo. However, you can add some twists to this party food with these mini meatball spaghetti pie bites.
Who can resist these little cute and tasty pies? These pasta cups are made to mini muffin pans size, but you can also form them into regular muffin tins as you please.
Most of the work goes into forming the base from spaghetti, with freshly grated parmesan cheese and parsley on top. Boasting an unusual and eye-catching shape, this fun pasta-based hors d'oeuvre will be a big hit at your party.
Moreover, to recreate this recipe, you only need five ingredients and several simple steps. It is seriously worth considering for your next party.
Total time: 20 minutes
To whip up these delicious gluten-free starters, you don't need to be a professional chef. For these low-carb meatball sub cups, you will use the fathead dough.
It is an excellent low-carb substitute for bread, made from cream cheese, mozzarella, eggs, and coconut or almond flour. Sounds complicated? Trust me, making the dough takes only a few minutes.
This low-carb finger food has a perfect bite size with a crispy crust, yummy marinara sauce, and flavorful meatballs. Most importantly, each cup has only 2.4 net carbs. It is a relief to be able to consume delicious food and not feel immense guilt.
Total time: 30 minutes
Whether you need a fun starter or a quick snack, these delicious Caprese meatball sliders will meet your demands.
And the best part? You can recreate this authentic Italian-style dish in half an hour. As with most slider recipes, it starts with mini buns, then marinara sauce, basil leaves, tender meatballs, and melted cheese squares.
If you are in a pinch, do not hesitate to use pre-made meatballs. These cheesy sliders are the perfect party appetizer that will quickly ease many hungry stomachs.
Total time: 3 hours and 37 minutes
For a fun change in taste, replace the old-school baked meatballs with these crockpot BBQ peach meatballs. This delicacy is casual enough for family dinners but also a fun-to-go appetizer for getting together with friends.
In this recipe, use frozen meatballs to reduce prep time. Besides, for added flavor, you can choose seasoned Italian meatballs or the ones with parmesan cheese.
Though peach jelly is famous, other tasty options, such as strawberry, apple, or grape, will also work well with your meatballs.
Notably, the term "slow cooker" may confuse you because it will take hours to produce the finishes. But you only need about 7 minutes to prepare, and you can turn to other dishes. Let the crockpot work its magic.
Total times: 3 hours and 35 minutes
A kick of spice can keep your party more enjoyable. Crockpot BBQ grape jelly meatballs are always the belle of the crowd whenever they "hit the stage".
Some people don't like the feeling of mixing raw meat, so they opt for store-bought meatballs. If you are in the same situation, go ahead. In the meantime, choose your sauce wisely so it won't take a toll on your finish. There are significant differences between the sauce varieties.
The star of this dish belongs to the unique combination of grape jelly and BBQ sauce, a mixture of sweet and tangy flavors that you never thought would work well together.
Follow the instructions, and you can make yourself a crockpot BBQ grape jelly meatballs right away!
Total time: 3 hours 10 minutes
When you're out of ideas for appetizers, the crockpot Dr. Pepper meatballs come in as a problem solver. Put all the ingredients in the crockpot and ignore it until the time is right.
Frankly, I don't have high requirements for meat. Opt for beef, pork, or turkey meatballs according to your interests. Although this recipe calls for frozen meatballs, you could make your meatballs and freeze them before using them.
I like that meatballs are portable and can go with various sauces, even the most unexpected. In this case, the surprise elements are BBQ sauce and Dr. Pepper soda. Remember that you cannot switch Dr. Pepper with other colas.
This iconic soda tastes like a regular coke with a tint of cherry, vanilla, or licorice. Dr. Pepper and your favorite tangy and spicy BBQ sauce will boost the meatballs' flavor.
Total time: 1 hour and 20 minutes
Have you ever heard of IKEA Swedish meatballs? Well, be expected because this recipe is multiple times better. This authentic homemade version consists of ground beef and pork, with a hint of nutmeg and cardamom.
The meatballs go best with the Swedish sauce, a creamy gravy from beef broth/stock, sour cream, and lingonberry jelly. You can use red currant jelly or raspberry jam to replace lingonberry ones since the latter is hard to find in the US.
If you tend to make this dish ahead of time, store the meat and sauce separately. Only reheat the balls and sauce together, then add sour cream and jelly before serving.
Total time: 19 minutes
If you are a fan of sweet and sour flavor, let's welcome this meatballs recipe. The delicacy works perfectly as an appetizer or a main dish for your dinner.
The recipe calls for frozen meatballs and pineapple chunks with a simple yet delicious homemade sauce. As for the sauce, mix brown sugar, vinegar, ketchup, and soy sauce, along with pineapple juice, and you're all set.
Don't worry if you are making too much. After the meatballs are cool completely, seal them in airtight containers. They can maintain quality in the fridge for 3 to 4 days and last for about 2 to 3 months in the freezer.
Total time: 30 minutes
I had been craving something with a little more spice, yet a little sweet too. And these orange marmalade meatballs came right in with their sweet and spicy flavor. Truly the best of both worlds.
As you can realize, this recipe needs a kick of spice to keep things interesting. I opt for Sriracha in this case as it has more natural ingredients than other hot sauces. Add this sauce to your spice rack if you haven't already done that.
Furthermore, if you don't have Chinese mustard, you can mix yellow mustard and rice vinegar instead. Also, go for any type of meatballs that you prefer. Ground pork, beef, or chicken will work in this recipe, whether frozen are not.
Total time: 40 minutes
Let's bring more kick to your Taco night with these Taco ranch meatballs. These unique cocktail picks are loaded with flavor from Taco seasonings, ranch dressing, fresh cilantro, and Mexican cheese blend.
The cheese is a Mexican cheese blend with cheddar, Monterey Jack, mozzarella, and Colby. However, follow your cheese choices if the Mexican blend is not your preference.
Like classic Taco meat, its meatball version is also made from essential ingredients, such as ground beef, cheese, ranch, and Taco seasonings. It is important to note that these meatballs are mild, but the Taco ranch dipping sauce you add later will step up its flavor.
Total time: 45 minutes
Crave another Italian-inspired meatball recipe? Look no further than these fuss-free mozzarella stuffed meatballs.
Notably, the color combination of this delicacy is suitable for festive days, featuring green, red, and yellow brown. Its presence on the party table will clearly show the theme and personality of the host.
In truth, arranging the "marriage" of mozzarella stuffed meatballs and Italian flavor is not the most straightforward job. But I'm sure all the efforts are worth it. In a pinch, choose store-bought marinara instead of homemade to cut short the process.
Be prepared because you will meet a wide range of Italian flavors, from grated parmesan, Italian seasonings, and oregano to red pepper flakes.
Total time: 45 minutes
Greek meatballs, or Keftedes, are a popular starter dish in Greece. Keftedes are excellent by themselves but also go well with tzatziki sauce, pita bread, or Greek salads.
What makes them and the old-school meatballs different? The key lies in the ingredients. The regular meatballs are made from ground meat, and their seasonings vary from Italian-style herbs to Asian-inspired flavors.
In contrast, the ones from Greece combine ground beef and pork with Mediterranean spices, such as oregano, parsley, feta, and mint. Fresh is the best, but dried herbs can do well with this delicacy.
It is not hard to make perfect Greek meatballs. You only need to toss all the ingredients into a bowl and mix them. Shape them into bite-size balls. Then cover them with a layer of the baking sheet, and place them in the oven at 400F for 25 to 30 minutes.
You don't want to miss this mouth-watering Greek meatballs recipe.
Total time: 40 minutes
There are two ways to make this appetizer. If you opt to cook directly (of course, this way is faster), you can bake the frozen meatballs and boil the sauce mixture simultaneously. Then simmer the meat in the sauce for 10 to 15 minutes.
Another way is to make this delicacy in the slow cooker. Dump the ready-made frozen meatballs into the crockpot and pour the sauce over them. Let it cook for 2 to 3 hours at low heat. Follow whatever method suits you best.
Additionally, a touch of sesame seeds and fresh parsley will make your dish stand out. At the same time, you can also add these meatballs to your dinner menu t by serving them with rice or broccoli.
Total time: 2 hours and 5 minutes
Add a little fun to your next gatherings with these slow cooker raspberry balsamic meatballs. Think about it, raspberry preserves, balsamic vinegar, Worcestershire sauce, and seasonings. Undeniably, this combination is indeed mouth-wateringly delicious.
This recipe is an inspiration from the classic grape jelly meatballs. While the original is sweet, this new version has a more diverse range of flavors thanks to the balsamic vinegar and Worcestershire sauce.
The last thing about this delicacy is that you should serve the meatballs in the slow cooker to keep them warm. Place some toothpicks alongside the dish for the guest to pick, and you're ready to go.
Total time: 35 minutes
Honey balsamic Italian chicken meatball kabobs meet all standard appetizer requirements: Easy-to-make, delicious, and colorful! I would bring up this recipe whenever the holiday season is around the corner.
Hold yourself together in front of those golden brown meatballs with fresh mozzarella and tomatoes. These sticks are too irresistible, let alone the sweet and sour sauce on the side. It uses tomato sauce, balsamic vinegar, and honey.
Moreover, eggs and bread crumbs glue the mince together, so your meatballs won't fall apart. And those beautifully baked meatballs only take 15 minutes. You can have them under the broiler for an additional 3 minutes to get an extra crust.
Total time: 30 minutes
These Chimichurri whole30 meatballs stand out with their eye-catching green sauce. And I'm sure their taste is not inferior compared to others. To make the famous sauce, combine all the ingredients in the food processor and blend until the mixture is smooth.
If Swiss chard is in the season, why not take advantage of it to add more variety to your delicacy? It will bring some freshness and summer feelings to your recipe with garlic and herbs, forming an excellent base for your meatballs.
Total time: 1 hour and 15 minutes
Welcome a new era of cheeseburger meatballs in a blanket! Your guest will love this further improvement when it appears on the table with Big Mac-type dipping sauce.
Regarding the sauce, you can make this dipping with only four ingredients: mayonnaise, ketchup, dill pickle relish, and mustard.
Mix all the ingredients until they are evenly combined, then transfer the mixture to a smaller, clean bowl. Add a little relish in the middle for garnish.
Serve the dish according to your liking. But if you need a recommendation, serve the ring on the platter with the dipping sauce bowl in the middle. For more convenience, use the spatula to avoid breaking the ring. Enjoy your meal while it's hot!
Total time: 45 minutes
As a host, you would want your appetizer to be inexpensive, low-stress, and delicious. Fortunately, the chicken cordon bleu meatballs recipe meets all three. Time to get the party started!
It would be remiss not to mention the creamy Dijon sauce. This sauce adds a new dimension of flavor to the meatballs.
Of course, they are fun appetizers, but you could also enjoy this delicacy as a main dish with rice and noodles.
Total time: 4 hours and 5 minutes
Here is another cocktail party appetizer recipe that will capture your guests' hearts: Sweet and sour slow cooker meatballs.
Usually, I'd prefer fresh ingredients since frozen foods have somewhat degraded in quality after defrosting. But frozen meatballs, in this case, are the exception as they will cut short a lot of time.
To make the famous glaze, stir cranberry sauce, dipping sauce, dried cranberries, and balsamic vinegar until they blend well. Cranberries bring out the unique tartness of the dish.
All you have left to do is cover the balls with this sauce, set the crockpot on low heat, and the slow cooker will do the rest. With just five ingredients and a slow cooker, you will end up with amazingly saucy meatballs that deserve more than one thumbs up.
Making cranberry meatballs in the slow cooker is never this easy. Check out now!
Have You Got Your Favorite Meatball Dish Yet?
What do you think about these ideas for meatball appetizers? Party food will never be the same when you bite one of these flavorful cocktail sticks. These golden brown balls are phenomenal and a test for your patience and restraint.
Do you have a family favorite meatball recipe? If you have tried one of these recipes above, please return and tell me your experience in the comments. Also, please share this article on your social media if you think my recipes are problem solvers for your party. Thank you!