This post contains all the best matcha desserts, so linger around to see how to utilize this special drink from Japan. Apart from the famous matcha lattes, matcha powder will surprise you with how versatile it can be when making sweet treats.
Matcha powder is Japanese finely ground green tea powder that has an emerald color. Its flavor is vegetal, earthy, and bitter with a sweet and umami aftertaste. Because of these characteristics, matcha is usually favored in making desserts.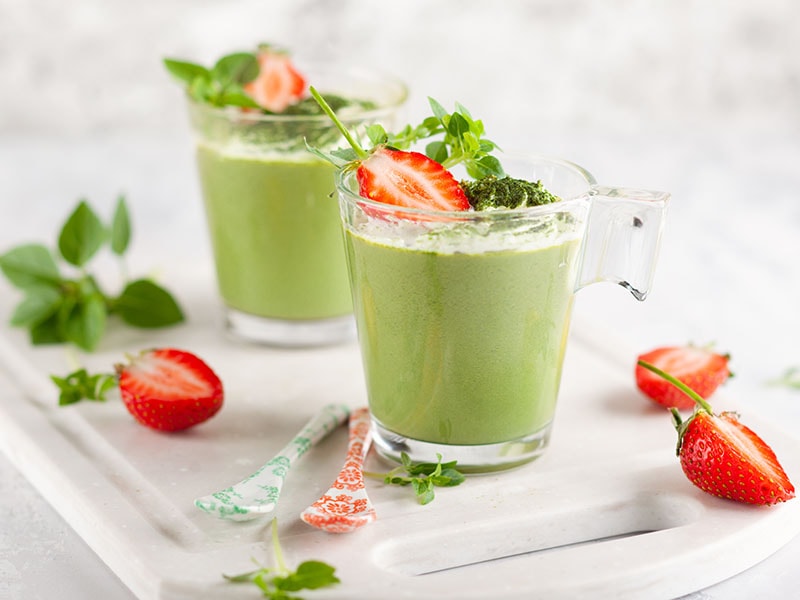 You Will Fall In love With These Matcha Desserts
Without a doubt, there are so many desserts that can pair perfectly with matcha powder that you can choose to serve your family. And the best thing is that they are savory, beautiful and don't take much of your time to prepare.
Total time: 4 hours 40 minutes (including 4 hours of chilling time)
Cheesecake is the all-time favorite of many people with a sweet tooth, and I am sure that this no-bake matcha cheesecake is going to please their palate. With the Oreo crust as the base comes the matcha filling and some whipped cream on top; it is a magical Oreo dessert.
They also come in a mini size that is perfect for serving as finger food too. What makes this dessert special is that there is no baking involved, so it takes no time to prepare these tiny treats. What's more, you can pre-make them and store them in a fridge or freezer for later.
The creaminess of matcha filling and crunchiness of Oreo complement each other so well. Also, its light bitterness balances the sweetness of Oreo crust and the whipped cream. You can also feel a hint of tangy flavor from Greek yogurt.
Total time: 4 hours 33 minutes (including 4 hours of chilling time)
This matcha strawberry cream bar recipe is an extraordinary combination of matcha shortbread base with a layer of strawberry panna cotta on top. These bars have a very impressive visual with pastel green and pink colors that create a vibrant feeling.
This dessert is straightforward. You can easily pull off its matcha shortbread and strawberry frosting. Both ingredients complement each other nicely; the matcha base is buttery and packed with matcha flavor, while the soft cream has that sweet-n-sour touch.
To produce the perfect layering effect, you must avoid pouring the strawberry panna cotta over the shortbread while they are still hot to prevent them from blending with each other. Once the shortbread cools down, I recommend chilling it in the fridge while making the cream.
Total time: 30 minutes
The next entry that I want to introduce is heavily influenced by Asian cuisine. This unique tofu sweet treat is the combination of Asian matcha powder and tofu with the iconic cheesecake of the West. This cheesecake will surprise you with its texture and flavors.
Tofu is the handy ingredient used in this recipe. It plays the role of the binder that holds together the structure of the cake. Apart from that, it adds a nutty soya flavor to the overall profile of this dessert. You should choose tofu that is not too soft and soggy.
The cheesecake mixture is simple to make with the help of a blender, simply blend everything and remove the air bubbles. Some gelatin powder will support the tofu in retaining the cake's texture. This comforting dessert is perfect for every summer party.
Recreating tasty matcha tofu cheesecake is so simple with this guide.
Total time: 3 hours 55 minutes (including 3 hours of chilling time)
The outer part of this Japanese matcha green tea mille crepe cake might look normal, but once you see the inside, you will be amazed by its complexity. There are dozens of layers of extremely soft green tea crepe cake made to perfection.
Take a spoonful of this crepe cake, and it will instantly melt in your mouth. This is because the crepes are made extremely thin and cooked just right. In addition, a thin layer of chantilly cream is spread in between each layer of crepe, enhancing that smooth feeling.
The crepe alone is already loaded with sweetness and buttery flavor from the pantry ingredients, but the matcha powder provides a nice vegetal, earthy touch to it. Not only does it add flavor, but the chantilly cream also makes the dish more impressive.
Total time: 46 minutes
Who doesn't love matcha cupcakes, especially when they have matcha flavor and are garnished with white chocolate frosting on top? This combination is not only tasty but also visually impressive. Make these in your party, and they will disappear in a blink of an eye.
If you are a fan of matcha latte, then these cupcakes are a perfect match for you as they have a similar taste to it. Matcha helps balance all the flavors and adds a grassy, bitter aftertaste to the cake.
You can store these tasty cupcakes in the fridge for up to 4 days and frost them later on in serving. They can stay longer in the freezer if you contain them in a specialized bag or foil.
Total time: 1 hour 15 minutes (including 1 hour of chilling time)
It will be a pity if matcha butter cookies are not mentioned in the list of best matcha desserts. These matcha butter cookies are so easy to make and so astonishing. They are perfect for afternoon snacks or with a cup of tea.
These cookies have that extremely tender texture and are packed with pure grassy, earthy, nutty notes from the matcha powder. After mixing the dough smooth and homogenous, you must let it rest in the fridge for a few hours.
Unlike traditional cookies, these matcha ones do not need to be baked brown on top. Stick to the suggested time and temperature, and the resulting cookies will turn out just fine. You know your cookies are perfect if they have a soft texture and are packed with pure matcha flavor.
Check out this quick and simple tutorial on how to make matcha butter cookies.
Total time: 2 hours (including 30 minutes of cooling time)
Even the pickiest eater will have to agree that this matcha marble pound cake is amazingly delicious. It is an interesting experience sipping a cup of tea or coffee while enjoying a slice of this delicacy as an afternoon snack and chit-chatting with your friends.
This pound cake is loaded with buttery and pure matcha flavor while having a moist, soft texture. The emerald-hued swirls are the highlight of this dessert as they are where the most matcha flavors are found. You can simply create them by mixing the two types of batter.
It will not be a pound cake if there is no crack on the top surface. One of the tricks is to make a shallow cut on top of the cake while it is still in the oven. For the other way, you can add a slice of cold butter on top of it while baking. The result will surprise you.
Total time: 35 minutes
Tart lovers, don't miss out on this yummy buckwheat dish! This vegan pistachio matcha tart is filled with a nutty flavor and a hint of unique green tea taste, not to mention the tangy kick from the kiwi topping.
Once you bite into this delectable pistachio sweet treat, you can immediately taste the nuttiest of the crust and the filling because the crust is mainly made of cashews and buckwheat. That also explains why this buttery tart is full of nutrients.
For the filling, it is a bit more complicated as you have to remove the shell, soak and peel the pistachio in advance so that it is softer. Besides the pistachio and matcha flavors, some notes of cocoa powder mingled with coconut milk and yogurt are also present.
Total time: 50 minutes
The dessert that I am about to recommend will make macaron enthusiasts salivate. Inspired by the renowned French sweet specialty, this matcha macarons recipe consists of a layer of matcha white chocolate ganache placed between macaron shells.
Both the shell and the ganache are full of green tea flavor. However, the shell is a bit sweeter, so it can balance out the slight bitterness of the matcha white chocolate filling. Just one bite, and you can feel that wonderful bittersweet flavor.
The texture of these macarons is a little bit crunchy and chewy. The shell is a crucial component in creating that texture; the batter must be piped on a flat surface to form those perfect circle shapes.
Make the best matcha macarons with this informative and simple recipe.
Total time: 1 hour 10 minutes
In case you have to prepare a delightsome dessert to complete your meal or for snacking, then these chocolate matcha cream tarts are best suited. This delicacy has a vibrantly-colored, herbal-tasting matcha pudding surrounded by a rich chocolatey cookie crust.
What makes this tart distinctive is the crust's taste and texture. It must be filled with a deep dark chocolate flavor along with a crispy, crumbly texture. The bittersweetness of the crust goes hand in hand with the bright, slightly bitter, and mellow taste of the matcha filling.
As this tart is already loaded with tons of flavor, a moderate topping would be an ideal component to round off everything nicely. Some simple vanilla whipped cream is more than enough to garnish this specialty.
Total time: 31 minutes
This matcha green tea molten lava cake is one of many variations of lava cakes. They have a cakey outer layer with a warm, while the inside is full of white chocolate matcha filling. This dessert is super tasty and not as difficult to prepare as you might think.
You can feel the cake melting in your mouth, a sensation accompanied by the richness of the savory filling inside. To achieve such smoothness, you must bake the batter carefully so that the center retains moisture but is not totally in liquid form.
Upon first look, these cakes are not very appealing. But once the filling comes out, the magic starts to happen. These cakes have a complex mouthfeel and a comforting matcha flavor that will please everyone's senses.
This tutorial will help you bring out the best flavor of matcha lava molten cakes.
Total time: 20 minutes
A good meal cannot end without a good dessert. That's why I want to bring in this appetizing pudding-based treat with white chocolate cream and a matcha twist. Its silky texture and mellow, herbal flavor, plus the fluffy garnish, are more than enough to make your mouth water.
It is simple to prepare this sweet treat. For the pudding, you need to mix the matcha powder, gelatin, milk, sugar, and some whipping cream. Make sure to strain the mixture to result in a smooth texture. The whipped cream is ready when you see stiff peaks form in the bowl.
The grassy, bittersweet taste of the pudding is perfectly balanced by the rich, sweet whipped cream. Serve this delight in a small transparent cup that showcases its vibrant light color.
Total time: 5 minutes
Here comes another ideal dessert for hot summer days. This green tea ice cream only requires 4 ingredients and 5 minutes to complete. Preparing this ice cream dish for your family and your children will immediately fall in love with it.
This green tea ice cream recipe is super simple. All you have to do is blend whipping cream, matcha powder, and vanilla extract until they are fluffy, then gently add sweetened condensed milk. The freezer will take good care of the rest.
This green tea ice cream is similar to regular vanilla ice cream, but the key is the green tea notes from the matcha powder. The slight bitterness of matcha will add to the ice cream an aromatic sweet aftertaste.
Here is an easy tutorial on how to make green tea ice cream for your family.
Total time: 5 minutes
Are you short on time but still craving a sweet and delightful treat? Luckily, here is the simplest and time-saving matcha dessert. You can pull it off in no time with your microwave. This delicacy is not overly sweet but enough to satisfy your sweet craving.
To prepare this matcha mug cake, you will need to mix simple pantry ingredients: matcha powder, flour, baking soda, egg, sweetener, and coconut oil. Then, bake the mixture for a few minutes; the result is a dark green, beautifully puffed-up cake.
Besides its simplicity, this tasty microwave dessert is also extremely healthy and good enough for various diets, like Paleo, gluten-free, and keto. You will never have enough of its soft fluffy texture, moderate sweetness, and matcha scent.
Total time: 30 minutes
This strawberry matcha roll cake is the magical fusion of green tea sponge cake and refreshing strawberry whipped cream. This recipe is a must-make for those with a liking for roll cakes. It is super delicious and is a delightsome strawberry dessert for spring parties.
The most interesting thing about this recipe is how to form the roll cake. You will need a sugar-dusted towel, in which you will roll the cake up and let it chill. Doing so prevents the cake from cracking when filled with whipped cream.
This cake's appearance is tempting with the green cake filled with white whipped cream in the middle, plus the red hue of fresh strawberries. The bitter earthy taste of matcha powder complements the sweet and tangy filling marvelously.
Total time: 5 hours (including 4 hours of chilling time)
The matcha tiramisu is one of the variations of the iconic treat of Italian cooking, made more delicious by the famous Japanese ingredient. This matcha tiramisu is loved for its fragrant, bitter, and umami-flavored aftertaste.
The making of matcha tiramisu is quite similar to the original ones. The layers of savoiardi ladyfingers are soaked in mascarpone filling. For this specific recipe, if you are not a big fan of creaminess, go for 2 layers of ladyfingers since there is nothing wrong with extra crunchiness.
This matcha tiramisu is incredibly rich, creamy, and sweetly sugared on top. But what sets this dish apart is the explosion of matcha flavor. Marsala liquor also bestows a distinct flavor on this version of tiramisu.
Matcha tiramisu is a delicious and easy-to-make dish for a family dessert.
Total time: 1 hour
When it comes to using matcha for dessert, the possibilities for creativity seem to be limitless. This baked matcha glazed doughnuts recipe is an example of how matcha powder can be used to renew classic dishes.
From the doughnuts to the topping glaze, it is all about matcha. The presentation of this dessert is appealing with the tempting green tea color. The appearance also reflects their flavors, which are packed with umami, bitter, and sweet matcha tastes.
Instead of frying, these doughnuts are baked, so it is better for your health and produces no greasy feeling. Once they have cooled, dip the doughnuts in the glaze and put them back on the rack to wait for the glaze to dry.
Total time: 6 hours 10 minutes (including 6 hours of chilling time)
Nothing better than savoring a popsicle on a hot summer day. When you are too familiar with regular orange or strawberry popsicles, why don't you give this matcha popsicles recipe a chance? Try this perfect blend of coconut milk and rich matcha ice cream.
Matcha powder, agave nectar, hot water, coconut milk, and oat milk are all it takes to make this summer dessert. Mix ingredients and pour the mixture into the popsicle molds. After 30 minutes of freezing, you can put the popsicle sticks in the molds so they can stand straight.
Once taken out of the molds, the popsicles will have a bright matcha color. Apart from that, the sweet, floral, nutty taste of coconut milk pairs flawlessly with the grassy and umami notes of matcha powder.
Total time: 1 hour
Matcha cream puffs or choux au craquelin is a fusion of the famous French dessert and Japanese well-known matcha powder. Creamy matcha filling is stuffed in crispy, sweet choux puffs and covered with craquelin – a thin, cookie-like dough.
With just one bite into these crispy puffs, you will instantly feel the flow of buttery sweetness of matcha cream. There are 3 steps involved in the making of this dessert: making the choux pastry, the craquelin shell, and the matcha cream.
That may sound like a lot of work, but the results will be worth the effort you put in. You must poke some holes in the choux puffs after baking so that steam can escape.
Total time: 4 hours 15 minutes (including 4 hours of chilling time)
The panna cotta is the ultimate iconic dessert that is favored by people of ages around the world. However, this panna cotta recipe is special because it boasts a Japanese twist from matcha powder. This is a perfect dessert to round off a meal or for sweet snacks.
The process of preparing this matcha panna cotta involves boiling cream with gelatin and matcha powder to thicken it and give it a jelly-like texture. To avoid lumps in the texture, you need to sift the matcha powder and blend it thoroughly with warm milk.
In contrast to the traditional panna cotta recipe, this one does not require any fruit compote as the matcha flavor alone is more than enough. The main star of the dessert, matcha powder, provides all the grassy, bitter, sweet taste to the profile.
With this guide, you will be able to make matcha panna cotta without breaking a sweat.
Total time: 1 hour
You can say this matcha layer cake is the green version of red velvet cake by the way it looks. However, their tastes are different. This matcha layer cake with white chocolate cream is a perfect dessert for large parties or family gatherings.
No one can resist the charm of creamy and fluffy matcha cake. This specialty consists of a matcha cake base and is covered in creamy white chocolate frosting. In addition to its marvelous presentation when served in slices, the flavor of this cake is also top-notch.
The secret to this delicacy is the couverture white chocolate which is less sweet and easier to process compared to regular white chocolate. The creaminess and sweetness of the frosting also bring this fragrant matcha cake to a new level.
Total time: 25 minutes
Suppose that you are a big fan of pancakes, don't hesitate to try this matcha green tea pancake recipe. It may not win the prize for the best-looking dessert, but its flavor is on another level compared to regular pancakes.
The ingredients used in this recipe are quite similar to normal pancake ones. However, some tablespoons of matcha powder are what make these pancakes different. The matcha powder adds a slightly bitter taste with sweet and an umami aftertaste.
You can top it with anything according to your reference, but Greek yogurt, fresh berries, or maple syrup are recommended. This treat is perfect for breakfast or afternoon snacks as it provides so many calories to your body.
Matcha Desserts Give You That Comforting Feeling That Few Other Dishes Can Bring
Just like the appetizer, dessert is essential in every meal because it provides the body with sugar and gives consumers a pleasant, comforting feeling. That is just what matcha dessert is all about, perfectly balanced between sweetness and pleasing umami taste.
Cookies, pudding, panna cotta, tiramisu, you name it. There are so many options for a delicious green tea dessert. With this list of delightful 22 desserts, I think you are ready to pick one and get things going.
What is your favorite matcha dessert? Please leave a like and comment down below on what you think about these desserts. What motivates me to continue writing high-quality culinary posts is your love and support. Many thanks!
Nutrition Facts
10 servings per container
---
Amount Per ServingCalories135
% Daily Value *
Total Fat 9.1g

14

%
Sodium 7mg

1

%
Potassium 106mg

4

%
Total Carbohydrate 10.8g

4

%

Dietary Fiber 3.1g

13

%
Sugars 9.9g

Protein 0.9g

2

%
---
* The % Daily Value tells you how much a nutrient in a serving of food contributes to a daily diet. 2,000 calories a day is used for general nutrition advice.