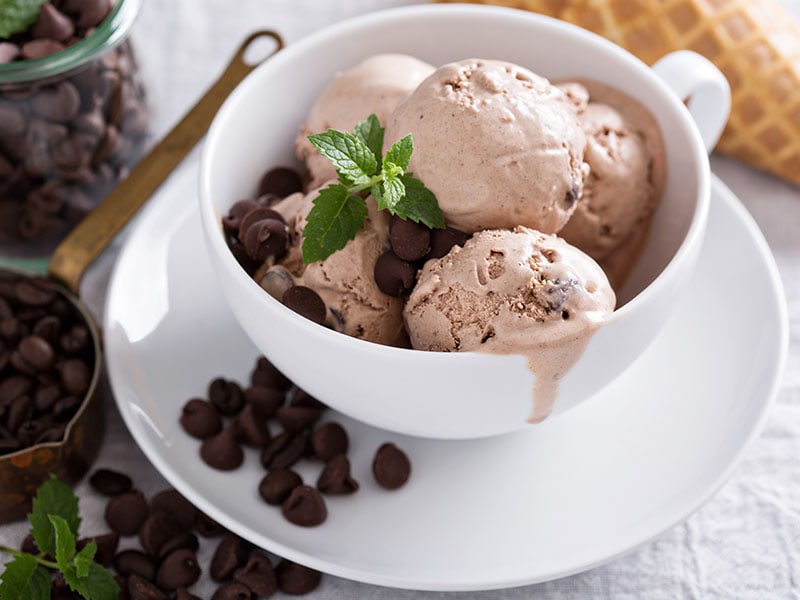 Intro: It might take a lot of time to think about which mascarpone desserts are the best to start making those types of sweet treats in your kitchen. However, it will be much easier now that you have my list.
With this article, you can find almost everything you wish for, from the easiest to a bit harder recipes for desserts with mascarpone. You can make your own choice, but trust me, the outcome would be 100% tasty and appealing no matter what you prefer.
Keep These Mascarpone Desserts On Repeat From Now On
Mascarpone cheese is an Italian cheese featuring a smooth, soft, and spreadable texture. Compared to cream cheese, this ingredient is richer and creamier. Take a look at the mascarpone-based ideas below to diversify your dessert menu.
Total time: 1 hour 11 minutes.
Let's start today's list with a simple yet iconic layer cake. A variety of fresh berries is used as the topping in this recipe, making it the true start.
Since the layer of mascarpone whipped cream frosting offers you the proper amount of tangy yet subtle milky. Pairing it with mixed berries is a significant twist.
Strawberries, raspberries, and blueberries are the most recommended fruits, but you are free to use anything you wish. You will achieve a soft, spongy, and moist texture if you follow the instructions closely.
Once having the first bite of this cake, you can feel the richness and sweetness of the base spread evenly on your tongue. Don't worry if you have some leftover cake; you can store them in the fridge for 2 or 3 days.
Total time: 1 hour.
Let's continue with an apple-based cake made with mascarpone cheese that I'm sure you will fall in love with. To make this delight, you should start making caramelized apple cubes.
While waiting for the caramelization process, you can create the batter with eggs, flour, baking powder, and ground cinnamon. When everything is ready, just pour your apple cubes into the batter and bake your cake.
This finger-licking dessert notices a smooth and light texture. This cake's sweetness and a buttery hint will make you want to stay longer in the kitchen.
The easiest way to help you make apple and mascarpone cake is here.
Total time: 45 minutes.
A tart is a classic; nothing can go wrong when combining mascarpone and other ingredients, such as fresh fruits, to form a delectable fruit tart. This delicacy is a twist on the traditional Italian cheesecake with different layers of toothsome flavor.
As the tart's crust includes loads of flour and olive oil flavors, the whole sweet delight is perfectly balanced with the pronounced gentle citrusy scent and tartness of blueberries and lemon.
A great thing about this tart is that you can make it ahead of time, wait until it is cooled, and serve it as a summer-inspired dessert. Simply drizzle some homemade blueberry sauce on top of it and enjoy.
Total time: 6 hours (including freezing time).
Have you ever thought of combining blueberries with mascarpone cheese in a frozen dessert, like ice cream for example? Like a regular ice cream recipe, this delight needs a base made of whole milk, sugar, and egg yolks.
It's a must to mention mascarpone cheese in this recipe since this ingredient plays a vital role in enhancing the milkiness and the mild sweetness of your ice cream. As its name suggests, blueberries will act as a primary ingredient for the filling.
This fruit not only adds a pop of color to your dessert but also lends your delight a sweet taste with a bit of acid touch. Don't hesitate to give your dish a crunch with your favorite cookies or crackers at the last minute.
Total time: 1 hour 15 minutes.
If you are keen on chocolate, don't miss these chocolate mascarpone brownies because they will delight your taste magnificently. Adorned with a signature chocolate color, these brownies are rich, dense, and bursting with flavors.
The creaminess and sweetness of butter blended well with the nutty flavor of mascarpone cheese yields a fantastic sensation. To get a perfectly smooth texture, make sure that chocolate is melted and incorporate it well with butter before adding other ingredients.
I'm sure that you won't want to skip the ganache frosting for your brownies, right? Just combine chocolate, butter, and whipped cream and boil at medium heat for a few seconds, and you will have a perfect topping.
Total time: 50 minutes.
Instead of using fresh fruits (strawberries for more particular) in other parfait recipes, this delicacy will significantly change when roasting strawberries before making the filling. Your fruits get a heightened sweetness with a rich flavor after roasting.
When roasted strawberries are ready, you can puree them in a blender. Making the filling with mascarpone, heavy whipped cream, pureed strawberries, and lemon juice is the next step you need to complete.
The final step is to assemble all the layers for your parfait and enjoy it. The crunchiness of shortbread cookies blended perfectly with the creaminess of the mousse filling, making this dessert an outstanding sight at your party.
You will have more motivation to make strawberry mascarpone mousse parfait after following this guide.
Total time: 1 hour 30 minutes.
When you are bored of ordinary cream cakes due to their heavy feeling, give these fresh fruit tarts a chance to refresh your taste on a summer day. The beauty of these tarts will win a big score with you at first glance.
Once biting, you can sense the fluffiness of this delight with the buttery fragrance. Besides, it has various berries (blueberries, blackberries, and fresh cherries) that live up to the refreshment of this delight.
A fruit glaze is optional; however, if you prefer a classic glossy appearance, spend a few seconds preparing it. The longer you keep these tarts in the fridge, the softer their crust will be. Therefore, I advise you to use them within five days for the best experience.
Total time: 15 minutes (plus 4 hours of cooling time).
Use black currants to make a fun twist for your mascarpone ice cream, and I'm sure you will regret not doing this sooner. The exciting thing is that this delicacy only requires four ingredients.
This recipe begins with mixing mascarpone cheese, black currants (fresh ones for the best result), and powdered sugar. Next, add whipped cream to the combination. When everything forms a smooth and creamy consistency, refrigerate your ice cream.
While mascarpone and cream cheese give your dessert a creamy texture, fresh black currants will be the flavor booster in this delicacy, resulting in a fruity dish. Fresh berries or red currants are ideal replacements for black currants when you don't have this ingredient on hand.
Total time: 25 minutes.
Appearing with many vibrant layers, this strawberry and peach mascarpone trifle is worth being present at your next party. As its name suggests, strawberries, peaches, and mascarpone cheese are must-have components in this recipe.
First, you need to slice pound cakes, strawberries, and peaches into a uniform shape. After that, create a mixture with whipped cream, vanilla extract, and mascarpone as a creamy layer for your trifle.
The final step is to assemble all the prepared ingredients and refrigerate your delight until serving. Creaminess, crunchiness, and beauty are some qualities that this palatable treat possesses.
Total time: 34 minutes.
How can a dessert list be complete without mentioning cookies, right? Trust me; the entire batch of these cookies will disappear in just 10 minutes after finishing.
While mascarpone cheese and powdered sugar impart your treat a sweet taste, lemon zest will balance your baked goods' flavor with a hint of tanginess, making them more addictive than ever.
Keep in mind that you should bake your cookies at 325 degrees F for about 12 to 14 minutes for a light and cake-like texture. Believe me or not, these cookies are just crazy delicious.
Total time: 1 hour 15 minutes.
It seems like sweet treats from mascarpone go perfectly with berries or fresh fruits, right? This mascarpone raspberry lemon loaf is the thing that you should consider if you are in the mood for something rich and dense or a balance of sweet and sour.
Moreover, this dessert is much easier to accomplish than the previous cakes. It's thanks to the base for this delicacy requires only basic ingredients, and you don't need to have qualified skills to make it fluffy and spongy.
Every time you want to eat this lovely treat, serve it with its best accompaniment: lemon glaze. Just combine lemon juice, lemon zest, and powdered sugar; everything is perfect. The flavor of this combination will amaze you.
Total time: 50 minutes (plus 1 hour 30 minutes of resting time).
Each portion of this strawberry mascarpone tart will feature the crust's crunchiness and the filling's creaminess, making it an outstanding factor in your meals. Preparing this tart crust can be effortless if you are familiar with making baked goods.
Let's start making the dough by combining flour, butter, powdered sugar, and salt. The next step is to shape your dough and complete some small steps to make your crust suitable for a tart. After baking, your crust will have a characteristic golden brown color.
Make the filling for your tarts with mascarpone cheese, vanilla extract, and other things. All remains are to spread the filling over the crust and top with fresh strawberries. About 30 minutes in the fridge before serving will help your tart form the texture better.
This guide will give you a hand if you want to make strawberry mascarpone tart at home.
Total time: 4 hours 30 minutes.
If a summer pie's flavor has made you sick of it, how about trying a honey mascarpone tart for a better experience? When biting, you will sense the crunchy exterior with the creaminess and tenderness of the filling inside.
A touch of honey gives this dessert a sweet taste. Moreover, the addition of figs will make this sweetness stronger than ever. You can also use peaches, cherries, or berries instead of this fruit for a new taste.
However, don't replace mascarpone cheese, as it works perfectly with honey. This honey mascarpone tart, without a doubt, is a perfect dessert you should try.
Total time: 40 minutes.
What could attract your kids more than the beauty and fun of these mascarpone crinkle cookies? These cookies are not only very straightforward to make but also require some easily accessible components.
Cake mix, mascarpone cheese, eggs, and powdered sugar are all you need in this recipe. Adding jimmies is optional because they will add a splash of color to your baked goods, making them an unbelievable treat.
The combination of mascarpone with sugar gives these cookies a perfect level of sweetness. A cup of coffee or tea will bring this delicacy to a higher level.
Total time: 20 minutes.
Nothing is better than enjoying a jar of parfait during the holiday season to refresh your taste. And apple cinnamon mascarpone parfait is here to solve your problems.
It's not exaggerating to say that this parfait is an explosion of flavor. You can taste the creaminess of butter and mascarpone and the sweetness of cinnamon in each bite of this dessert.
If you don't like the alcoholic flavor of Calvados (a type of brandy from France), you can use apple juice as a replacement since their taste is almost the same. Feel free to add raisins or cranberries to the filling if they are your favorites.
Total time: 15 minutes.
Have you ever heard about tiramisu? This is a coffee-based Italian dessert loved by a lot of people in the world. Traditional tiramisu will include eggs; however, this ingredient will be omitted in today's recipe for a new twist.
The inclusion of Baileys gives this dessert a sweet and milky flavor with notes of chocolate. If you don't have Baileys available, you can substitute marsala, dark rum, or brandy for this ingredient.
Although it's good to replace mascarpone cheese with other cheeses in other delicacies, I don't encourage you to do the same in this situation. If you are planning for a summer picnic or gathering, don't ignore this treat since it will impress your friends.
Let's learn how to make a Bailey tiramisu trifle cup right now!
Total time: 1 hour 5 minutes.
Another tart for you to refer to is this passion fruit tart served with some whipped honey mascarpone. I'm sure the refreshing tart taste of passion fruit and the sweetness of honey and mascarpone will leave you with an unforgettable experience.
Compared to strawberry mascarpone tart, this treat is also smaller in size, so you won't have to worry much about the greasy feeling when eating a lot. Remember to never skip the freezing step to let the tart shell firmer before baking.
On the other hand, it's a great idea to bake some spare mini tart shells for this recipe in advance and freeze them for two months at most. This will allow you to enjoy a mascarpone-based treat in a snap whenever you want.
Total time: 1 hour 10 minutes (plus 5 hours of cooling time).
The next idea I would like to introduce to you in this list is another perfect combination of lemon and mascarpone cheese. If you ask me to describe this cream pie, "fabulous" might be the exact word.
This delicacy possesses a smooth, light, and creamy consistency. The texture of this cream pie is more addictive when adding a nice and thick crust made from graham cracker crumbs.
This crust requires no more than 10 minutes to bake for a firm texture. However, if you are not in the mood for baking, just ignore this step. Lemon gives your dessert a mildly acidic flavor that prevents you from getting tired of an overly sweet cake.
Total time: 45 minutes.
Wonder which cookies to make with your mascarpone cheese and your loved sweet treat, chocolate? This chocolate chip mascarpone cookie recipe might be your solution. Rich, dense, and incredibly delicious, these sweet treats will be a big hit.
This delight begins with combining all the ingredients, including mascarpone cheese, ricotta cheese, chocolate chips, and almonds until they are well incorporated. Bake your cookies until they turn slightly golden at the edges.
Remember that your cookies need approximately 20 minutes to cool before you can dip them into melted chocolate. These chocolaty treats are perfect for being a gift on Valentine's Day. You can also preserve them in the freezer for up to 2 to 3 months.
Total time: 20 minutes (plus 3 hours of freezing time).
Have no time or appliance for baking? This no-bake mascarpone cheesecake is made for you. Although you might need to wait a long time for every component to settle and cool down inside the fridge, the result pays off, and you can save it for a few days later.
About the cake base, utilizing almond biscotti is the best as I love how the nuttiness of this ingredient works with other tastes. Trust me, the combination of a milky cheese layer with a thin layer of cherry jam is so great.
Remember that you shouldn't substitute cream cheese for mascarpone cheese in this case. This replacement can negatively affect your cake's texture.
Since this cheesecake is entirely vegetarian-friendly, you can serve it for any party with your friends without worrying too much about their diet.
There is no reason to ignore this no-bake mascarpone cheesecake tutorial, right?
Total time: 55 minutes.
If you are interested in Italian cuisine, Ciambella is not a strange concept for you. It is a traditional ring-shaped cake from Italy that is often used for breakfast. However, many variations of Ciambella make it suitable for dessert too.
Orange mascarpone Ciambella is a typical example of my words. With a light, fluffy, and tender texture, each portion of this cake gives out a subtle flavor. Therefore, if you don't prefer something too sweet, go for Ciambella.
As suggested by its name, orange and mascarpone play a role as the main flavor booster in this delight. Orange mascarpone Ciambella is an excellent make-ahead recipe; you can store it in the fridge for one week before serving.
Total time: 1 hour 35 minutes (plus 2 hours of cooling time).
If most of the dessert ideas above take you on a spring and summer journey, let mascarpone apple crumble Torta please your taste buds during fall and winter. A cup of coffee or tea on the side will enhance your experience.
To make this sweet treat, you need to prepare the dough first. Just combine almond flour, cinnamon, baking powder, and butter appropriately until you get a loose and crumbly texture.
After baking your crumble crust, you can make the filling with mascarpone cheese, cream cheese, and other things. The next step is to pour your filling into the crust and bake until your cake turns golden brown.
Never forget to sprinkle a little bit of powdered sugar on top of your cake before serving to make your cake more visually enticing and appealing.
Total time: 55 minutes.
If you love the pink color, this strawberry basil mascarpone mousse will steal your heart at first sight. Strawberries, basil leaves, mascarpone cheese, and whipped cream cheese are must-have components in this dessert.
First, you need to cook a mixture of strawberries, can juice, and basil until your berries are very tender. After that, you can puree the mix and strain it through a sieve to remove all the unexpected bits.
After allowing strawberry puree to chill, add the remaining ingredients one at a time to the mixture. Remember that when everything is well done, keep your mousse chilled until it is entirely set and ready to serve.
Total time: 10 minutes.
If you are a chocolate fanatic, this chocolate mascarpone buttercream will be your next favorite. Coming out with a characteristic chocolate color, this delicacy has an intense yet not too sweet flavor.
This recipe includes Dutch process cocoa for a very dark appearance of your cake. Remember to use a small amount of black cocoa if you don't want it to overpower the cake's robust chocolate flavor.
With a smooth and rich texture, this chocolate mascarpone buttercream is good to spread on various cakes to keep your taste buds happier. Black cocoa cakes or black cocoa cupcakes are the most highly recommended pairing options.
Total time: 1 hour 2 minutes.
If you don't have enough time to prepare different cake layers, you can try this mascarpone mixed berry cake recipe instead. For the base of this delicacy, you need to mix flour, mascarpone, eggs, and some orange extract well before layering some berries on top.
The addition of berries gives this dessert a nice freshness. Feel free to choose any types of berries you have in the fridge. If you want to replace fresh berries with frozen ones, you should notice that frozen products release more juice.
Therefore, adding more flour is a must to receive a perfectly moist and fluffy texture. This sweet treat is an ideal dessert to pair with ice cream. Moreover, you can serve it as a breakfast to start a day full of energy.
The flavor of this mascarpone mixed berry cake will please your taste. The instructions to make it are here.
Total time: 20 minutes.
Another no-bake dessert yet tasty and easy to prepare you shouldn't miss in this list is coconut mascarpone mousse. A touch of coconut milk makes an exciting twist on traditional mousse.
The milkiness of coconut milk combined with the creaminess of mascarpone cheese and heavy cream yields a delicious dessert for summer days. To make this delight, you need to create the thick whipped cream first.
Next up is to add a mixture of coconut milk, mascarpone cheese, and coconut extract to the prepared whipped cream. All remains are to assemble your mousse and serve. Coconut rum is optional, but If you love a tropical vibe, don't ignore it in this mousse.
Total time: 35 minutes (plus 6 hours of freezing time).
What could be more delicious than enjoying a mascarpone ice cream with soft peaches and nutty cereals? You can prepare ice cream a day before because this delicacy will require some hours in the freezer.
While mascarpone ice cream features a signature vanilla flavor with a slight sweetness from mascarpone and breakfast granola will balance the texture of your treat with a crunchy bite, making this summer dessert more irresistible than ever.
This delight, without a doubt, can't get the best result without the inclusion of gooey roasted peaches. This step only takes a few minutes, but the caramelized effect it can give your ice cream will satisfy you.
What Can Be Better Than A Piece Of Good Mascarpone Desserts?
Having a hard time thinking of what to serve at any dessert time? You can now totally consider making these mouthwatering ideas at home. I promise there will be nothing less than the best, and your beloved ones will love them a lot.
Let's choose your most preferred recipes, and let me know in the comment box. Don't forget to share this humble article with your family and friends so that it can assist them too. Finally, thank you for your following, and I hope to see you in my next article.