When it comes to a tropical vibe, everyone looks for the best mango recipes. If you do not know how diverse mangoes can be in cooking, this post will give you the answer.
When your fridge and pantry are filled with bright yellow, juicy, plump, and fragrant mangoes, it's time to start treating your family or friends to toothsome recipes made from this tropical fruit.
You will be surprised that this article includes everything: appetizers like salads, main courses, such as curry, and even desserts like puddings or pies. I guarantee you will find your favorite mango recipes in this collection.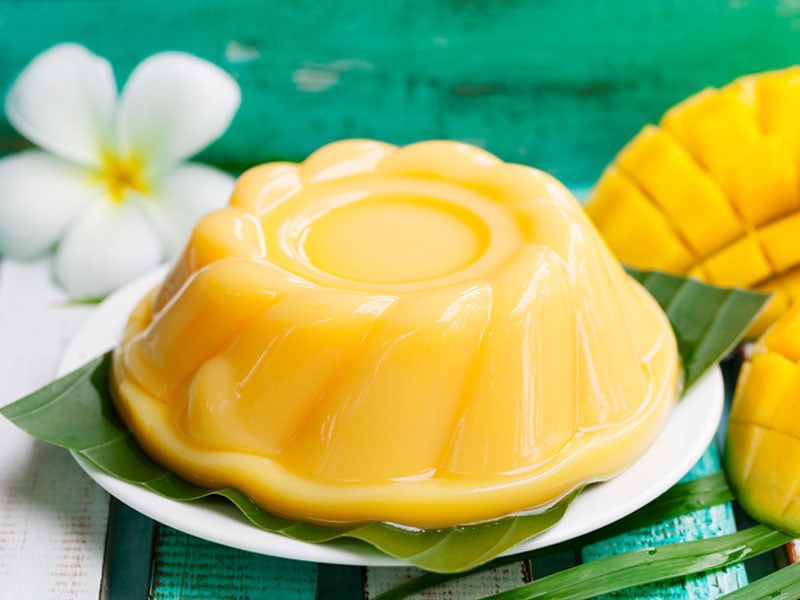 Ideal Mango Recipes That Are Worth A Try
Summer is the season of mangoes as well as delicious recipes with them. It will be a pity if you do not immediately make some tasty dishes from this fruit. Refer to the recipes below and take advantage of the ripe, succulent mangoes.
Total Time: 20 minutes
No one can deny the taste of mango when combined with coconut. This creamy mango shake recipe will charm you with a nice balance of sweetness and sourness.
The taste of coconut milk is rich, creamy, and full of vegan fattiness. It is pretty similar to cow's milk, so you can replace it with regular cow's milk, though almond milk or cashew milk also works for a milder flavor.
However, the tropical flavor is only emphasized with coconut milk, so it is still the best choice for this mango shake. When it comes to garnishing this dish, bite-sized frozen mango chunks, desiccated coconut, mango puree, and almond flakes are the top considerations.
You can customize your mango shake in two healthy ways with this guide.
Total Time: 5 minutes
Overnight oats are a popular breakfast or brunch these days because they are light, ready to eat, and packed with nutrients. However, it is boring to keep eating the same dish.
So, when you add a novelty note like the tropical taste of mango, this dish becomes more refreshing and worth trying. With some yogurt, the texture of oats will turn creamier and thicker.
Plus, mango has a sweet taste, making refined sugar unnecessary. Even so, you can use a little maple syrup. It is a vegan natural sweetener and good at balancing the taste.
Total Time: 50 minutes
The mango sago recipe is a dish that makes everyone have to wow with its alluring beauty. Mango sago, also known as mango tapioca pearls pudding, is a famous dessert from Hong Kong that many want to try.
Its standard ingredients usually include cubed mango, sago, grapefruit, milk, and coconut milk. There are other regional variations, and this recipe is an example. It has a bit of an Indian style.
You can use many types of milk, but if you like sweetness, condensed milk is the most suitable one. The trick to cooking sago is to put them in a pot with about 3 cups of water and cook for 15 minutes until it's clear.
In order for the sagos not to become mushy, they should only be 95% ripe and still have very few white dots inside. Then immediately turn off the stove and keep the lid on for 10 minutes.
With this cooking tutorial, you can easily make genuine mango sago.
Total Time: 20 minutes
The dish that I always want to make as soon as possible is mango pudding. Many types of puddings are generally considered too sweet and packed with refined sugar, but here is an exception. This fluffy, creamy, and vegan treat is only moderately sweet.
In this version, instead of gelatin, you can substitute it with agar-agar powder. Gelatin usually comes from animal collagen while agar-agar is derived from red algae plants and is consequently suitable for a vegetarian diet.
Total Time: 2 hours 25 minutes (including 2 hours of soaking rice)
This simple sticky rice recipe with mangoes comes from Thailand – a country famous for its rich tropical cuisine. You just need to pick a ripe, fleshy, and sweet mango without brown spots. In addition, sticky rice, coconut milk, and mung beans are also indispensable.
Usually, people enhance the aroma of sticky rice by adding a pandan leaf to the coconut milk mixture. The sweet taste of mango and the richness of the coconut milk sauce on top of chewy rice is a heavenly pairment.
Total time: 10 minutes
Salsa is a well-known sauce in Mexican dishes. People often use tomatoes, peppers, onions, and some spices to make this dish.
However, this mango salsa recipe has a twist. Instead of a tomato base, it focuses on using mango. Simply mix together the main ingredients, like red peppers, red onions, jalapenos, and diced mangoes.
Then, add brightness with lime juice, herbs, and salt. Before enjoying this wonderful salsa, you should prepare a plate of tacos, tortilla chips, or burritos on the side for an excellent snack.
Total time: 23 minutes
When you get your hands on a lot of unripe mangoes, do not forget to pair them with sambal. It is a spicy Southeast Asian condiment typically made with chili peppers with garlic, lime juice, shrimp paste, etc.
The combo is extremely flavorful and will make your taste buds feel more lively than ever, thanks to the nice contrast between tart mangoes and the tongue-burning heat from the sauce. You can also enjoy mango sambal with steamed rice or BBQ meat.
Every bite of grilled chicken, beef, or sausage drenched in this fruity, spicy, and cold sauce is perfect. The original recipe is quite spicy, so if you want to make a lighter version, consider using jalapenos instead.
If there's still leftover sauce after the party, you can put it in an airtight container and use it for about 2 days. This flavorsome sauce can be served hot or refrigerated overnight.
Total time: 35 minutes
Instead of buying store-bought jams that may not be to your taste, you can make your own mango jam with just a few ingredients and a time-efficient recipe. Making jam is a fantastic way to keep the characteristic flavor of fresh ripe mangoes.
In addition, it can extend the shelf life up to 1 month. This recipe is also quick to prepare and is suitable to be served with bread or chapati – Indian flatbread at breakfast or snack.
The consistency of this dish is up to you. You can grind it into a fine paste or add diced mango to achieve your desired texture. Lemon juice plays a very important role as it prevents the crystallization of sugar.
In less than a minute, you can master all the steps to make a tasty mango jam thanks to this guide.
Total time: 2 hours 40 minutes
This recipe offers a scrumptious and refreshing dessert so beautiful that it will remind you of the sunset. Mango macarons with a gorgeous golden-orange exterior and a filling loaded with mango jam in the center and mango buttercream around.
The mango-flavored and buttery filling melts as soon as you bite into the crispy and sweet macaron shells. If you don't have time for mango jam, use mango buttercream instead.
You can also puree frozen or dried mangoes and add a few tablespoons to the buttercream. It can elevate the mango taste in each piece.
The shells can last for about 3 months in the fridge (without the filling). The wet mango-based fillings will make this dish soggy and no longer crispy.
Total time: 10 minutes
This tasty 6-ingredient recipe is a crave-worthy treat you have to try. Inspired by a yogurt drink – lassi, it has a few different touches.
Lassi is usually made from a mixture of yogurt, water, and salt. It holds up well against the scorching heat of a summer day, and so does this improved mango lassi recipe.
Starting with the mango for the base, you add the yogurt, mango pulp, ice, and milk to the food blender until a silky texture is ready. Then, you should enjoy it immediately. Alternatively, store the drink in the refrigerator and use it within 24 hours to fully enjoy its freshness.
On a side note, I recommend using Champagne/ Honey mangoes because they are sweeter and less fibrous.
Total time: 30 minutes
If you're looking for something sweet that can be done without baking, you should try this mango cheesecake. You can make this dish using only a food processor.
For the base layer, you simply grind some Arnott's Marie biscuits and mix them with butter and sugar to create a sticky consistency. Graham crackers or other plain sweet biscuits can also be substituted if you don't have the other available.
This velvety dessert melts like a creamy mousse. For extra colors, you can top it with whipping cream, mango cubes, and passion fruits.
Total time: 30 minutes (plus 9 hours of freezing)
You can cool off the heat of summer with the mango kulfi recipe. Kulfi is a traditional Indian dessert with a strong resemblance to popular ice cream treats that people enjoy worldwide.
However, the recipe I'm about to introduce is even more irresistible, thanks to the use of nuts and tasty mango flesh. Moreover, to further emphasize the flavors of Indian cuisine, cardamom powder also appears in this combination.
Generally, cardamoms have a sophisticated smell with a piney, menthol-like, and sometimes sweet flavor. Its addition to this recipe creates a novelty that no other ice cream has.
With just some basic ingredients and detailed instructions, you can make the best mango kulfi ever.
Total time: 5 hours 15 minutes (including 5 hours of chilling)
This mango pie celebrates the sweetness and tropical flavor of ripe mangoes. This recipe is a heavenly-tasting and custardy dessert made with chocolate crumbs, butter base, and mango cream.
After being kept in the fridge for about 5 hours, it's ready to serve the crowd. Vegetarians can also enjoy this inviting dessert. You just need to replace gelatin with agar-agar powder with a 1:1 formula.
If I were you, I'd garnish the toppings with whipping cream, mango slivers, and some fresh mints to really boost that amazing look.
Total time: 20 minutes
Thai dishes are well-known for their rich and flavorful taste. Sourness and spiciness are the two most prominent points in the meals. You can fully reproduce that feature by preparing this refreshing Thai salad with green mangoes.
The tartness of the lemon enhances the sweetness and warmth of the mangoes. Plus, the spicy taste of the red peppers and the nutty taste of the cashews leave you immersed in countless layers of flavor.
This salad plate is not only mouth-watering but also colorful. All ingredients create a fresh and crispy salad that is most worth experiencing. It's best to use unripe mangoes and take advantage of their acidity.
However, if you don't have raw mango on hand and must use a ripe one, add a bit more lime juice to the sauce to enrich the brightness of the dish.
Total time: 30 minutes
Another Indian-inspired dessert recipe with mangoes is sheera, a traditional Indian pudding. Thanks to the fruit, this dish becomes sweeter and is the perfect after-dinner dessert.
In terms of texture, this dish is thick and almost fondant-like. It is made from pureed mango and semolina.
Semolina is flour made from durum wheat and an ingredient making pasta or sweet puddings. It has a fairly sweet and nutty taste similar to cornmeal. If you use sweetened ripe mango puree, you can skip the step of adding another sweetener.
This recipe is vegan and can become a gluten-free version if you use rice flour in place of semolina flour. Do you know that you can serve it hot or chill with coconut cream, spices, pureed mango, or almond slivers?
Total time: 30 minutes
If you have a sweet tooth, these mango muffins can satisfy all your needs for an easy and appetizing baking treat. This recipe is versatile: enjoy it as a light breakfast, brunch, or snack.
When you take the first bite, you immediately feel an explosion of mango flavor and a mild vanilla note. To achieve that effect, start by mixing together the mango, flour, eggs, orange extract, and other ingredients. Then, divide the dough and put it into each muffin tin.
Now you just need to wait for about 15 minutes for the muffins to bake and check by poking the middle of the muffin with a toothpick. If the toothpick comes out clean, then you have a tasty breakfast for the next day.
Total time: 5 minutes
Margarita is an age-old beverage that originated in Mexico. Let your creativity fly by adding a little frozen mango to the ingredients to make the classic taste easier to drink.
This is a perfect grown-up drink when it comes to tequila and triple sec. Both share a citrus flavor, so they will give you all the tropical goodness you need. Let's serve this cocktail to barbecues or summer pool parties.
As an instant thirst quencher, the frozen mango margarita recipe calls for a smooth, creamy texture. In addition, you can feel the kick of chili powder and sea salt above the rim of the glass. Surely this recipe will make every diner dream about it for a long time.
Let's beat the summer heat with this perfect frozen mango margarita recipe.
Total time: 2 hours 15 minutes (including 2 hours of freezing)
The best part is that you only use three ingredients to complete this dessert: frozen mango, maple syrup, and fresh lime juice. However, this sorbet's final taste is fancier than you think.
When the first bite, you can feel the fresh, intense mango-flavored mix with a tangy and creamy taste. Mango is great as a sweetener, so this recipe doesn't add any sugar at all.
In addition, it also does not require you to have an ice cream machine. You just need to put the completely frozen mango in the blender, no liquid required, and blend until the mixture is thick and creamy.
Add some lime juice and sweeten it with maple syrup. You can now store this dessert for a long summer because it can keep well in the freezer for up to 2 months.
Total time: 40 minutes
This mouth-watering and addictive plate of mango pancakes/ crepes is packed full of Hong Kong vibes you might love.
It is a popular dessert that you can find in many street stores or dim sum restaurants in Hong Kong. This recipe gives you a thin crepe filled with sweet mango and lightly whipped cream. Have a bite, and you will feel the softness and sponginess inside each pancake.
If you do not have fresh and ripe mangoes available to prepare this terrific whipped cream-studded dessert, you can replace them with mango sauce. It is easy to adjust the sourness and sweetness according to your taste by changing the amount of the sauce.
Total time: 35 minutes
This combo of warm fried rice, tender diced chicken, sweet and soft mangoes, and aromatic curry sauce will make you want to dig in right away.
Mango chicken curry is a spectacular combination as you do not often see this fruit in savory recipes. It is incredibly flavorful, easy, and healthy.
As for the chicken marinade, you need garam masala, ginger, garlic, cayenne pepper, and some other spices. Mix it with Greek yogurt and lime juice to upgrade the chicken to a whole new level
You can use chopped almonds or cashews and coriander leaves to garnish the curry. Instead of fried rice, steamed jasmine rice is another good pairing.
Total Time: 15 minutes
If you are tired of eating the normal salad in the same old ways, mangoes can help you get rid of that feeling. This fruit salad covered with mango pulp recipe needs only 4 ingredients and little effort.
You can take advantage of all the fruits available in the refrigerator or pantry and create this dessert. Of course, this recipe is suitable for vegetarian diets.
As for the whipped cream, I recommend about 3/4 cup, but if you want a higher level of cream, you can completely adjust it.
Total time: 3 hours 15 minutes (including 3 hours of chilling)
Do ordinary desserts dampen your interest in cooking? Let's give this creative mango float recipe a try. Mango float is an easy-to-make dish that Filipinos often prepare during special occasions or all holidays.
This is an icebox cake consisting of four ingredients: all-purpose cream, condensed milk, ripe mangoes, and Graham crackers. In addition to the graham, this recipe can use both ladyfingers and sponge cake.
Mix the first two ingredients together, then place alternating layers of the mixture and Graham crackers in a glass dish. Top with mango slices. To complete this dish, refrigerate it for 3 hours or more.
All you have to do is just cut the mango float into smaller squares for easy serving and wait for everyone to admire your cooking skill.
Learn how to make this mango graham float for different parties and celebrations.
Total Time: 15 minutes
Any appetizer or main course needs a bit of a kick to spice it up, and this Thai mango sauce can do that job perfectly. It is versatile as it can be used for many dishes.
This recipe requires no time and effort but can give your food a bright yellow color and outstanding flavor. With just a little bit of coconut milk, it helps improve the mango taste and create a rich tropical feel.
Fresh lime juice always plays a brightening role and contributes to a standard Thai sauce that includes sweet, savory, spicy, and tart flavors. People often use this sauce to dip a variety of appetizers, such as spring rolls, cooked shrimp, and squid.
Alternatively, you can drizzle or marinate it in chicken, pork, seafood, tofu, etc. Thai mango sauce is also indispensable in many grilled or BBQ dishes.
Make sure you use the ripest mango for this recipe because all the sweetness the recipe needs comes from them. The next important ingredient is fish sauce, which is rich in umami, briny, and savory flavors.
If you do not like to use this sauce, you can replace 2 tablespoons of fish sauce with 1 tablespoon of soy sauce to create a milder taste.
Total Time: 15 minutes
Many people are used to enjoying hot soup to warm them up. However, at some point, you have to give yourself a little change. This mango gazpacho recipe is a chill and summer-appropriate soup, though you can eat it all year round.
It is a recipe with a Spanish flavor and is often used as an appetizer. Mango gazpacho consists of just three simple steps. You toss all the ingredients in a blender and puree them until smooth.
Next, season to taste, and put it in the fridge to refrigerate so that it will acquire a fine and smooth texture. The fresh flavors of tomatoes, mangoes, and cucumbers balance nicely with the sour and spicy seasoning.
Total Time: 15 minutes
You can easily try making this drink at parties because even a beginner can make it. More than that, you will definitely steal the spotlight in those gatherings with this colorful and full-flavored drink.
Made with ripe mangoes, chamoy, and spices like lime and chili peppers, it's not only delicious but also tickles your taste buds wonderfully. This homemade recipe is overflowing with all kinds of flavors, such as tartness, spiciness, umami, and sweetness.
You can make a base from mango sorbet or mango, then layer it with chamoy. Top with fresh mangoes, salt, and chili for a surprisingly gorgeous appearance. Plus, chamoy plays an important role in creating this recipe's taste.
This salty and spicy condiment is made by fermenting a variety of fruits such as dried apricots, prunes, or Jamaicans. It will provide any mango-based delicacy with a wonderful finishing touch.
From A to Z, every stage of making mangonada is explained in this essential instruction.
Total Time: 20 minutes
This recipe will guide you through cooking a savory dish that is full of tropical flavors for your hearty meal: mango shrimp. It comes in two main flavors: sweetness and spiciness.
However, you can also feel the soy sauce's slightly salty taste, a little fatty taste of shredded coconut, and the sourness from the lemon garnish. It is easy to imagine everyone's surprised expressions when they see how colorful this dish is.
The aroma and eye-catching color of the dish are as addictive as the taste itself. This mango shrimp only takes 20 minutes to complete, but it is incredibly luscious.
Mango – The Star Of Sweet And Savory Dishes
Though perfect on their own, mangoes also make a great accompaniment to anything, from appetizers and main courses to drinks and even desserts. When the mango season comes, it is also the time to make countless delicious recipes with the fruit.
The mango flavor is sweet, sometimes slightly sour, and intensely tropical with an addictive thick flesh. What's more, you can use both ripe and unripe versions. The former has a faint aroma and an attractive golden color that elevates any dish.
If you have tried these recipes above, leave a comment to let everyone know how it tastes. At the same time, kindly share this article with more people: the best recipes deserve to be spread around.