Life would be easier with these 26 best make-ahead breakfast recipes. These recipes will help you save your time to do everything else in the morning.
As you know, breakfast is one of the most important meals of the day. It helps you prepare for a new day, provides nutrition, energy after a long sleep. Moreover, breakfast can play an important role in determining your feelings on that day.
Nothing can make you satisfied more than a delicious breakfast full of nutrition. People usually rush in the morning and buy fast food outside for a quick meal or, even worse, skip breakfast.
Breakfast is a very important meal to start your day effectively and efficiently, skipping breakfast will make your body unprepared for the day, decrease your productivity and cause other health problems.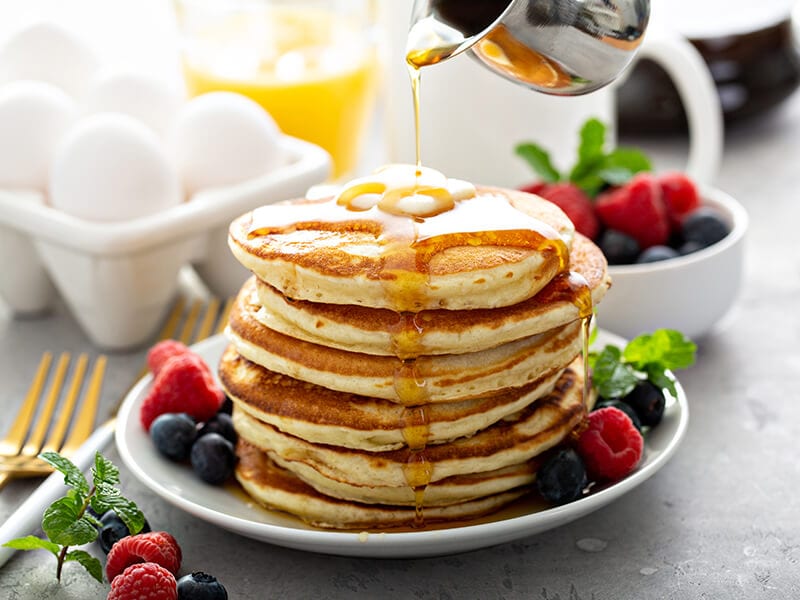 Top 26 Best Make-Ahead Breakfast Recipes
These 26 recipes will be what you need for your morning. You can have a diverse breakfast menu that you can change everyday. Don't get bored of repeating the same meal.
Sweet Recipes
A. Pancake
Fluffy Overnight Buttermilk Pancakes
German Pancakes (Dutch Baby)
Blueberry Pancake
B. Cookies, Bars And Pies
Oatmeal Breakfast Bars
Granola Bars
Make-ahead Granola Cookies
Apple Hand Pies
C. Soup-based Oatmeals
Triple Berry Overnight Oats
Apple Cinnamon Overnight Oats
Banana Nut Overnight Oats
D. Others
Make-Ahead Coffee Cake
Make-Ahead Carrot Cake Baked Oatmeal
Fruit and Yogurt Breakfast Parfaits
Baked French Toast Casserole
Cinnamon Raisin French Toast Bake
Breakfast Bowls
Make-Ahead Baked Oatmeal Cups
French Toast
Savory recipes
Breakfast Burritos
Make-Ahead Breakfast Sandwiches
Overnight Sausage Breakfast Casserole
Spinach and Bacon Quiche
Make-Ahead Breakfast Frittata Muffins
Frittata Squares
Breakfast Casserole
Roasted Breakfast Potatoes
Craving for some yummy breakfast? The details below are mind-blowing!
18 Make-Ahead Sweet Dishes For Breakfast
When you wake up and want some light and sweet treats in the morning, try these recipes now, and you will fall in love with these dishes.
Top 3 Yummy Make-Ahead Pancakes For A Great Start Of Your Day
Pancakes are a common and favourite breakfast dish of many people. Those are easy to make, easy to eat and less time consuming.
Pancake is one of the easiest dishes to cook and also really quick to make. Pancakes seem very friendly to most of Western countries, and they mostly eat pancakes every week.
You can add any syrup on your pancakes and enjoy your sweet, fluffy, softy cakes right after you wake up.
Watch this video to know more:
The best thing about eating pancakes is that they are fluffy, warm, sweet, and easy to mix with different kinds of syrup or jam.
You can create any kind of pancakes depending on your creativity. And this German pancakes is an option, the sweetness syrup will blend in with the softness of a pancake that makes a delicious, tasty combination.
Look at this dish, it looks like it is served in a restaurant but it is just a breakfast homemade dish.
This is like a new level of pancake, usually people just make a pancake with a flavor and layered on top of each other.
With fresh blackberries and soft texture, every bite of this pancake is like a drop of heaven.
Cookies and bars are very convenient to eat, it is easy to bring along for people who are usually on rush in the morning and can be used as a snack.
These breakfast bars are perfect for carry and on a go option. It is very easy to make, you can make it from the night before and leave it in the freezer, it can taste good, delicious even if it is hot or cold.
These healthy, peanut butter banana oatmeal bars can save your morning time, it is easy to carry, delicious, creamy and you can bring some extra bars for some snacks.
For a delightful breakfast meal fan, they will love the chocolate peanut butter granola bars. This dish is easy to make and looks interesting too, full of chopped nuts and dried fruits, making it easy to enjoy and fresh for a fresh morning.
Furthermore, with the addition of chocolate, it is more flavorful to enjoy, especially as this will become children's favourite.
Cookies are not ideal for breakfast because they are just a snack and don't have enough nutrition to provide your body.
However with this recipe, cookies will have enough nutrition, protein, delicious and easy to eat with more flavors and textures in every bite.
Another easy on the go dish for busy people. Apple hand pies are very simple, easy to make and very convenient.
The taste of the pie is phenomenal, fresh with apples and sweetness from butter and sugar. You can change some other fruits like strawberries or mix these fruits together if you want to make tropical hand pies.
3 Luscious Sweet Soup-based Oatmeals For A Healthy Morning
Soup-based oatmeals are friendly with almost everyone. They have refreshing fruits, lots of berries and fascinating taste. I don't think you want to wait any longer. Let's discover these recipes!
Oats is a common breakfast meal for many people. It looks stunning with decorations of many fruits like strawberries, raspberries, and blueberries. Everything is just in one jar.
This meal tastes incredibly delicious with many layers of oats and triple berries. A morning with this jar of oats and triple berries like this, a smile on your face will say it all.
This dish looks like a masterpiece and is delicious. I can't believe how easy it is to make
Oats is one of the favourite breakfast dishes of many people around the world because it is easy to prepare, easy to eat, easy to mix with anything. Convenient is the right word to describe oats.
This dish can be left overnight and taste indescribable. Add some cream with the apple flavor, you will fall in love with it.
Banana is a nutritious fruit combined with walnuts and oats. And this breakfast will become a dish full of nutrition, interesting, and taste delicious for sure.
The oats have a creamy texture with a few slices of banana, walnuts, and honey on top. The flavor will start to blend together and make a perfect dish to enjoy in the morning.
You can finish the prep from the night before and the next morning you can take it out and enjoy your result.
8 Other Ways To Make Make-Ahead Sweet Dishes For Breakfast
There are many more ways to make make-ahead sweet dishes for breakfast and these recipes will be delicious and helpful.
After a good long night's sleep, a piece of coffee cake will start the day perfectly. Sweet, fluffy, and tender, these incredible textures of this cake make it hard to resist.
This coffee cake is very easy and quick to make. Coffee in this cake will make you awake to prepare your work.
The crumbly texture from pecans or walnuts on top will elevate the whole recipe into the next level of tastiness.
Another oatmeal for your healthy morning! This meal texture is similar to a cookie and granola bar.
The carrot makes the meal healthier with many healthy nuts and seeds, cacao nibs and chocolate chips to make the cake more delicious and flavorful. This is such a healthy meal for you to fresh your day.
The combination of milk and oats left in the fridge makes the texture so creamy and soft. This is one of the best ways to start your day. However, if you are not into oats, try with some seeds like chia or pumpkin seeds. They are still perfect.
This dish is so healthy, delicious. And the special thing about this meal is you can prepare this dish three days ahead. All you need is take it out and enjoy it.
This dish is an interesting recipe to cook with leftover bread. Put your bread cubes in a casserole, mix them with milk, custard, and sugar, and start baking. You will have a delicious, tasty, sweet dish to enjoy.
For more flavor, you can add some fruits or chocolate chips as topping, that will make the dish look more attractive and colorful.
This cake looks like a cake with different layers and texture which brings joy and interest to the enjoyers.
On the top of the cake crunchy and in the middle, the cake has a creamy texture. The cake is sweet, tasty and flavorful thanks to the combination of milk, eggs, sugar, cinnamon and vanilla.
You can prepare this cake the night before, leave it in the freezer and bake it the next morning.
The important thing about breakfast bowls is to find ingredients that match each other's flavor and provide enough energy and protein to last until lunch.
Combining quinoa, buckwheat, millet, brown rice, teff and different kinds of nuts will provide you enough protein for a healthy body. Or just with some fruits, I bet you kids will devour this delicious buckwheat-based dish.
There are plenty of ways you can make this amazing bowl. You can mix it with anything, veggies, or add some fruits to make the dish more colorful and flavorful.
This dish looks like a muffin but full of nutrition, making them a good option for your on-a-go breakfast menu.
This meal is very soft, delightful, sweet and easy to make. You just have to mix ingredients together, freeze them until you want to cook them. So easy for a delicious dish.
This dish is very simple to make with some ingredients. And these French Toasts are so delicious to make your new day much better.
With some eggs, bread, maple syrup, and butter, you can have a plate of bread that looks simple but delicious and, of course, really quick to prepare and cook.
8 Make-Ahead Savory Dishes For A Nutritious Breakfast
These dishes are full of protein, energy, fill your stomach up and taste delicious, convenient and suitable for busy people.
These are very convenient burritos, they can be left in the freezer and just need to heat up to enjoy.
You can make each burrito with a different taste, a burrito is a combination of many different ingredients from meat to spices and some veggies will make it worth trying.
A big batch of beef burritos, chicken burritos, pork burritos will bring many flavors and be very interesting to enjoy.
Watch this video to know more:
For people who feel really hungry in the morning and need a meal to fill up, here is a filling sandwich for your breakfast.
You can prepare from the night before and wrap it up and put it in the freezer. In the morning you can take it out, heat it in the microwave and enjoy your sandwich.
Sandwiches can go with anything. You can mix it with any kind of meat, some veggies with sauces or some cheeses. These sandwiches will be a full, nutritious, delicious meal for your morning.
This meal looks like a mini pizza that is loaded full of sausages, peppers, cheeses, and some Italian flavor, making you want to try this dish immediately.
You can start the preparation steps from the night before by mixing all the ingredients and leaving it overnight to let the milk, eggs, and flavors soak into the bread.
When the sun rises on the following day, you need to put the prepared dish in the oven and bake it.
Although it's only a simple dish, this bacon-based morning dish will fill you with a lot of protein and nutrients. Your body will be full of energy after eating it.
This dish has eggs, cheese, bacon, some veggies if you want, and a pastry crust. This explains why it is so rich in protein and energy to fill up your body. Moreover, this meal is very delicious and flavorful, just like a party flavor in your mouth.
Usually, people who have heard of muffins will think about a sweet small cake, but this muffin is filled with sggs, ham, potatoes, tomatoes, and some cheese.
This muffin is super soft and tasty, the ingredients inside are no joke, it is delicious, good smelling and you can make a big batch of muffin, take some as you need and enjoy it in just a couple of minutes.
Watch this video to know more:
This tasty, delicious, nutritious dish can be prepared and ready in under an hour. This dish looks like a cake full of cheese mixed with eggs and different kinds of vegetables.
You can cook it as a one big batch to prepare for the whole family and if there is any leftover, you just need to cut a square that fits you and leave it in the freezer.When you want to have another square you just have to take your square and reheat it.
This savory bread pudding cake will make you fall in love with it. Ham, cheese, eggs usually go together because of their combination taste, it is perfect and delicious.
The flavor of ham, cheese and eggs combined with bread and custard will produce an irresistible and delicious casserole.
Potatoes are nutritious as they are rich in protein. People do not usually use potatoes for breakfast because they need time to cook.
However, with this oven roasted breakfast potato recipe, people will know how to spend less time cooking potatoes. It is quick, convenient, delicious and full of energy for you to start your day smoothly.
Let's see how delicious these Oven Roasted Potatoes are.
Let's Start Your Day With Some Pleasure And Perfection
Breakfast is a very important meal to people. One of the reasons why people skip this meal is because of their limited time. Some are too rushed in the morning to prepare a nutritious meal for their body.
These make-ahead breakfast recipes will help people take care of themself, have the first success of their day, and help people have a better life.
These recipes are convenient and full of nutrition for a busy morning. If you have tried any recommended recipes, please let me know your feelings in the comment section below.
Have a nice morning!