Nothing makes your gatherings special like the best lobster appetizers. However you cook it, lobster remains an elegant and delicious ingredient that everyone wants to put into their meals. This seafood is truly the best delicacy one could ask for.
Not many people can afford to put it on the menu every night. But the scrumptious taste more than makes up for the premium price. Having said that, don't be imitated by this item. It can be a breeze to cook more than you think.
If you are still not convinced, then scroll down to read more about the best way to cook this beloved seafood without much effort and time at all.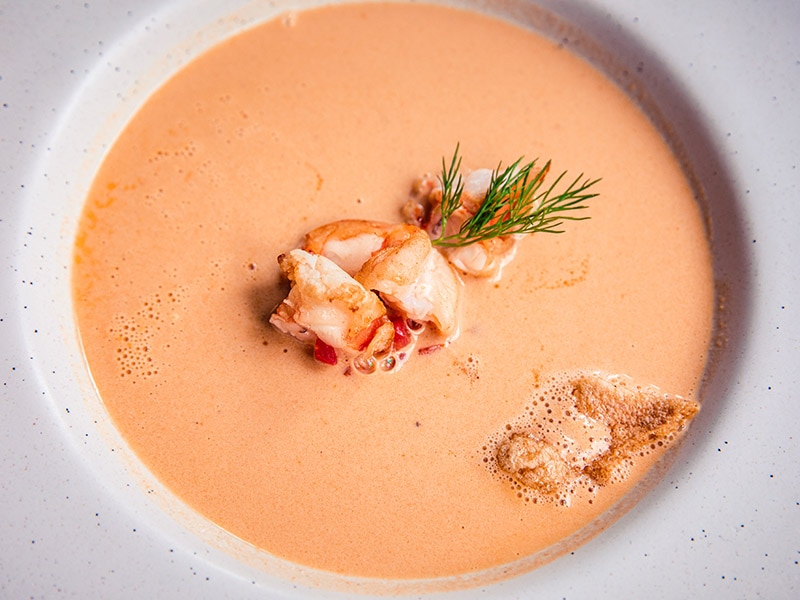 Explore The Best Lobster Appetizers And What's Special About Them
You don't need to be a professional chef to whip up all the amazing lobster dishes. If you are not too fond of enjoying this delicacy as a puree or main meal, then consider making them into smaller appetizers that everyone can enjoy.
Total time: 15 minutes (Excluding the standing time)
Lobster-based appetizers make for a fancy and elegant meal. This lobster bruschetta is no exception to that. Bruschetta is an Italian-inspired dish consisting of toasted bread that you spread with garlic and top with olive oil, tomatoes, and salt.
Reading the description, you can figure that this recipe is no hard work at all. First, let's take a look at the key ingredients: prepared lobster, sourdough bread, balsamic vinegar, and a generous amount of extra-virgin olive oil.
Toss all the items into one bowl and mix. Let them rest for 30 minutes to stabilize the flavors. Next, simply put the lobster salad on top of the toasted bread (I recommend using crusty Italian bread for a genuine experience). Wait no more and sink your teeth into these savory and juicy servings!
Making a delicious serving of lobster bruschetta is one thing you must try now.
Total time: 25 minutes
Arancini is a Sicilian delicacy. To sum it up, it is an Italy-originated small ball of rice with savory fillings coated and fried. Traditionally, people serve it with tomato sauce. This is a great recipe if you want to make use of leftover Risotto (a Northern Italian rice dish).
What's neat about this finger food is that you can make it ahead of time and reheat it right just before serving. Unlike their pear-shaped Italian counterparts, most of the Arancini in the US are round. Interestingly, Arancini means "little oranges" in Italian.
Don't be fooled by the crunchy outside of this deep-fried ball. Once you get to the inner part, you'll encounter the tang lemon juice, creamy cheese, as well as the heavenly lobster and peas duo.
Total time: 1 hour 15 minutes
Are you craving a pasta dish and a lobster appetizer at the same time? Then this deep-fried ravioli recipe fits the bill. It's the best of both worlds, combining together a crispy pasta shell, marinara dipping sauce, and lobster filling. Bite into this killer appetizer with pasta, and you will come back for more!
Ravioli are mostly served with marinara sauce, but brown butter sage sauce is another great option you may want to try. However you serve them, these crunchy and cheesy ravioli remains one of the best seafood deep-fried meals.
Explore how to whip up this stunning restaurant-quality lobster ravioli here.
Total time: 40 minutes
Here comes another small and portable holiday feast that everyone wants to indulge in. These lobster sliders are not only adorable but also fun to eat with the chives, lobster, and seasoning combination. They give a buttery and savory flavor that leaves you wanting more.
The best thing about this recipe is that you have many options to opt for. These sliders call for King's Hawaiian Rolls, but you can use any brands you like. You can use either fresh or frozen lobster.
To turn them into bases, you just cut them and hollow out the inside. Then bake these rolls and put the fillings onto them. The finished products are creamy heaven in a compact form with a nice brown color.
Total time: 15 minutes
Here's another lobster roll recipe, but this time it's a mini version with a spicy and tart kick. The sweet and succulent lobster meat with spicy mayo and tang ponzu makes for a wonderful combination.
While people harvest lobster all year round, lobster season peaks between late June and late December. Therefore, the best time to purchase fresh lobster is in the summer. Ideally, you want to buy fresh lobster as close to the cooking day as possible, like one day beforehand.
What's more, you don't have to wait too long to dig into these delicious rolls. Within 15 minutes, the dish is ready to be served on your plate.
You just need to prepare the sauce, lobster salad, and rolls. Then you assemble everything, and you can serve the finished product immediately. Plain and simple, right?
Everything in this meal works wonders already. But you can serve them alongside coleslaw, salad, or French fries for a more flavorful experience.
Total time: 25 minutes
Bisque is a French-originated creamy and seasoned soup. The rich and creamy lobster bisque is among the ultimate choices for partnering with surf and turf for a hearty course. This warm and comforting soup can be ready within 30 minutes without much effort at all.
The key ingredients in this bisque recipe are lobster meat, shallot, chicken stock, and tomato paste. All you have to do is saute the shallot and lobster until the latter turns soft. Then just add all the other items, reduce heat, and stir until reaching the desired thickening.
The final product is a beautifully creamy and yellow soup with lobster meat floating. You should also garnish the bowl with chives for extra flavor. The chunks of lobster meat can be small or big, according to your preferences.
You can recreate amazing lobster bisque at home too.
Total time: 10 minutes
If the idea of a culinary delight full of proteins from both lobster and fruits sounds appealing to you, then you better scroll down to read more. This fun recipe for a holiday appetizer will make everyone happy. Even better, you can enjoy it as an amazing avocado dessert after rich main dishes.
This recipe doesn't take much time to make. But if you want a hassle-free cooking time, then either use steamed lobster or tell the sellers to crack the lobsters for you. Then the only thing you've left to do is pluck the meat out of this seafood.
Another tip is that you should serve the dish immediately. Or else you may end up with brown, oxidized avocados when digging in. All in all, the lobster avocado bites are still an elegant dish with little to no effort and time required to whip up.
Total time: 45 minutes
What are beignets? Simply put, they are dough-based fritters familiar to donuts but smaller. They are often in square-cut shape, deep-fried with oil, and have a sweet or savory filling.
Here I am talking about fried lobster with blue cheese. Did that catch your attention? Although they don't look much, these lobster beignets combine the best of creamy cheese and spicy avocado cream with garden veggie sauté, a great mix you don't want to miss.
The cooking steps may seem long and complicated at first. But trust me, it's worth it. This recipe won't take longer than an hour to make, yet the results are a little feast in itself with the lobster beignets alongside the sauteed vegetables.
Total time: About 30 minutes
This is a decadent recipe your guests will keep talking about for years to come. It's the mini version of everyone's beloved lobster pot pie. Another special feature is that this mini lobster pot pie uses puff pastry instead of the usual pie crust.
People often associate pies with hard work and long hours, but not pot pies. They are easy to make. All they ask for is scooping the filling into the mini puff pastry shells. Then you bake them all at 400℉ for 20 minutes or until golden.
The results are a sweet blend of dough and other items underneath. The lobster meat works well with veggies and herbs here. You can elevate the flavor further by serving them with a Caesar salad.
Explore how to make another variant of mini lobster pot pie here.
Total time: 1 hour
Lobster deviled eggs are fully loaded with tender lobster tail meat, seasonings, and sauce. There's no fun party without this savory dish full of eggy goodness. How can you resist their beautiful look and unrivaled creaminess?
One neat thing about this recipe is the use of lobster broth. When you cook this seafood, don't discard all of those water and shells; that's where all the flavors and nutrients are. And it's incredibly easy: just boil the lobster until the water is reduced to ½ cup.
What's more is that, despite packing a punch with different kinds of ingredients, these eggs don't require you to use much lobster: 12 servings of deviled eggs need only 8 ounces of lobster meat. Thus, they save your money in the process while being a delicious treat.
Total time: 15 minutes
If you want something light and veggies-heavy, then you don't want to miss these lobster spring rolls.
The first thing most people notice is the colorful filling. This part consists of red peppers, baby spinach, mango, etc. All of these combined make for an array of textures, like snappy, silky, and tender, in one dish.
Do you notice that the fillings are see-through? This is because they are wrapped in thin rice paper. One thing to note is that you should soak the rice paper in warm water for no longer than 10 seconds so that it gets pliable enough but not too soft.
These spring rolls have it all, from the refreshing hit of herbs to the taste of veggies and lobster. Plus, the accompanying peanut dipping sauce will take the whole dish to the next level.
Try to make these lobster spring rolls to impress your close friends.
Total time: 15 minutes
The Red Lobster restaurant chain is famous for its offerings of tasty shrimp, seafood, and lobster. Did you know that it's possible to make copycat versions of their recipes at home? This is one of them.
Furthermore, you can save more money when cooking this homemade variant instead of dining out. What's better than enjoying this amazing air-fried dish for dinner and savoring its impressive flavors in every bite from the comfort of your own home?
This recipe requires an air-fryer, so it's healthier than anything deep-fried. The meat is optional since you can skip it for a meatless version. But why do that when you can taste the lobster along with creamy cheese and fresh herbs?
Total time: 40 minutes
Allow me to give you another special holiday appetizer. It's perfect for when you want to eat lobster with potatoes. This recipe makes use of one specific potato type: the Russet variety from Idahos. They are well-known for their thick skin and fluffy flesh.
Aside from the potatoes, of course, the main star of the meal is lobster. That's what you came here for, right? Lobster chips with spicy saffron aioli are best with steamed lobster tails. Remember to attach two wooden skewers straight into the tail to prevent them from bending.
This recipe has three main parts: the aioli (olive oil with other items combination), the lobster, and the potato chips. Simply follow the instructions for each of these parts and assemble them to get your delicious serving of this recipe.
I can tell you, the buttery lobster tail on top of crunchy and salty chips base along with spicy aioli sauce is a wonderful combination. The chives beneath not only add to the color but also hold the food and the potato chips in place.
Total time: 30 minutes
Bang bang lobster rangoon is the finger-licking appetizer that you want to make a huge batch because eating just one piece is never enough. This is a twist on the classic Chinese crab rangoon.
The best part is you can get that crispy goodness with 3 different methods in this recipe: oven baking, air frying, and deep-frying. You can opt for the first method if you don't want to deal with oil.
The small crunchy and crispy rangoons dipped in cream sauce work great on their own. But you can pair them with other Chinese-style dishes like fried rice or Mongolian beef for even better enjoyment.
Liven your party with these addicting lobster rangoons.
These Extraordinary Lobster Appetizers Will Redefine Your Next Gatherings
That's all I have to say about these amazing lobster recipes. As you can see, they are not complicated to make, yet still make for a luxurious dish for your special gatherings with friends, family, or lovers.
Reading thus far, I'm sure now you've learned so much about this amazing seafood and how to cook them. Plus, you also have at least 13+ recipes on hand so that you can whip up the best lobster appetizers anytime and impress others.
Don't forget to spread the word so that others who are stretching their heads and don't know what to make with lobster (just like you and I did) can find these handy and easy recipes. Please also comment to tell your thoughts about these dishes and how you would improve them.