Lemon desserts can be smart choices when you are bored with some regular desserts. Lemon desserts are well-known for the combination of slightly sour and sweet flavors that everyone will love. To use up all lemons in your kitchen, making lemon desserts will be your right decision.
Various recipes to make lemon desserts will bring you to a convenient life by just combining the ingredients in your pantry, but the result will surprise you. Lemons are an excellent source of vitamin C that is good for your health, so using them in your desserts will be a great idea.
It is good news for you that you don't need to worry about making a quick snack or dessert for your family every day. That's because these lemon desserts I will show you below are fantastic ideas to broaden your menu.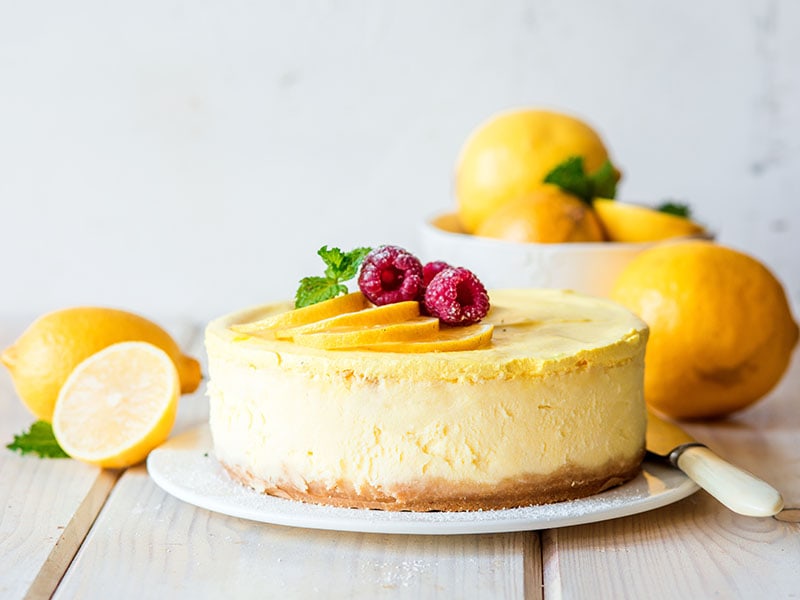 27 Fantastic Lemon Desserts That Can Amaze You
You can use lemons in your kitchen to make various types of delicious desserts like cakes, puddings, frozen desserts, gelatin desserts, small cakes and pastries, custards, pie and cobblers, and drinks. Check the list below to see the diversity of lemon desserts.
Cakes
Lemon Velvet Cake
Lemon Cupcakes With Vanilla Frosting
Lemon Blueberry Poke Cake
Lemon Buttermilk Pound Cake
Puddings
Lemon Self-Saucing Pudding
Lemon Pudding Trifle
Lemon Pudding With Blueberry Whipped Cream
Lemon Lush (Lemon Lasagna)
Frozen Desserts
Lemon Custard Ice Cream
Lemon Sorbet
Lemon And Blueberry Frozen Yogurt
Gelatin Desserts
Strawberry Lemon Gummies
Keto Lemon Gummies
Naturally Sweetened Homemade Lemon Jello
Pastries
Meyer Lemon Cream Puffs
Lemon Cream Turnovers
Lemon Meringue Tart
Custards
Lemon Custard In Meringue Cups
Creamy Blueberry Lemon Custard Bars
Lemon Mousse
Pies And Cobblers
Lemon Cream Pie
Lemon Blueberry Cobbler
Lemon Meringue Pie
Lemon Sponge Pie
Drinks
Lemon Drop Martini With Limoncello
Cucumber Lemonade
Lemon Basil Spritzer
The Best Lemon Cakes That You Will Love
Lemon is an ideal ingredient to make mouth-watering cakes. How many recipes do you know to make lemon cakes? I guess that you might not know these fabulous lemon cakes below.
Lemon velvet cake is one of the most popular cakes thanks to its fresh lemon flavor and fantastic airy and tender texture. This delicious and beautiful cake is covered with tangy, creamy lemon buttercream frosting, making the cake so yummy.
This lemon velvet cake is sure to be a hit on your birthday, wedding, or anniversary. This moist and tender crumbed cake is an awesome birthday cake you can not resist, especially a lemon lover.
Because this cake has tons of lemon flavor from lemon zest, lemon juice, and some pure lemon extract, it will surely satisfy your lemon craving. Why don't you make this fantastic lemon cake for your next birthday? I believe you won't need another lemon cake after enjoying this cake.
These moist and soft lemon cupcakes will be a new twist for your dessert or afternoon tea. The lemon flavor and sweet flavor of vanilla buttercream are an unbelievable combination that will impress you at the first bite.
To make lemon cupcakes, you just need everyday ingredients like other cupcakes, but these cupcakes have tons of citrus flavor that will make you want to try again and again.
You can top your lemon cupcakes with vanilla buttercream, cream cheese frosting, or even strawberry frosting for your preference. Besides, lemon buttercream is also a great pair to boost more lemon flavor in your lemon cupcakes.
This recipe will change your mind whether you love cupcakes and lemons. You can see this video to know more:
Lemon blueberry poke cake begins with a boxed lemon cake mix and is loaded with fantastic blueberry sauce. Then, it is finished with a lemon curd whipped topping. This cake seems simple, but it has an amazing flavor out of this world.
Lemon blueberry poke cake tastes so refreshing thanks to the flavors of fresh blueberries, lemon pudding, and fluffy whipped topping. Lemon and blueberry are an ideal pair to make the cake better than any fruit cake.
Lemon buttermilk pound cake is a mind-blowing buttermilk recipe for lemon fans with tons of fantastic lemon flavors from lemon juice, lemon syrup and lemon zest. Moreover, the sweet lemon glaze on the top of this cake is also a great thing for an ideal dessert.
The moist texture of this amazing cake is thanks to the buttermilk and lemon syrup, which makes it have nothing to complain about. This lemon buttermilk pound cake can be served with vanilla ice cream, whipped cream, or fresh berries as the refreshing toppings for the cake.
Mind-blowing Puddings From Lemons That You Should Know
Are you finding a spectacular pudding to make a new thing for your hectic day? These awesome lemon puddings are creative ideas for you. They are super easy to make and worth eating. Let's discover now.
Lemon self-saucing pudding combines a light lemon sponge with a zesty lemon sauce, making everyone go "wow". This lemon pudding recipe is super easy to make, but the result will surprise you with a soft, light sponge and incredibly sweet, tart lemon sauce.
This recipe just involves some common ingredients, and the way you make the batter is also simple. Therefore, don't procrastinate to make this amazing lemon self-saucing pudding. You will be obsessed with this excellent lemon dessert.
Why don't you make this lemon self-saucing pudding for your dessert tonight?
This lemon pudding trifle has a wonderful sweet, tart flavor and a stunning light texture. In addition, it has a beautiful appearance with layers of cake, lemon curd, pudding, blueberries, cookies, and whipped cream, which make you addicted once you have tried it.
You can make this delicious lemon curd dessert without any effort. It is an ideal option for an excellent dessert on Sunday or holiday.
Lemon and buttermilk are an out-of-this-world combo for a fabulous pudding sweet course. Lemon pudding with blueberry whipped cream is the best choice for those who are looking for a dessert with a hint of lemon and buttermilk.
The sweetness of buttermilk pairs with the tart flavor of lemon plus tangy blueberry whipped cream on the top will leave you craving for more. This is the greatest dessert you should have on your table at a dinner party.
Lemon lush is a well-known and spectacular dessert in the culinary world. Lemon lush has four fantastic layers: the crust with buttery shortbread cookie layer, a sweet cream cheese layer, lemon pudding layer, whipped cream layer, respectively from the bottom to the top of the lush.
With four layers in one dessert, this lemon lush is so impressive and irresistible. It is ideal for garnishing with lemon slices, chopped nuts, or lemon zest relying on your favorite.
Incredible Frozen Desserts With Lemon That Will Not Disappoint You
A frozen dessert lover can not miss these wonderful recipes to make delicious frozen lemon desserts. Explore the best frozen lemon desserts below to add to your dessert recipes.
I am sure that many people love having a yummy ice cream dessert, and you are not an exception. Lemon is one of the best flavors that work well with ice cream. Lemon custard ice cream is an excellent dessert that includes everything you expect, from slightly sweet to creamy, smooth texture.
The secret to making this recipe is fresh lemon juice and plenty of zest. In addition, egg yolks and cream play an essential role in making your ice cream smooth and creamy.
Lemon custard ice cream is sure to be your favorite ice cream once you've tried it. You can see this video to know more:
Lemon sorbet is an excellent option for lemonade fans. It is pretty easy to make this cool dessert. It is like making lemonade through the ice cream maker. This lemon sorbet is sweet and acidic.
Although lemon sorbet doesn't have a creamy texture like lemon custard ice cream, it is also a fantastic palate cleanser between meal courses. You should have some in your freezer to satisfy your lemon craving at any time.
To make lemon sorbet, firstly, make simple syrup by heating lemon zest, water, and sugar until the sugar has dissolved. Then, add lemon juice and chill in the fridge. After that, freeze in your ice cream maker, or you can freeze in the freezer. Then, garnish with mint and serve.
Lemon blueberry frozen yogurt has a similar texture as ice cream with a light and creamy texture. This delectable yogurt-based dessert tastes so fresh with a hint of lemon and blueberry sauce that you will want to make on repeat for your family.
Making lemon and blueberry frozen yogurt is also similar to making ice cream, but the base for this creamy treat is yogurt. Thus, make sure you use softened cream cheese to mix well in the yogurt base.
Amazing And Simple Gelatin Desserts From Lemon That Your Kids Will Love
To busy or novice chefs, these gelatin desserts are the ultimate choice since they are really simple to make without any effort. Check out the excellent recipes below.
These strawberry lemon gummies are sure to be your kids' favorite dessert. These gummies without high sugar content are packed with tangy flavors from fresh fruits. The excellent combination of fresh strawberries, lemon juice, and raw honey creates a striking gummy snack.
The critical ingredient you must have in this recipe is gelatin. You can't substitute collagen for gelatin. Otherwise, your gummies will never set. Making strawberry lemon gummies couldn't be easier. You just need to place gelatin in the strawberry mixture, then gently warm and whisk it.
Lemon gummies are made from gelatin, lemon juice, and sweetener. Gelatin helps your gummies fix without food dye or sugar. You don't need molds to make these gummies since you can use a square casserole dish to shape the mixture and cut it into squares.
You just need a few ingredients to make this simple but amazing dessert. The vital step is to bloom your gelatin before mixing it into the lemon mixture. Try making lemon gummies for your kids on weekends and see how they love this delicious dessert.
This wonderful jello recipe is sweetened with honey. Remember to use light-colored honey to ensure you don't overpower the flavor of jello. This healthy jello is a fun snack for kids and adults with just ten-minute preparation.
To begin with, pour water and lemon juice and add gelatin into a saucepan. Then, heat the mixture until it dissolves. Add honey and stir thoroughly. Place your jello into a mold and put it in the fridge to chill until it is set. Then, you have a fantastic dessert to serve with your family.
Delicious lemon jello is super easy for even novice home cooks. You can see this video to know more:
The Best Lemon Small Cakes And Pastries You Can Not Miss
I guess that you are sure to love these lemon pastries below, and even you can love lemons more after enjoying these fantastic recipes. Here are the best lemon desserts you are finding.
Meyer lemon cream puffs are a great recommendation that you should try. This simple recipe creates light and creamy puffs with Meyer lemon curd and vanilla whipped cream. Meyer lemons taste sweeter than regular lemons, so it would help your puffs have the best flavor.
In case you don't have Meyer lemons, you can replace regular lemons and add a splash of orange juice to balance the tartness. These puffs will make the astonishing dessert that you expect.
Making lemon cream puffs is really fast with just a few simple ingredients.
It is ideal for serving lemon cream turnovers for your quick breakfast, easy dessert, or snack since this recipe requires six ingredients. The filling of this lemon cream turnover is made from lemon curd, cream cheese, lemon zest, and sugar.
They are mixed and placed inside of the puff pastry. It is undoubted that a lemon lover will surely love this recipe and want to make it many times. Unless you like lemon, I believe that you will change your mind after eating these tasty lemon cream turnovers.
This lemon meringue tart is everything you are looking for in lemon desserts. That's because it is so scrumptious with a buttery crust loaded with creamy lemon filling and topped with sweet meringue.
Lemon meringue tart might be the most delicious tart you have ever eaten. The tangy flavor of lemons, together with the subtle sweetness of creamy curd filling, give you a wonderful treat for your dessert.
Fabulous Lemon Custards You Can Not Skip
Custard is a delicious type of dessert made from eggs, and milk, cheese, or cream. The taste of custards is so unique, especially lemon custards. Let's learn about these lemon custard recipes below to make for your family.
This lemon dessert looks very elegant and tastes so good. Crunchy and sweet meringue shells packed with lemon custard and topped with tangy whipped cream are an outstanding dessert you can not refuse.
These lemon custard in meringue cups are actually simple to make, but they have the taste of heaven. You can also fill your meringue shells with fresh strawberries to have the refreshing and delicious flavor you want.
This fantastic dessert consists of a tart lemon custard and fresh juicy blueberries. You had better use fresh squeezed lemon juice and fresh blueberries to have the best flavor and texture. This creamy blueberry lemon custard bar has a tangy flavor and a nice creamy texture.
You can add a little cinnamon or any cookie crumb to the crust. Besides, it is acceptable to replace blueberries with raspberries. Try making your own creamy lemon custard bars and serve them for your lovely desserts.
This easy lemon mousse is also a fantastic dessert. With just three ingredients, this tangy and sweet dessert will amaze you. You can make this fantastic lemon mousse in less than five minutes with a few steps, and you have a tasty dessert that no one can't resist.
You don't need gelatin to make this fluffy and airy mousse. You just need to whip everything up and place it in the refrigerator. You should chill your bowl and whisk in the refrigerator before making this delicious dessert to have the best result.
You can not find a better dessert than lemon mousse to enjoy at weekends.
Delicious Pies And Cobblers With Lemon You Might Not Know
Lemons are an excellent ingredient in making pies and cobblers since lemon's unique and tart flavor will balance the sweetness. Check it out to know more about these fantastic recipes below.
This lemon cream pie recipe is also a great dessert that you want to eat every day. This lemon dessert has a great lemon and creamy flavor from fresh lemon juice, condensed milk, whipping cream, and grated lemon peel.
You can top your pie with whipping cream and fresh fruits like blueberries, strawberries, and raspberries, depending on your favorite fruits. You can add two teaspoons of grated lemon peel to the whipping cream to have more lemon flavor.
This sweet and tart cobbler with a burst of blueberry flavor is an excellent choice for your dessert. The buttery and golden crust makes it have an incredible texture and flavor. To make your cobbler healthier without gluten, you can substitute gluten-free flour for regular flour.
Relying on what you have in your kitchen, you can make this easy and delicious cobbler recipe in a pressure cooker or cast-iron skillet. This lemon blueberry cobbler is a must in dessert recipes of huge fans of lemon and blueberry.
This impressive lemon pie is packed with flaky pie crust, smooth lemon filling, and a billowy and toasted meringue topping. The process of making this recipe is easier than you might think.
Firstly, blind bake pie crust and prepare the lemon meringue pie filling. Then, whip the meringue topping and spread it on the top of the filling. Bake pie until you see your pie turn brown on top. This ultimate recipe will give you an incredible dessert for your special occasions and holidays.
Lemon meringue pie is a wonderful sweet treat that you should try. You can see this video to know more:
Lemon sponge pie consists of strong lemon flavor from lemon zest and fresh lemons. Thus, in every bite, you will feel the citrus tang flavor that melts in your mouth. Lemon juice and zest should also be mixed with the egg wash to brush on the pie crust.
This lemon sponge pie has a creamy lemon curd on the bottom and fluffy lemon sponge on the top. This is an awesome pair to get the best texture. More importantly, you could use butter to swap for vegetable shortening to bring your pie a nicely buttery flavor.
Easy And Quick Lemon Drinks For Your Busy Day
These refreshing lemon drinks will make your day with their delicious flavor and beautiful appearance. With just under ten minutes to prepare, these lemon drinks are the best choice after your meals.
Limoncello is an Italian lemon liqueur made from lemon peels and alcohol. This lemon drop martini with limoncello is one of the most refreshing and delicious cocktails to serve for your desserts. This fun cocktail tastes so good with only four simple ingredients.
You can serve this amazing cocktail with sweet cakes for your desserts, or you can use it after a big meal. This recipe requires half a squeezed lemon per martini, but you can use one lemon if you prefer more tart in your drink.
This cucumber lemonade is easy to prepare, like its name. But this delicious cocktail is so refreshing and brings you many health benefits from lemon and cucumber juice. All you need to do is combine fresh cucumber juice with lemon and sugar syrup or natural sweetener.
Then, decorate your beautiful drink with fresh mint and serve. You can also use honey and maple syrup in your tasty beverage, but remember that each sweetener will result in different flavors.
It is your right decision to choose this lemon basil spritzer to enjoy on your holidays or weekends. This drink will be a fantastic substitute in case you are bored with plain old water. This refreshing drink is made with lemon and muddled basil, a simple syrup, and water.
This simple recipe takes you under ten minutes to make, but the result is impressive. You can adjust any ingredient to suit your demand. This awesome sugar-free drink is a remarkable option if you are on a keto diet.
Using The Lemons In Your Pantry To Make Your Desserts
Lemon is an essential ingredient in the culinary world. Not only is lemon a healthy fruit to make drinks, but it can also be used in various tasty desserts.
Now you have learned more about many lemon dessert recipes. Think about the lemons in your kitchen and mix them with other ingredients to make your own lemon desserts.
If you don't know how to use your lemons in your pantry, I hope these lemon desserts will satisfy your need and help you create a wonderful dessert for your family.
Should you have any new ideas about lemon desserts, please let me know in the comments. Don't hesitate to introduce this post to your relatives and your family who love lemons. Thank you very much for your concern.
Nutrition Facts
16 servings per container
---
Amount Per ServingCalories495
% Daily Value *
Total Fat 26.3g

41

%
Cholesterol 36mg

12

%
Sodium 693mg

29

%
Potassium 174mg

5

%
Total Carbohydrate 56.2g

19

%

Dietary Fiber 0.1g

1

%
Sugars 49.6g

Protein 10.5g

21

%
---
* The % Daily Value tells you how much a nutrient in a serving of food contributes to a daily diet. 2,000 calories a day is used for general nutrition advice.