This list contains the best leftover taco meat recipes that you can effortlessly cook on any occasion. Moreover, you can also utilize savory meat without wasting any piece of it.
Taco is a traditional Mexican dish that plays a significant role in local cuisine. You can stuff the dish with beef, chicken, or pork as your favorite order to enjoy a fascinating meal.
However, when the portion is enormous, and you can not finish the entire dish at all, a couple of helpful recipes will give you a hand on how to create fancy food out of that.
My list has three sections, including appetizers, main courses, and side dishes. So, you can have multiple options to make for a hearty dining time.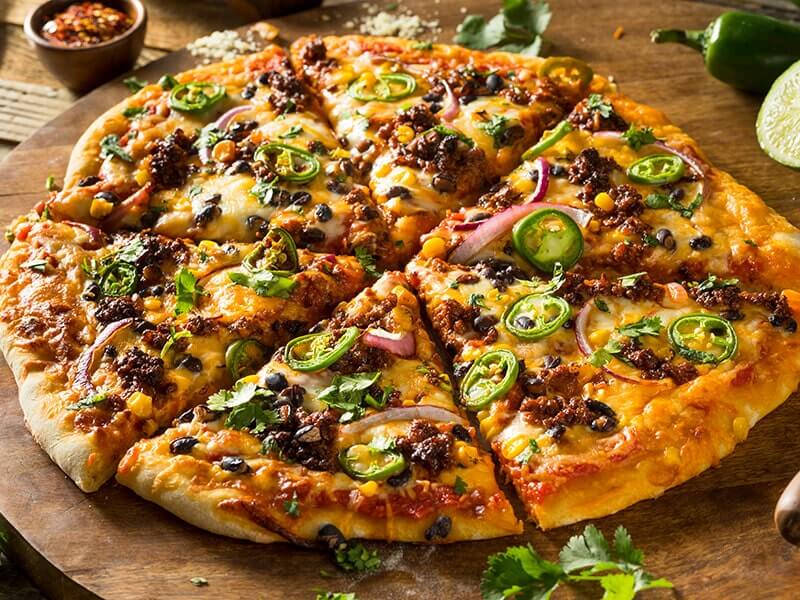 20 Amazing Leftover Taco Meat That You Will Love
Allow me to give you my favorite recommendations from leftover taco meat. The spicy meat from making tacos is super tasty; make sure you don't waste that ingredient and try my recipes below.
Appetizer:
Taco Calzones
Keto Chicken Taquitos
Taco Stuffed Potatoes (Pota-cos)
Taco Stuffed Peppers
Cheese Taco Sliders
Taco Pinwheel
Main Course:
Beef:
Taco Pasta (Penne Pasta)
Taco Quesadillas
Taco Pizza
Leftover Roast Beef Tacos
Beef Chimichangas
Taco Sloppy Joe
Meximelts Burritos
Others:
Leftover Chicken Tacos
Vegan Taco Lasagna
Turkey Crescent Ring
Side Dish:
Taco Scrambled Egg
Taco Soup
Taco Salad
Taco Chili
Let's scroll down for more specific information.
Clever and Tasty Appetizer Ideas From Leftover Taco Meat
Here are the best selective appetizers for you to add to your cooking list. These dishes are savory and fragrant in their enchanted way; I believe your stomach will crave the delightful food.
Are you getting bored of a simple pizza? I have some ideas for making these savory taco calzones to refresh the typical dish. Besides, it is good to utilize leftover taco meat and create a super tasty dish for everyone.
The ingredients are effortless to find; you possibly purchase them from any grocery store and market. You can taste how crispy the taco calzone is, leading to a tangy flavor at the end that you won't forget.
I believe that these stunning Keto chicken taquitos will blow your mind away. At first look, you can tell they are a creative and fabulous starter from Mexico.
By adding leftover taco meat into a haft of avocado, spice the flavor with sour cream and vegetables then you can enjoy a delightful dish in less than 30 minutes. Sounds curious yet? So let's make some of these an excellent appetizer.
A great idea to save leftover taco meat and recreate a super attractive appetizer. Instead of using tortilla chips as the dish base, this recipe substitutes the chips with bell peppers to create a gluten-free and low-carb food.
These loaded taco potatoes are super savory and straightforward to make. Add some taco meat onto chopped potatoes, fill them with cheese to increase the rich taste.
Another stuffing appetizer is on the way! These colorful meaty peppers are so delicious and will suit the pickiest diner's taste.
This is an ideal recipe to bring new life to your leftover pork, chicken, or beef. All of them can fit the recipe perfectly. You can taste crispy bell pepper crunches merge with the heart filling in a full bite. I believe that this taco pepper is a beautiful idea for any meal.
Watch this video to know more:
Sliders are no longer a strange dish to anyone. They are a smaller version of a burger that can be a tasty handy appetizer to enjoy at any time.
In a company of ground beef filling from leftover tacos, you can taste how succulent and savory the dish is. Besides, extra cheese is helpful to enhance the slider's stunning look and a creamier flavor for the sliders as well.
Another delicious recipe to cook leftover taco meat is turning it into these beautiful taco pinwheels. It is a great deal to remake unfinished food and create a healthy dish to eat.
I highly recommend this fascinating taco pinwheel as an appetizer. You can taste how flavorful it is in just a full mouth. Savory, fragrant, and aromatic are the elements to describe the dish.
11 Savory Main Dishes From Leftover Taco Meat
Check out these luscious leftover taco meat dishes right away! Accompanied with savory meats and flavorful support ingredients, you can enjoy a wonderful meal in just a few minutes.
Succulent Main Dishes Made of Sharp Leftover Beef Tacos
Pick up your tools now because you are about to make luscious dishes with leftover beef tacos. Plus, you will find it not difficult to make any of them.
A great combination of two famous cuisines is on the way; this Mexican-Italian food is made just for you.
One more thing, this beautiful taco pasta is straightforward to make. Preheat your leftover chicken taco, add some favorite seasonings and mix well with boiling pasta. Just in a few preparations, you can enjoy an excellent dish at any meal of the day.
Quesadilla is no longer a strange dish to anyone. It is the most-liked Mexican street food that you can quickly run into in every corner of the local town. Plus, the food is a great deal to utilize leftover taco meat so that you will not waste a single piece of this savory food.
All you have to do is to place a tortilla on a skillet for it to get inflated. Then you stuff the tortilla with preheated chicken filling. The flavor is a big surprise of a crispy crust, juicy and savory taco meat in a stunning quesadilla.
Watch this video to know more:
This taco pizza is great for trying something new from an ordinary pizza by combining the typical Mexican taco meat with a savory flatbread pizza foundation. Trust me; this merge is a portion of hearty food for you.
From the pizza's appearance, you can quickly tell how fascinating the dish is. With colorful toppings and creamy melted cheese, it is irresistible for a bite. Besides using traditional flatbread, switching to tasty Asian naan bread is not bad for this beautiful dish.
Let's use up that leftover taco meat with this Taco Pizza recipe
Suppose you have plenty of residue taco beef in the fridge and still figure out what to make from it. Then I advise you to make this excellent leftover roast beef treat that enchants everyone's taste.
The tacos are even more savory and are suitable to enjoy with salsa too. Besides, if there are many unfinished tacos filling, you can store it in the cooler and preheat it in the oven to eat at any time.
Chimichanga is a savory Mexican deep-fried burrito using ground meat rolled in a tortilla and used with cheese and salsa. Honestly, the dish is like a roll version of taco or quesadilla that you will have more fun to enjoy.
The first impression of this chimichanga is fascinating. You can feel that the dish's overall texture is incredibly tender; following behind is a highly juicy taste of the taco beef filling. Sounds fantastic, right?
Keep reading; this Taco Sloppy Joe is another beautiful beef feature that will not disappoint you. It is a combination of burgers and meatballs accompanied with tomato sauce that you will love so much.
The meat filling is juicy combined with a sweet taste of tomato sauce that is not boring in every single bite. Plus, cheese is highly recommended for the dish to enhance the rich flavor and fascinating look.
These Meximelt burritos are something delightful and delicious from Mexican cuisine that you can quickly check out.
The dish is tremendously stunning, with a pleasant appearance of rich filling. With layers of ground beef taco, bell peppers, and cheese, you can enjoy a flavorful food in a full mouth.
Other Delicious Main Dishes That You Can Make From Remained Taco Meat
Mexican tacos usually use beef for a taco filling because of the meat's tenderness and the juiciness it brings along. Here are a couple of tasty beef dishes made just for you.
How about making leftover taco meat into another delicious taco treat? I know it sounds pretty plain and simple. But trust me;, everyone will love the savory taco so bad and ask you for more!
Technically, you can quickly tell there is no complex in the ingredients. Everything you need is already available in your kitchen that you can effortlessly make. Honestly, it is worth it due to the delightful taste the pie brings along.
Another Italian inspired-dish that you can straightforwardly make at home. Honestly, this vegan taco lasagna is something so delightful and healthy that you can try to make to refresh from meaty dishes.
Making lasagna is tremendously simple. You just need to line all the ingredients from vegan taco meat, cheese, and tomato sauce layer by layer until the whole thing reaches the top. In addition, the taste can be a bit salty of taco filling, so make sure that you have adjusted it.
There are plenty of crescent ring pies in the market which have variations of flavor for you to pick up. However, this taco stuffing version is much more savory and delightful than a homemade pie. Plus, you can also save leftover meat from the previous day for this meal.
The cooking duration can be extended but trust me, the final result is a big surprise that will gently comfort the waiting time. The first bite is a buttery, crispy crust, not too thick. Then the crust leads to a luscious exposure of meat filling that nobody can deny.
Extra Luscious Side Dishes Made From Leftover Taco Meat
Besides those mentioned tasty appetizers and delicious beef main dishes, a few unique side dish recipes below will utilize residue taco meat to create a wealthy meal.
Pick up your skillet and leftover taco meat right away because you can make a charming omelet in a couple of minutes.
Taco scrambled eggs can turn the unfinished meat into a healthy Mexican morning meal for everyone. The dish has ground meat, eggs, cheese, and extra tortillas, so you can taste how delightful and flavorful it is in a small bite.
A small tip to save leftover taco meat from the day before is to make a pot of heartwarming soup. Honestly, this one is a friendly solution for keeping the leftover meat and turning it into a beautiful combination of savory and flavorful food.
You can use ground meat, beans, tomatoes, corn, extra spices, and especially cheese to increase the rich texture. On a rainy day, this satisfying soup is a great deal to comfort your heart.
One more beautiful feature that you can make from taco meat. Taco salad is a great idea to create a healthy side dish for everyone.
You can tell how delightsome and flavorful this recipe is when looking at its ingredients. Moreover, there are various dishes to go with this taco salad. So why wait? Let's make it for dinner.
Stay tuned; this taco chili is a beautiful trait to create a new food from leftover beef taco filling.
The dish is a rich source of nutrients that provides good energy for finishing unaccomplished works. The juicy meaty filling versus crispy vegetables is an ideal element to add to a hot dog so that you can enjoy an excellent chili dog excitingly.
Watch this video to know more:
Save Your Leftover Food For The Next Dining Time!
From the mentioned savory recipes, I believe that there are plenty of cooking ways to save your leftover taco meat for the next time.
By adding some favorite ingredients and spices, you will form a delicious meal to enjoy with your family and create relationship bonds.
I recommend that you should try the Taco Pizza recipe. It is tasty and full of refreshing ingredients.
If you like the list, note it down right away and leave a like for this recipe!
Nutrition Facts
6 servings per container
---
Amount Per ServingCalories295
% Daily Value *
Total Fat 14.1g

22

%
Cholesterol 87mg

29

%
Sodium 305mg

13

%
Potassium 402mg

12

%
Total Carbohydrate 11.1g

4

%

Dietary Fiber 1.5g

6

%
Sugars 0.4g

Protein 29.8g

60

%
---
Calcium

158

%
Iron

15

%
Vitamin D

2

%
* The % Daily Value tells you how much a nutrient in a serving of food contributes to a daily diet. 2,000 calories a day is used for general nutrition advice.