This collection of the best leftover sweet potato recipes highlights the versatility of this humble orange vegetable. With this list, you no longer have to worry about leftover sweet potatoes taking up valuable space in your refrigerator.
Sweet potatoes make a fantastic, flavor-packed basis for various dishes, including salads, waffles, soups, and pie. That is why leftover sweet potatoes are always a nightmare, especially after Thanksgiving.
That is why I created this stacked and loaded guide on creative ways to reuse these gratifying and beloved root vegetables. Regardless of whether your sweet potatoes are mashed, roasted, or boiled, these leftover dishes will delight everyone at your table.
Without further ado, let's dive right in!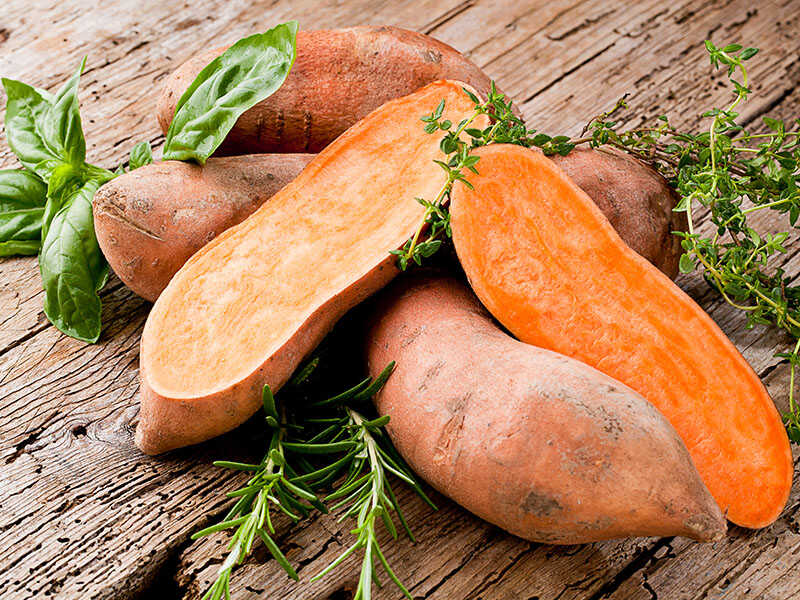 Let's Use Up Your Leftover Sweet Potato With These 39+ Delightful Recipes
The following compilation guarantees to be the most diverse list about revitalizing your cooked sweet potato, turning it into excellent meals for your family. Here are 39+ recipes you can try right away to wow your loved ones.
Whenever I am in the mood for something creamy and cozy, this recipe is always the first choice that comes to my mind. Twice-baked potatoes are one of the best ways to use leftover baked potatoes, and the same applies to uneaten sweet potatoes.
Sweet and savory combine well in these twice-baked sweet potatoes. They balance the natural sweetness of your leftover potatoes beautifully with warm, sharp, and acidic tastes. Revitalizing cooked sweet potatoes instead of conventional baked potatoes also makes the dish healthier.
Twice-baked sweet potatoes are cooked twice to extract every last bit of flavor from this side dish, making it a perfect holiday treat for the whole family. You will have no regret trying them and fill your mouth with luscious and bright tastes.
Roasted sweet potato salad is a remake of the traditional potato salad with various vegetables and dried cranberries. The use of lemon juice and apple cider vinegar only (no dressing) adds zesty flavors to this sweet salad, making it ideal for spring picnics and summer barbecues.
To be honest, anything containing roasted sweet potatoes is sure to be delectable, and this roasted sweet potato salad is no exception. Roasting leftover sweet potatoes not only brings out their inherent sweetness but also provides rich contents of vitamins and antioxidants.
Therefore, consuming this meaty salad will help protect the body from free radicals. Plus, thanks to its healthy ingredients, the salad is also gluten-free, vegan, and paleo.
You can prepare this nourishing salad ahead of time quickly and enjoy it deliciously at room temperature. Bear in mind that this substantial side also qualifies to be the main course. After just one mouthful, you will come back for more!
Gather all nourishing veggies to generate this roasted sweet potato salad!
If those leftover sweet potatoes are threatening to take up permanent residence in your cabinet, and you are still unable to figure out what to do with them, consider this Spanish-inspired omelet.
This recipe features a delightful twist to the conventional Spanish omelet with the use of a few essential ingredients. While the dish is renowned for its simplicity, it does not mean this delectable recipe cannot be flavorful.
Enjoy its creamy texture and sweet-spicy flavor of cooked sweet potatoes combined in this delectable Spanish omelet. It is such a carb-heavy and substantial breakfast that can quickly satisfy a big family.
While this sweet potato soufflés share some similarities with the famous sweet potato casserole, it also has a handful of variances. The dish features a creamy base made from leftover sweet potatoes and a crunchy, buttery streusel topping that is densely packed with brown sugar.
To get the most taste out of your leftover veggies, I highly recommend roasting them to impart a hint of salty and sweet flavor to this festive side dish.
Don't let the fancy word "soufflé" lead you to believe this recipe is difficult to prepare. Rest assured that this Thanksgiving side could not be simpler. Additionally, you can prepare everything ahead of time and bake it on special occasions.
Serve sweet potato soufflés to your friends and family, and expect to receive fantastic praises for this delectable recipe.
Leftover sweet potatoes with whiskey glaze and bacon create the ideal Christmas side dish. All ingredients come together so harmoniously with a distinct sweet and spicy flavor, guaranteeing to win over the hearts of everyone at the table.
This sugar-free recipe is so easy to put together. Indeed, the most complicated and time-consuming part is roasting your leftover potatoes.
In comparison to other candied sweet potato recipes, this one is not overly sweet. Besides the cozy charm, the dish also imparts an unexpected and pleasant kick of spice and crunch.
These sweet potato bars have the flavor of a cross between pumpkin pie and a loaf of bread but without any added sugar. These bars are quite a filling and satisfying grab-and-go snack to enjoy when you want something fluffy during busy times.
One wonderful thing about these nutty sweet potato bars is that they are freeze-friendly, meaning you can prepare a batch in advance and freeze it for later uses. This feature allows you to enjoy these sweet potato-based delights more easily in every mouthful.
Consuming these bars is also more enjoyable. Instead of putting together a large pie, preparing these cute treats is much simpler to serve visitors. They maintain their form nicely, making them an ideal party snack also.
Sweet potato croquettes are the addictive combination of crispy shells and soft, delectable cheese fillings, making them an excellent vegetarian finger dish for entertainment. They take less than 30 minutes to prepare and are the ideal way to use up any leftover sweet potatoes.
Since sweet potato croquettes are baked rather than fried, they are very light and guilt-free. These perfect treats for summer parties are pretty straightforward to prepare, with no requirement for any particular culinary ability.
You can spark your creativity by incorporating your preferred spices in these sweet potato mixtures. To make a meatier version, you can rely on some crispy pancetta to help balance out the overall sweetness of these delectable croquettes.
Serve these lovely treats hot or at room temperature to your family and friends. Make sure to accompany the dish with garlic aioli or mayonnaise. Believe me when I say that these crunchy sweet potato croquettes will disappear in a flash!
Mornings are incomplete without a stack of pancakes in front of you. These fluffy sweet potato pancakes are a delicious spin on the classic recipe and are ideal for an autumn morning. They taste much better than any box mix you have ever consumed.
You simply cannot go wrong with a stack of these fluffy sweet potato pancakes featuring some pecans. With less than 10 minutes and some common ingredients, you will have these Thanksgiving treats ready to enjoy.
Apart from their incredible texture and flavor, these pancakes are also meal prep friendly. If desired, double the recipe to ensure that you may enjoy stacks of pancakes all week. They will undoubtedly become a family favorite and a perfect sweet breakfast recipe.
Preparing these fluffy sweet potato pancakes takes just a few minutes! Watch this video:
Everyone loves pizza! Yet, the guilt that traditionally goes with pizza is what prevents people from fully enjoying it. What makes it unhealthy is the use of white flour crust, topped with an excessive amount of cheese and then layered with processed meat.
However, sweet potato crust pizza is nothing like that kind of pizza described above. This paleo version is perfect for daily consumption since it is brimming with nutrition and protein rather than empty calories.
For all the above reasons, this sweet potato crust pizza is a dream-come-true for all pizza lovers who want to improve their diet's health. This crust is crisp around the edges and firm enough to hold splices in your fingers.
Sweet potato crust pizza is a game-changer for weeknight pizza, as it ticks every box: adaptable, handhold-able, healthy, and so simple to make!
These sweet potato rolls are appropriate for the day after Thanksgiving dinner when you are left with a smidgeon of leftover sweet potatoes among other things. These rolls are yeast-free, so there is no need to be afraid of yeast baking.
You can generate their unbelievably soft and fluffy texture by using sweet potato and self-rising flour. These ingredients also add a little crunchy, chewy crust, a rich orange hue, and a tinge of sweetness to your yeast-free bread.
It is best to serve these soft rolls fresh from the oven with leftover turkey in gravy. Alternatively, you can use them as tiny burger buns or bite-size sandwiches.
Are you a fan of sweet potatoes? Are you a soup lover? If you answered yes to both questions, you are likely to enjoy this loaded sweet potato soup as much as I do! It is nutritious, hearty, and comforting.
And, as if those traits weren't enough, it is a foolproof dish that is ready in less than 30 minutes. With all your desired toppings added (bacon crumbles, cheddar cheese, etc.), this warm soup is ideal for any cold day in keeping you cozy from the inside out!
The utilization of leftover sweet potatoes brings more surprising benefits than white potatoes in regular potato soups. Sweet potatoes increase the nutritional value of your recipe and prevent white potatoes' inflammatory properties.
Life would be a lot more enjoyable if nutritious sweet potato fries existed. Wait a minute! You can totally pull that wish off with the use of an air fryer. Preparing sweet potato fries in an air fryer brings many surprising advantages to this particular dish.
Unlike the deep-fried version, these air fryer sweet potato fries have the irresistibility of restaurant quality but use little to no oil throughout the process. Therefore, they are guilt-free and nutritious side dishes for lamb chops that you can enjoy as often as you want.
You won't believe how brilliant your leftover sweet potatoes are after you repurpose them into these fabulous treats. They are crispy on the outside and tender on the inside. Plus, air fryers make your preparation quicker than ever!
Feel free to enjoy this air fryer breakfast recipe alongside primary entrees for breakfast, lunch, or supper with a tangy yogurt sauce. I am sure that after the first bite, you will keep coming back for more of these crunchy chips!
Sweet potato casserole with marshmallows is the perfect marriage of smooth, creamy sweet potatoes and a gooey covering of marshmallows. The marshmallow edges are both fluffy and crispy, making it the big hit in my Thanksgiving feast menu.
In my opinion, the combination of soft marshmallows, sweet potatoes, and brown sugar in this recipe is so good that it would be a disaster to leave any ingredient out. Once you have done the baking, you get a deliciously golden and sticky casserole that will wow everyone.
Serve this dish with some green beans and a bowl of homemade cranberry sauce to elevate its taste to a whole new level.
Another fantastic way to substitute regular fries is to bake sweet potato fries in the oven. The final result is fluffy potatoes with a crispy, caramelized exterior.
Not only more appealing, but these treats are healthier, helping you avoid consuming significant volumes of oil. Plus, these nicely browned fries are vegan, gluten-free, and paleo-friendly.
Don't underestimate the power of ovens in baking these fries. It maintains the trademark crispiness that frying oil imparts to raw potatoes. The oven does an outstanding job of converting your leftover sweet potatoes into a crispy, dippable side dish that your whole family will enjoy.
I highly advise you to enjoy freshly sweet potato fries. However, if your hectic schedule gets in the way, you can prepare these treats in advance by slicing and storing your leftover sweet potatoes in a big jar of water in the refrigerator for up to two days.
Lasagna is one of the most soul-satisfying foods available, and this little twist of sweet potato lasagna is no exception. The finely sliced sweet potatoes are an excellent substitute for lasagna noodles. They are soft yet strong enough to retain their shapes.
Thus, if you are a fan of creamy pasta but also want to cut down on consuming empty carbohydrates, give this dish a try and see if you can make your mind, body, and taste buds happy.
Altogether, this sweet potato lasagna is a robust and fulfilling main meal, suitable for both vegetarian and gluten-free dietitians.
Hummus is undoubtedly the most well-known Middle Eastern cuisine, owing to its global appeal. The recipe name is the Egyptian word for chickpeas, the traditional principal component. With the addition of sweet potatoes, the dish becomes more nutritious and delectable.
Additionally, the use of leftover sweet potatoes saves you a ton of time. All you need to focus on is to insert sesame seeds for crunch, fresh parsley for brightness, and crushed red peppers for spice.
Before serving, drizzle your hummus with extra virgin olive oil. Then, serve it as a dip with pita bread or crudités. This sweet potato hummus works well when spread on sandwiches or used in place of mayonnaise in tuna salads.
You should see the video below:
Have you heard the news? Sweet potatoes have replaced bread to become a new toast. Well, I do not say they taste like toast. What I mean is that when you toasted sweet potatoes and top them with your favorite toppings, you will no longer miss bread anymore.
Therefore, forget the typical bread toast this weekend and consider adding this sweet potato toast to your breakfast (or brunch) menu.
These strong slices of sweet potato are hard enough to withstand a variety of toppings (from peanut butter and banana to avocado and sesame seeds), yet the core is still tender enough to enjoy.
There is an infinite number of sweet and savory toppings you can choose for this delicious, low-carb, low-calorie breakfast!
Sweet potatoes are a fantastic ingredient when it comes to making biscuits and other bread goods. When combined with dough, they provide a softer, fluffier texture. These sweet potato biscuits demonstrate precisely these traits.
Technically, these biscuits are vegetables in camouflage. You will be amazed at how much they taste like conventional biscuits. Yet, these biscuits' main content is sweet potato. So, if you are trying to convince your kids to eat more veggies, but all they want is bread, pick this recipe!
You can enjoy these biscuits with a turkey noodle soup or consume them with some butter and honey for a satisfying breakfast. Whichever way you serve them, one thing is certain: the recipe will use up all your leftover sweet potatoes!
These crispy and flavorful sweet potato patties are ideal for a vegetarian meal or side dish during holidays. They are an excellent way to empty your leftover-sweet-potato-loaded refrigerator, turning the cooked ingredient into something everyone adores.
If you are looking for a nutrient-dense dessert from sweet potatoes, this recipe will fit the bill nicely. Even the pickiest children will love it. You can also add these low-fat cakes to burger buns, lettuce wraps, and ketchup or sweet chili sauce for a healthy snack, lunch, or dinner.
While these sweet potato patties are simple to prepare, they need a bit more caution than traditional mashed potato versions. Sweet potatoes provide a much more delicate texture than these patties. Thus, gently turn them, or they will break apart on you.
All in all, these delicacies are undeniably spectacular and unique enough to stand on their own among a great dessert buffet.
With the sweet potatoes baked the night before, this meal comes together in a flash. It is a healthy way to incorporate leftover sweet potatoes in your meals, particularly breakfast, with the explicit intention of providing a nutritious and substantial treat for the whole family.
Making fried sweet potatoes and eggs is incredibly simple, requiring just a few minutes in preparation. Yet, the final result will never let you down! Yet, as reheating the eggs would destroy their runny yolk, always finish the dish with the eggs prior to your enjoyment.
Since eggs are the most delicious component of the recipe, using the above tip will help you avoid ruining their magical runny yolk. Completing the meal with an orange or two clementines is also a brilliant idea!
When I first discovered this sweet potato bread, I was astonished. The bread is unbelievably soft, moist, and flavorful. It is almost cake-like in tenderness, which may fool you into thinking this recipe is complicated to pull off. Yet, the opposite is true!
By using sweet potatoes, oil, and buttermilk, you can easily achieve the appealing softness displayed by this moist bread. You don't even need any mixer or special equipment in preparing sweet potato bread, which proves how simple this recipe gets.
The bread is somewhat sweet and salty, but not too so. Although I compare it to cake, it is still dry and lacks the airy, flaky texture that many cakes have. Yet, one thing I really love about this dish is that your home will smell lovely throughout your preparation time.
Besides the sweet and salty taste, sweet potato bread also features chewy brownie edges and delicate fillings. You can prepare this recipe into mini loaves or one single large loaf, depending on your preferences.
This contrast in texture is addictive, helping it climb all the way to the top of my healthy breakfast list. Spread it with jam and butter, or serve it as a side to any roast. However you enjoy the dish, it will disappear quickly!
One aspect that sets these sweet potato waffles apart is the perfect ratio of sweet potato to waffle batter. You can sense the sweet potato flavor is prominent yet not overpowering the waffle.
These sweet potato waffles are also a simple way to sneak vegetables into your diet while also providing high contents of vitamins and fiber to your body. This recipe is a fantastic way to use up your leftover sweet potato for breakfast on the following day after Thanksgiving.
These low-calorie waffles will indeed become a big hit in your family, especially when served warm with your favorite syrup!
Sneak vegetables into your diet with these effortless sweet potato waffles.
Sweet potato quesadillas are a delectable supper meal inspired by Mexican cuisine! They are brimming with black beans, corn, and dairy-free cheese, all of which are stuffed beautifully in crispy tortillas.
The wonderful thing about this recipe is that you can customize its contents. You may make them entirely vegan by omitting the cheese or by adding your favorite vegetables. My favorite vegan fillings would include fresh herbs and greens, such as spinach.
Besides my suggestion, you can fill these sweet potato quesadillas with your favorite nutritious ingredients, including plant-based protein from beans and other stuff. You can top your Mexican treats with vegan cheese and serve them with guacamole as well.
This recipe is a fantastic lunch or supper dish, but it also works nicely as a savory breakfast item. Regardless of when you enjoy this soothing dish, remember to consume it immediately for the best flavor and texture.
If you have leftover sweet potatoes stacking up in your refrigerator, don't throw them away! Instead, use them to make this creamy and flavorful sweet potato alfredo. I discovered this recipe on a chilly night when I wasn't in the mood to leave the house.
So, if you are facing the same situation as I do, you have to try this healing dish right now! This recipe will have you reconsidering your opinion about sweet potatoes. Besides this main component and the creamy sauce, you can veganize the dish by adding tons of greenery.
Let's bring your leftover sweet potatoes to the forefront with this spaghetti dish, which is ideal for a fast cold-weather meal. While you may have tried substituting zucchini spirals or spaghetti squash for pasta in the past, this recipe is a completely unique spin on the veggie pasta trend.
If you are a fan of sweet potato fries, these grilled sweet potatoes will quickly become a summer staple. After just one bite, you will want to make this your go-to summer side dish recipe.
These simple grilled sweet potatoes in foil make a fantastic side for any BBQ meal! They are nutritious, tasty, requiring little hands-on work to prepare, and straightforward to modify to each individual's preferences.
When topped with a variety of toppings, grilled sweet potatoes qualify to be an outstanding main dish! You can top them with whatever you like and serve them with a delectable side salad.
These grilled sweet potatoes pair well with pesto mayo or a simple mix of balsamic vinegar and olive oil. You can simplify things even more by drizzling the dish with maple syrup.
In this inventive take on crostini, cooked sweet potato slices take the place of toasted bread. The ingredient works well with cheese, pear, and thyme called for in this recipe. The tastes complement one another nicely, and they make a lovely appetizer for individual guests!
A genuine admirer of Italian cuisine would undoubtedly argue that calling this dish a crostini is a complete fabrication since it lacks bread – the most critical component. Yet, I think it does not hurt to be a little creative here and there, right?
To me, the nicest part about this sweet potato crostini is that you can design your own topping combinations by using whatever ingredients you have on hand. Therefore, if you are searching for a quick way to wow your pals, this recipe is an excellent choice.
If pumpkin pie is the signature dish in fall, this sweet potato ice cream is a real deal for your summer menu. This delectable cashew-based ice cream is refreshing, as no one would suspect it includes sweet potato.
If you are feeling fancy, a dab of coconut whipped cream is a brilliant idea. With this recipe, your summer vacation will certainly become more exciting!
Colorful and delicately seasoned with Moroccan spices, this slow cooker chicken and sweet potato tagine is ideal for quick midweek dinners, assuring it to be a huge hit in your whole family. This recipe is also suitable for those following a healthy eating habit.
What I love about this recipe is that these Moroccan-inspired flavors will spice up your meals, whether it is summer or winter. The slow-cooked chicken becomes incredibly tender, while cumin and cinnamon create a subtle spiced aroma.
Plus, leftover sweet potatoes and chickpeas give extra texture to the tagine. Spend 15 minutes in the morning preparing and putting in a slow cooker, and you will return home with an amazing dish ready to serve.
Serve this tagine with couscous and sautéed garlicky greens in olive oil as a side dish for a more substantial meal!
In culinary terms, a hash is essentially a jumble of disparate components, a basic one-bowl supper that is ideal when you are pressed for time but yet still want a healthy diet.
When it comes to those difficult requirements, you will find no better candidate than this sweet potato hash. The dish features a succulent combination of leftover sweet potatoes, flavorful sausages, and colorful veggies, which keeps you satisfied for hours.
The sweet potatoes in this recipe complement the other ingredients so well. Adding fried eggs on top will elevate the meal to a new height!
Sweet potatoes and black beans is one of my favorite combinations, owing to their excellent mix of taste, protein, and carbohydrates, not to mention the vitamins you get. That is why this sweet potato Buddha bowl is always on top of my ideal meal list.
Trust me when I say anybody can prepare this healthy and simple supper, as it is very straightforward. Its simplicity begins when you decide to use up your leftover sweet potatoes. Plus, the remaining preparation is also a piece of cake.
Once you finish the cooking, you get to taste a true "flavor carnival" from just a single bowl. There are vibrant roasted sweet potatoes, blending nicely with robust sautéed kale, nourishing black beans, and tangy avocado sauce to generate a fulfilling plant-based dinner.
Thanks to its simple preparation and appealing flavor, you can enjoy this meal prep effortlessly throughout the week. This point is precisely what makes Buddha bowl so fantastic!
What began as a quest to use up leftover sweet potatoes has evolved into such a delicious meal that pleases both vegetarians and meat-eaters.
Sweet potato pie is a traditional Southern delicacy featured popularly on many holiday dessert tables. This Southern cuisine begins with a buttery graham cracker crust and is filled with a creamy sweet potato custard.
The nice thing about this delectable pie is that you can utilize all your leftover sweet potatoes to create such a delightful dairy-free dessert. Although it is the main star on many holiday occasions, you can prepare this pie at any time of the year.
Add a tablespoon of maple whipped cream to this yummy pie for an incredible single-serving dessert! Enjoy this amazing dish with your hunger and a spoon, or make a larger batch to serve your family at the dinner table!
Hearty, nutritious, and full of creative possibilities, this sweet potato chili is the ideal cold-weather entrée. Not only use up your leftover sweet potatoes, but this dish is also bursting with warm and comforting flavors. Needless to say, it always tops my chilly-time menu.
Featuring tons of veggies, this chili will undoubtedly warm you up without being too heavy for the stomach. Not to mention it is straightforward to pull off and incredibly healthy. The dish contains plant-based protein and fiber and has no cholesterol at all.
Let's try out this amazing dish! I am sure this vegan recipe will make you reconsider your opinion on meatless recipes.
Enjoy your leftover sweet potatoes in this sublime chili!
Do you know that people often call these sweet potato treats under the name of "morning glory muffins"? You would know why if you have tasted these muffins before. They are a brilliant dish to start out your morning, thanks to their unbelievably moist texture and sweet flavor.
Plus, these sweet potato muffins are very light, as they reduce your sugar intake. With the assistance of some shredded apple and a drizzle of maple syrup, no one will suspect these delectable muffins are sugar-free.
The leftover sweet potatoes utilized in this recipe also help cut down the amount of oil and add moisture to the muffins. Thanks to such an amazing texture, you can store these cute treats in the freezer for up to three months.
So, if you prepare two batches and freeze one, you will have a delectable treat to share when unexpected guests arrive. They are also a fantastic way to encourage children to consume more veggies. Altogether, this recipe is a quick, veggie-packed, and kid-friendly snack.
Another fabulous method to use up cooked sweet potatoes is this sweet potato pound cake. This recipe is a delicate, light-tasting cake with a little crunchy texture, ticking every box for a perfect holiday treat.
What distinguishes this sweet potato pound cake from other baked food is the Bundt or tube cake pan involved in the preparation process. Then, the pound cake is finished with a brushing of melted butter and a little dusting of powdered sugar.
As a result, you will have a delightful cake mix dessert with a rustic appearance and a fall-appropriate flavor. Each mouthful is brimming with a buttery richness and sweet potato aroma.
Feel free to serve it on any suitable occasion, such as hosting your book club, preparing your children's school lunches, or pairing it with an afternoon cup of coffee.
These donuts guarantee to transform your leftover sweet potatoes into something delectable and spectacular! They are tender, airy, and covered with an incredible brown butter maple glaze, reminiscent of a sweet potato spice cake.
I highly recommend this recipe as this donut version is healthier than your usual pastries. Hence, it makes an excellent kid-friendly snack. Put one in your child's lunchbox and brace yourself for the "parent of the year" honor.
These delectable donuts conceal a surprise within. They won't achieve such a thick, juicy bakery-style texture and out-of-this-world taste without the help of sweet potato. Enjoy them with a cup of coffee or tea for a delectable morning or afternoon treat!
If you are searching for a way to cut down on your meat consumption without sacrificing the meal quality, pick this sweet potato falafel. Seriously, I cannot imagine how someone dislikes falafel, as it is a true win-win dish.
Not only does sweet potato falafel have an intriguing taste, but the dish is also a natural meat substitute with nutritious benefits. I am not surprised to see this cute treat become the main attraction at gatherings and parties.
What I love most about sweet potato falafel is how versatile it is! The recipe is excellent as a side dish for salads, lunch bowls, or supper. You can also pair the dish with tortillas and naan to form wraps and pitas, or just enjoy it as a snack with your favorite dips.
With all the benefits above, I believe you should make a large amount of falafel ahead of time and store it in the refrigerator or freezer. This way, you can always have homemade falafel in a matter of minutes!
Cut down your meat consumption with this amazing sweet potato falafel!
As if sweet potatoes cannot get any better, how about thinly slicing those leftovers, coating them in buttery brown sugar and cinnamon sauce, and baking everything until delightfully crisp and tender? Let me introduce you to this culinary gem called Hasselback sweet potatoes.
I am confident to say that this recipe is much better than the traditional sweet potato casserole you often enjoy at Thanksgiving. Not only is it more delectable, but this dish is also healthier since it uses less butter and sugar.
This recipe really knows how to extract and incorporate all the beautiful tastes of other ingredients into your cooked orange spuds. Plus, the slicing and baking procedure results in a beautiful blend of creamy and crunchy sweet potatoes, making it an excellent autumn cuisine.
You only need to gather four healthy ingredients to make these decadent, fudgy, and incredibly moist sweet potato brownies! These flourless brownies are naturally paleo, vegan, sugar-free, and gluten-free, thanks to the use of sweet potatoes as a basis!
Not only rich and luscious, but these guilt-free brownies are also nutrient-packed and extremely easy to prepare by using just one dish. It is truly a fast snack that will quickly satisfy your sweet craving!
Typically, these brownies become more delectable when totally cooled. Those who adore brownies must have known about this remark. Remember when serving these sweet potato brownies, pay full attention as just a small glance up, and the whole platter is gone!
Scones are one of my favorite baked products since they represent a perfect mix between a cake and a pastry. They are light and airy, featuring a brown sugar icing on top, a softcore, and a crispy crust.
As decadent as they sound, these sweet potato scones are moderately sweet and buttery, having a beautiful contrast between cakey inside and tender-crisp outside.
To me, these scones are a brilliant bread replacement when you don't feel like kneading dough. They have everything you want as an autumn dish: being tasty, eliciting a sense of coziness, and requiring no complexity.
Gather your leftover sweet potatoes, a sage butter sauce, and you will have a bowl of real comfort food to enjoy at the end of your hard-working day. This recipe is the simplest method to generate the most delicious sweet potato gnocchi for your dinner!
This dish is a combination of sweet, salty, and cheesy flavors. The gnocchi is robust enough to withstand the pan-frying scenario that follows. As a result, you will have golden and crispy gnocchi that are soft and beautiful on the inside.
Sweet potatoes provide sweetness and antioxidants to these plump orange dumplings. Enjoy them similarly to normal gnocchi for a mouth-watering supper.
This recipe yields a large quantity of gnocchi. Freeze leftovers on a baking sheet and transfer them to a resealable plastic bag for up to six months.
Maximize Your Creativity With Leftover Sweet Potatoes
These best leftover sweet potato recipes might sound like a long list. Yet, trust me when I say that there are tons of other incredible dishes to use up your cooked orange vegetables. That is why I am handing you the pen so that you can share your creativity with everyone below.
I hope my suggestions have enriched your arsenal in dealing with leftover sweet potatoes. You can also share your experiences in trying those recipes in the comment section. As always, thank you for reading!