Leftover stuffing recipes are what every family should have to make use of the remaining stuffing after big parties such as Christmas. Making the new dishes from this remainder are highly encouraged to avoid food wasting and enjoy new flavors.
You can reuse unconsumed stuffing in many dishes, both with and without cooking. For example, turn it into an easy no-cook breakfast sandwich or combine it with potatoes and turkey to make crispy fried patties. All of them are delicious and easy to make.
With that in mind, I collected a list of many leftover stuffing recipes that I want to share with you today. Keep scrolling to see how workable they are.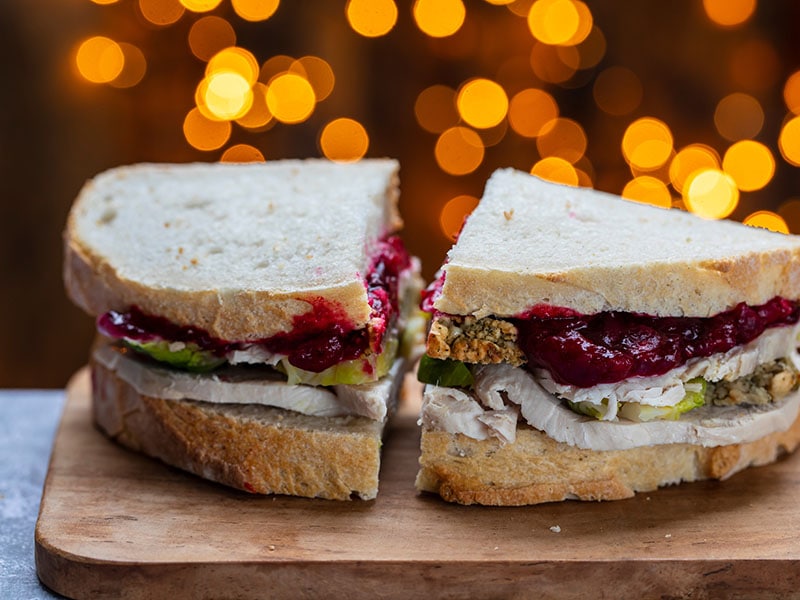 Leftover Stuffing Recipes Are Tastier Than You Think!
With my list today, you can use the remaining stuffing as a wonderful ingredient to create delicious meals. Here are the 27 most fantastic ways for you!
Total time: 30 minutes
Let the list start with these cheesy balls. They have a crispy layer of breadcrumbs and a soft content. Serve with lemon wedges to add a beautifully lemony taste.
A food processor significantly facilitates making these balls. It helps to turn the mixture of breadcrumbs, egg and milk into smooth balls. Then, the beaten egg acts as a glue to stick the breadcrumbs on the balls.
Besides, a cube of melty mozzarella cheese takes the balls to the next level with its creaminess. You can keep leftover balls in an airtight container in your refrigerator for up to four days.
Total time: 1 hour 45 minutes
Coming next on the list is a turkey dumpling soup made with leftover turkey and stuffing. You want to form stuffing dumplings and drop them in a hot homemade soup. Veggies and herbs come into the stockpot later to make a hot, refreshing soup.
The soup is versatile in terms of ingredients. Dried herbs can replace fresh ones with smaller amounts because their flavors are more concentrated. If you don't have leftover turkey, rotisserie chicken will do the trick.
Making turkey stock at home is very easy with the turkey's carcass. Simply boil it with carrots and herbs to extract the flavors into the stock. If you don't feel like making homemade turkey stock, simply use store-bought chicken stock instead.
Turkey dumpling soup is so hearty with the turkey, stuffing dumplings, and veggies.
Total time: 45 minutes
Making casserole is a great way to turn your leftover turkey and stuffing into a hearty dish. The tender turkey, chewy stuffing, veggies, and French fried onion toppings will bring you an enjoyable eating experience.
The stuffing transforms into a firm crust at the bottom, with eggs used to make it sticky. If your stuffing is too dry, simply add chicken broth, water, or butter to soften and bind it better.
You can make the filling by combining chopped turkey, green beans, and mushroom soup cream. After that, lay the filling into the stuffing and top with fried onions. Finally, move the casserole into the oven and bake for 35 minutes.
Total time: 1 hour 10 minutes
The subtle buttery sweetness of baked acorn squash combines with your leftover turkey and stuffing to create a wonderful dish. Besides, you also use cranberry sauce to give moisture and a hint of sweetness to your dish.
A homemade broth from your leftover turkey is important to flavor the filling mixture. You should also chop your turkey the same way you did with your stuffing. It means that if your stuffing is cube-sized, then you chop your turkey into cubes.
You can use either acorn squash or butternut squash, although the former cooks faster and gives a slight sweetness to your dish. Remember to roast the squash beforehand to bring out the most flavor.
Total time: 35 minutes
A savory turkey and stuffing crescent ring should be your top choice when dealing with holiday leftovers. It has a buttery, flaky crescent crust and a generous filling of turkey, stuffing, cranberry sauce, cheese, and chicken gravy. So filling for such a crescent ring!
To form a beautiful ring, you should overlap crescent rolls into a sun-shaped circle. Then, add ingredients and cover the filling with the rolls' ends. Bake the ring until it's nicely golden brown. A bowl of warm gravy would perfectly round down the dish.
The shelf life of the crescent ring varies depending on how old your leftover turkey and stuffing are. For example, you can keep the rings for two days more if the leftovers have been stored since yesterday.
Total time: 33 minutes
You will have a creamy and flavorful meal by combining leftover stuffing with grated Parmesan cheese in cremini mushrooms. These simple stuffed mushrooms will be your favorite appetizer for any cocktail party or dinner.
The mushroom can release moisture while it cooks, so it's best to pre-bake them before filling the stuffing mixture to avoid sogginess. Since the stuffing may slightly dry out overnight, you should add a little broth before filling it into the baked mushrooms.
Regarding nutrition, cremini mushrooms contain plenty of fiber, antioxidants, and potassium. Therefore, eating them regularly can help protect your heart and prevent constipation and fatigue.
Total time: 12 minutes
After holidays like Christmas or Thanksgiving, you don't feel like cooking something complicated. Then, you can make these waffles with several ingredients in a jiffy. The recipes only call for leftover stuffing, stock, eggs, and salt for the waffles.
Chicken, vegetable, turkey stock, or even milk is good for making these waffles. Mix it well with the leftover stuffing. You can give the stuffing some pulses in a food processor to eliminate any thick or lumpy pieces.
These tasty waffles pair well with scrambled eggs, bacon, or your holiday's leftover turkey. Also, you can simply enjoy it with cranberry sauce or aioli (mayonnaise seasoned with garlic).
Make tasty leftover stuffing waffles with a few simple steps now!
Total time: 35 minutes
Originating in Spain, empanadas are delicious, just like how beautiful they look. They are also super easy to make when you just need to prepare a filling of leftover stuffing, turkey, cheese, and cranberry sauce.
The cranberry sauce gives a tangy flavor to your empanadas, while Swiss cheese has a mild and nutty flavor. If you don't like Swiss cheese, feel free to switch to your loved variety. Besides, you can use either chicken or ham in place of turkey.
These cranberry empanadas are best served hot. You can store it in your fridge for five days and heat it when serving. Another way is to put them on the baking sheet and freeze them. After the empanadas are frozen, store them in resealable bags in your freezer.
Total time: 55 minutes
Classic quiche is a delicious baked custard filling in a flaky crust. For this quiche, you will make the filling with stuffing, turkey, cheddar cheese, and spinach. Besides, mashed potato crust sets this quiche apart from the classic version.
You want to make the potato crust with mashed potatoes. Simply set them on the plate's bottom and sides, then brush with oil and bake until it turns golden brown. After baking the crust, add in the filling and the custard, then continue baking.
This Turkey quiche is perfect for lunch or dinner. It goes well with salads, roasted veggies, or soup. Besides, you can also enjoy this quiche with French bread or dinner rolls.
Total time: 26 minutes
Classic croquettes are breadcrumbed fried food rolls. They usually contain mashed potatoes, eggs, and vegetables mixed with meat such as veal, beef, and turkey. They are a great way to use up leftovers as ingredients.
In these croquettes, you will use turkey, leftover bread stuffing, an egg, and seasonings to create the mixture. Transform the concoction into patties, dredge them in flour and egg. Next, wash, and coat them with breadcrumbs.
An important part of the dish is the salad dressing made with cranberry sauce, lemon juice, mustard, and shallots. Finally, more extra vinaigrette is set on the side to add extra tanginess when you enjoy these delicious croquettes.
Total time: 1 hour 10 (with 10 minutes of rest time)
Turning Thanksgiving leftovers into a savory pie couldn't be easier with this recipe. That's because you can use the remaining stuffing and store-bought pastry pie crusts. It promises to be a new item on your menu after every holiday.
The pie has layers of moist turkey, creamy gravy, and mashed potatoes covered with a top crust. Therefore, all of the Thanksgiving flavors are packed in a single pie.You can also add corn or green beans to make the pie heartier.
The secret to making a perfect pie is the right amount of gravy. It helps maintain the moisture of the filling. Therefore, remember to balance the amount of gravy, stuffing, and potatoes.
Total time: 1 hour
These delicious pork chops are filled with leftover stuffing and baked to perfection. They are juicy, meaty, and satisfying. Besides, sage and fresh garlic adds a new layer of flavor to the dish.
The recipe calls for boneless pork chops thick enough to hold the stuffing. You need to create a pocket on the pork to stuff ingredients. Stuffed pork chops take longer to cook, so keep an eye on their doneness. A meat thermometer will greatly help you with this.
There are a few sides you can pair with these baked stuffed pork chops. For example, mashed potatoes, buttermilk biscuits, baked apples, and simply a wedge salad are all good choices.
Making baked stuffed pork chops couldn't be easier with this tutorial!
Total time: 20 minutes
Making a grain-free turkey stuffing hash is another great way to enjoy your stuffing twice. Simply gather the ingredients, including leftover turkey and stuffing, arugula, eggs, and cranberry sauce, to make up a tasty hash.
The hash comes together in just 20 minutes with simple steps. First, you need to melt butter and add all ingredients into the frying pan. Then, fry them until the mixture has crispy surfaces and edges.
This grain-free turkey stuffing hash can be your favorite weekend breakfast or brunch. Besides, it's also a wonderful dish to treat your family members and guests.
Total time: 30 minutes
Tender slices of roasted turkey rolled around stuffing, and smothered in gravy can satisfy your craving anytime, especially during a weeknight dinner. The preparation is also extremely simple; it takes only 10 minutes to prepare and 20 minutes to bake.
First, lay the sliced turkey and add the stuffing to it, then form them into rolls. Next, place the seam side down and pour the turkey gravy on the rolls. Next, move the casserole to the oven and bake for 20 minutes.
It's worth trying other variations of these savory turkey stuffing roll-ups. For instance, adding leftover mashed potatoes for a smoother, softer filling. The recipe can also include cranberry sauce or green bean casserole filling.
Total time: 22 minutes
Croutons are crispy pieces of bread that are toasted or fried. They can be used to make stuffing. However, you can do the reverse, making croutons from leftover stuffing from holidays.
With spiced stuffing, you only need some olive oil to bake them into croutons. The stuffing croutons have a beautiful brown color. You can feel a combination of crunchy edges and soft content. Besides, the roasted onion makes them much more flavorful.
These croutons are always perfect to top on soups, scrambled eggs, or salads. Besides, it's never wrong to enjoy them as a snack any day.
Total time: 10 minutes
If you have little time to cook leftover stuffing, these sandwiches are exactly what you want. They come together in 10 minutes with no cooking required, but they are still very hearty and delicious.
To work the magic, you will spread two pieces of bread with a mixture of mustard and mayonnaise. Then top with all ingredients, including stuffing, turkey, mashed potatoes, etc. Finally, cover with other bread pieces to finish the mouth-watering sandwiches.
You can store assembled sandwiches in an airtight container for a day. Because these sandwiches can easily bind together, so freezing is not a good option.
Total time: 50 minutes
Mac and cheese have long been an international favorite. This version involves boiled pasta and turkey in a gooey sauce and a golden topping of stuffing. Packed with plenty of ingredients, it's a filling dish that will make you feel full for a long time.
As a wonderfully creamy sauce, Béchamel is what people yearn for when eating mac and cheese. To make it, you will start by making a roux, a cooked mixture of butter and four. Then, add seasonings like salt, pepper, and nutmeg to finish the Béchamel sauce.
Also, you can not miss the cheese. You can try using different kinds of cheese such as cheddar, Colby, or a Monterey Jack. Besides, others like Gorgonzola, Brie, and goat cheese also do the trick.
Total time: 10 minutes
Nachos usually involve tortilla chips topped with melted cheese and delicious toppings. Making nachos is a creative way to use up your leftover thanksgiving stuffing. They are sweet, spicy, and tangy at once.
Tortilla chips, turkey, mashed potatoes, stuffing, and gravy, are laid on a single pan. Then, dollop cranberry sauce and sprinkle cheese over the delicious mixture before broiling it. Finally, serve with some cilantro on top as a lunch, appetizer, or snack.
You can also include more toppings. For example, leftover Brussels sprouts, sour cream, and jalapeños are perfect options. Besides, add a squeeze of lime before serving if you want to add a tart, acidic taste.
No one can resist these crisp, cheesy nachos!
Total time: 45 minutes (with 10 minutes of resting time)
A leftover stuffing frittata is ideal for brunch or dinner after the holidays. Gather necessary ingredients, including stuffing, vegan parmesan cheese, vegan liquid egg substitute, etc., and make a beautiful Italian-inspired dish.
Making this frittata is entirely foolproof, so you'll never go wrong, even if you are a new cook. As a tip, you should grease the baking dish with non-stick cooking spray to ensure that the frittata won't stick to the dish.
Apart from the main ingredients, feel free to include add-ins such as sausage or vegetables in your frittata.
Total time: 40 minutes
Try these bacon-wrapped stuffing balls if you want to use up your leftover stuffing creatively. They are eye-catching with stuffing balls rolled in slices of bacon. Dried cranberries give their slight sweetness, while the barbecue sauce adds a new layer of flavor.
The use of mozzarella cheese helps all ingredients bind into smooth balls before wrapping them with bacon slices. Maple bacon is perfect to use thanks to its smoky-sweet flavor. If you can't get it, substitute with any thin or regular sliced bacon.
You can prepare the stuffing mixture or assemble the balls a day ahead of time. Since they are chilled overnight, the bacon balls may take more time to cook through. Therefore, adjust the baking time and keep an eye on the balls.
Total time: 55 minutes
A strata is a layered casserole that looks like bread pudding. This breakfast strata contains leftover stuffing, eggs, veggies, and seasonings. It carries loads of flavors that are perfect to start your day.
Every strata are flexible in terms of ingredients, especially vegetables. Using your leftover cooked vegetables would help you save more time. Of course, you can also sauté or blanch your favorite fresh veggies. Besides, remember to toast your bread to make it crusty.
You can also change the seasonings to your preference. For example, Sage and oregano bring you a touch of Thanksgiving flavors. Other herbs and spices like curry powder, furikake, or even milk also work.
Total time: 29 minutes
Stuffing baked eggs is so easy to make when you are unsure what to do with leftover stuffing. All the goodness, such as the stuffing, sunny-side-up eggs, and cheese combine in bowls.
First, place the leftover stuffing into bowls and cook until it becomes golden and crunchy. Then, add eggs, cheese, and seasonings to each bowl. After baking, simply top with some fresh parsley on the wobbly baked eggs.
You can double or halve the recipe to your preference. For example, a serving cup for one person can be filled with half or quarters of stuffing and an egg. When serving, don't forget to accompany with a fresh salad.
Total time: 30 minutes
Emerged in the late 1950s in Quebec, Canada, poutine is a dish of french fries topped with cheese curds and brown gravy. In this recipe, you also utilize your leftover stuffing and turkey to make a delicious poutine.
You can fry your favorite potatoes with oil or cook them in your air fryer or dutch oven. Potato fries, waffle fries, or any other types bring you tasty poutine. Then, pop leftover stuffing, turkey, and gravy in a microwave to heat them up.
On a serving platter, drizzled the cranberry sauce over the turkey, stuffing, cheese curds, and gravy. For serving, don't forget to top with extra gravy, tart, sweet cranberry sauce, and herbs.
Total time: 35 minutes
These turkey and stuffing cups involve stuffing, chopped turkey, eggs, and savory turkey gravy. They are so promising, with a crispy exterior and a moist interior. The dish is delicious whether you enjoy it as an easy snack, for lunch, or dinner.
The good news is that these cups are customizable. You can combine other leftover food like mashed potato and cheese into the recipe. Besides, adding more veggies and meat into your little cups is great. Cranberry sauce can also be set on the side.
Lastly, making these turkey and stuffing muffins in advance is possible. You can prepare all ingredients and refrigerate them overnight. Then, simply set it on your muffin tin and bake in the oven the next day.
These turkey and stuffing cups have a crispy exterior and a moist interior!
Total time: 30 minutes
This cranberry BBQ leftover turkey pizza pie differs from your classic pizza. Instead of tomato sauce, you will use a mixture of cranberry and BBQ sauce. It gives a tart-sweet flavor to your savory pizza pie.
The pizza pie is so easy to make when you use puff pastry instead of making the dough from scratch. In terms of toppings, the pie is loaded with stuffing, turkey, and leftover Brussels sprouts gratin, making it a hearty dish.
If you don't have leftover Brussels sprouts gratin called in the recipe, you can try adding leftover green bean casserole instead.
Total time: 40 minutes
If you want a cheesy combination of leftovers, look no further than these Thanksgiving leftover enchiladas. They are full of goodness and explode with plenty of holiday flavors with a Mexican twist.
The recipe calls for shredded turkey, leftover stuffing, cheddar cheese, and a store-bought enchilada sauce. All the ingredients are combined and rolled in flour tortillas. Then cover with extra enchilada sauce and cheese and bake in the preheated oven.
The good news is that you can make these enchiladas and store them in your refrigerator for several months. Then, when you are ready to serve, simply reheat in the oven or microwave.
Total time: 40 minutes
These stuffed peppers are a nutritious dinner that you can make with only four ingredients. You will stuff cooked turkey, stuffing, and shredded Provolone cheese into peppers. They are perfect for adding veggies to your diet and using all the leftover stuffing.
You can add some chicken broth or vegetable broth to the filling mixture to add moisture if it looks dry. For serving, these flavorful stuffed peppers are hearty enough to eat solo. However, feel free to serve them with salads, fruits, or roasted vegetables if you like.
Based on your desired texture, you can choose to cover the baking dish with foil or not. Covering with foil produces a soft and mushy filling, while baking without the foil gives you slightly dryer filling.
These Recipes Prove How Great Leftover Stuffing Is!
With all the fantastic recipes above, you can be sure now that there are always ways for you to use up your leftover stuffing. Besides, the dishes are very creative and delicious. So I hope you saved some dishes to treat your family and guests.
If you enjoy reading my post, give it a like and share it with those who may be in need. Also, try making these recipes as soon as possible, and don't forget to share your results with me in the comment section. Thank you, and see you next time!