Maybe you are tired of old pasta dishes right now, so these 17 best leftover spaghetti recipes are going to change your mood.
Who hates spaghetti? My answer is absolutely no one, but sometimes leftovers are unavoidable. However, it is a waste of good food if thrown away. Therefore, I will introduce to you these 17 recipes that can refresh your leftover spaghetti.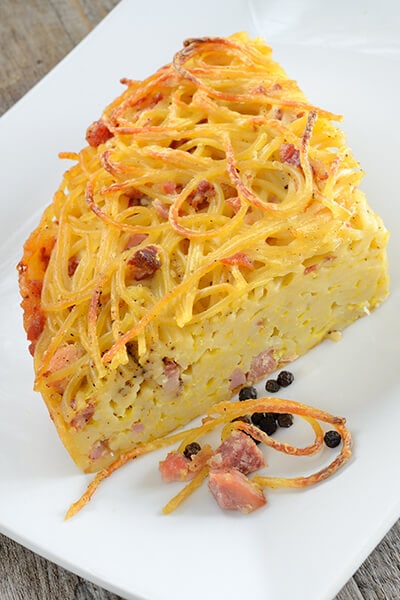 My Best 17 Leftover Spaghetti Recipes:
Here are the tastiest recipes to refresh your leftover pasta. I separated it into each type of cook section to easily find what is most suitable for your meals. Let's dig into it right now!
Bake:
Leftover Spaghetti Bake
Spaghetti Pie
Spaghetti Pizza
Muffin Tin Spaghetti
Leftover Spaghetti Boats
Carbonara Frittata
Spaghetti Cheese Casserole
Leftover Spaghetti Lasagna
Fry:
Leftover Pasta Frittata
Leftover Pasta Fritters
Spaghetti Balls
Stir-Fry:
Spaghetti Lo Mein
Chocolate Spaghetti
Grill & Salad:
Spaghetti Grilled Cheese Sandwich
Leftover Spaghetti and Meatball Panini
Spaghetti Salad
Tuna Pasta Salad
For more details, all you need to do is scroll down!
Top 8 of Baking Delicious Leftover Spaghetti Recipes
Spaghetti is a fantastic dish, so do not waste it, although it is just a leftover. Thus, let me show you eight ways to bake it and then love it!
An easy way to make the leftover spaghetti great again after one night is to put it in a magical oven and transform it into a spaghetti bake.
I use eggs, butter, and cheese to create a creamy and rich flavor. After that, a touch of spice like onion and pepper will balance and enhance the smell of this lovely cake.
Then, bake it uncovered in a preheated oven at 450 degrees for 10-15 minutes or until the cheese is golden brown and bubbling.
This leftover baked spaghetti is also even better if you apply this recipe for spaghetti with meat sauce or meatballs!
Have you ever thought about spaghetti pie? Yes, you did not read it wrong; another way to serve spaghetti is to bake it into a pie.
I always feel pleased to surprise my whole family with the spaghetti pie on the dinner table because everyone loves its crisp and the melted cheese on the top.
Moreover, since it is in pie shape, everyone can get the same served proportion on their plate, and the kids don't fight over who had more cheese or who had more meat anymore.
Let's put Italian food back to Italy – convert your amazing pasta into a pizza! Honestly, I was surprised when I knew this recipe at first, but I must say: "It's genius!" after trying it.
With one bite, you can taste the chewy texture of mushrooms and rich pizza sauce. Next, the rich mozzarella cheese will come and satisfy your hungry stomach.
Use Your Leftover Spaghetti To Make Pizza. Watch Now to Know How!
I introduce you to a new fantastic healthy kind of quick meal right now. Add more carrot, spinach, or peas to your leftover spaghetti and put it in muffin tins to trick your children into eating vegetables without knowing it. Then, bake them in the oven.
This recipe can apply to any type of leftover spaghetti, whether a tomato meat sauce or cream-based.
If you have any remaining spaghetti muffins, just put them in a fridge and reheat them later by the oven or the microwave; both still make it perfect again for your quick meals.
Making crispy french bread with spaghetti and cheese topping is one of my favorite ways to reuse the spaghetti after a night. These spaghetti boats are also really simple!
First of all, the overnight spaghetti must be reheated by cooking in a pan or just simply put in the microwave. Then, cut the bread in half, spread the butter, and remember to sprinkle a bit of garlic powder for a better flavor.
Bake them in the oven for around 5 minutes, then take them out. After that, put the reheated spaghetti on top of them with the cheese that you prepared. Put them back in the oven until the cheese melted.
Finally, try the boats, and you will fall in love with them right away because of the fantastic combination of crispy bread and meat sauce.
I always have leftovers after a night cooking spaghetti carbonara for my family or my friends. Usually, I just simply put them in the microwave for the next morning's quick breakfast. But this time, why not create something better than it?
That is the reason why carbonara frittata pops up in my head! Moreover, do not hesitate to toss in beautiful smoked bacon and add roasted tomato with cream to have a wonderful creamy baked frittata.
This recipe is all you need to turn your leftover spaghetti into a magnificent pasta side dish. I fell in love with it immediately.
After the first bite, I knew this pasta-based casserole was better than any mac & cheese I had ever made. Spaghetti, cheese, flour, mustard, milk, and eggs create an excellent taste.
You can feel free to add chicken, ham, or broccoli to make it more special!
Watch this video to know more:
The difficulty of an Italian food lover as I am is to choose what dish I should have for dinner, for example, spaghetti and lasagna, or maybe just go-ahead to have them both. And then I found out this magnificent recipe of spaghetti lasagna!
I promise this baked spaghetti lasagna will let you have both of your favorites in just one dish. The combined flavors of spaghetti on the layers, sauce, sweet-savory meat sauce, and cheese is such an 8th world wonder.
3 Amazing Recipes By Frying Leftover Spaghetti That You Should Know
Fry is a very usual way of cooking that everybody knows. But have you learned how to make your delicious leftover pasta great again by frying? Let's try!
Spaghetti frittata is a beautiful dish that is not to be enjoyed with just one slice, but at least two each! A crusty fragrant with a smooth filling is the perfect idea for a packed lunch or just a quick dinner.
If you seek a great way to trick your children into eating more eggs or veggies or just a way to reuse the leftover pasta, this frittata recipe might come in handy.
Amazing Recipe To Make Pasta Frittata Just By Leftover Spaghetti. Watch Now!
In my opinion, everything's better when it is fried, and there is no exception with last night's cooked pasta. Looking at that fantastic crunchy brownie crust proves that you are suitable for turning your leftover pasta into these delicious cakes.
The exciting thing about this dish is that you can use any type of pasta for it. All the flavor of your favorite pasta is contained in these cakes and filled with cheese, then fried until crisp.
You will love and can have this snack for any time in a day because it's crisp, tender, and flavorful. Trust me!
Have you ever thought about turning your favorite leftover spaghetti into balls? If not, you must try this perfect recipe right now.
If you want last night's meal reinvented, this backward but playful approach to spaghetti is everything you need. Or if you think it is scary, I also agree – it's so frightening and delicious!
Let's Try These Tasty Stir-Fry Recipes for Your Leftover Spaghetti
Have you ever thought that an Italian dish could turn into a Chinese one? Check this out to know-how!
The secret of this dish is the lo mein sauce itself. First, whisking soy sauce, rice wine vinegar, honey, sesame oil, garlic, and ginger powder all together in a medium bowl.
Secondly, prepare a large skillet with oil over medium heat and add broccoli and carrots until tender. After that, put them in a dish and add a sauce that you prepared.
Cook it until simmer and thickened, then add the vegetable and your favorite pasta back to the skillet. Remember to stir them evenly! Finally, put some green onions and sesame seeds on top and serve the Spaghetti Lo Mein on a dish.
You may think this dish is crazy at first. It may be crazy, but in a good way! This dish is perfect if you feel bored with regular chocolate sweets or just want to try new tastes.
The chocolate sauce is already mind-blowing on its own. Everything is going to be the best with cream cheese and chocolate. Add some sugar, butter, and chocolate; then, you will have an incredible dessert treat.
4 Grill and Salad Recipes For Your Leftover Spaghetti
I believe it will be incomplete if this list is missing out on the grill and salad. This list will give you some great ideas to deal with your leftover spaghetti. Let's find out!
Let's turn the classic Italian spaghetti into an incredible sandwich dish! The spaghetti is now placed between layers of mozzarella cheese and garlic bread. The sauce and cheese magnificently ooze out from the toast, making each bite worthy.
You may see it a little bit messy, but it is fun to lick it off your finger, right? Using soft Italian bread such as parmesan garlic bread is the key to this recipe. The delicate bream will make the dish easier to bite but still has the perfect crispy.
It combines with the wonderful meat sauce while the melted cheese becomes soft stringy deliciousness is such a fantastic experience that you should try for once.
For this dish, I think it is not just sharing a recipe, but a fun idea for a family meal that your whole family can join to prepare. This dish looks quite like a spaghetti sandwich, but you need to use the panini press this time.
Moreover, this recipe is perfectly suitable for leftover spaghetti with meatballs.
You can also add any cheese that you want, such as gruyere, cheddar, or mozzarella. This dish could be served as a snack or pack for your children's lunch – they will love it!
This side dish salad is contained full of healthy vegetables and crunchy-tangy flavors. The tenderness of spaghetti mixed with juicy tomatoes, crisp cucumber, and olives is tossed with cheese!
The spaghetti salad is a simple but fantastic accompaniment for your potluck parties. And trust me; everyone will go crazy for it.
I must confess that the first pasta I made is not the spaghetti salad that I showed you above. This tuna pasta salad dish is truly the first!
I love making this salad at a family party or a friend's meeting. I also usually make more than usual if I have a chance to get the leftovers for the next day's lunchbox.
The dish is a perfect combination of buttery mayonnaise and tuna. Then, a few seasoned herbs will come and enhance the aromatic scent of the whole dish.
Make Your Leftover Spaghetti Great Again!
If you are seeking ways to reuse your leftover spaghetti, I hope this list meets your needs.
Trust me; instead of throwing your leftovers away, you should know more recipes to make it great again. For the leftover meatloaf, you should try the recipes in the "Bake" section because it has many fantastic ways to try.
Let me know if you find your favorite idea!
Nutrition Facts
6 servings per container
---
Amount Per ServingCalories266
% Daily Value *
Total Fat 13.1g

21

%
Cholesterol 111mg

37

%
Sodium 376mg

16

%
Potassium 401mg

12

%
Total Carbohydrate 16.4g

6

%

Dietary Fiber 2.1g

9

%
Sugars 4.3g

Protein 20.6g

42

%
---
Calcium

141

%
Iron

3

%
Vitamin D

8

%
* The % Daily Value tells you how much a nutrient in a serving of food contributes to a daily diet. 2,000 calories a day is used for general nutrition advice.