If you are searching for some recipes to solve your leftover rotisserie chicken, you can keep scrolling down to find out my hand-picked dishes. They aren't your regular reheating chicken recipes at all. With them, this leftover chicken will taste just like fresh chicken.
My list combines different ideas from all around the world, so you won't get tired of eating the same chicken repeatedly. Moreover, each country has their distinct seasonings, which can go perfectly with rotisserie chicken.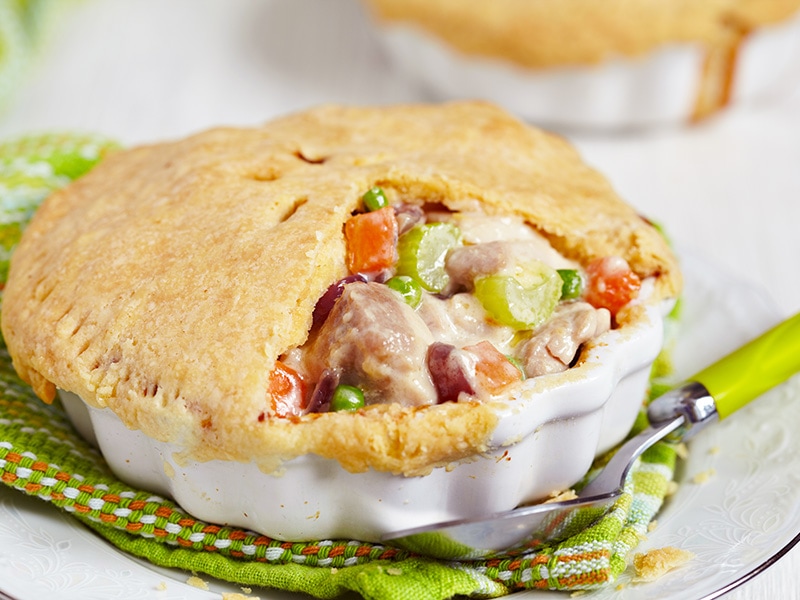 Take Your Leftover Rotisserie Chicken Out For These Recipes
All the leftover rotisserie chicken recipes in this article contain various cooking methods, so you are free to choose whatever you are comfortable making.
Soups And Stews
Chicken Chili
Rotisserie Chicken Gumbo
Chicken Coconut Curry
Chicken Soup
Chicken And Dumplings
Chicken Tortilla Soup
Rotisserie Chicken Corn Chowder
Baked Dishes
Chicken Casserole
Chicken Nachos
Chicken Pot Pie
Chicken Pot Tater Tot Hotdish
Rotisserie Chicken Lasagna
Rotisserie Chicken Tamale Pie
Rotisserie Chicken Chilaquiles
Chicken Flatbread
Chicken French Bread Pizzas
Rotisserie Chicken Stuffed Baked Potatoes
Rotisserie Chicken Stuffed Peppers
Salads
Rotisserie Chicken Salad
Rotisserie Chicken Cobb Salad
Wrapping Dishes
Chicken Enchilada
Rotisserie Chicken Quesadilla
Rotisserie Chicken Tacos
Chicken Roll-Ups
Others
Chicken Alfredo
Chicken Hash
Now, let's make these dishes for your leftover rotisserie chicken!
Leftover Rotisserie Chicken Is A Perfect Choice For These Soups And Stews
Soups and stews tend to be time-consuming since they need time for all the flavors to blend. But now, with your rotisserie chicken, these recipes won't take as long but still possess a similar tastiness.
On a rainy day, everyone would crave a giant pot of chili. This recipe I have here will use chicken, leftover rotisserie chicken to be exact, instead of ground beef like in other standard recipes.
And do you know what my favorite part about using leftover chicken is? It's that you can make a stock with its bone. However, if you run out of time, just use ready-made broth. Serve this chili with rice or potatoes for a satisfying meal.
This chicken chili will warm you right up! You can see this video to know more:
For those who don't know what gumbo is, it's a New Orleans stew with three vital ingredients: onions, celery, and bell peppers. Besides them, you can use any protein you want. For example, it's rotisserie chicken in this case.
And to accompany chicken, I'll also add sausage as it's one of those affordable and versatile foods. While rice is the most regular option for stew, you can enjoy this gumbo with cheese biscuits or corn muffins for a fun change.
I know some of you may be afraid of curry because of its spiciness. However, with this recipe, even the people weakest against the heat can enjoy it just fine.
It's because I have lowered the spiciness with coconut milk. Not only does it make this curry milder, but this ingredient also sweetens the broth just enough not to overpower the seasonings' flavor.
Just like with the chili stew, I have the exact reason for using leftover rotisserie chicken to make this soup. Besides taking its bones for the broth, the roastiness from this chicken really elevates this dish's flavor.
Also, by using already-cooked chicken, you don't have to wait for hours for the flavor to soak into the chicken. A bowl of chicken soup is enough for a light meal. But if you want something heartier, just add some pasta to the stock.
Nothing's better than eating this chicken soup on chilling days. You can see this video to know more:
When it comes to comforting dishes made from leftover chicken, you can't skip this chicken and dumplings. Nothing can beat eating fluffy dumplings in warm chicken soup. However, while chicken soup is an everyday dish, not everyone knows how to make perfect dumplings.
The secret is making them in small sizes. When cooking, your dumplings will expand, so if they are too big, they may stick with each other, and your dish will turn into a clumped mess. And remember to season them before tossing your dumplings into the broth.
If regular chicken soup is not satisfying enough for you, how about this tortilla soup? Filled with chicken broth and tomatoes, the best part of this soup is numerous fried tortilla strips in the broth.
Also, don't be afraid of its spicy seasonings. You are free to alter this soup's spiciness. And you can add various toppings to tortilla soup like cheese and avocado slices to get milder.
While soups are often served on cold chilly days, many people eat corn chowder no matter the weather. The reason is that this chowder is too delicious for them to wait until winter to enjoy it.
And now it can become even better with shredded rotisserie chicken. The saltiness from the meat is an ideal partner for this thick, creamy soup. You can add some jalapeno peppers on top for some extra heat.
Don't hesitate anymore! This rotisserie chicken corn chowder is waiting for you! You can see this video to know more:
Let's Make Your Leftover Rotisserie Chicken Into These Yummy Baked Recipes!
You may feel strange about the idea of baking an already-cooked ingredient. However, rotisserie chicken really enhances these dishes' flavor with its saltiness and smokiness.
What's the better way to eat leftover rotisserie chicken than loading it with cheese and baking it in the oven? Apparently not, right? Not to mention, with casserole, you can add other ingredients like Greek yogurt or herbs to cover the refrigerated smell.
Also, if you want more crunchiness in this casserole, sprinkle some bread crumbs on top of your chicken and bake it in the oven for a bit before combining the meat with other components.
Don't be overwhelmed with the amount of cheese in this recipe! In fact, a nacho dish needs that much cheese so that when it melts, it can cover all the tortilla chips evenly. But obviously, you can adjust the amount to your likings, especially if you don't favor over-rich dishes.
Apart from the cheese and rotisserie chicken, nothing in this recipe stays fixed. Every time I make nachos, I always create new combinations to see how they taste. And surprisingly, up until now, none of them have failed. So, be creative as much as you want!
These chicken nachos are so good that you won't be able to stop! You can see this video to know more:
At first glance, some people may mistake it with a dessert pie. However, there aren't some sweet ingredients like fruits inside this crust, but chicken and vegetables in a creamy sauce.
This dish is one of my favorite recipes as it can help my children eat all the vegetables they used to hate. Actually, they are so into the crunchy crust and rich sauce that they even forget that they are eating veggies.
This hotdish is like an upgraded version of the previous chicken pot pie. Simply put, this recipe contains meat topped with tater tots and a creamy sauce. Regular hotdish uses ground beef, but in this case, rotisserie chicken is an appropriate ingredient.
As for the sauce, you don't need to complicate it. Just mix chicken broth with milk until the mixture thickens to your liking. This way, every bite will be full of chicken flavor. And don't forget to add vegetables like peas or corn for more nutrients.
Nothing is more comforting than this chicken lasagna. Just imagine shredded chicken, spinach, cooked pasta, and cheese all lining neatly on top of each other, making this dish taste not only delicious but also look beautiful.
Not to mention, these ingredients help you enjoy this dish without worrying too much about your health. But if you want to pamper yourself once in a while, you can top this dish with various kinds of cheese.
Your rotisserie chicken will become 100 times tastier with this lasagna recipe.
You can take this tamale pie as a hybrid between a pie and a casserole dish. It has a crust just like other pies, and the filling inside is similar to a casserole with meat and cheese as the main ingredients.
The unique part about this Tamale pie is its cornbread base, making it fluffier and lighter. However, you need to bake the bottom and the crust beforehand to prevent it from being soggy due to the enchilada sauce.
While it's considered breakfast in Mexico, you can serve this chilaquiles for your light dinner, mainly when it contains rotisserie chicken in the filling. For a heartier feeling, you can use black beans in this recipe as well.
There are no fixed ways to make chilaquiles, so you are free to be as creative as you want. But, most of the time, this dish is layered and baked in the oven, just like lasagna. And when making it, don't forget tortilla pieces as they are the main ingredient for this dish.
If you have some ready-made flatbread in your fridge, let's take it out and combine it with your rotisserie chicken for a quick lunch.
With this recipe, the sky is truly the limit, as you can place anything you want on flatbread.
You can make it all simple with just tomato sauce and different kinds of cheese or add your favorite veggie to the dish for a more balanced meal.
Everyone loves pizzas, but eating a whole one is a bit too much for breakfast or lunch. That's why I suggest this recipe to you. It tastes just like a regular pizza but has fewer calories and is more convenient.
That's pizzas made with French bread. That's right! Instead of wheat-based dough, you'll use bread for the base, making these "pizzas" even crunchier. You can even turn them into garlic bread to replace the familiar marinara sauce.
No matter how hard-working you are, there must be times when you are too tired for all the troublesome cooking and cleaning afterward. That's why this stuffed baked potato recipe was born!
Original stuffed baked potatoes are simple enough as you only need to load your potatoes with tons of ingredients and bake them in the oven. Now, it'll become more pleasant with the rotisserie chicken ready in your fridge.
If baked potatoes stuffed with chicken have too many calories for you, this pepper version might be what you are looking for. Not to mention, peppers have different colors like orange, red, yellow,…., making your meal look much more appealing.
Of course, just like stuffed potatoes, you just need to fill your peppers with rotisserie chicken and other favorite ingredients before baking them in the oven. However, with peppers, make sure you remove all the seeds and membranes so their flavor will be more pleasant.
These rotisserie chicken stuffed peppers will liven up your dinner table! You can see this video to know more:
These Salads With Leftover Rotisserie Chicken Are Fresher Than You Thought!
Yes, I'm talking about using leftover food to make some salads. You may argue that salads should be filled with the freshest ingredients possible. But that's not true with these dishes below. You can try them for yourself!
While salad often connects with the "fresh" image, it's also an excellent way to make use of your leftover foods. And this chicken salad is no exception. In fact, the already-made rotisserie chicken provides more flavor to this simple recipe.
Aside from it, use other ingredients with sour flavors like citrus juice or Greek yogurt to create a more appetizing feeling. If you find this salad too tangy, adding some grapes can help balance back the flavor.
You won't believe this salad made with leftover rotisserie chicken! You can see this video to know more:
If you are a fan of convenient lunch, you must have heard about Cobb salad. Full of ingredients, this simple-looking salad can fill you up instantly.
But in this recipe, I'll use leftover rotisserie chicken instead of fried one. Why not, right? The smoky flavor of this meat will enlighten the whole salad and goes so well with veggies, bacon, and boiled eggs.
This cobb salad is already delicious on its own. But if you feel eating only salad is a bit lacking, you can make it into the filling of your sandwiches.
With Leftover Rotisserie Chicken, These Wrapping Ideas Are Of Restaurant-Quality!
If you want a convenient, portable lunch, these wrapping dishes below are your answer. Easy to make and packed with flavors, they can satisfy your hungry stomach right away!
With just about half an hour, your old rotisserie chicken will be renewed into this piping hot dish without a trace of the former dish.
How can it be possible? In fact, chicken enchilada is really simple. Just fold your tortilla with chicken and cover it with your enchilada sauce and cheese before placing it in the oven.
Its strongest point is you can easily alter the taste of this dish by changing the sauce. For example, with salsa verde and green chiles, you've made yourself an utterly new sauce.
Quesadillas are an ideal choice when you want an all-you-can-eat dinner or just want to solve all the leftover foods in the fridge, such as rotisserie chicken.
Just fill your tortillas with cheese and your favorite ingredients and cook until the edges turn crispy and the cheese melts. Since quesadillas are a Mexican recipe, it's better to serve them with some salsas or guacamole sauces.
Make these cheesy, gooey quesadillas for your lunch now!
When you open a potluck party, street food like tacos is always welcomed, thanks to its colorful appearance and Mexican flavor. Fill your tortilla with rotisserie chicken and other Mexican ingredients like red onions, cilantro, beans, or tomatoes.
Also, if you grow bored of eating rotisserie chicken continuously, you can saute it with your own seasoning mixture before putting it in the tacos. And make sure you make some salsa to serve with them.
No, they aren't Asian spring rolls you are all familiar with! Based on different recipes, these roll-ups will be baked before serving or eaten raw, especially now, they are filled with already-cooked rotisserie chicken.
For the former option, people often use the dough to make these rolls and cover them with cheese sauce. While when eaten raw, these roll-ups will use tortillas instead. And other ingredients in the filling aren't required cooking either, like avocado and tomatoes.
These Recipes With Leftover Rotisserie Chicken Are Must-Try!
Though they don't belong to those above categories, these rotisserie chicken dishes are just as mouthwatering. They may look simple, but believe me, their flavors are out of the world!
People would think you take hours to make this perfect creamy alfredo sauce, while in fact, it takes just several minutes to whip up. And it can even be faster if you use some rotisserie chicken left from the last dinner.
To make this sauce, you just need cream and butter as its main ingredients. Then, add other flavor additionals like herbs or cream cheese to your liking. For more chicken flavor, you can use chicken broth to make Alfredo sauce as well.
Don't wait until dinner to use your leftover rotisserie chicken! You can take it out to make your own breakfast right away with this hash brown recipe.
While usual hash brown just includes potatoes and beef, this one uses rotisserie chicken instead. You'll need to dice it into cubes the same size as potatoes, so they get cooked thoroughly at the same time.
And it tastes even better if you serve this recipe with a runny egg on top.
Are You In Love With Your Leftover Rotisserie Chicken Now?
I always think throwing leftover food is such a waste. That's why these recipes with rotisserie chicken from last dinner meals are my favorite. And I hope they can become your favorite too.
Also, don't forget to share this article with your family and friends, so they won't have to throw their leftover chicken away anymore. Moreover, if you have other thoughts about this topic, feel free to write them down in the comment section below.