The best leftover lamb recipes are not only a great way to use up the abundance of your leftover lamb meat after Easter or Passover festivities but also a brilliant chance for you to learn iconic dishes from various cultures and countries.
Lamb is a common component in Middle Eastern and North African cuisines, which is wonderful news for those who love the flavors of these regions. The great thing about lamb is how flexible it is as leftover meat. You can literally pair it with everything, from curry to pie and pizza.
For that reason, there are so many fantastic lamb dishes out there that utilize leftovers and still taste exceptional. Each recipe's flavor is so distinct that you won't feel like you are eating the same thing again and again.
This article lets us explore the vast world of leftover lamb recipes with the following 27+ options. They are iconic dishes originating from all five continents around the world. Thus, regardless of your preference, you can always find something you adore on my list.
Let's take a peek at my compilation and learn to make the most out of your leftover lamb!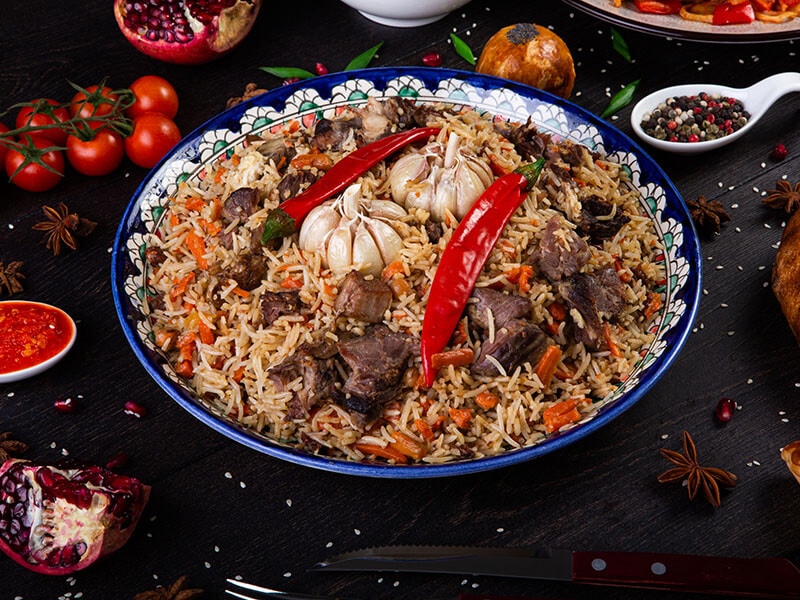 Travel The World With 27+ Best Leftover Lamb Recipes
Do you know that the best leftover lamb recipes are scattered worldwide, from Asia to Europe, even to Africa and the Middle East? Let's have an overall look at my full compilation here before diving into the detailed recipes below.
11 Authentic European Recipes With Leftover Lamb
Leftover Lamb Baguette
Leftover Lamb Dingle Pie
Leftover Lamb Gyros
Leftover Lamb Kefalonian Pie
Leftover Lamb Moussaka
Leftover Lamb Pizza
Leftover Lamb Ragu
Leftover Lamb Risotto
Leftover Lamb Scotch Mac And Cheese
Leftover Lamb Shepherd's Pie
Leftover Lamb, Risoni, And Feta Salad
6 Flavorful Asian Recipes With Leftover Lamb
Leftover Lamb Bhuna
Leftover Lamb Biryani
Leftover Lamb Curry
Leftover Lamb Korma
Leftover Lamb Rogan Josh
Leftover Lamb Potato Cake
5 Meaty American Recipes With Leftover Lamb
Leftover Lamb Burgers
Leftover Lamb Fajitas
Leftover Lamb Nachos
Leftover Lamb Stew
Leftover Lamb Tacos
3 Colorful Middle Eastern Recipes With Leftover Lamb
Leftover Lamb Tabbouleh
Leftover Lamb Shakshuka
Leftover Lamb Pilaf
3 African Recipes With Leftover Lamb
Leftover Lamb Halloumi Pies
Leftover Lamb Couscous
Leftover Lamb Tagine
11 Authentic European Leftover Lamb Recipes
Each continent has its own distinct cuisine, and Europe is no exception. European cuisine is brimming with staples of bread, noodles, butter, and potatoes. Among them, lamb is a special dish in various cultures.
In this section, let's uncover 11 authentic European recipes utilizing leftover lamb as the main ingredient.
Although baguette is the world-renowned bread of France, this Leftover Lamb Baguette is actually infused with tons of Greek flavor. What can be more privileged to taste the two most iconic European cuisines in a single dish?
Of all the bread I have tried, the baguette is the ideal vessel for handling meats, especially leftover lamb. With each bite, you will feel the smokey flavor of grilled lamb blending in the crispy veggies and the bread's "cottony" aroma.
Moreover, the Greek flavor coming from fresh mints and the special Tzatziki mayonnaise adds an extra unique taste to the recipe. This recipe is the perfect way to repurpose your leftover lamb into a picnic wonder.
The Irish are famous for their pie-making ability, and Dingle Pie is the perfect capture of this national superpower. Using leftover lamb, the Irish can generate this rich, savory treat nestled in a nutritious sauce and topped with a golden brown pastry crust.
Leftover Lamb Dingle Pie is a popular specialty of the Dingle Peninsula, County Kerry of Ireland – a picturesque sheep-raising region. Besides the physical ingredients you see and taste in the treat, you can also feel the sweeping green hills and tranquil Irish air in every bite.
If you cannot go to Ireland for a vacation, these little circular hand pies are a delectable dish you can enjoy at home while fantasizing about your dream destination.
Gyros are my all-time favorite summer snack to nibble on while I am walking around my neighborhood. Recently, when my leftover lamb is piling up in the refrigerator, I have a refreshing idea to combine it with my snack to form Leftover Lamb Gyros.
These improvising Gyros are bursting with vibrant and fresh flavors from seasoned lamb and chopped vegetables, making them one of the healthiest and most satisfying treats. Yet, preparing them is so simple with just a few minutes of cooking time.
As the name refers, the dish would be incomplete without Tzatziki sauce. You can easily pull off this no-brainer sauce in five minutes. Drizzle it over these Leftover Lamb Gyros to contrast the meat's warmth and generate the optimal sensations in all mouthfuls.
This Greek recipe of a delicious meat-filled filo pie is one of the most cherished meals of Kefalonian island. Rice is the secret glue that holds the filling of this Greek lamb pie together firmly. However, the delicate filo pastry balances things out by keeping everything light.
Every bite of yours is brimming with the succulent leftover lamb and Greek herbs, turning the filo classic into a rich, satisfying pie that works well for either an appetizer or a main meal.
A helpful tip is to consume the pie immediately after baking to avoid its crust getting soggy. If there are still some leftovers, feel free to freeze them when they cool for later enjoyments. This Leftover Lamb Kefalonian Pie is surely one easy baking recipe you will have no trouble making.
Besides being the most iconic lamp dish, Moussaka is an excellent way to repurpose leftover lamb in your refrigerator. With this Greek-inspired meal, you will fall in love with layers of tender eggplant, substantial meat, and creamy bechamel sauce.
Unlike the traditional recipe, which requires some time and effort, this easy Leftover Lamb Moussaka is the perfect choice for a fast and simple midweek dinner. With a few tricks and shortcuts, you can have this astonishing Moussaka on the table in less than 45 minutes.
The recipe pairs nicely with a chopped Greek salad, crusty bread, and a glass of Greek red wine. A Rioja Crianza or a Côtes du Rhône also blends in beautifully with this moussaka.
Moussaka is a Greek-inspired recipe where your leftover lamb meat is cooked in a sweet and spicy tomato sauce.
If not only your leftover lamb but also other leftover stuff are piling up in your fridge, look no further than this Middle Eastern Lamb Pizza. This recipe is the true savior when it comes to repurposing leftover ingredients.
With leftover lamb and a few spices, you can easily turn those ingredients into a hearty and fuss-free dinner, especially on a Friday night. Let's be honest! Nobody wants to create a fancy meal on such a night in the kitchen. A simple meal like this recipe seals the deal!
It would be a huge mistake to enjoy this Leftover Lamb Pizza on its own. Despite the busy and tired Friday night, at least prepare a glass of wine to go with your dough! Any wine will suffice!
For those big fans of lamb meat out there, I think you can relate with me on the post-Easter dinner scenes where there are usually plenty of delectable leftover lamb. Repurposing this ingredient requires some creative recipes. This Leftover Lamb Ragu is one of them!
It is an Italian-style dish with rich, soothing, and hearty tastes served on a bed of Al Dente Pappardelle. Regardless of how much leftover lamb you have, this Ragu dish can help you deal with it in an easy and delectable manner.
You can either make it all in a single meal or prepare in a large quantity and freeze some for another day. This practice helps you to have even faster dinners in the future.
Feel free to pair this recipe with a Chianti or a Côtes du Rhône for an extra flavorful meal. If desired, you may also add a splash of red wine to the ragu for more richness.
Leftover Lamb Risotto is a delicious Italian dish brimming with mouth-watering flavors. This meat-filled risotto is an excellent choice for winter nights in substitution for the conventional rice risotto.
If you take a look at this recipe's history, it is often the ideal selection for special winter events like buffets and potlucks, guaranteeing to be a big hit with meat lovers. Take a bite of this dish, and feel the luscious lamb fat and freshly cooked risotto tantalizing your tastebuds.
Like other European recipes utilizing leftover lamb, this recipe is wine-friendly as well. The rich combination of the lamb and red wine will leave you and your family wanting more.
Mac and Cheese has long been the staple food in many households, including mine. Since lamb is unquestionably the preferred protein in my kitchen, I have come up with an astonishing idea of combining my leftover lamb with Mac and Cheese to get the best of both worlds.
Indeed, this combination is not a new invention in the culinary map. Do a bit of research, and you will know this recipe under the name of Leftover Lamb Scotch Mac And Cheese. It is actually the epitome of Scottish comfort cuisine with incredibly gooey taste.
This dish won't let you down! It is the ideal choice for midweek dinner that your whole family will adore. The crispy bread topping adds extra crunchiness to the recipe, making it irresistible! After trying it out, you would only wish you had extra lamb in the fridge.
You probably have heard of Shepherd's Pie many times before. You have been told that this pie features beef. However, Shepherd's Pie with Leftover Lamb is the original version of this recipe, originating from England.
This pie is actually the effective way people use to repurpose leftover lamb. I remember as a child, whenever my family had roast lamb for Sunday supper, this classic Leftover Lamb Shepherd's Pie would appear on the menu the following day.
This comfort food will fill your mouth with a crispy and buttery flavor all in one bite. Enjoy it with peas, sweetcorn, or leftover broccoli to make the meal more nourishing. You can even add a glass of Claret wine to pair with the beautiful taste of your pie.
Nothing screams comfort food more than this Crispy Lamb Salad. Not only is it a perfect way to utilize your leftover lamb from yesterday, but the recipe is also appealing with creamy feta cheese and a blast of tasty flavors.
With a simple balsamic dressing, this salad becomes my all-time favorite when I crave something crispy and healthy. The beauty of this recipe lies in the perfect balance between fresh veggies and protein-rich lamb.
Preparing this recipe is super quick and easy, yet so substantial for dinner. Right from the first bite, you will notice a complete silence among your family as this crispy salad plate has got all their undivided attention!
6 Flavorful Asian Leftover Lamb Recipes
Asian cuisines are famous for their use of exotic ingredients and heavy emphasis on both look and flavor of the dish. Recipes utilizing leftover lamb are no exception. Join me in deciphering the beauty of these six flavorful dishes.
Whenever my family fancies some Indian flavors, I would immediately think of this Leftover Lamb Bhuna. This dish will attract you with its meltingly soft lamb pieces covered in a thick and rich tomato sauce.
Slow-cooking makes this dish taste better, as its flavor will gradually emerge with time. Plus, lamb is ideal for slow-cooked meals and curries since it gets softer and softer throughout the cooking process. All in all, the more you cook, the greater the dish will taste.
However, Leftover Lamb Bhuna is a medium to moderately spicy dish due to the use of green chilies in the making. You can omit these ingredients to generate a more child-friendly version.
This recipe goes nicely with rice and a cool lager beer. These accompaniments are also popular in family gatherings. Altogether, you will have a great time with your loved ones while enjoying this bursting-flavored dish.
Here is another representative from India with its succulent repurpose of leftover lamb to generate a fulfilling dinner for you: Leftover Lamb Biryani. Although the recipe requires some time to prepare, the work is definitely worth it!
Biryani is an incredibly creamy dish, thanks to the use of curry paste. Plus, every mouthful of this dish will fill your soul with soothing flavor and crispy toppings of nuts and herbs. To me, it is such an enjoyable contrast to really feel this tasty meal.
Serve this recipe over a bed of basmati rice, which is the finest rice for Leftover Lamb Biryani. If you are unable to get basmati rice, feel free to use any type of long-grain rice instead. Chop some cilantro leaves and sprinkle them on top, and the dish is ready for enjoyment.
Let's turn your leftover lamb chunks into this incredible Biryani.
Curry is probably the most iconic dish of Indian cuisine, with a plethora of variations worldwide. Among them, Leftover Lamb Curry is one outstanding version that has an extremely rich and flavorful aroma.
This Curry version is an example of a straightforward, fuss-free meal following a Sunday lamb roast. The leftover lamb from such an occasion provides an excellent opportunity to generate this wonderful curry.
Making this curry from leftovers saves tons of time and money. In less than 30 minutes, you can get to taste the tender lamb meat bathed in a thick and soothing curry sauce. Isn't that a brilliant idea for a quick, easy, and hearty dinner?
Rest assured that this recipe is safe for kids, as its taste is not so spicy. Prepare naan bread and some basmati rice to enjoy alongside this curry, and make this dining experience more Indian authentic.
Like curry, this Leftover Lamb Korma also involves succulent roast lamb and a creamy korma sauce that comes together in only 25 minutes. However, its flavor also has an Afghan hint of nutty and subtly spicy taste, making it a refreshing treat to enjoy on a midweek dinner.
The nice thing about Leftover Lamb Korma is you do not need to rely on milk or yogurt to make the sauce creamy. This korma sauce is delectable on its own. This secret makes the dish lighter and appropriate for those who are lactose intolerant.
Naan flatbread and basmati rice are the ideal accompaniments to this recipe. Let's impress your loved ones with this tasty and creamy dish. I am sure it will be a big hit with your whole family!
Leftover Lamb Rogan Josh, also known as "Red Lamb", is undoubtedly my favorite curry to use up all leftover lamb in the most delectable way. The dish is brimming with a vibrant mix of spices and melt-in-your-mouth lamb meat. Plus, you can prepare everything from scratch effortlessly!
Although this recipe requires many ingredients, especially spices, do not be intimidated by it. You can get all items in a single trip to the grocery store. The rest is to toss everything in the correct amount to your dish. What a breeze it is! The result will be worth it!
To make your dining time with this recipe more memorable, pair it with simple basmati rice and red wine. You should try something a little strong and audacious like Rioja Reserva or another similar Spanish wine.
If all the above recipes of this section focus on curry, this Persian dish will delight you in the form of a cake. This Potato Cake combines soft mashed potatoes with spicy lamb stuffing to create a yummy snack that might make you addicted!
When it comes to snacks, especially a tasty snack like this one, I love to enjoy them while watching sports, such as tennis or football. Its crispy exterior combined with spicy leftover lamb filling is a heavenly treat for those entertaining moments!
And do you know what makes this cake more enjoyable? Simply dip it in the yogurt sauce while eating these cakes with your friends during the game day! You will find its taste is elevated to a whole new level!
Fill your pasties with leftover lamb from yesterday's roast meal for a delicious meal! You can see this video to know more:
5 Meaty American Leftover Lamb Recipes
American culinary culture is a meat culture. You will experience all kinds of meat in its diversified food portfolio, such as beef, chicken, and pork. And, of course, lamb is an indispensable part of many American meals. Join me in discovering these five meaty recipes that use leftover lamb!
Burgers are the signature dish of the US, with tons of variations from beef to pork and chicken. However, I bet not many of you have heard of burgers using leftover lamb before. There are many ways to enjoy leftover lamb, and these Leftover Lamb Burgers are certainly one of them!
This delectable slider is bursting with flavor and topped with a bright tart garnish. Plus, the true star of these burgers is the Greek-flavored sauce, which blends nicely with thinly sliced lamb.
It would not be a surprise to see these Leftover Lamb Burgers at a backyard cocktail party or a Memorial Day barbecue, as the recipe is so perfect for the occasions with its high customization. With this recipe, you get to choose all your favorite fillings.
So, if you are going to host an outside lunch, my advice for you is to impress your friends and family with these burgers and watch them disappear quickly!
If you are looking for a refreshing twist to chicken or beef fajitas, look no further than these Leftover Lamb Fajitas. Leftover lamb pairs beautifully with a plethora of different flavors. Thus, lamb meat is the perfect substitute for beef and chicken in generating these fajitas.
These Mexican treats are delectable and simple to prepare, making them ideal for shaking up your dinner routine. Pile your leftover lamb into warm tortillas and top everything with a dollop of sour cream. Sprinkle some green onions, and your Leftover Lamb Fajitas are ready to serve!
To make your meal more flavorful, accompany the recipe with some roasted sweet potato cubes.
With leftover seasoned lamb, you can easily create these delightful Nachos as a substantial dinner for your family on weekends. The whole process takes you only 10 minutes, making this recipe ideal for a quick supper.
I love nachos so much as it is so easy to personalize this Mexican dish. If you like more veggies, just toss in your preferred ones. Or if you love some ooey-gooey taste, add any cheese that you like. If you love to amp up the Mexican flavor, use some zesty Salsa Fresca.
With these nachos, you no longer have to worry about how to deal with leftover lamb in the future. Just fill this ingredient in these Mexican treats and enjoy this crowd-pleasing food at a weekend movie session with your pals.
Using Greek yogurt is also a brilliant twist to make Leftover Lamb Nachos. You can see this video to know more:
Inspired by a classic Mexican mole, this spicy Leftover Lamb Stew is bursting with comforting flavors and tender texture. Not only that, but the recipe is also effortless to pull off in less than 15 minutes. This is why this Lamb Stew is my number one choice for hectic weeknights.
What I love about this recipe is how beautiful your leftover lamb blends with all iconic Mexican flavors of cumin, chili, and coriander. Plus, the use of leftover lamb not only boosts the prep time (unlike beef) but also gives your meal a more meltingly delicate texture.
Since this recipe is a one-pot dinner brimming with nourishing veggies, you do not need to serve it with a side dish. It is delicious on its own. However, if it is your habit to have some accompaniments, feel free to add some crusty bread or pickled cucumbers to your menu.
Leftover Lamb Tacos are where Mexican flavors meet Moroccan cuisine. These treats are great for a fast and effortless midweek dinner or as part of a Mexican fiesta! You can literally put them together in just 15 minutes for a satisfying meal.
It is truly fun making these tacos as you get to experiment with different flavors and textures. By that, I mean you have full authority in choosing the toppings you like while allowing your guests to do the same with their tacos. A win-win situation for both, right?
No matter what you pick as toppings, these nachos will all taste fantastic, as all the spices pair well with your leftover cooked lamb. The addition of creamy avocado and sharp feta cheese also helps balance the recipe's flavor perfectly.
3 Colorful Middle Eastern Recipes With Leftover Lamb
Don't you know Middle Eastern cuisine is rapidly gaining popularity in kitchens worldwide? Among various spices and ingredients that define this vibrant cuisine, leftover lamb is the main star in many dishes. Let's learn about three colorful Middle Eastern recipes with this ingredient.
Tabbouleh (also known as Tabouli) is a super-fresh bulgur and herb salad with parsley as the primary component. The dish is light, refreshing, and filled with nutritious nutrients. This recipe has a slight twist by adding cooked shredded lamb to the plate, providing more protein to eaters.
This Middle Eastern salad is ideal for a casual dinner with plain yogurt and toasted pita triangles as the accompaniments. You will not feel any leftover flavor in this dish, as its vibrant and crispy salad will enhance the flavors of your cooked lamb! All you want to do is keep eating the dish!
Shakshuka is a unique and crowd-pleasing meal originating in the Middle East. Unlike the classic version, this recipe offers you an additional amount of leftover ground lamb swimming in a spicy tomato sauce alongside the appealing poached eggs.
Despite the quite long list of spices, this Leftover Lamb Shakshuka is very simple to prepare in just one pan, making it a wonderful choice for leisurely dinners or a perfect date night recipe!
Make sure you have some hot pita bread or a crusty baguette on hand to soak up all the delicious sauce on your plate. All in all, whenever you run out of ideas for a quick and enjoyable way to enjoy your evening, have a look at this recipe again! It will never let you down!
Shakshuka is so easy to pull off at home with leftover lamb meat. You can see this video to know more:
Pilaf (or pilau, plov) is a classic dish indigenous to Uzbekistan. With the assistance of nutty leftover lamb, basmati rice, and other distinctive Middle Eastern ingredients, this simple Leftover Lamb Pilaf is bursting with flavors and textures.
You won't find a quicker and better way to repurpose your leftover lamb than this easy one-pan dish with fantastic taste. With a unique method of cooking and mild fragrant seasoning, this recipe will guarantee you an utterly delectable meal.
Enjoying Leftover Lamb Pilaf with some mango chutneys or poppadoms is a brilliant Monday night idea for a hearty dinner. These sides are an excellent touch to enhance the entire taste of your plate.
3 Amazing African Leftover Lamb Recipes
To finalize my list of best leftover lamb recipes worldwide, let me invite your tastebuds to a trip heading for Africa. This continent features an amazing collection of peculiar dishes that you can hardly find elsewhere. Here are three recipes using leftover lamb that you can try at home!
This Leftover Lamb Halloumi Pie has all the flavors and textures you adore, including salty, squeaky, and cheesy tastes. With the magic of Moroccan seasonings, your Halloumi Pie is brimming with delectable spices.
If you need a crowd-pleasing treat for your upcoming gathering, place all your bets on this recipe. This Moroccan recipe features many shortcuts to help you achieve maximum flavors in the shortest amount of time. Your guests will surely be impressed by your culinary repertoire!
Couscous is another handy way to utilize your leftover lamb in just five minutes of preparation. With such a quick preparation time, this dish is ideal for any after-work dinner where you want not only good food but also extra time resting!
With this recipe, there will be no more dull and boring dinner. The soft and fluffy couscous blending nicely with your warm cooked lamb and other ingredients generates a satisfying taste in every mouthful. Enjoying it with a cool lager makes the perfect scene for dinner.
You won't regret trying this light recipe out, as it will provide you with both a relaxing night and an authentic Moroccan cuisine experience.
The last recipe on my list is a classic African stew that you can pull off in a blink. Unlike the original dish, which requires hours of slow-cooking in a clay pot, this Leftover Lamb Tagine ensures that you can still enjoy tantalizing African tastes on even the busiest midweek evenings!
You will taste literally every taste in this single dish, such as the delicate sweetness of apricots, the richness of the tomato-based broth, and the tender savory of your cooked lamb.
This fragrant and delicious stew can easily feed an entire family of six people. Thus, it is ideal for preparing a large pot in advance and freezing it in smaller quantities for many substantial evenings afterward. Make sure to serve the dish over couscous or flatbread for extra enjoyment!
Explore the beauty of Leftover Lamb Tagine with this tutorial!
Travel Around The World Right In Your Kitchen!
With these best leftover lamb recipes, you get to travel the world right in your kitchen! If you love Asian taste, give some curies a try? If you fancy a unique dish from Africa or the Middle East, why not make Tabbouleh or Tagine?
Although leftover lamb is not an everyday occasion, you can freely experiment with tons of amazing cuisines from many continents. The sky's the limit!
Now, it is your turn! Have you prepared or enjoyed any dishes mentioned above? Drop a few lines below to let me and other folks know! I really appreciate that! And lastly, thanks for reading!
Nutrition Facts
1 servings per container
---
Amount Per ServingCalories673
% Daily Value *
Total Fat 34.7g

54

%
Cholesterol 230mg

77

%
Sodium 683mg

29

%
Potassium 513mg

15

%
Total Carbohydrate 23.2g

8

%

Dietary Fiber 1g

4

%
Sugars 2.2g

Protein 62.8g

126

%
---
* The % Daily Value tells you how much a nutrient in a serving of food contributes to a daily diet. 2,000 calories a day is used for general nutrition advice.