If you are looking for the best leftover hotdog recipes to use up those ingredients from last night, this list is the right place for you.
A hot dog is no longer a strange dish to anyone. It is a typical street delicacy in America, including a bun and hot dog, then is eaten with ketchup and yellow mustard.
However, the most concerning issue here is what you can do if you can not finish all hot dogs straight away so that these beautiful leftover hotdog recipes come up to figure it out.
As a quick look, you can see that the list provides two main sections. Hot dog and hot dog buns are the typical dishes that you can quickly deal with to make a portion of perfect food.
In addition, you may find that most of them are very familiar and straightforward to make. Therefore, you can try to cook in just a comfortable way.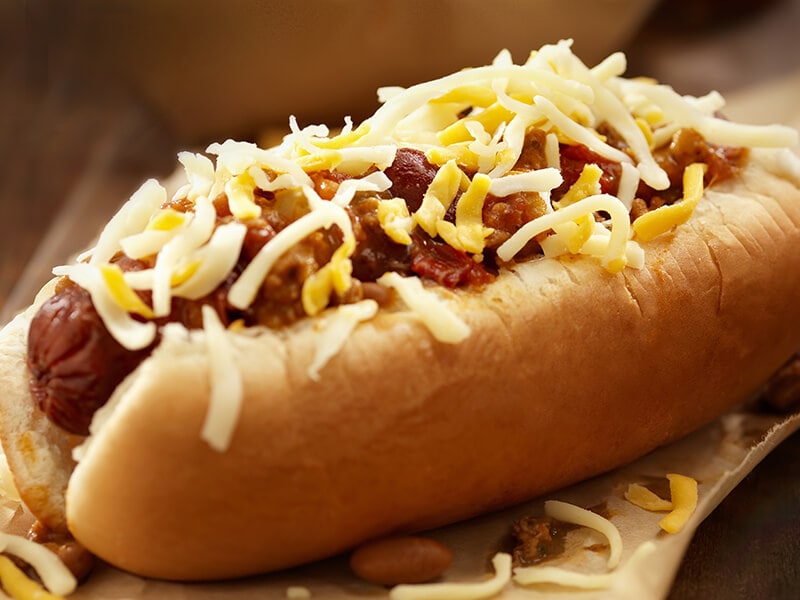 Best 16 Leftover Hotdog Recipes For Yummy Meals
You don't have to wait for any more minutes. Let's follow me, and I will show you my favorite ideas for leftover hot dogs.
Leftover Hot Dog Recipes:
Big Meal
Hot Dog Tater Tots Casserole
Shrimp and Hot Dog Jambalaya
Hot Dog Fried Rice
Breakfast Hash Casserole
Mac and Cheese Hot Dog Casserole
Finger Food
Chili Cheese Dog
Grilled Cheese Dog
Tortilla Hot Dog Wraps (Taquitos)
Corn Dog Bites
Pretzel Dog
Taco Dogs
Cheese Dog Pizza
Leftover Hot Dog Bun Recipes:
Oven-Baked Meatball Sandwiches
Homemade Croutons
Bread Pudding
Hot Dog Bun French Toast
16 Succulent Ideas To Utilize Leftover Hot Dogs
Don't throw away the leftover hot dogs yet; there are plenty of recipes to remake them into savory and luscious food. Scroll down to check out!
10 Stunning Big Meal Recipes From The Leftover Hot Dog
Let's make your stomach full with these savory recipes from the leftover hot dog. I think you will add one of the following recipes to your favorite list.
What an excellent idea to cook leftover pasta! It is effortless to make and requires a couple of minutes. Moreover, the hot dog casserole's flavor is a big surprise how a simple remake food can expose that fascinating taste.
As a first bite, you can feel how creamy and succulent the dish is. It is a combination of variations of flavor, including a savory hot dog, crispy tater tots, chili, and especially cheese to enhance the rich taste. You will love it right away!
Jambalaya is a well-known dish that originates in Louisiana, USA. The dish is an excellent deal for anyone to make a tasty portion of food for many people. You can add anything, from meat, seafood, or both, and even some vegetables.
In addition, jambalaya is usually cooked with rice. So you can see how thick and wealthy it is. The flavor is a big surprise for many diners.
The recipe is savory, luscious, and exposes a strong taste of spicy hints. If you are a spicy eater, then this one is made just for you.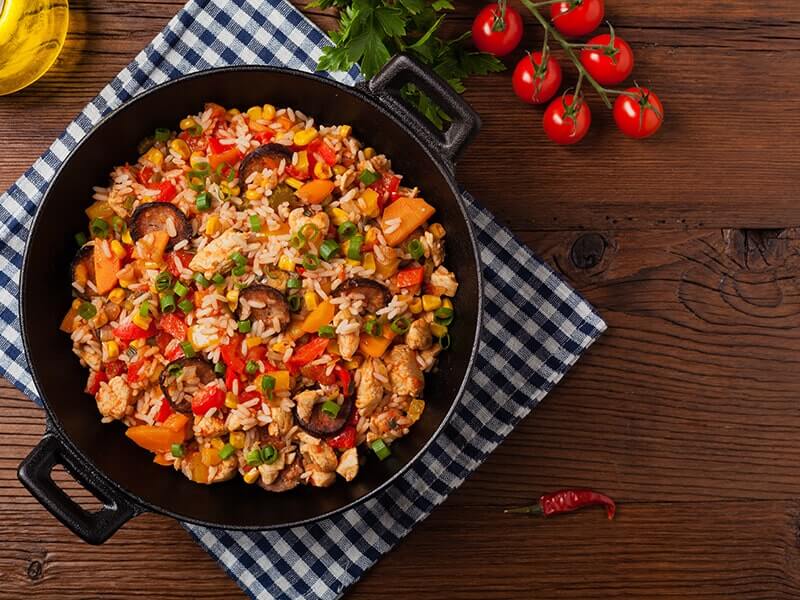 Fried rice seems to be one of the best-loved dishes in Asia since you can easily make it in a few minutes. It is the best leftover resolution when there is no idea for dinner, and you have some leftover rice and hot dogs in the fridge.
First, you need to slice some hot dogs, chop some vegetables, and add them to the skillet of rice. Then, mix them up and season the whole mixture to your usual taste. Man, if there is a beautiful sunny-side-up fried egg on the top of it, you treat yourself pretty well.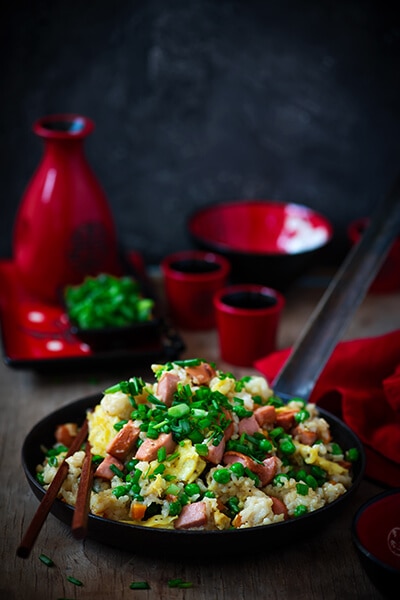 I would like to introduce you to a perfect breakfast that can feed a hungry crowd. Breakfast Hash is a perfect creamy bake, including plenty of beautiful ingredients inside that will energize the whole day.
As a first bite, you can feel how rich, savory, and aroma the dish is. The recipe is a combination of potatoes, eggs, cheese, bacon, and especially hot dogs. This beautiful casserole retains numerous nutrients that are good for your physical health as well.
Mac and cheese are very intimate with many people. As its name sounds, the dish is an excellent combination of macaroni and cheese cooked in a casserole until you mix the whole thing well. It is more delightful with some extra hot dogs to spice up the flavor.
If you are craving a snack, a portion of hot dog mac and cheese will solve it all. To enjoy the dish fully, eat it while it is hot from the oven.
6 Tasty Finger Food Recommendations Made From Leftover Hot Dog
These suggestions will fill your meal with laughter, fast and convenient yet still yummy, creamy, and rich.
What can be a suiter leftover hot dog idea than a savory chili cheese dog? This beautiful hot dog variation has been popularized in every corner of the street and takes many people's hearts.
It is a great recipe to deal with the leftover hot dog. You can probably slice the hot dogs and add them straight to the stewing pot. Or place it separately on a hot dog bun to enjoy with. Both ways are succulent to eat the delicious hot dog.
Want to use up leftover hot dogs? Let's make a delicious chili cheese dog for everyone!
Another brilliant way to entirely use the leftover hot dog is to make a grilled cheese dog. Technically, it is simply a hot dog with a beautiful cover of melted cheese. The bun will be pan-fried to get a flatter surface.
This grilled cheese dog is an excellent idea to remake leftover food into a tasty catchy dish. Try to make some of these for your beloved people whenever you want to cook something convenient and delicious.
Imagine waking up to these finger-licking sandwich wraps that make full use of leftover hotdogs to make your morning a blast. Therefore, this taquito is not only a perfect deal for a convenient breakfast yet still delivers a tasty profile. What a double job, right?
You can make the dish in just a couple of minutes. Roll a hot dog in a tortilla and maybe add some extra cheese and bring the whole thing to bake. I promise that the result is incredible and that you can effortlessly make it for the next time.
Keep reading because you are about to learn something great. Corn dog bites are a brilliant idea to utilize your leftover hot dog. You can certainly make it an appetizer for individual guests or simply a lunch snack.
As a first bite, you will taste an incredibly crispy corn dog cover that leads to a tender and savory hot dog inside. Moreover, frying the corn dogs seems to be challenging work. You don't want it to get over-cooked, so make sure that you check the corn dog coat regularly.
Let's make some pretzel dogs for breakfast. It is super easy to make, and I promise that everyone will love this recipe.
Pretzel Dog is a beautiful pastry that combines hot dogs and baked dough coating the hot dog. It seems to be a great idea to deal with those leftover hot dogs when you can make a new succulent dish that is hot, chewy, and savory in one meal.
These pretzel dogs look fascinating! You must try it right now
Another way to avail oneself of leftover hot dogs is to use them for a brand new version of taco filling. The famous Mexican dish is usually a combination of beef, chicken, or pork. However, it seems to be more delightful and creative to enjoy the dish with hot dogs.
Just one bite, you can feel how crispy the tortilla is; then, it leads you to savory hot dogs and succulent salsa sauce. Moreover, cheese is allowed to enhance a rich taste for this exquisite taco dog as well.
An excellent way for you to use up leftover hot dogs. This cheese dog pizza is a fantastic food that you and your family can hang around in the living room, watch a game, and enjoy a good time together.
Making this pizza can never be easier! You just need a pizza bun, add some cheese, sauce, extra spices, and especially sliced hot dogs on the top. Then bring to bake and wait for the delicious pizza to get cooked well. Trust me; you are going to love it so much.
Some Fascinating Recipes From Leftover Hot Dog Buns
Besides the savory hot dogs, here are some great recipes to deal with the leftover buns. Honestly, there is nothing to describe how creative, helpful, and tasty it will be.
Scroll down and give them a look!
This sandwich is an incredible idea to deal with the rest of the hot dog buns. You can fill them up with some meatballs or some leftover hot dog in the fridge. I believe that the result will be shocking.
The meatball sandwich is a beautiful recreation of leftover hot dog buns. The dish is technically made by stuffing meat into the buns, covering them up with cheese, and bringing them to the oven to bake. You have to try it right away!
Indeed, you can make some crispy croutons out of hot dog buns. You can make some of these savory croutons for your caesar salad, scrambled eggs, or casseroles. I promise that the quality is just like at the restaurant.
First, tear the buns into small pieces, adding some seasoning like pepper, salt, parsley, and garlic powder, and then mix it up and bring it to bake. Super easy, right? In addition, make sure that you check the temperature and the breadcrumbs to avoid getting burnt.
Watch this video to know more:
Keep the leftover hot dog bun because you can make an excellent sweet pudding treat out of it. Honestly, nothing is useless until you figure out what you can do from it, just like these beautiful buns.
Making a delicious bread pudding is effortless. You have to trout the bread and add some butter, milk, egg, and extra spices. Mix it up and bring it to bake. As a result, a succulent bread pudding is ready to serve.
French toast is very well-known for its sweet and buttery flavor that the young generation loves so much. Fortunately, it is excellent news that you can make some tasty french toasts from the leftover hot dog buns.
In general, there is nothing to complain about the bun texture. It is soft, buttery, and creamy that is suitable for a perfect french toast. Plus, adding some slices of strawberries and mangoes is not a bad idea to enjoy this beautiful french toast.
Stay tuned, this tasty French toast is a brilliant idea to save leftover hot dog buns!
Save The Leftover Hot Dogs For Another Use!
To be honest, nothing is useless until you figure out what you can do out of it, just like these tasty leftover hot dogs, when you can technically make plenty of good recipes and serve an excellent meal for many people.
Moreover, if there are still some leftover hot dog buns, they are also helpful to make croutons for your salad or excellent stuff for bread puddings.
Just mix and match some ingredients together, you can have a wonderful meal to enjoy with your beloved human beings. It is a great deal to enhance relationship bonds as well!
Plus, if you like some of these leftover hot dog ideas, please give a like and show support!
Nutrition Facts
2 servings per container
---
Amount Per ServingCalories528
% Daily Value *
Total Fat 27.3g

42

%
Cholesterol 35mg

12

%
Sodium 695mg

29

%
Potassium 816mg

24

%
Total Carbohydrate 59.1g

20

%

Dietary Fiber 4.3g

18

%
Sugars 2.3g

Protein 15g

30

%
---
* The % Daily Value tells you how much a nutrient in a serving of food contributes to a daily diet. 2,000 calories a day is used for general nutrition advice.